Le Marche Region; the next Tuscany.
I have only been to the Le Marche region once but am dying to return. My memories of that one visit include the sight of fields of sunflowers, turquoise blue sea and an amazingly delicious seafood lunch on a restaurant terrace overlooking the Adriatic!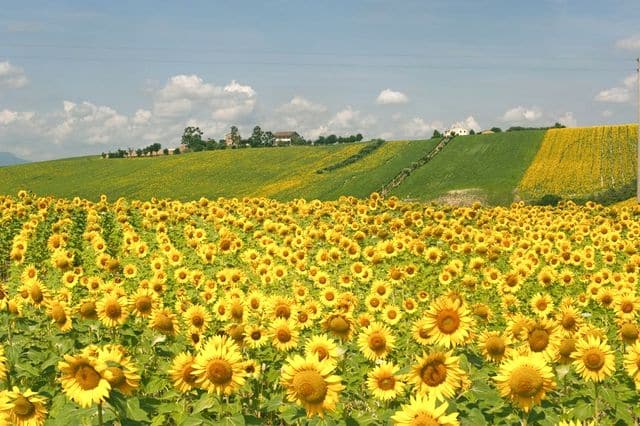 The Marche region, also called Le Marche (meaning the marches), is situated in Central Italy between the Apennine mountains and the Adriatic coast! Some people call this region 'the next Tuscany'. However, it doesn't suffer the tourist invasions that Tuscany does. In fact, most the tourists that enjoy the treasures Marche has to offer are Italians. Mass foreign tourism still hasn't discovered Marche's pretty villages, kilometres of beautiful coastline and breathtaking inland scenery!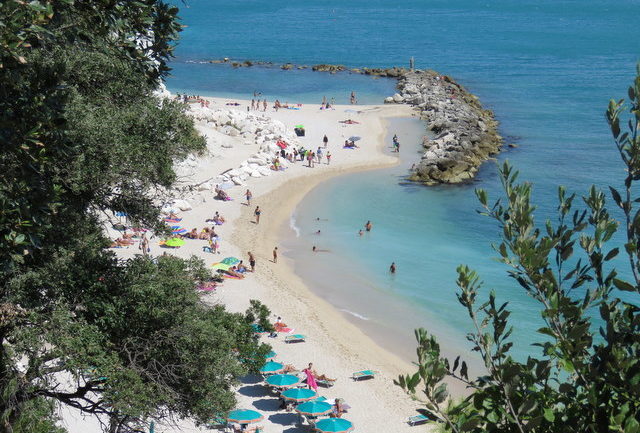 Food in Le Marche.
Apparently the people of Le Marche region (marchigiani) eat more meat than in other Italian regions. Many countryside restaurants serve mixed grilled meat platters (grigliata mista di carne), as well as salumi antipasto platters. These may include salt-cured mountain ham, Prosciutto di Carpegna DOP and fillet of pork (lonza). Game meats and birds are also traditional and you can come across menus with stuffed pigeon and rabbit cooked with fennel. Porchetta is another traditional meat dish of spit roasted boneless and herb stuffed piglet.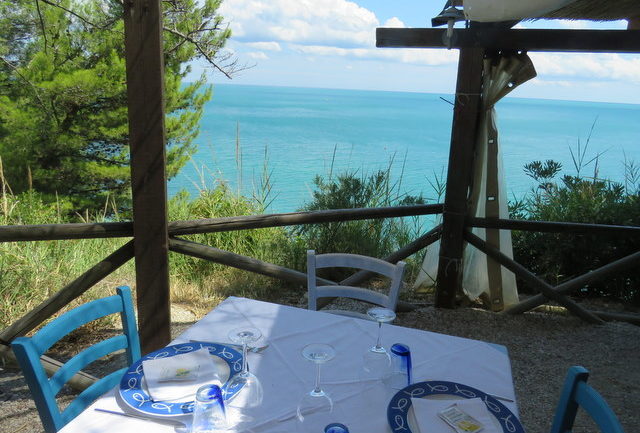 The Marchigiani also like to include a lot of foraged foods in their dishes. Truffles are a local speciality and both white and black truffles are found in the region. Local cooks also use a lot of other foraged goodies such as wild mushrooms, nuts and herbs.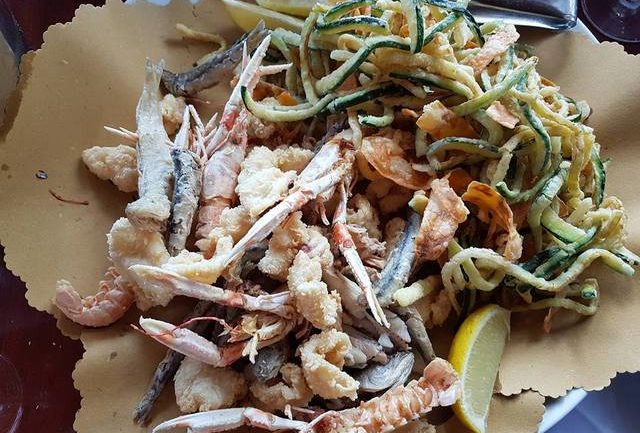 Seafood.
Le Marche has over 170 kms of coastline on the Adriatic sea. So, of course, seafood is prevalent in coastal kitchens and restaurants. There are some similarities to the seafood cuisine in neighbouring Abruzzo. For example brodetto, a fish stew/soup which can contain up to 13 kinds of seafood and is often seasoned with vinegar, garlic or saffron. There are also some unusual seafood and meat pairings, for example mussels stuffed with ham and then baked in a tomato sauce!
Both fish and meat are made into stews or braised in Le Marche. Potacchio is a typical braising recipe which contains white wine, garlic, onions, rosemary and tomatoes. Potacchio (which comes from the French potage) is made with either meat or fish.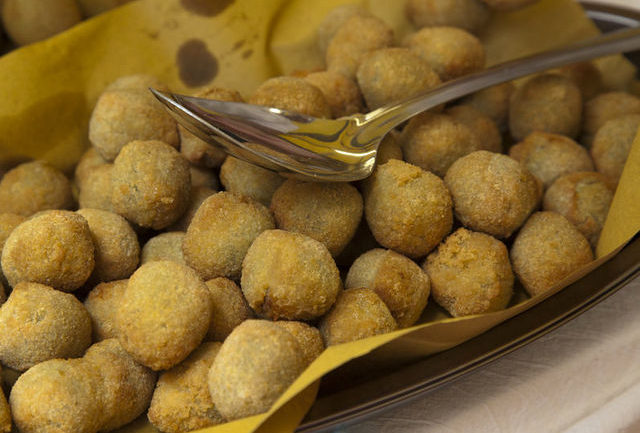 Snacks and finger food.
The Marchigiani like to eat finger foods! There are many typical snacks, cakes and biscuits that are eaten without a knife and fork. Among the most well-known of these are the components of the traditional fritto misto all'ascolana which includes deep fried stuffed olives (olive all'ascolana) and deep fried breaded lamb chops. Interestingly included in this fritto misto is cremini or fried cream, which is actually a sweet breaded and deep fried pastry cream. Then there are also veggies which are breaded and fried, mostly zucchini and artichokes.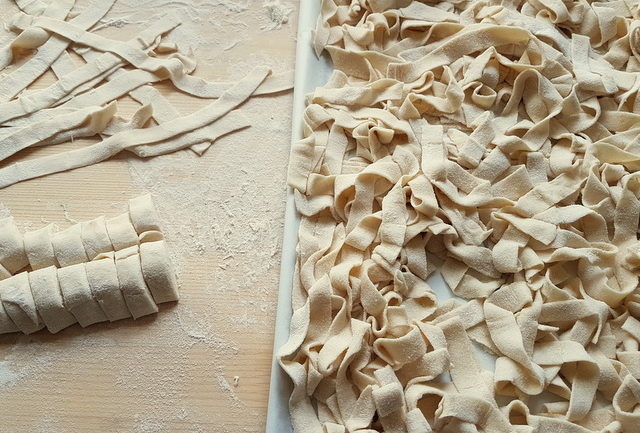 Pasta in Le Marche.
Le Marche is a region with many traditional types of homemade pasta. Some of these are shared with the neighbouring regions like spaghetti alla chitarra which is also made in Abruzzo. Other types of pasta are traditional in one part of the region but not others! In Pesaro and Montefeltro, for example, cappelletti is a traditional pasta on feast days. Similar in shape to cappelletti from Romagna, but in this area, it is filled with beef, pork, capon and turkey.
Lots of fresh pasta ribbons.
Homemade pasta ribbons such as tagliatelle, tagliolini, pappardelle and maltagliati are made in different sizes and thicknesses throughout the region. The size depends on the sauce, which can be anything from fresh fish to truffles.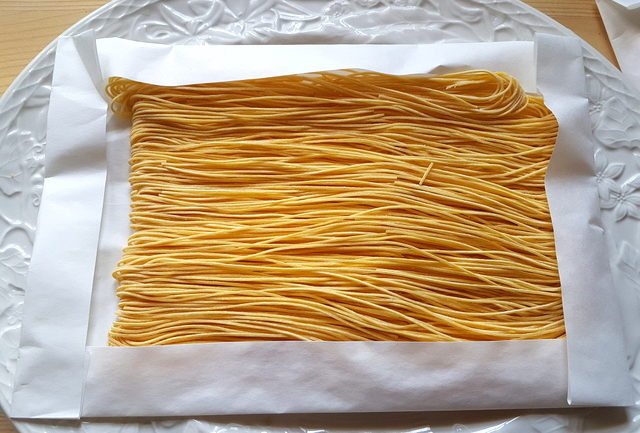 Marche is also one of the few regions where they make egg-less tagliatelle or tagliolini. This pasta is known as 'tajuli pilusi' , meaning hairy tagliatelle! It is very rustic and often served with a cooked ham and pork ragu. Another rustic pasta is 'cresc 'tajat' (in the local dialect). These are quite thick rough squares of pasta dough made from corn and wheat flour together. This local 'maltagliati' is served in a bean sauce.
Passatelli is a type of pasta made from breadcrumbs, Parmigiano and eggs. You can also find this pasta in Emilia-Romagna. In Le Marche, it is served in broth or with a sauce. Another fresh local pasta is called millefoglie, but is really just large squares of egg pasta like lasagne.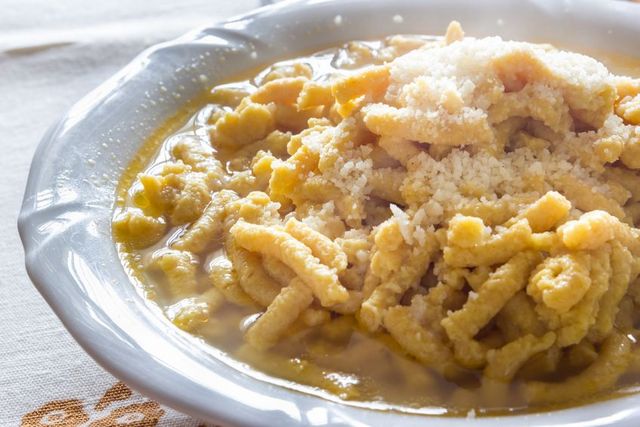 Probably the most well-known pasta from Le Marche is the long and very thin maccheroncini di Campofilone. These very very fine pasta strands date back to the fifteenth century. This pasta is made with a lot of eggs (ten per kg of durum wheat semolina) and as a result is very porous. It's excellent both in broth and with sauces. I love it with a typical local ragu made with chicken, veal and pork.
Le Marche is also home to a number of commercial pasta makers, both well-known and artisan. Many produce pasta with farro (spelt), a cereal which is widely cultivated in the region.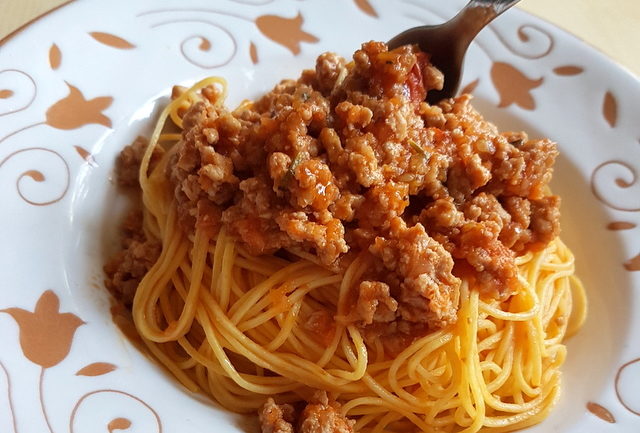 Pasta Recipes for Le Marche region.
Among the pasta dishes from Le Marche I am looking forward to posting here on The Pasta Project is firstly Vincisgrassi . This is a very rich local lasagne al forno made with a ragu of chicken livers and giblets, veal brains, ham and mushrooms coated in a béchamel sauce, Parmigiano cheese and white truffle shavings, if in season. I also want to get my hands on some ciauscolo, a soft pate like spreadable sausage that is eaten on bread or in pasta sauce.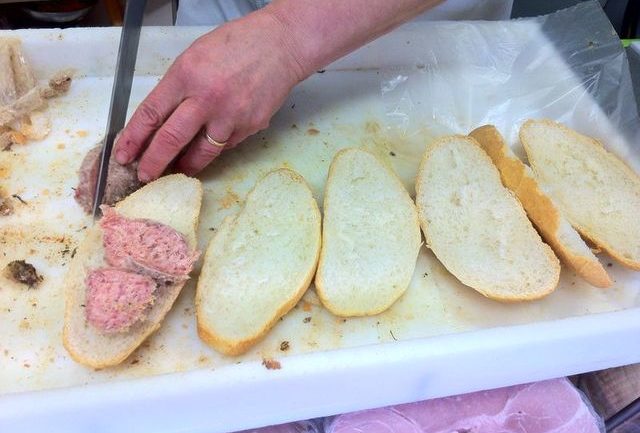 Another worth making pasta recipe from Le Marche is 'ravioli ai filette di sogliola'. In this recipe, the pasta is filled with a parsley and ricotta mixture and then served with sole cooked with tomatoes and white wine. There are actually quite a few types of ravioli made in Le Marche. In addition, I want to make Piconi ascolani, pecorino stuffed ravioli which are baked in the oven!
Piconi ascolani are pecorino filled baked ravioli!
Finally top of my to-make list is a pasta called lumachelle (meaning little snails). This is a cheese or cinnamon and lemon flavored egg pasta which is the main ingredient in a delicious soup called minestra di lumachelle. Le Marche is home to an annual snail festival each June, and this spiral-shaped pasta is named after the "little snails" they resemble.
Recipes from Marche on The Pasta Project.
The first recipe I have posted from the Marche region here on The Pasta Project is maccheroncini di Campofilone with a marchigiano ragu. But of course there are plenty more to come, so do visit again to check out what's new!