This stuffed paccheri al forno recipe from Marche in Central Italy is a meat-lovers dream. The pasta tubes are filled with a kind of paté made of chicken livers, ham and turkey breast. They are then baked with a simple ground veal ragu, cream and gruyere. Pretty easy to make and outrageously delicious!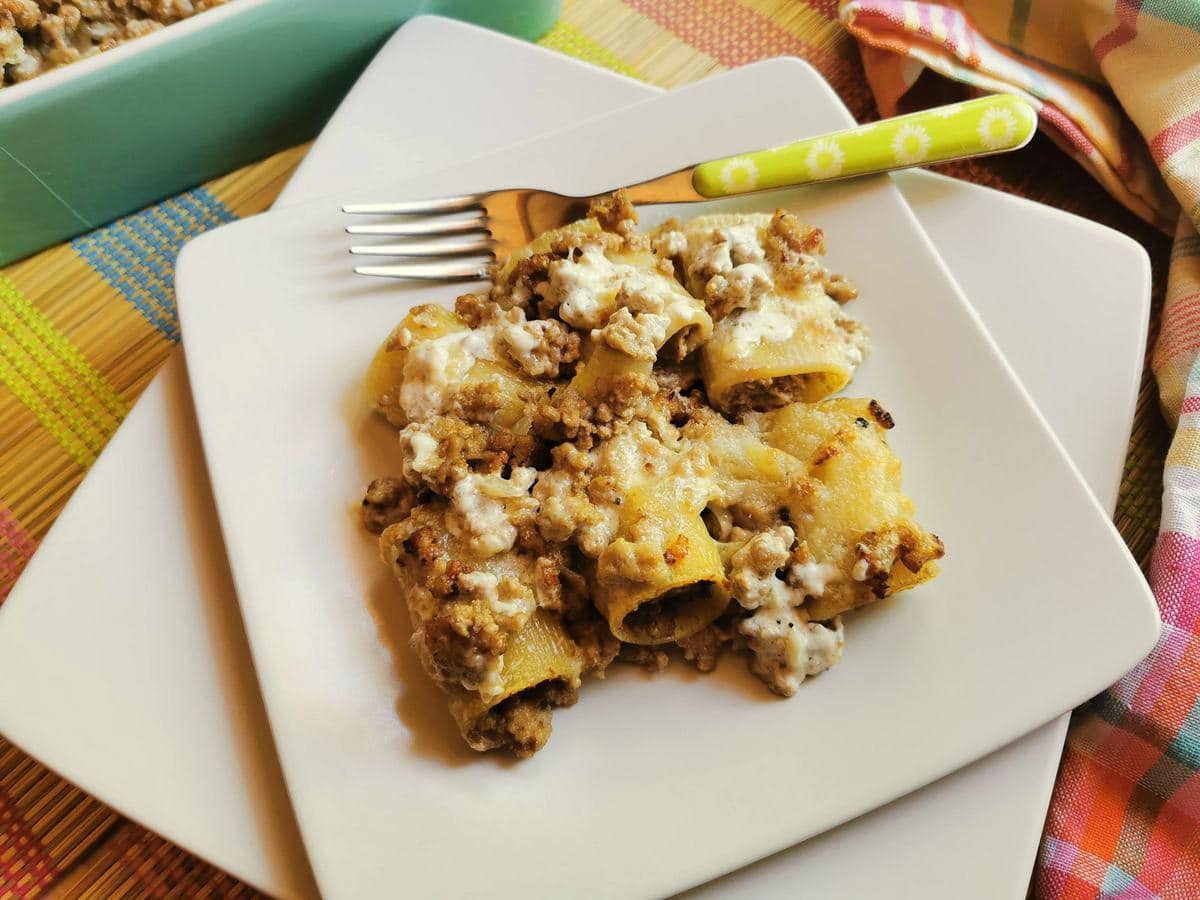 Maccheroni alla Pesarese.
Known locally as maccheroni alla pesarese, this stuffed and baked pasta tubes recipe comes from the Central Italian region of Marche, also called Le Marche. I found this dish in an Italian cookbook I have of recipes from Marche. In Italian, alla pesarese refers to dishes from Pesaro, an ancient town on the Adriatic coast. Originally founded by the Romans, Pesaro is the second largest city in Marche after Ancona.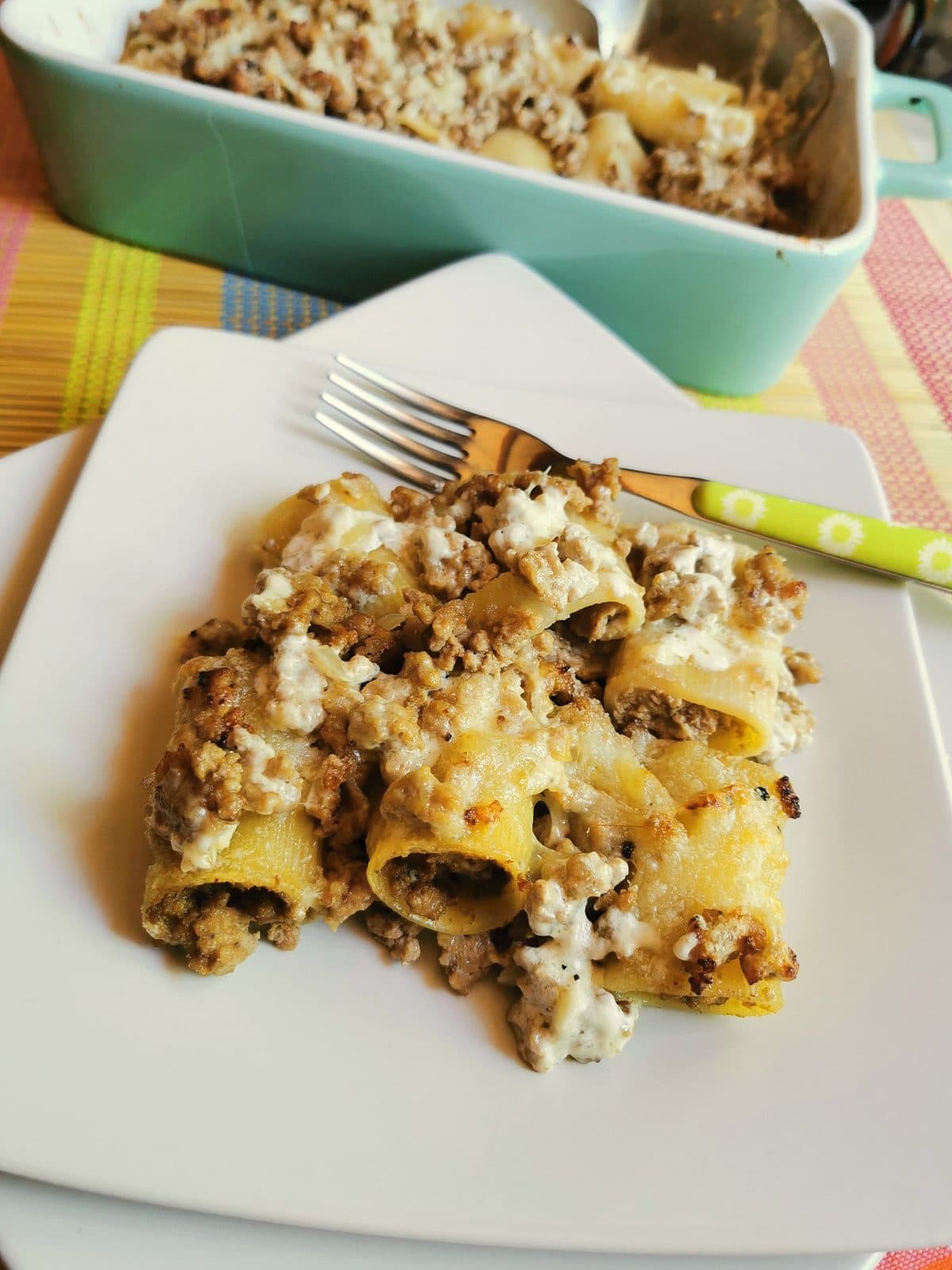 Other alla Pesarese pasta recipes.
As with many traditional Italian dishes, there's more than one version of pasta alla pesarese. This variety of recipes with the same name is especially common when the name refers to a place or even region. While doing research on this stuffed paccheri al forno recipe, I discovered 3 other delicious pasta alla pesarese dishes I want to try.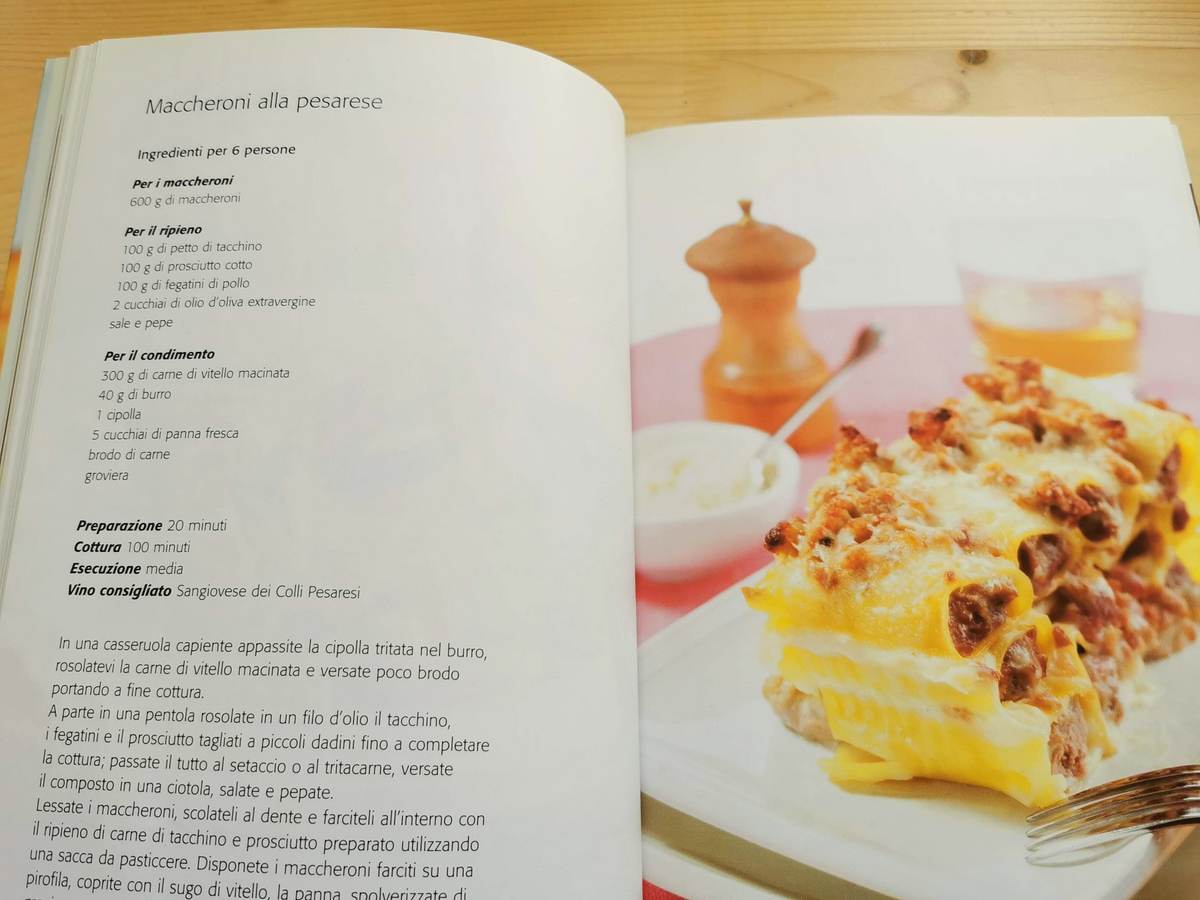 The first is cappelletti alla pesarese. This is homemade cappelletti pasta filled with pork and capon, eggs, nutmeg and cheese which is then cooked and served in broth. The second is pasta tubes baked in a bechamel sauce with black truffle and grated grana.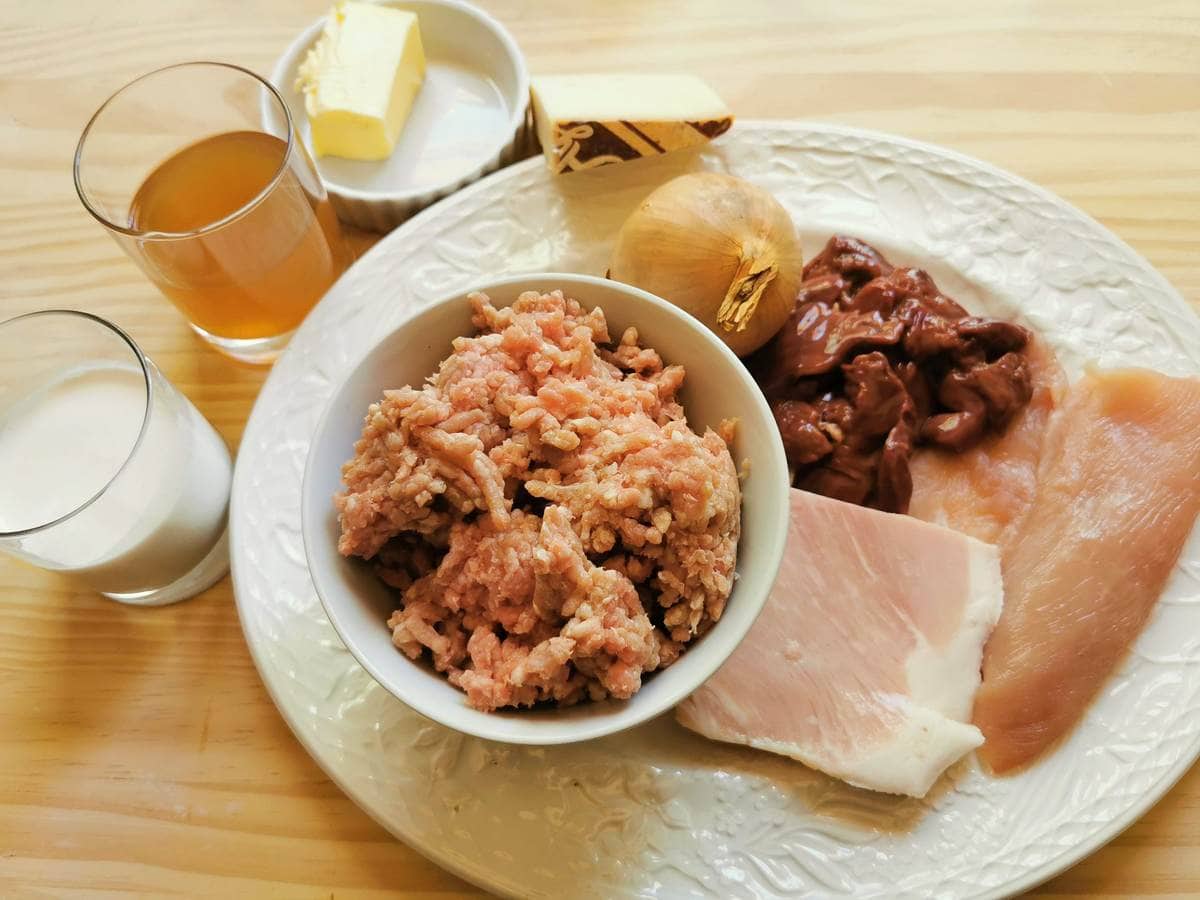 And, the third is baked cannelloni which have been filled with ground pork and veal, 3 kinds of cheese, eggs, tomato sauce, cream and nutmeg. This last recipe sounds really rich but so delicious!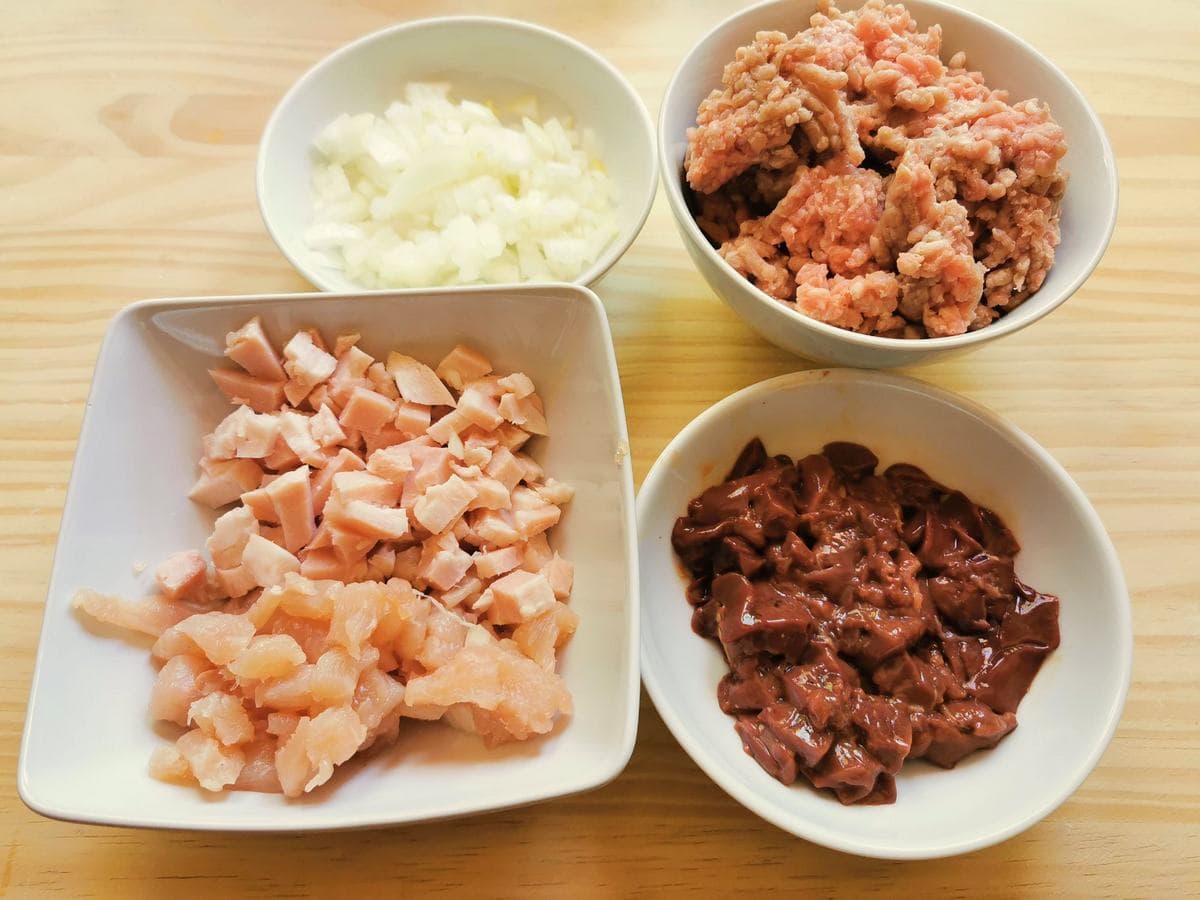 Black truffle is also often added to this stuffed paccheri al forno recipe. I didn't have any. But I'd love to make this dish again when I do. I love using truffles in pasta dishes. I've included truffle in the recipe ingredients and instructions for those who want to add some.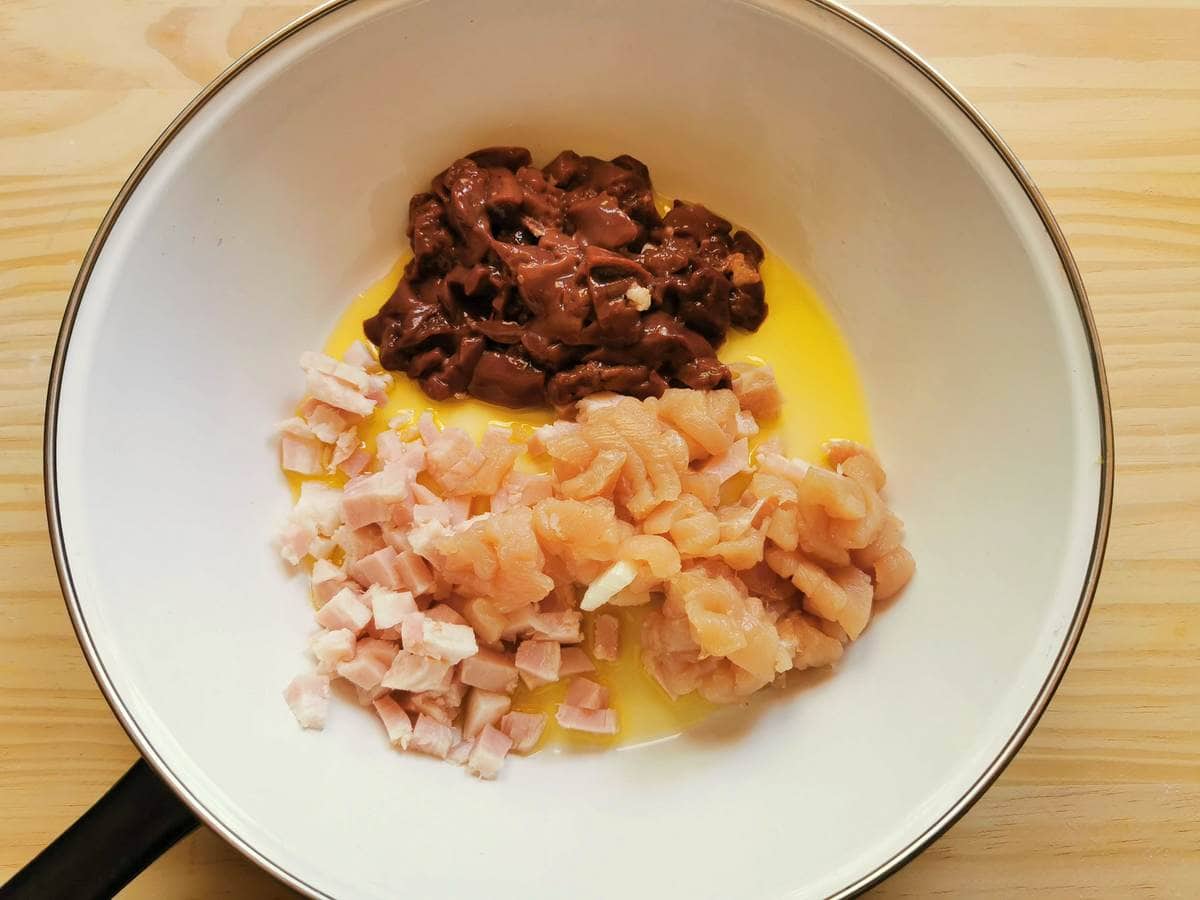 What's the difference between macaroni and maccheroni?
Traditionally, this recipe is made with pasta tubes Italians often call maccheroni. Italian maccheroni is not the same as the macaroni in mac 'n' cheese. The latter is usually elbow pasta which Italians call 'gomiti'. In general, maccheroni pasta in Italy is narrow pasta tubes.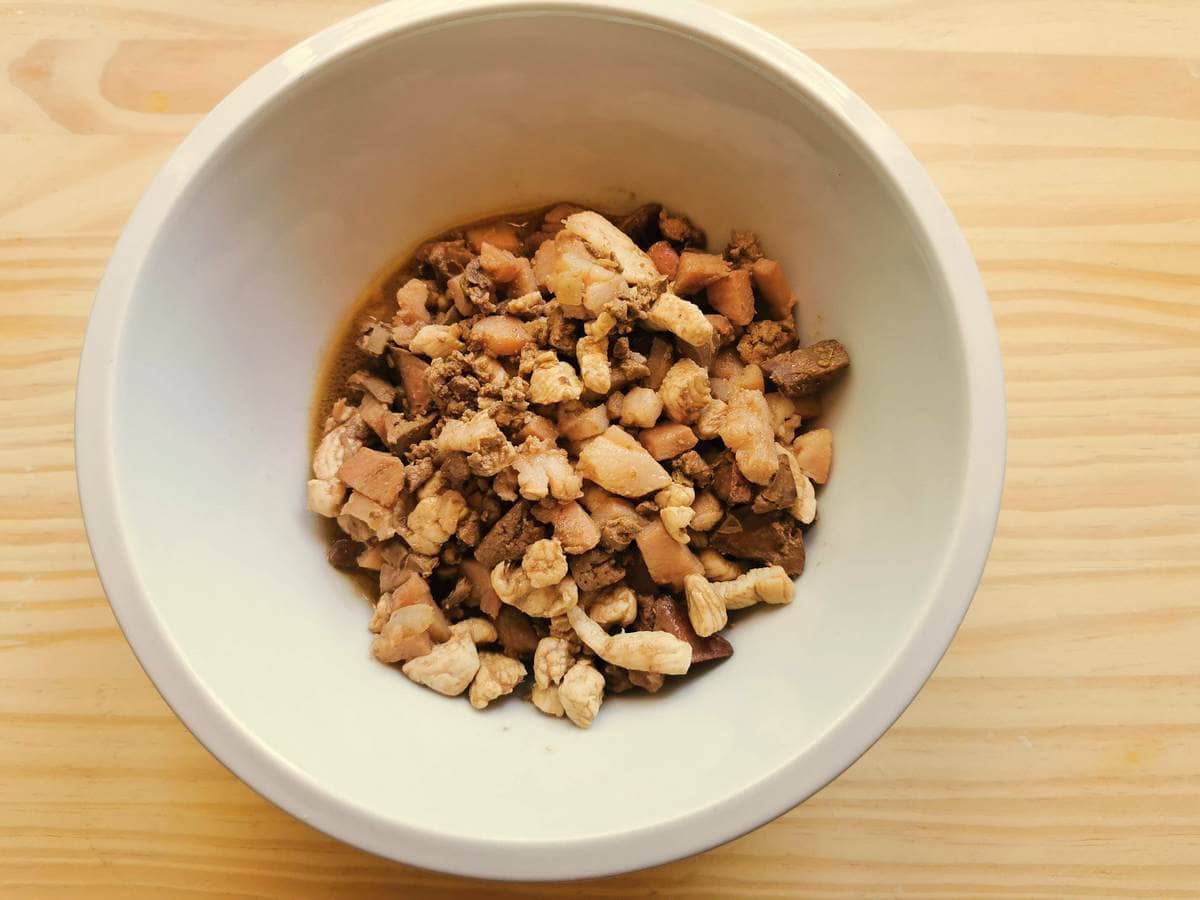 But the word 'maccheroni' is also commonly used to refer to all kinds of short square-cut pasta tubes such as rigatoni, tortiglioni and sedani, as well as some types of long pasta like maccheroni alla chitarra or maccheroni di Campofilone.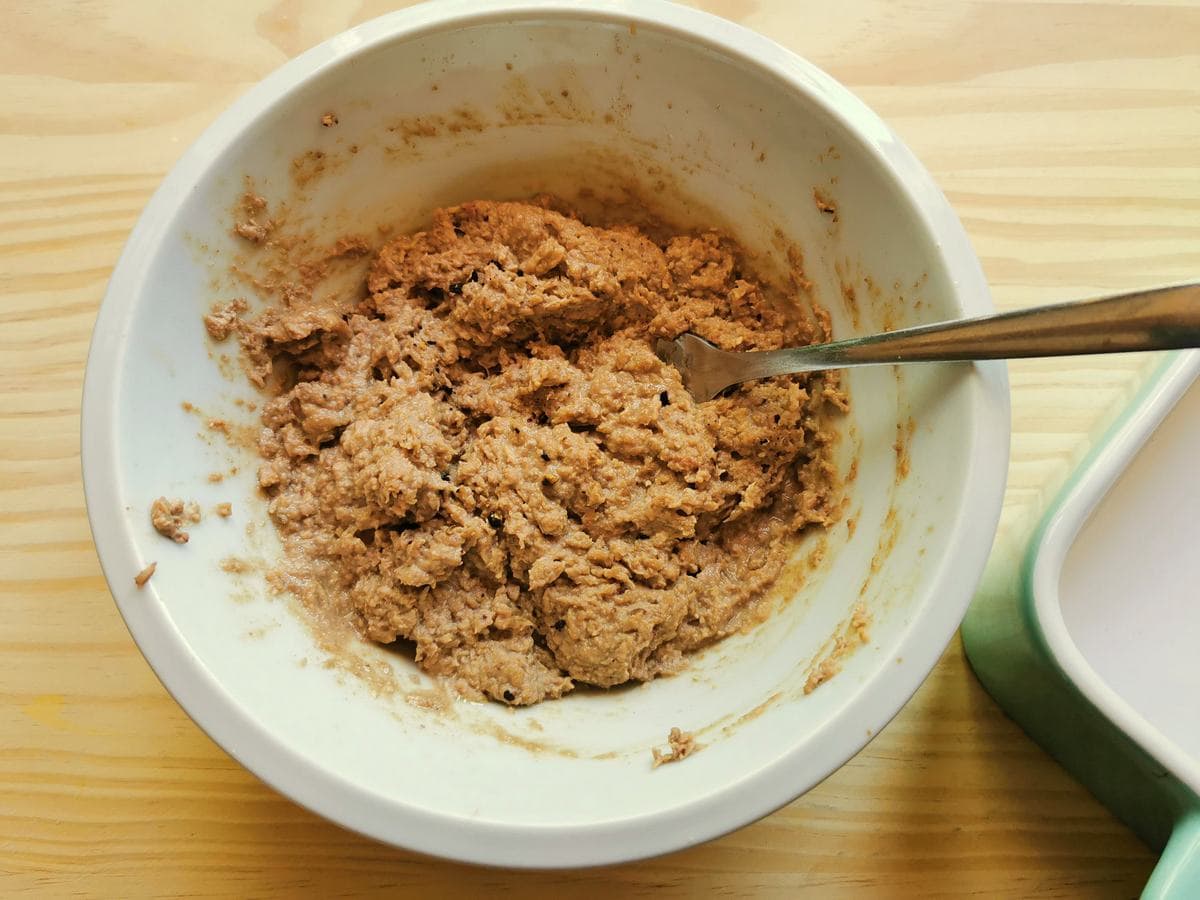 The pasta in this recipe.
I used grooved paccheri for my maccheroni alla pesarese. Italian paccheri is a wide pasta tube originally from Naples. This pasta is usually smooth but there is a grooved version (rigate) that Neapolitans call 'millerighe', meaning a thousand lines.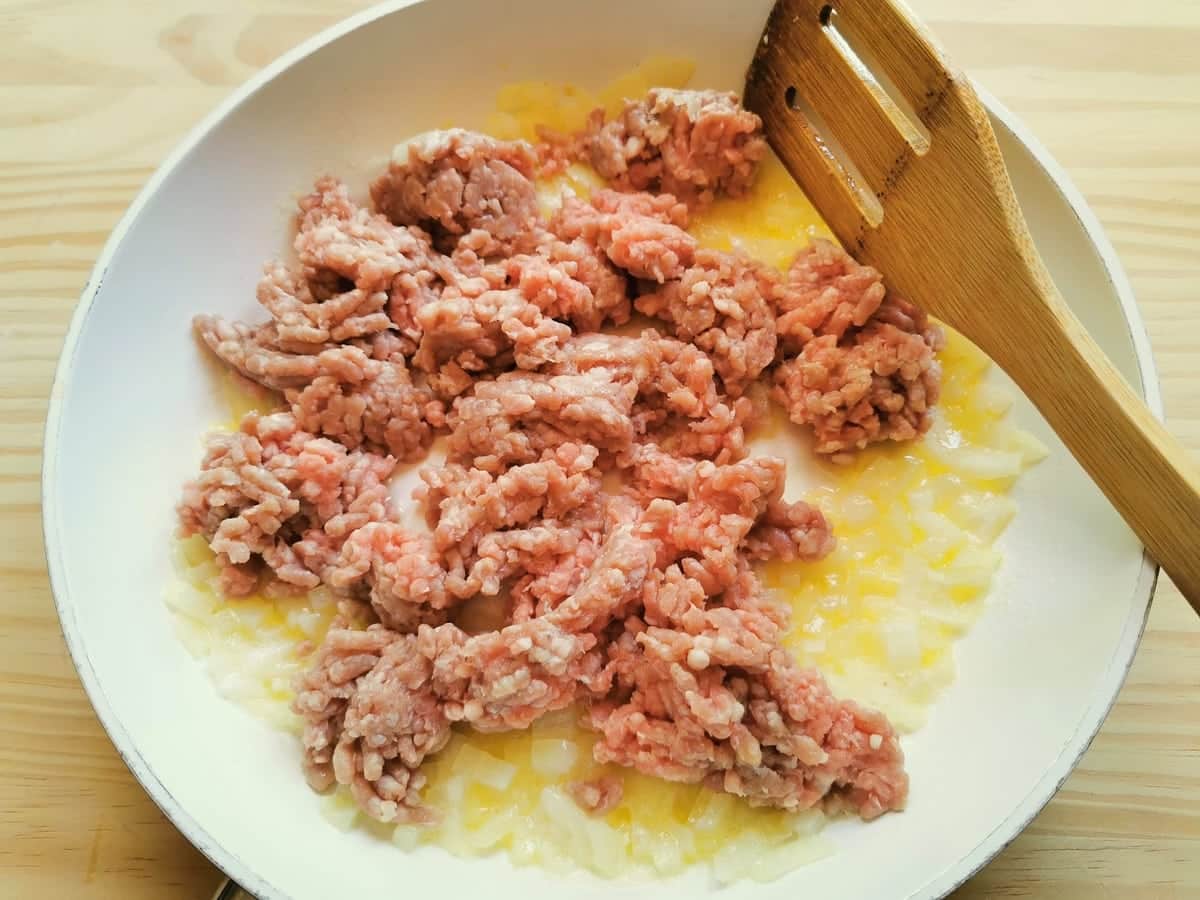 Paccheri is a fantastic pasta for stuffing and baking. The reason I decided to use this pasta is I came across a version of this recipe on an Italian site which called for tuffoli. Tuffoli is a paccheri rigati produced by one of my favourite pasta makers, Mancini.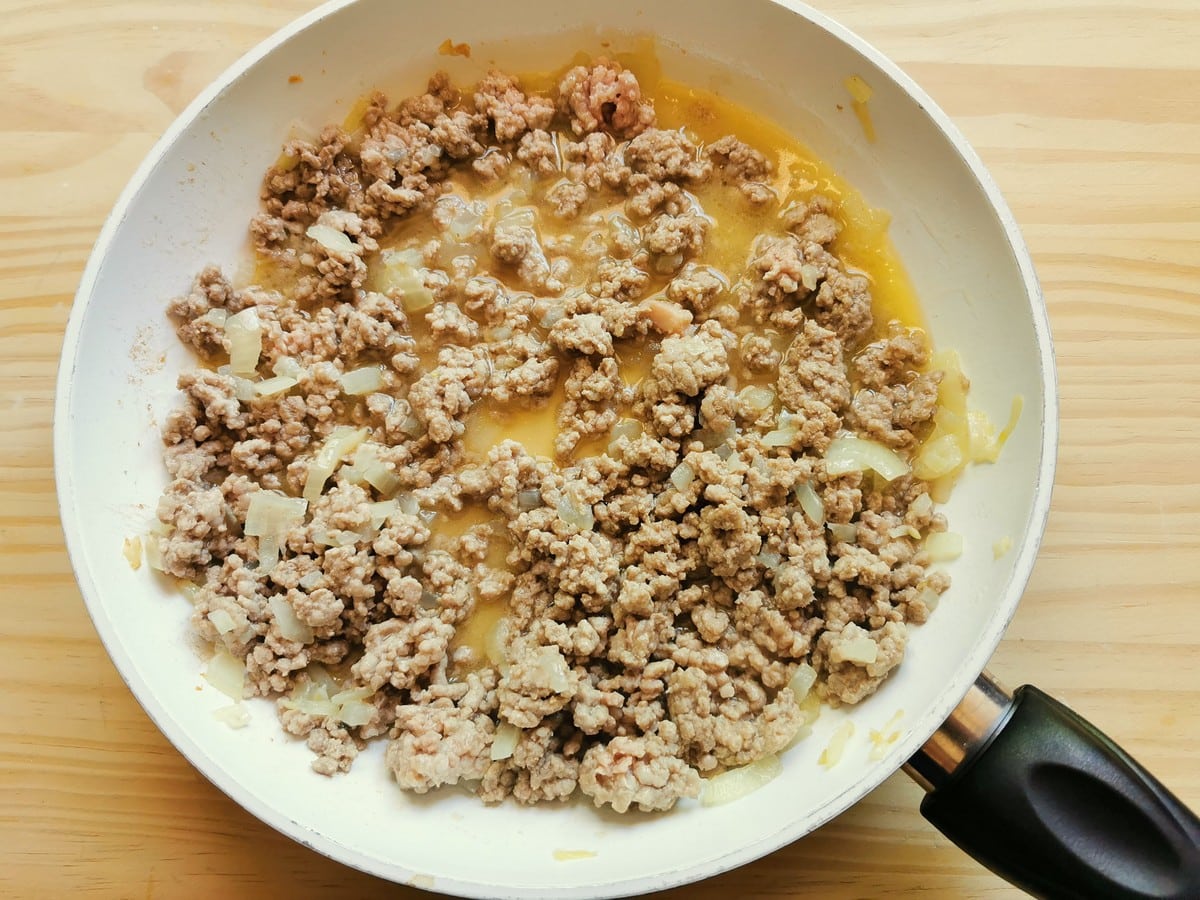 This company is in Marche, where this recipe originates. They make pasta from their own wheat in a factory located in the middle of their own wheat fields. I have visited this unique pasta company and was so impressed by their field to fork production process! You can read more about pasta Mancini in the post about my visit.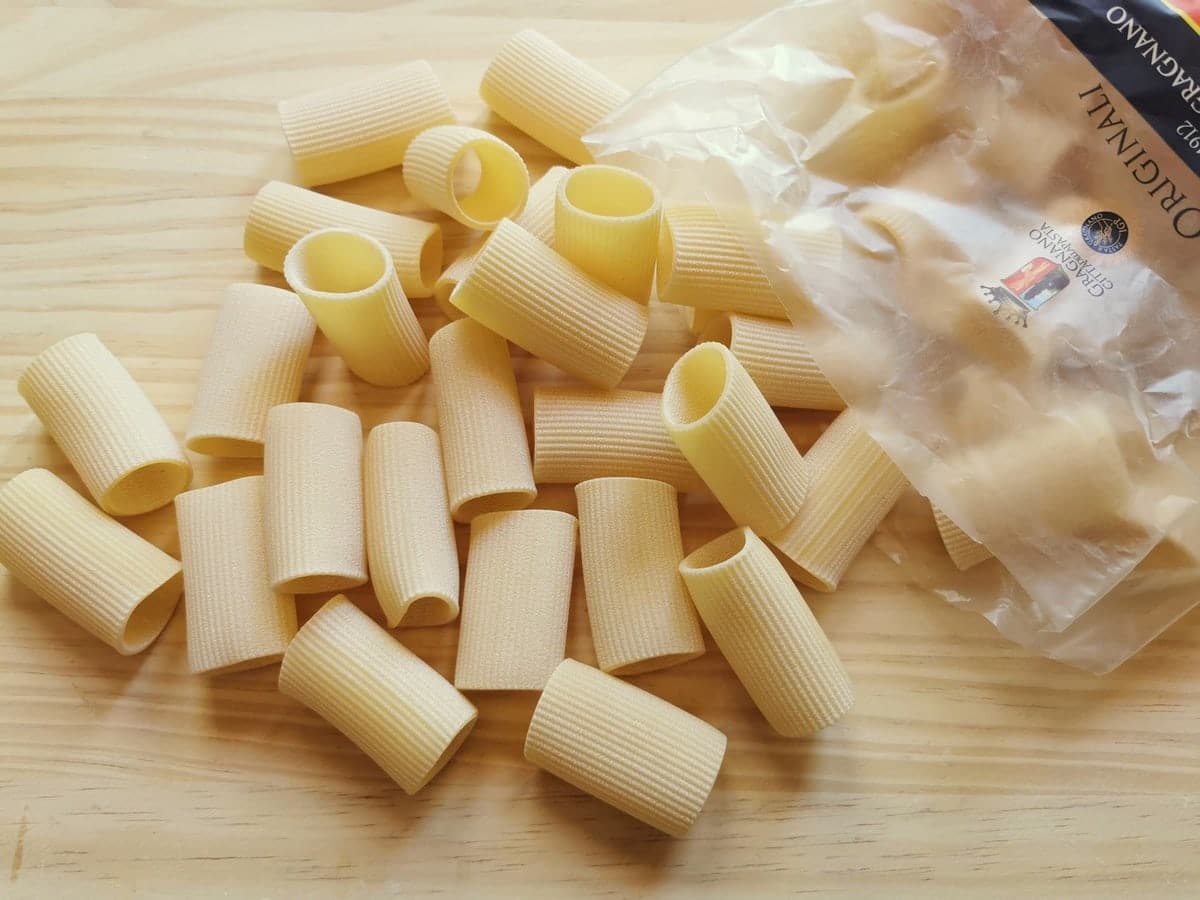 If you don't have paccheri ot tuffoli, you can make this baked and stuffed maccheroni alla pesarese with cannelloni or manicotti, or even pasta shells.
Making the filling and ragu.
Although this recipe has quite a few ingredients, it's not difficult to make. The first step is to make the pasta tube filling. This has equal amounts of chicken livers, turkey breast and cooked ham, plus black truffle if you have some. The three meats are all cut into small pieces and fried in a little olive oil along with the truffle until the liver is cooked. Then you need to purée the filling to make it like a rough paté.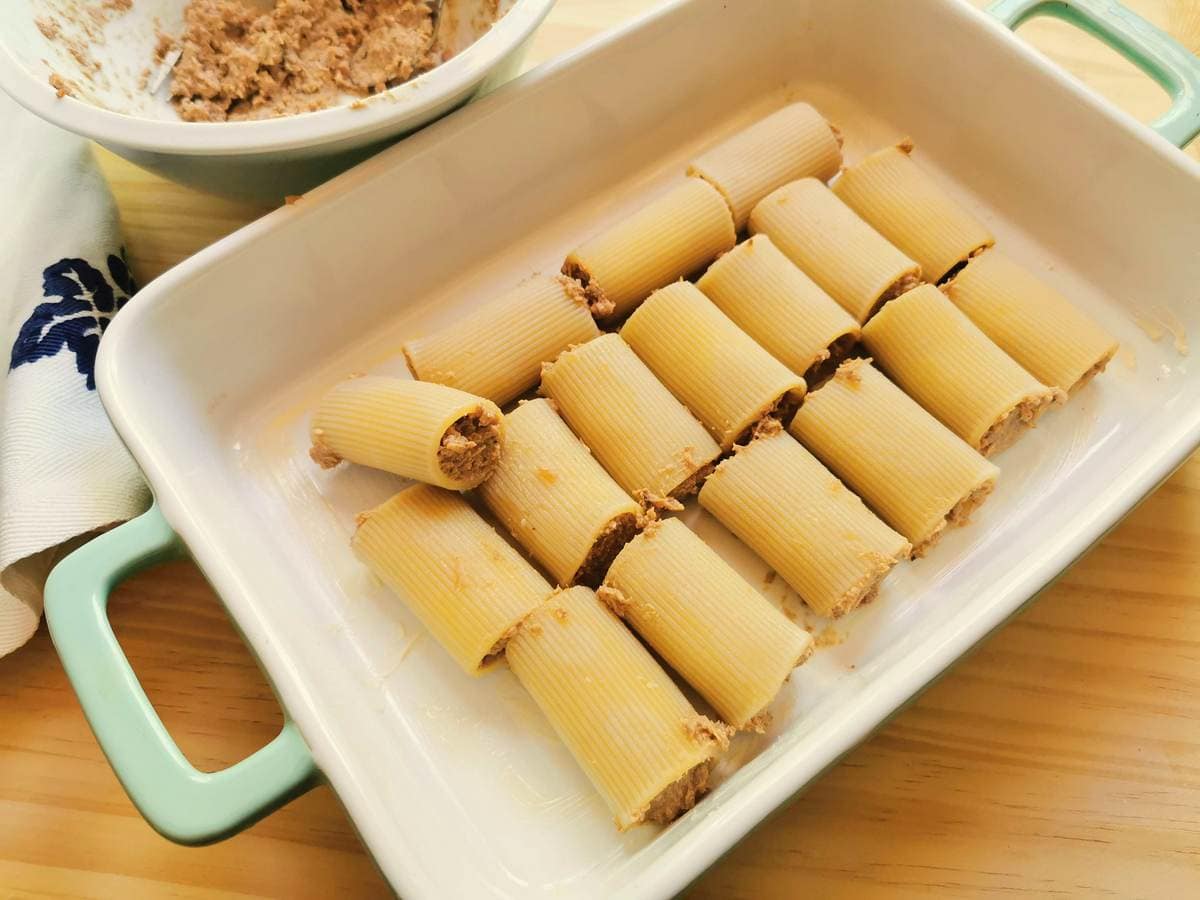 The next step is to cook the ground veal ragu. If you don't eat veal, you can use pork or beef. This ragu is super simple. You just need to sauté the meat with some onion in butter and then add a little broth, season and simmer until cooked.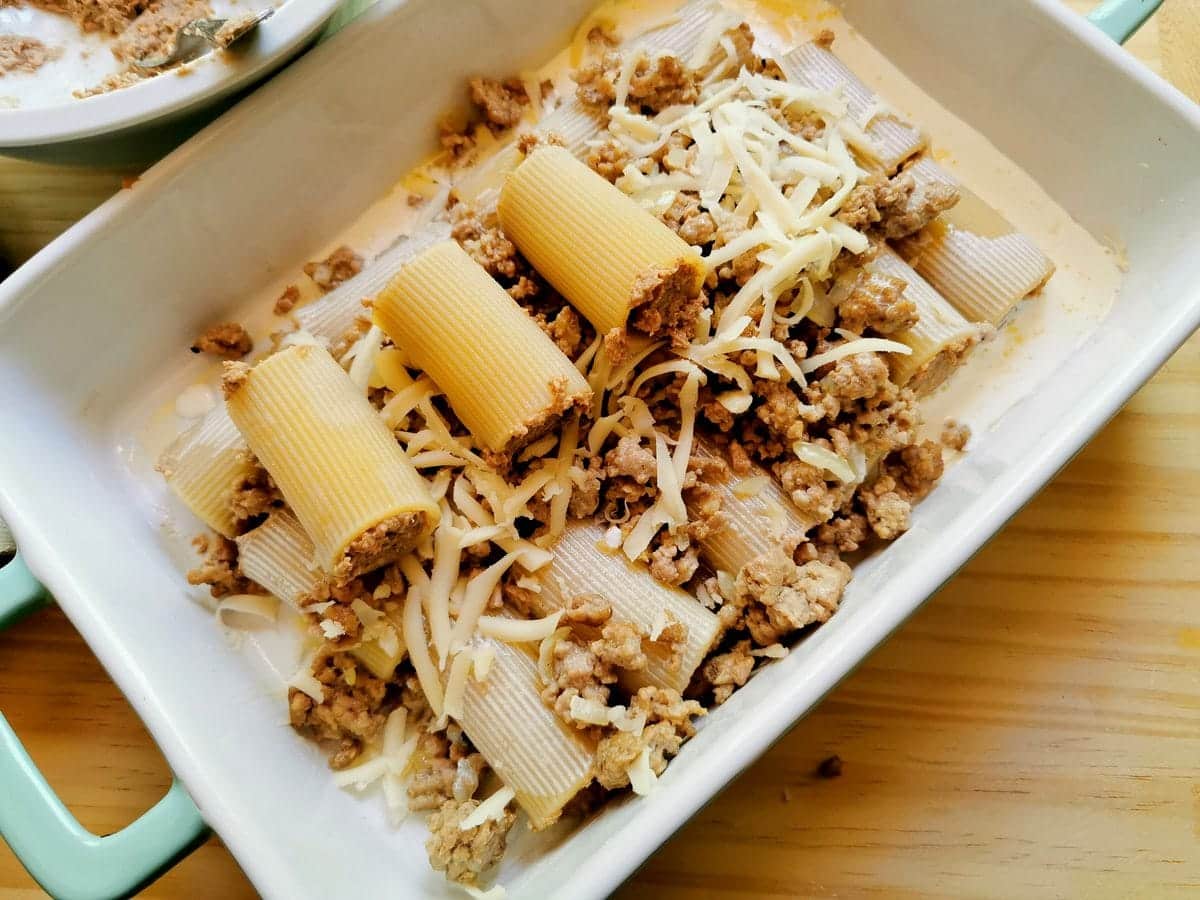 How to assemble your stuffed paccheri al forno.
While the ragu is cooking, you can cook the pasta tubes in boiling salted water. Cook them less than al dente as they will finish cooking in the oven. Drain the pasta tubes and set aside to cool.
Once the paccheri has cooled, you can stuff the tubes with the three-meat filling. I use a teaspoon to do this. I first put filling into one end of each pasta tube, then turn it and fill from the other end.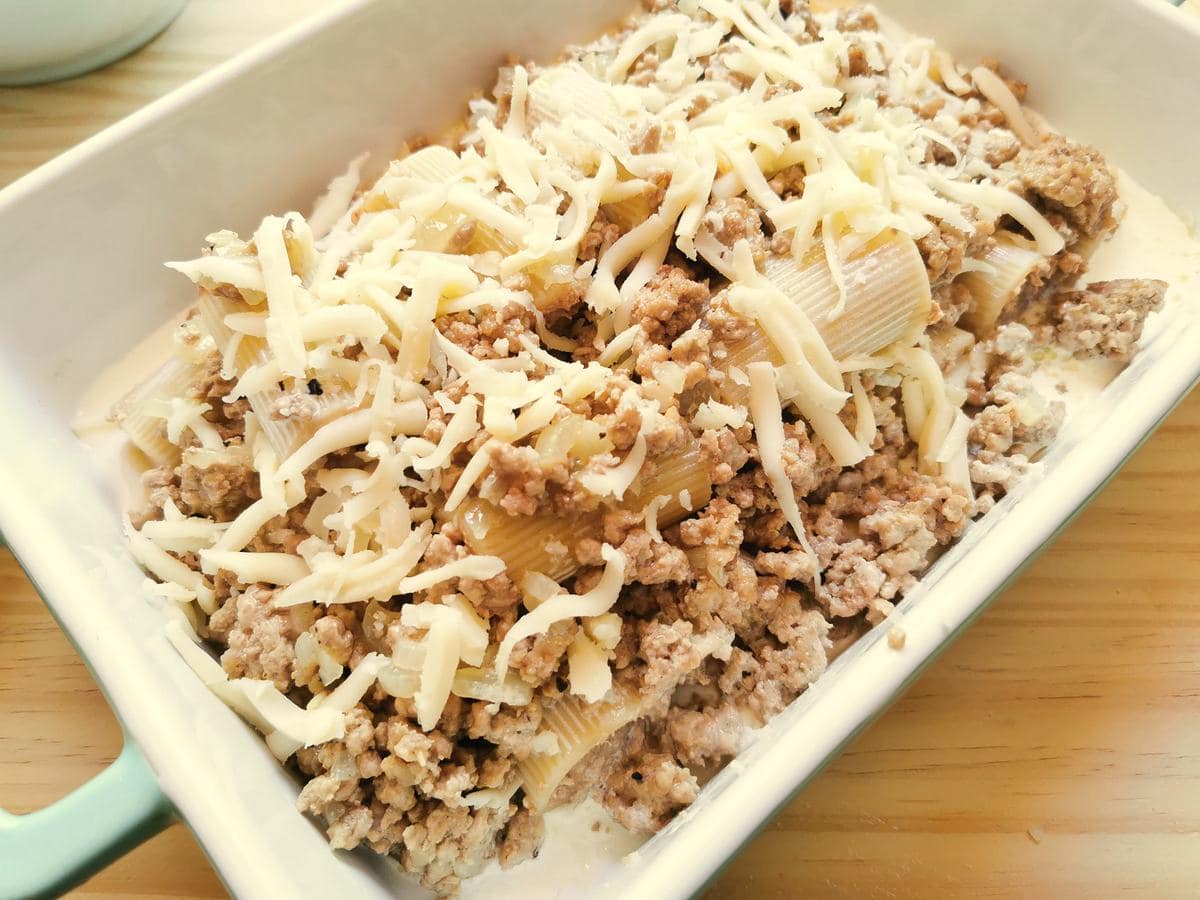 Finally assemble your stuffed paccheri al forno. First grease an oven dish with butter then make a layer of filled pasta tubes, cover them with some veal ragu, grated cheese and cream. Repeat this process to make a second layer. Finish with a generous sprinkling of cheese and bake in the oven for about 20 minutes.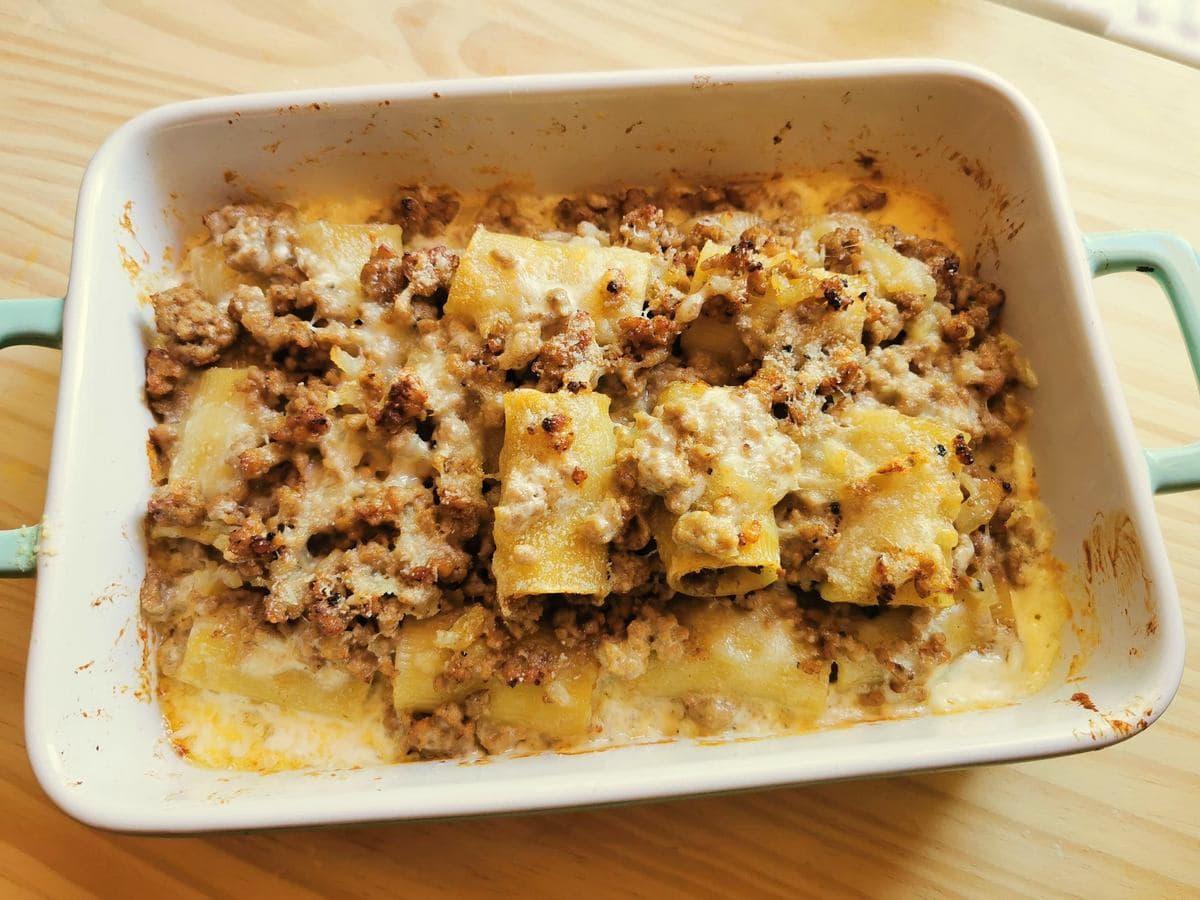 Let me know what you think.
This stuffed paccheri al forno is an unusual Italian baked pasta dish. It's most definitely one for meat lovers. There are actually no veggies except onions and no herbs! But, you can add greens in a side salad, right? I was really impressed with how delicious this dish is. I'm sure you will be too!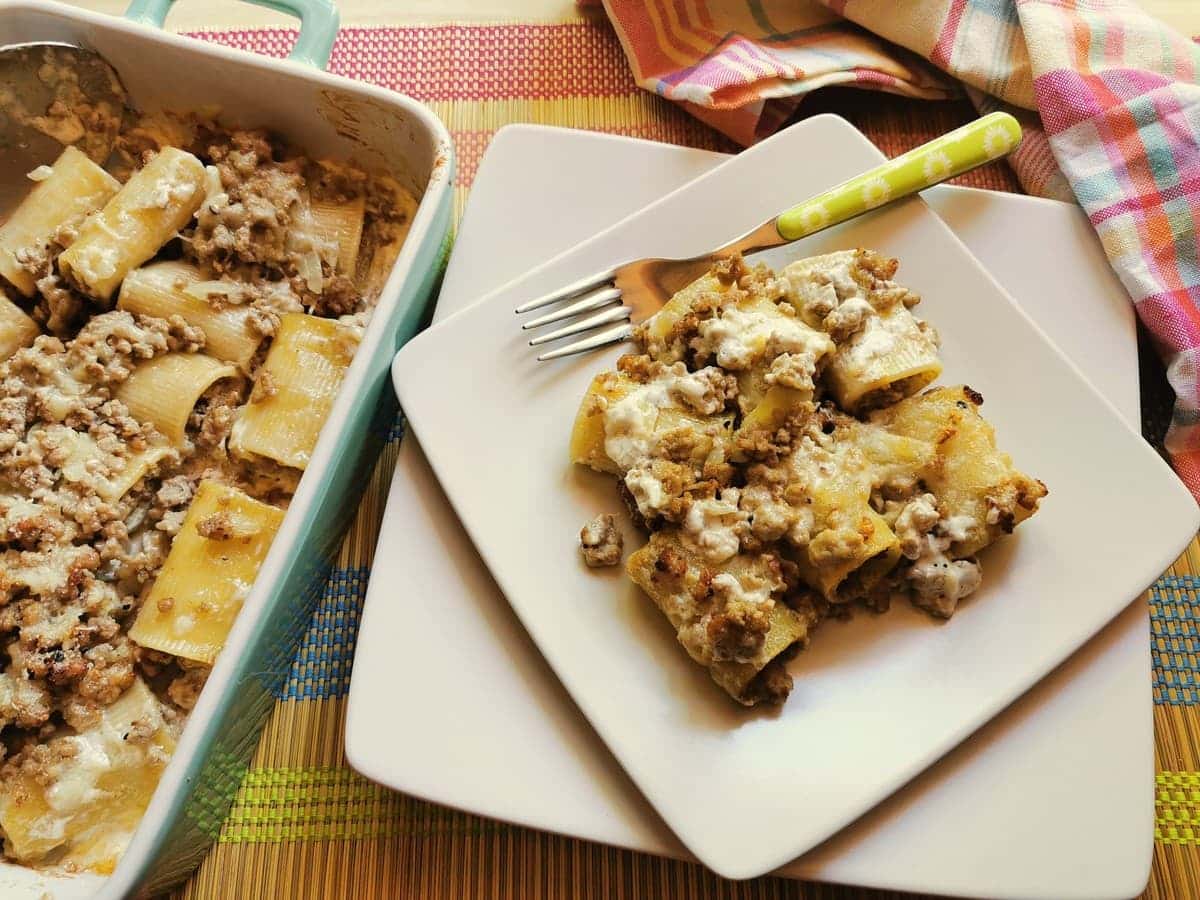 If you give this maccheroni alla pesarese a try, do let me know how it turns out, either by commenting below or on the Pasta Project Facebook page. And if you feel it's worth sharing with friends please do.
All your feedback and support is much appreciated!
Buon Appetito
SAVE THIS RECIPE FOR LATER?
If you want to save this recipe for later, you can print it, bookmark this page or save it to Pinterest.
Have a look at my favorite paccheri recipes if you're interested in more delicious recipes!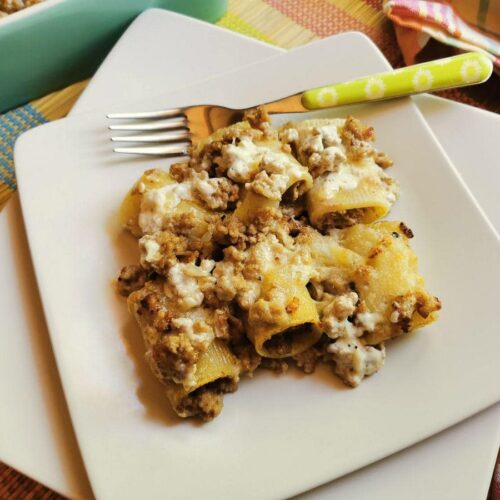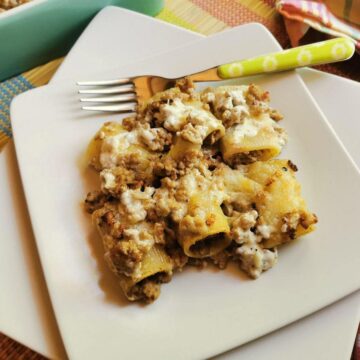 Stuffed Paccheri al Forno (Maccheroni alla Pesarese) Recipe from Marche
This stuffed paccheri al forno recipe is a meat-lovers dream. The pasta tubes are filled with a kind of paté of chicken livers, ham and turkey breast.They are then baked with a simple ground veal ragu, cream and gruyere. Pretty easy to make and outrageously delicious!
Ingredients
For the pasta filling
120

g

chicken livers (4.5oz)

cut into small pieces

120

g

cooked ham (4.5oz)

cut into small pieces

120

g

turkey breast (4.5oz)

cut into small pieces

3

tbsp

extra virgin olive oil.

1/2

a small black truffle (optional)

grated
For the ragu
400

g

ground veal or pork (14oz)

1

onion

peeld and finely chopped

40

g

butter (1.5oz)

150

ml

beef broth (1/2 cup)
Other ingredients
400

g

paccheri or tuffoli pasta tubes (17oz)

or cannelloni or manicotti

150

ml

fresh cream (1/2 cup)

100

g

gruyere

grated

salt

for pasta and to taste

freshly ground black pepper.

to taste
Instructions
Make the filling
Cut the chicken livers, turkey breast and cooked ham into small pieces of an equal size. Grate the truffle if using. Sauté them all together in a little olive oil until the livers are cooked. Then remove from the heat and allow to cool a little. Purée the filling until it resembles a rough paté. If it seems dry, add some water, beef stock or cream. Season with salt and pepper.
Make the ragu
Peel and finely chop the onion, sauté it in butter with the ground veal until the meat is slightly browned. Then pour in half a glass of beef broth, add salt and ground pepper to taste and simmer on a low heat for about 15-20 minutes.
Cook the pasta
Put a pot of water on to boil for the pasta. Add salt once it starts boiling and bring to the boil again. Cook the pasta tubes 2-3 minutes less than al dente. Drain and set aside to cool. Spreading them out on a tea towel will help the pasta tubes to cool faster and not stick together.
Stuff the paccheri and finish the dish
Grease an oven dish with butter. Then start filling the pasta tubes using a teaspoon first from one end then from the other. Place the ready filled paccheri in the bottom of the oven dish to create the first layer.

Once the dish is full cover the pasta with half of the ragu and some grated cheese. Pour over a little of the cream. Then repeat this process making another layer of pasta, then the rest of the ragu, cream and cheese. Finish with a generous sprinkling of grated cheese and pour over the last of the cream if some remains.

Bake in a preheated oven at 180°c (356°F) for 20-25 minutes or until the top is crispy and the pasta is cooked through. Serve immediately.
Notes
You can use other large pasta tubes such as cannelloni or manicotti or even pasta shells if paccheri isn't available.
If you don't have gruyere, substitute with emmenthal or Fontina or even Parmigiano.
Nutritional information is for 6 average size servings. The number of pasta tubes per person depends on what kind of pasta tubes you use and whether you eat it as a main course or like in Italy as a first course. 
Other stuffed and baked pasta recipes.
If you are interested in learning how to make homemade pasta and different types of gnocchi, check out my shop page for some great video online courses from my friends in Rome! Nothing beats learning to make pasta from Italians! Plus while you're there why not order a copy of one of my pasta recipe cookbooks or checkout some traditional pasta making tools? All great prezzies for pasta lovers!