Ricotta and Basil Filled Paccheri Pasta with Homemade Tomato Sauce.
This Southern Italian ricotta and basil filled paccheri recipe is so full of Mediterranean flavour , yet super simple to make. If you've never tried Neapolitan paccheri pasta before, this is a great recipe to begin with.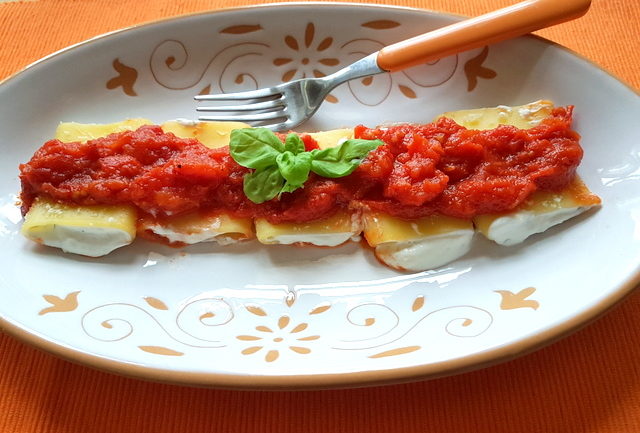 The pasta.
Of course, this ricotta and basil filled paccheri recipe can be made with other types of pasta tubes such as rigatoni. However, if you can find paccheri, I highly recommend using it. For those who aren't familiar with this pasta, paccheri are large pasta tubes from Southern Italy. This pasta was invented in Campania and is often called paccheri Napoletana. When buying paccheri, look out for pasta from Gragnano or Naples for the best quality.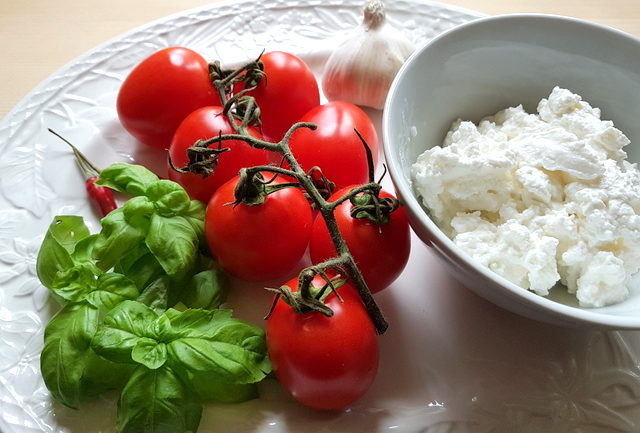 The great thing about paccheri pasta is it can be served just boiled and dressed in a sauce, baked like in pasta al forno or filled and then baked or not. Filled and fried paccheri is also a popular Neapolitan street food! You can read more about the origins and history of paccheri if you click here.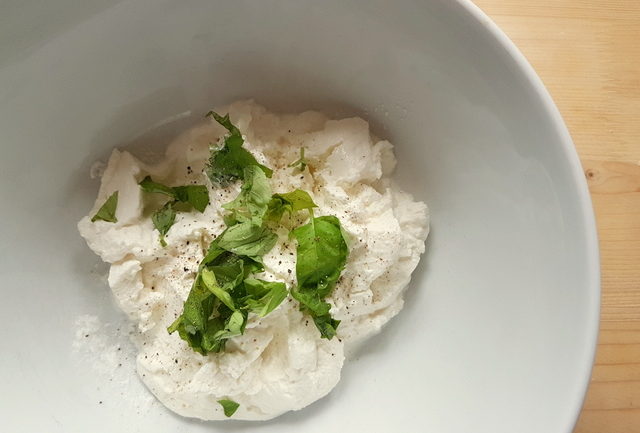 The filling.
One of the most traditional paccheri filling ingredients is ricotta, like in this filled paccheri recipe . Italians also often add spinach to the ricotta filling. In fact, ricotta and spinach is a classic combination in the Italian kitchen. It is used to fill other pasta such as conchiglioni or cannelloni (manicotti) and also to make a type of gnocchi called gnudi or malfatti. However, there are filled paccheri recipes with other greens or herbs mixed with the ricotta. In this recipe, I have used fresh basil.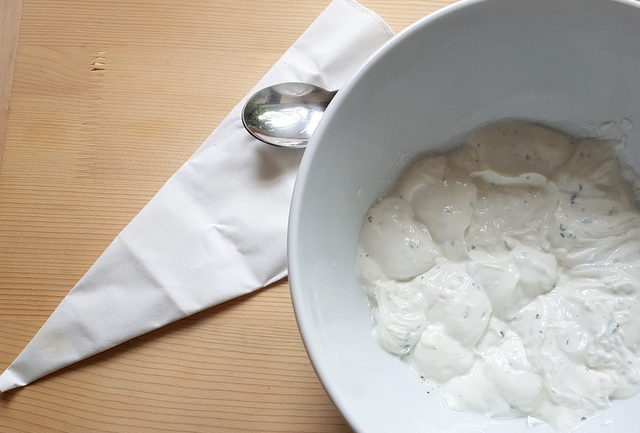 The filling for this recipe is very easy and requires no cooking. In Naples, they often use ricotta di bufala, made from the milk of the Italian Mediterranean buffalo. But, I couldn't find any here. So I used cow's milk ricotta. I suppose even sheep ricotta would work well. The important thing is that the ricotta is fresh but not too liquidy. If needs be, you can strain the ricotta through a muslin or cotton cloth to remove some of the liquid before pureeing it with the basil.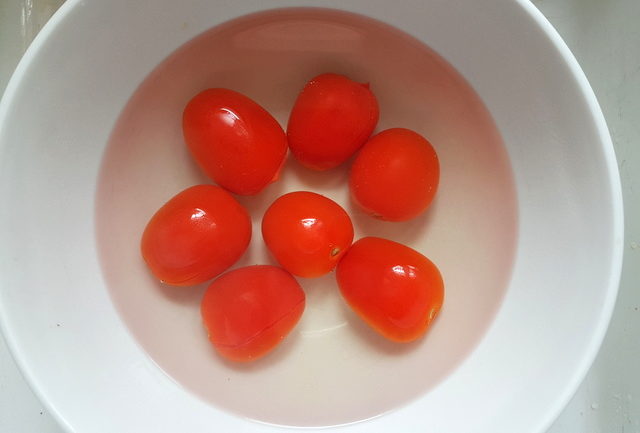 The tomato sauce.
To speed up making this ricotta and basil filled paccheri recipe, you can of course use a ready-made tomato sauce. However, homemade tomato sauce is always going to taste better and be healthier! Here in Northern Italy, we are lucky that we can find great tomatoes all year round. Most of them come from Sicily, especially in the winter. In summer, we have local tomatoes everywhere (including in my garden!).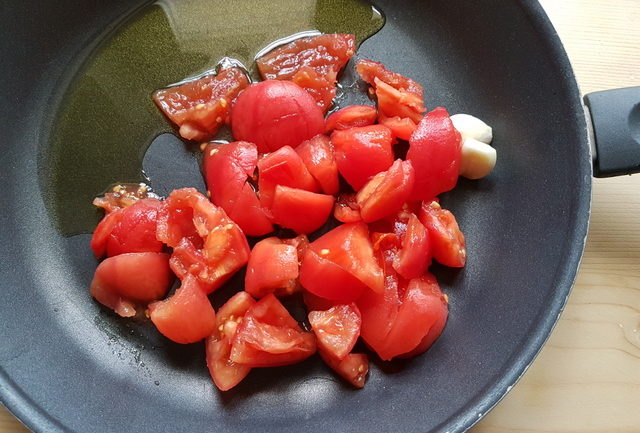 Many Italians also make their own 'passata' during the summer and use it up in the winter. Passata is basically just skinned and pureed or crushed tomatoes without any seasoning. It's also available in all Italian supermarkets and is used in pasta sauces throughout the country. I usually make my tomato sauce using a combination of fresh tomatoes and passata.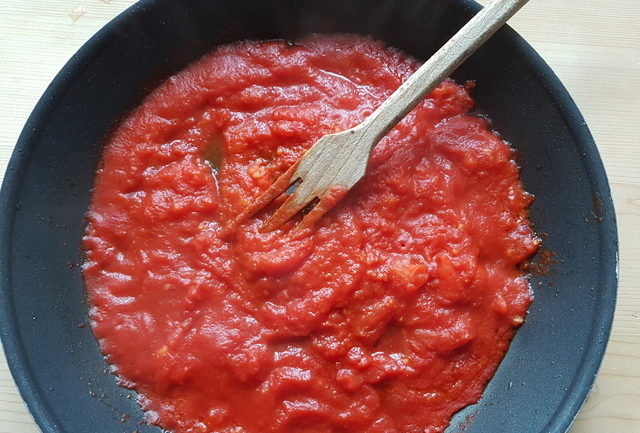 The basic Italian tomato sauce only has tomatoes and garlic which are cooked in olive oil. In this filled paccheri recipe I added some peperoncino to give it a bit of a kick. But you can leave it out, if you don't like spicy food.
Making this ricotta and basil filled paccheri recipe.
Although this recipe involves 4 stages, it's very easy to make and doesn't take too long. The tomato sauce takes the longest (about 30 minutes). But, while it is cooking you can make the filling and boil the pasta. Then just fill the paccheri and bake in the oven for 10 minutes and serve.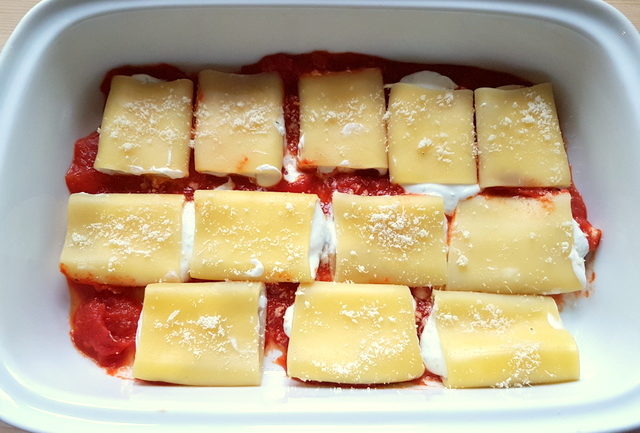 The basic ingredients are just pasta, tomatoes and ricotta with some basil, garlic and peperoncino for added flavour. Simple right? But, like so many other simple Italian pasta recipes, this is so delicious. I'm sure, you'll find yourself coming back to it time and again!
If you do try this ricotta and basil filled paccheri recipe, I'd love to hear what you think. Please write a comment here on the blog or post a comment on the Pasta Project Facebook page.
Your feedback means a lot to me!
Buon Appetito!
Some other delicious paccheri recipes on The Pasta Project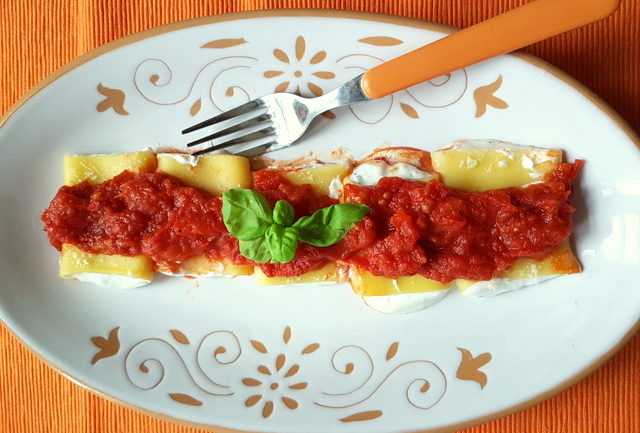 Save this recipe for later?
If you want to save this recipe for later, you can print it, bookmark this page or save it to Pinterest.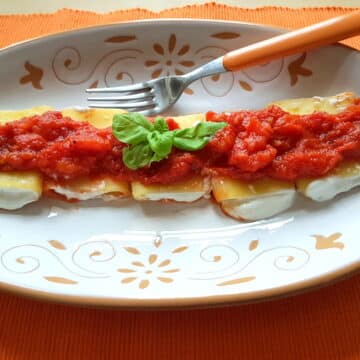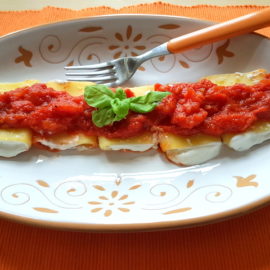 Ricotta and basil filled paccheri pasta with homemade tomato sauce
Pasta, tomatoes and ricotta are the main ingredients in this simple but delicious Southern Italian filled paccheri recipe.
Ingredients
12-16

paccheri

ridged or smooth

500

g

tomatoes

(17oz) San Marzano or Piccadilly are good tomatoes to use

2

garlic cloves

peeled

300

g

tomato passata

(10 oz) I prefer Cirio'rustico' which is chunkier

3-4

tbsp

extra virgin olive oil

peperoncino flakes

as required

salt

for pasta and to taste

black pepper

to taste
For filling
400

g

fresh ricotta

(14oz)

1

handful

basil leaves

50

g

Parmigiano Reggiano or grana

(2oz) grated
Instructions
Put a pot of water on to boil for the pasta. Add salt once it starts to boil and bring to the boil again.
Make tomato sauce
Peel the garlic.

Blanch the tomatoes in boiling water and peel them. Cut into smaller pieces.

Heat the olive oil in a frying pan or skillet. Add the garlic cloves. When they start to soften add the chopped tomatoes. Cook for about 10 minutes until the tomatoes soften then add the passata and peperoncino (if using).

Stir and simmer on a medium heat for about 15 minutes. Add salt and pepper to taste and remove the garlic when the sauce is ready.
Make the filling
While the sauce is cooking, make the filling. Put the ricotta in a bowl with most of the basil torn into pieces (don't use a metal knife on basil as it will turn brown) Mash the ricotta with a fork or use a hand held blender until the ricotta is quite creamy. Add salt and pepper to taste.

If your ricotta seems to have a lot of liquid, drain it through a muslin or cotton cloth before making the filling.
Finish the dish
Cook the paccheri al dente and drain. Run some cold water over the pasta to stop it cooking further and to make it easier to fill. Spread some of the tomato sauce over the bottom of an oven dish.

Use a teaspoon or piping bag to fill each pasta tube. Then place the paccheri side by side in the oven dish on the tomato sauce.

Once you have filled all the paccheri, sprinkle with some grated parmigiano and bake for 10 minutes in a preheated oven at 180 until the ricotta and parmigiano start to melt. Remove from the oven and serve immediately with more of the tomato sauce.
Notes
To save time you can make this recipe with a ready-made tomato sauce. However, I think homemade is always worth the bit of extra time it takes.
This recipe can be made with other pasta tubes such as rigatoni but they aren't as big as paccheri and are more difficult to fill.
Pin for Later