Lemon Water Spaghetti, a delicious avant-garde and unique pasta recipe.
This divine lemon water spaghetti is based on a recipe by Neapolitan Michelin star chef, Peppe Guida. With just 3 ingredients and some good olive oil, you can create a plate of pasta your guests will never forget
Spaghetti all'acqua di limone e provolone.
I came across this recipe whilst searching for a pasta dish to make with some provolone cheese I bought back from Sicily last week. Provolone is a spun or stretched curd cheese, which originated in Southern Italy but is popular today throughout the country, especially here in the North.
(Click to go straight to recipe)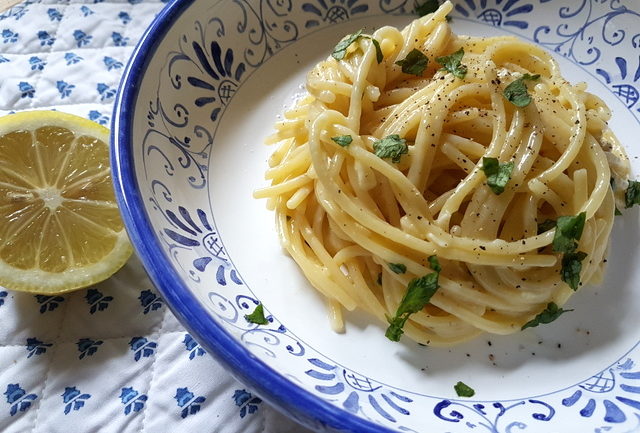 The cheese!
There are different types of this cheese, of course. Young provolone (dolce) is softer and sweeter. Aged provolone (piccante) is sharper. There are two provolone cheeses that have European Union protected designation of origin (DOP) status in Italy. This guarantees that these cheeses were made by local farmers using traditional methods.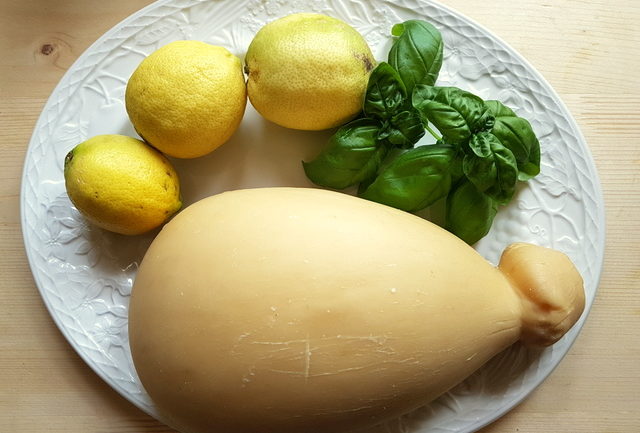 The first DOP provolone is provolone Valpadana, which is made in the Northern Italian area known as the Padana Plain. The second is provolone del Monaco. This cheese comes from Naples and is made from the milk of cows reared only within Naples province. In addition, twenty percent of the milk used to produce this cheese comes from a particular breed of cow, the Agerolese.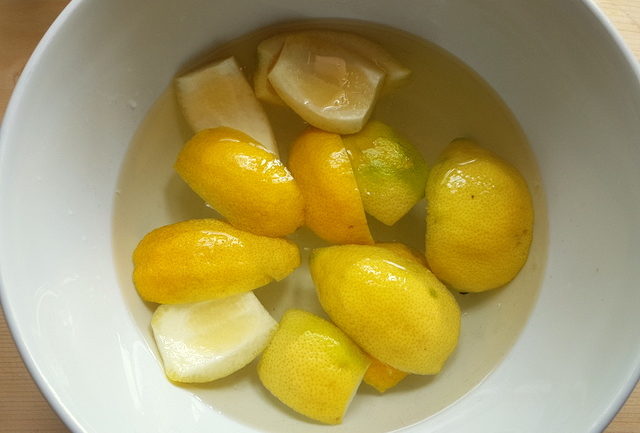 The original recipe for lemon water spaghetti includes provolone del Monaco, which is generally sweeter than the cheese I used. However, my cheese was actually 'spun' or 'stretched' around a lemon! This rather unusual process gives the cheese a slightly lemony flavour, which I thought would work well in this recipe. And it did!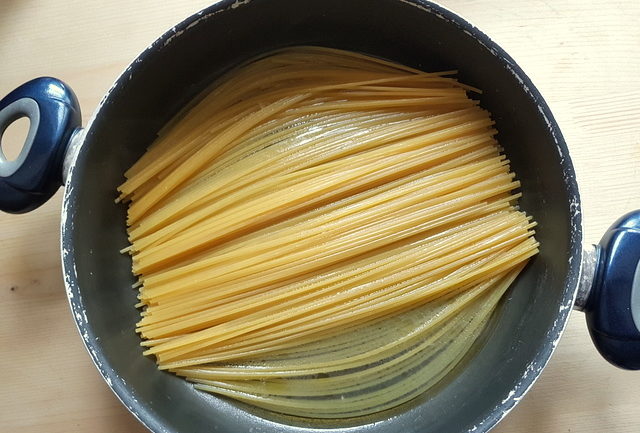 The other ingredients!
Apart from the cheese, this lemon water spaghetti recipe includes only olive oil, lemons and basil. The olive oil really needs to be extra virgin and of a good quality, as it is added to the pasta cooking water. The best lemons to use are, of course, those from Sorrento. I didn't have any of those, but I went with organic lemons as they tend to have much more flavour than the normal lemons we find in the supermarket.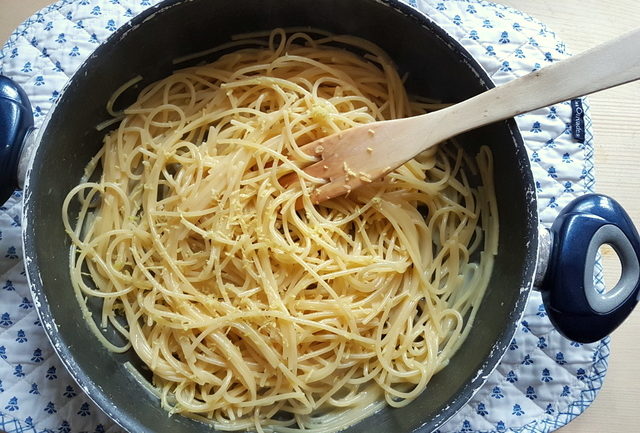 Finally, I added basil as my herb of choice. Peppe Guida's recipe includes dried and crushed lemon leaves instead. I'd like to remake this recipe with lemon leaves but once again, I didn't have any. I did think about stealing some from my neighbour's tree! But basil and lemon go so well together, I decided to save that idea for next time!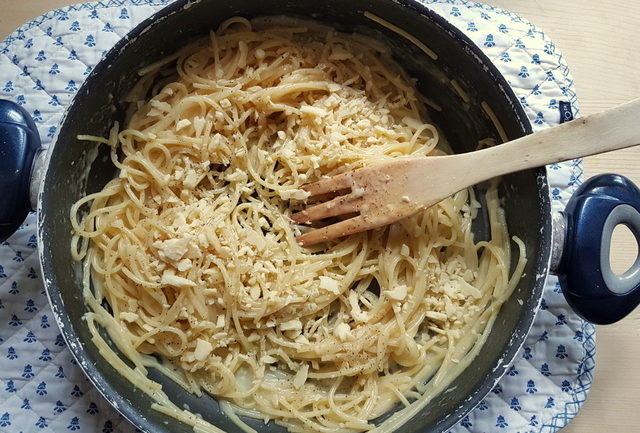 The trick to this lemon water spaghetti is...
The first step to making lemon water spaghetti is to leave the rind of 3 lemons to infuse in ½ litre of water for 12 hours or overnight. This then becomes the water you cook the spaghetti in! Yes! the pasta is cooked in a very small quantity of water! It's important to keep stirring the spaghetti as it cooks so the strands won't stick together. The finally sauce is quite creamy. However, it's actually just the starch from the pasta which is released into the lemon water as the pasta cooks. This is a little sticky, so that's why it's important to keep stirring and also why the addition of olive oil is necessary.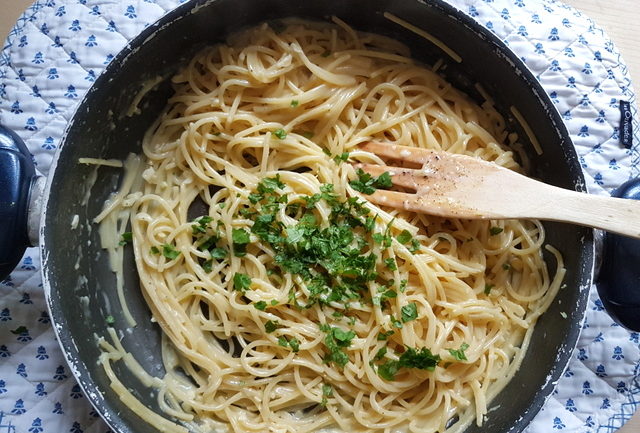 When I first saw this lemon water spaghetti recipe I was intrigued, but skeptical! Cooking pasta in so little liquid seems almost un-Italian! Having made it and eaten it with much enjoyment, I have to say it's fabulous. I'm sure if you try it, you'll think the same.
Buon Appetito.
(Go to next page to see recipe. Just scroll down and click 2)