Fettuccine Pasta Ossobuco with orange and lemon zest.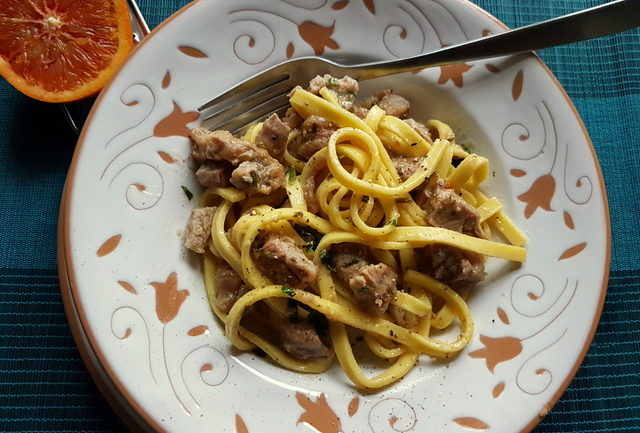 Fettuccine con Ossobuco di Vitello scomposto.
Ossobuco, meaning 'bone with a hole', is a wonderful traditional braised veal shank recipe from Milan. The veal shank is cut into 'chops' which are braised in white wine and stock and served with a gremolata (a chopped herb condiment which includes lemon zest). It's traditionally eaten with either risotto Milanese (risotto with saffron) or polenta. Away from Milan, it is sometimes served with pasta, like in this pasta ossobuco recipe.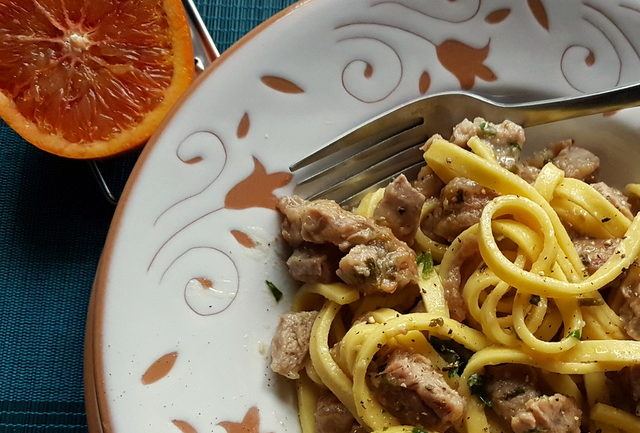 Ossobuco is one of my favourite Italian dishes and one of the first I mastered when I moved to Italy. Although, over the years, my version is has become slightly more contemporary than the original one. I started by following the traditional recipe but now like to add oranges to it and bake it with oranges, carrots and pumpkin. I just love both the colour and flavour this combination gives the dish.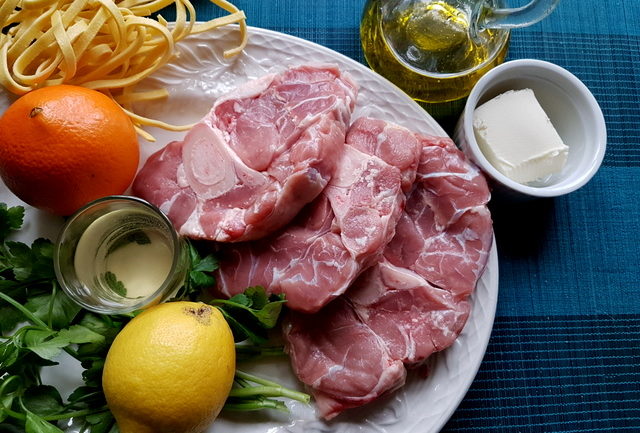 Ossobuco is widely known and loved, especially here in Northern Italy. But, it isn't often found in restaurants outside of Milan. (Another reason why I had wanted to learn to make it when I first moved to Italy 15 years ago). I think in all these years in Verona, I have found it, and of course eaten it, in restaurants only a half a dozen times. Perhaps the fact that veal isn't a cheap meat and ossobuco takes time to cook, puts restaurant owners off including it on the menu. I'm not sure. I'm just brainstorming here!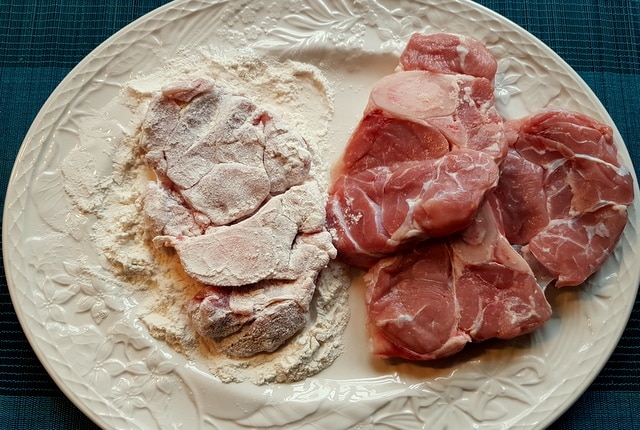 Pasta ossobuco can be made with beef too.
Anyway, luckily veal ossobuco cuts can be found at most butchers and supermarkets. In Italy, you can also get beef ossobuco cuts which is a good alternative to veal for people who either don't eat it or find it too expensive. I made this pasta ossobuco with veal. But I imagine beef would work well too. Although it might need a longer cooking time.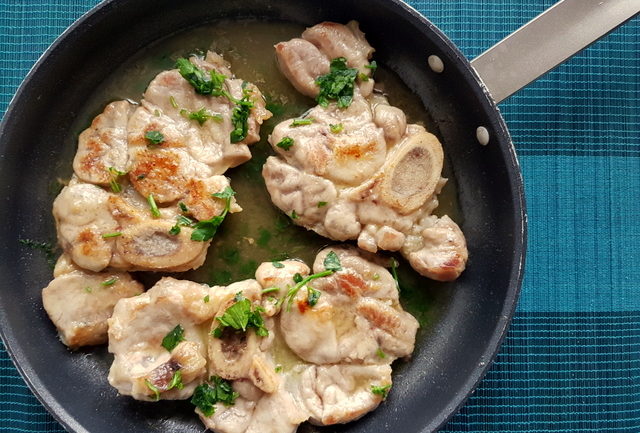 Pasta ossobuco involves cooking the veal in more or less the same way as one would for the traditional dish and then removing the meat and marrow from the bones to create a pasta sauce. I served it with fettuccine but other pasta such as tagliatelle, fresine or tagliolini would also go well with it. I think Northern Italian egg pasta is the best choice, since ossobuco is a Northern Italian dish.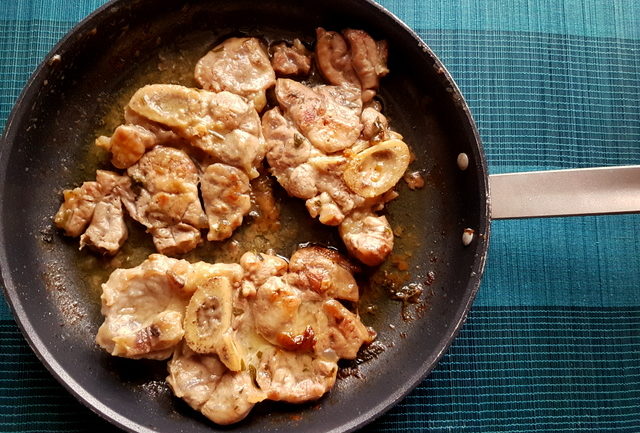 Simple is so often best!
I found a number of pasta ossobuco recipes on Italian recipe sites. This was probably the simplest. But as Italian cuisine is where simple reigns supreme, I was right to follow this recipe. Apart from the meat all you need is some beef stock (preferably homemade), white wine, fresh parsley, flour, butter and lemon zest. I also added some orange zest because I'm obsessed with ossobuco and oranges!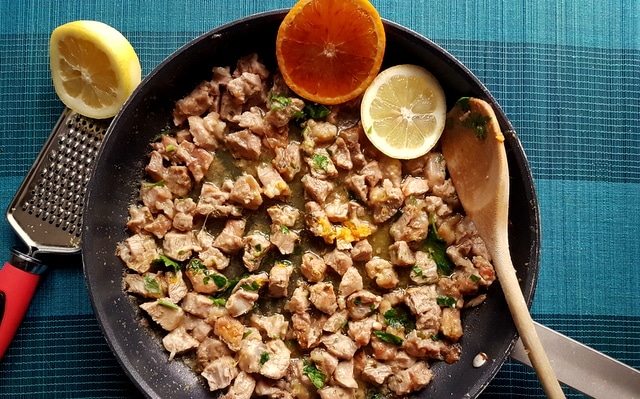 The result was sublime! My Italian dinner guests were much impressed, which was great for my ego! I rarely serve guests recipes I'm trying out for the first time. However, on this occasion, I took the risk and it certainly paid off. If you like ossobuco and you're a pasta lover (which you must be if you are reading this!) do give this recipe a try. You won't be disappointed!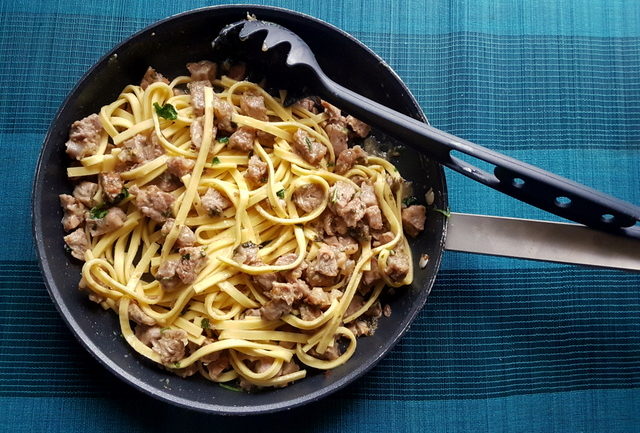 If you make this pasta ossobuco recipe I'd love to hear how it turns out and if you liked it. Please leave a comment here on the blog or on The Pasta Project Facebook page.
Looking forward to hearing from you!
Buon appetito!
Save this recipe for later?
If you want to save this recipe for later, you can print it, bookmark this page or save it to Pinterest.
PIN FOR LATER