Fettuccine pasta ribbons.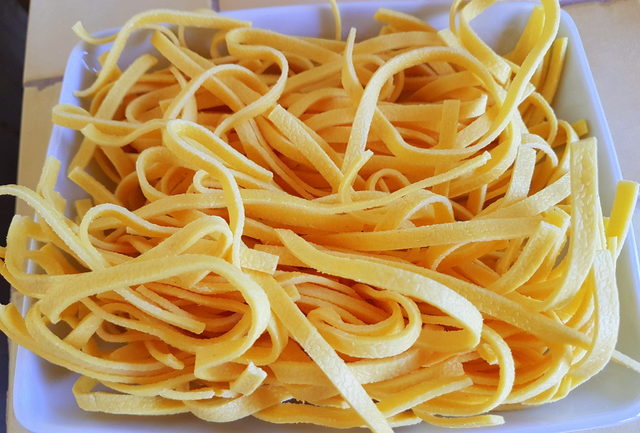 When we think about flat egg pasta ribbons two types normally come to mind; fettuccine and tagliatelle. Both are normally an egg pasta, produced using a mixture of durum wheat flour and eggs. Both types of pasta ribbons are typical and traditional in the central and northern regions of the Italian peninsula. However, their popularity has spread to other regions and there are many different recipes for both cooked throughout Italy. In Southern Italy, pasta ribbons are more likely to be made without egg.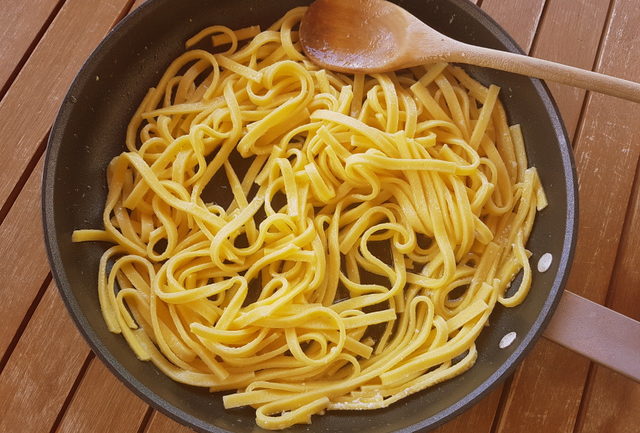 The difference is in the width of the noodle.
Both fettuccine and tagliatelle are traditionally made fresh with more or less the same ratio of eggs to flour (1:100g per person) and are made by rolling the dough out into a thin sheet which is then rolled up and cut. It is really only the width of the pasta that makes the difference. Here in Italy, it's possible to buy fresh fettuccine in almost any supermarket. Many pasta makers also produce a dried version, but making your own pasta ribbons is also a very satisfying and delicious endeavour.
Fettuccine are usually thinner than tagliatelle; normally 3-5 mm in width. Tagliatelle are wider, 6-10mm. If you cut the pasta strips wider still then you have pappardelle! If you cut the dough to 1 or 2 millimetres wide then it's tagliolini! However, be warned, not all Italians agree on these measurements and you may come across other variations, especially from one region to another.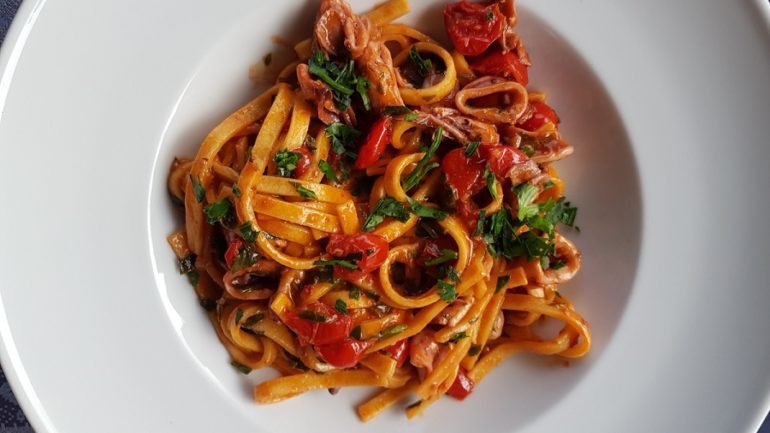 Like many fresh egg flat pasta, fettuccine is thought to be a descendant of the Roman and Greek pasta known as 'lagane'. Most well-known and traditional Italian recipes for this pasta include 'alla paplina' from Rome, a dish invented at the request of Pope Pius XII and very similar to carbonara, and 'alla ciociara', made with meat ragu, prosciutto, mushrooms and peas. Ciociara is a region in the province of Frosinone, Lazio, famous for its thin ribbon pasta which is also often served with porcini mushrooms or in a more modern recipe with 'pomodori bruciati', burnt tomatoes!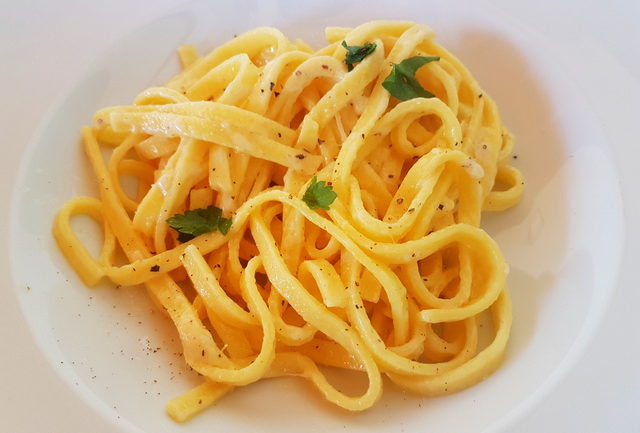 You might have expected me to include Alfredo in the above list but actually, although it's one of the most popular dishes for fettuccine in USA, Alfredo sauce as eaten in US is rarely eaten in Italy. The Italian-American version of Alfredo usually consists of mostly cream and Parmesan cheese. In Italy, however, cream is not used that often to make pasta sauces. Americans call it 'Alfredo', after Alfredo di Lelio who invented it in his restaurant in Rome at the beginning of 20th century. However, in Italy it is mostly just called 'pasta al burro or doppio burro' which means pasta with butter. Alfredo's original recipe also included only Parmesan and butter! It's only because of its popularity with tourists that you will find fettuccine all'Alfredo on restaurant menus in Rome and in order to eat the original recipe it's best to go to the restaurant which is still run by Alfredo de Lelio's grandchildren 'il vero Alfredo'.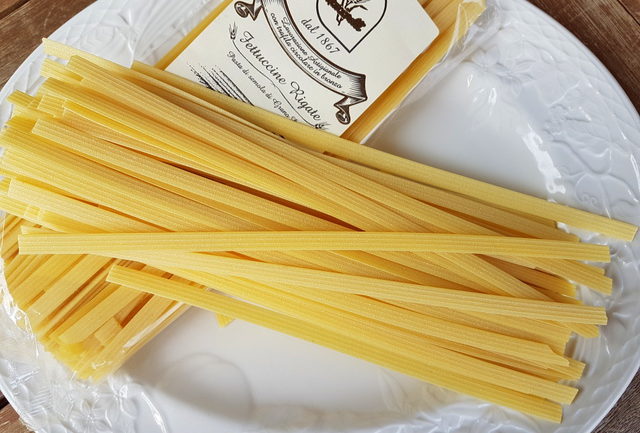 Speaking of Americans and fettuccine, I recently came across a dry fettuccine I had never seen before! These were fettuccine rigate (ridged) and I found them made by an artisan pasta maker in Abruzzo called Masciarelli. At first, I thought this pasta must be typical of Abruzzo and not so common in other regions. But, after having done some research it seems that fettuccine rigate are, in fact, an American innovation. Barilla also makes them, but apart from Barilla, Masciarelli and another producer in Abruzzo called Mamma Regina, I couldn't find any other Italian producers.
If you get the chance to try fettuccine rigate, do so. I used it in a dish from Abruzzo for pasta with saffron and zucchini and the result was excellent! You might also like to try my hubby's recipe for fresh fettuccine with calamari. He loves using this pasta in seafood recipes and I can understand why. It's always delicious.
[amazon_link asins='B003OW7JN2,B0725M8262,1623159180,B00B0XADJ4,B00M9D3L2U,B01MDRM5Y7' template='ProductCarousel' store='thepastaproje-21' marketplace='UK' link_id='8e0f580a-8682-11e7-bdaf-35bc889362b3']