Whether you're a calamari enthusiast or trying it for the first time, this Italian calamari pasta is sure to impress! It only uses a few simple ingredients yet creates such a rich and flavorful dish. It takes just 40 minutes to prepare, making it an excellent choice for weeknight dinners and date nights.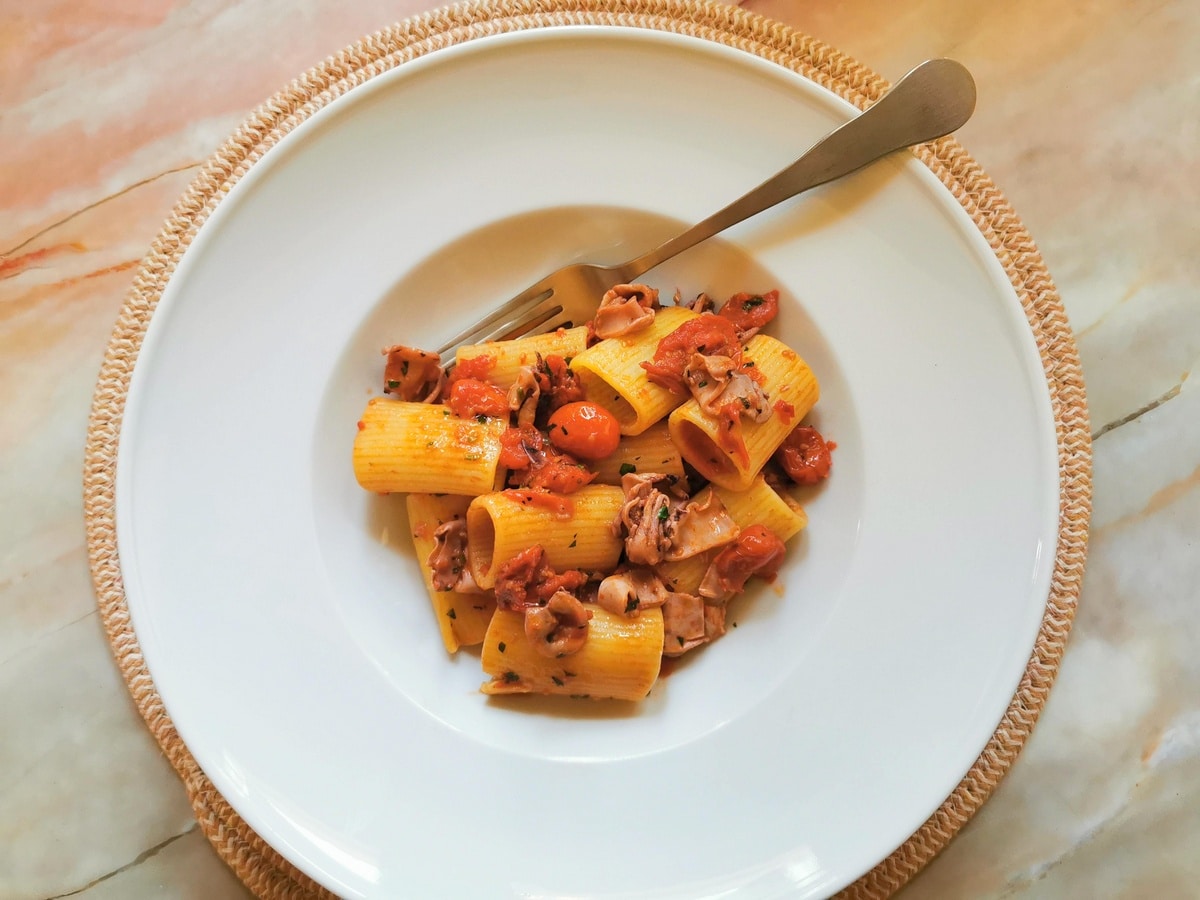 History
Calamari is the Italian word for squid, specifically the European squid (Loligo vulgaris). The word comes from the Latin 'calamarium', meaning inkpot! However, many people in English speaking countries use the name calamari when describing squid as a food.
Calamari is eaten in many countries, but most people think of it as a Mediterranean ingredient. This is not surprising because many well-known calamari recipes come from the countries around the Med. For example, fried calamari rings are a popular dish here in Italy, but also in Spain, Greece, Cyprus, Turkey, Croatia, Slovenia, and Egypt.
Here in Italy, calamari has been eaten for centuries, certainly since the time of Ancient Rome. So, as you can imagine, there are many ways that Italians prepare their squid. They grill it, stuff it, stew it, bake it and, of course, serve it with pasta as in this pasta with calamari and tomatoes recipe.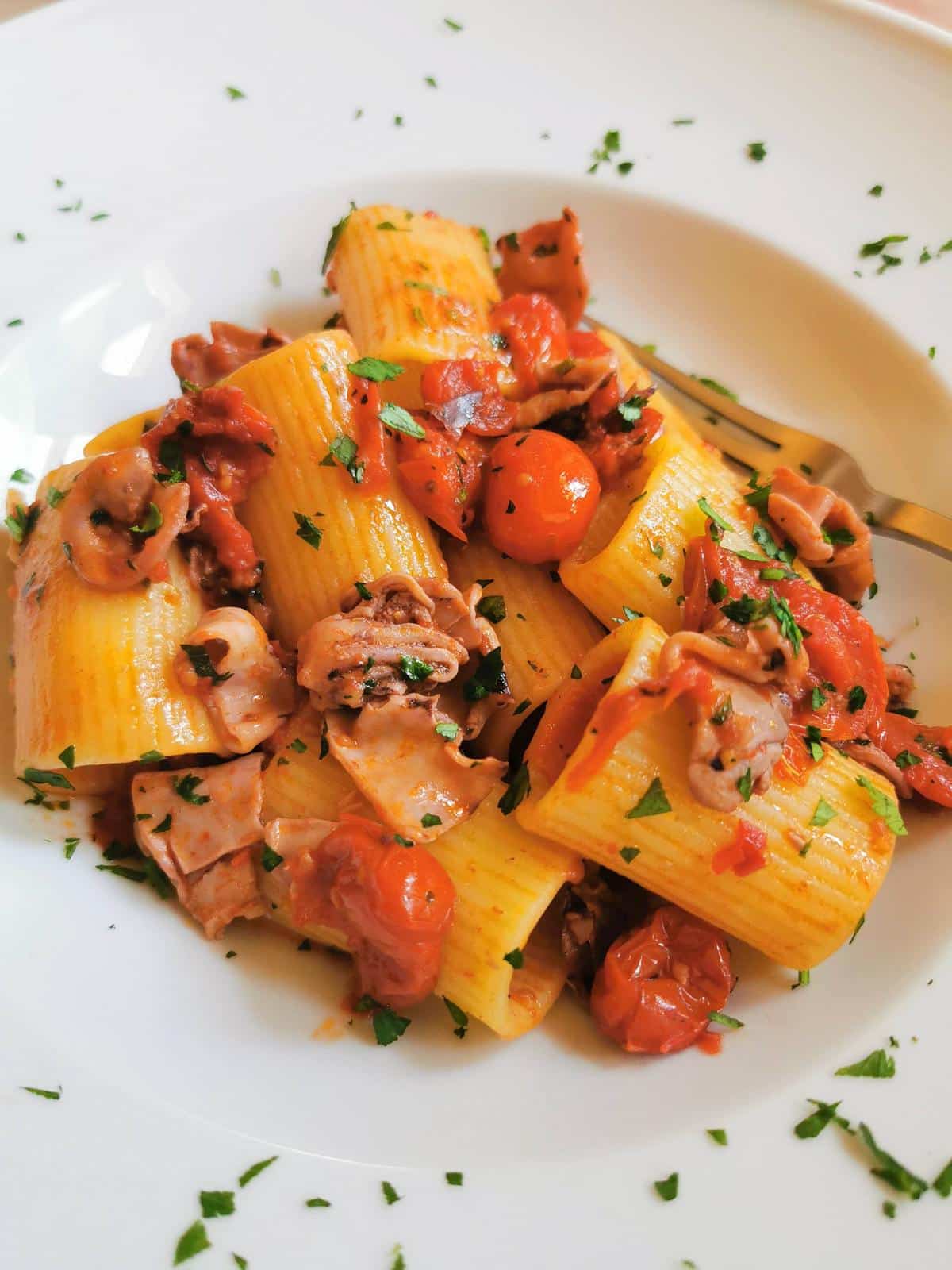 Most calamari pasta recipes originate in the Southern regions of Sicily, Campania, Calabria and Puglia. In general, they are normally quite similar and contain typical Mediterranean ingredients such as garlic, tomatoes, peperoncino and white wine.
However, some also include tomato passata or polpa, which we don't use for this recipe because the sauce becomes too liquid. Others add olives and there are some recipes 'al bianco', meaning white, which don't have tomatoes.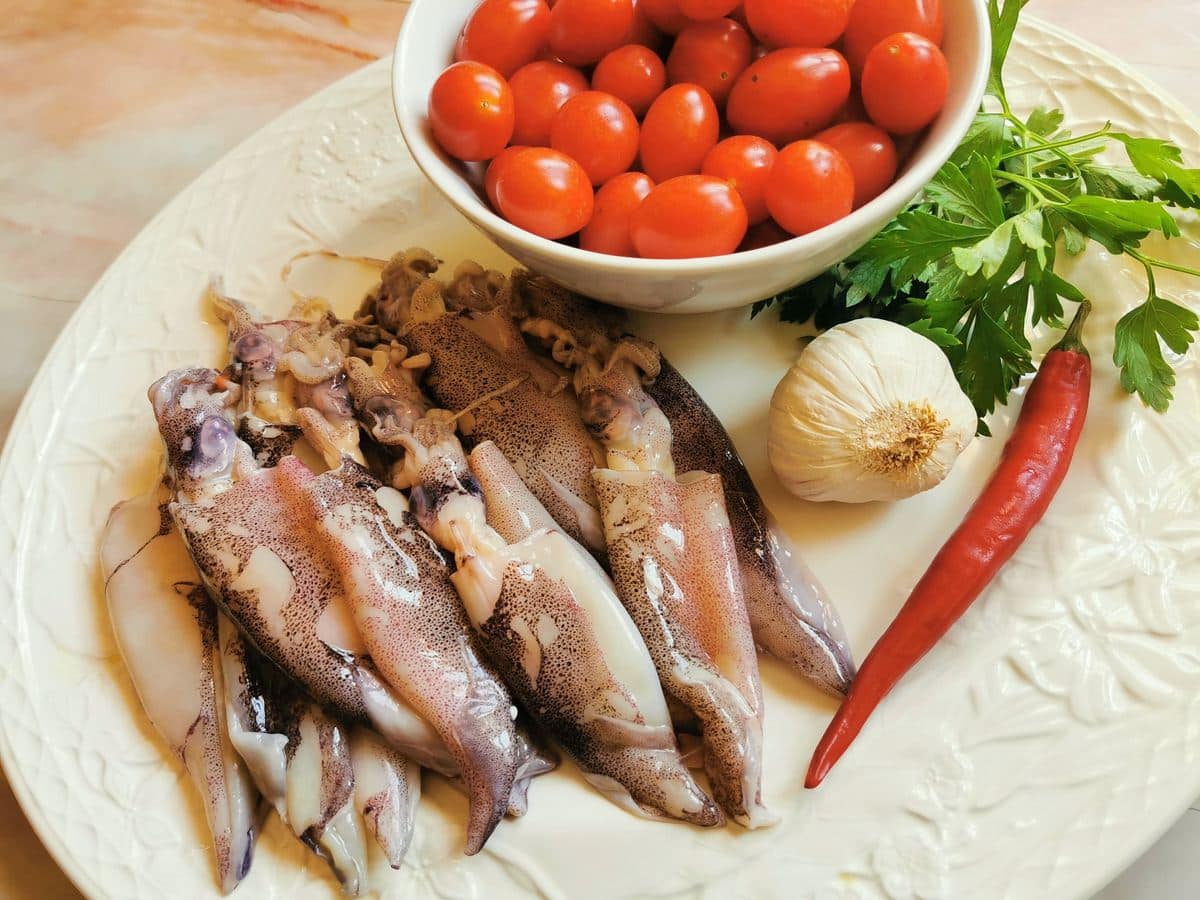 My Sicilian hubby's pasta with calamari and tomatoes
This recipe is my Sicilian husband's and he's the one to usually cook it. (so great to have a hubby that cooks!) It's actually one of the simplest I have come across and since I've eaten it on numerous occasions, I can tell you it's absolutely divine.
The main difference between this recipe and other typical Southern Italian calamari pasta recipes, such as La Calamarata, is in the cooking method. Most recipes say to add the calamari before the tomatoes.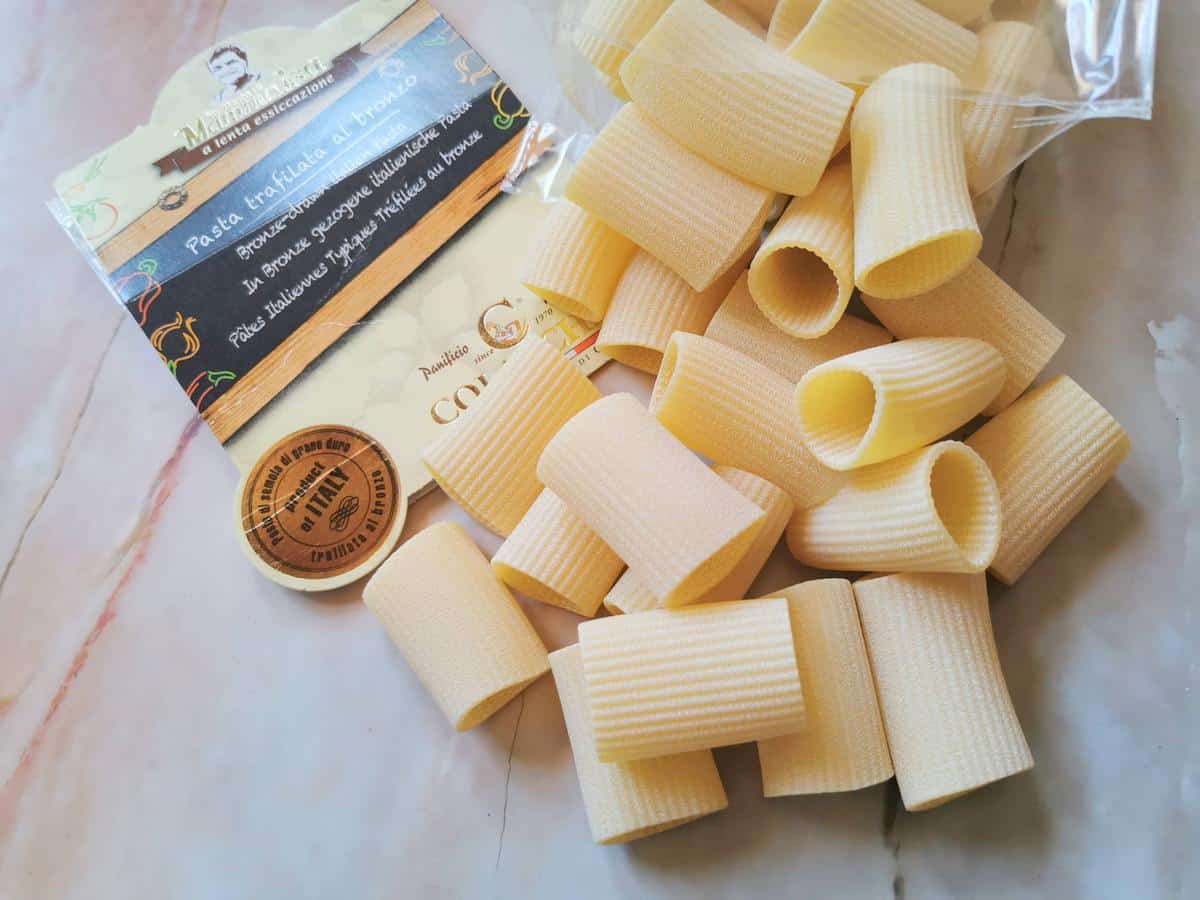 My hubby cooks the tomatoes first until they start to soften and turn the olive oil reddish. I think this is why the calamari takes on a reddish color and the dish is so flavorsome. He also only uses fresh baby or very small calamari and lots and lots of parsley and garlic.
Ingredients
When you look at the ingredients for this recipe, you might think it's simple, but the magic lies in the fresh and high-quality ingredients. Since there are so few ingredients, it's extra important to go for quality!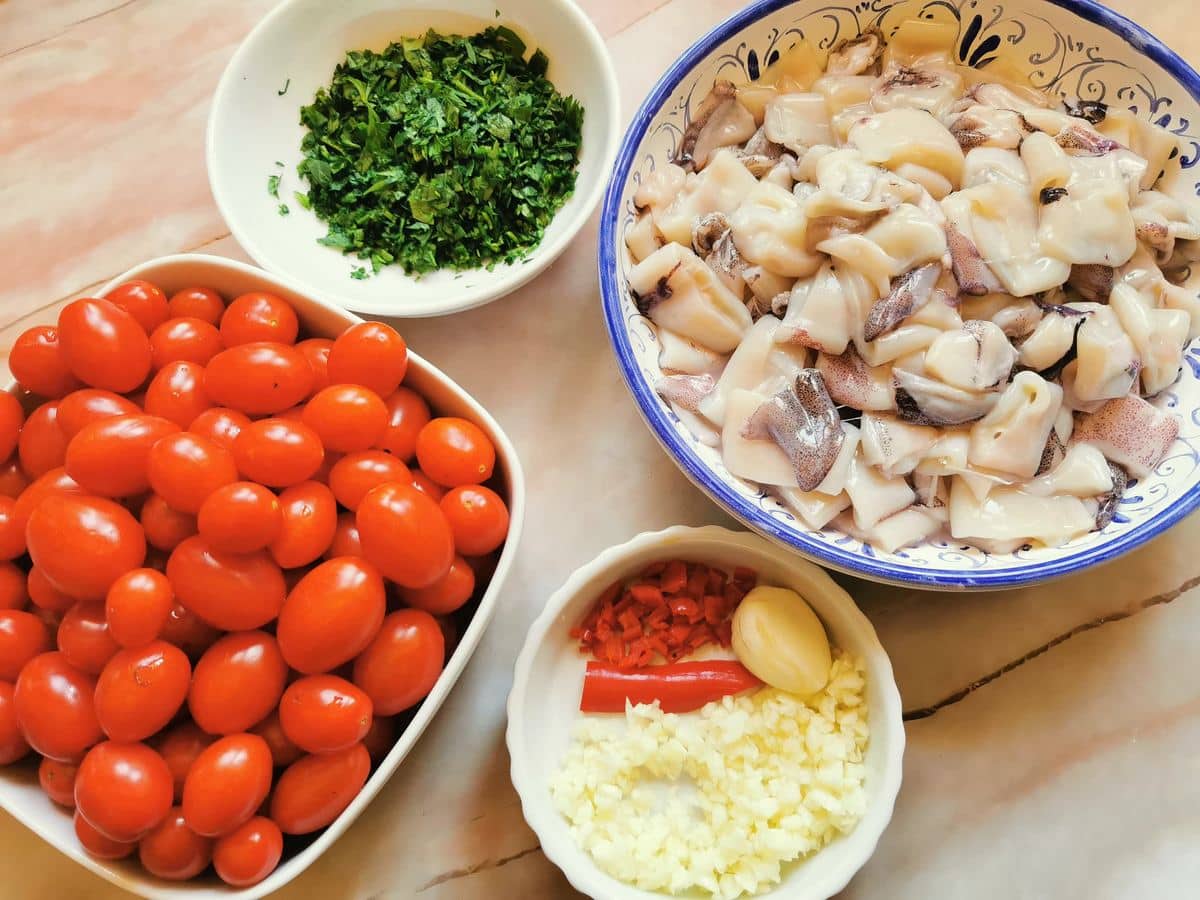 Pasta: In Southern Italy, calamari is more traditionally eaten with paccheri, calamarata or spaghetti This time I used double grooved paccheri (birigati), meaning paccheri with grooves inside and outside. But, this recipe also works great with linguine, tagliolini or fettuccine. One of our go-to's is fresh fettuccine.
Calamari: If you can't find fresh baby calamari, you can use frozen; but not just calamari rings, use whole calamari, even larger ones work. Cooking times may change with frozen calamari but the important thing is not to cook the calamari too long, otherwise they will become rubbery.
Tomatoes: Tomatoes provide a sweet and tangy flavor to the dish. Both cherry and datterini tomatoes work great, but ensure they are small, ripe and very red for the best flavor.
Dry White Wine: Use a dry white wine, as this will add the most amount of flavor to the sauce. You can also omit the wine if you prefer.
Fresh Parsley: Use fresh and not dried parsley; fresh parsley adds a lovely freshness to the recipe.
Olive Oil: I recommend using good-quality extra virgin olive oil, as it will impart a richer, more flavorful sauce.
Garlic: Garlic provides the aromatic foundation for the sauce. Use four minced cloves for the initial sautéing and one whole clove to cook in the sauce, which adds a mild, sweet garlic flavor.
Peperoncino or fresh red chili pepper: This adds heat to the dish. Adjust the quantity according to your tolerance for spiciness.
Step by Step Instructions
1) Place a large pot of water to a boil.
2) Meanwhile, in a large frying pan or skillet, heat olive oil over medium heat. Add the garlic and peperoncino flakes (or chopped chili pepper). Sauté until the garlic starts to soften.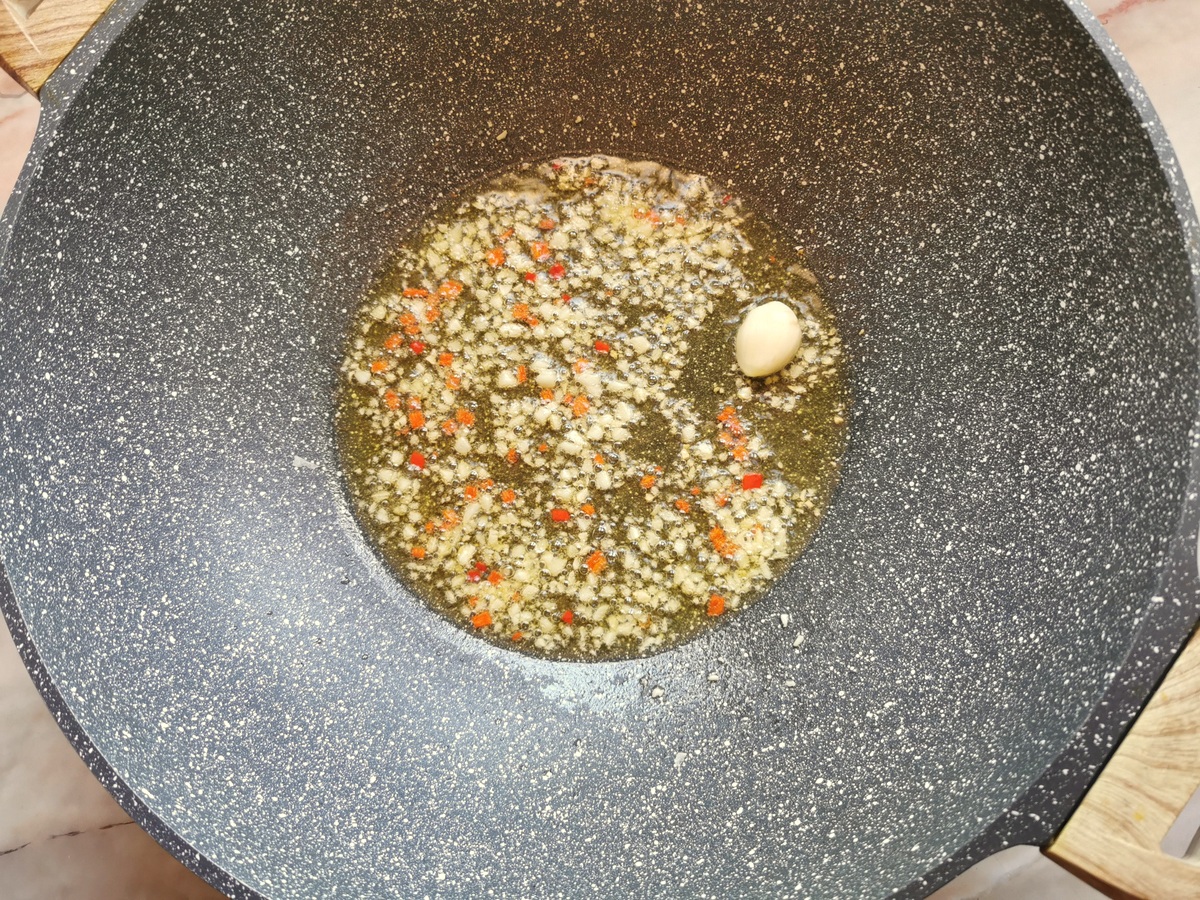 3) Add the tomatoes and cook for about 10 minutes, until the tomatoes begin to soften.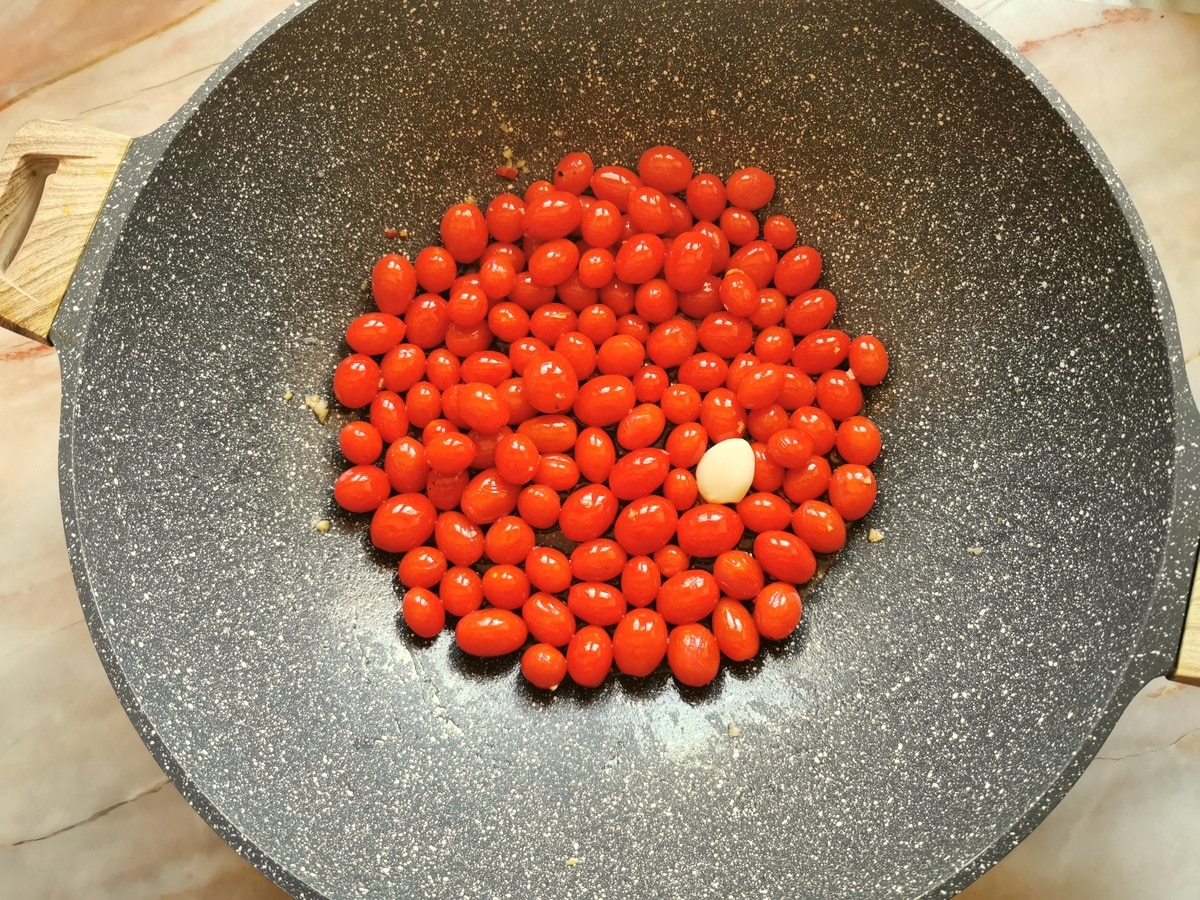 4) Mix in the calamari and pour in two-thirds of the white wine and continue to simmer for 10-15 minutes, until the calamari is cooked.
Note: Make sure to stir the calamari frequently to prevent it from overcooking.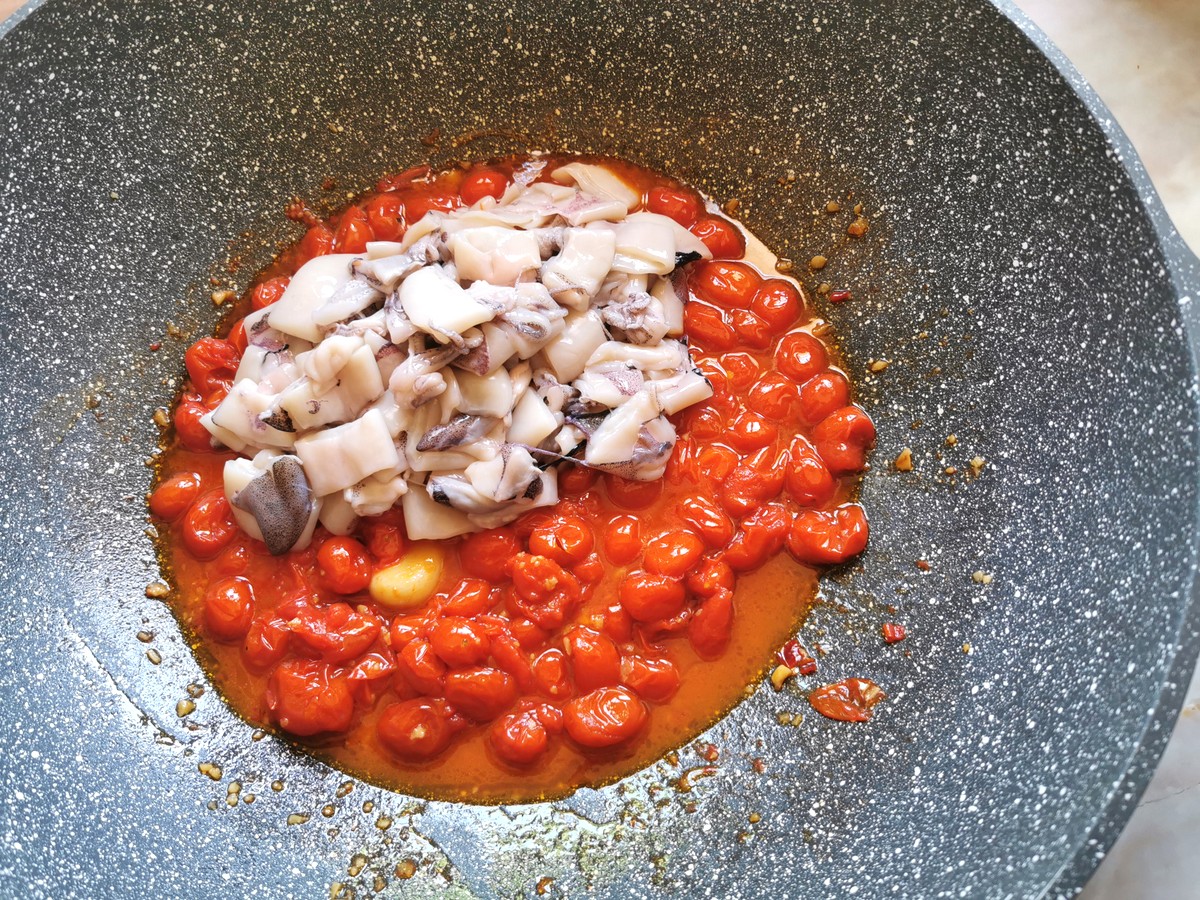 5) While the sauce is cooking, add salt to the large pot of water, then bring it back to a boil before adding your pasta. Cook the pasta to al dente in the boiling salted water according to the package instructions. Before draining, reserve one cup of pasta water.
6) Add parsley and the rest of the wine to the sauce. Stir and cook for another minute.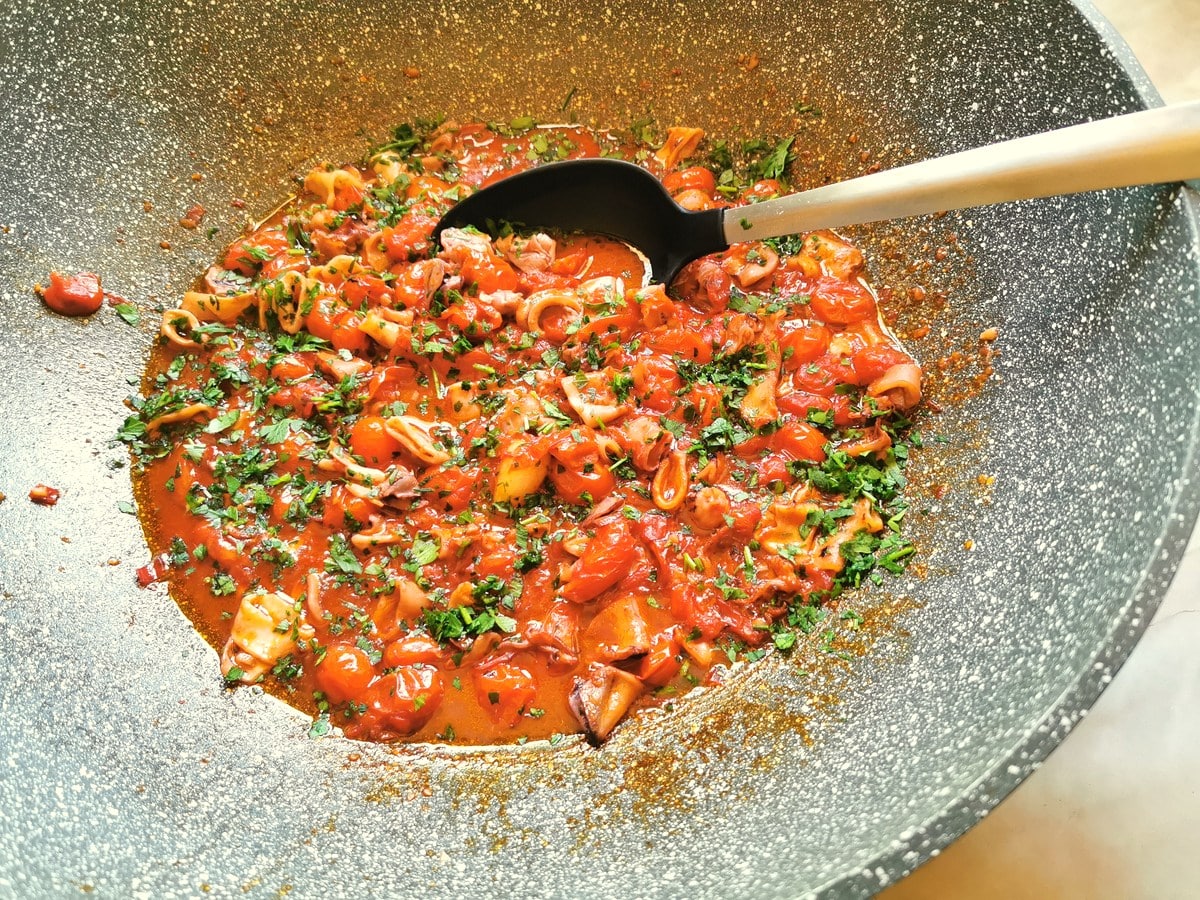 7) Mix in the pasta with the calamari sauce. If the pasta sauce looks dry, mix in a splash of pasta water.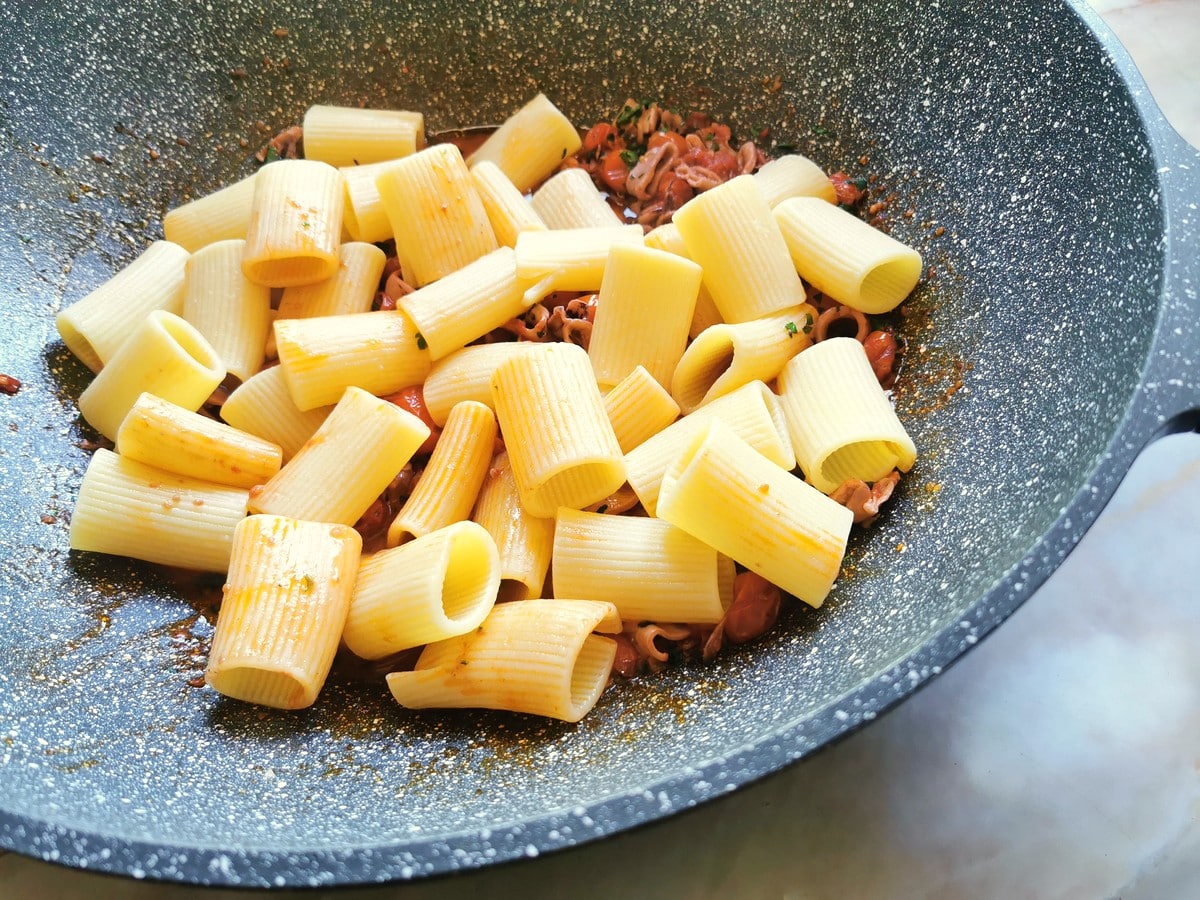 8) Taste and season accordingly with salt and serve.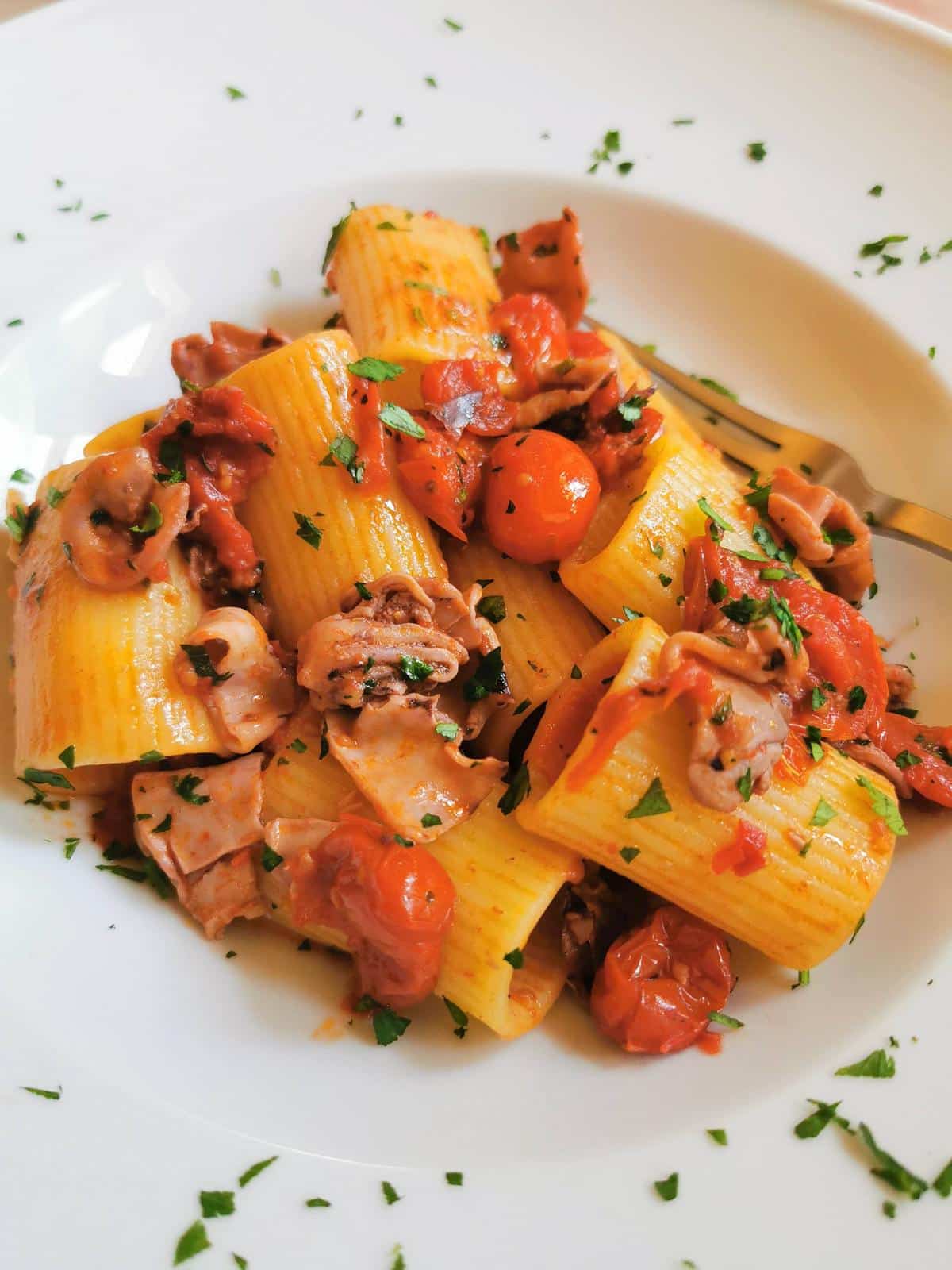 Storage and Leftovers
If you have leftover calamari pasta, place it in an airtight container and refrigerate promptly. Any leftovers should be consumed within 2 days.
To reheat, place the calamari pasta into a saute pan with a ladle of stock. Simmer over medium-high heat, stirring regularly until the sauce has thickened and the calamari is hot throughout.
Alternatively, add a splash of water and reheat covered in the microwave until hot throughout.
FAQs
Can I use frozen calamari?
Yes, you can use frozen calamari if fresh is not available. Calamari freezes well and some chefs believe frozen calamari is more tender. Just make sure to thaw it properly before cooking. Outside of Europe, it's preferable to use frozen calamari from Patagonia as they are known for their quality.
What's the key to tender calamari?
Calamari can quickly turn rubbery if overcooked. The rule of thumb with cephalopods (squid, cuttlefish, octopus etc) is that they should be cooked either very quickly or very slowly - anything in between is where they become tough.The key to tender calamari in this recipe is to not simmer it too strongly and to stir it frequently!
Can I make this dish without wine?
Absolutely! If you prefer not to use wine, it can be omitted entirely. However, you may need to add a little more pasta water later in the recipe to achieve a saucier consistency.
Is calamari beneficial for my health?
Yes, calamari offers several health benefits, particularly for those on a low-calorie diet. Its low-fat content, absence of fiber, and moderate amounts of sodium, potassium, calcium, and phosphorus make it an excellent addition to dietary plans for metabolic health and blood pressure regulation. 100 grams of fresh calamari contains 92 Kcal, 15.58 g of proteins, 3.08 g of carbohydrates without any sugar, 1.28 g of fats, and 233 mg of cholesterol.
More recipes you may like
If you love seafood pasta recipes, don't be afraid to make this at home. Many people only eat seafood pasta in restaurants because they think it must be difficult to make and expensive. I promise you it's almost as simple as making a tomato sauce.
Plus, calamari is probably one of the least expensive and most easily available seafood. Go on give it a try and let me know what you think!
Buon appetito!
This recipe was originally published in 2017 but it has been updated with new photos and text.
Pin for Later: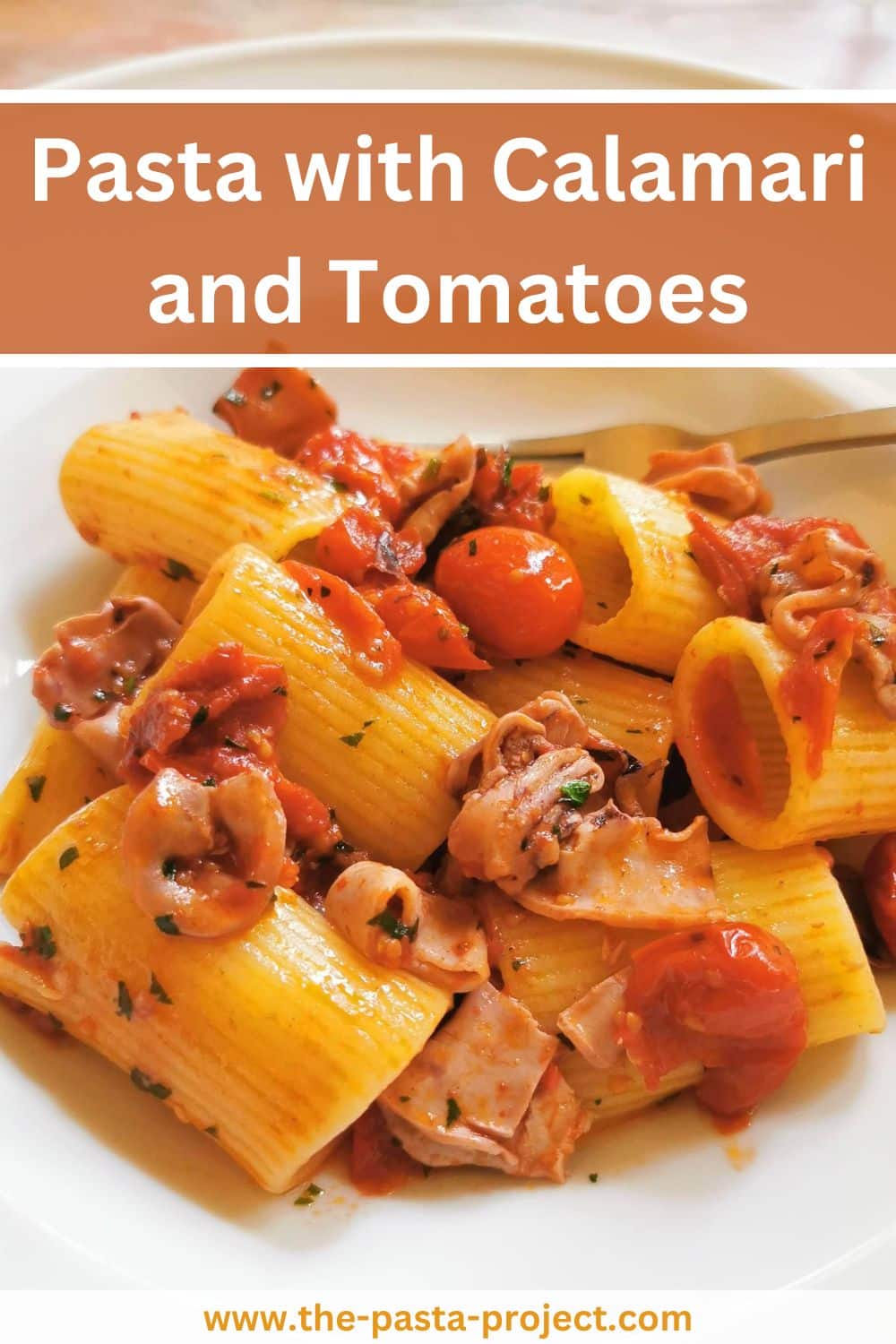 If you are interested in learning how to make other homemade pasta and different types of gnocchi, check out my shop page for some great video online courses from my friends in Rome! Nothing beats learning to make pasta from Italians!
Plus while you're there why not order a copy of one of my pasta recipe cookbooks or checkout some recommended pasta making tools?