Dei Cantoni, Longiano, Emilia-Romagna.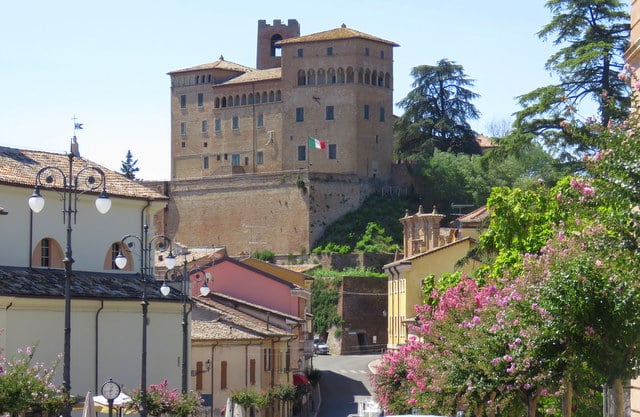 On our way back from Abruzzo on 15th August we met up with one of my hubby's sisters and her husband. They live near Rimini in Emilia-Romagna. They took us to a restaurant in a medieval village in the hills between Rimini and Cesena. If you are ever in that part of Italy, I would suggest visiting the village for its outstanding beauty and the restaurant for its good food.
The medieval village or 'borgo' Longiano is located in the hills between Cesena and Rimini, Emilia-Romagna. The village was built in an area which is known to have been inhabited as far back as the Stone Age, although the village itself didn't start to become an established settlement until 6th and 7th century. In the Middle Ages, it was a thriving community with a castle/fortress known as the 'Rocca Malatestiana' which still stands today.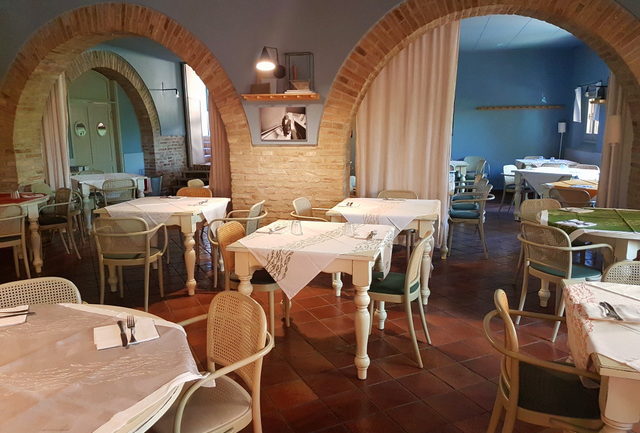 Much of the village has been restored in keeping with the original medieval style and Longiano has been awarded the Orange Flag by the Italian touring club. This is an eco-tourist award to small towns and villages across Italy with a population of less than 15,000 people that make particular efforts towards welcoming tourism in a carefully maintained environment, and promote local industry and crafts.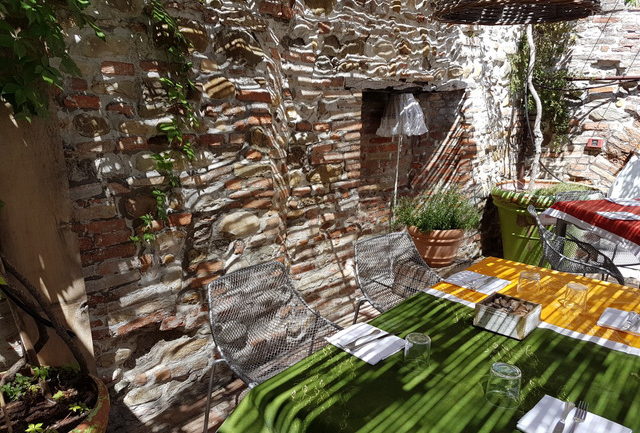 The restaurant we went to is called Dei Cantoni. The 'cantóun' was the poor neighbourhood of the medieval village Longiano. This restaurant was opened in 1989 by husband and wife team Teresa and Danilo Bianchi.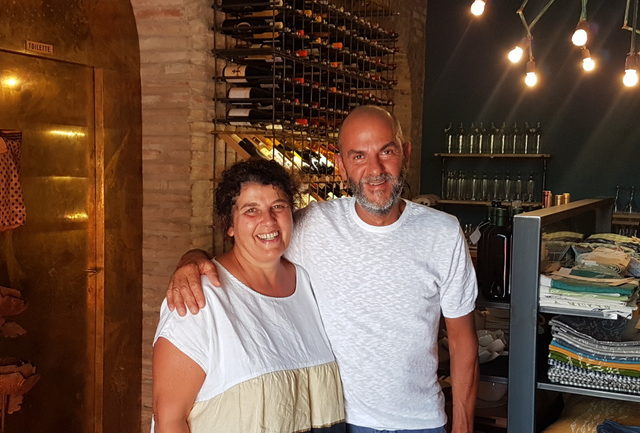 Teresa is the hostess of the house. She welcomes and builds rapport with the clients. Danilo, her husband is the chef. The food is mainly Romagna cuisine with a number of innovative ways of serving local, fresh and seasonal ingredients. The dough for their pasta, which is all homemade, is worked by hand and rolled out using a 'mattarello', a rolling pin.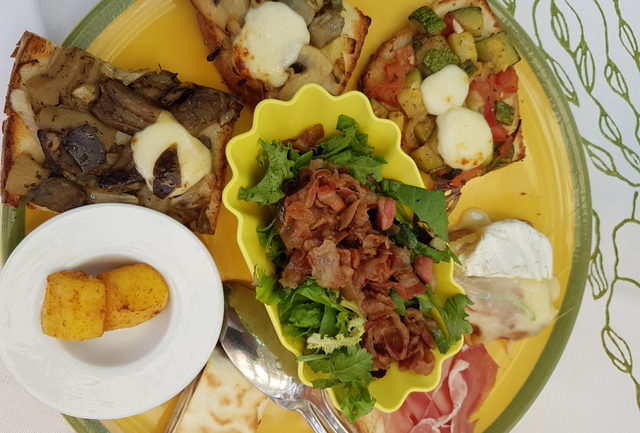 We started our meal with antipasti, as most meals begin in Italy. We ordered 4 mixed antipasti dishes, leaving the owners to choose what to give us. In Romagna, bruschetta or crostini are a traditional antipasto and piadini are served instead of bread. The piadini at Dei Cantoni are also homemade.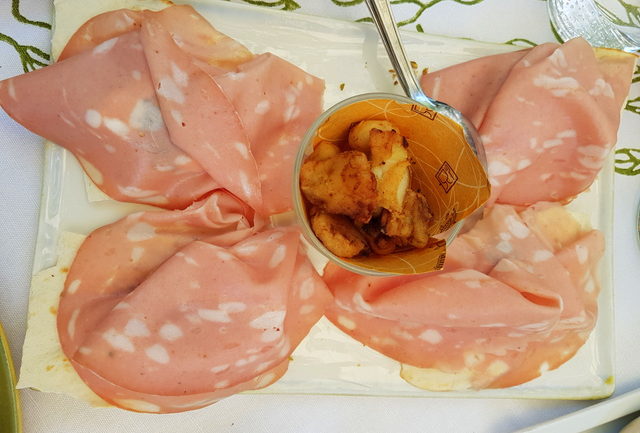 Along with some delicious crostini and the piadini, the antipasti at dei Cantoni also included some prosciutto, mortadella served with burrata and pistachio granuals, fried zucchini flowers, eggplant parmigiana, to name just some! To be honest we were pretty full after eating all this and decided to just have pasta afterwards and no main course.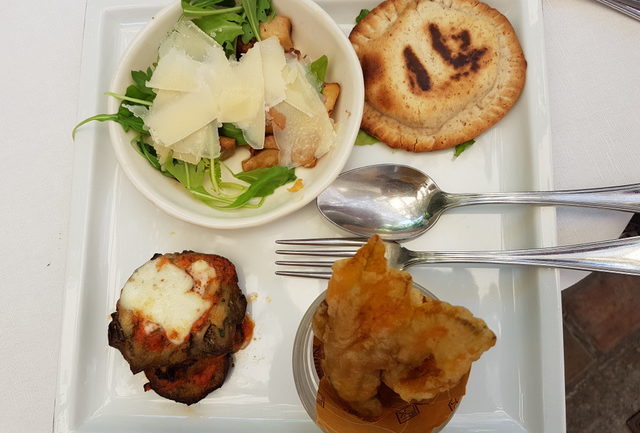 Of the three pasta dishes we chose, my favourite was the rigatoni di Gragnano with a carbonara of baby calamari, pork cheek and grey mullet bottarga or roe. The combination sounded a little strange but the taste was fantastic, so I asked the chef for the recipe (see on the next page).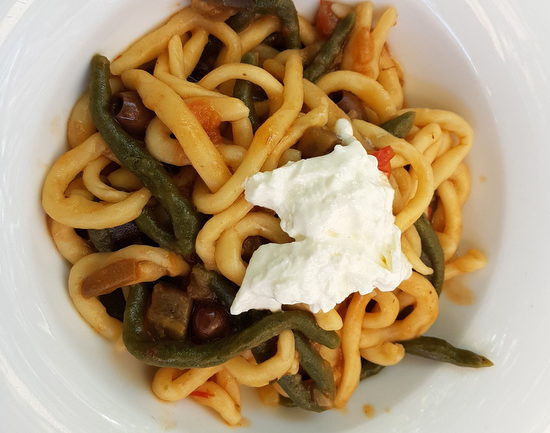 Seafood carbonara dishes are becoming popular in Italy. Most include the basics of carbonara; pork cheek parmesan and eggs, along with some combination of seafood. I have yet to try cooking this type of 'carbonara' but given how good this dish at Dei Cantoni was, I don't think it will be long before I try it myself.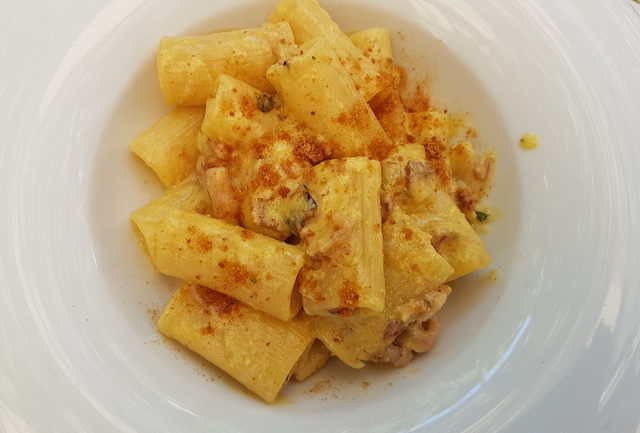 The chittarrelli with swordfish fillet, capers from Pantelleria and candied tomatoes and the paglia e fieno of strozzapreti with eggplant ragu, taggiasche olives and burrata were also delicious and I especially loved the green and plain strozzapreti. In Italian, 'paglia e fieno' means straw and hay and this is what Italians call these two-coloured pasta dishes.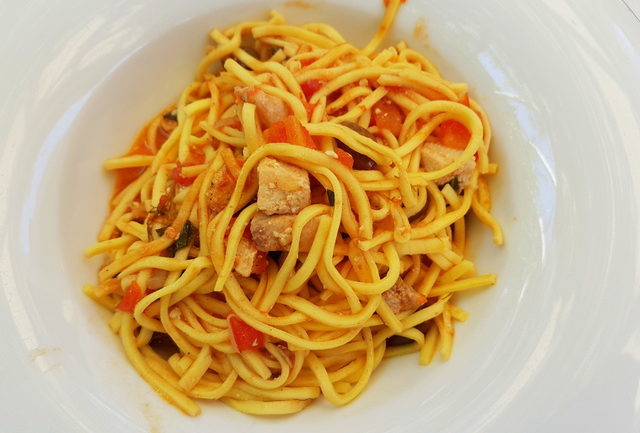 Even if you don't make it to Longiano, you can give the Danilo's recipe for calamari carbonara a try. I have had to estimate the quantities because the chef wasn't too specific about them for normal numbers. However, I used other calamari carbonara recipes as a guide. I'm planning to make it myself in the not too distant future but in the meantime, if you're feeling a need for a culinary adventure, give it a go. I'm sure you won't be disappointed!
Buon appetito!
(see the recipe on the page 2)