Orecchiette Pasta with Romanesco Broccoli, Burrata and Anchovies.
This orecchiette pasta with Romanesco broccoli is based on a traditional recipe from Puglia. It can be made with other types of broccoli too and is a wonderfully delicious and nutritious winter pasta dish.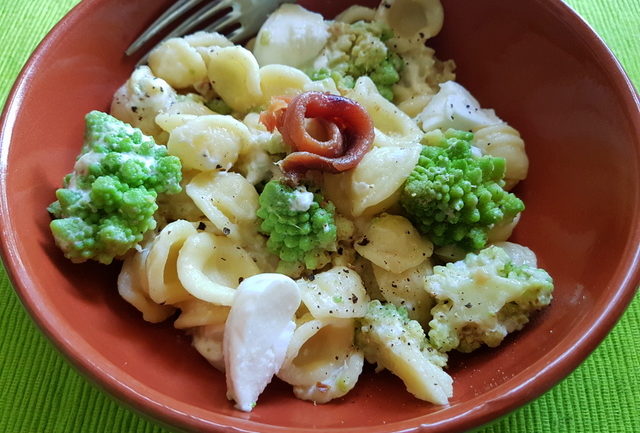 Orecchiette con Broccolo Romanesco.
I'm totally in love with Romanesco broccoli. It's not only the most amazing looking vegetable but has such a wonder delicate and slightly nutty taste. Also known as Roman cauliflower, this natural work of art is a member of the brassica family of veggies. This family includes cauliflower, broccoli, cabbage, kale and Brussel sprouts to name a few. Romanesco broccoli has actually been grown in Italy since the 16th century. So, it's not, as some believe, a modern hybrid between broccoli and cauliflower.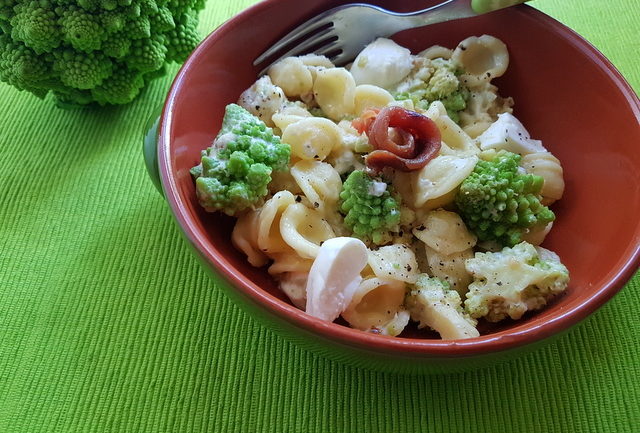 Romanesco broccoli in the Italian kitchen.
Here in Italy, Romanesco broccoli is often eaten as a side dish. Italians like to boil it and season it with oil and vinegar. They also serve it au gratin with béchamel sauce or fried in batter. However, it's a very popular ingredient in soups too. The most traditional soup with this broccoli comes from Rome and is sometimes made with skate. You can find this recipe here. Skate is a fish that's not so easy to find where I live, so my recipe doesn't include it. But, it's delicious even without the skate!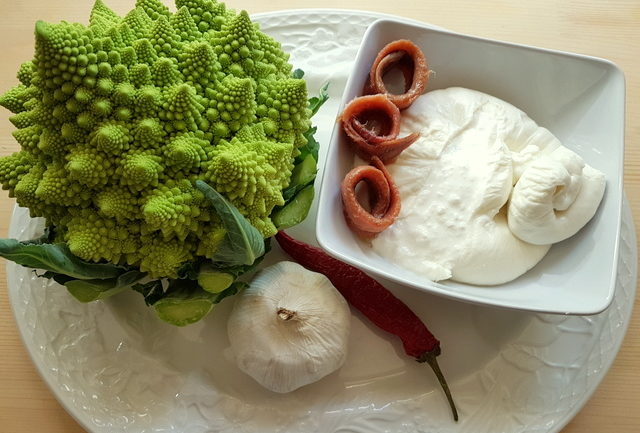 Needless to say, pasta with Romanesco broccoli is popular too. And, there are many pasta recipes which include this wonderful vegetable. This orecchiette with Romanesco broccoli, burrata and anchovies is based on a recipe from Puglia. There orecchiette is the most typical type of pasta. And, orecchiette with broccoli is a very well-loved traditional dish. It's also very popular in other Southern regions too, especially Campania.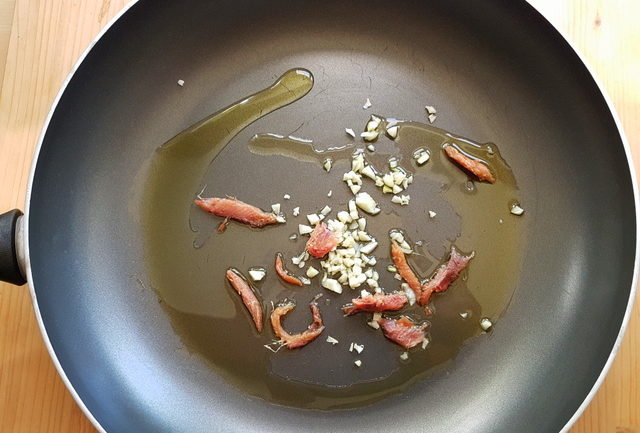 Broccoli in Italy.
In Puglia and Campania, they are more likely to use a local type of broccoli called broccoli Baresi or broccoli rabe. In fact, orecchiette with broccoli rabe is very similar to this recipe. The main difference being that it's common to boil the pasta and the veg together. Actually, you can use any type of broccoli for this dish. Broccoli is very much a staple winter vegetable throughout the Italian peninsula. Interestingly, it was the Italians who gave the world broccoli. They have cultivated it in Italy for more than 2,000 years. Yet, it was only first introduced to Great Britain in 1700s and didn't become popular in US until 1920s!!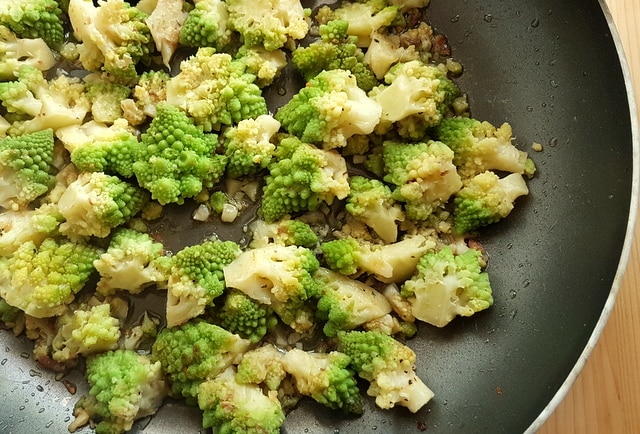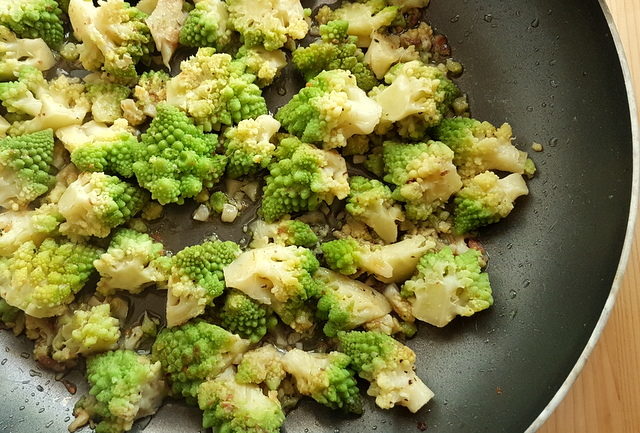 Burrata.
Apart from using a different type of broccoli for this orecchiette with Romanesco broccoli, this recipe is the almost the same as the traditional one from Puglia. The other difference is the addition of burrata instead of grated pecorino. Burrata is probably the most famous cheese from Puglia.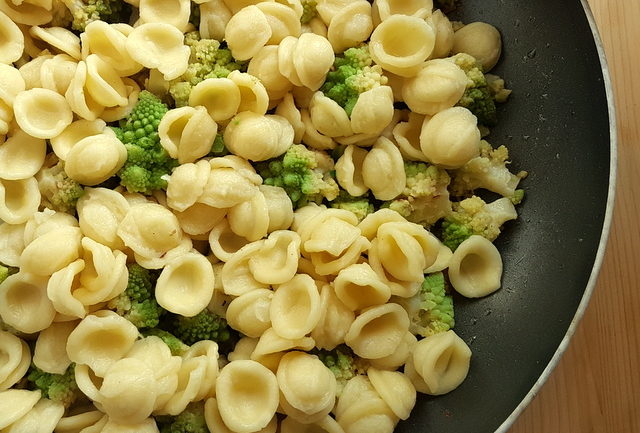 If you like mozzarella but have never tried burrata, I suggest you try to find some! Burrata is usually made by hand. The outside of this cheese is mozzarella. It actually looks like a soft mozzarella. But, the inside is stracciatella cheese and cream. Burrata has a rich buttery taste, hence the name. It's incredibly delicious and adds a wonderful creamy texture to this orecchiette pasta with Romanesco broccoli.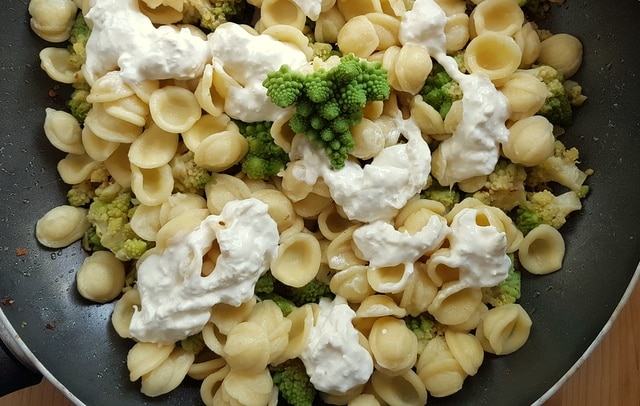 Orecchiette pasta with Romanesco broccoli is full of goodness!
This orecchiette pasta with Romanesco broccoli recipe is easy to make and doesn't take much time to cook. You can make it vegetarian by leaving out the anchovies. However, even with the anchovies, it doesn't taste fishy at all. Anchovies are a common ingredient in Southern Italian pasta recipes. They are often melted into sauces and add a wonderful umami, salty seasoning. Anchovies also contain protein and other vitamins and minerals. Just 5 anchovies contain 9 grammes of protein! And, of course, the Romanesco broccoli is full of goodness too, It's rich in vitamins C and K, antioxidants and dietary fibre! So, not only delicious but nutritious too!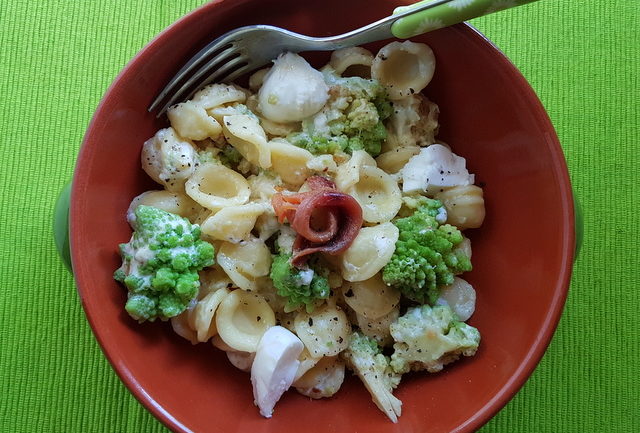 If you make this orecchiette pasta with Romanesco broccoli recipe, I'd love to hear how it turns out and if you liked it. So, please leave a comment here on the blog or on The Pasta Project Facebook page.
Looking forward to hearing from you!
Buon appetito!
Do you love orecchiette pasta? Me too! Check out these other orecchiette recipes.
Save this recipe for later?
If you want to save this recipe for later, you can print it, bookmark this page or save it to Pinterest.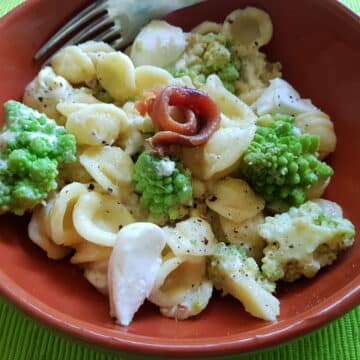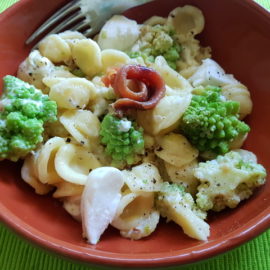 Orecchiette pasta with Romanesco broccoli
This tasty and nutritious pasta with Romanesco broccoli is based on a traditional dish from Puglia, Southern Italy. It's easy to make and, of course, you can use other types of broccoli.
Ingredients
400

g

orecchiette

(14 oz)

1

large Romanesco broccoli

or 2 small

2

garlic cloves

peeled and chopped

4

anchovy fillets

in olive oil. Drained and cut into small pieces

1/2

fresh red chili

(peperoncino) or tsp dried flakes

150

g

burrata

(5-6 oz) or fresh mozzarella

3

tbsp

extra virgin olive oil

salt

for pasta and to taste

black pepper

to taste
Instructions
Prepare the ingredients
Wash the broccoli and cut off the stalk and break it into florets. Peel and chop the garlic. If using fresh peperoncino, cut it open, remove the seeds and cut into small pieces (use as much as you require depending on how spicy you like your food. I would recommend 1 tsp). Cut the anchovies into small pieces.
Make the condiment
Cook the Romanesco broccoli florets in plenty of salted water for about 10 minutes (they need to be quite firm), then drain them, rinse under cold water to preserve the colour and put them aside.

While the broccoli is cooking, heat the extra virgin olive oil in a frying pan or iron skillet with the chopped garlic and the anchovies. Add a little dried or fresh chili pepper according to your taste. Cook until the garlic has softened and the anchovies have melted.

When the anchovies have melted add the drained Romanesco broccoli florets and cook over a low heat until the florets start to break apart. Add salt and pepper to taste.
Cook the pasta.
Put a pot of water on to boil for the pasta. Add salt once it starts to boil. Bring to the

boil again and add the pasta. Cook the pasta al dente according to the instructions on the packet. When

the pasta is ready, save a cup of the cooking water and drain.
Finish the dish.
Add the pasta to the broccoli with a little of the saved cooking water. Mix everything together. Cook for a minute over a high heat. If it seems dry add a little more pasta cooking water.

Cut the burrata into pieces and add it to the pasta and broccoli, mix and serve immediately. The combination of the warm pasta and the cold burrata is delicious. You can also add a dash of olive oil. Even more delicious!
Notes
If you can't find burrata you can use mozzarella instead.
Normal broccoli works very well in this recipe too. In fact, in Puglia, that's what they use.
Pin for Later