Orecchiette with Braciole alla Barese (beef rolls); recipe from Puglia.
This rich and tasty traditional orecchiette with braciole alla Barese recipe comes from Bari in the Southern Italian region of Puglia (Apulia). Like many similar Italian 'Sunday sauce' recipes, it takes a while to cook, but the result is melt in your mouth filled beef rolls in a thick flavourful tomato sauce.
(click to go straight to recipe page)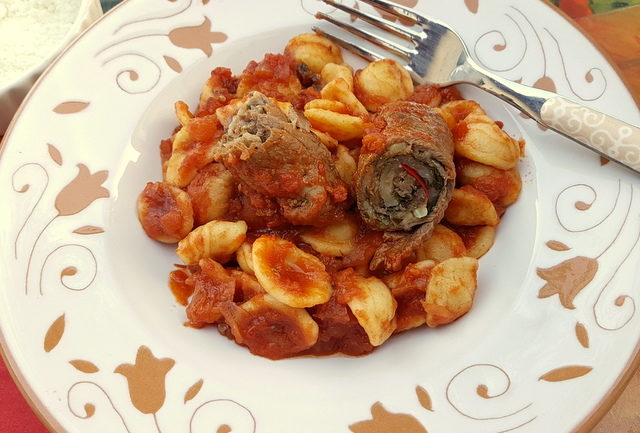 Sunday Sauce!
In many Italian-American families they refer to slow cooked tomato and meat pasta sauces as 'Sunday sauce'. Italians say 'sugo della domenica', meaning the same thing. These types of pasta sauce are so named because they are traditionally cooked and served on Sundays or national holidays.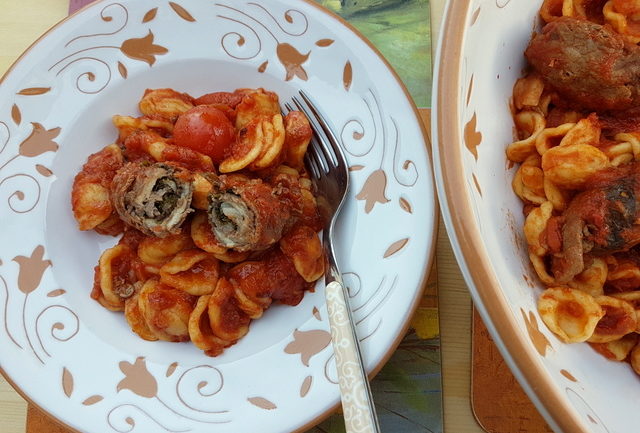 In the Southern Italian regions 'Sunday sauce' is usually made with different types of meat, in large pieces not ground. The sauce usually takes hours to cook and this is most probably why it's a dish reserved for holidays and Sundays. Plus, the pasta is often homemade, another time consuming but worthwhile task.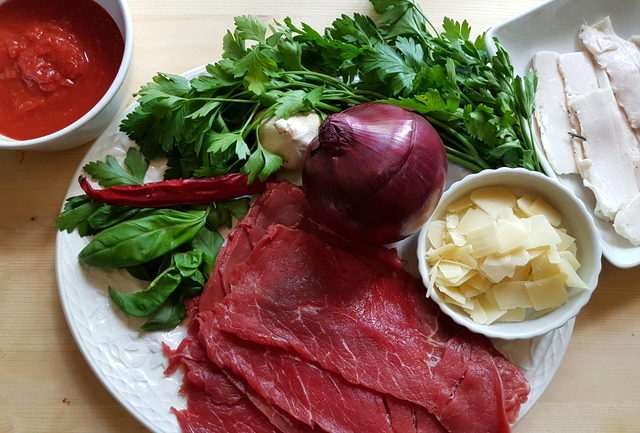 Depending on the region or even the cook, the meat in these sauces can be sausages, pork ribs, pork chops, meatballs, chunks of meat or, like in this orecchiette with braciole alla Barese, filled meat rolls. Italians also call these 'involtini'. Some traditional 'Sunday sauce' recipes also include types of offal or more than one type of meat. For example Neapolitan ragu is made with braising beef, pork ribs and braciole.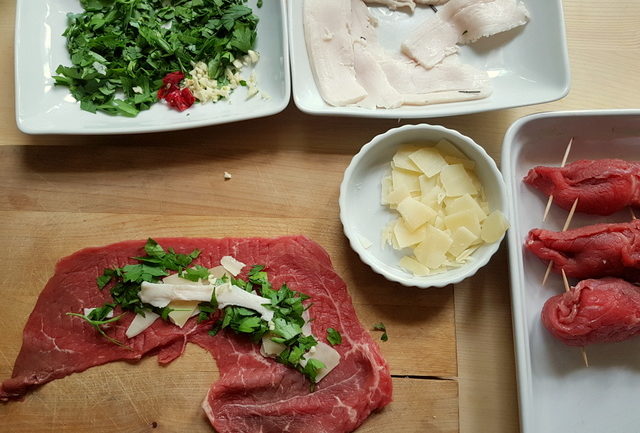 Many of these sauces are served as two courses. As is traditional with this orecchiette with braciole alla Barese, the meat infused tomato sauce is served over pasta and the braciole are eaten as a main course (secondo in Italian). However, they can be eaten together as a very hearty one dish meal.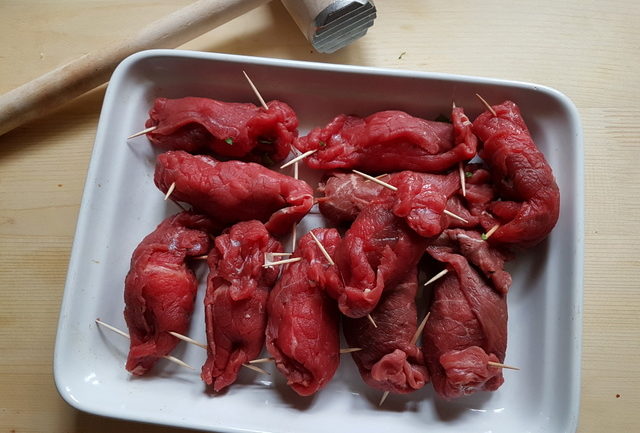 This orecchiette with braciole alla Barese recipe.
Orecchiette with braciole alla Barese is one of the most loved and well-known 'Sunday' dishes in Bari, Puglia (Apulia). The braciole (in local dialect 'brasciole') are beef or veal rolls. The original recipe is made with horse meat. The rolls are made with a filling of parsley, garlic, pecorino cheese and, sometimes, lardo or prosciutto. They are cooked very slowly in a tomato sauce that becomes a thick tasty ragù which has been infused with the flavour of the meat.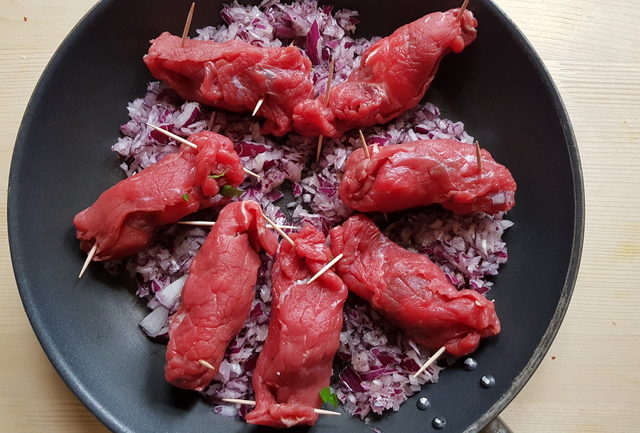 Making this dish
You'll need some thin cuts of lean beef (usually top or bottom round roast). For 4 people, you can either assemble 4 medium-sized braciole if you're going to serve them separately without pasta. 8-10 small ones are better for serving with the pasta. (I made smaller ones as we ate them with the pasta)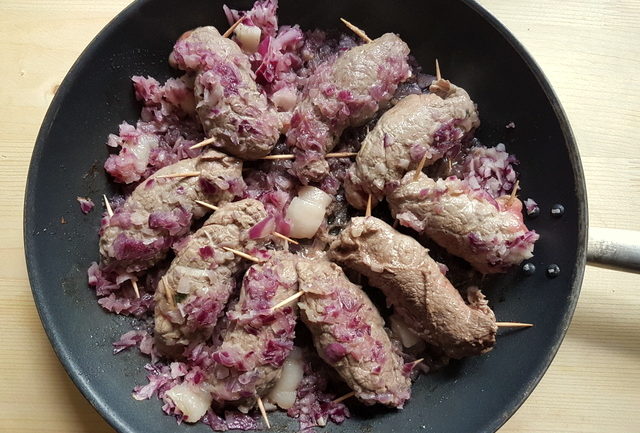 What is lardo?
I added Italian lardo to the filling and to the sauce. Lardo is pig back fat which has been preserved in various ways and is also eaten on bread or added to recipes such as this one for ziti pasta with Italian lardo from Naples. It's not lard, which in Italian is 'strutto'. Instead of lardo, you can use slices of Parma ham or pancetta. The recipe I followed also included some chopped fresh peperoncino, which gave the braciole a slightly spicy taste. We love our food spicy. But, if you don't, leave the red chili pepper out.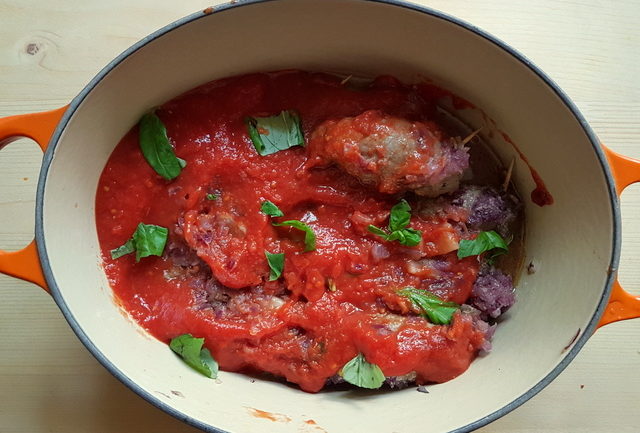 The Pasta.
In Puglia, this dish is traditionally served with orecchiette. Orecchiette is the most well-known of Pugliese pasta and has been made and eaten there since the 12th or 13th century! However, other short pasta would work well too. I would suggest fusilli, penne, Sardinian gnocchi (malloreddus) or casarecce.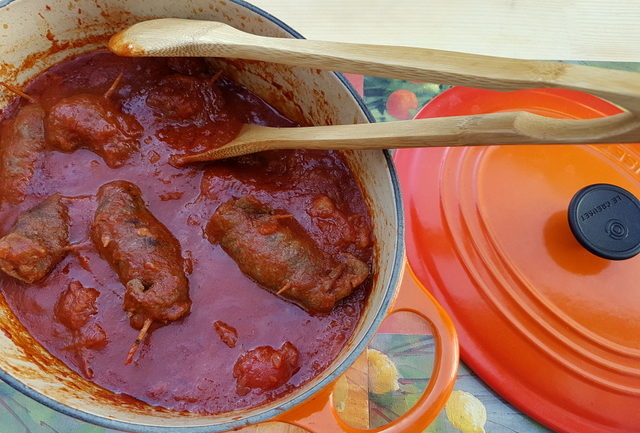 Worth every minute it takes to cook.
Although this dish takes over 2 hours or more to make, it's not difficult to do. Also, the end result is so worth the wait. Your kitchen will be filled with such a mouthwatering aroma that your family and/or guests will be salivating with anticipation. They won't be disappointed!
If you make this recipe I'd love to hear how it turns out and if you liked it. Please leave a comment here on the blog or on The Pasta Project Facebook page. Looking forward to hearing from you.
Buon appetito!
(go to next page to see recipe. Just scroll down and click 2)