The Italian version of pasta with meatballs.
This orecchiette with meatballs is based on a similar dish that I enjoyed during a recent trip to Salento, Puglia, in Southern Italy. Many consider this dish to be the authentic Italian version of pasta with meatballs!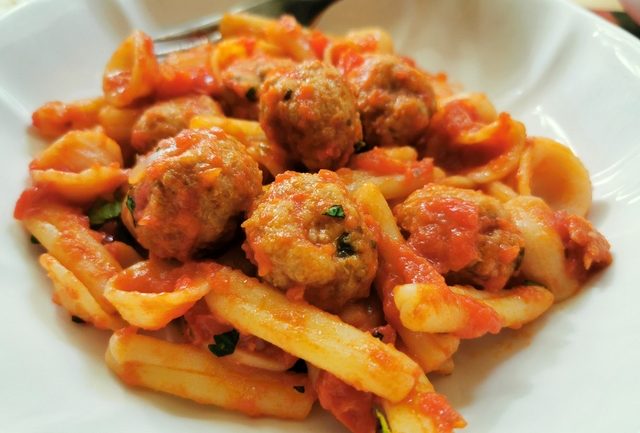 Orecchiette maritate con polpettine
Pasta with meatballs is one of those recipes that sparks much debate. Many consider it to be more an Italian-American dish and not something that's eaten in Italy. To some degree this is true. Most Italians don't eat spaghetti with meatballs as it's made in the US.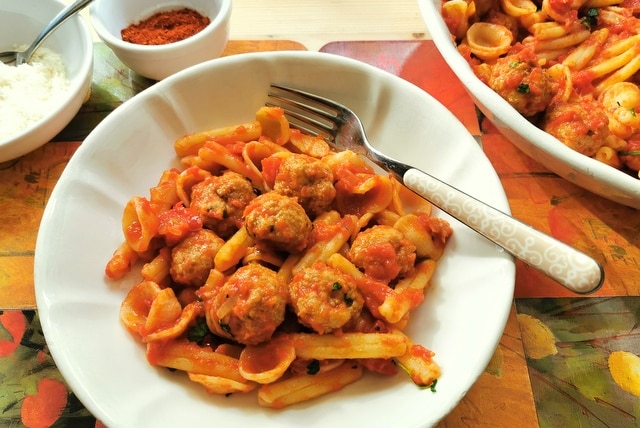 That recipe was apparently 'invented' by Italian immigrants in New York in the early 20th century. However, the origins of pasta with meatballs is definitely Italian, particularly from Abruzzo and Puglia. One of the most well-known pasta dishes in Abruzzo is spaghetti alla chitarra with very small meatballs called 'pallottine' normally made from a mix of veal, pork and lamb.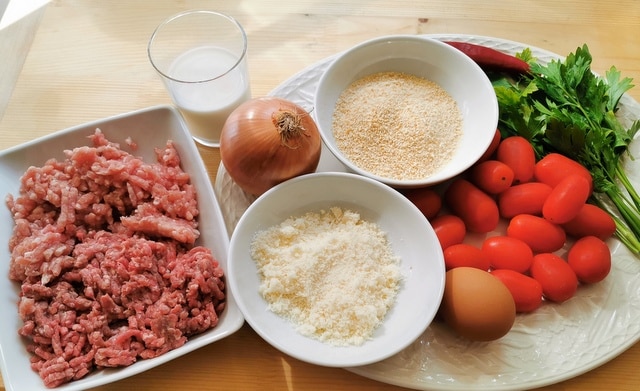 In Puglia, on the other hand, this orecchiette with meatballs is very traditional and many people think of this as the original Italian version of pasta with meatballs. The differences between Abruzzo meatballs and the ones in this recipe are the type of meat used and the size.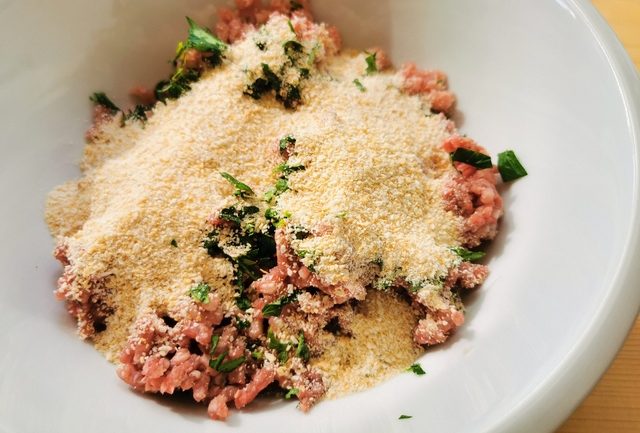 There's no lamb in this recipe from Puglia. The meatballs are also bigger. Whereas the pallottine in Abruzzo are seriously tiny (about the size of a cherry), the ones in this orecchiette recipe are about the size of a walnut! Still not as big as the Americans make theirs!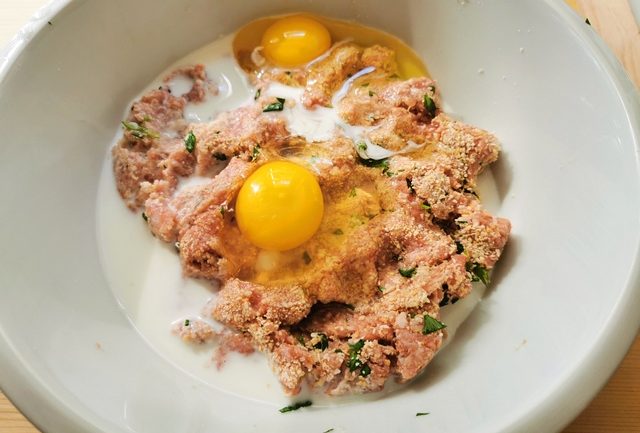 Italians do eat larger meatballs but not actually with pasta. Traditionally, they remove them from the sauce, which they serve with pasta as a first course ( primo). Then they eat their meatballs as a main course (secondo).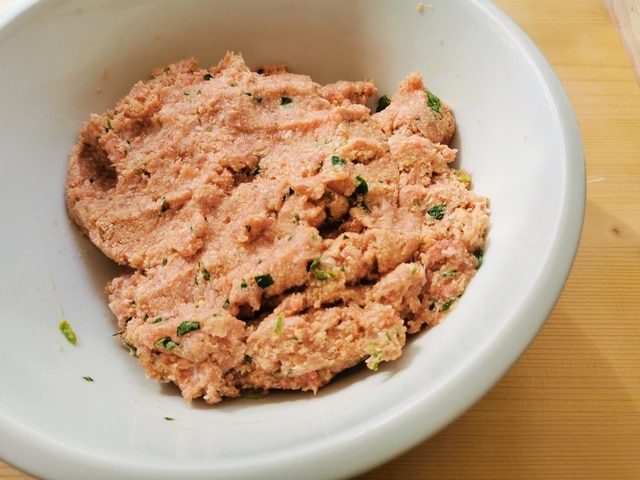 There are a number of typical 2 in 1 Italian pasta recipes which are popular on Sundays and holidays! A couple of examples here on The pasta project are orecchiette with beef rolls (braciole), also from Puglia, and Italian braised pork ribs with pasta from Emilia-Romagna.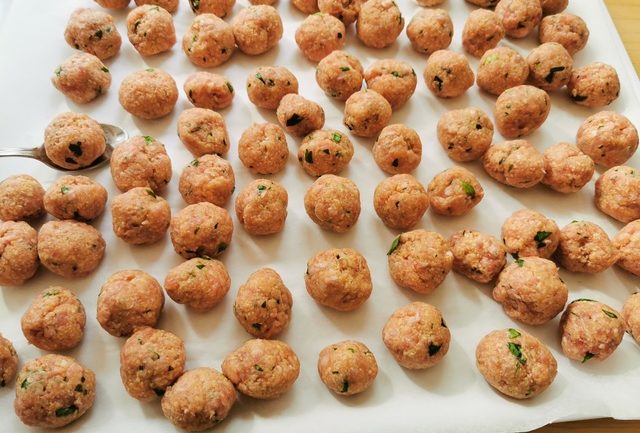 The pasta.
Whilst on holiday in Salento, Puglia, I noticed some restaurant pasta dishes made with 'orecchiette maritate'. Actually, this was a term I hadn't heard before. I was surprised to learn that it refers to a 'marriage' or mix of 2 types of pasta, orecchiette and what the people in Puglia call maccheroncini.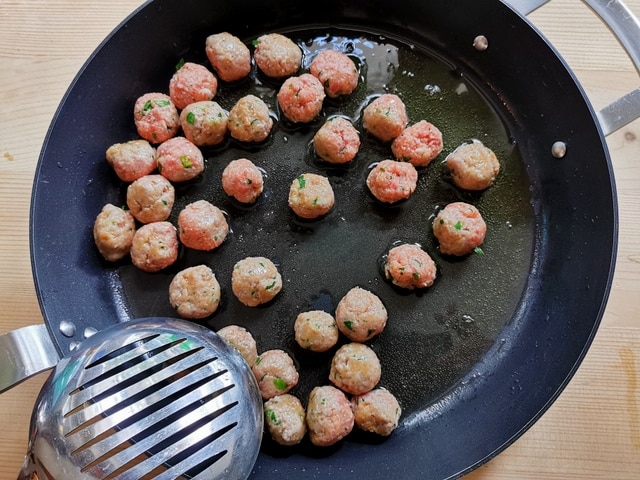 In Puglia, the maccheroncini in orecchiette maritati are a type of casarecce or pasta 'al ferreto'. A ferreto is a thin metal rod or wire used by housewives to make pasta. Small pieces of pasta are wrapped around the rod and then slid off. This type of pasta is sometimes called ferretti. Fusilli was originally a ferretti pasta as is fileja pasta from Calabria.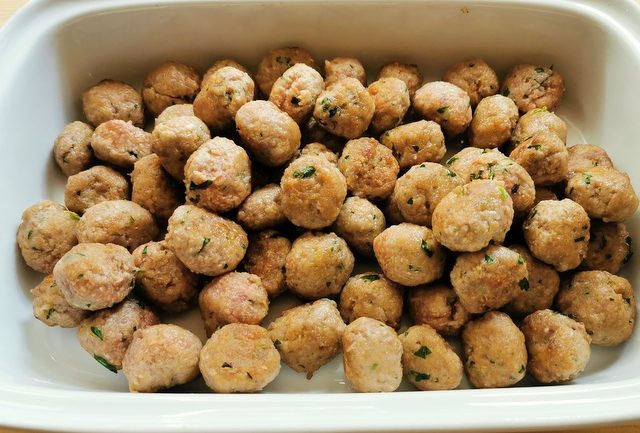 The origin of the term 'maritate' comes from the fact that maccheroncini, also called maccarruni or minchiarieddi in the local dialect, represent the symbol of male sexuality. Whereas, orecchiette are the symbol of female sexuality. Maritate therefore means 'married' and this mix of pasta was traditionally served at wedding lunches as a symbol of a peaceful and fruitful marriage.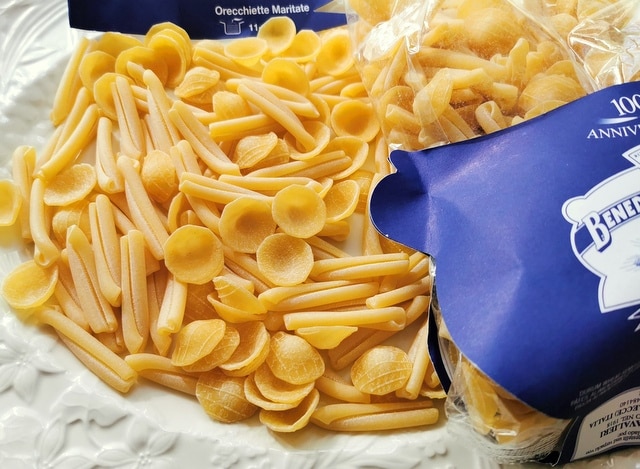 Pasta Benedetto Cavalieri.
I made this orecchiette with meatballs using orecchiette maritate that I bought back from Salento. It's made by one of the most well-known pasta companies in Puglia, Benedetto Cavalieri. My hubby and I dropped in at this company one morning during our holiday and we were thrilled to meet and talk to the present owner, Benedetto and his son Andrea.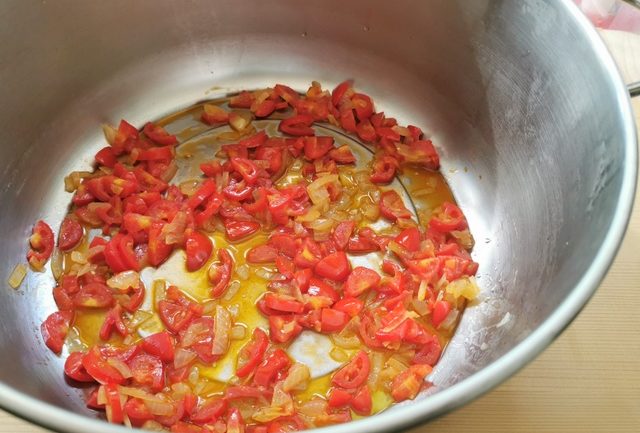 Benedetto Cavalieri have been making pasta in Maglie, Salento since 1918. However, even before they started making pasta, the Cavalieri family were durum wheat farmers and millers. The present owner is the founder's grandson.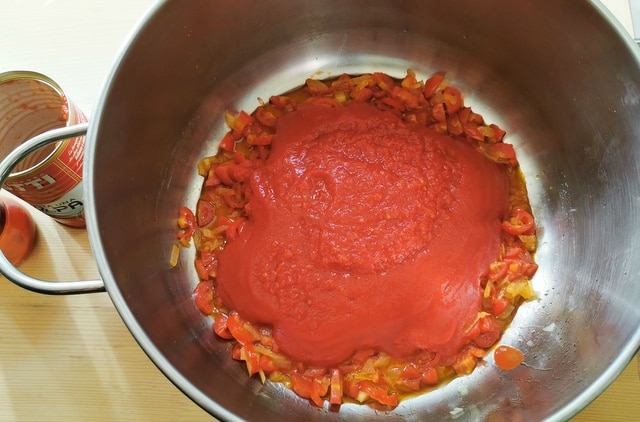 They make their pasta with durum wheat grown in Puglia and Basilicata using a production process called 'methodo delicato'. This 'delicate' method involves long kneading of the dough and slow pressing, drawing and drying at low temperatures.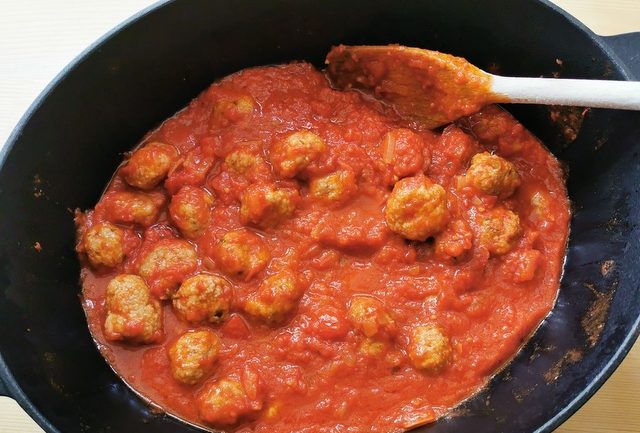 Benedetto Cavalieri have 2 lines of pasta production. Their relatively new organic whole grain pasta is available in 6 shapes (I have the fusilli and rigatoni which I am looking forward to trying very soon). Whilst, their traditional award winning artisan pasta is available in 32 shapes. It's the pasta of choice for many gourmet chefs who value it's wonderful grain flavour and chewiness.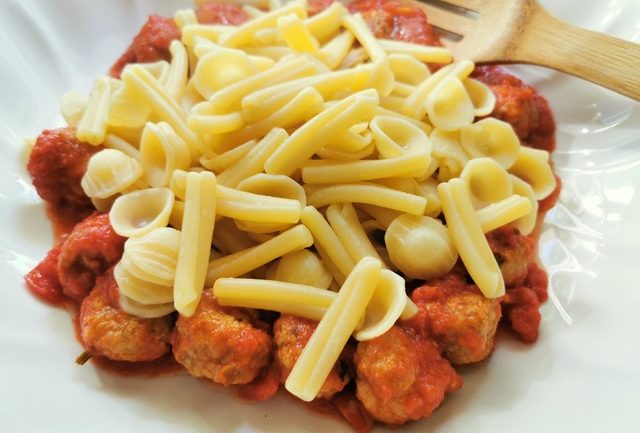 I love Benedetto Cavalieri's orecchiette maritate. It was the perfect pasta choice for this orecchiette with meatballs recipe. Of course, you can also use just orecchiette.
Making orecchiette with meatballs.
Although this orecchiette with meatballs recipe requires a few cooking and prep steps, it's pretty easy to make. Most time consuming is making the meatballs as they need to be quite small! My hubby and I made them together. In total, we managed to make 40 meatballs. That's about 10 per person which is a generous portion. Aim for meatballs that are a mouthful size!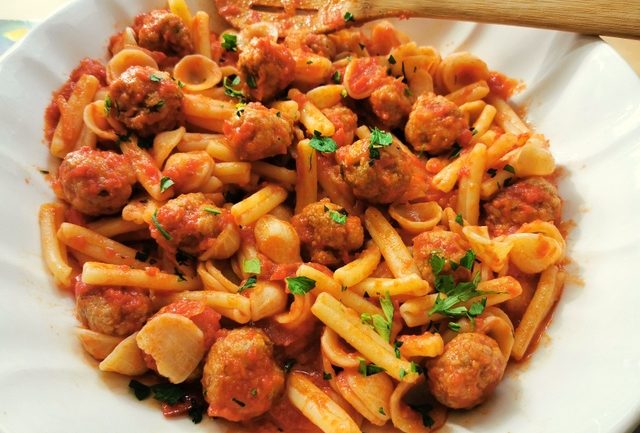 The meatballs are fried and then cooked in a tomato sauce made from onion and either fresh tomatoes and passata or you can use just passata (Italian canned tomato puree). Total cooking time is only 30-45 minutes if you cook the pasta whilst the meatballs are simmering in the sauce.
Freeze for later or cook in advance.
The meatballs and sauce freeze well. So, since it was just my hubby and I, froze half and got 2 delicious meals out of this orecchiette with meatballs recipe! You can also make the meatballs and sauce in advance and keep sealed in the fridge for 2-3 days.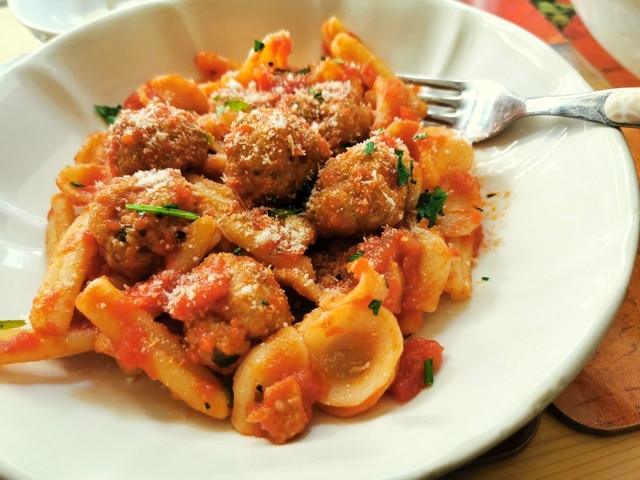 If you do try this Italian pasta with meatballs recipe, I'd love to hear what you think. Please write a comment here on the blog or post a comment on the Pasta Project Facebook page.
Your feedback means a lot to me!
Buon Appetito!
Save this recipe for later?
If you want to save this recipe for later, you can print it, bookmark this page or save it to Pinterest.
Pin for later.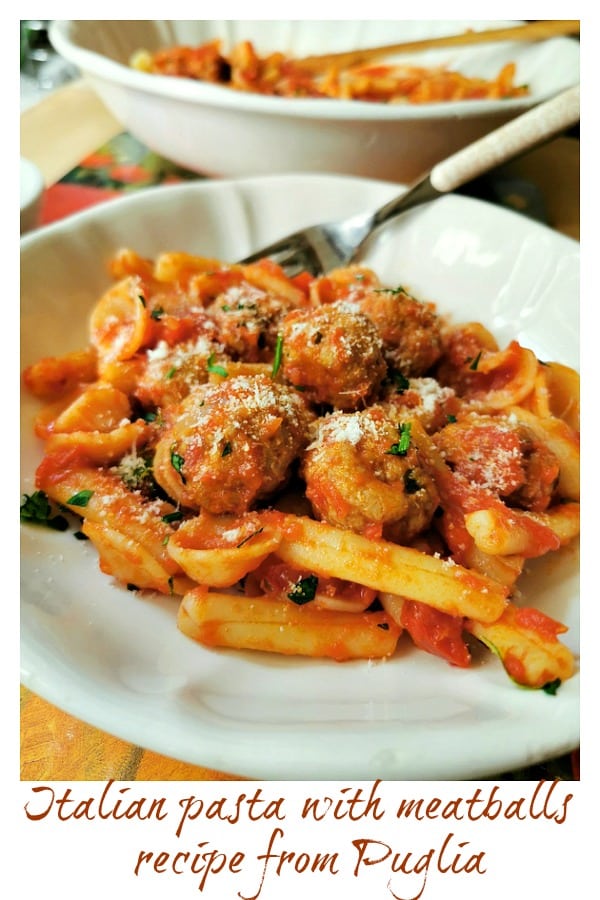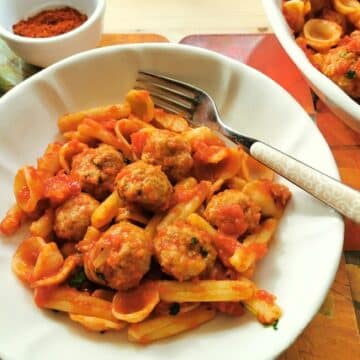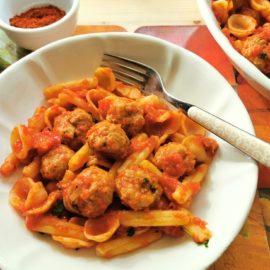 Orecchiette with Meatballs: Recipe from Puglia
The original Italian recipe for pasta with meatballs. This orecchiette with meatballs is a traditional dish on Sundays and holidays in Southern Italy.
Ingredients
400

g

orecchiette

(14oz) I used orecchiette maritate by Benedetto Cavalieri
For meatballs
200

g

ground veal or beef

(7oz)

200

g

ground pork

(7oz)

1-2

eggs

1 large 2 small

50

g

pecorino

(2oz) grated

100

g

breadcrumbs

(4oz) soaked in a little milk

1

glass

milk

1

handful

fresh parsley

chopped

salt

to taste

olive oil

as required
For tomato sauce
250

g

cherry tomatoes

(9oz) or datterini (cut in halves)

320

g

tomato passata or polpa

(11oz) I used polpa by Mutti

1

onion

peeled and finely chopped

3-4

tbsp

extra virgin olive oil.

salt

for pasta and to taste

pecorino or ricotta salata

grated (as required)

peperoncino flakes (red chilli pepper)

optional
Instructions
Peel and finely chop the onion. Wash and half the cherry tomatoes. Wash and chop the parsley. Soak the breadcrumbs in a little milk.

Brown the peeled and chopped onion in a little olive oil until it softens, add the chopped small tomatoes. Once the tomatoes also start to soften add the tomato passata or polpa and salt, cook for about 20 minutes. Add pepper to taste.

While the sauce is simmering make the meatballs. Put the ground meat, the breadcrumbs soaked in milk, the pecorino cheese, the chopped parsley and a little salt in a bowl and mix and knead together well. Add the eggs and milk and mix and knead everything together well.

Make the meat mixture into very small meatballs. You can use a small spoon to measure out the quantity of meat for each meatball or roll a generous handful of the meat mixture into a sausage shape and cut of the required amount and roll between your hands. Once the meatballs are ready,  brown them in hot oil and drain them on kitchen paper to remove the excess oil.

Add the meatballs to the sauce and cook for 10-15 minutes over a medium heat. Meanwhile, put a pot of water on to boil for the pasta. Once it boils, add salt and bring to the boil again. Cook the pasta al dente according to the instructions on the packet. When the pasta is ready, drain it and add to the sauce. Mix everything together well and serve sprinkled with more pecorino or ricotta salata and some peperocino flakes if required.





Notes
You can make the meatballs and sauce in advance and keep in the fridge until ready to serve (2-3 days) or freeze and defrost before reheating. You can also prpare the whole dish in advance and reheat in a hot oven with some grated parmigiano sprinkled on top! 
If you don't have orecchiette, other short pasta would work well instead, particularly cavatelli, casarecce or penne.
Nutrition
Calories:
974
kcal
Carbohydrates:
108
g
Protein:
43
g
Fat:
41
g
Saturated Fat:
13
g
Polyunsaturated Fat:
4
g
Monounsaturated Fat:
19
g
Trans Fat:
1
g
Cholesterol:
133
mg
Sodium:
470
mg
Potassium:
1198
mg
Fiber:
7
g
Sugar:
14
g
Vitamin A:
1009
IU
Vitamin C:
26
mg
Calcium:
324
mg
Iron:
6
mg
Pin for later