Calabrian Ricotta Balls in Tomato Sauce with Pasta.
This fabulous vegetarian version of pasta with 'meatballs' is based on a traditional recipe from Calabria in Southern Italy. These Calabrian ricotta balls in tomato sauce are delicious with pasta or without! You can also make extra and fry or bake them!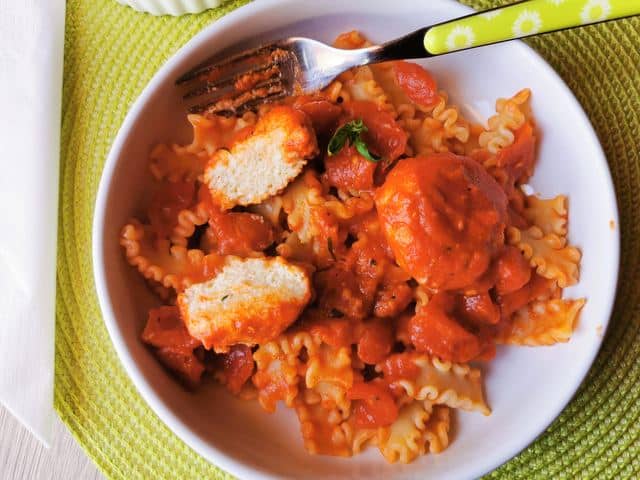 Polpette di ricotta al sugo.
Ricotta balls in tomato sauce is originally a Calabrian recipe that originated among the region's poorer farming and peasant population, in particular in the mountainous Sila area. Like so many of Italy's traditional recipes, this is a combination of simple staple ingredients. However, in the past this was also a dish made on special occasions, such as carnival, by people for whom meat was a luxury.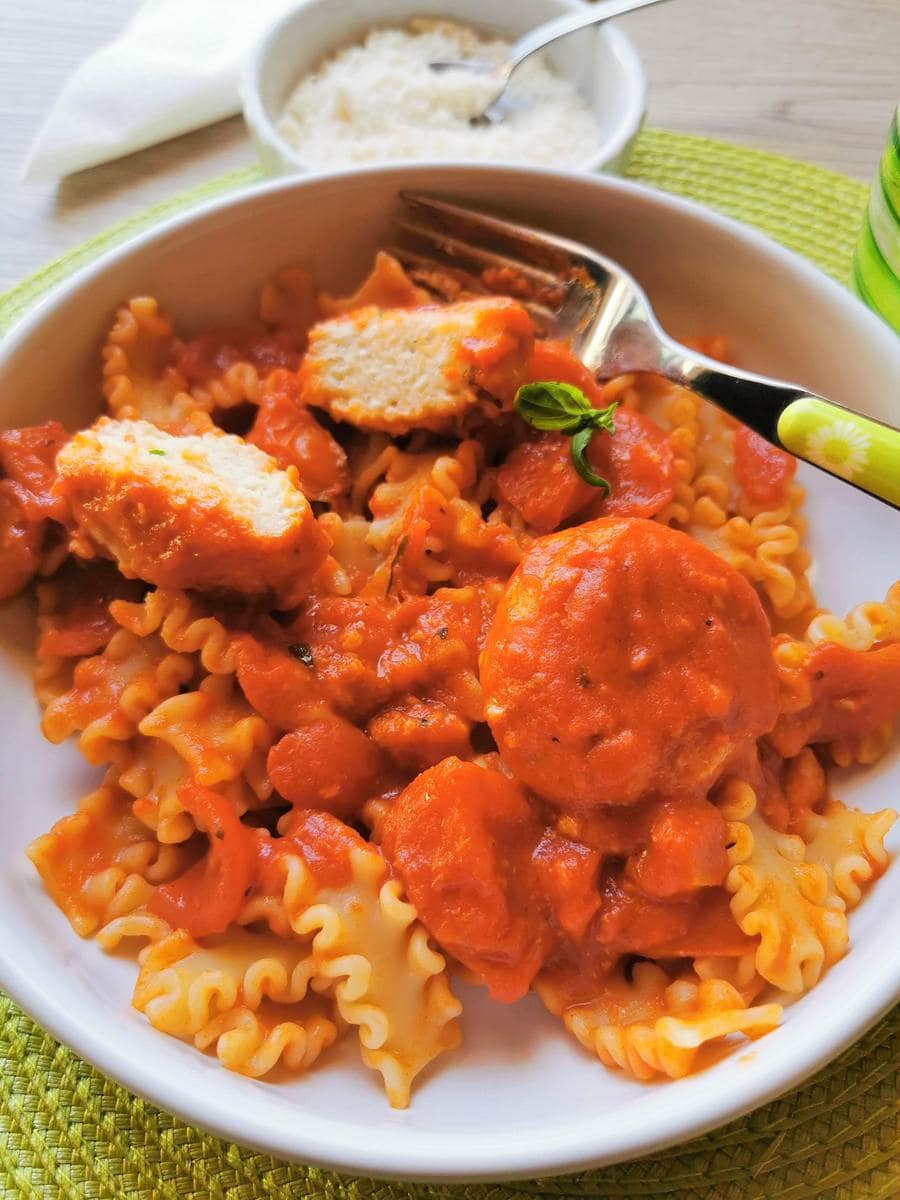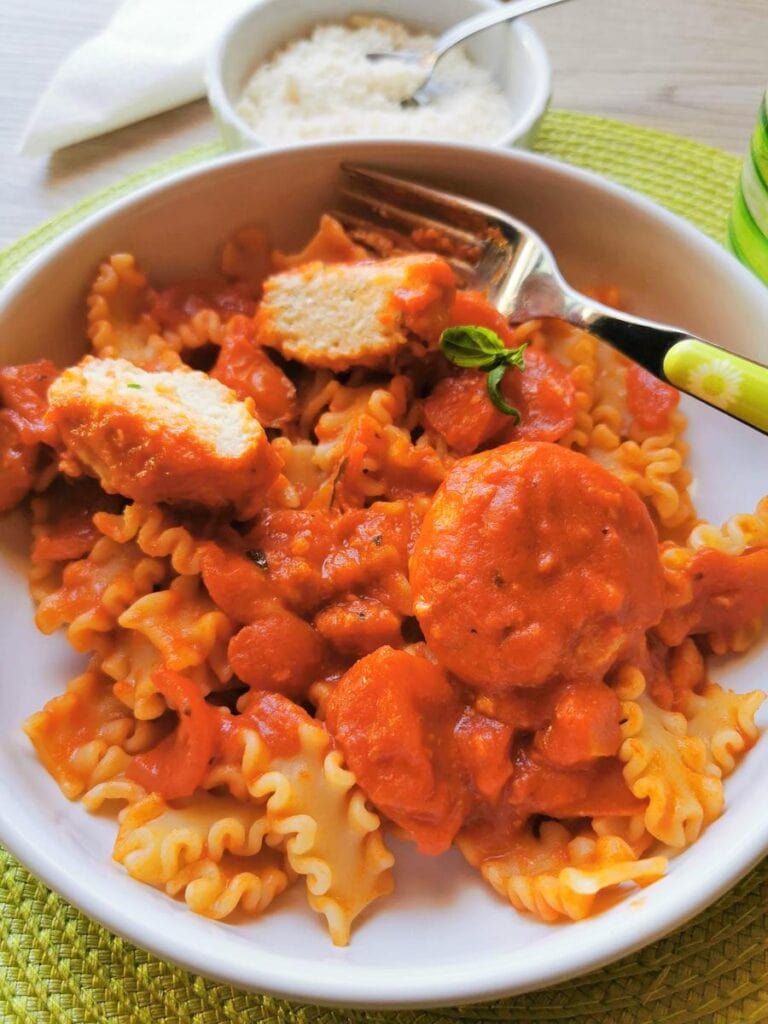 What are polpette?
In Italian, the word polpette is used to mean balls of minced ingredients whether they are made of meat, vegetables or cheese. So 'polpette di ricotta' basically means ricotta balls. Meatballs are usually just referred to as 'polpette'. Apparently, meat based meatballs as we know them were introduced to Europe by the Arabs. Think koftas! However, unlike in US, spaghetti with meatballs isn't a typical Italian dish.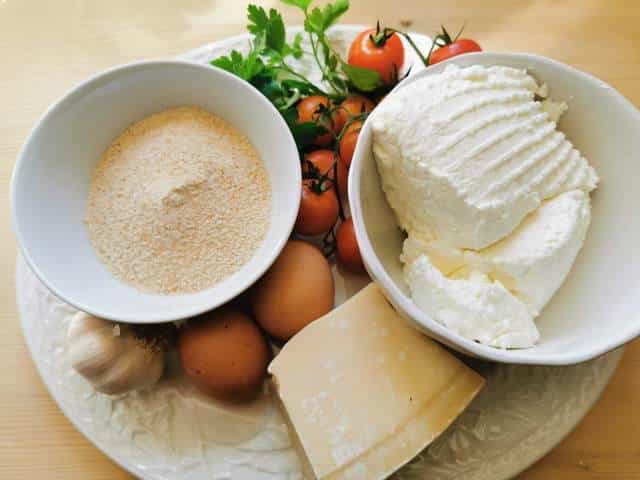 Many Italians eat meatballs without the pasta. Although they use the sauce as a pasta condiment. For example, my hubby's family have the tomato sauce with pasta first and then follow with the meatballs, which they take out of the sauce! Even where they are eaten with pasta, Italian meatballs are much smaller than those found elsewhere. Check out this recipe for orecchiette with meatballs a traditional dish from Puglia.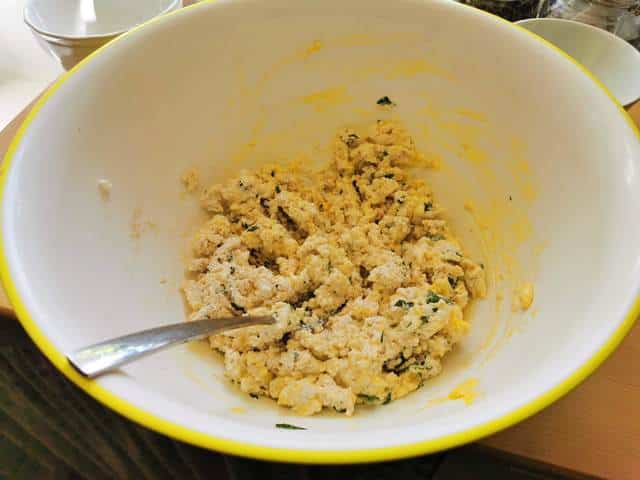 These Calabrian ricotta balls in tomato sauce are also eaten without pasta, often as a main course. In addition, you can bake or fry them and serve them as an appetizer or snack.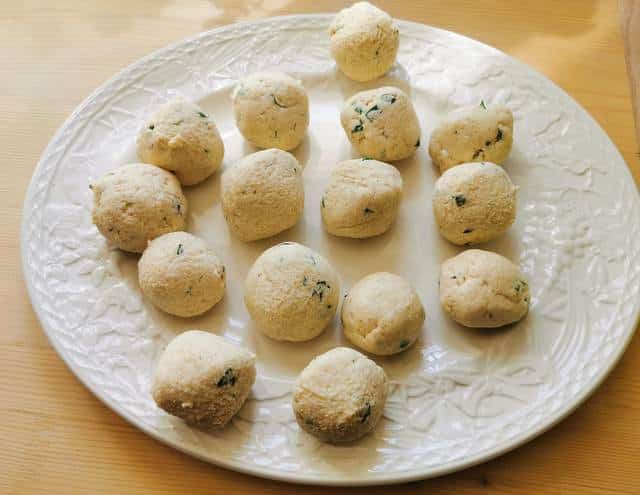 So what is ricotta?
Ricotta is an Italian whey cheese, meaning it's made from the whey produced after making other types of cheese. Simply put, when you make cheese, you separate milk into two substances, curds and whey! Most cheeses are made using the curds. Ricotta is made using the whey. In Italy, it can be the whey from cow, goat, sheep or water buffalo milk. It's practically a staple here, especially in the South. The word ricotta means recooked. In fact, this fresh cheese is made by heating the whey after letting it ferment for up to 24 hours.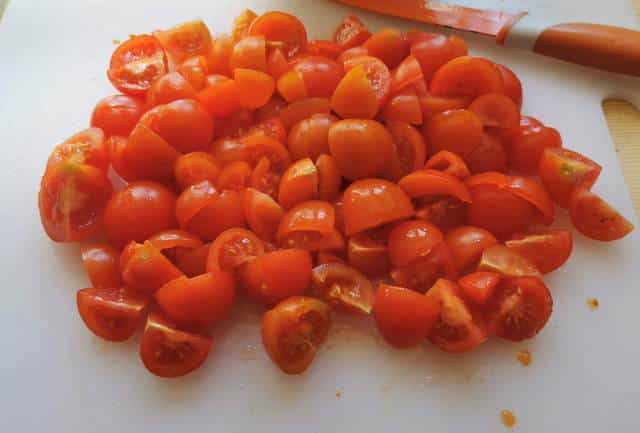 Italians use ricotta in many ways; in desserts and cakes and on pizza. There are also lots of pasta recipes that include it. My favourite way to eat this fresh cheese is actually on its own or with honey on bread for breakfast, especially if it's very fresh and homemade. However, these Calabrian ricotta balls in tomato sauce is my second favourite way to use ricotta.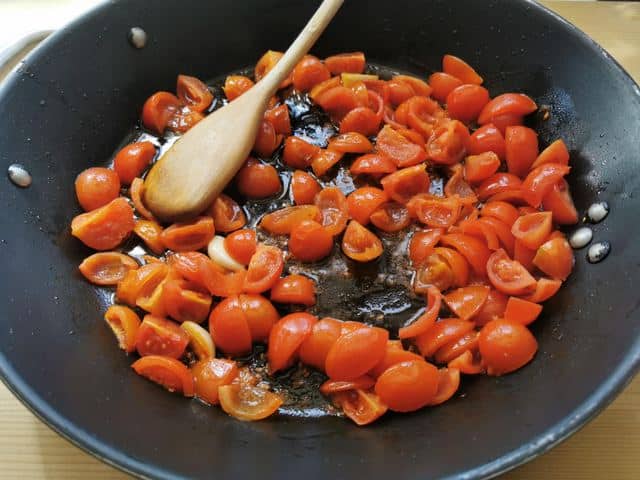 Making Calabrian ricotta balls with pasta.
As I mentioned before this is a simple recipe made with staple ingredients, well Italian staples! The ricotta for these polpette is usually cow's milk ricotta or sheep ricotta. Other ingredients are eggs, parsley, garlic, breadcrumbs and grated parmigiano and pecorino. You can just use one of those grated cheeses if you don't have both. (vegetarians will need to use a hard cheese that doesn't contain animal rennet). The tomato sauce is a simple one with fresh tomatoes and/or passata or canned tomatoes, and garlic.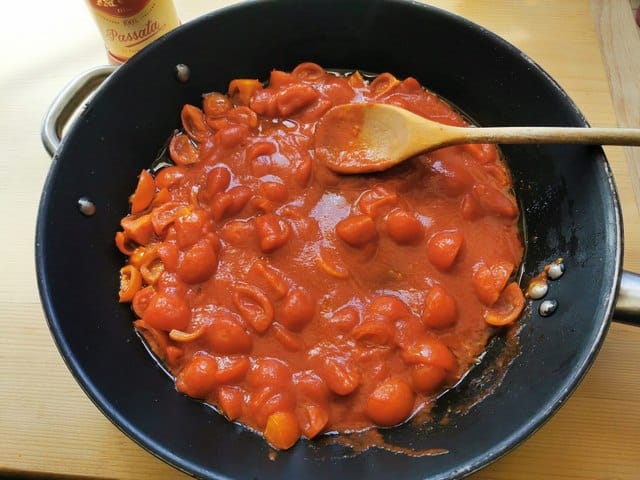 The pasta.
I served a short flat pasta called mafaldine with these Calabrian ricotta balls. Do you know this pasta? Mafaldine, also known as mafalde or reginette (meaning little queens) is a wide flat pasta ribbon, similar to pappardelle but with scalloped or ruffled edges. You can find it in both a long and short version. Mafaldine pasta is actually named after Princess Mafalda of Savoy, the second daughter of King Victor Emmanuel III of Italy. Her story is sadly a tragic one! You can read about her in my mafaldine post.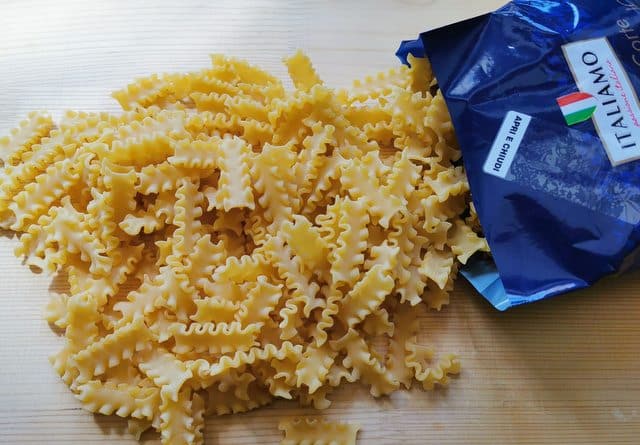 Italian recipes for these ricotta balls with pasta mostly call for spaghetti or short pasta like fusilli. I think the mafaldine were fantastic and other short flat pasta would go well too, for example orecchiette. Also, I came across a number of baked pasta versions which I really want to try. In that case, short pasta like fusilli or rigatoni would be best. Plus a layer of sliced mozzarella on top!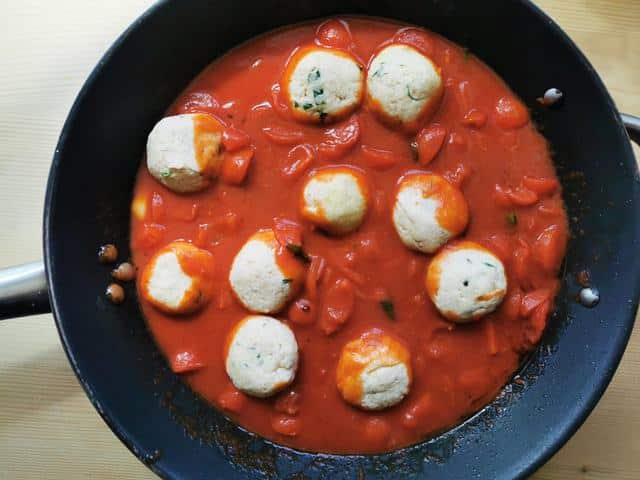 Whichever way you decide to serve these Calabrian ricotta balls, I'm sure you'll love them as much as I do! This dish is a great option for meatless Mondays and vegetarians!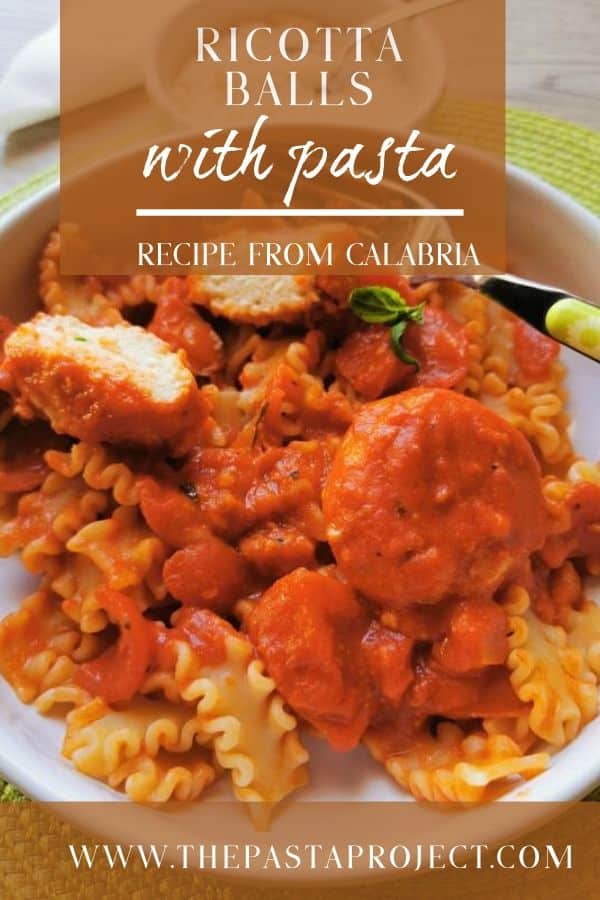 If you do try this Calabrian ricotta balls with pasta recipe, I'd love to hear what you think. Please write a comment here on the blog or post a comment on the Pasta Project Facebook page.
Your feedback means a lot to me!
Buon Appetito!
Other pasta with ricotta recipes
Save this recipe for later?
If you want to save this recipe for later, you can print it, bookmark this page or save it to Pinterest.
Pin for later.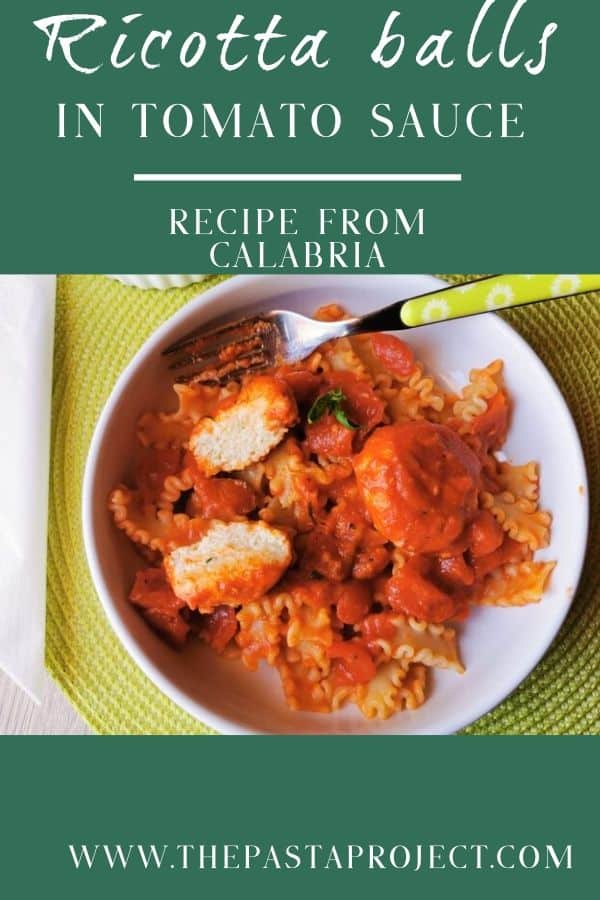 CHECK OUT MY SHOP PAGE.
If you are interested in learning how to make homemade pasta and different types of gnocchi, check out my shop page for some great video online courses from my friends in Rome! Nothing beats learning to make pasta from Italians! Plus while you're there why not order a copy of one of my pasta recipe cookbooks or checkout some recommended pasta making tools? All great prezzies for pasta lovers!