Italian Ricotta Mushroom Lasagne al Forno (baked lasagna)
Lasagne al forno or baked lasagna has to be my favourite way to serve pasta. It really is the ultimate comfort food! For Italians, baked lasagna is a staple on Sundays and holidays. However, there are so many delicious ways to make it! This Italian ricotta mushroom lasagne al forno is my new favourite. Made with fabulous Southern Italian dried lasagna riccia and porcini mushrooms this dish tastes as beautiful as it looks!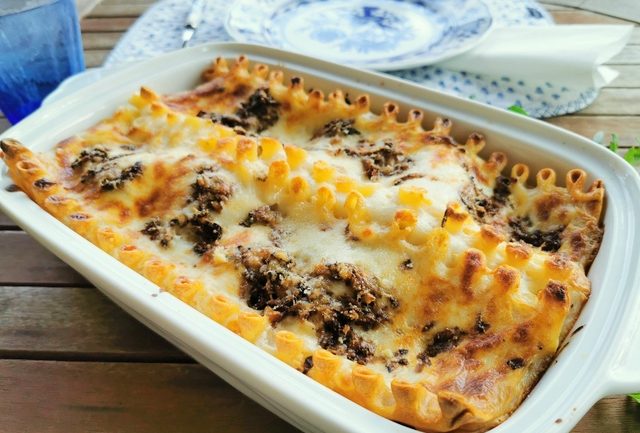 Disclaimer: This Italian ricotta mushroom lasagne al forno recipe has been sponsored by Supermarket Italy, a leading Italian and European gourmet online grocery store in USA. Although I have been compensated for this post, all opinions about the products mentioned are my own.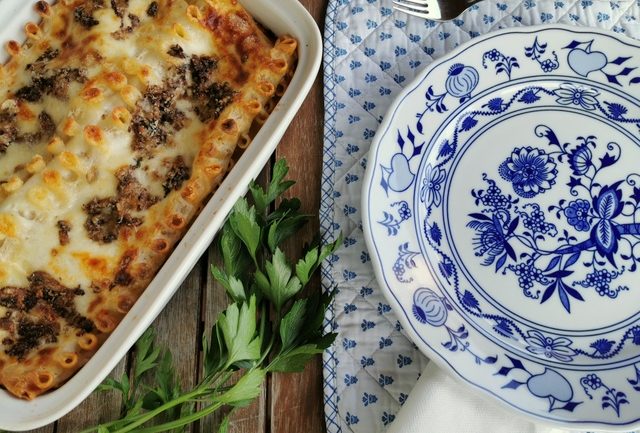 Lasagne al forno con ricotta e funghi.
Lasagne or lasagna?
In the Italian language, lasagne refers to flat rectangular sheets of pasta which most non-Italians call lasagna. But in reality, lasagna is the singular of lasagne, so one lasagna, two lasagne! Italians usually refer to most pasta in the plural! Outside of Italy this dish would be more likely to be called a ricotta mushroom lasagna!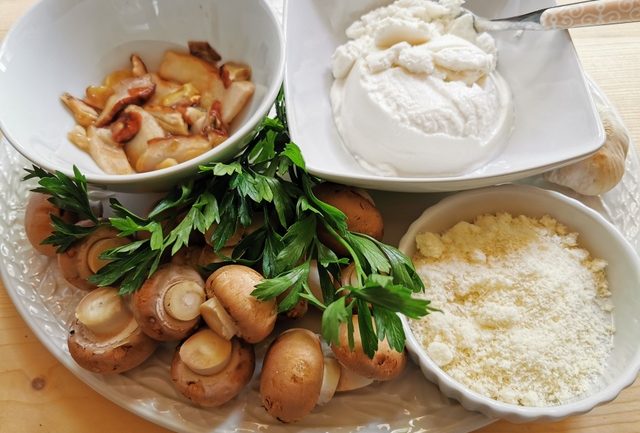 Lasagne is one of the oldest forms of pasta. In fact, the ancient Romans ate a dish known as 'lasana' or 'lasanum'.  Food historians believe this was similar to the  lasagne al forno  or baked lasagna of today.  You can read more about the history of lasagne.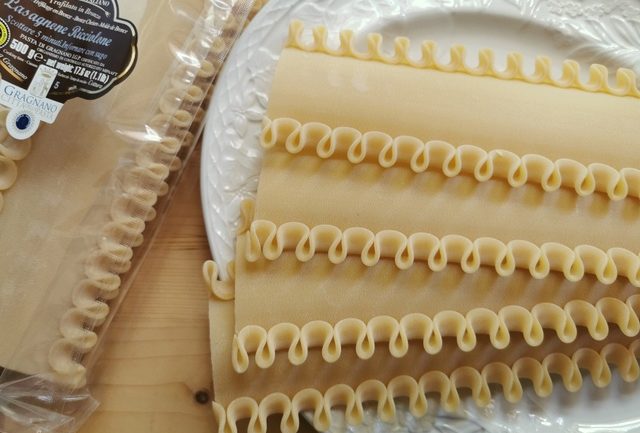 The pasta I used for this Italian ricotta mushroom lasagne al forno is a beautiful wide lasagne with wavy edges. This type of lasagne is more typical of Southern Italy, particularly Campania. In Northern Italy, lasagne is usually fresh pasta made with eggs. In the South, it is made with durum wheat semolina flour and water and sold dried.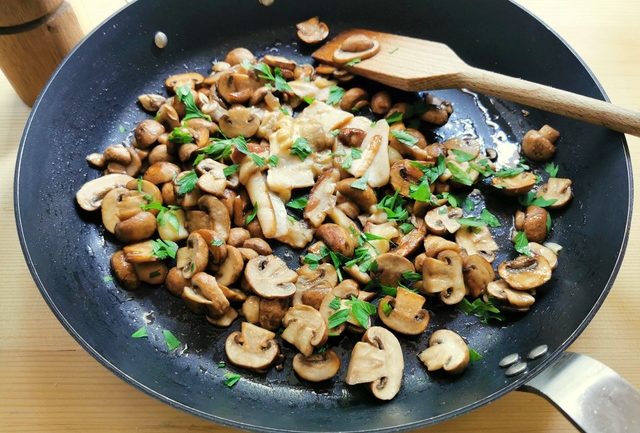 Lasagne ricce from Gragnano.
Italians call this large lasagne with wavy edges lasagna riccia or lasagne ricce. For this ricotta mushroom lasagna, I decided to use a lasagne ricce from a company called La Fabbrica della Pasta di Gragnano. Followers of my blog will know that I'm a big fan of Pasta di Gragnano IGP.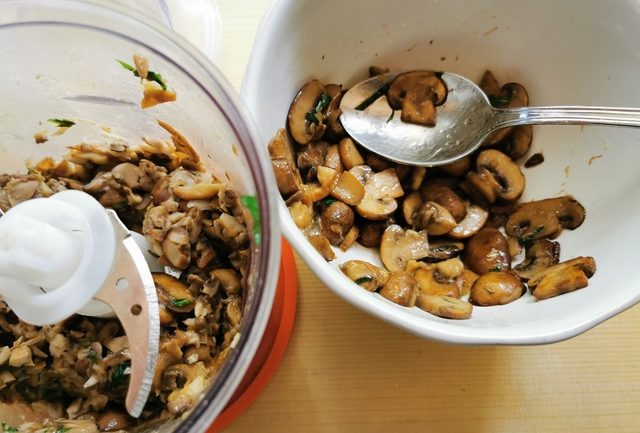 I was lucky enough to be invited to Gragnano in June and that's when I got the pasta for this Italian ricotta mushroom lasagne al forno.  You can also read more about Pasta di Gargnano IGP.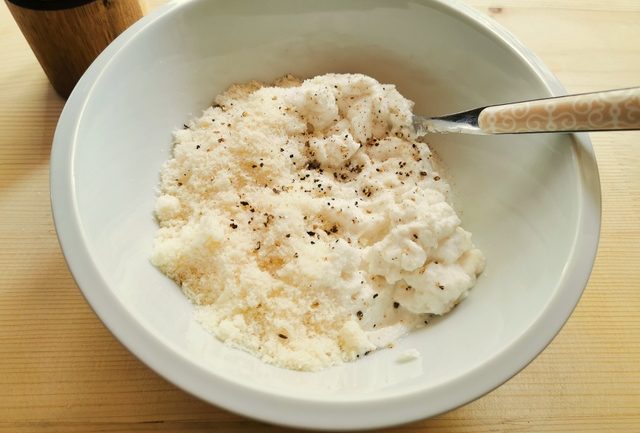 But, in short, Gragnano is a town near Naples which is famous for dried pasta. In fact, they have been making pasta there for about 500 years! Pasta carrying the Pasta di Gragnano IGP certification is made under strict production and ingredient quality regulations. It's like saying DOC for wine!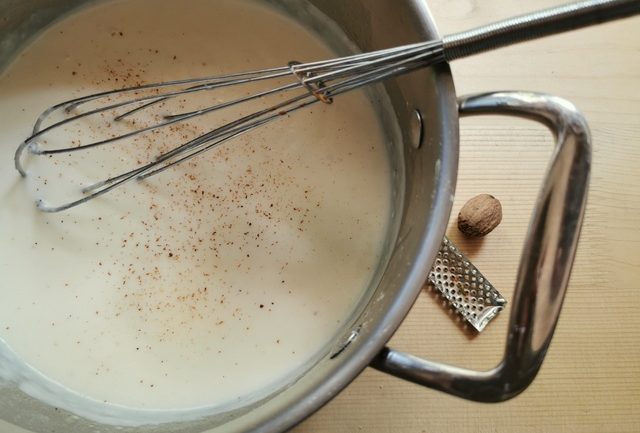 Where to buy Pasta di Gragnano?
There are a number of pasta makers producing Pasta di Gragnano IGP. Most of these companies export overseas and their pasta can be bought in Italian food shops and online. Readers in the states can buy the same lasagna riccia I have used for this ricotta mushroom lasagna online from Supermarket Italy, the sponsors of this recipe!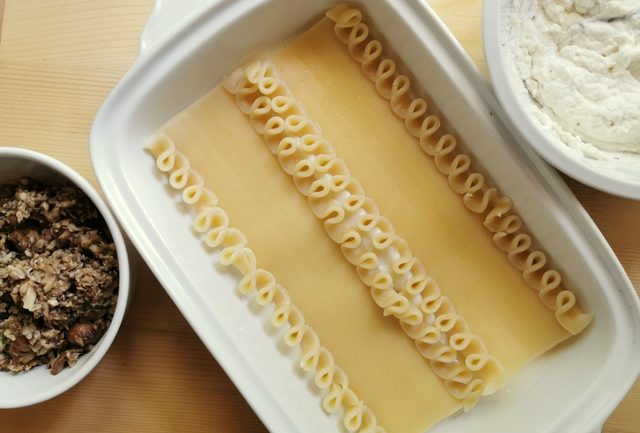 Supermarket Italy.
Supermarket Italy is a family owned business founded in September 2009. Since then, it has become a trusted leader in imported Italian and European goods to US. They source products from the highest quality vendors in Europe. Their mission has always been to bring as many high-quality, authentic Italian and European goods to Americans as possible, from world-class DOP Italian meats all the way to top-tier Italian beauty products.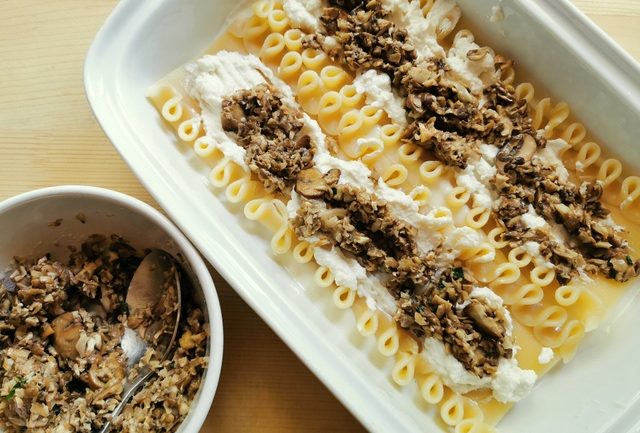 Apart from the pasta for this Italian ricotta mushroom lasagne al forno, you can buy both a number of makes and types of Pasta di Gragnano IGP as well as some other excellent Italian pasta brands. Among my favourites that Supermarket Italy stock are Mancini, De Cecco, Gentile and Garofalo.
Making this Italian ricotta mushroom lasagne al forno.
Since this is a baked pasta recipe, it does take a little time to make because there are a number of steps. However, none of these are difficult or too time consuming. The pasta needs to be partly cooked in advance.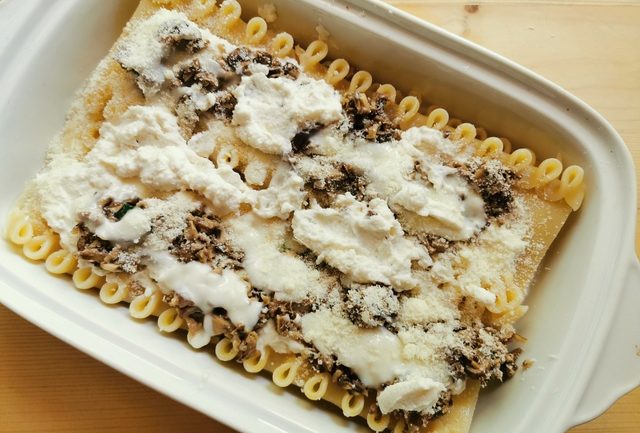 This is one of the few occasions I add olive oil to the pasta cooking water. Italians never do this in other recipes because the oil will coat the pasta and prevent it from absorbing the sauce. However, when precooking lasagne sheets, the oil helps to stop them from sticking together. Consequently, it's necessary!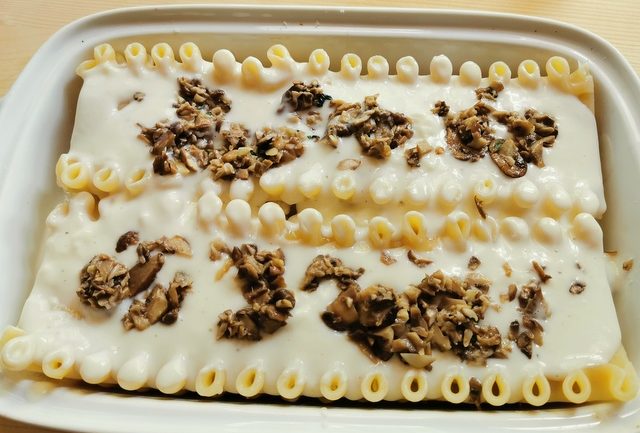 Other ingredients.
The mushrooms: I used frozen porcini and fresh cremini mushrooms. However, you can use other mushrooms and dried or fresh porcini. Dried porcini will need to be soaked in warm water for 20 minutes or so before draining them and cooking them with the other mushrooms.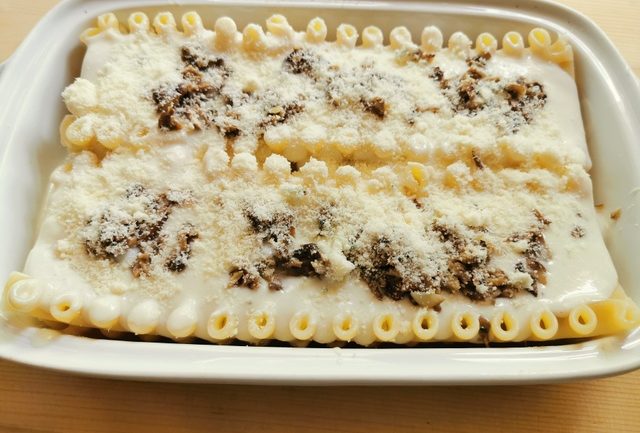 The cheese: Ricotta is a popular ingredient in Southern Italian baked pasta recipes. It gives the filling a nice creamy consistency. I used fresh cow's ricotta. But, sheep ricotta would be delicious too. Apart from the ricotta this Italian ricotta mushroom lasagne al forno has some grated parmigiano.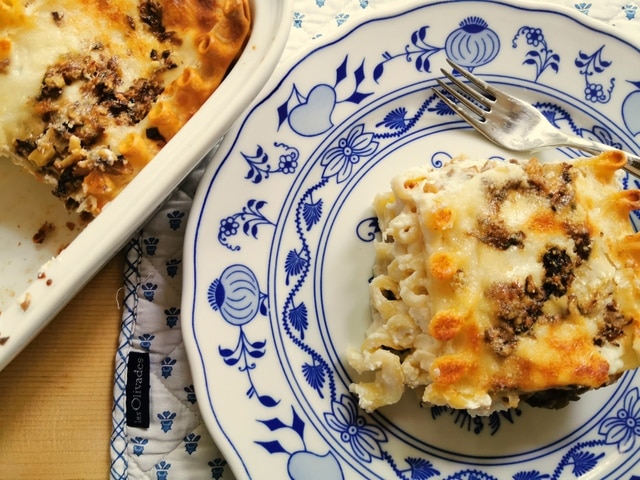 The béchamel: I always prefer to make homemade béchamel (white sauce). It only takes 10 minutes to make. But, you can also use ready-made.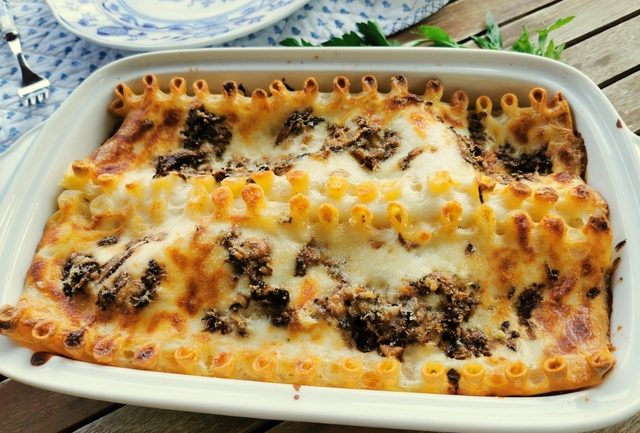 Make enough for seconds!
My family were so impressed with this Italian ricotta mushroom lasagne al forno that I'm actually making it again this weekend!! I'm sure your family and friends will love it too. My only word of warning is make sure you make enough. They'll want seconds!
If you're a ricotta lover like me, make sure to check out my favorite Italian ricotta pasta recipes.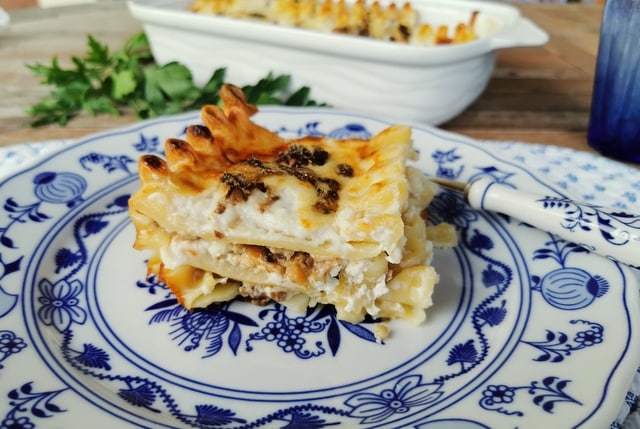 If you do try this lasagne al forno recipe, I'd love to hear what you think. Please write a comment here on the blog or post a comment on the Pasta Project Facebook page.
Your feedback means a lot to me!
Buon Appetito!
Other baked pasta recipes on The Pasta Project
Save this recipe for later?
If you want to save this recipe for later, you can print it, bookmark this page or save it to Pinterest.
Pin for later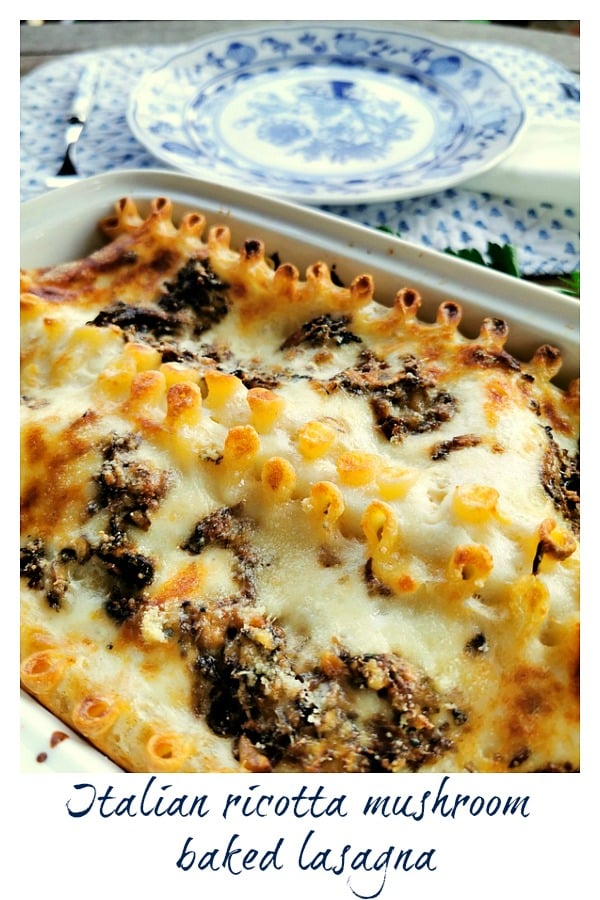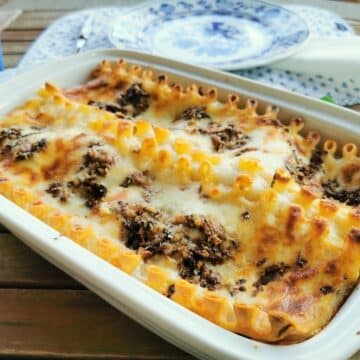 Italian Ricotta Mushroom Lasagne al Forno (baked lasagna)
Made with Southern Italian wavy lasagna riccia, creamy fresh ricotta and porcini mushrooms, this beautiful vegetarian baked lasagna tastes as divine as it looks!
Ingredients
6-8

sheets

large lasagne (ricce/wavy)

I used lasagne from La Fabbrica della Pasta di Gragnano

400

g

fresh ricotta

(14oz) I used cow's milk ricotta

200

g

Parmigiano Reggiano

(7oz) grated (or vegetarian hard cheese without animal rennet)

2

garlic cloves

peeled

500

g

criminis or button mushrooms

(17oz) washed and sliced

200

g

fresh or frozen porcini mushrooms

(7oz) I used frozen. You can also used dried porcini.

fresh parsley

(as required) washed and chopped

2

tbsp

extra virgin olive oil.

1

knob

butter

salt

for pasta and to taste

ground black pepper

to taste

1/2

glass

white wine
For béchamel


1

Lt

fresh milk

(33 floz)

100

g

'00' or all purpose flour

(3.5oz)

100

g

butter

(3.5 oz)

nutmeg

grated
Instructions
Prepare the pasta
Put a large pot of water on to boil for the pasta. Once it starts to boil add salt and a tbsp. of olive oil. Half cook the lasagne sheets. I did 2-3 at a time. I removed them from the water with a slotted spoon and laid them out separately on a clean tea towel.
Prepare the mushrooms
Wash and chop the parsley. Peel the garlic. Clean and slice the mushrooms. (If using dried porcini you will need to soak them in warm water for 20-30 minutes beforehand. Then drain and add to the other mushrooms)

Heat a knob of butter and a tbsp of olive oil in a frying pan or skillet. Add the garlic cloves and sliced cremini mushrooms. Cook until the mushrooms are starting to brown. Add the porcini and cook for a couple of minutes more. Add some chopped parsley, black pepper, a pinch of salt and the white wine. Turn up the heat and let the alcohol evaporate. Turn off the heat and set aside to cool slightly.

When the mushrooms have cooled a bit, blend into smaller pieces in a food processor. You don't want to puree the mushrooms, so don't blend for too long. If you don't have a processor, chop them into small pieces with a knife.
Prepare the ricotta
Put the ricotta in a bowl with half the grated parmigiana. Add some black pepper and a pinch of salt and mix together well.
Make the béchamel (white sauce)
Melt the butter in a saucepan over a low heat, incorporate the sifted flour and continue to mix with a wooden spoon until you have a roux (paste made of flour and butter)

Cook the roux until it is golden, and at this point add the milk a little at a time, plus a pinch of salt and a ½ teaspoon of grated nutmeg. Continue stirring until the sauce reaches the consistency you want. If your béchamel seems lumpy, you can use a hand held blender to make it smooth.
Assemble your Italian ricotta mushroom lasagne al forno.
Spread a little béchamel  over the bottom of a rectangular oven dish. Put 2 lasagne in the dish. spread half the ricotta along the middle of the lasagne. Add some of the mushroom mixture, a little béchamel and some grated parmigiano. Repeat with another 2 lasagne, the rest of the ricotta, mushrooms, béchamel and grated cheese. Add another layer of lasagne. Spread the last of the mushrooms on this top layer. Cover with the remaining béchamel and then sprinkle the remaining parmigiano over the top.

Bake in a preheated oven at 180° for about 30 minutes until the top is crispy and the pasta cooked. If the pasta needs more time, cover with aluminium foil and cook for another 5-10 minutes. Let your ricotta mushroom lasagna stand for 5-10 minutes before serving. It will net to set a little.
Notes
This baked lasagna can be made with other brands of wavy or normal lasagne. If using homemade lasagne cooking times will be shorter. If you live in US and want to buy the same lasagne I used check out the SupermarketItaly online store. They sell it.