Bring a taste of traditional Italian home cooking to your family table with these 21 Italian pasta al forno recipes. Many Italian families sit down to a pasta bake on Sundays and holidays. But, they don't all make it the same way. In fact, there are many versions of this dish. Here are just a few authentic Italian baked pasta recipes from different regions of the country for you to enjoy!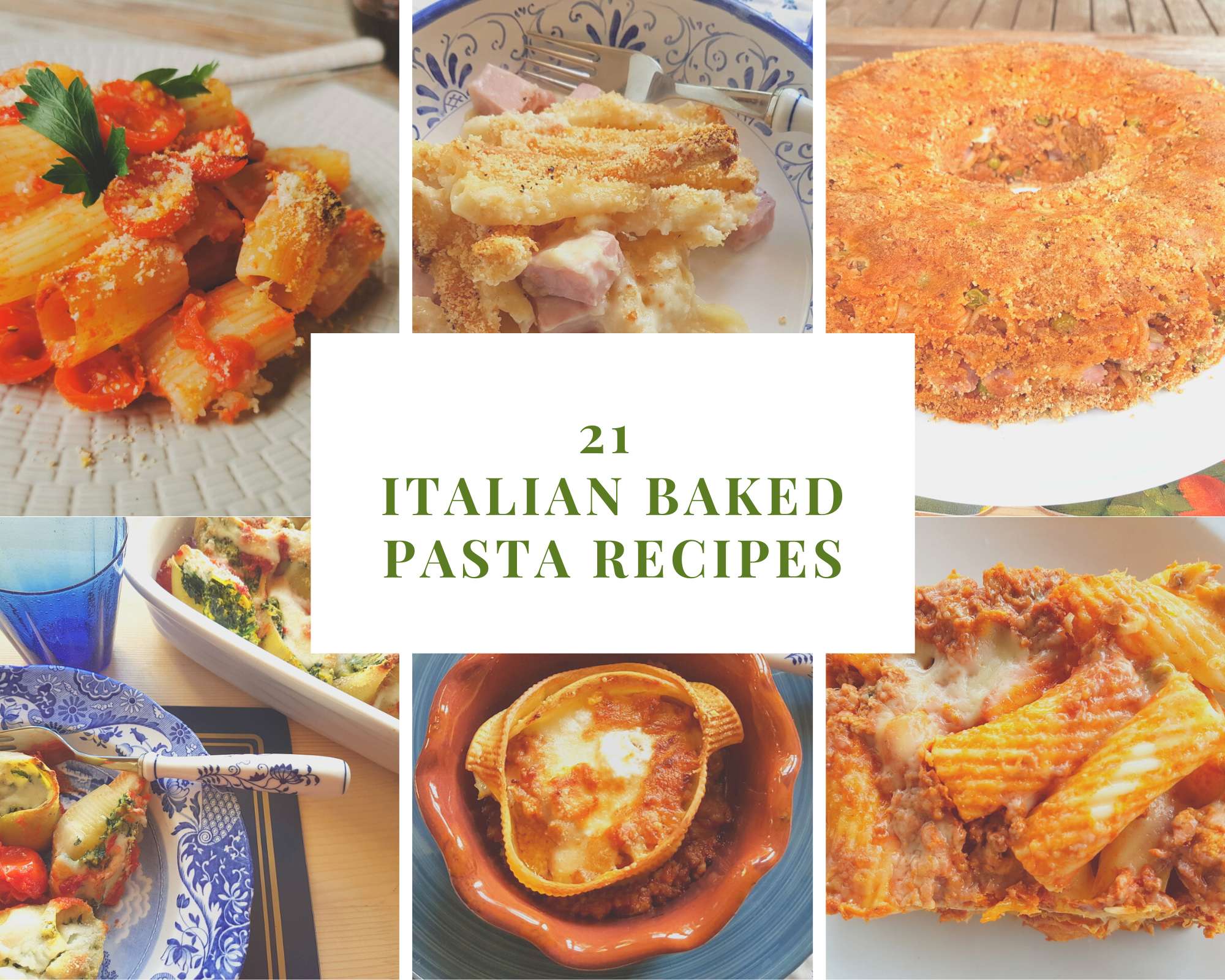 Pasta al forno (baked pasta) is an iconic Italian dish served on Sundays and holidays throughout the Italian peninsula and islands. Every Italian region has its own version or versions, although it's most popular in the Southern and Central parts of the country.
What are the origins of pasta al forno?
According to some food historians, the earliest version of pasta al forno was eaten by the Ancient Romans and Etruscans who made a type of pasta called lagana or lagane which is said to be the ancestor of lasagne. This pasta was also baked in an oven with the condiments they used at the time.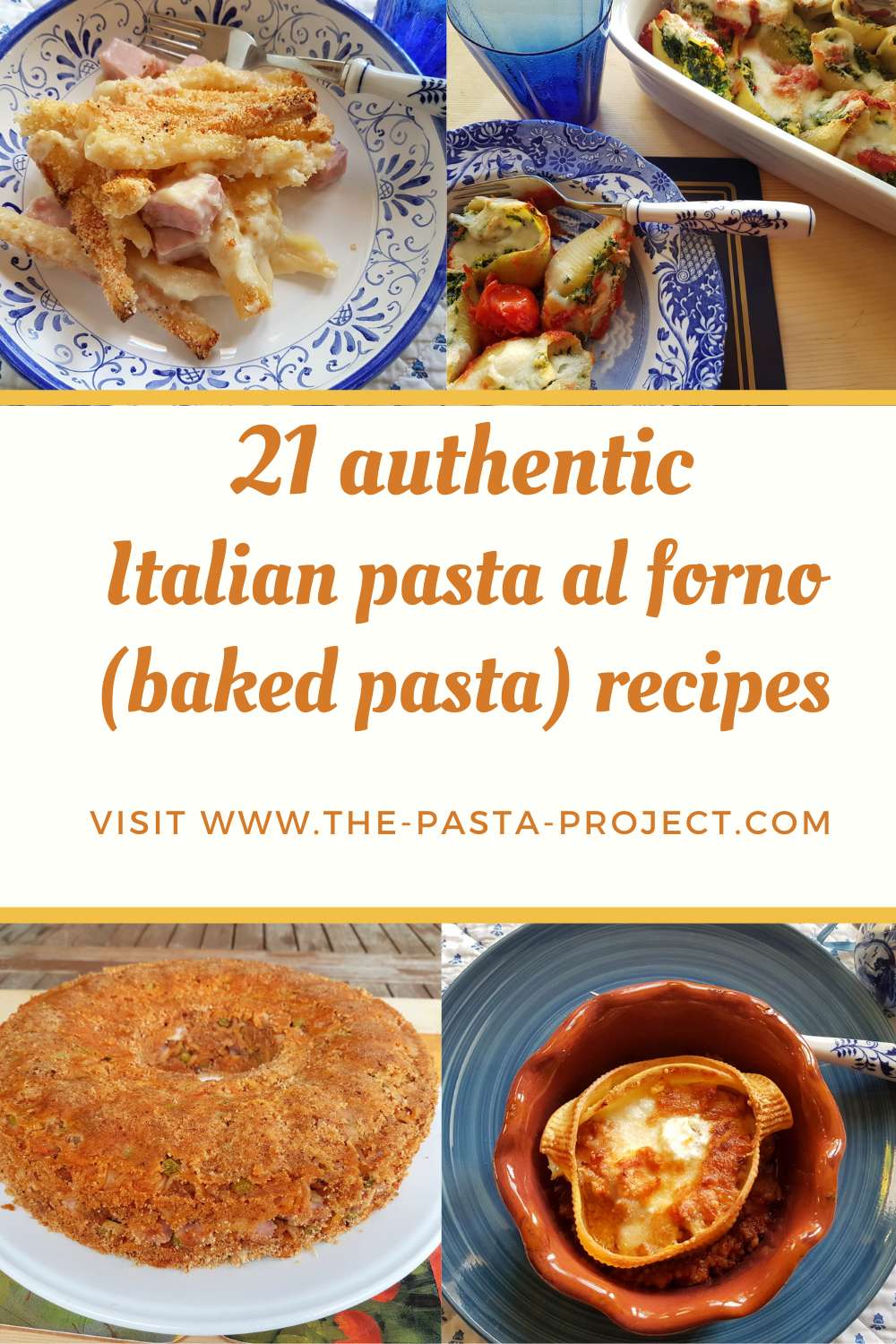 Easy pasta al forno dishes.
Pasta al forno recipes can be really easy or quite elaborate and time consuming. The latter are usually dishes for special occasions, family gatherings or holidays and it's common for family members to work together in preparing these dishes.
The simpler baked pasta dishes originated as a way to use up leftover ragu, pasta or other ingredients. In fact, there are also many other pasta recipes the leftovers of which can be turned into a delicious baked pasta simply by reheating in the oven with some mozzarella or other cheese on top.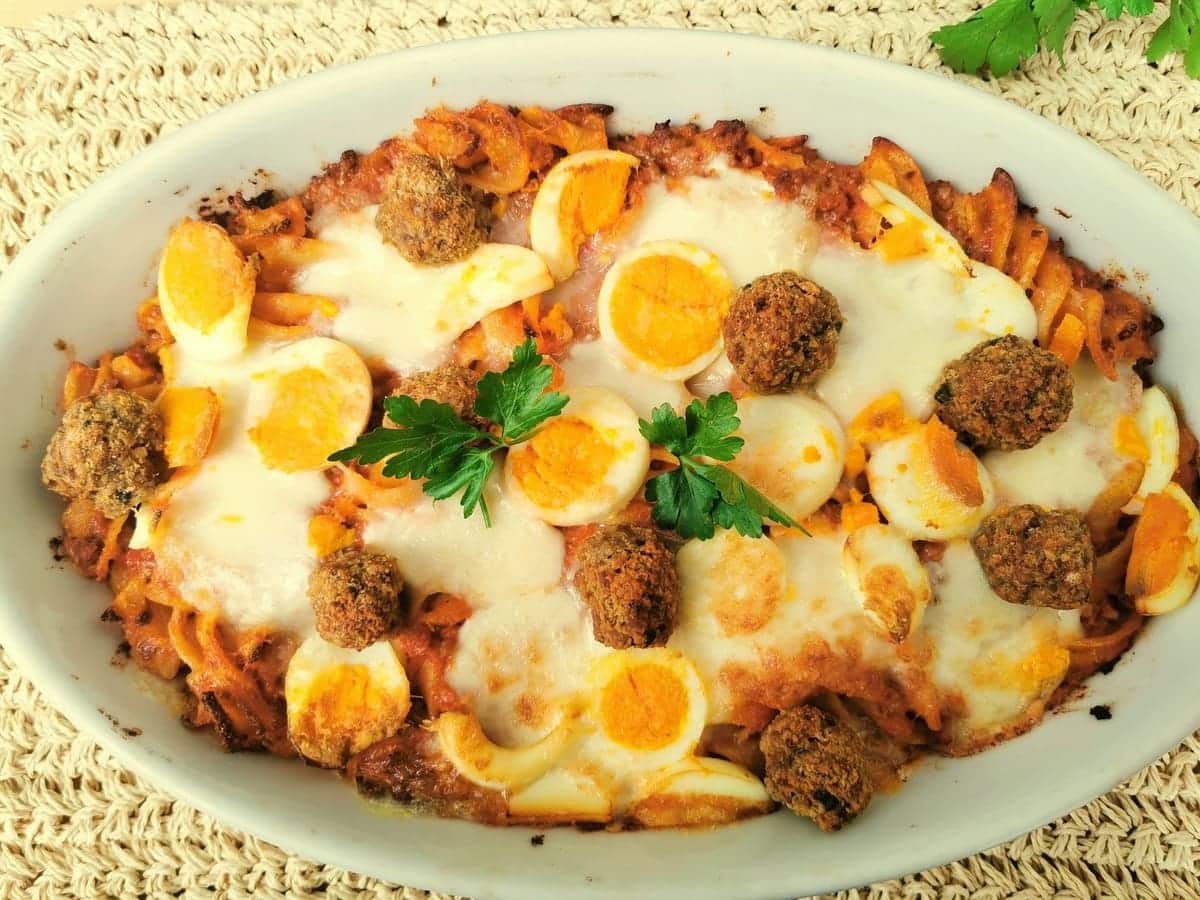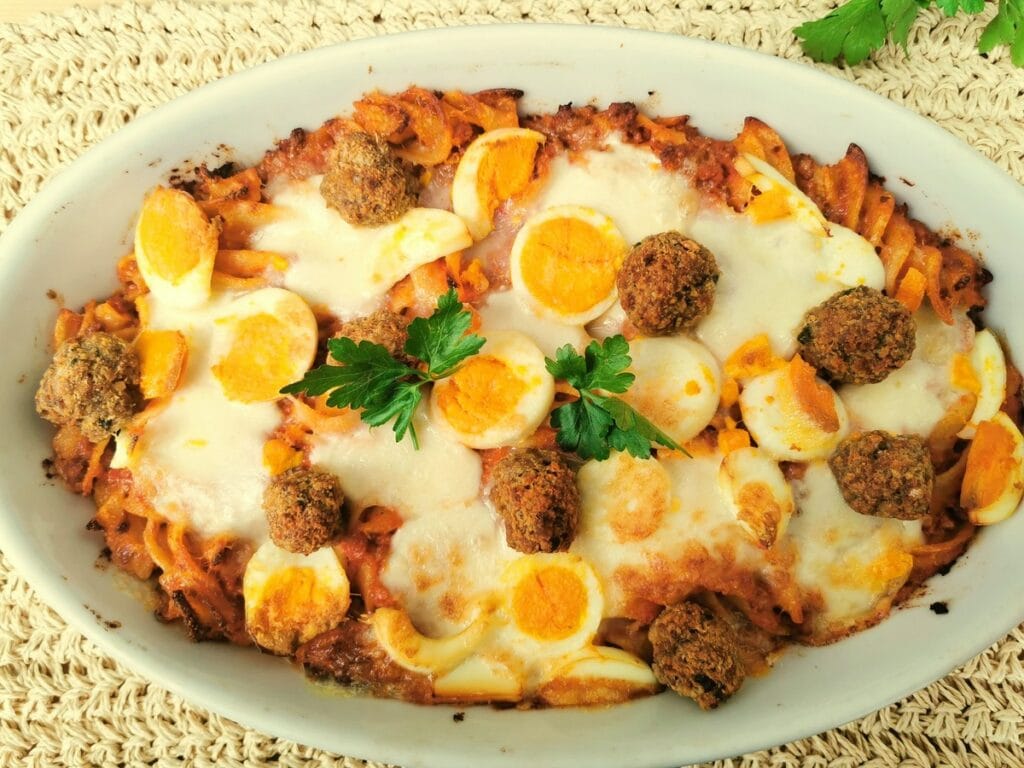 21 Italian pasta al forno recipes.
Below is a list of Italian baked pasta recipes that come from different parts of Italy. Many are with pasta tubes or short pasta, others with pasta ribbons, some with filled pasta shells and a couple with lasagne sheets. There are both recipes with meat and meatless dishes in this list, so I'm sure you'll find a recipe or two you'd like to try.
Click the recipe name to go to the recipe details and instructions.
Baked pasta recipes with ground meat sauce.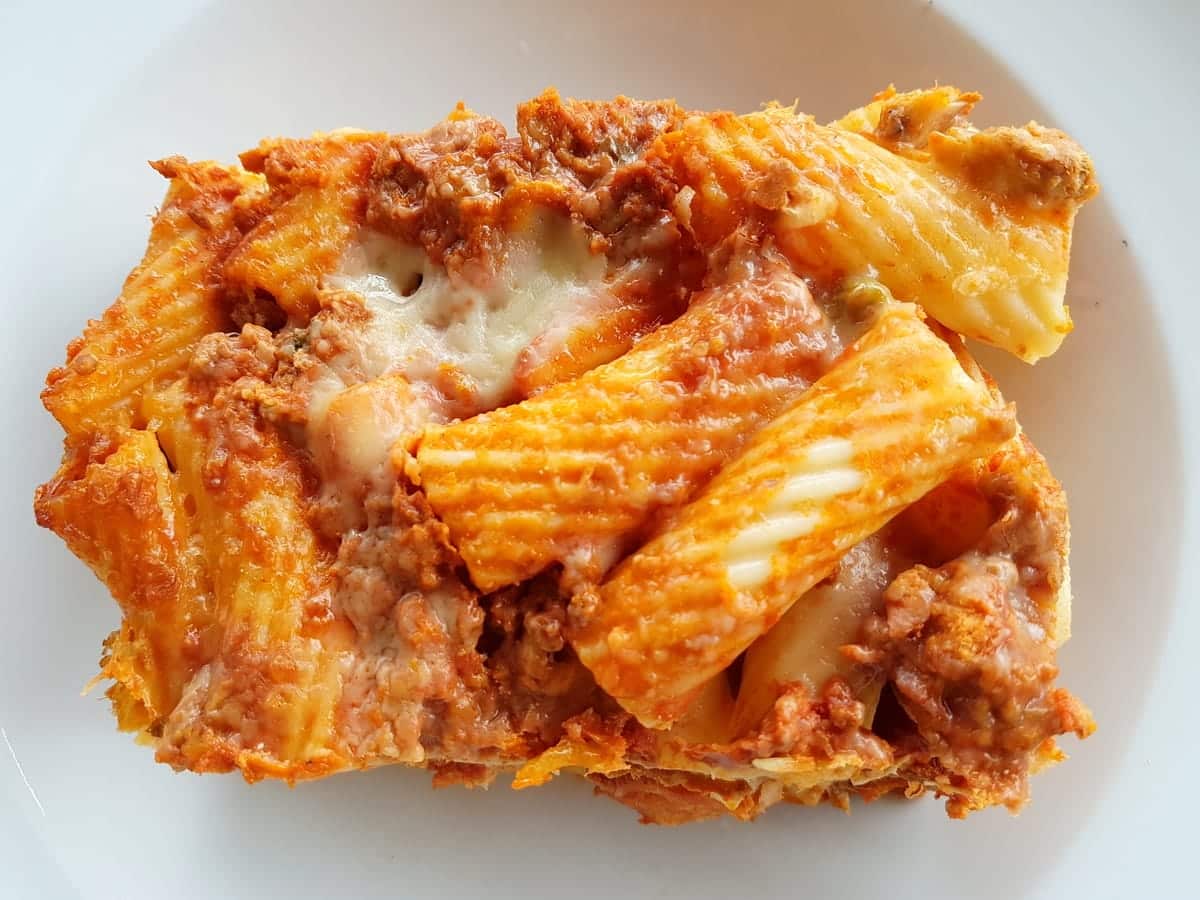 The most well-known baked pasta al forno is made with pasta tubes like rigatoni, a meat ragu or Bolognese and béchamel or cheese on top, sometimes both. This classic pasta al forno recipe is from my Sicilian mother-in law. It's one of the first baked pasta recipes I published here on The Pasta Project and it has long been one of the most popular with blog visitors.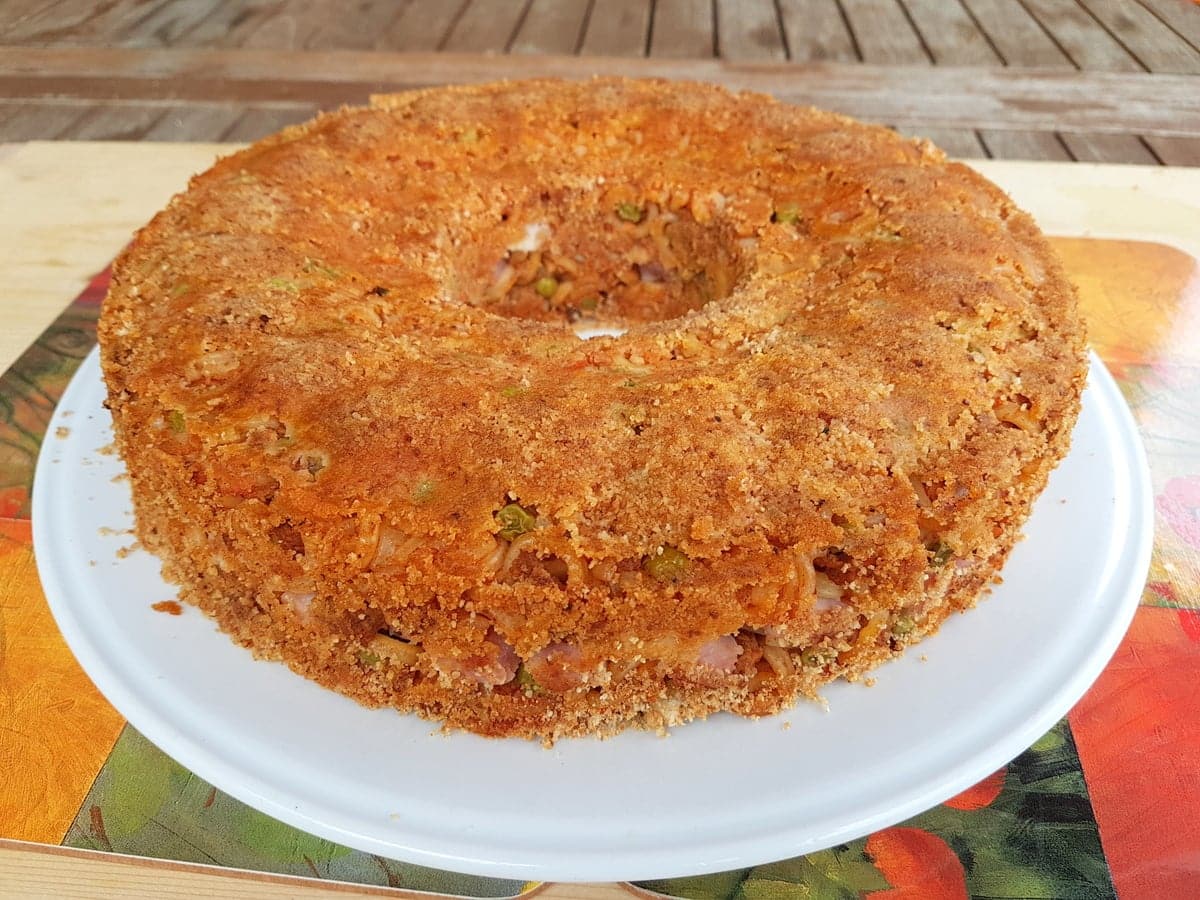 Some types of baked pasta with ragu look quite elaborate like this baked anelletti from Sicily. However, although it has not only ragu but also ham, breadcrumbs and caciocavallo cheese, this traditional dish from Palermo isn't so difficult to make.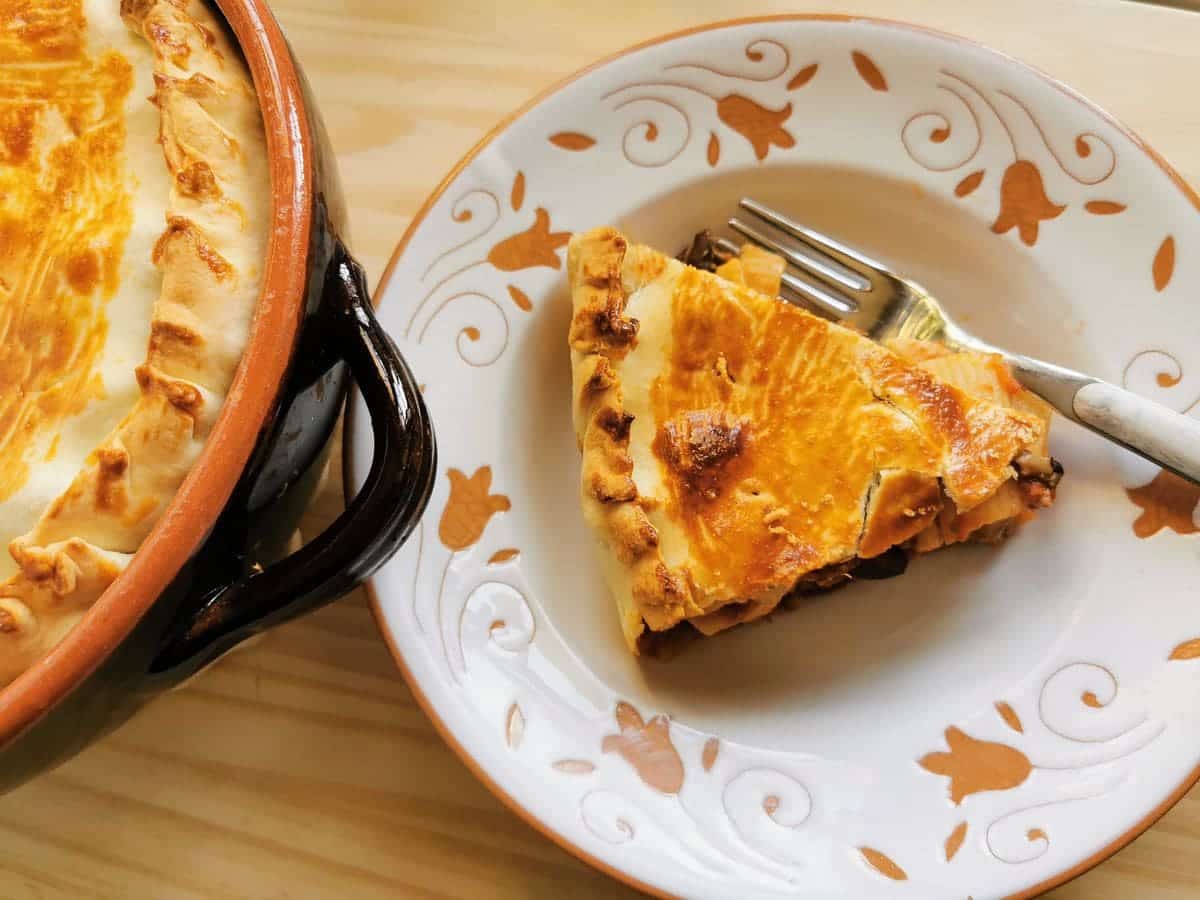 Italians make a lot of pasta al forno dishes which have the pasta and ragu wrapped in pastry like this rigatoni pasticciata from Trentino Alto-Adige. This is a great recipe for using up leftover ragu and makes a fabulous Sunday lunch dish young and old will enjoy. It's also filled with mushrooms making it even more nutritious and delicious.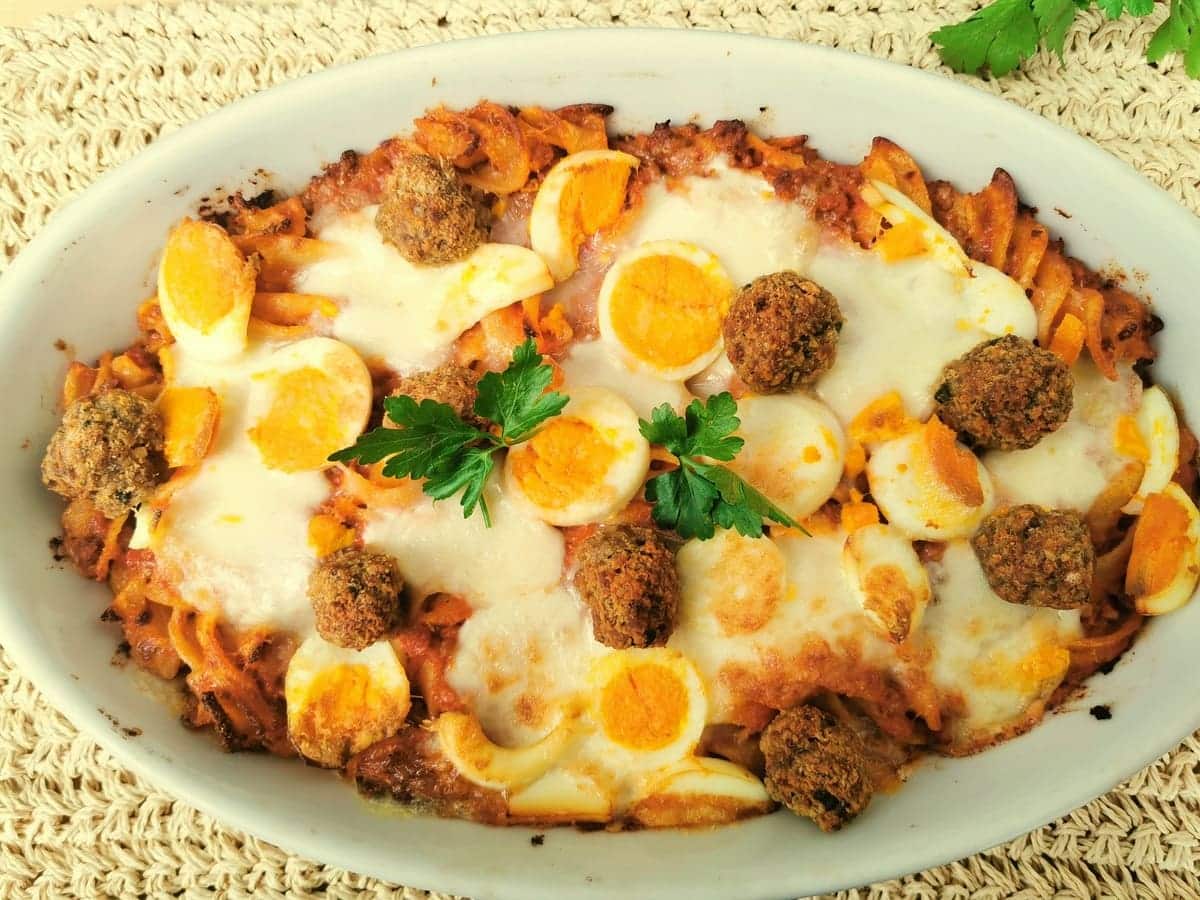 The recipe above is pretty hearty but this Calabrian pasta al forno is loaded with ingredients. Containing short pasta, ragu, meatballs (yes, meatballs!) hard boiled eggs, mozzarella and provolone, this typical Sunday lunch or holiday dish is a feast!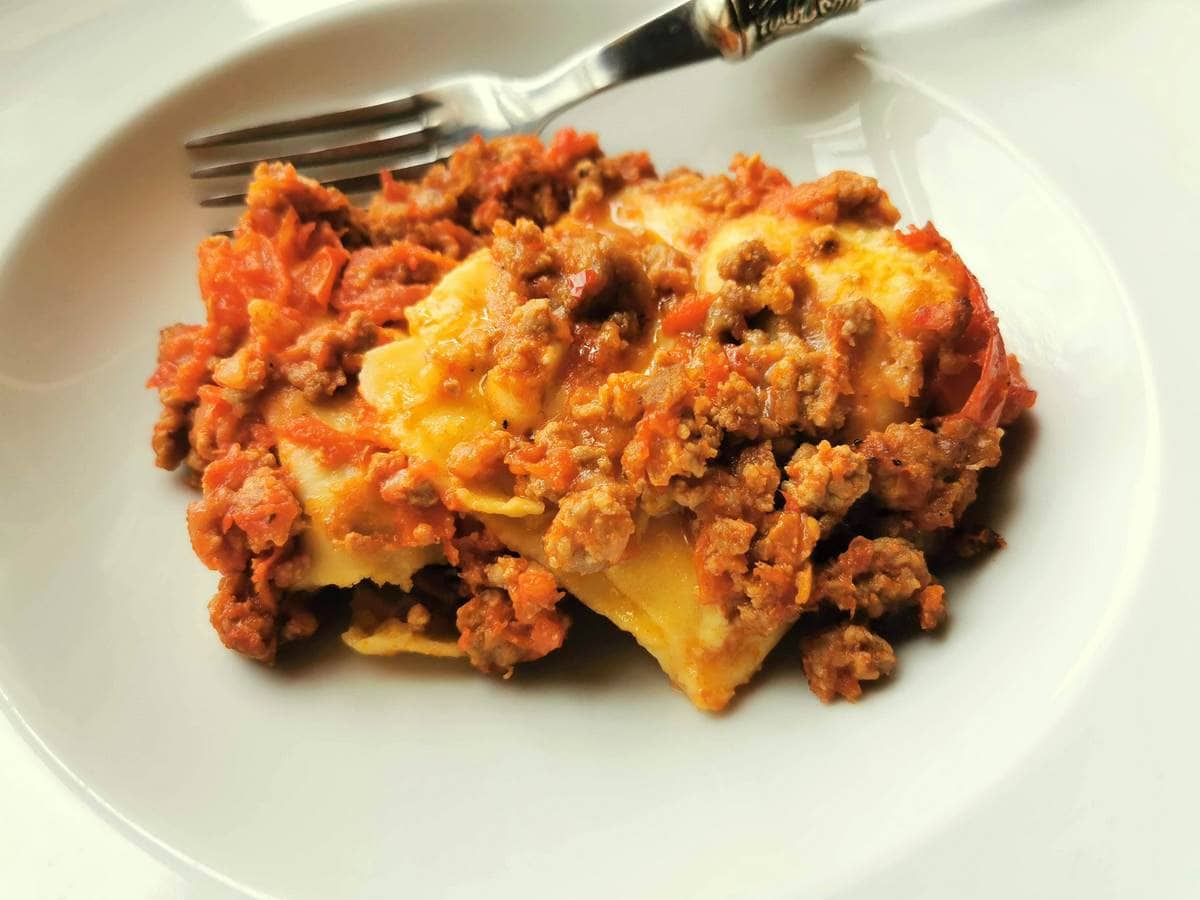 Not all pasta al forno recipes are made with dried pasta. Some call for fresh pasta. In the case of this recipe from Abruzzo, the pasta dough is cut into squares known as fazzoletti (handkerchiefs). The pasta is filled with a ground beef and pork sausage ragu and then folded in 4 and baked with more ragu on top. This is a fabulous alternative to lasagna. It's also easily made dairy free by leaving out the pecorino or using a vegan cheese.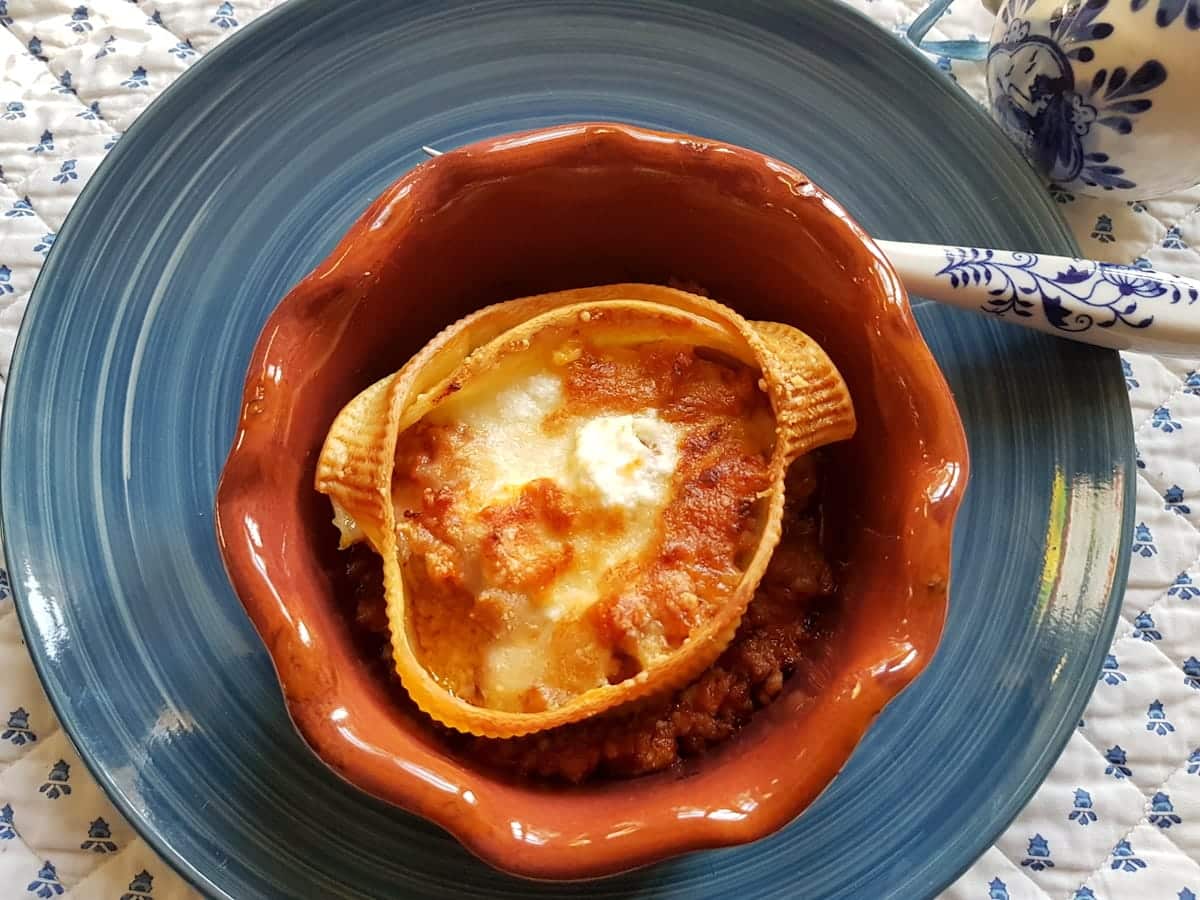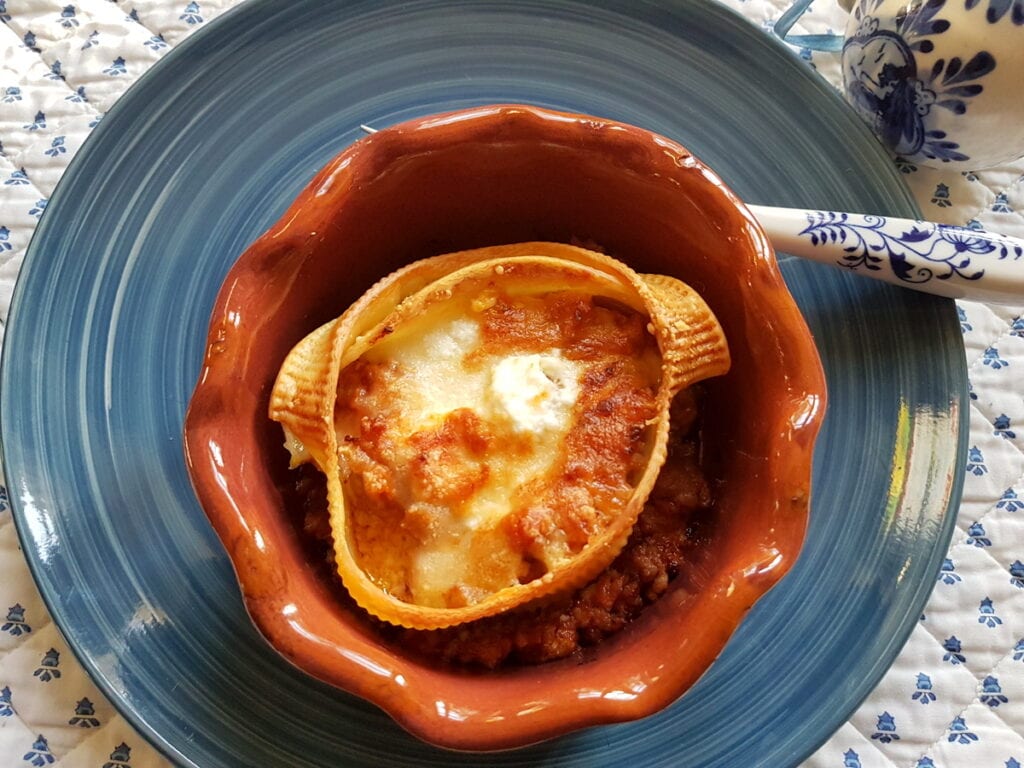 Alla Sorrentina is a famous Neapolitan pasta al forno recipe. You can find it with tomato sauce and mozzarella or with meat sauce and mozzarella. In this recipe, giant pasta shells called caccavelle are filled with ragu, mozzarella and ricotta and then baked in the oven. If you can't find caccavelle, you can make this recipe with conchiglioni or lumaconi.
Pasta al forno with ham, salumi or sausage.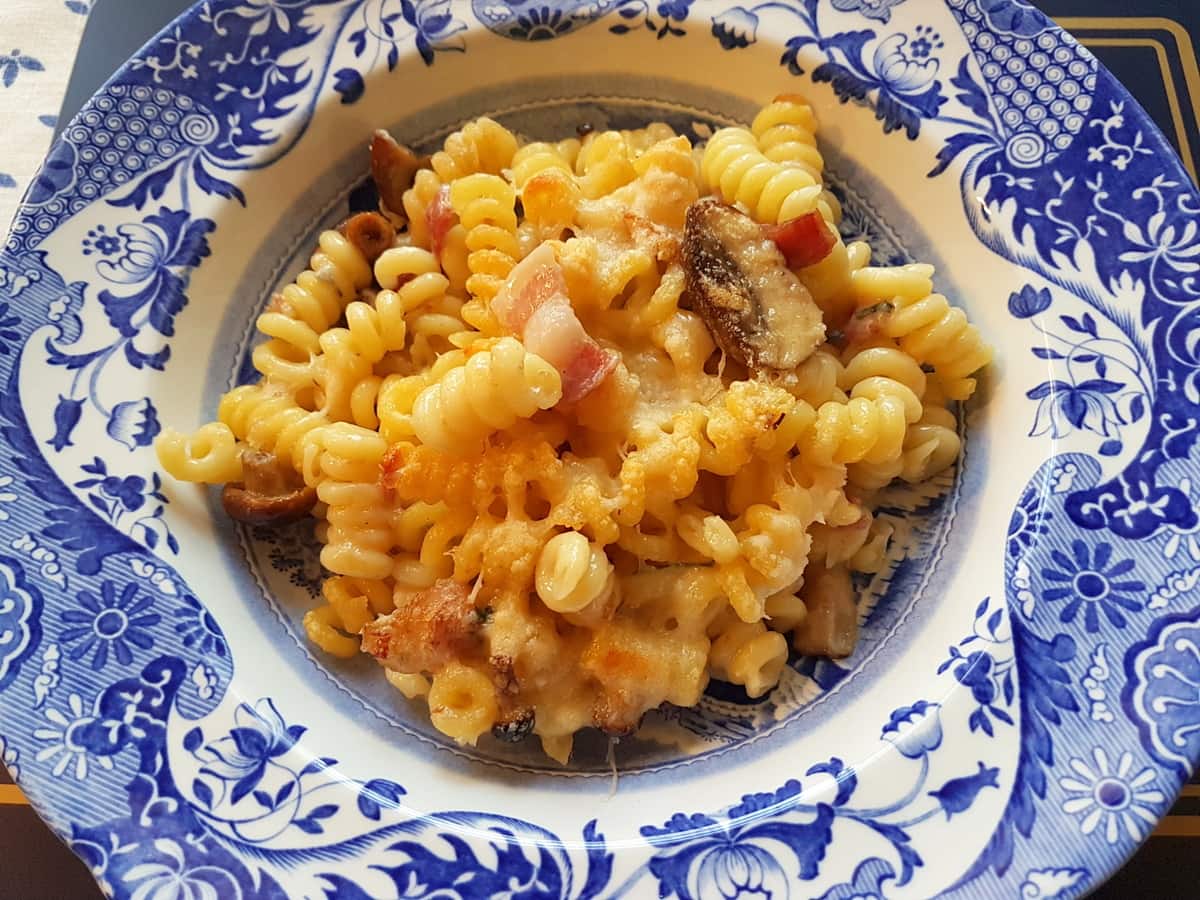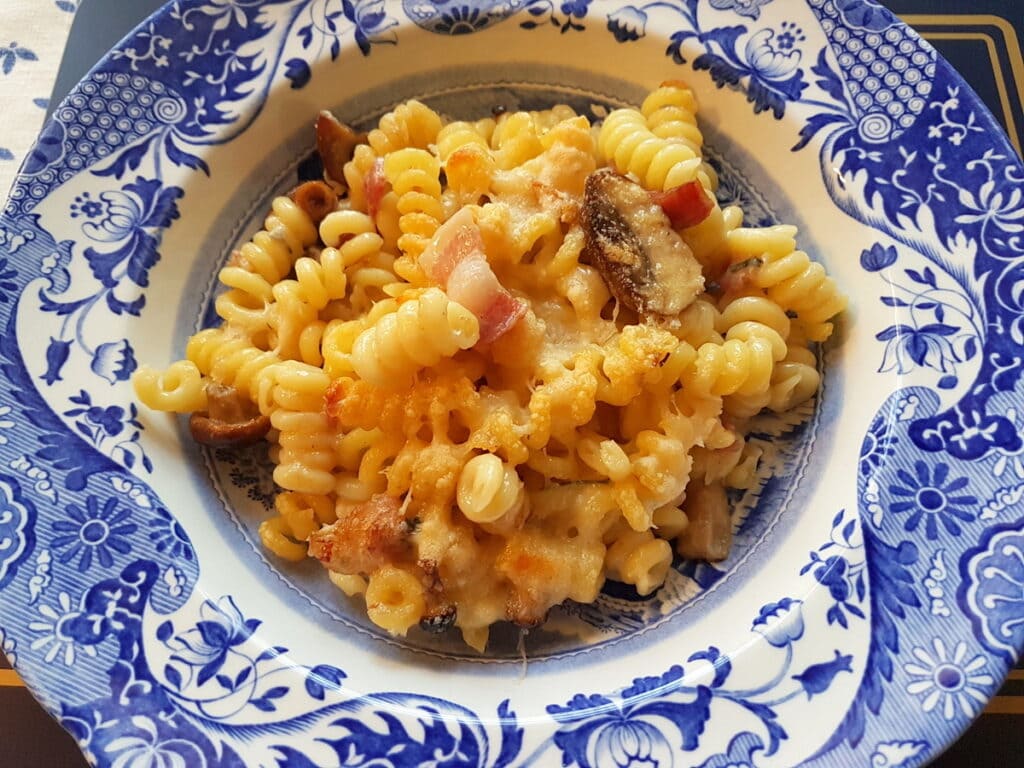 Baked pasta recipes with meat aren't just with ragu. Often the meat is a type of salumi or different cuts of pork. Bacon, gorgonzola and mushrooms make up the condiment in this easy to make, super flavourful short fusilli bucati recipe. You can serve this dish unbaked for a quicker meal prep. BUT, the crispy cheesy topping in this baked version makes this recipe extra yummy!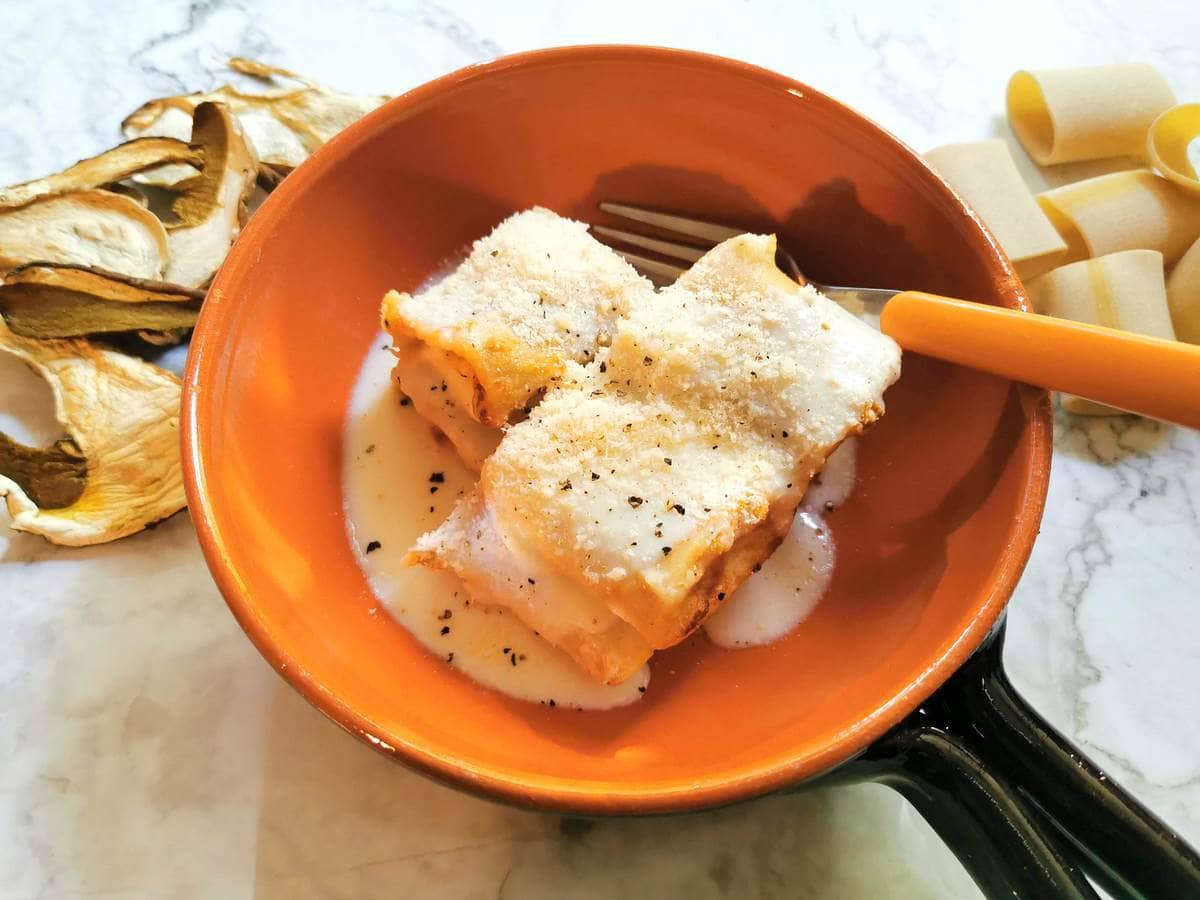 Paccheri are wide short pasta tubes from Naples that Italians use in many different ways including stuffing and baking. In this stuffed and baked paccheri recipe, the pasta is filled with sausage meat, leeks and mushrooms and then baked covered in béchamel and parmigiano.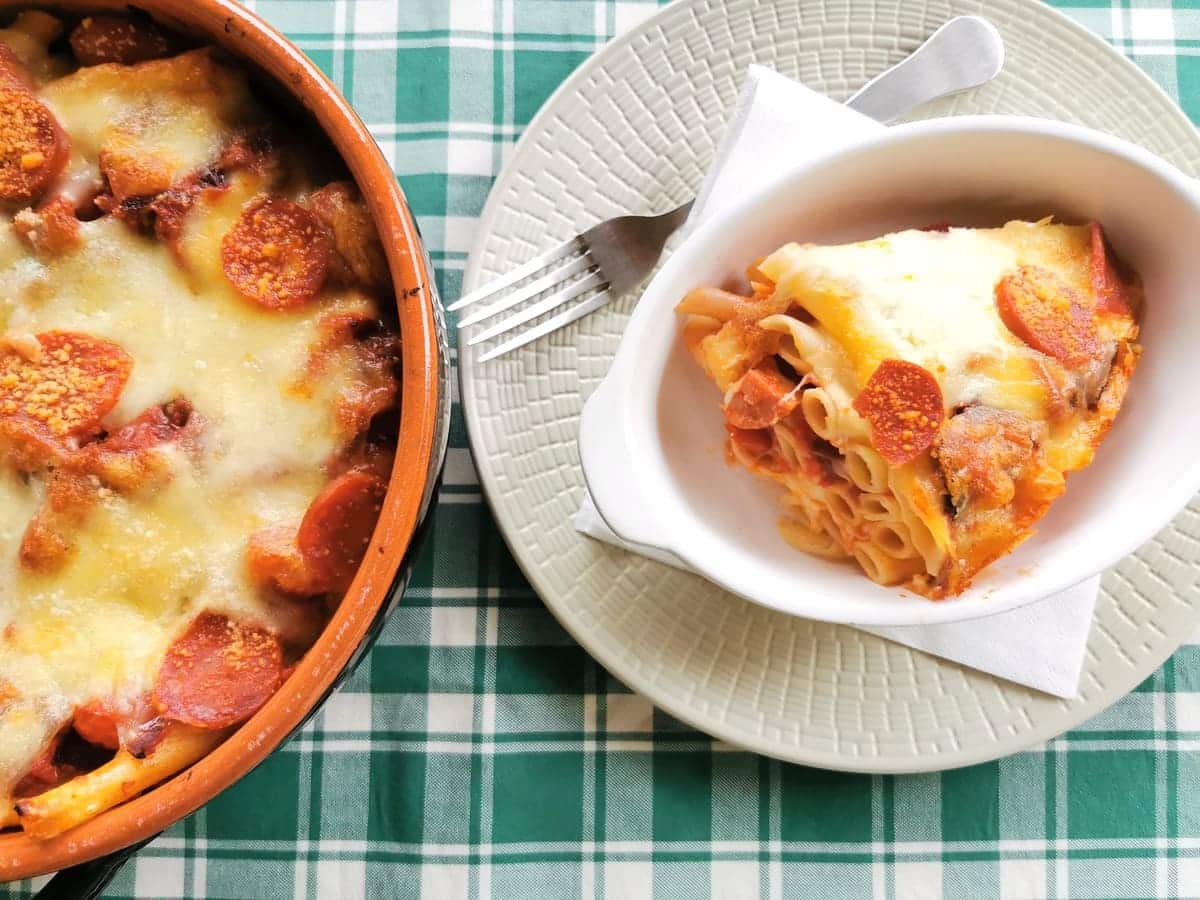 In USA, ziti is probably one of the most well-known Italian pasta types used in baked pasta dishes. However, although we can find short ziti, traditionally ziti and the larger zitoni are sold as long 25-26cm hollow tubes here in Italy. The Italians then break the pasta into various lengths depending on individual taste. This baked ziti from Naples calls for spicy Calabrian sausage or salami. You can also make it with chorizo.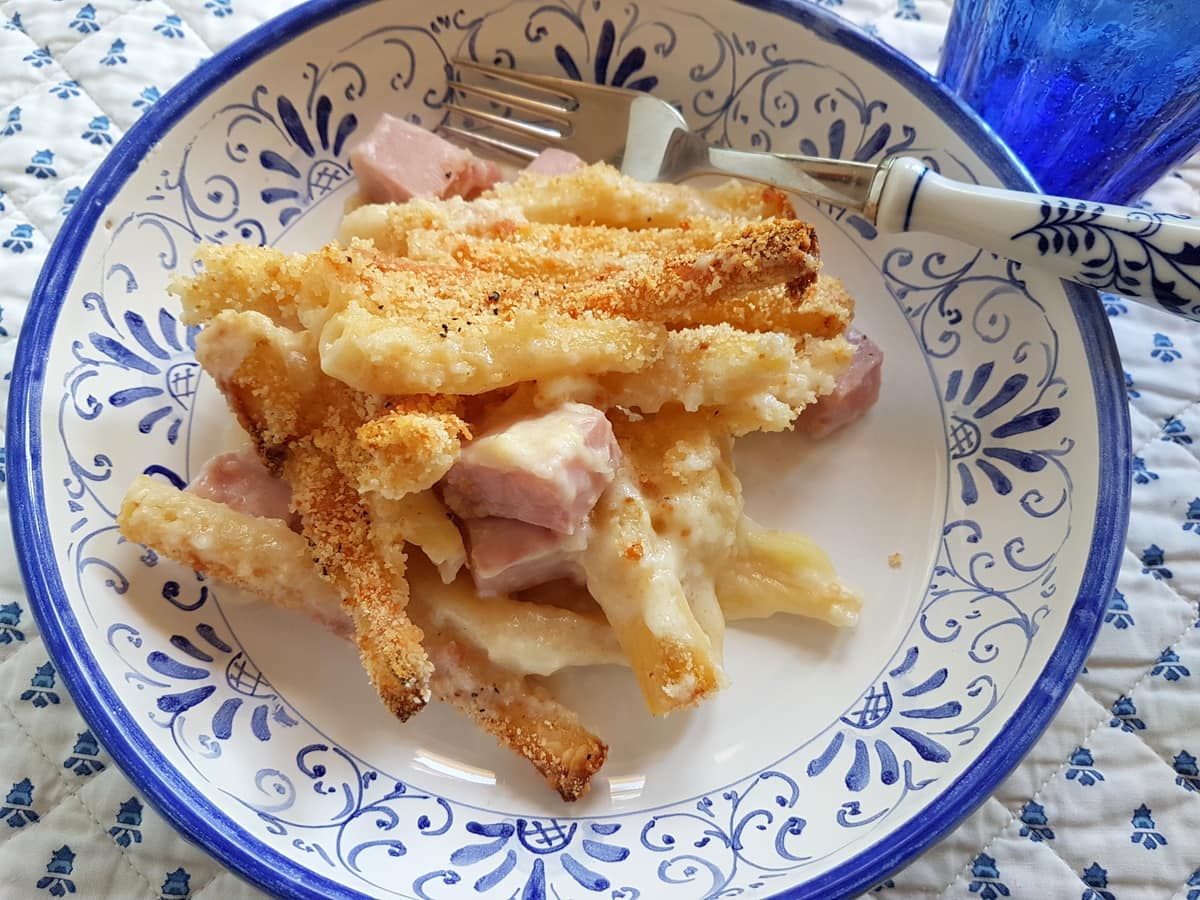 This second baked ziti pasta al forno is another delicious recipe from Naples. In this dish, ziti or zitone are baked au gratin with ham, cheese and béchamel. This is a great way to use up leftover holiday ham and can be on the table super fast if you use ready-made béchamel. However, I prefer to make my own. It only takes 10 minutes!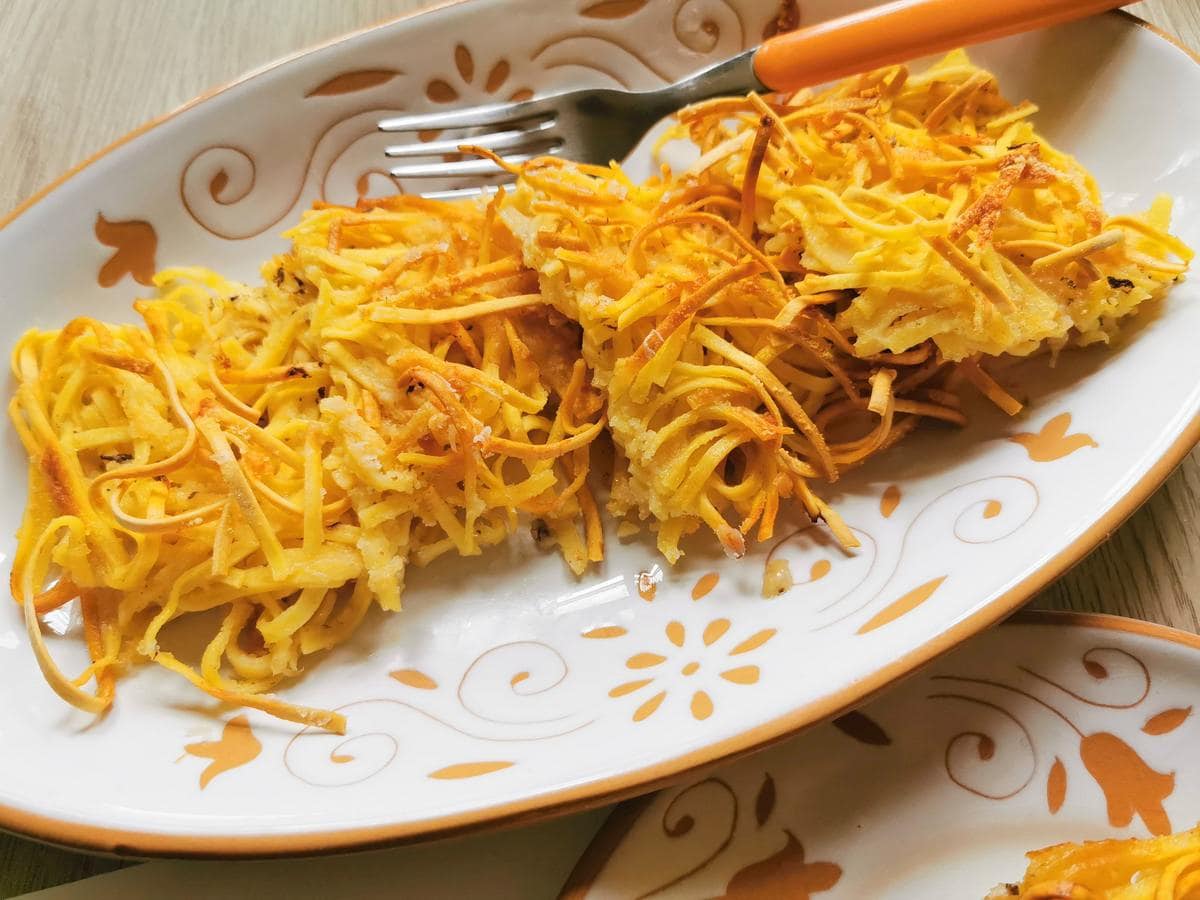 This tagliolini baked in broth (bassotti) is a very very old recipe from Emilia-Romagna. In the past, Italians actually cooked this dish in the embers of the kitchen hearth with pork bone stock. Nowadays, They bake it in the oven, usually with beef or chicken stock. This unique ancient recipe is easy to make and seriously yummy!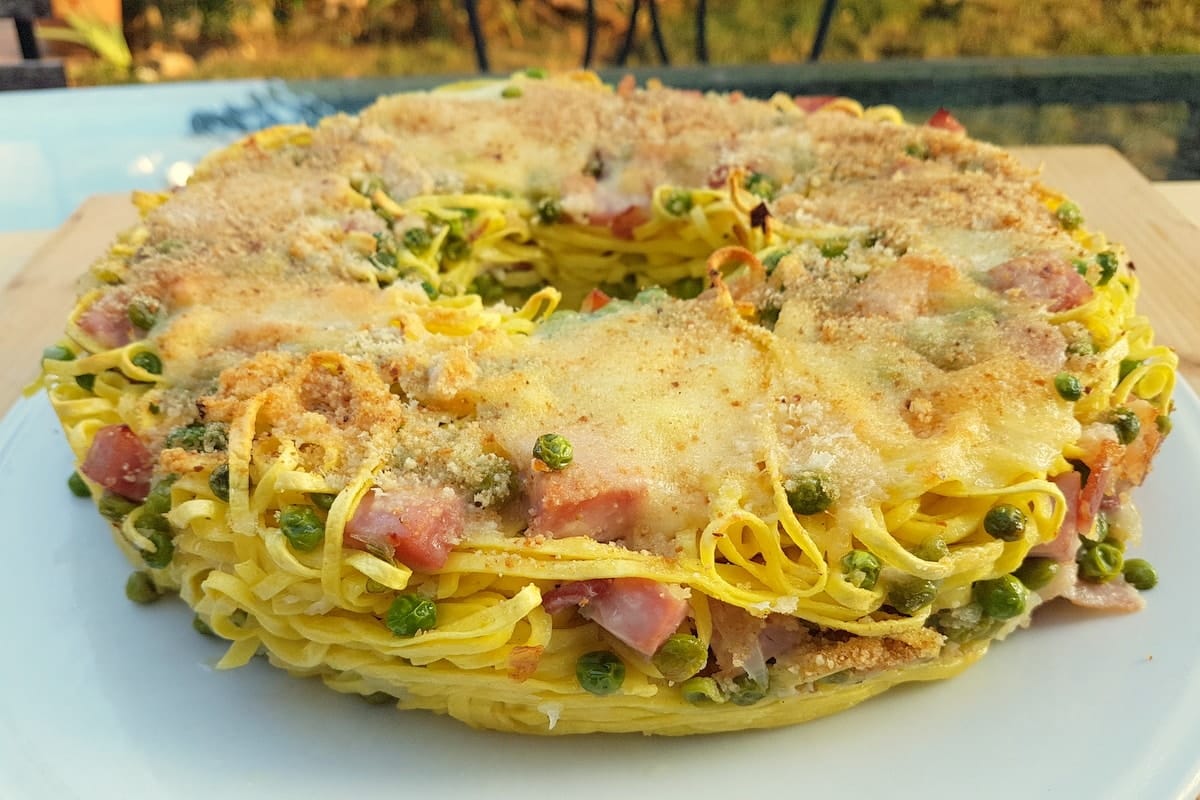 Italian pasta al forno dishes come in many forms, especially in the Southern regions. This wonderful looking Neapolitan tagliolini pasta pie is pretty easy to make. All you need to do is to mix the al dente pasta with ham, pancetta, onions, peas and parmigiano. Then bake it with mozzarelle, breadcrumbs and more grated cheese.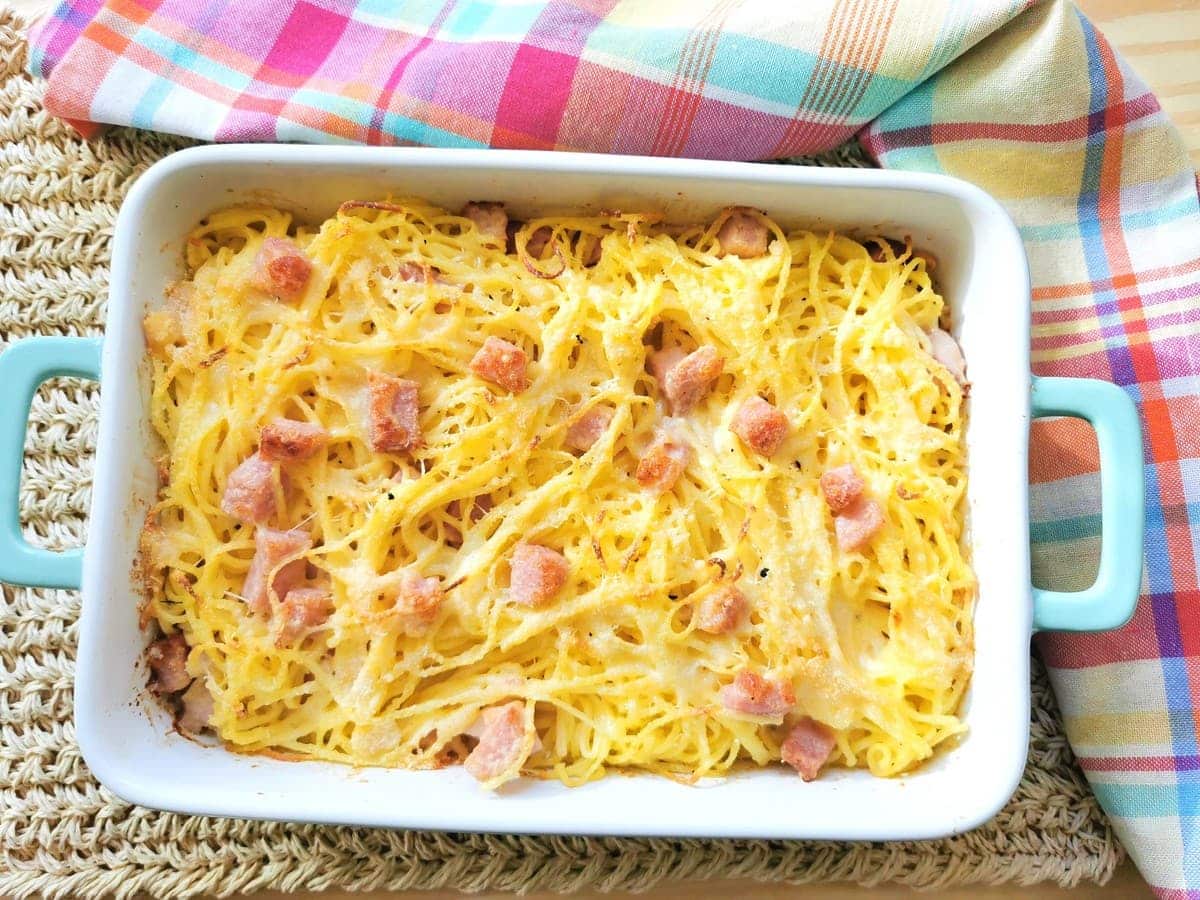 Another tasty baked tagliolini recipe is this tagliolini au gratin from Venice. This recipe is based on a dish created at the very famous Cipriani's Harry's bar in Venice, in the 60's. Apparently, a favourites of opera singer Maria Callas, it is still on the menu in Cipriani restaurants around the world. All you need is pasta, eggs, ham, grated Parmigiano and cream and 30 minutes of your time to have this family favourite on the table. Also, a great way to use up leftover holiday ham.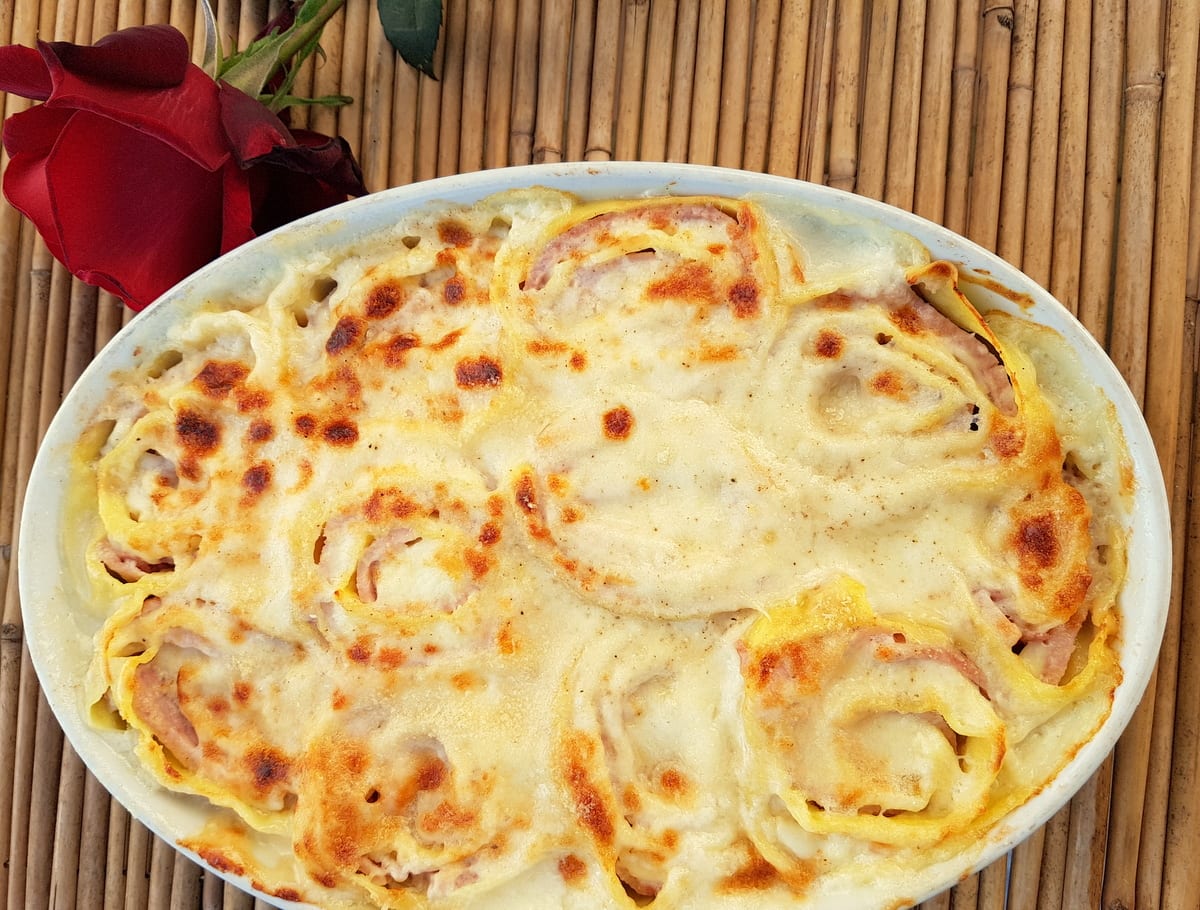 Another Italian pasta al forno recipe with ham is this baked pasta roses from Emilia-Romagna. This recipe uses lasagne pasta sheets but unlike lasagna, you just have to roll the ingredients up inside the pasta, like Swiss rolls!. Then cut the rolls into 3 pieces, fill a baking dish with them, cover with béchamel and bake. Easy and delicious! It's also easy to make this recipe vegetarian. Just replace the ham with spinach and the Parmigiano with a vegetarian parmesan.
Meatless Italian baked pasta recipes.
Traditionally most Italian pasta al forno recipes include meat except for a number of lasagna dishes. I haven't included lasagna in this post as there are so many versions and I have already published one collection of 7 Italian lasagna recipes. Below are some meatless pasta al forno dishes. Some of these contain Italian parmigiano or pecorino. These cheeses aren't vegetarian, but you can substitute with vegetarian parmesan.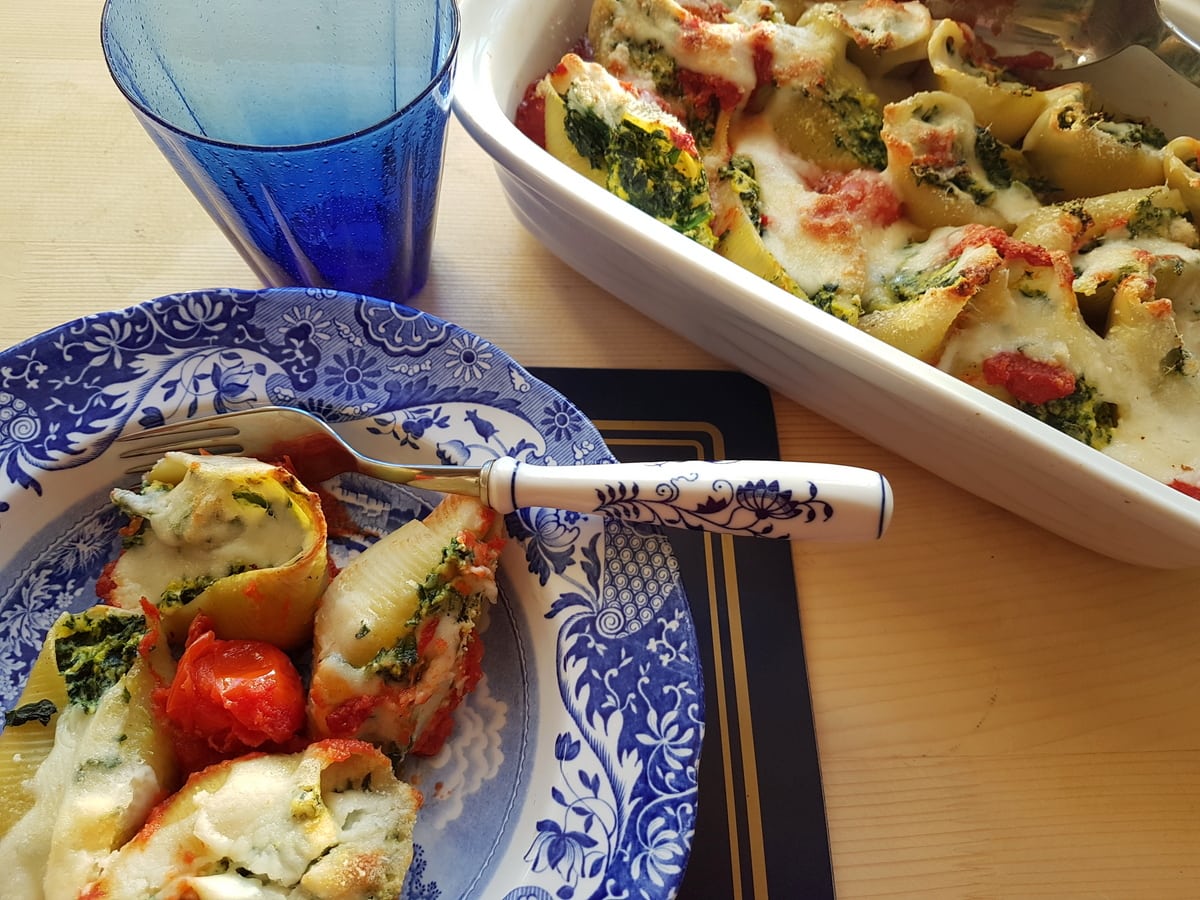 This baked ricotta and spinach filled pasta shells is a classic Italian Sunday lunch recipe. The shells are filled with a mixture of fresh ricotta and cooked spinach and then baked in a tomato sauce. Some Italians use béchamel instead of tomatoes. Others fill the shells with ragu. But, this is my favourite version and it's easily made vegetarian by replacing the parmigiano with vegetarian parmesan.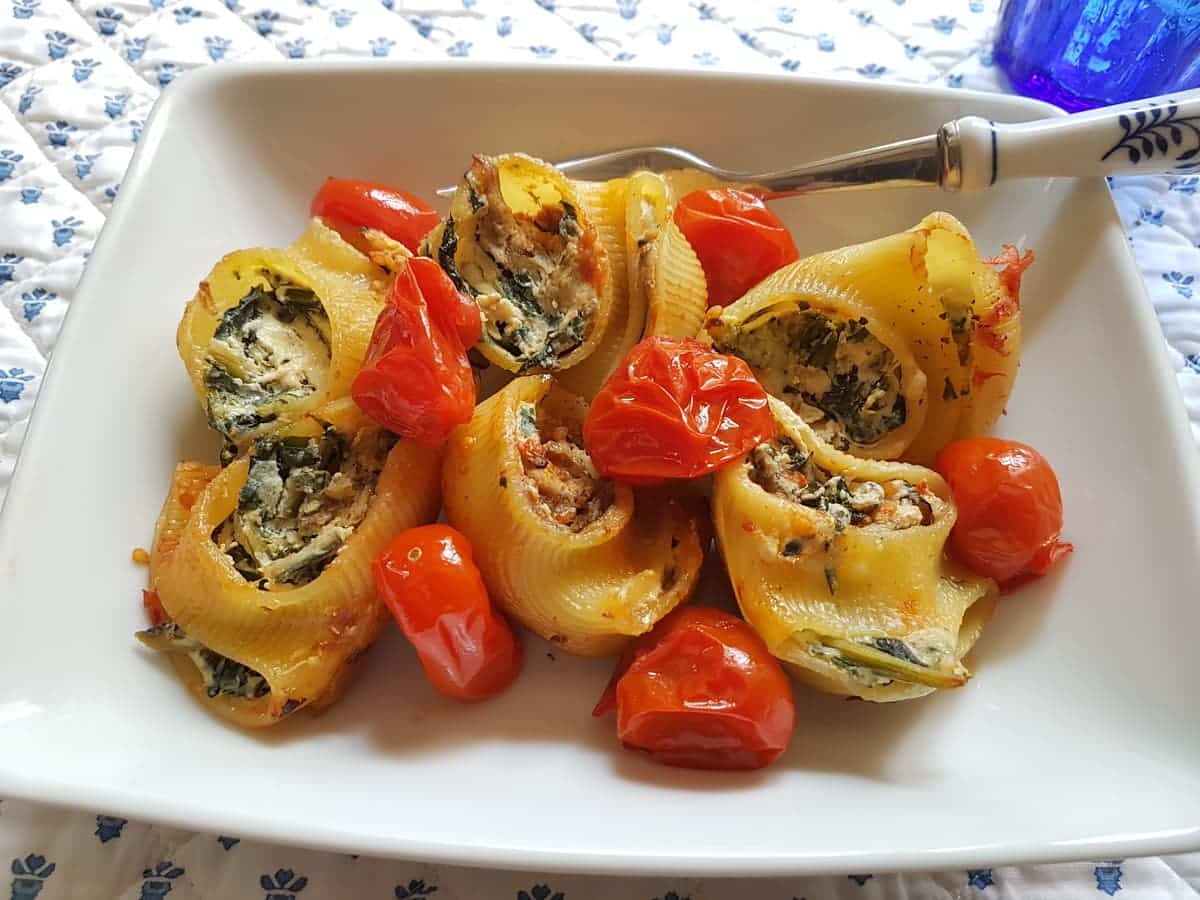 Lumaconi is another type of pasta shell that is popular in pasta al forno recipes. The word 'lumaconi' comes from the Italian lumache, meaning snails. So, as you can imagine these pasta shells look like snail shells. This recipe, involves filling the lumaconi with ricotta, porcini mushrooms and Catalonian chicory, then baking the stuffed shells in a tomato sauce similar to the recipe above. Also, like the previous recipe, this is easily made vegetarian by using vegetarian parmesan instead of Italian parmigiano.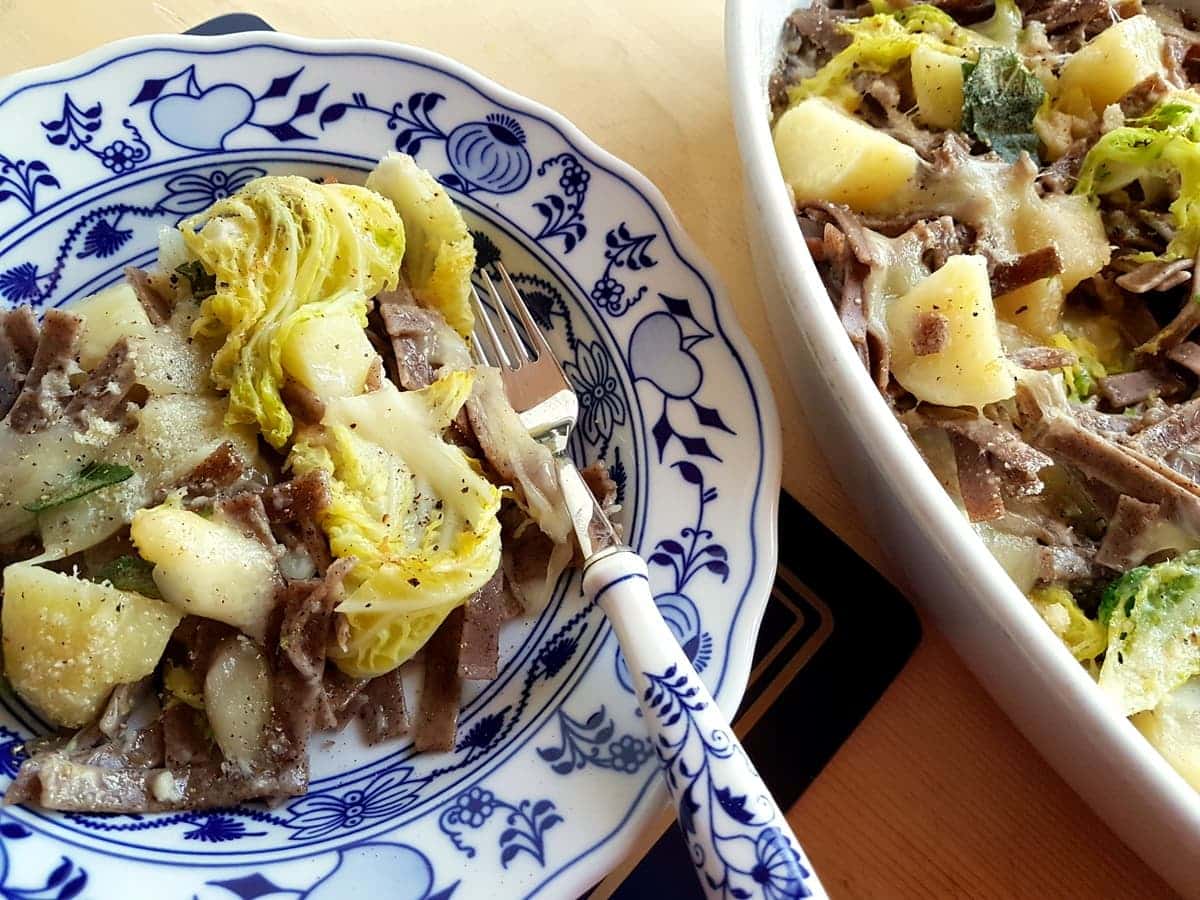 Pizzoccheri alla Valtellinese is a warming and nutritious vegetarian buckwheat pasta dish from the Italian Alps in Lombardy. This typical and hearty mountain fare is easy to make and perfect for the cold season. In Italy, this dish is also served unbaked. But, I love to bake it to get the crispy bits on top!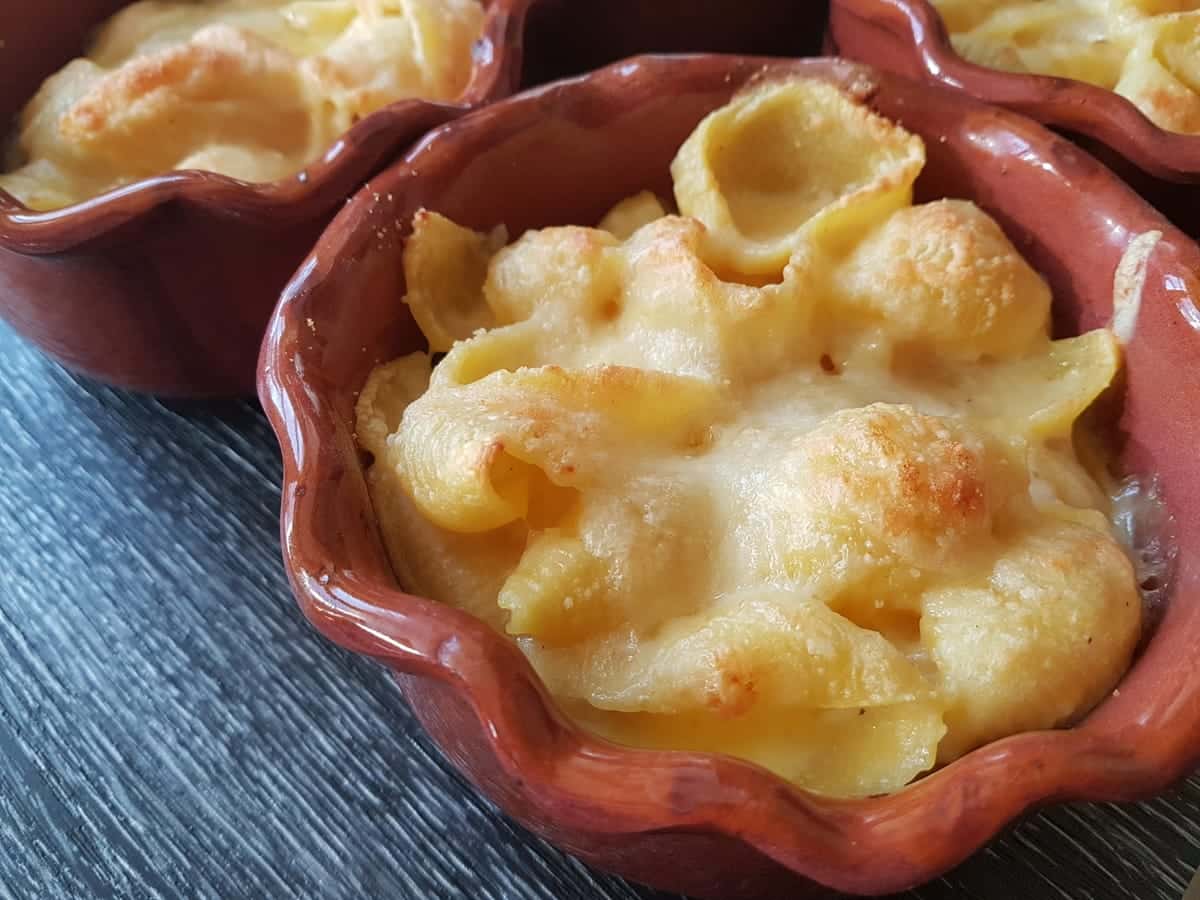 Although mac and cheese isn't an Italian recipe, there are lots of delicious Italian recipes for pasta with a cheese sauce, like this cheesy conchiglie pasta al forno. For this recipe, I used mid-sized pasta shells called conchiglie. I baked the pasta and sauce in the oven in individual portion oven proof dishes! Of course, you can make this in a larger dish. The sauce is béchamel with Fontina and Parmigiano or grana. Substitute the Italian hard cheese with a vegetarian parmesan to make this recipe vegetarian.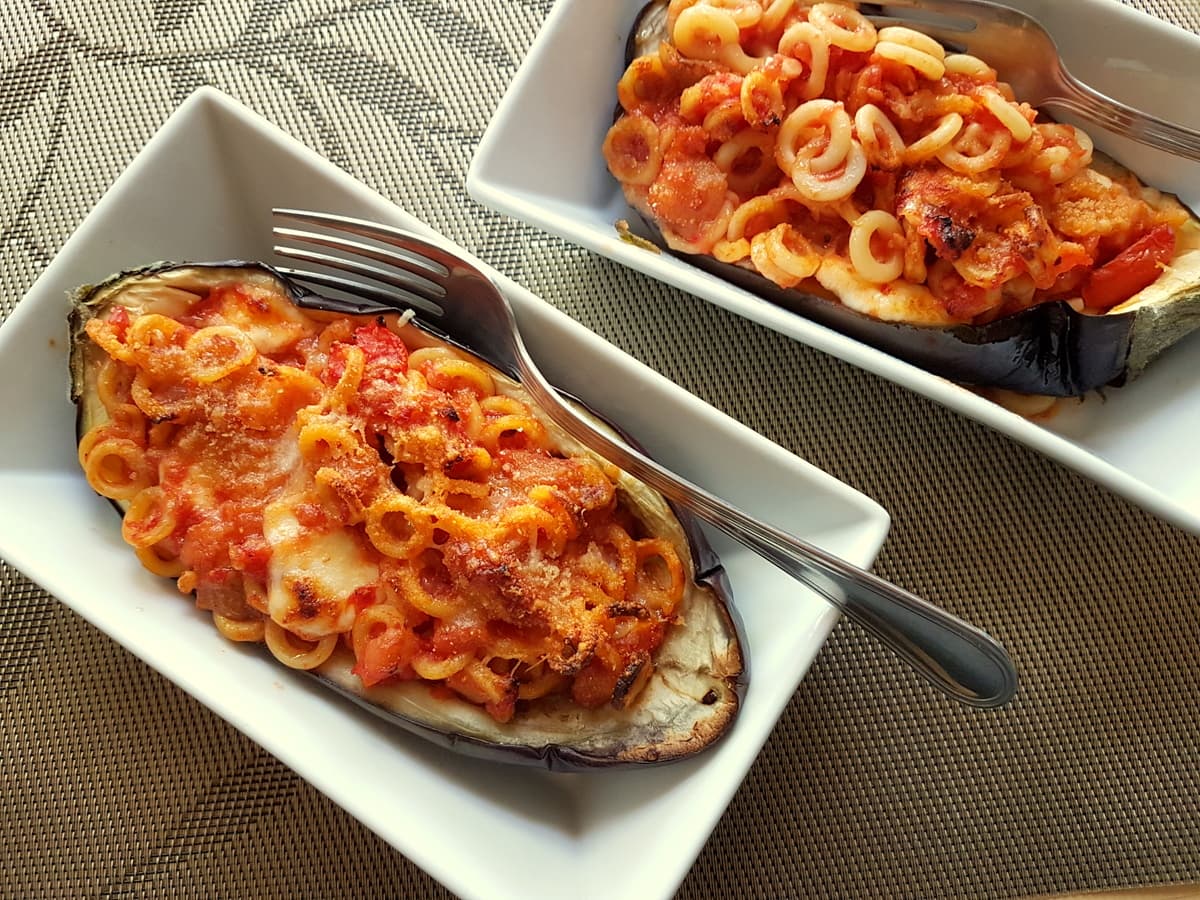 Anelletti is a typical Sicilian pasta often used in baked pasta recipes like the anelletti al forno at the beginning of this post. To make this recipe, you need to precook the pasta rings and make a tomato, cheese and eggplant sauce. Then mix the two together and fill the eggplant halves with the pasta and sauce and bake. Actually, quite easy and yet a delicious and unique dish to serve to guests.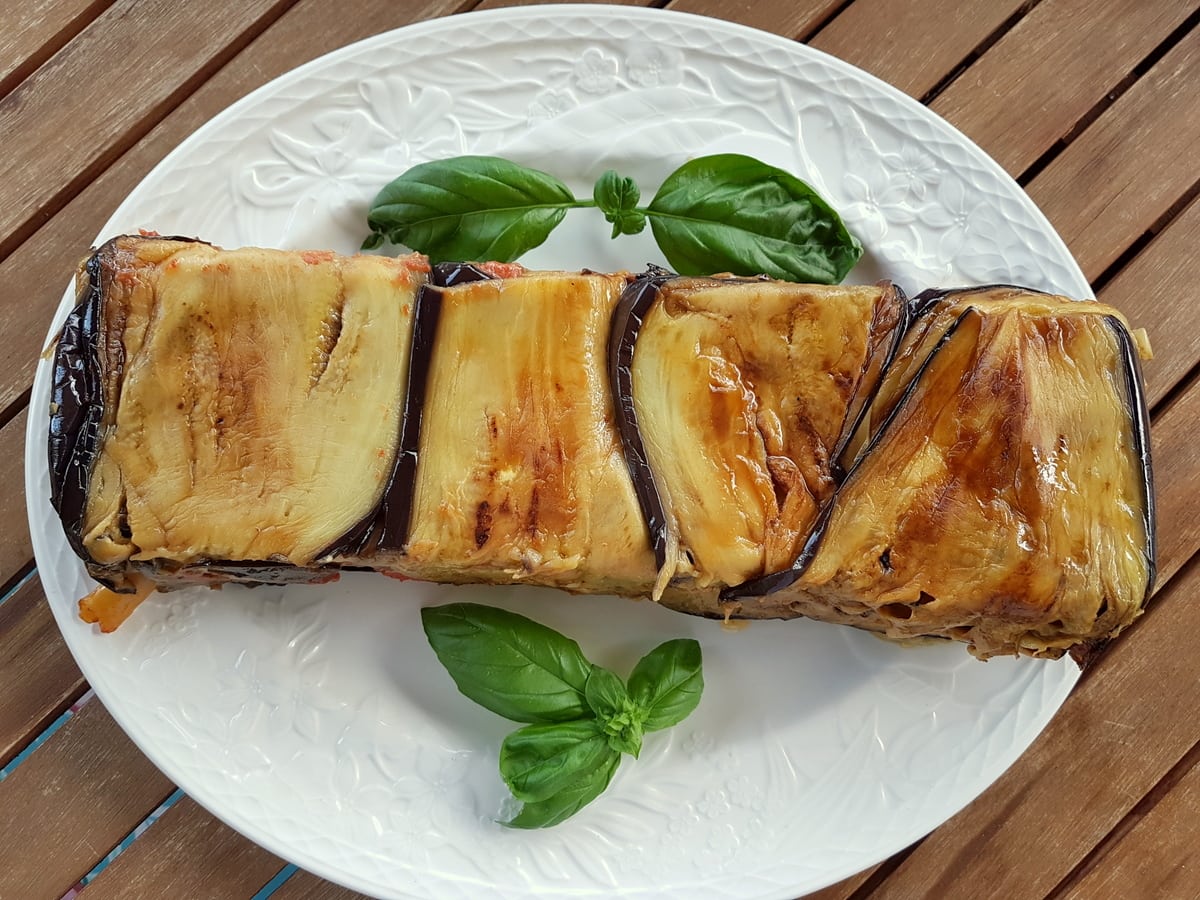 Another beautiful Southern Italian baked pasta recipe with eggplant is this 150-year-old recipe for Parmigiana timballo. To make this stunning dish you have to surround the pasta with tomato sauce and mozzarella with fried eggplant slices. This recipe works best with long hollow pasta like ziti or zitone or even candele. If you can't find those, use bucatini or even rigatoni.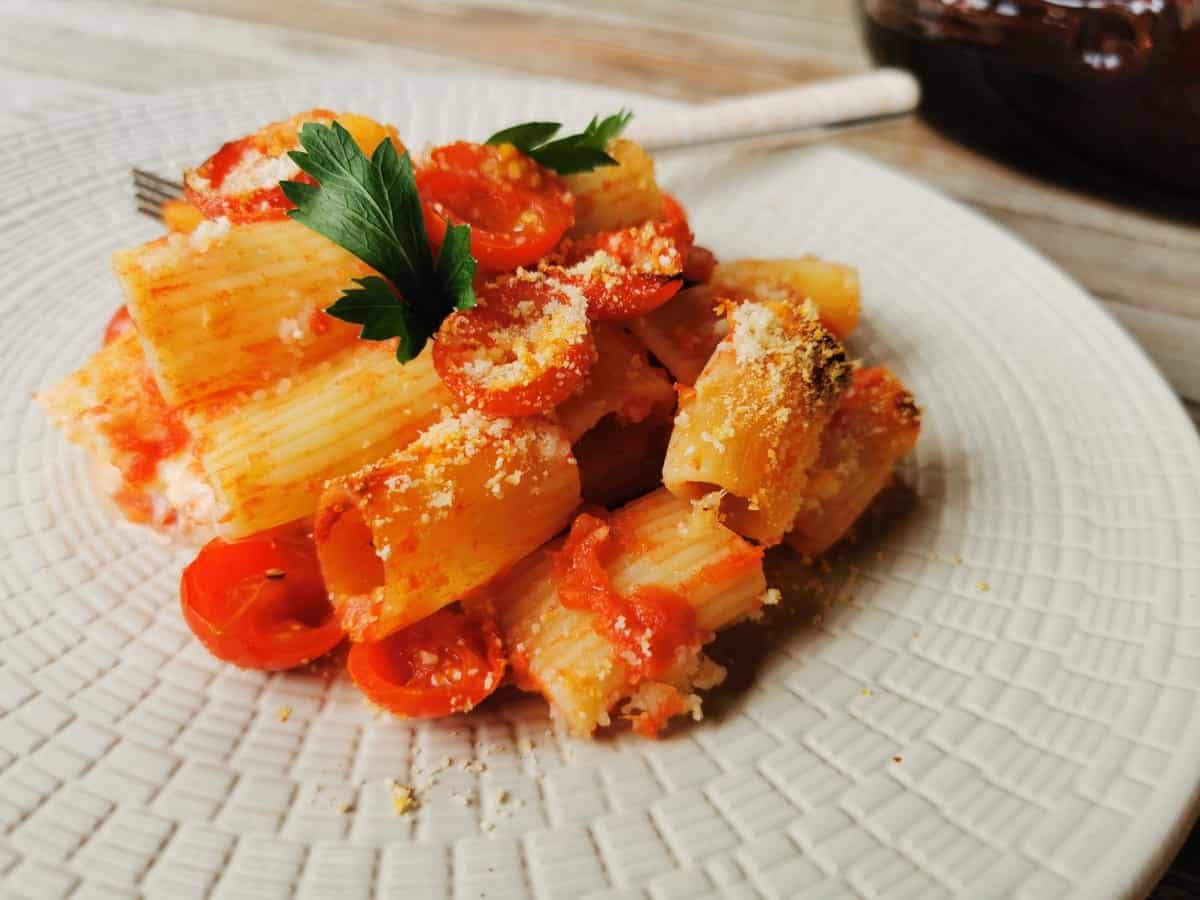 Finally, a lighter Italian pasta al forno recipe that is perfect for summer too. Baked pasta is definitely most popular in the cold weather months, although Italians make it for special occasions and holiday throughout the year.
This pasta alla Tranese from Puglia has tomato sauce, stracciatella cheese and fresh cherry tomatoes. The latter are just marinated and put on top of the pasta and sauce just before baking, giving this dish a bright fresh flavour.
More recipe collections:
If you make any of these 21 Italian pasta al forno recipes, I'd love to hear how they turn out and if you liked them. So, please leave a comment here on the blog or on The Pasta Project Facebook page.
Looking forward to hearing from you!
Buon appetito!
CHECK OUT MY SHOP PAGE.
If you are interested in learning how to make homemade pasta and different types of gnocchi, check out my shop page for some great video online courses from my friends in Rome! Nothing beats learning to make pasta from Italians! Plus while you're there why not order a copy of one of my pasta recipe cookbooks or checkout some recommended pasta making tools? All great prezzies for pasta lovers!