Rigatoni pasticciati is a hearty and filling pasta pie with pastry from Trentino Alto-Adige in Northern Italy. It's made with rigatoni, meat ragu, sautéed mushrooms and grated cheese all inside a shortcrust pastry case. A fabulous way to use up leftover ragu or Bolognese!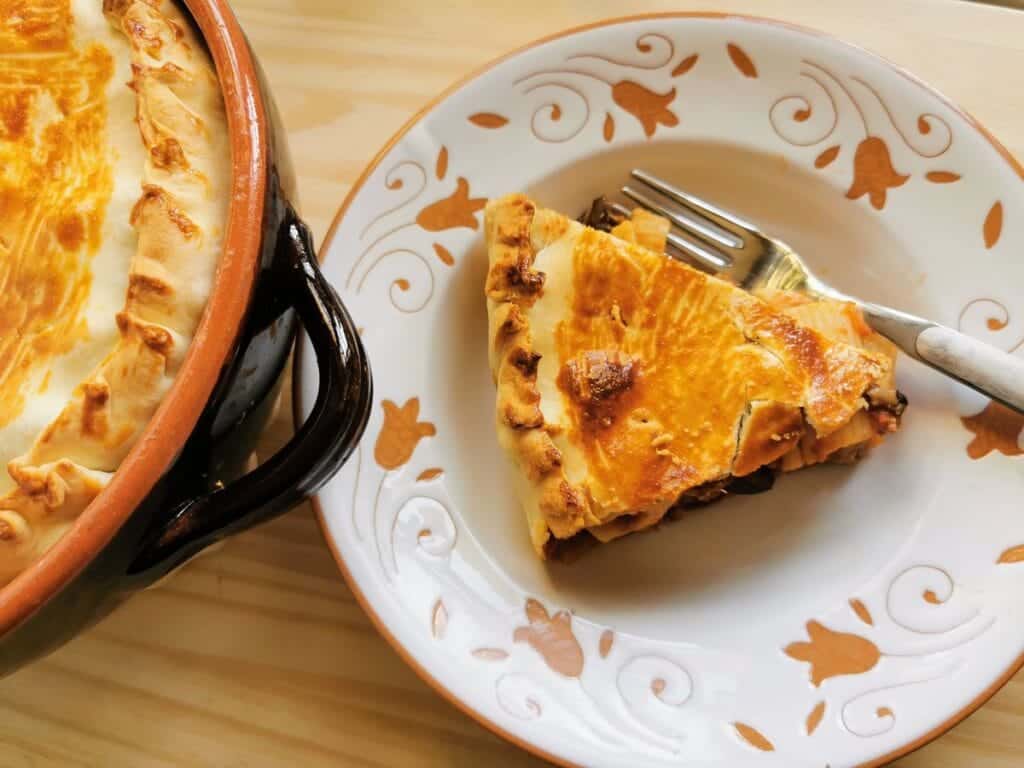 I came across this rigatoni pasticciati in a cookbook of recipes from Trentino-Alto Adige. It reminded me of a slightly similar recipe from the same region which is also great for using up leftover ragu. Pasta all Pastora contains ragu and mushrooms as well as peas, ham and cream. It isn't baked or wrapped in pastry like this pasta pie but is just as delicious.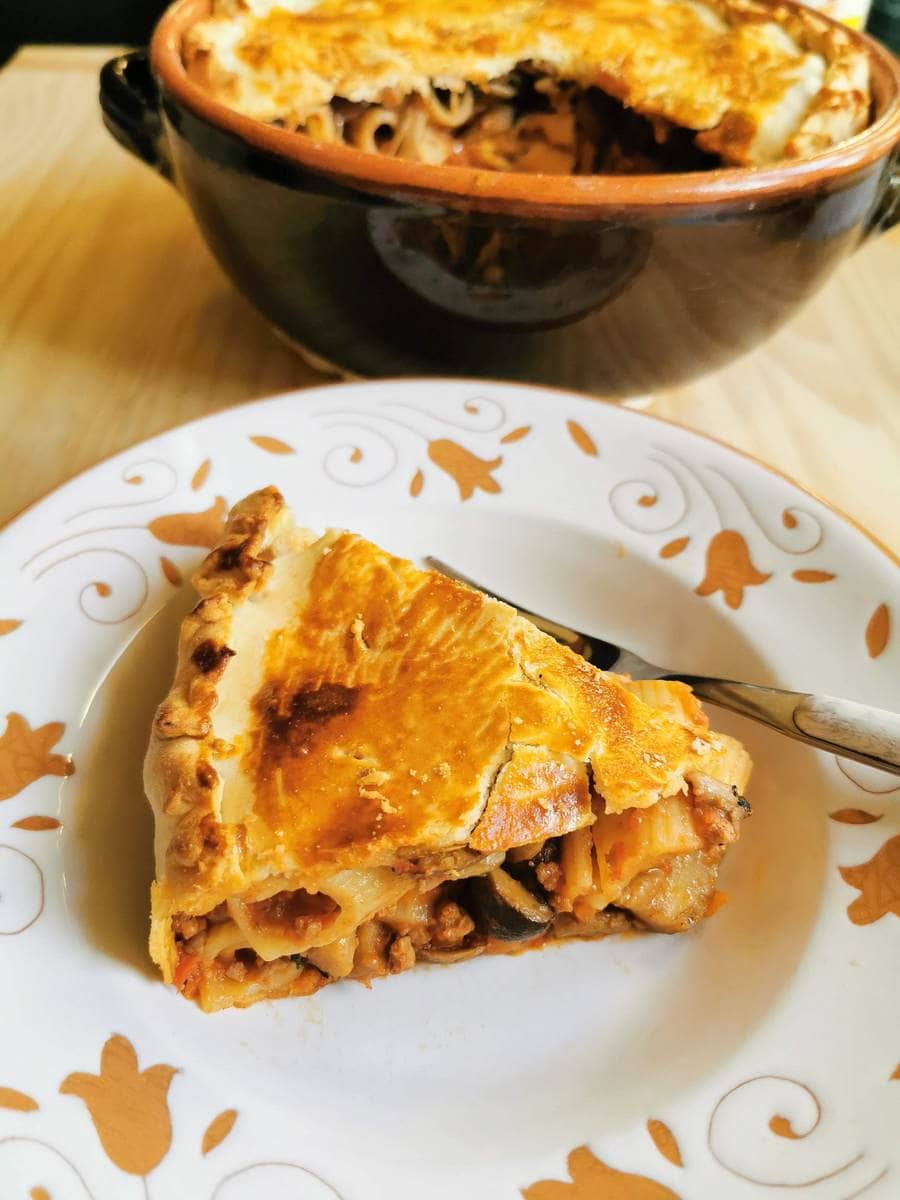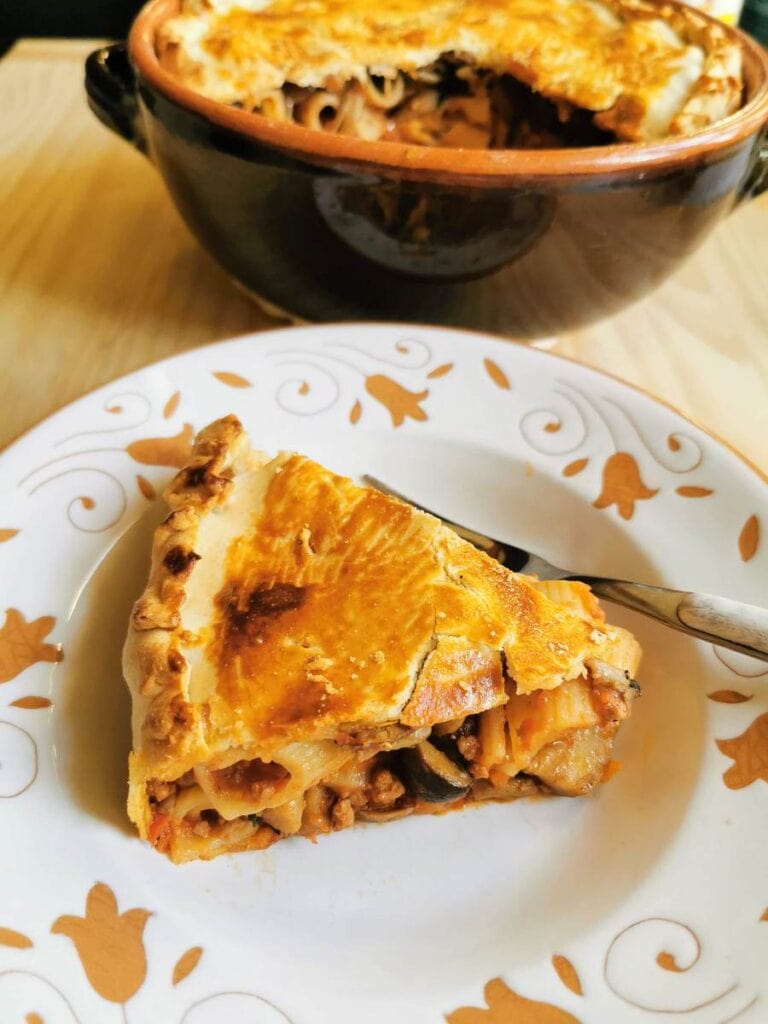 Both these recipes come from the beautiful mountainous region where Italy borders with Austria. The food there is much influenced by Austrian and German cuisine and includes the kind of hearty dishes you'd expect in the mountains. You can read more about the region in my Trentino-Alto Adige post.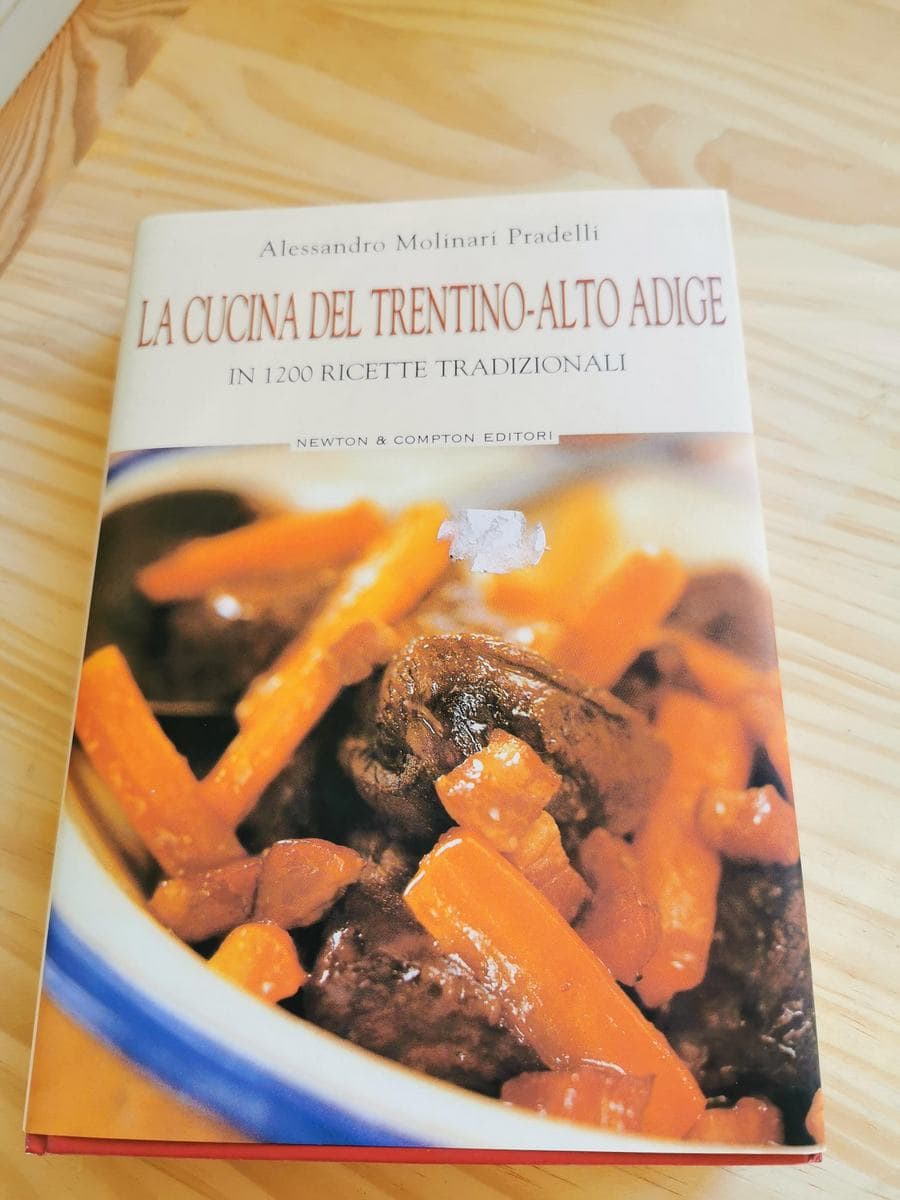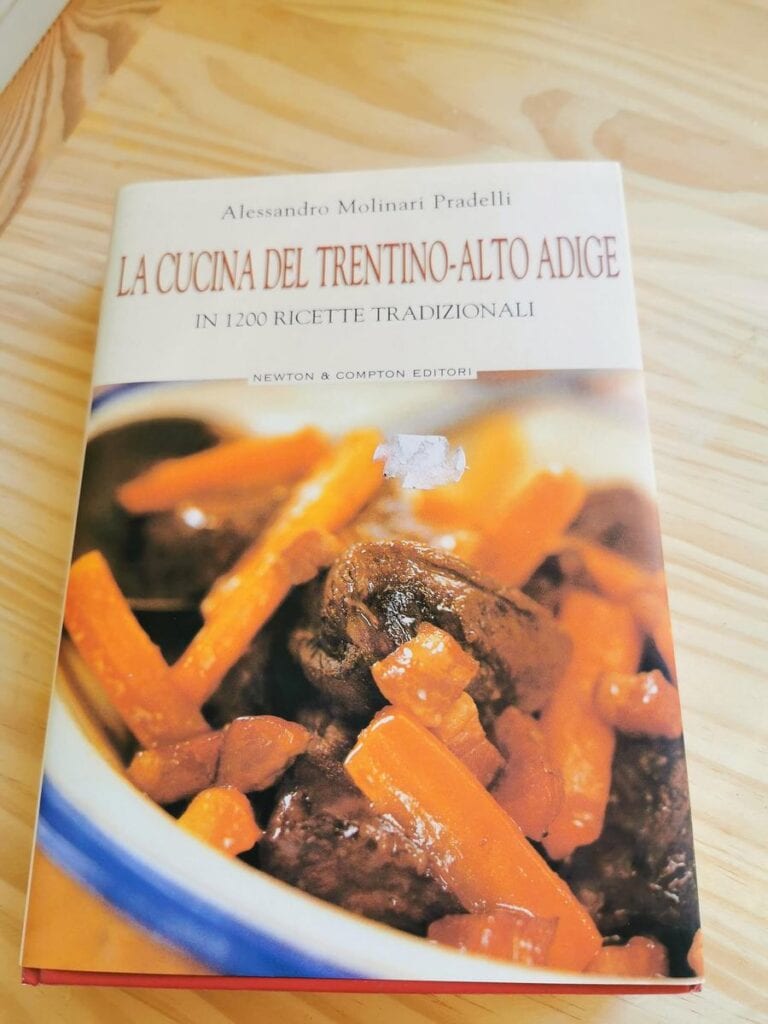 What's the difference between pasticcio, pasticciata and timballo?
In Italian, the word pasticciata in culinary use is defined as food that has been dressed with butter, cheese and sauce (often meat sauce) and then baked. So, you can find pasta pasticciata, polenta pasticciata, lasagne pasticciate and rigatoni pasticciati etc. Notice that the end of the adjective changes depending on the word it's describing.
The word pasticcio is often used in the same way as pasticciata to describe baked pasta dishes. However, many pasticcio recipes also include béchamel. For example, pasticcio di radicchio, a lasagna from here in Veneto made with Italian chicory.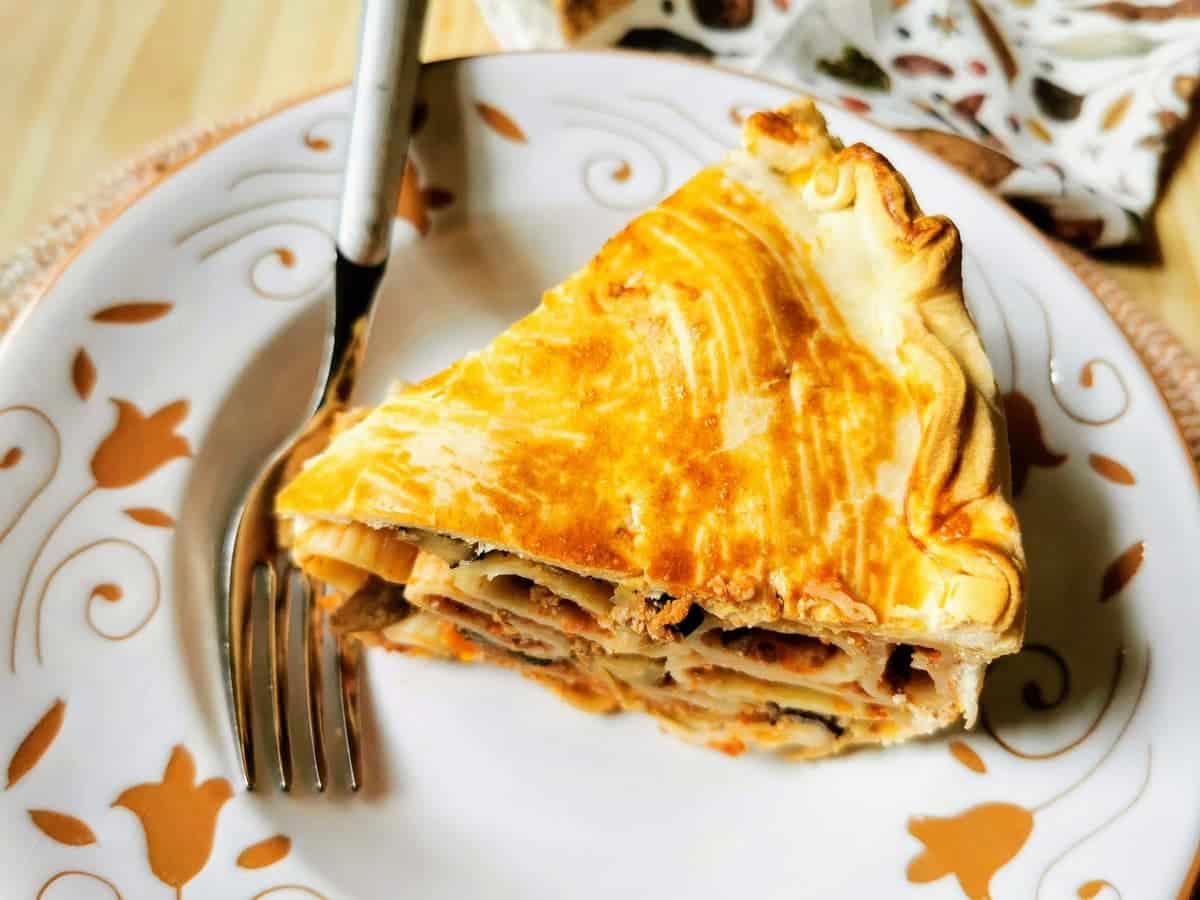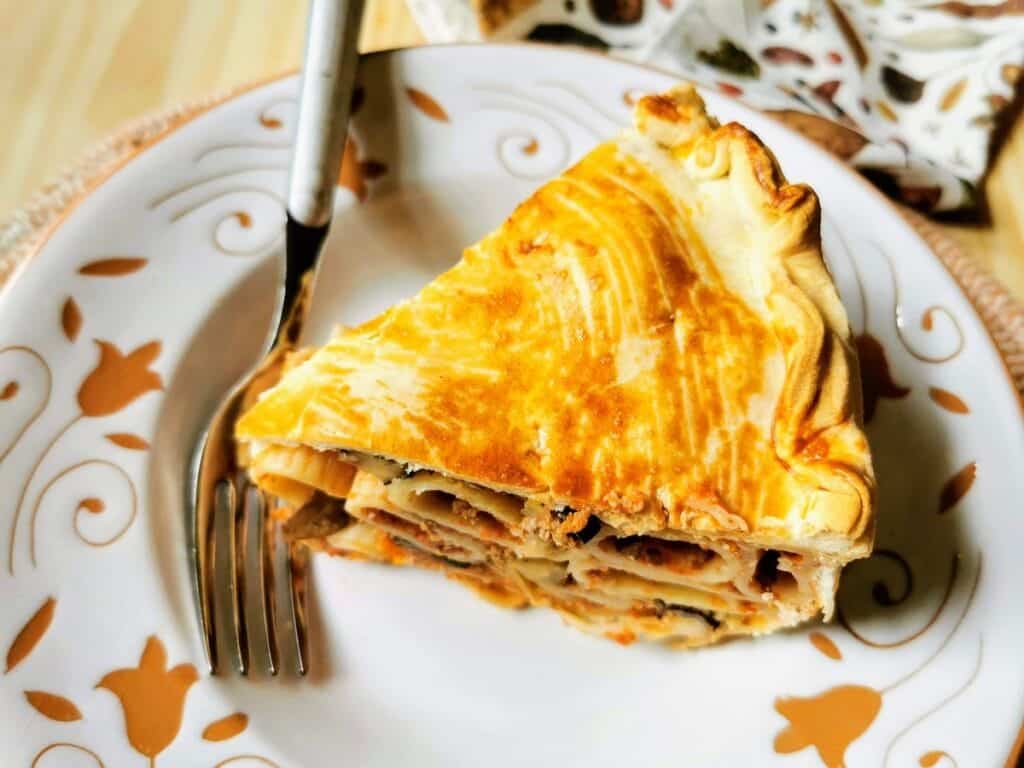 Italians sometimes make both pasticcio and pasticciata with pastry encasing or just covering the pasta mixed with sauce. Baked pasta encased in pastry is also often called a timballo in Southern Italy!
It's confusing, right? There doesn't seem to be any particular rule that dictates the exact ingredients of pasta pasticciata, pasticcio or timballo. What all these dishes do share is that they are all baked in the oven! And, are all seriously tasty, of course!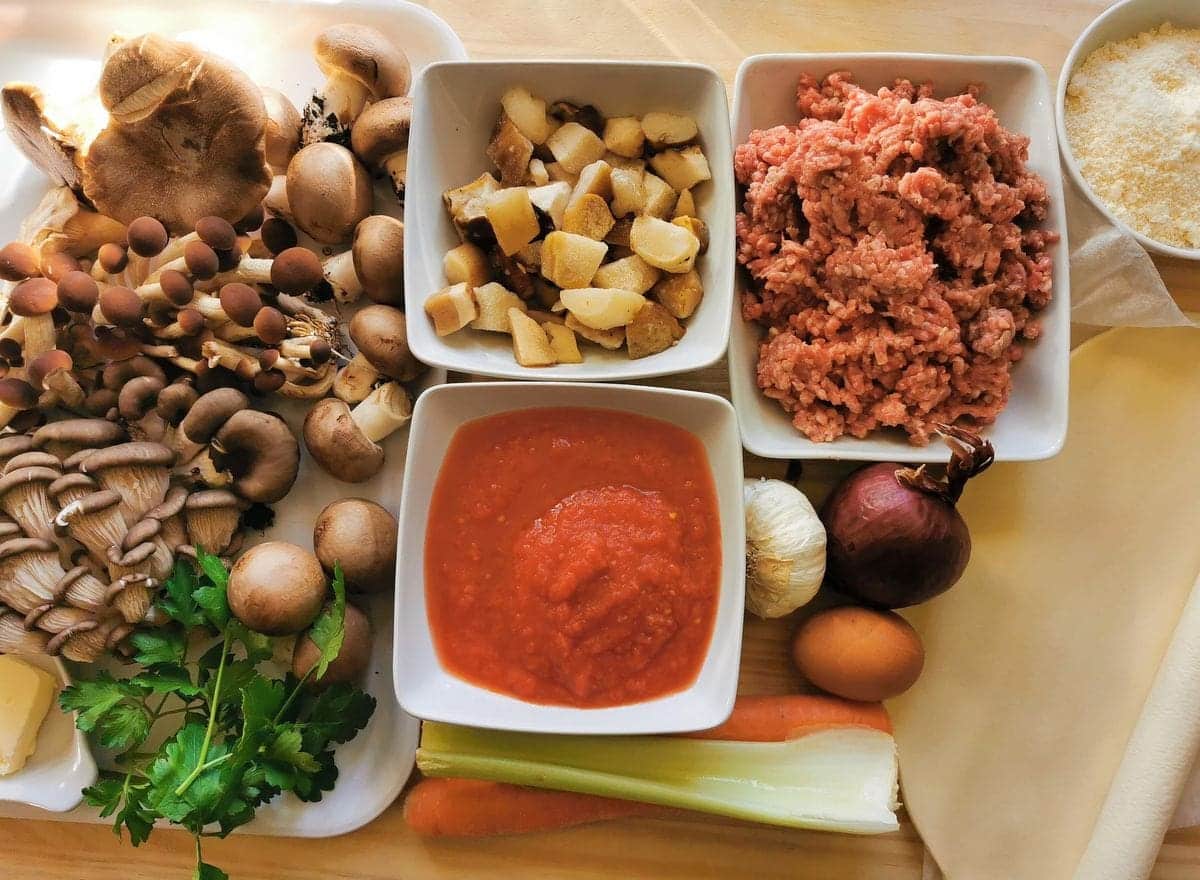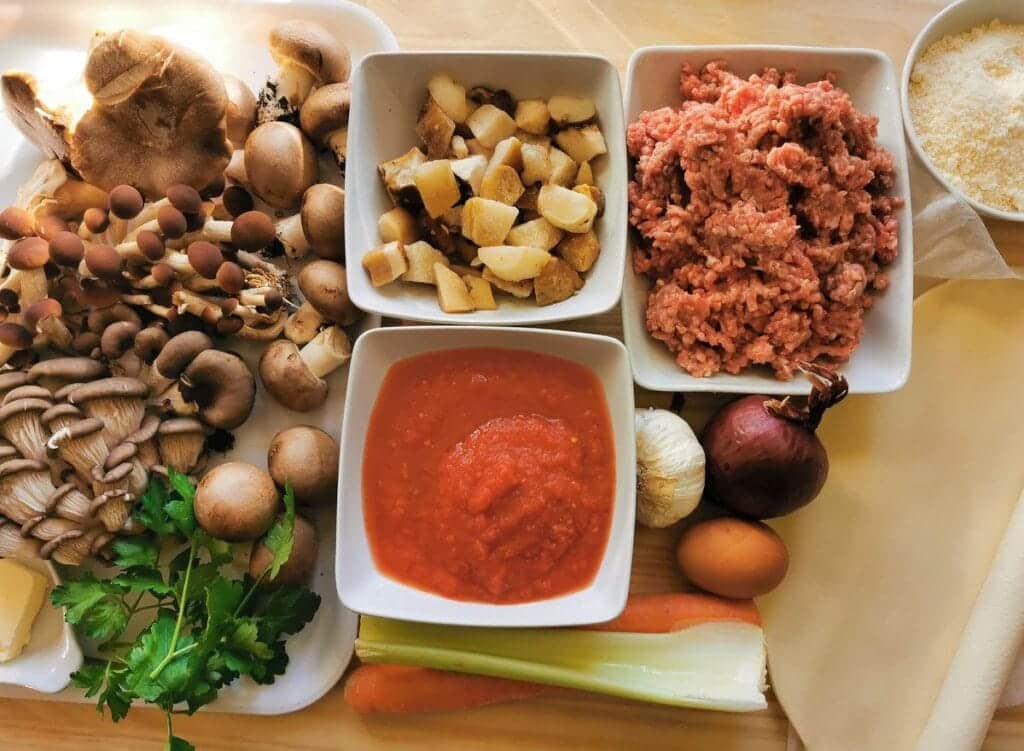 Other pasta pie with pastry recipes.
Many regions or provinces have their own traditional baked pasta pie with pastry. Each may have a different name as I explained above. In some of these, the 'pastry' is bread dough.
Pasticcio di Noto is a pasta pie made with bread dough from Sicily, pasticcio Ferrarese is a pasta pie from Ferrara made with white ragu and béchamel encased in pie pastry and a timballo di maccheroni from Naples can be with or without pastry. Sometimes it's wrapped in eggplant instead like in my parmigiana timballo.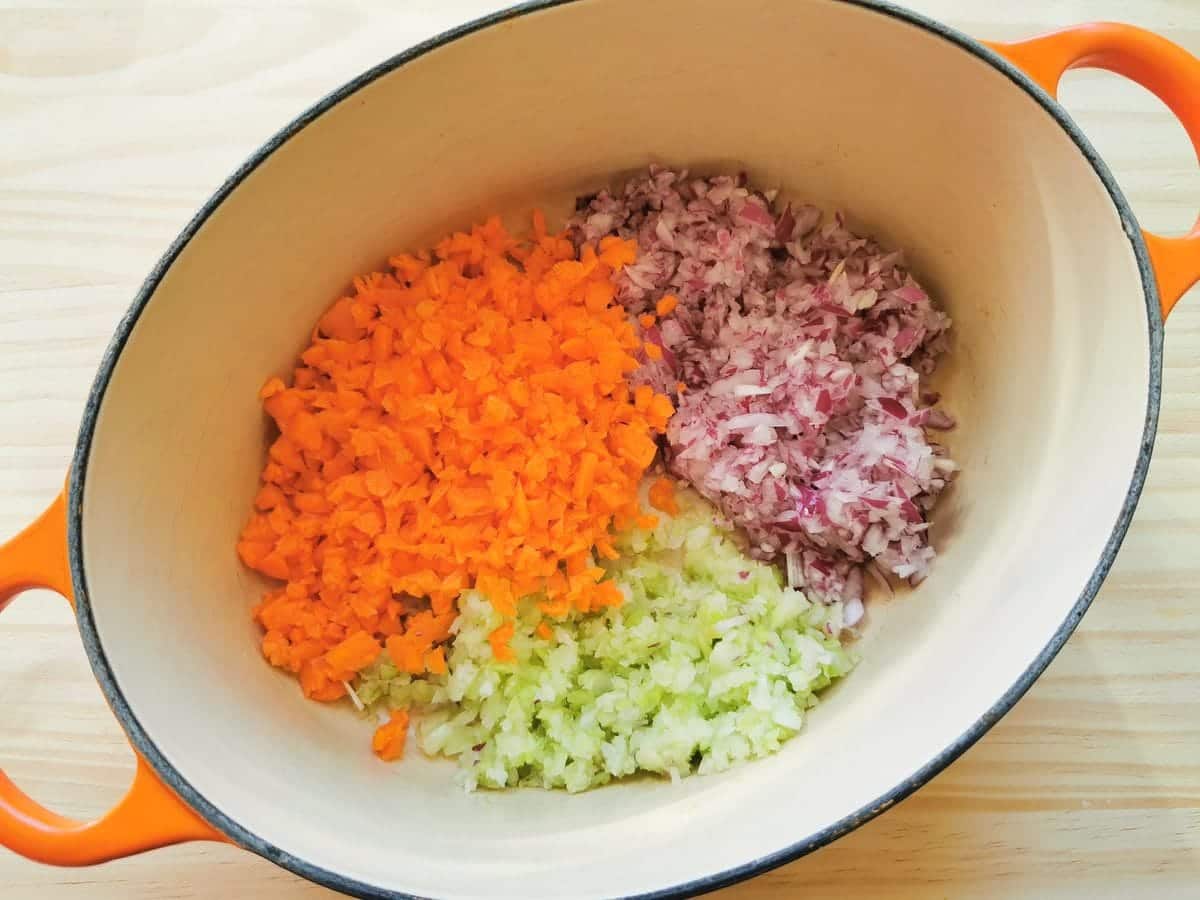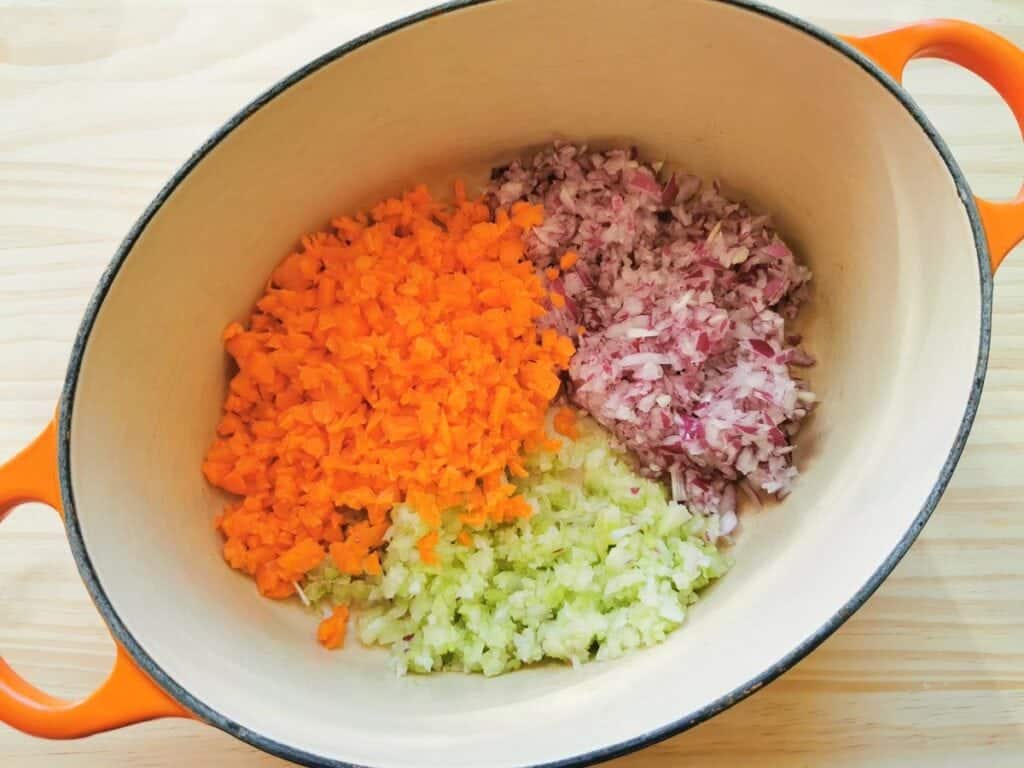 Ingredients for this pasta pie with pastry.
For this pasta pie from Trentino Alto-Adige you need 4 components: the pastry, the ragu, the mushrooms and the pasta. I used store bought shortcrust pastry (pie dough). You can make your own or use puff pastry instead.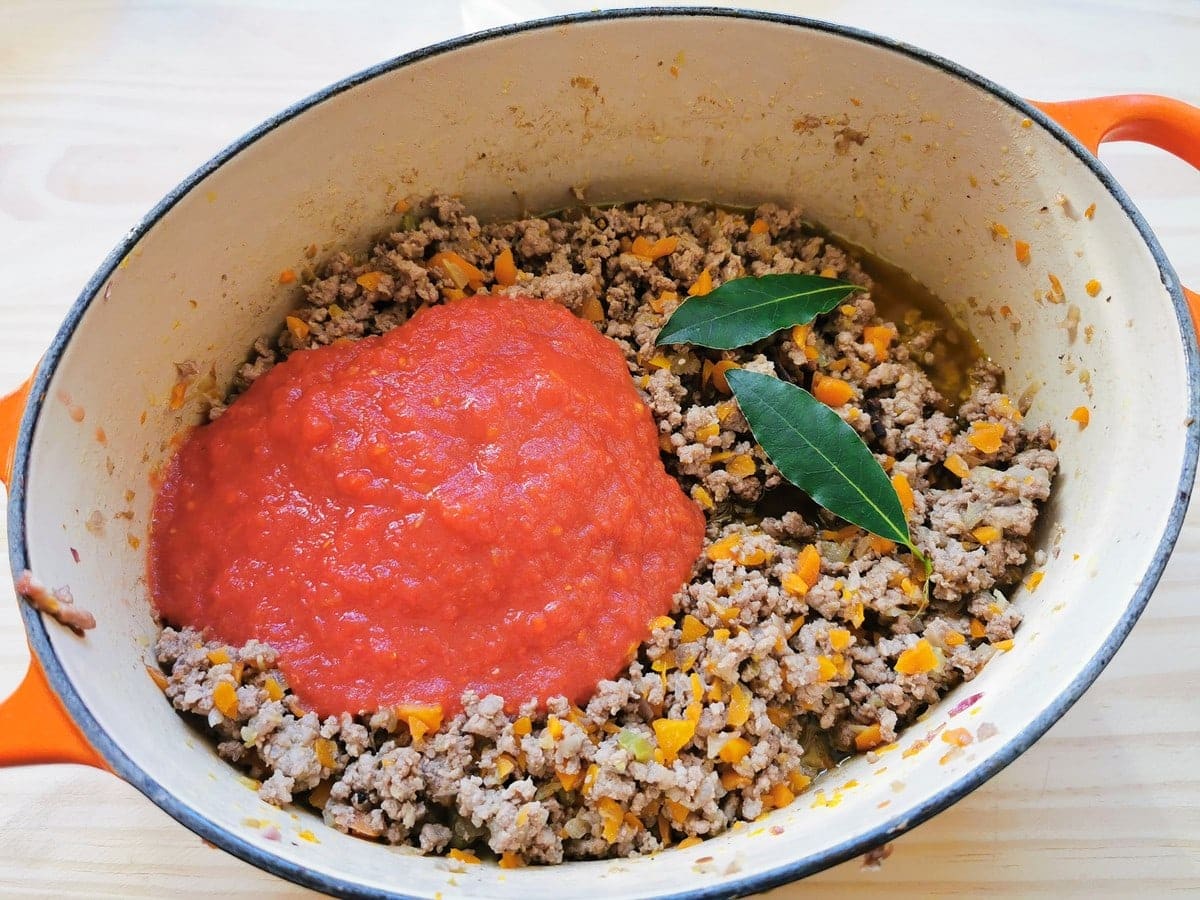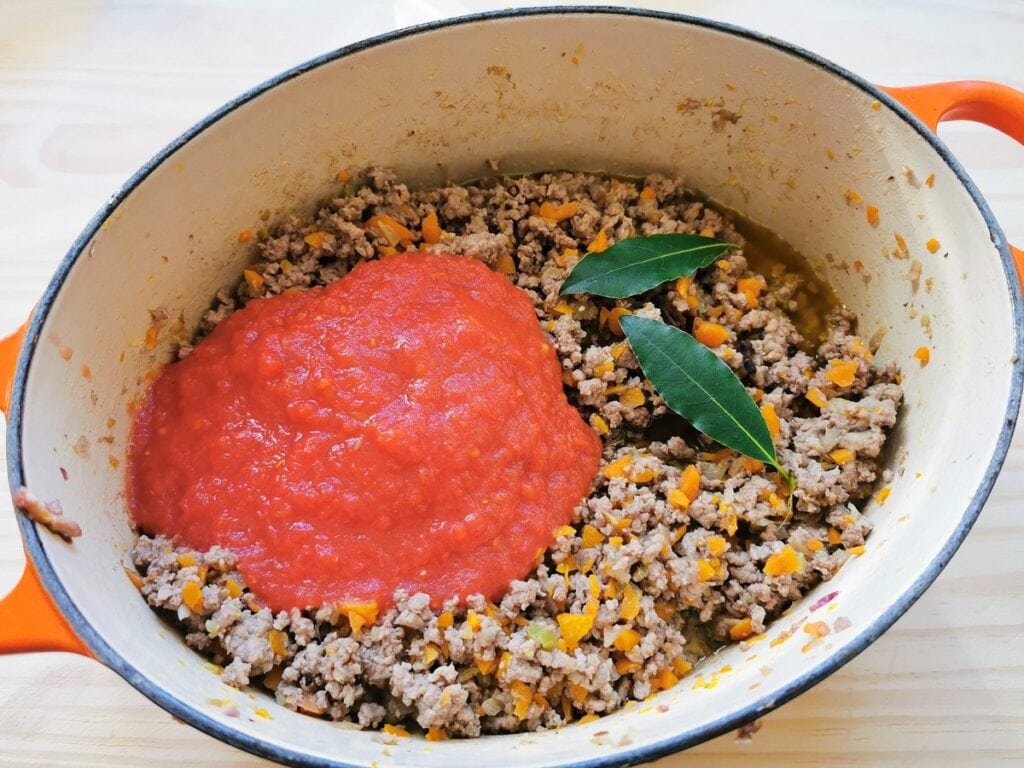 This recipe is a great way to use up leftover ragu or Bolognese. I made the ragu from scratch as I didn't have any leftover. The recipe is below. But, I made extra, so I had some to freeze and use another time. Whenever I make ragu, it's nearly always a cook once eat twice job. There are many other pasta recipes with ragu and having it ready means you can have dinner on the table in no time at all!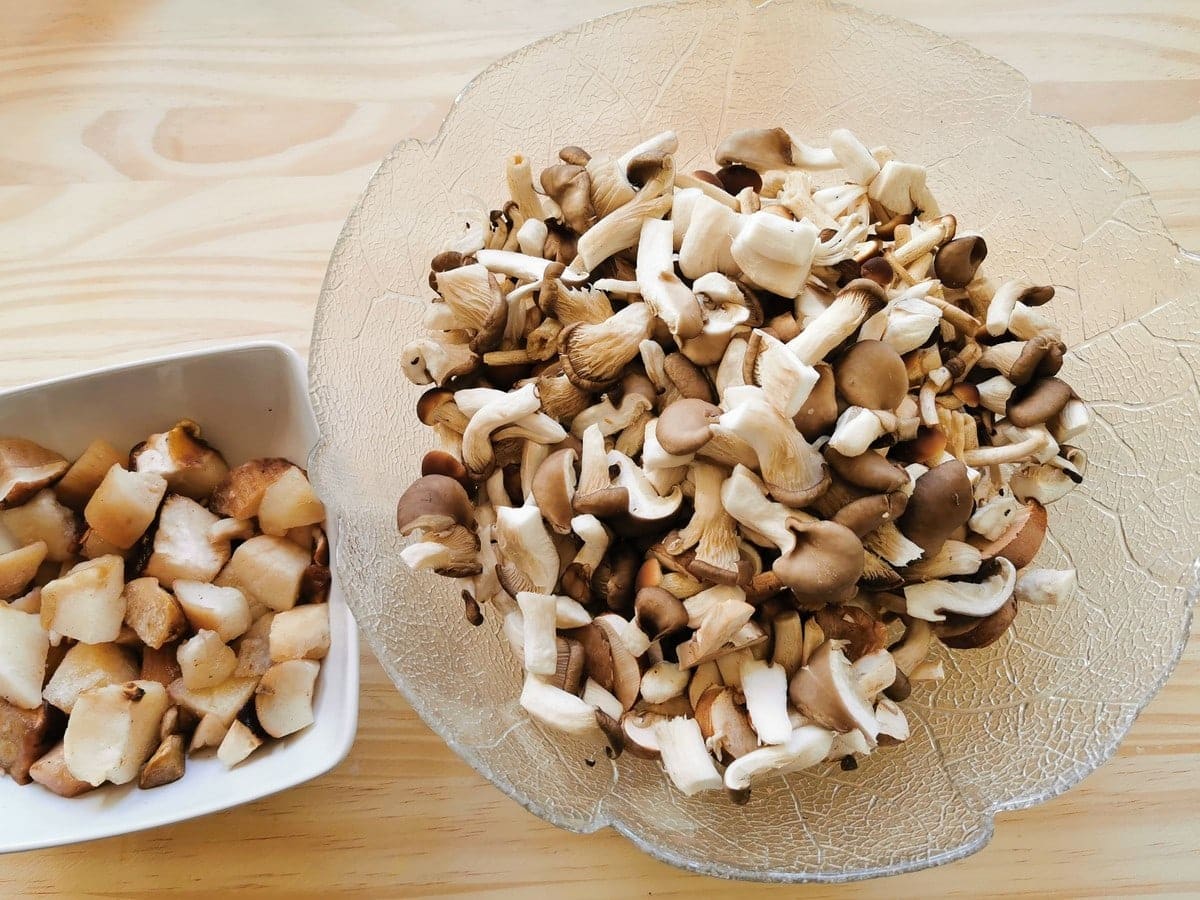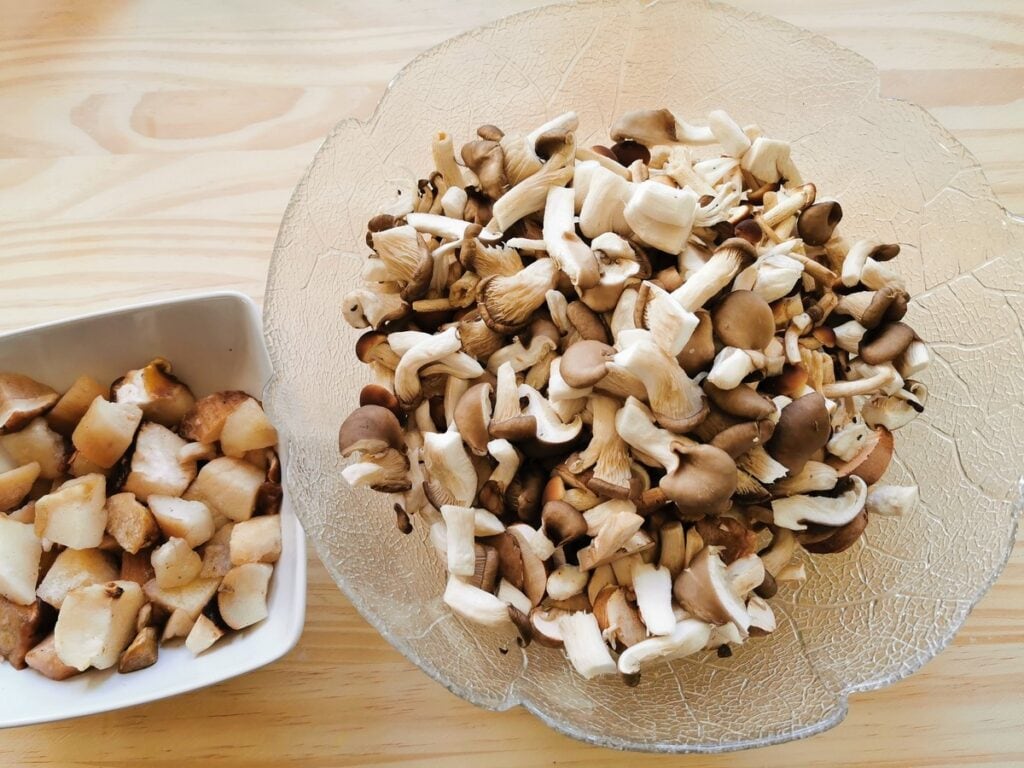 You can use a variety of mushrooms in this recipe. I included King Oyster mushrooms (cardoncelli), cremini mushrooms, pioppini (poplar or chestnut mushrooms), oyster mushrooms and frozen porcini (ceps). Dried porcini are a good alternative to frozen. They will need to be soaked in warm water beforehand.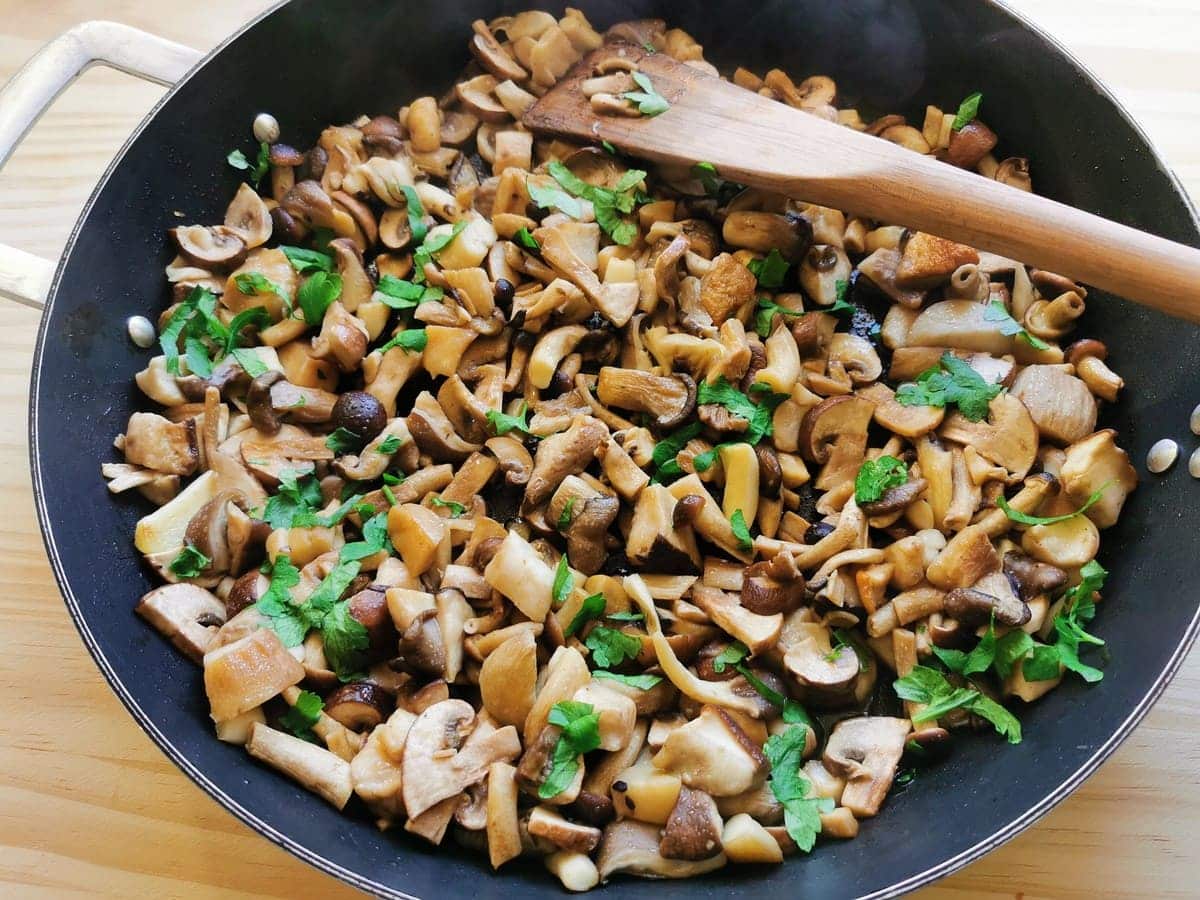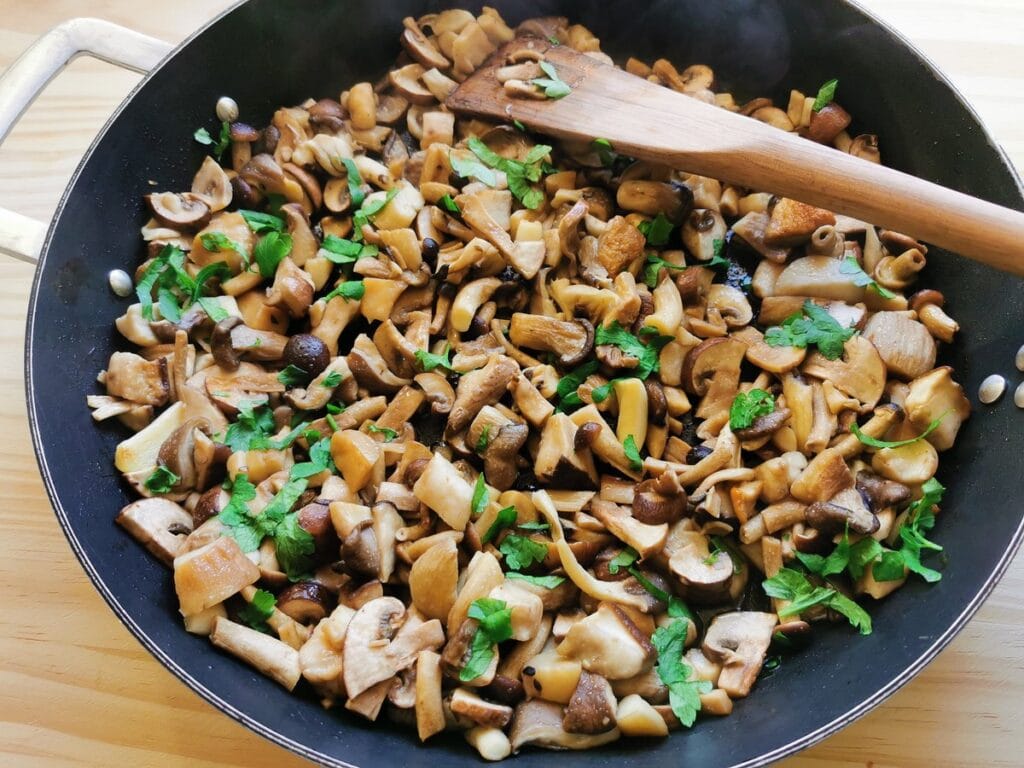 Finally, as per the recipe in my cookbook, I used rigatoni. This pasta is grooved pasta tubes very popular throughout Italy. My rigatoni was made by Armando, a pasta maker located near Naples in Campania. This company produces bronze extruded pasta made from 100% Italian wheat. Of course, you can use other brands of rigatoni or other pasta tubes such as penne, elicoidali or tortigliolini.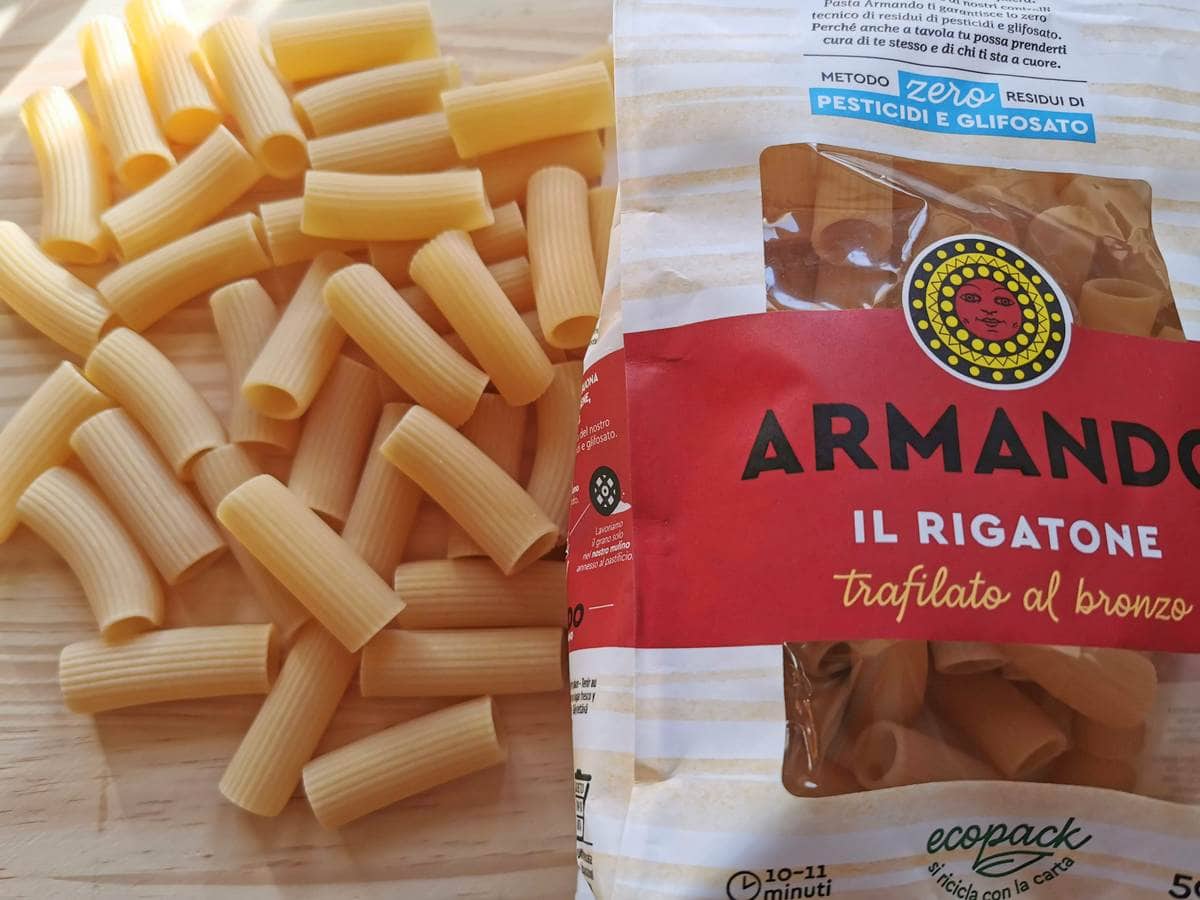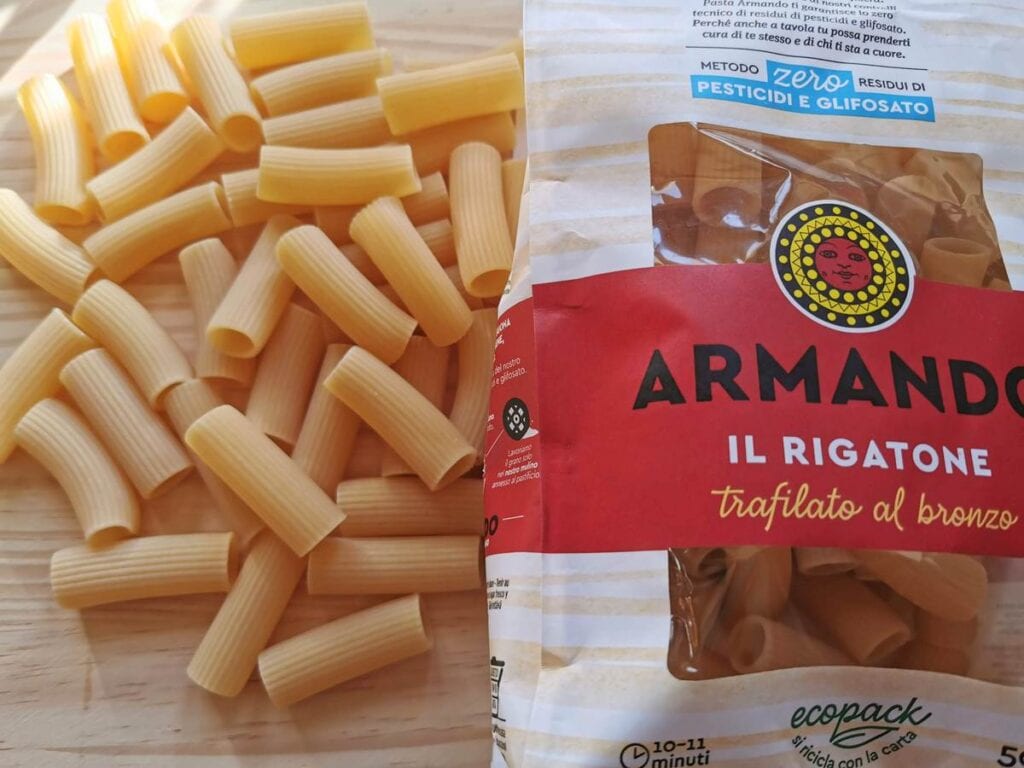 First steps to making this pasta pie with pastry.
The first step to making this pasta pie with pastry is to make the ragu. Having ready leftover ragu will mean you can have this pie on the table much faster. For those that don't, you can follow the ragu instructions below or make a classic Bolognese. A really good Italian ragu takes time to make. But, you can make it in advance, even a day or two before. Keep it in the fridge or freeze it.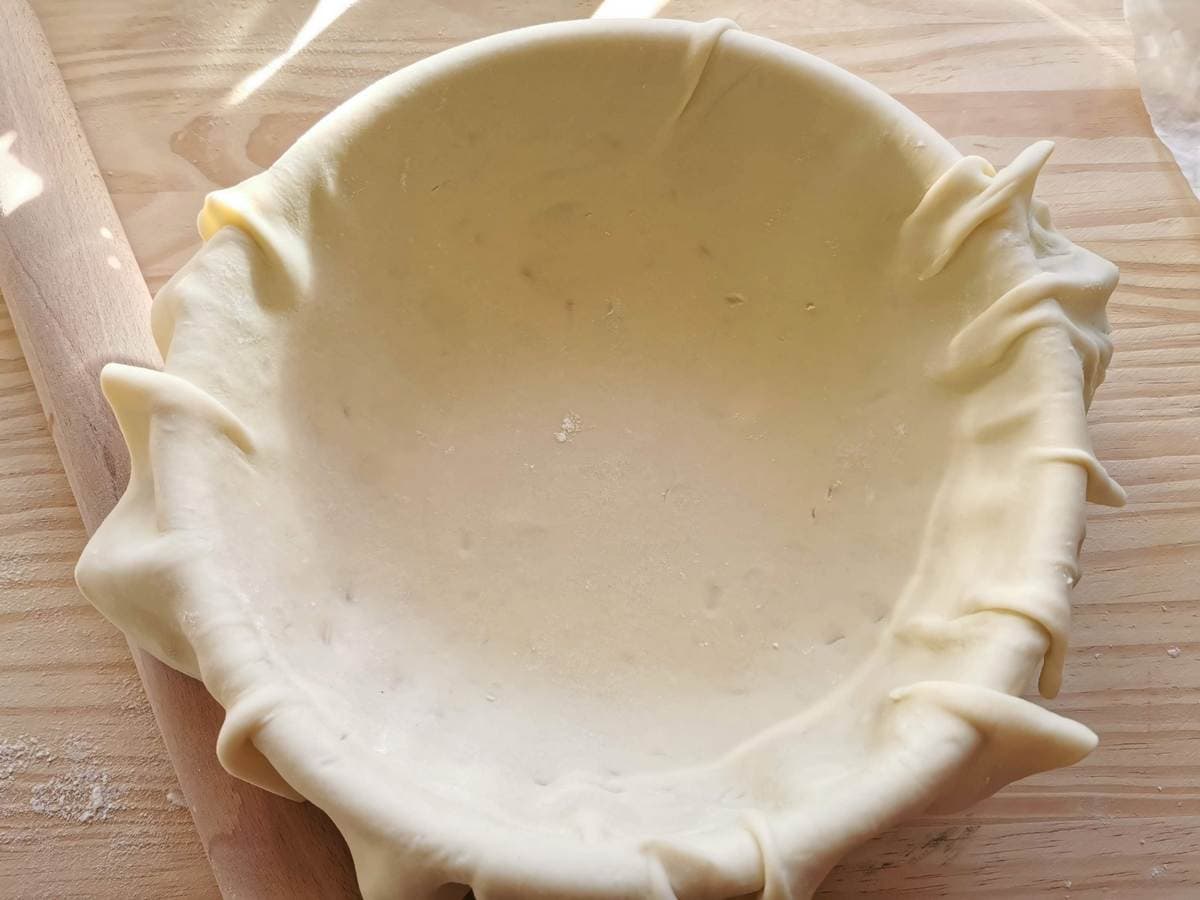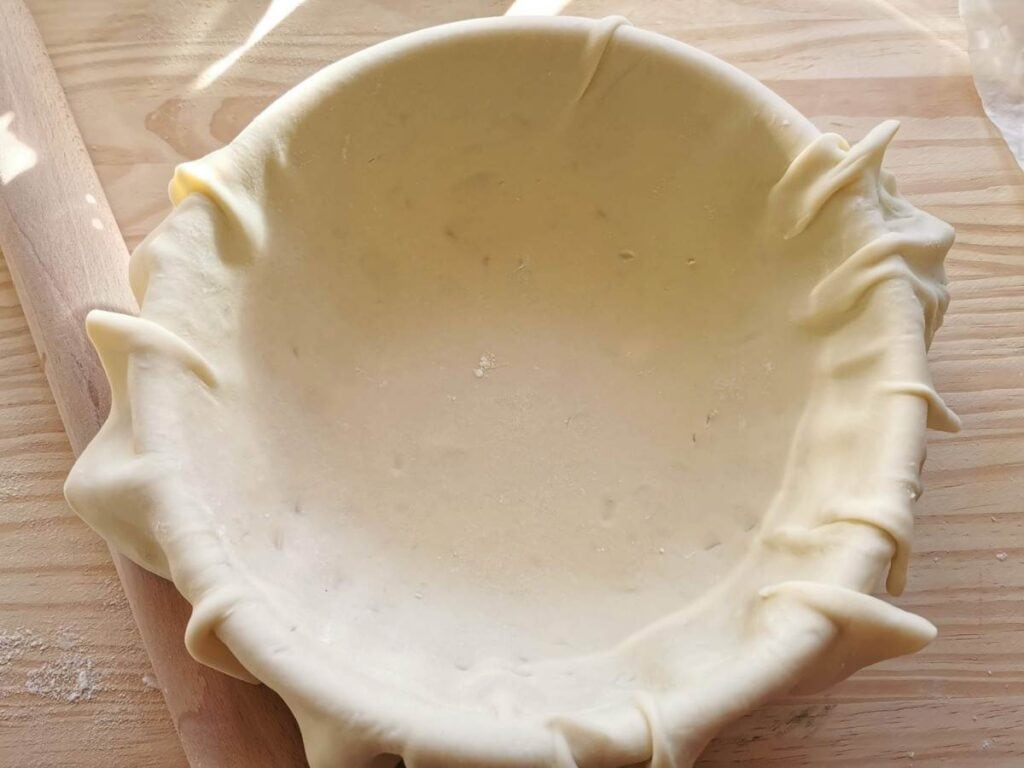 The next step is to cook the mushrooms. First clean them and then cut into similar sized pieces so they will cook evenly together. Then, sauté the mushrooms in butter with wine, garlic and parsley.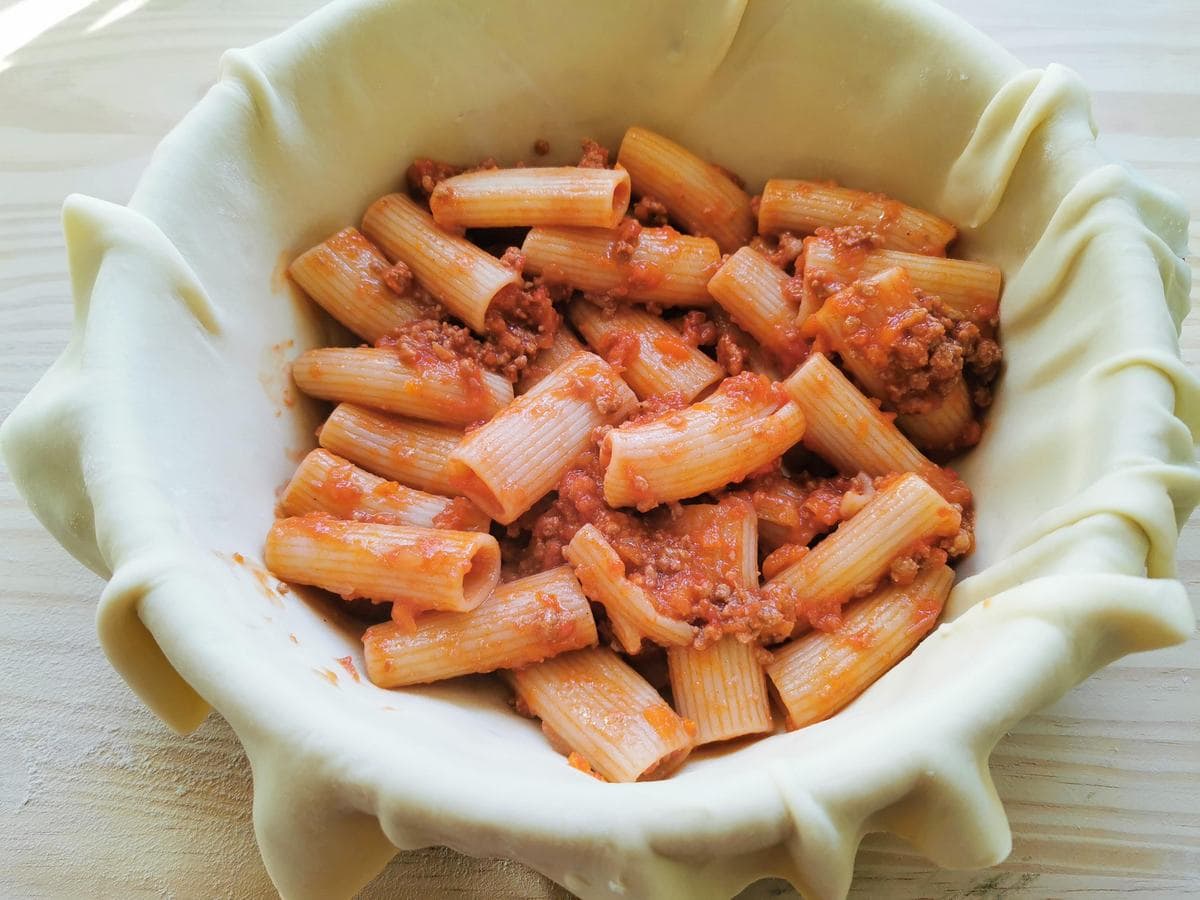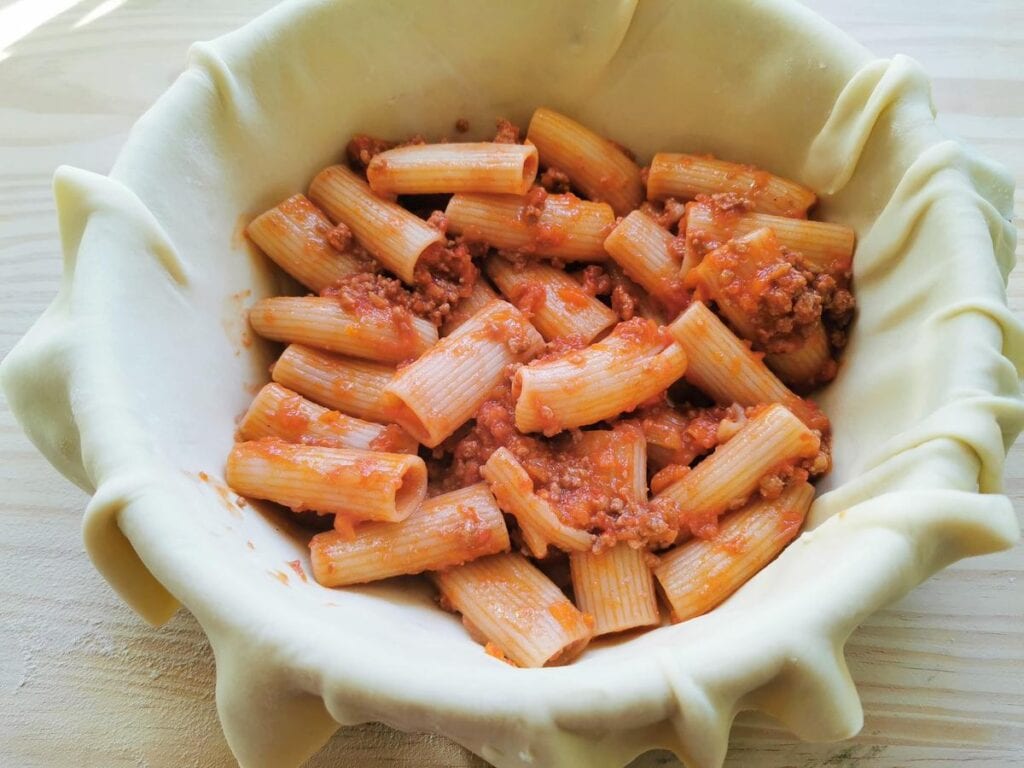 The third step is to cook the pasta al dente in boiling salted water. Be careful not to overcook the pasta as it will continue cooking in the oven and can become mushy if overcooked. Once your pasta is cooked, drain it and mix it with the ragu.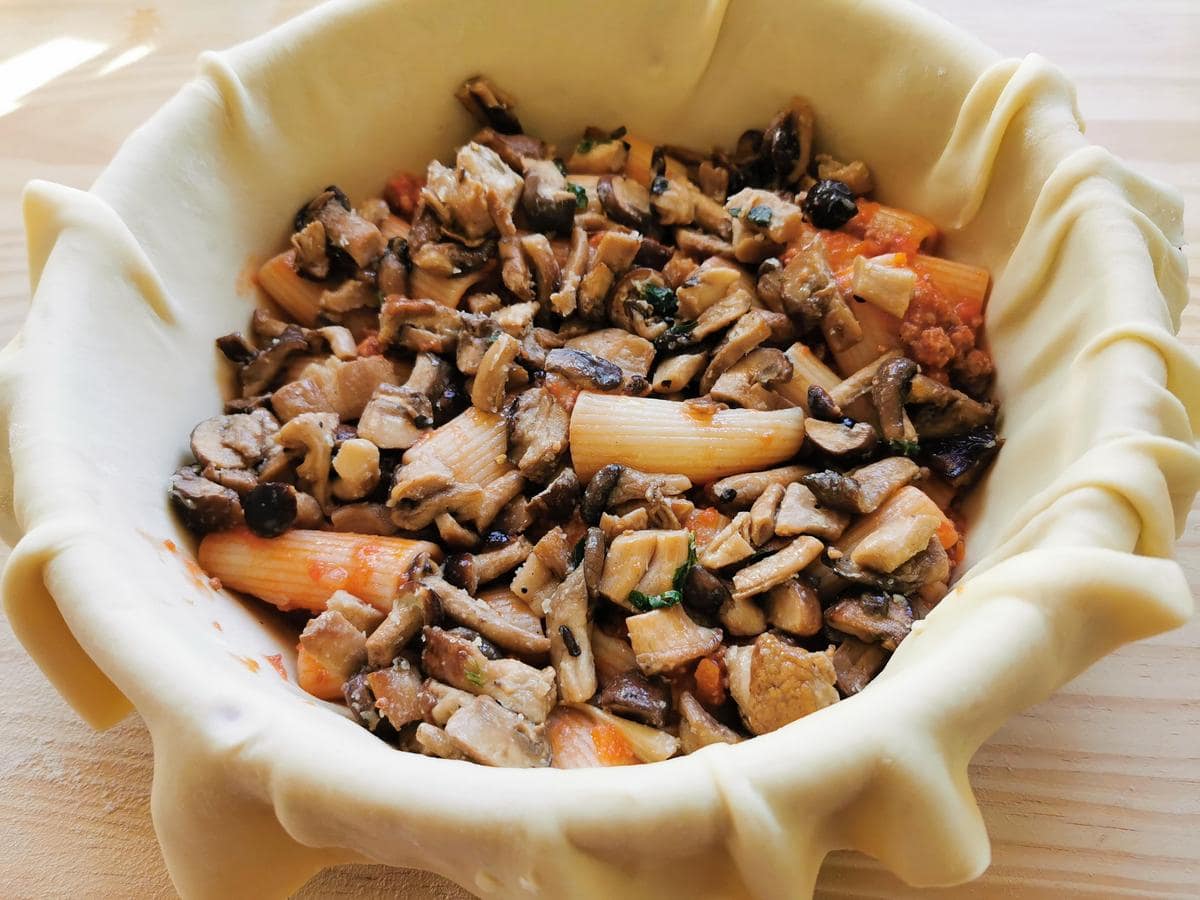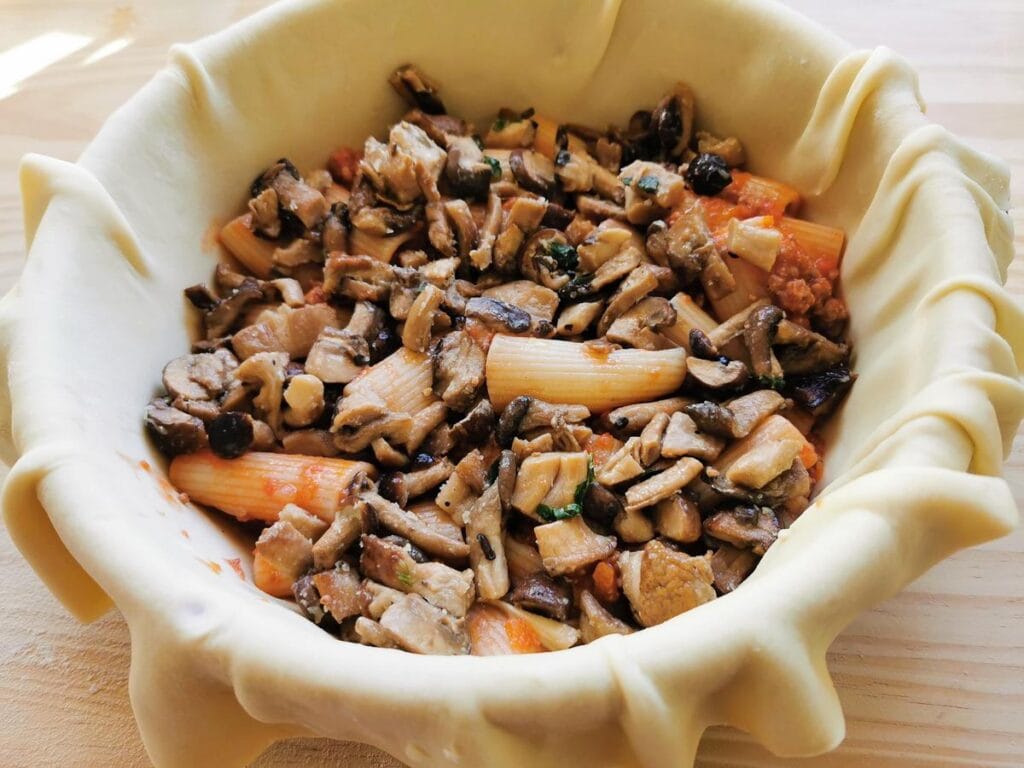 Assemble and bake your pasta pie with pastry.
You will need to use an oven proof dish that the pastry can cover generously. I bought circular sheets of pastry, so I used a round terracotta dish. If you have rectangular sheets, then use a rectangular oven dish. Butter the oven dish and place the first sheet of pastry inside it with the edges overlapping the sides of the dish.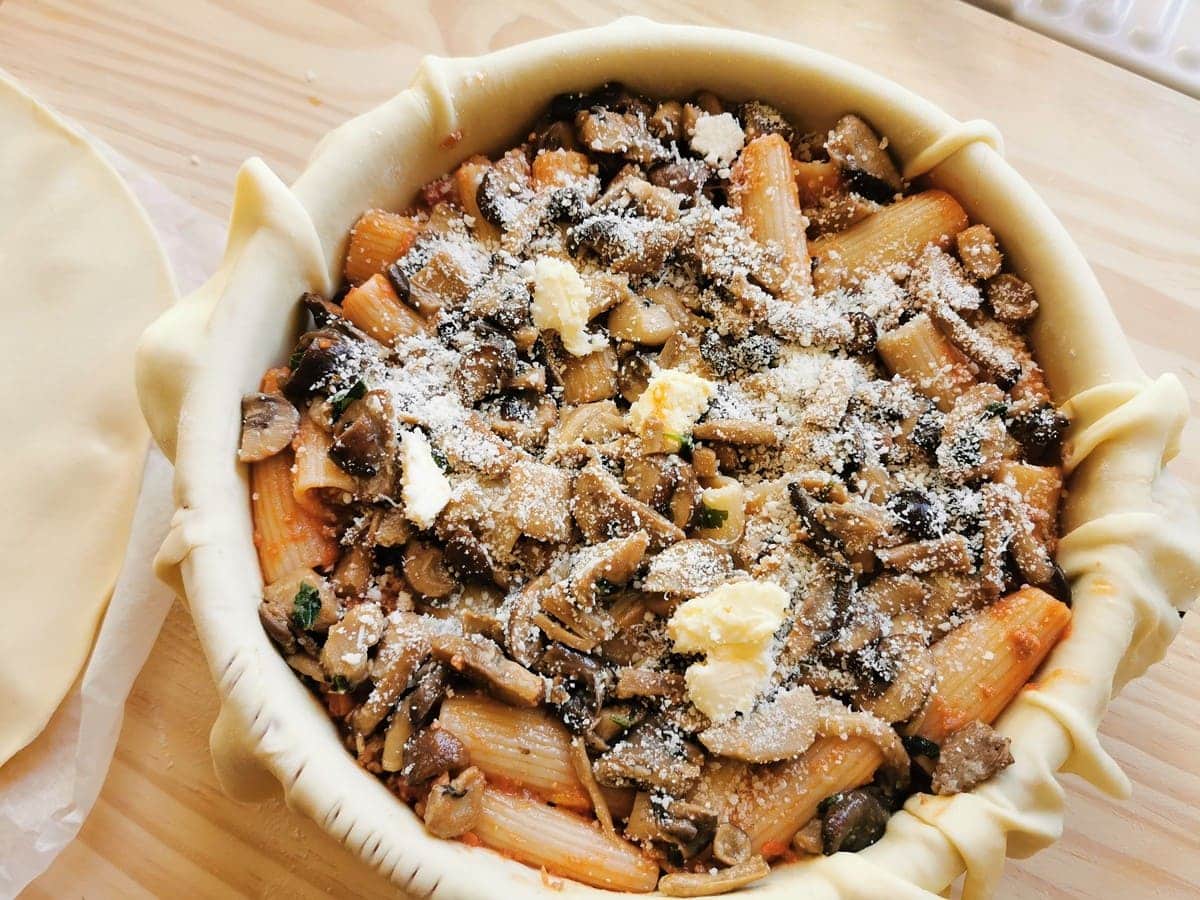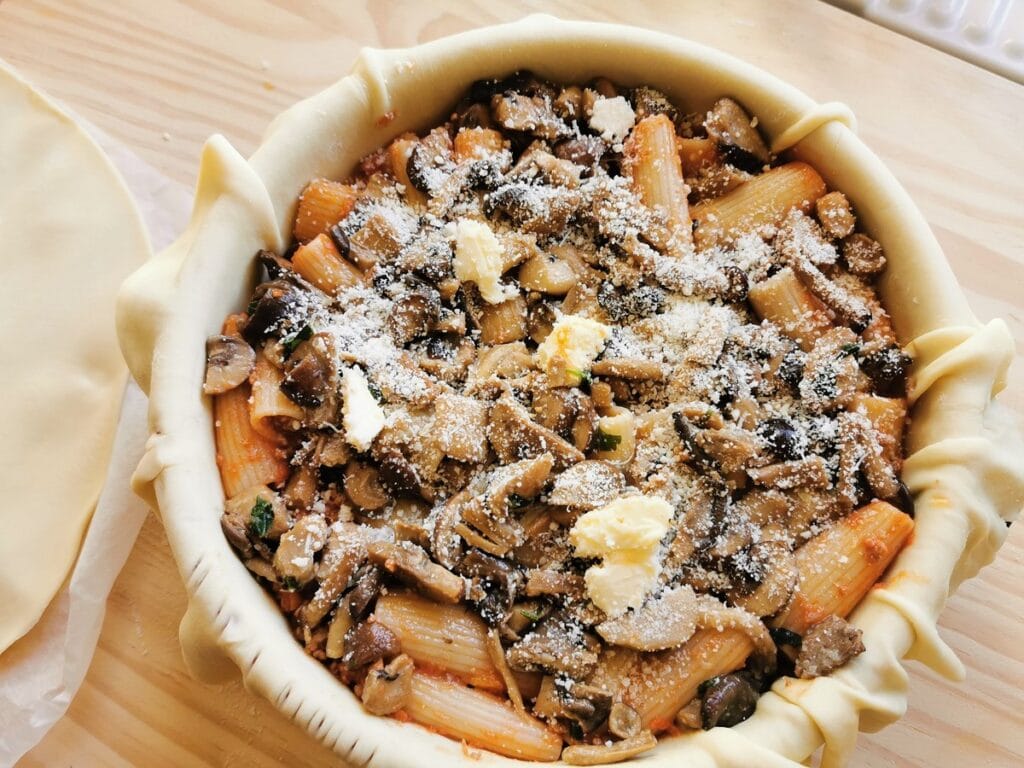 Next, add a layer of pasta and ragu, then a layer of mushrooms and add some pieces of butter and a sprinkling of Parmigiano or grana cheese. Repeat with another layer of pasta and ragu, mushrooms and butter and cheese. My pie had 2 layers, but if you have a deeper dish and enough ingredients, you can add another layer of pasta and mushrooms.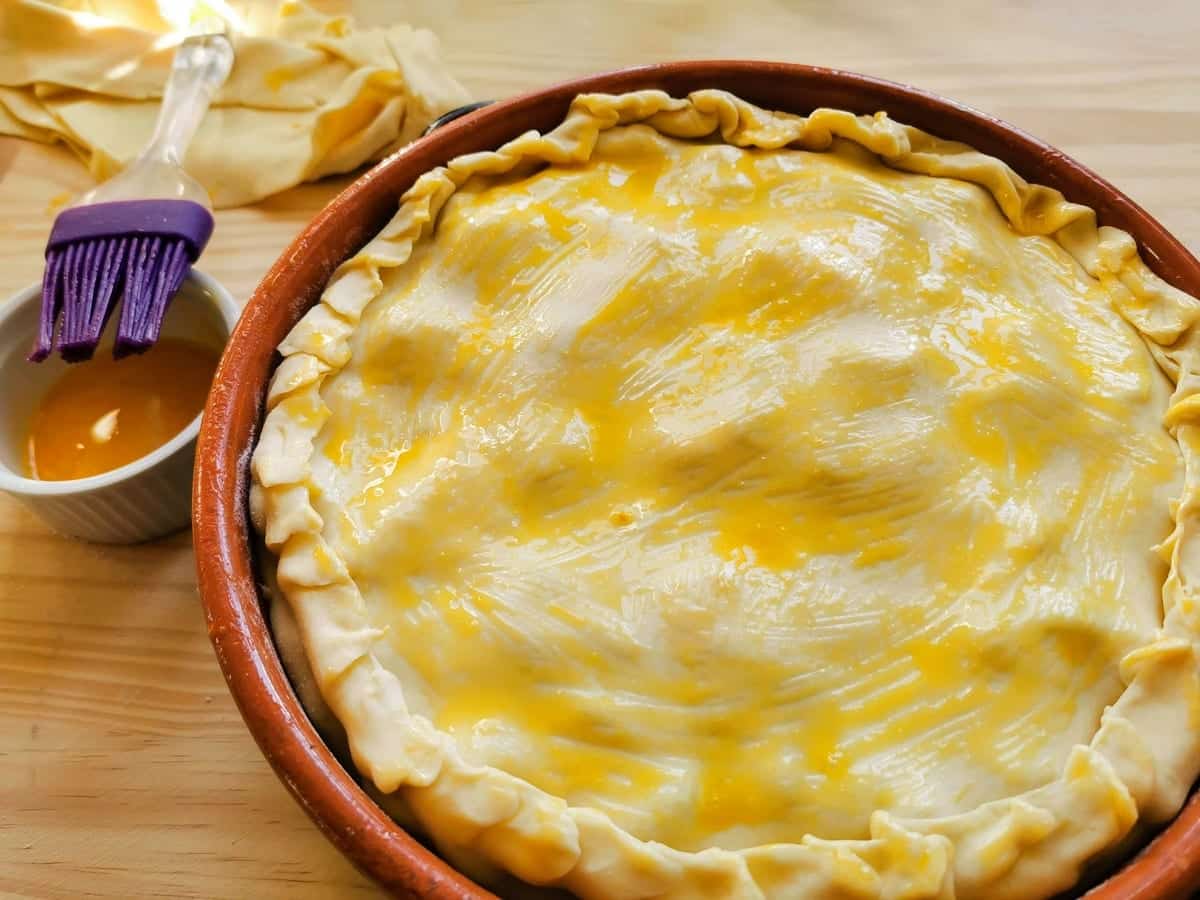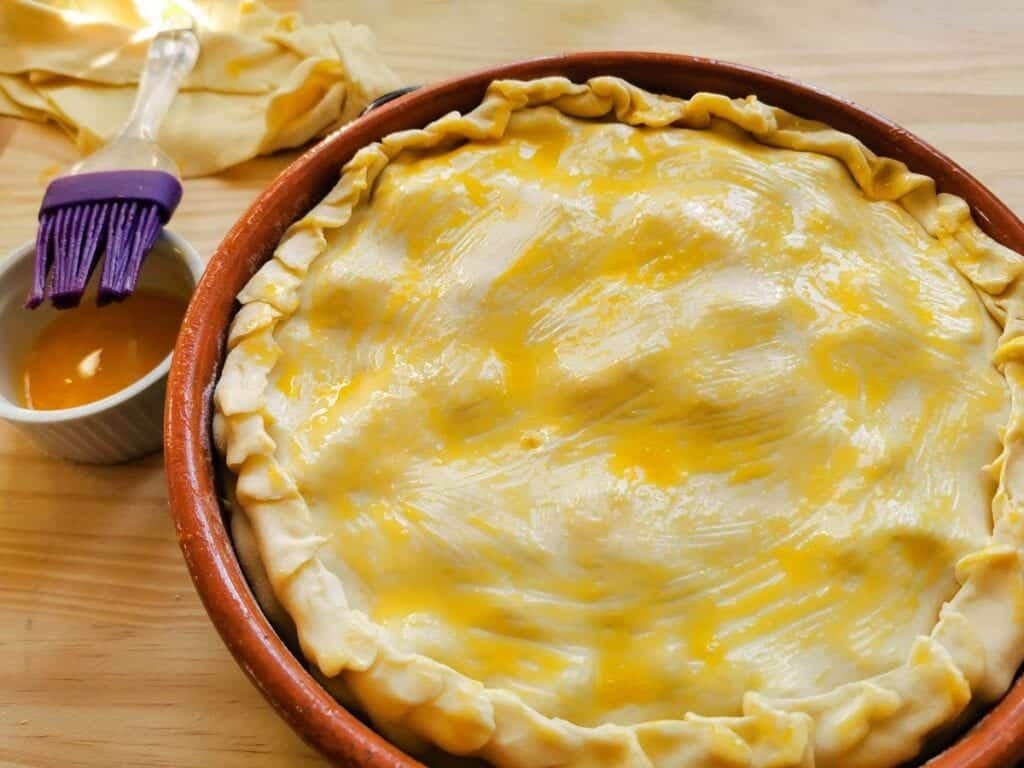 Finally, place your second pastry sheet over the top of the pie like a lid and then fold the edges of the two sheets together over the outer edge of the pie lid and press them together to seal it. (You may need to cut off excess dough before sealing).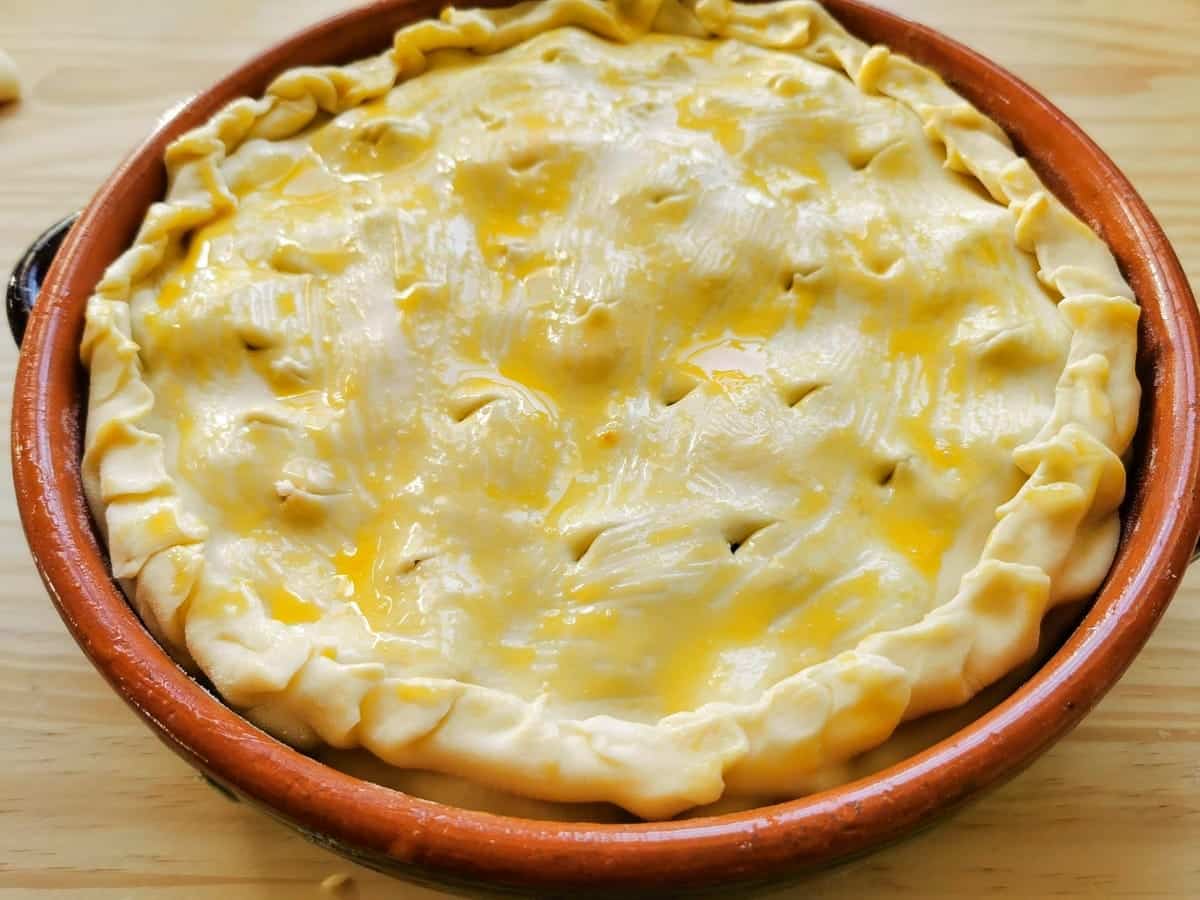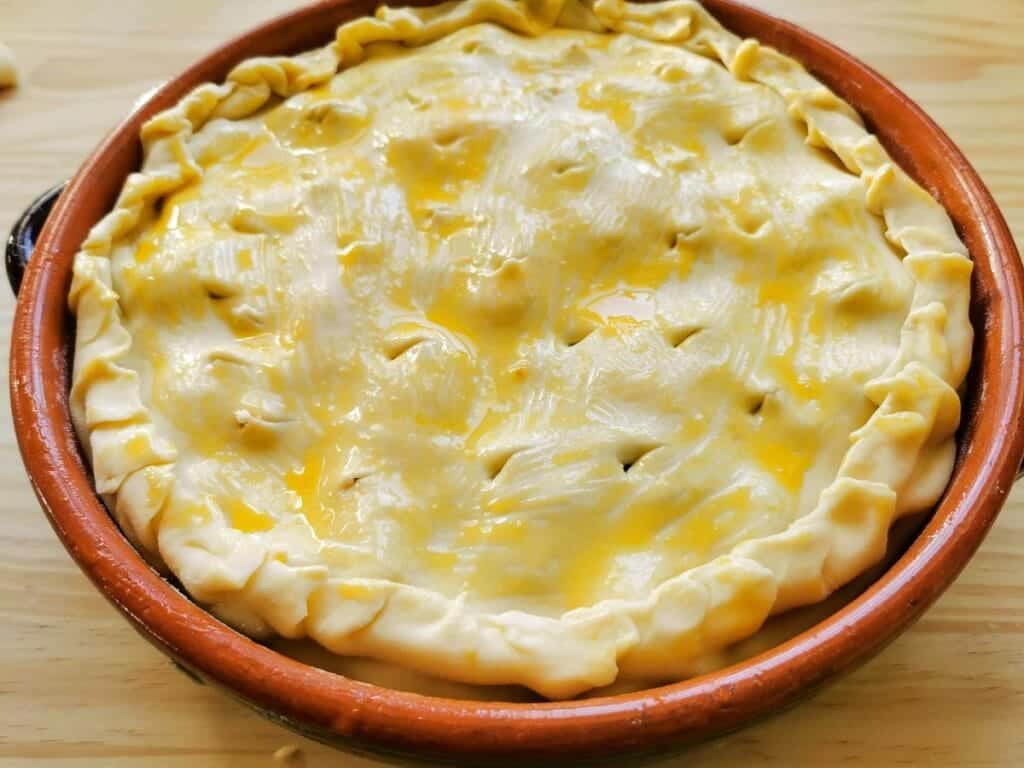 Pierce the top of the pasta pie with a knife or fork a few times to allow steam to escape while it bakes. Then brush the top with egg yolk. Bake for about 30 minutes until the top is golden.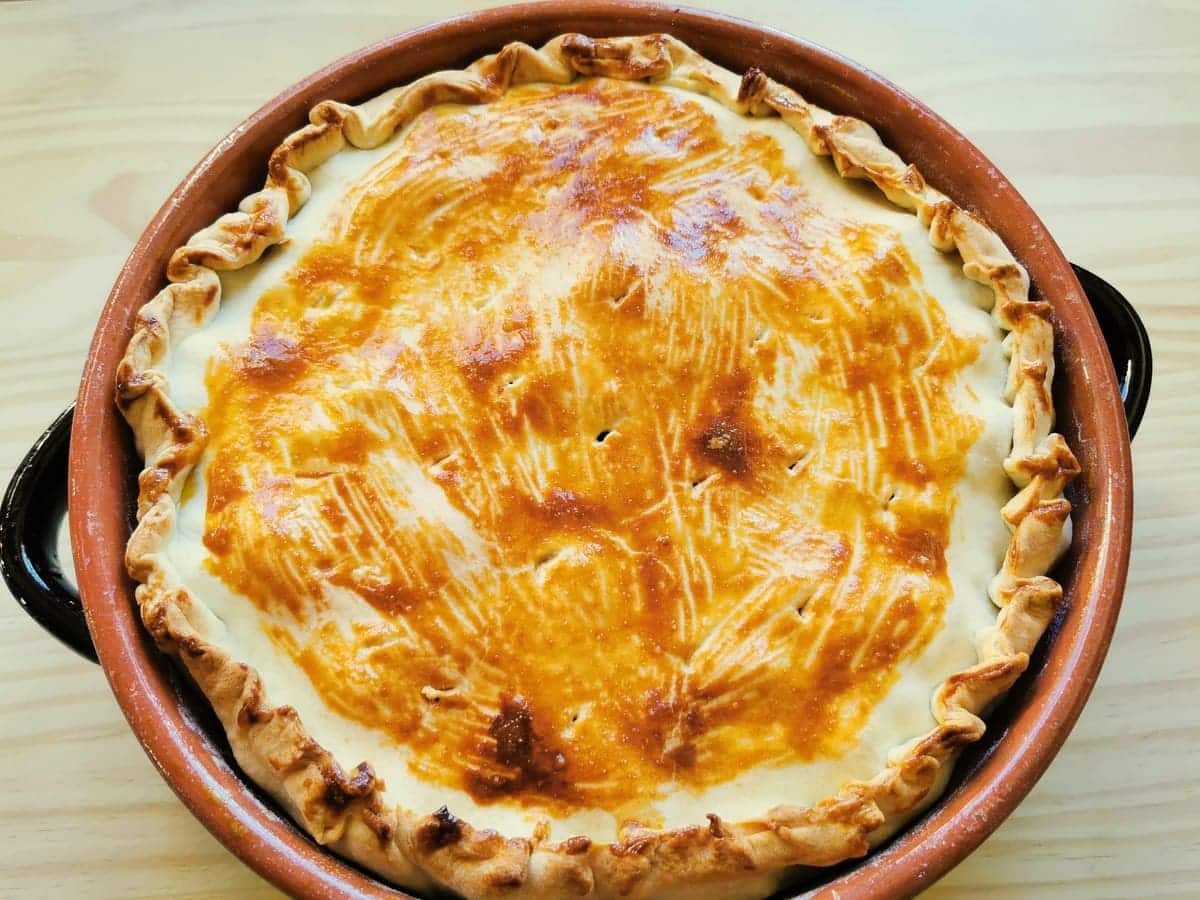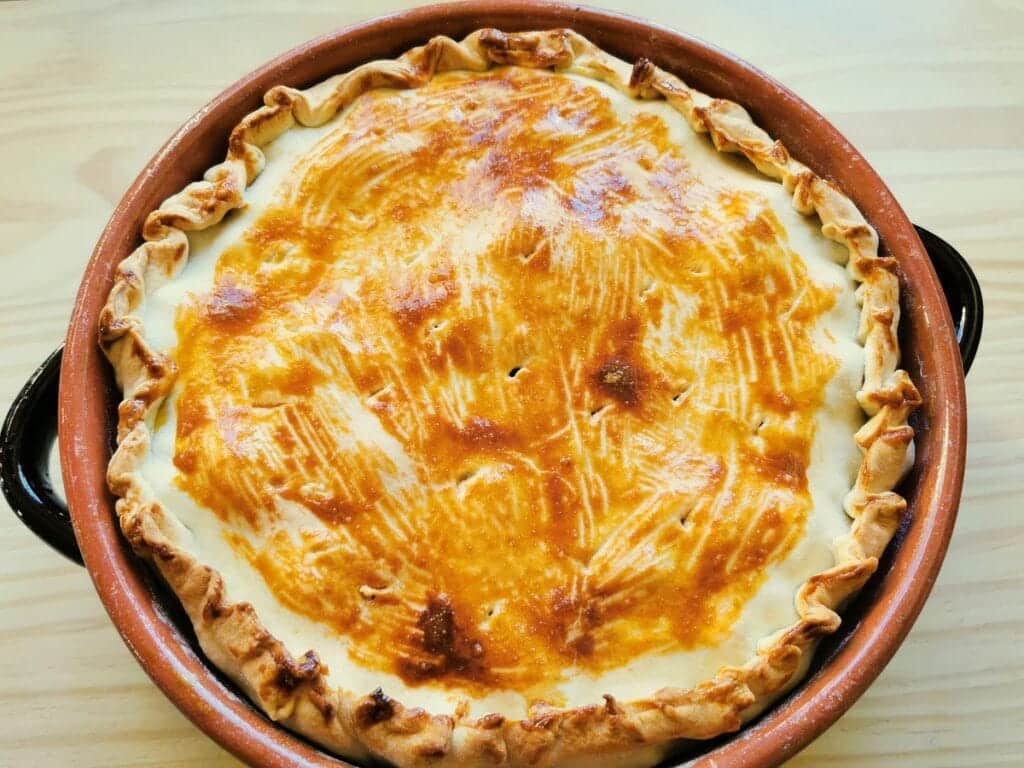 A great family meal!
Pasta pies with pastry are very popular in Italy on Sundays and holidays, as are other baked pasta dishes. Italians usually serve pasta in any form as a first course or primo, meaning there's a main course after! But, of course, baked pasta also makes a great one plate meal and this rigatoni pasticciati is perfect for that. A generous portion is super filling, and the mushrooms make it extra nutritious too!
If you make this rigatoni pasticciati pasta pie with pastry, I'd love to hear how it turned out. Please do write a comment here on the blog, email me or post a comment on the Pasta Project Facebook page.
Your feedback is really appreciated!
Buon Appetito!
Pin for later!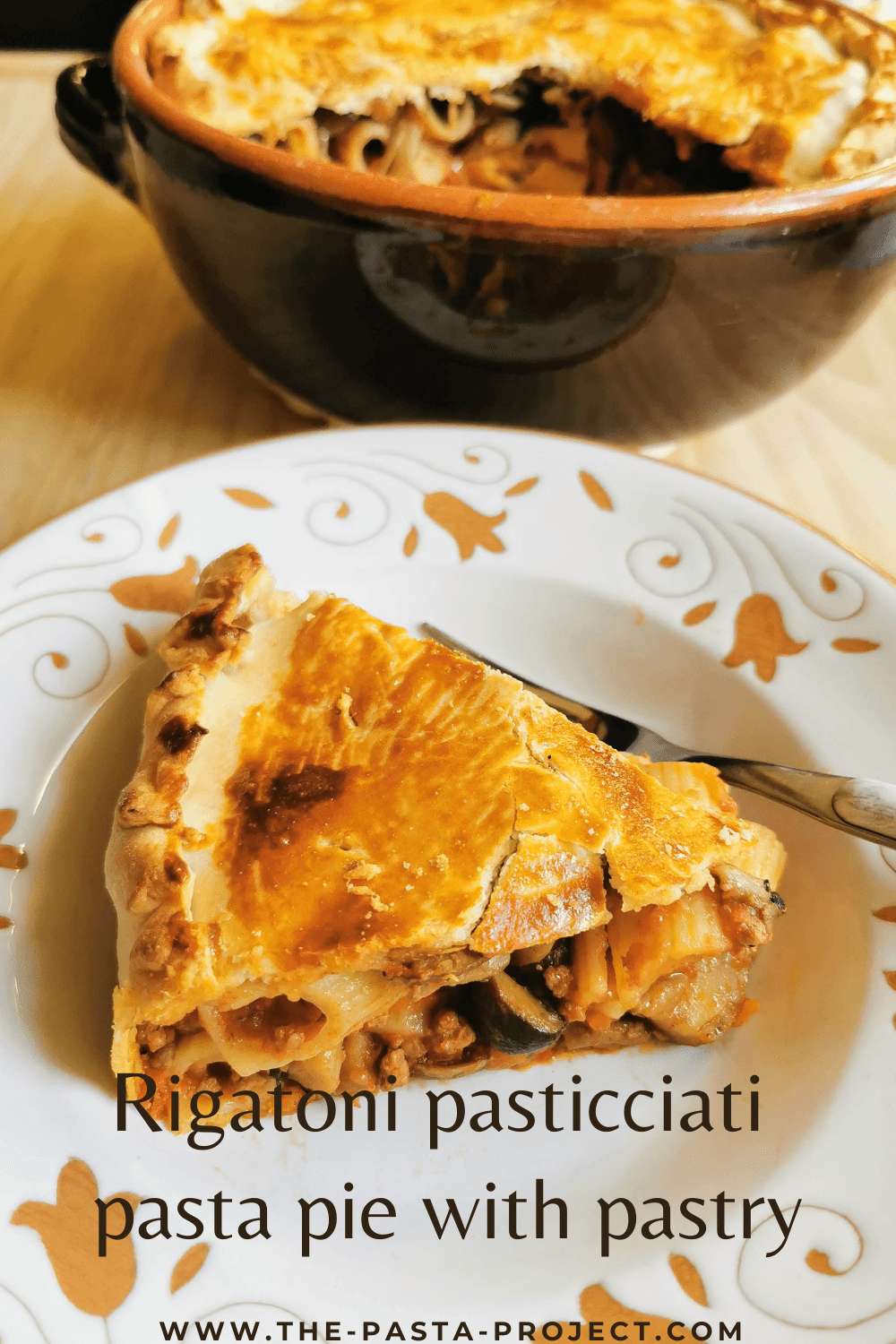 Other pasta pie recipes to check out!
Check out my shop page.
If you are interested in learning how to make homemade pasta and different types of gnocchi, check out my shop page for some great video online courses from my friends in Rome! Nothing beats learning to make pasta from Italians! Plus while you're there why not order a copy of one of my pasta recipe cookbooks or checkout some recommended pasta making tools? All great prezzies for pasta lovers!