Pasta alla Pastora Recipe from Alto Adige (South Tyrol)
Maccheroni pasta alla pastora is a typical meat pasta dish from the beautiful Alto-Adige (South Tyrol) in North-East Italy. This is a delicious, hearty and very tasty recipe that is not only a great way to use up leftover Bolognese but is sure to become a family favourite!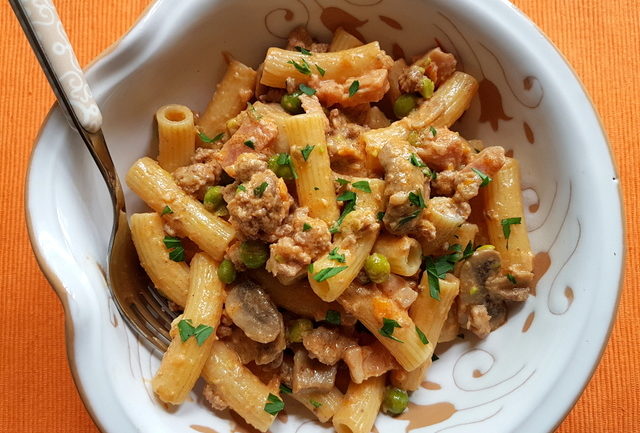 Maccheroni alla Pastora.
In Italian, the word 'pastora' means shepherd. However, despite this recipe's popularity in the homes and restaurants of the Alto-Adige, I couldn't find the origins of this pasta alla pastora. It certainly doesn't normally include ingredients that one would associate with shepherds!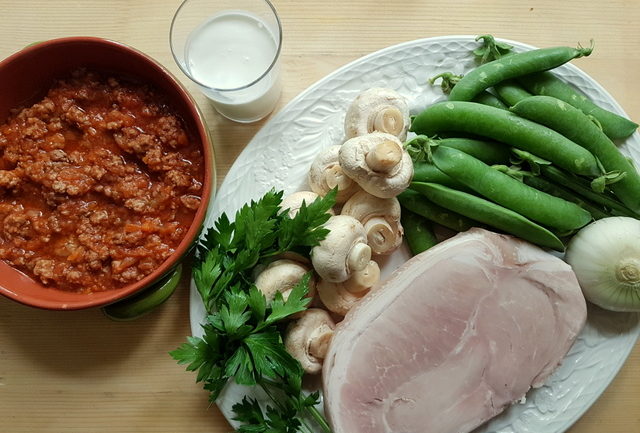 The Alto-Adige region is bilingual, with many people speaking German. This is because it borders with Austria and in fact, used to be Austrian not Italian. The German name for this dish is 'hirten maccheroni', which means shepherd's maccheroni!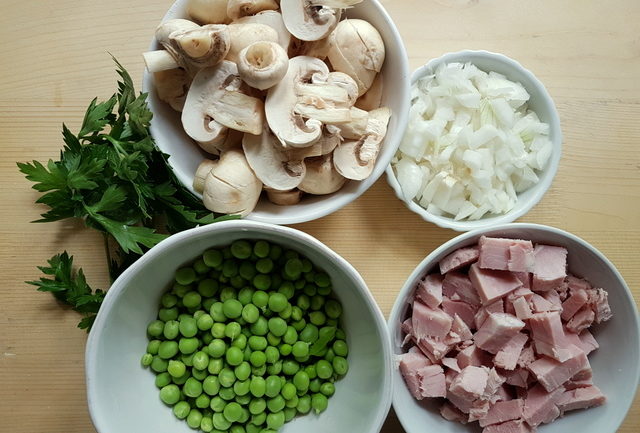 There are other pasta recipes with the same name from Southern Italy, for example Calabria. There they make it with sheep's ricotta and sausage. However, this recipe from the South Tyrol normally doesn't include sheep's ricotta. Perhaps this maccheroni alla pastora was simply a recipe enjoyed by sheep farming families!

One sauce for 2 recipes.
Whatever the origins of its name, alla pastora is so worth trying. The pasta sauce has cooked ham, peas, mushrooms, meat ragu and cream. In fact, this is also a great dish to use up leftover Bolognese. Although, of course, you can make the meat sauce specifically for this dish, which is what I did. I then used the rest of the bolognese to make a lasagna.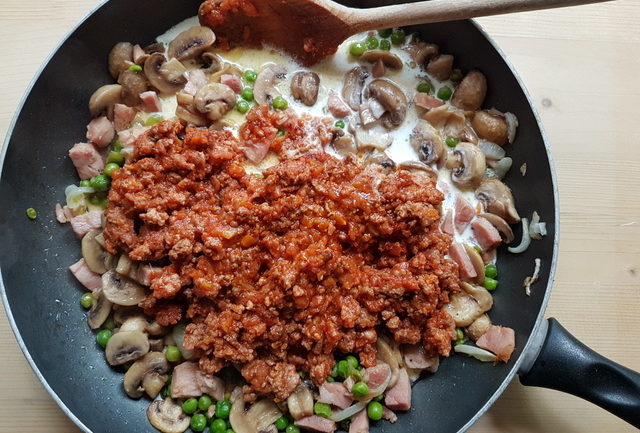 So, if you double the quantity of ingredients when you make your Bolognese sauce, you'll have the most time-consuming part of two or even 3 great pasta recipes done with one preparation. Leftover Bolognese can be frozen for 2-3 months!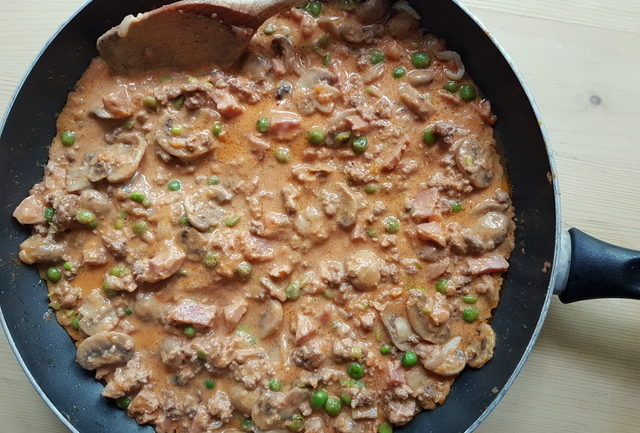 Different versions of pasta alla pastora.
Like many other Italian pasta recipes, there are several versions of this pasta alla pastora. In fact, some people replace the Bolognese with fresh sausage. In addition, you can use either fresh mushrooms, such as porcini or champignon, or dried mushrooms. I used fresh champignon (white button mushrooms). Also, not every recipe I found included peas. But, I put them in as we have fresh peas at the moment. You can also use frozen peas.

The pasta.
Maccheroni in Italian (not macaroni) usually refers to narrow pasta tubes. However, in some parts of Italy they use 'maccheroni' to describe other kinds of pasta. For example in Calabria they also call 'fileja' maccheroni. In Abruzzo, they make maccheroni alla chitarra which is actually more like spaghetti. In addition, not all maccheroni are exactly the same size and many Italians refer to wider pasta tubes like rigatoni or tortiglioni as maccheroni!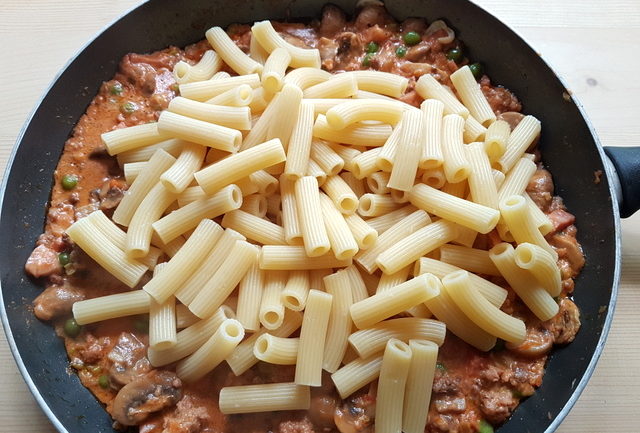 You can actually use any type of pasta tube for this pasta alla pastora recipe. I used a pasta called 'canneroni' from a company in Puglia called Divella. The word 'canneroni', translates to a 'large cane' or 'rod', but it also means the throat in Neapolitan dialect.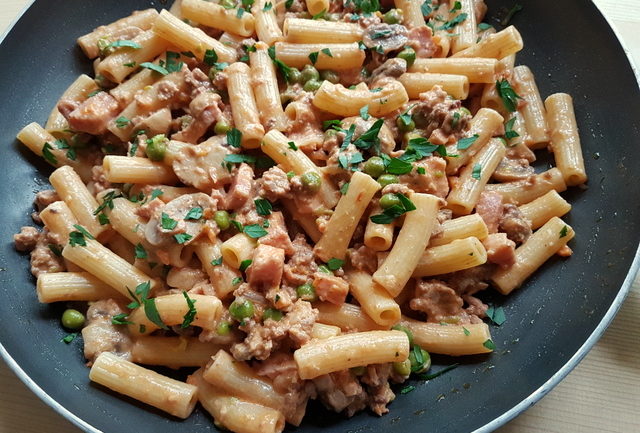 The canneroni from Divella are ridged (rigate) meaning the surface has grooves. I think this type of pasta tube is better as the sauce adheres really well to the pasta. You can use any other short pasta shape, such as penne rigate, sedani, elicoidale, rigatoni or gargati.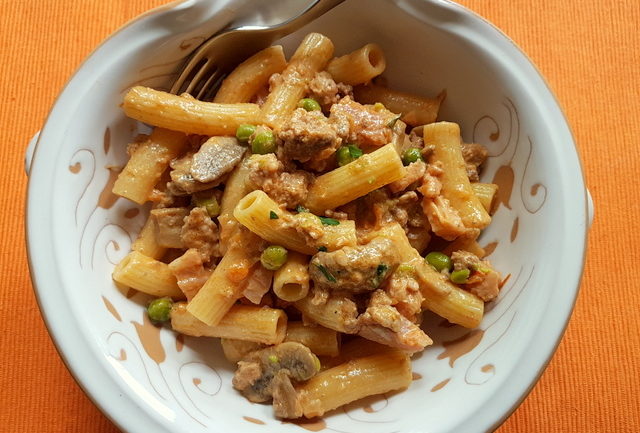 Whichever kind of pasta tube you use, I'm sure this recipe will join your list of favourite pasta dishes. This is a creamy and truly delicious dish that is bound to be a winner with everyone.
If you do try this pasta alla pastora recipe, I'd love to hear what you think. Please write a comment here on the blog or post a comment on the Pasta Project Facebook page.
Your feedback means a lot to me!
Buon appetito!
Other meat ragu recipes on The Pasta Project for you to make!
Save this recipe for later?
If you want to save this recipe for later, you can print it, bookmark this page or save it to Pinterest.
Pin for Later