Tuscan Pasta Tordellata with ragu, Swiss chard and ricotta.
Known as Tuscan pasta tordellata, intordellata or stordellata, this delicious deconstructed version of a traditional tortelli recipe from Tuscany tastes as good as the filled pasta dish, with less work! I loved everything about this recipe, including having 2 sauces.

I'm sure you will love this recipe too. It takes a little while to make especially if you make the ragu from scratch. But, this is also a great way to use up leftover ragu or bolognese. In which case, all you need to do is make the Swiss chard with ricotta and cook the pasta!
(This recipe was originally published in 2018 but has been updated with new photos and text)

In Tuscany, tortelli (locally called tordelli) traditionally have a ricotta and swiss chard filling or are filled with a meat ragu containing Swiss chard. With both fillings the pasta is served with a Tuscan meat ragu. However, there are also other ways to serve the same ingredients with different pasta.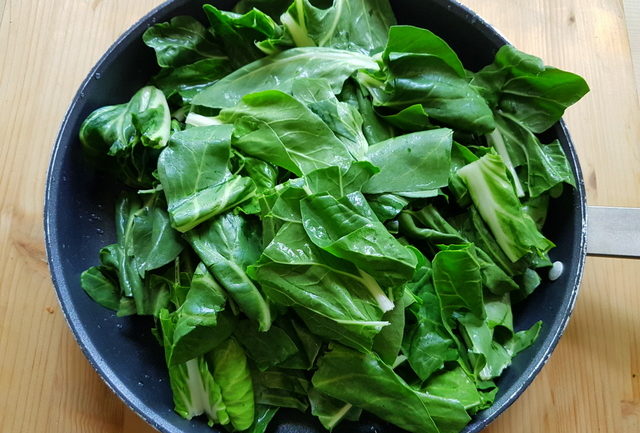 Lasagne tordellate and other versions.
In Tuscany, the most well-known of this method of serving filling as a condiment is lasagne tordellate or stordellate. That recipe, traditional in the Massa and Carrara province, is made with small thick usually homemade lasagne squares. The lasagne squares are dressed with a Swiss chard and ragu mix. This would normally be the filling inside tordelli. In Massa, they even hold a lasagne intordellate feast every year in July.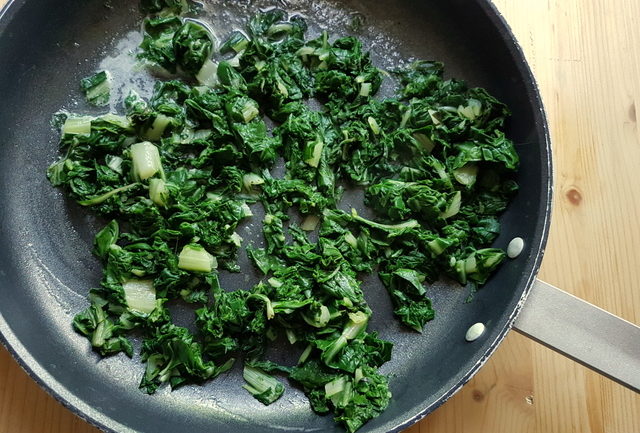 In other versions of this Tuscan pasta tordellata recipe, the filling and ragu aren't mixed together and this is the recipe I made and have shared with you here. Obviously, the 'filling' in this version isn't made with ragu but with ricotta and Swiss chard flavoured with nutmeg, as is traditional in the Maremma area of Tuscany. Some people also use spinach instead of chard.

What is Tuscan ragu?
The ragu I made for this Tuscan pasta tordellata recipe is a typical ragu from Tuscany. Tuscan ragu is with ground pork, beef and sausage meat. You can, of course, make it without the sausage if you prefer. Or, use your own ragu or Bolognese. It would be just as delicious. For vegetarians, a tomato or tomato and other veggie sauce is a delicious alternative.

The pasta.
For the pasta, I used gigli, also known as campanelle, a typical pasta from Tuscany. The gigli came from a pasta maker, called Pasta Vale in Campofilone, Le Marche. This town is famous for a very fine egg pasta called maccheroncini di Campofilone (also very good with ragu!).

Pasta Vale is a small family run business managed by a lovely young woman called Valeria Marilungo. She and her father make a great selection of dried egg pasta. I went to visit them last year when I was in Campofilone and Valeria gave me some of their pasta to try, including this very good gigli. Check out Pasta Vale's Facebook page for more info.. https://www.facebook.com/pastavale/ or their website (only in Italian). I know they export to Malta but I'm not sure where else. https://www.pastavale.it/

If you don't have gigli, you can make this recipe with many other types of pasta. I would recommend flat ribbons such as pappardelle or mafaldine or other short pasta such as penne, dischi volanti, vesuvio or torchio pasta! Alternatively, why not make some homemade lasagne and cut it into squares as they do in Tuscany?

Different ways to plate Tuscan pasta tordellata.
I mixed the ricotta and chard with the cooked pasta and served it with a generous helping of ragu on top. I actually made 2 layers on each plate. However, you can do this as one layer. I plated pasta with ricotta then ragu, then more pasta with ricotta and more ragu. But, whichever way you serve this recipe, I'm sure you will love it as much as I did. And your family or guests will love it too!

If you do try this recipe, I'd love to hear what you think. Please comment here on the blog or on the Pasta Project Facebook page. If you take photos, do join my pastaliciousness Facebook group and share them with us. I really appreciate your feedback!
Buon appetito!

If you like pasta with meat ragu, take a look at these other recipe. Italians don't just make ragu with beef.
Pin for later.

Save this recipe for later?
If you want to save this recipe for later, you can print it, bookmark this page or save it to Pinterest.
Pin for later.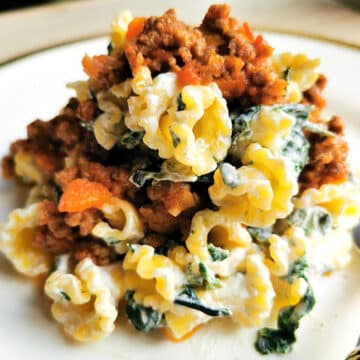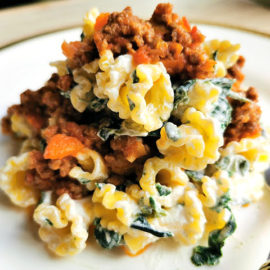 Tuscan pasta tordellata with ragu, Swiss chard and ricotta
This delicious double sauce pasta recipe from Tuscany is an unusual and tasty way to use up leftover ragu. 
Ingredients
400

g

gigli or campanelle pasta

(14oz) You can also use other types of pasta such as pappardelle or penne
For the Ragu
200

g

minced/ground beef

(7oz)

200

g

minced/ground pork

(7oz)

1-2

Italian pork sausages

skin removed and chopped

1-2

onions

peeled and finely chopped

2-3

carrots

washed and finely chopped

1-2

celery stalks

washed and finely chopped

2

garlic cloves

peeled and finely chopped

1

glass

red wine

2

sprigs

fresh rosemary

washed and chopped

400

g

fresh sauce tomatoes or tomato passata

(14oz) Fresh tomatoes need to be peeled. blanch them in hot water then peel.

2-3

tbsp

extra virgin olive oil

salt

to taste

black pepper

to taste
For ricotta sauce
400

g

fresh Swiss chard

(14oz) washed and stalks removed

250

g

fresh ricotta

(9oz)

1

knob

butter

1

tsp

nutmeg

freshly grated
To complete the dish
50

g

Parmigiano Reggiano

(2oz) grated

salt

for pasta
Instructions
Make the ragu
Heat the olive oil in a frying pan or skillet.

Add the chopped onion, carrot, garlic and celery; cook and stir until the onion becomes translucent.

Add the rosemary, sausage meat, ground beef and pork and cook and stir until browned.

Add the red wine, stir, and let it evaporate.

When the alcohol has evaporated, add peeled tomatoes or passata, stir and season with coarse salt and black pepper.

Cover and let the ragu simmer at a low heat for at least an hour or more.
While the ragu is cooking make the ricotta and swiss chard sauce
Prepare the chard by washing the leaves and cutting off the hard white stalk. Chop or tear the leaves into large pieces.

Cook the chard in a pan with only the liquid that has stuck to the leaves when washed. Like cooking spinach. But if it dries out too much you can add a little more water. It takes about 10-15 minutes on a low heat.

When the chard is ready, drain it and chop as finely as possible.

Return it to the pan and cook for a couple of minutes more with a knob of butter.

Let the chopped chard cool and then combine it with the ricotta in a bowl.

Generously grate some fresh nutmeg over the mixture and blend with a wooden spoon.
Cook the pasta
Bring a pot of water to boil for the pasta. Add salt once it starts to boil and bring to the boil again. Cook the pasta al dente according to the instructions on the packet.
Finish the dish
Save a cup of the pasta cooking water then drain the pasta and mix it with the ricotta and chard. If the sauce seems dry add a little of the pasta cooking water.

Mix the pasta and ricotta well together and plate. Serve with a generous helping of ragu. You can do this as one layer or make 2. First pasta with ricotta and chard, then ragu and then more pasta with chard and finally some more ragu.

Serve with grated cheese.
Notes
Cooking times include making the ragu from scratch. If you have leftover ragu, this dish is much quicker to make.
I used gigli/campanelle pasta but pappardelle are also traditional and short pasta like penne work well too.