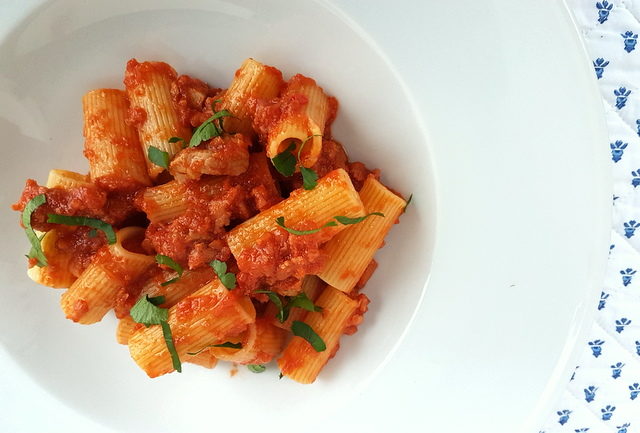 Rigatoni con Ragu Molisano.
This tasty and hearty lamb ragu Molisano is actually made with three kinds of meat, lamb, sausage and veal. These types of ragu are very popular in the Southern Italian regions, especially Abruzzo, Calabria, Puglia and Molise, where this recipe originates. Of course, there are many versions of mixed meat ragu. Not all have lamb and not all contain sausage or veal. And some of these mixed meat pasta sauces have 4 kinds of meat in them.
(Click to go straight to recipe and leave feedback)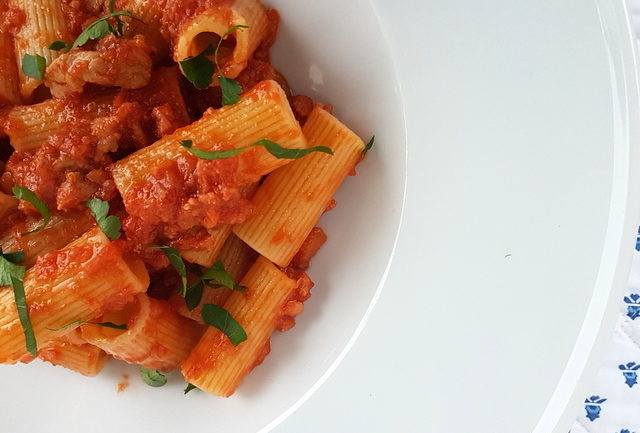 When I first moved to Northern Italy I was pretty disappointed to find that lamb isn't a big thing here. (I know I say this every time I post a lamb pasta recipe). Anyway, apart from the fact that I really missed my Sunday roast lamb and lamb curry, I guess I got used to my practically lamb-less diet. (except for the occasional lamb chops on the grill).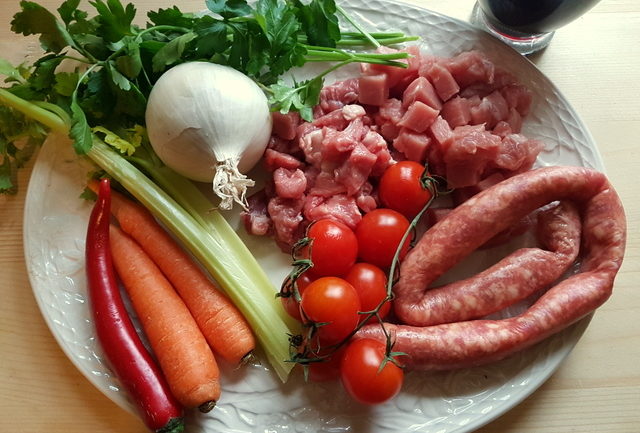 After I started this blog in 2016, I decided that I HAD to make some pasta with lamb recipes as these are very traditional in Sardinia and the Southern Italian regions. I discovered that most lamb ragu recipes don't use minced lamb but lamb meat cut into small pieces. I experimented by cutting the meat off large chops and was thrilled that the results were really good! Plus, I use the bones to make a stock which adds real flavour to the ragu! So, if lamb is hard to find where you live this solution could work for you. If you're lucky enough to find lamb easily, then boneless shoulder is the best cut for ragu.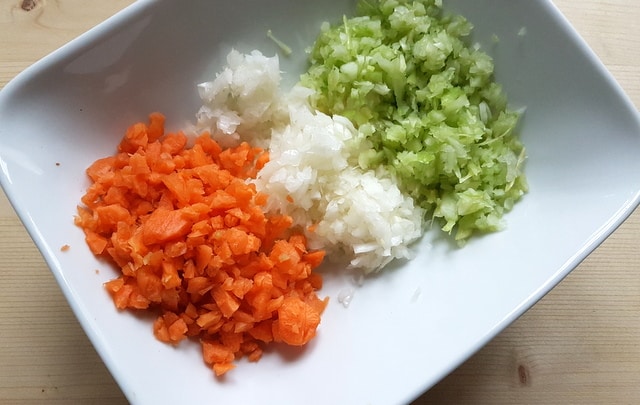 Different lamb ragu recipes.
There are a number of lamb ragu recipes that only include lamb and no other meat, like my other recipe from Molise for fusilli with lamb. If the meat is only lamb, the ragu takes less time to cook. However, mixed meat sauces, like in this recipe for lamb ragu Molisano, need to be simmered for longer so that all the meat gets really soft and tender and the flavours really come out.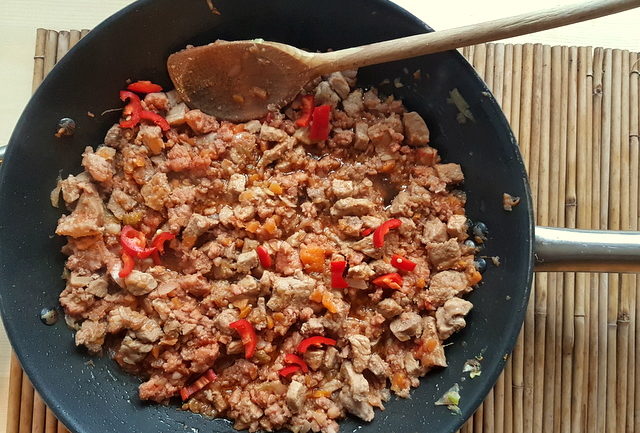 This lamb ragu Molisano needs to be cooked for at least 2 hours so, it's not a quick throw together meal. In Italy, mixed meat pasta sauces are often referred to as 'sugo alla domenica', meaning Sunday sauce. This is not only because of the time needed to prepare the sauce, but also because these are rich and heavy sauces best eaten at lunch rather than in the evening!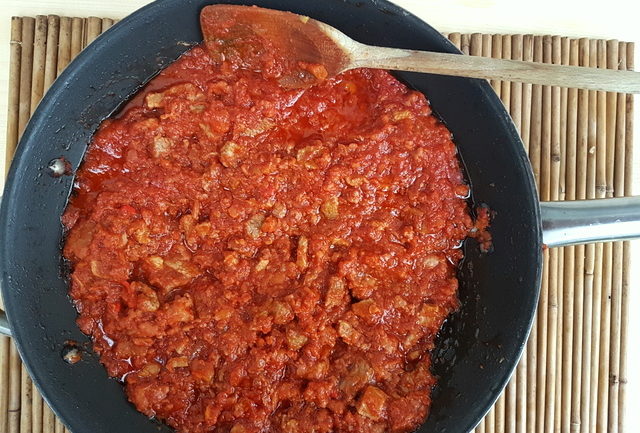 The pasta.
In Molise, lamb ragu Molisano would normally be served with a homemade cavatelli pasta or crioli which is similar to spaghetti alla chitarra from neighbouring Abruzzo, or perhaps with fusilli. I served it with rigatoni. However, you can use most short pastas or thicker long pasta.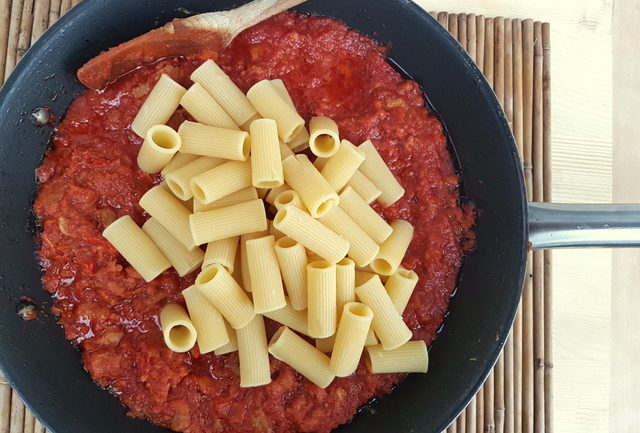 Sunday sauce!
In many parts of Italy 'Sunday sauce' was, and still is, served with homemade pasta. Consequently, the tradition of preparing Sunday lunch involves quite a lot of work, but it is a job that many Italian families enjoy and do together. Not only do they all sit down to eat together but they often prepare the meal as a group , which is how older generations pass recipes and cooking skills on to the younger members of the family! I so love these traditions, don't you? However, you can also make this ragu a day or two before and keep it in the fridge. Then you only have to reheat it and cook the pasta shortly before serving. That way you'll have more time to enjoy an aperitif with your guests!
Buon appetito!
More Pasta Recipes You'll Love
(go to the next page to see the recipe. Just scroll down and click 2)