Sardinia.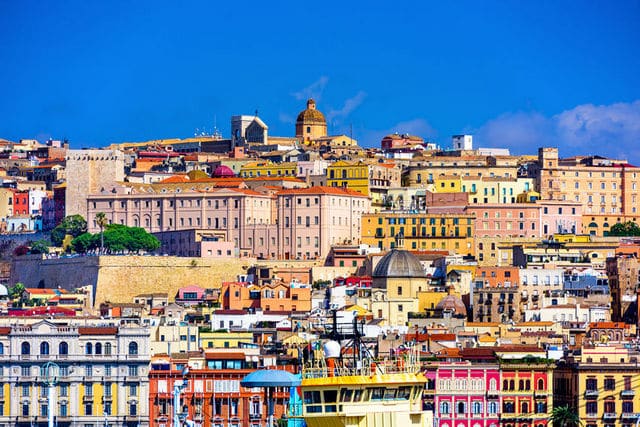 After Sicily, Sardinia is Italy's second biggest island. It lies in the Western Mediterranean and is actually closer to the French island of Corsica than to the Italian mainland, which is about 200kms away. Despite the distance, Sardinia is a very popular summer holiday destination for many Italians, who frequently travel there by ferry (8-11 hours) rather than by plane (1 hour) . I know many Italians who holiday on Sardinia often and regularly, yet until now I haven't managed to go. I guess that's one of the drawbacks of living in Italy. There are just so many beautiful places to visit! We are spoilt for choice!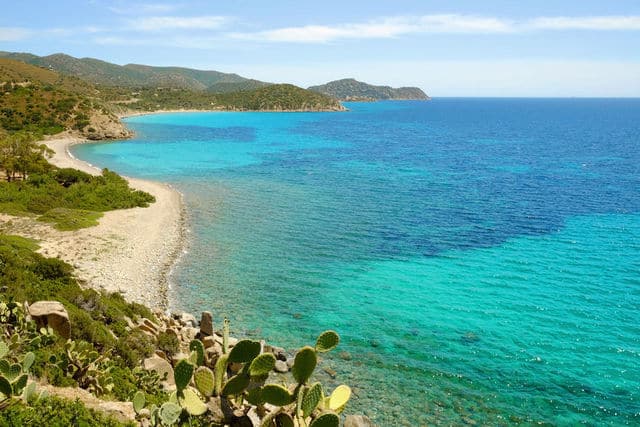 Sardinia beautiful landscapes and ancient history.
Sardinia is famous for its beaches and crystal clear sea. Inland, it is very mountainous and rugged with lots of unspoilt nature and large uninhabited areas where deer and wild horses roam. The island also has a number of interesting archeological sites including temples, tombs and ruins, the most fascinating of which are the Nuragic villages, built by the Nuragic people who inhabited Sardinia between 1800 and 1000 BC.
The Cuisine.
Although Sardinian cuisine is very similar to the food on mainland Italy, there are quite a number of typically Sardinian dishes and recipes which can only be found in Sardinian homes and restaurants, unless you make them yourself at home. The Sardinian kitchen retains a lot of influence from the peoples who invaded and occupied the island in the past. The Phoenicians, Carthaginians, Romans, Arabs and Spanish all left their mark on the food, which actually differs from one part of Sardinia to another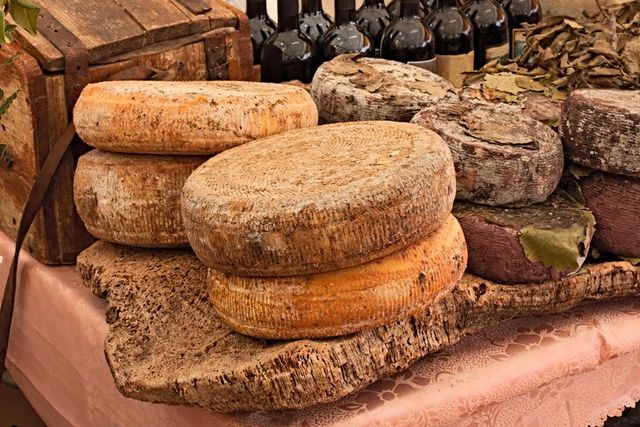 Seafood.
Interestingly, although Sardinia is an island, it doesn't have a big fishing industry. This is apparently the result of a long history of invasion, which deterred the inhabitants from living by the coast. Today, seafood is, of course, included in local cuisine especially on the coast, but it isn't nearly as extensive as, for example, in Sicily. The most important fishing is for tuna, lobster and sardines. Traditional seafood dishes include bottarga on pasta and bread and spicy moscardini (tiny octopus), as well as spicy fish soups called 'burrida' and 'cassola', along with, crabs, anchovies, squid, clams and as already mentioned tuna, lobsters and fresh sardines.
Sheep and cheese.
What Sardinia does have is sheep, 4 million of them! Actually almost half of all the sheep in Italy live in Sardinia! Needless to say this means that lamb and sheep milk products are an important part of the island's cuisine. Sardinia produces most of Italy's Pecorino Romano cheese, even though this is not an original Sardinian product. The island is a major exporter of other cheeses too, including cavallo cheese (a type of caciocavallo) and salso cheese (a salted sheep's cheese like pecorino cheese). Cheese is used abundantly in Sardinian cuisine: in soups, stews, small ravioli and in famous desserts, such as, 'sebádas', a semolina, egg and cheese fritter flavored with sugar, lemon and honey or 'pardule', baked buns of semolina stuffed with saffron and orange zest flavored fresh ricotta cheese.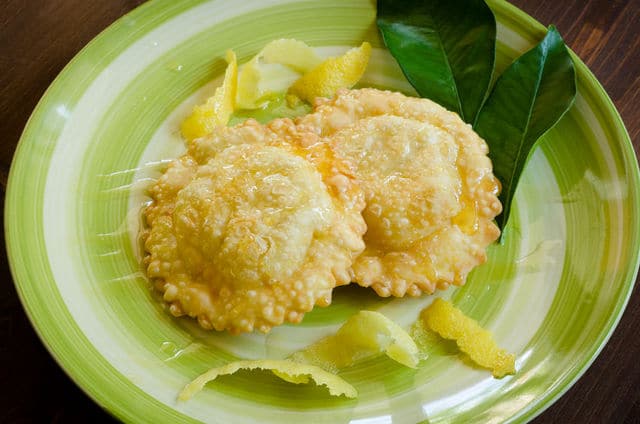 Saffron in Sardinia.
Sardinia also has saffron which is cultivated mostly in the Southern part of the island. About 300kg of saffron are produced on the island each year and needless to say saffron plays an important role in Sardinian cooking. It is used in pasta sauces, soups, and even roasts and desserts.
Sardinian bread.
Sardinia is famous for its bread and there are about 400 types of Sardinian breads. The most typical and well-known is 'pane carasau', which I love. This is a circular, thin, crisp flatbread, apparently invented for shepherds to take with them when they tended their flocks. It can last for a year and is often served just with extra-virgin olive oil and salt. It is made into 'pane frattau' when it is soaked in lamb stock and spread with tomato paste and grated pecorino cheese before being topped with a poached egg!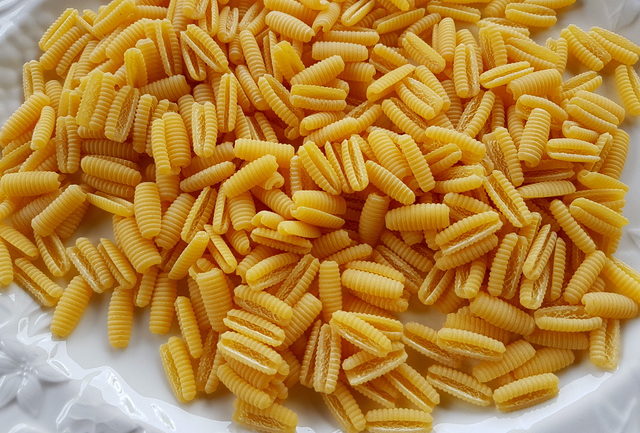 Pasta in Sardinia.
When it comes to pasta, favorite Sardinian pasta dishes include; spaghetti with bottarga, made with dried gray mullet roe shaved on top, and malloreddus (also known as Sardinian gnocchi), an gnocchi style pasta flavored with saffron and often served with a tomato and sausage sauce or lamb ragu. Other typical Sardinian pasta include; culingiones , round ravioli stuffed with spinach and cheese, and fregula, a large-grained couscous made from coarsely ground semolina which is often eaten in soups but can also serve as a base for different pasta sauces.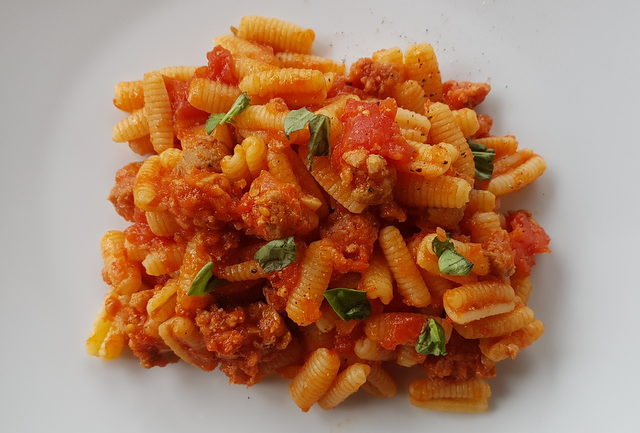 The first Sardinian pasta recipe I am planning to post is malloreddus with sausage, tomatoes and saffron, but I have quite a list of other recipes I want to try. Since I'm not sure when I will have the chance to visit Sardinian, I have decided that I can at least experience some of its unique cuisine, particularly pasta recipes, by cooking it myself. I hope you will be tempted to do the same.