Malloreddus (Sardinian gnocchi)with zucchini flowers, ricotta & saffron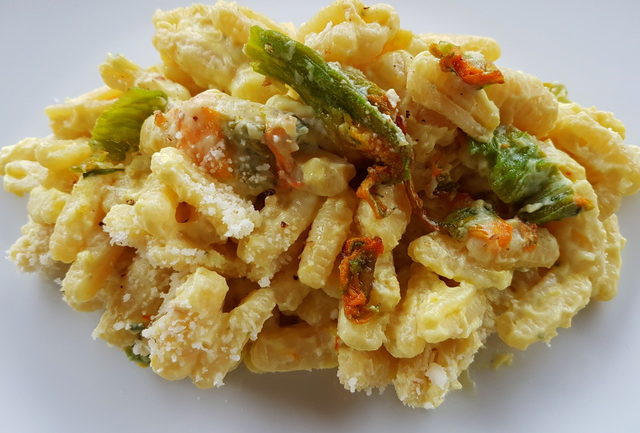 Malloreddus with zucchini flowers, ricotta and saffron.
When I made this malloreddus with zucchini flowers, ricotta and saffron, it had such a beautiful delicate creamy taste that I had to have a second helping and I'm sure you will too!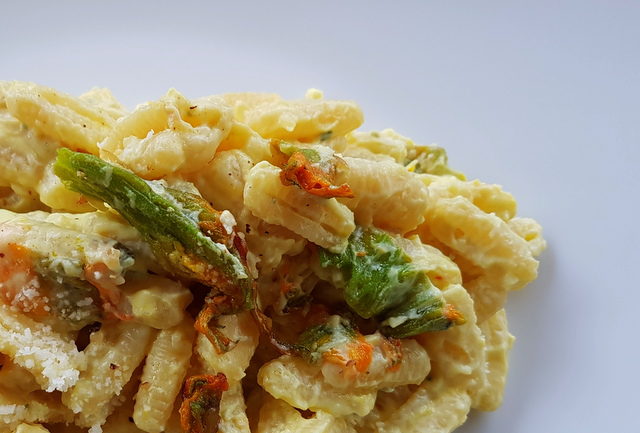 Malloreddus, also called gnocchetti sardi or 'little Sardinian gnocchi' are a typical pasta from Sardinia. They are also called Sardinian gnocchi because of their shape as they really look like tiny potato gnocchi but are, in fact, made of durum wheat semolina flour, water and salt.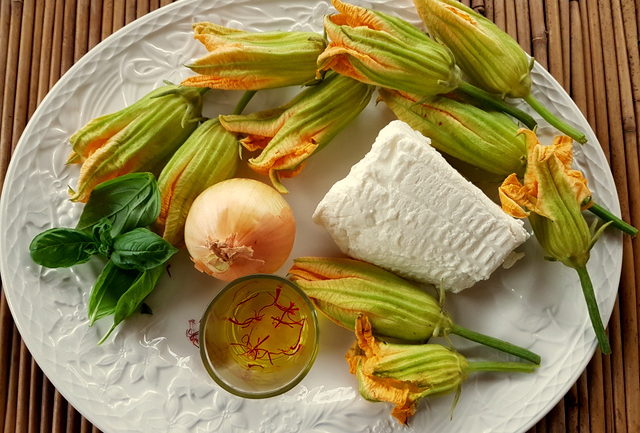 When homemade, malloreddus sometimes have a pinch of ground saffron in the dough which gives them a slightly yellow colour. To get the characteristic shape, Sardinians traditionally hand-rolled the pieces of dough on a round reed basket. However, nowadays most people use a small wooden board that looks like an gnocchi board.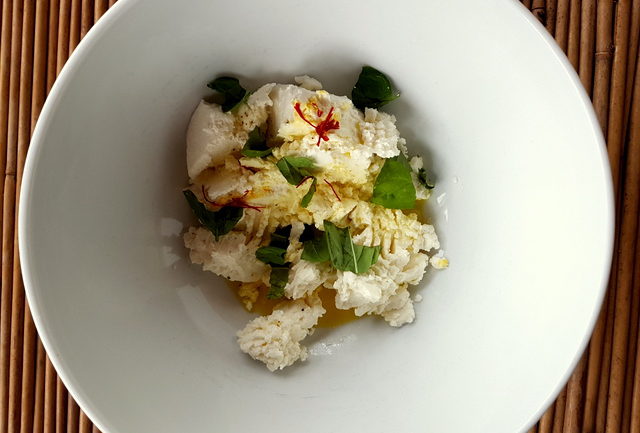 Saffron is a commonly used spice in Sardinia because it's grown there. Apart from sometimes adding saffron to the malloreddus dough, Sardinians also use saffron in many recipes, particularly pasta recipes. I have already posted one recipe for Malloreddus with sausage meat and saffron, but this time round I felt a vegetarian recipe would be a good idea and this malloreddus with zucchini flowers, ricotta and saffron recipe really fit the bill!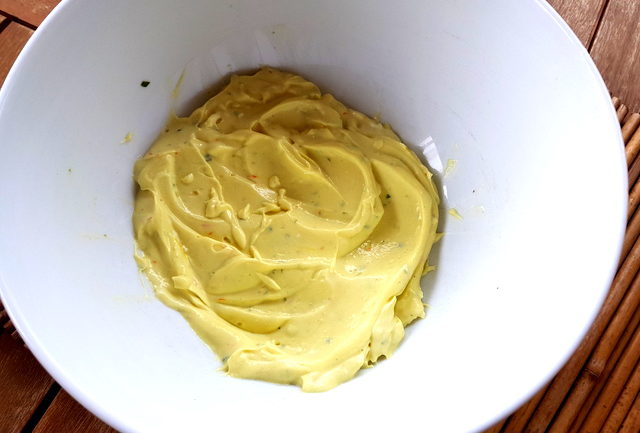 There are a lot of sheep in Sardinia, apparently 4 million of them! Actually almost half of all the sheep in Italy live in Sardinia! Needless to say, this means that lamb and sheep milk products are an important part of the island's cuisine and there are many kinds of sheep's milk cheese produced on the island. This recipe calls for fresh sheep's milk ricotta but you can use cow's milk ricotta too. I used a mixed ricotta, cow's milk and sheep's milk, which is readily available in Italian supermarkets.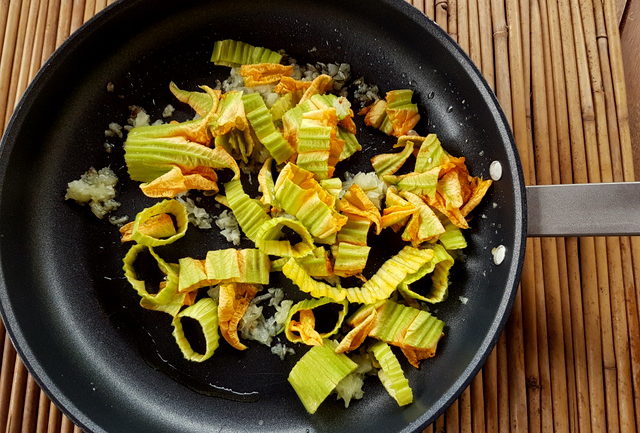 I love creamy pasta recipes in which the creaminess comes from creamed ricotta. Most of these recipes are also very easy and quick to make. Just blend the ricotta with a little olive oil and cooking water from the pasta, plus whichever other ingredients the recipe calls for (in this case saffron, pecorino and basil) and you have a lovely creamy sauce that doesn't need cooking.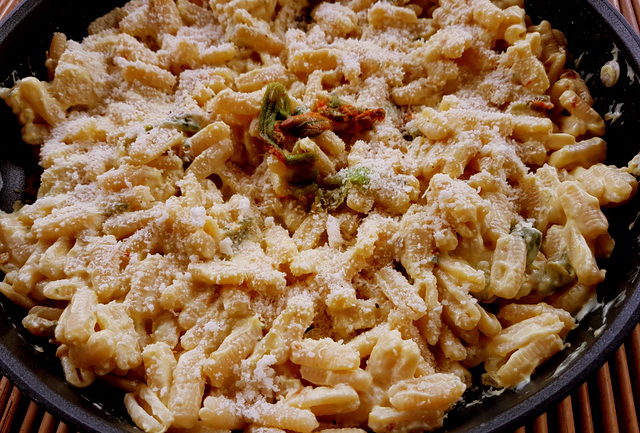 The zucchini flowers are fried separately with an onion and then added to the pasta and ricotta cream. If you can't find zucchini flowers you can also just use zucchini. However, the flowers do add a touch of the exotic and have a more delicate taste than the zucchini themselves.
This malloreddus with zucchini flowers, ricotta and saffron recipe is really worth trying, so next time you're in the supermarket and see zucchini flowers grab some and then head over to the cheese counter for some Italian ricotta!
Buon appetito!
(see the recipe on page 2)