Pasta with saffron and pancetta: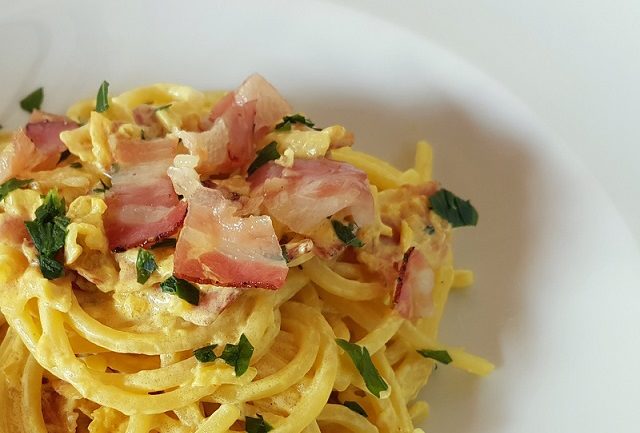 Spaghetti alla chitarra con zafferano e pancetta.
Pasta with saffron is very traditional in a number of Italian regions, in particular Abruzzo, where saffron has been cultivated since the 14th century.
(go straight to recipe and leave your comments)
I've just come back from a long weekend in Abruzzo, Italy. For those who don't know it, Abruzzo is a region located in central Italy on the Adriatic coast. I had long wanted to visit it, especially because many people say the cuisine in this region is considered one of the purest forms of Italian cuisine and includes many dishes unique to Abruzzo.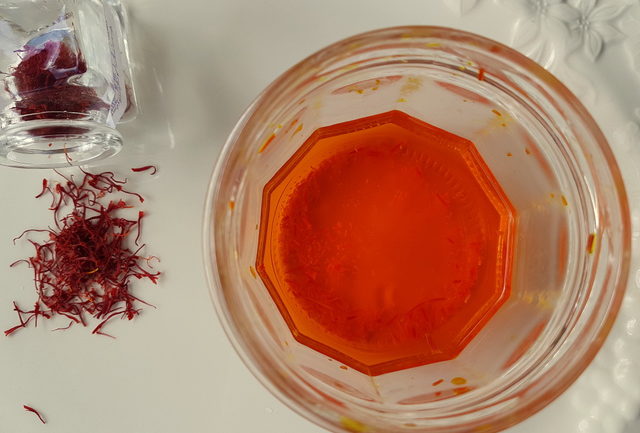 I can definitely attest to this. I came across a number of dishes and types of pasta relatively unknown or not so common in other parts of Italy. One example is the many dishes made using saffron including a number of pasta with saffron recipes. In fact, I couldn't resist buying some saffron whilst in Abruzzo. After all, the best place to purchase any food product has to be where it originates from, right?
Saffron is grown in a few Italian regions but it was first cultivated in Abruzzo and then, because of its high value, became a popular crop in other regions. Today, saffron is mostly grown in Abruzzo, of course, Sardinia, Marche, Tuscany, Lombardy and Emilia. However, the popularity of this crop appears to be spreading even though production is very labour intensive.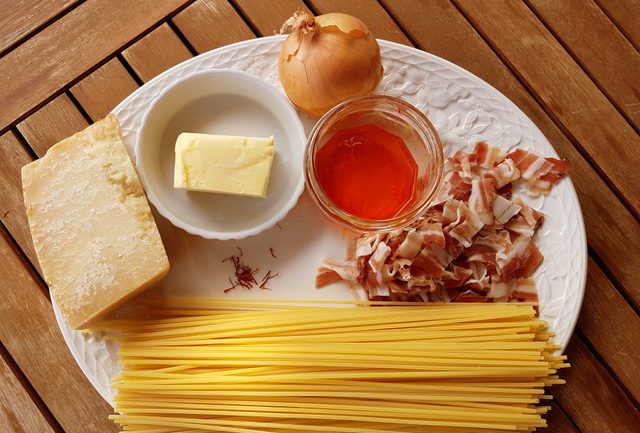 A little saffron in Abruzzo history.
According to local legend, the history of saffron in Abruzzo began in 14th century with a Dominican monk named Santucci. Father Santucci was a native of Navelli, the old saffron capital of the region and one of a handful of towns in Abruzzo where saffron is grown today, and the town I bought my saffron in!
Santucci apparently moved to Spain to serve at the court of the Spanish Inquisition. While there, he learned to appreciate and savour many typical Iberian dishes made with saffron (think of Paella!). He liked the spice's strong aroma, as well as its supposed healing qualities. Santucci decided to try cultivating the spice when he returned to his hometown, bringing with him a number of Crocus Sativus bulbs. He eventually created an enterprise that produced a high-quality saffron which became well-known throughout Europe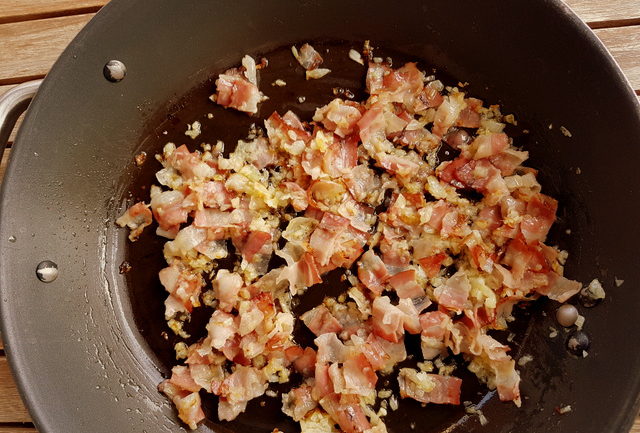 Saffron, the most expensive spice in the world!
Known as Navelli saffron or L'Aquila saffron, this saffron is, today, generally agreed to be one of the very best in the world. Its stigmas are longer, its aroma stronger and its colour deeper than most others. It is also known as the red gold of Abruzzo and sells for about 25 euros a gram. I paid 18, so I guess it was a good price! However, it's not surprising that saffron is the most expensive spice in the world. About 200,000 crocus sativus flowers are needed to produce 1 kilogram of saffron, made by drying the flower's stigmas which have to be harvested by hand.
Although saffron is expensive, a little goes a long way. A gram of Italian saffron contains around 300 threads, and most recipes only call for a pinch of saffron threads (4-6 threads) for 4 servings. In fact, if you add too much saffron to a dish it will taste bitter. So, a gram of saffron won't lead to bankruptcy!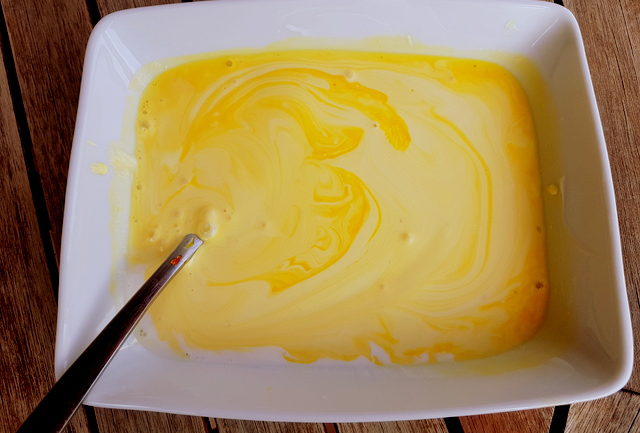 You can buy saffron in either paper or glass containers at speciality food stores or online. Look for the words 'superior', 'sargol' or 'coupé' when buying saffron. These are used to describe the highest quality, so you'll be sure to get the most aroma and flavour from it. The key to cooking with saffron is to keep it simple. Let the flavour and aroma of the saffron make the dish without the use of too many other spices.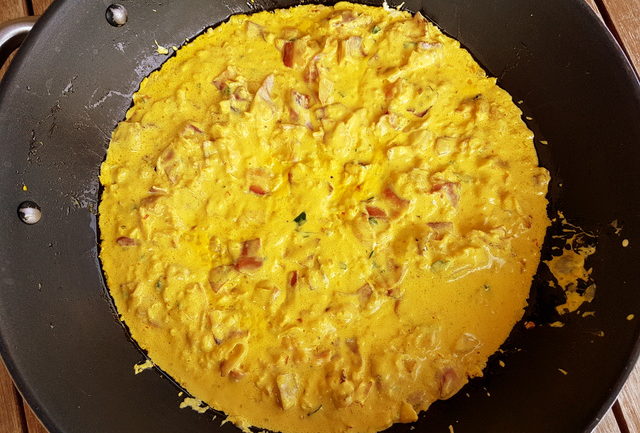 Pasta with saffron recipes.
In Abruzzo, particularly in the area around Aquila, saffron is used in many types of dishes including wonderful pasta with saffron dishes, the most well-known of which is 'cannarozzetti allo zafferano' made with sheep's ricotta, pork cheek and saffron. Some pasta with saffron recipes are very simple and include just saffron, cream and grated cheese. But, there are also a number with vegetables, particularly zucchini and zucchini flowers and also with seafood, as well as meat. I bought a couple of grams of saffron, so I'm planning to make some different pasta with saffron recipes.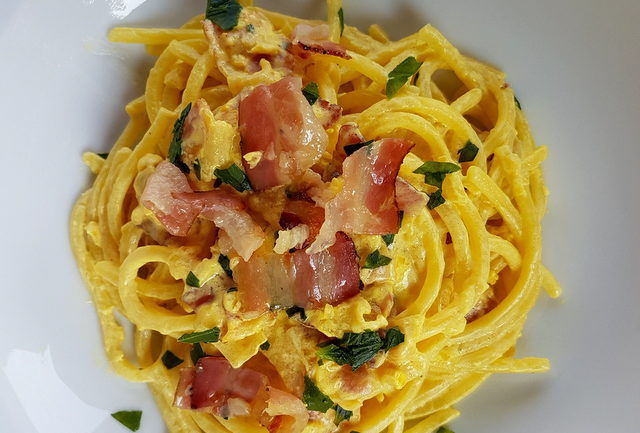 To start off with, I decided to use my saffron in a reasonably simple recipe, just pancetta, cream and saffron. I made this dish with spaghetti/maccheroni alla chitarra, which is a square spaghetti made using a unique tool called a chitarra and is the most well-known of Abruzzo's pastas. In fact, I also bought some of that pasta back with me, as well as a 'chitarra' so that I can eventually make my own chitarra pasta!
Using saffron not only creates a sauce with a spectacular colour, but it also gives the dish a distinctive taste. They say that saffron can taste different to different people. To me, it added a bitter sweet flavour to the dish. I loved it and I think you will too!
Buon Appetito!
(see the recipe on the next page)