This collection of 12 pasta recipes from Abruzzo includes both traditional homemade and dried pasta dishes that are unique to the region. The recipes are mostly made with typical local ingredients such as saffron, legumes, pancetta, lamb and seafood. Some of the homemade pasta recipes can easily be made with other types of pasta.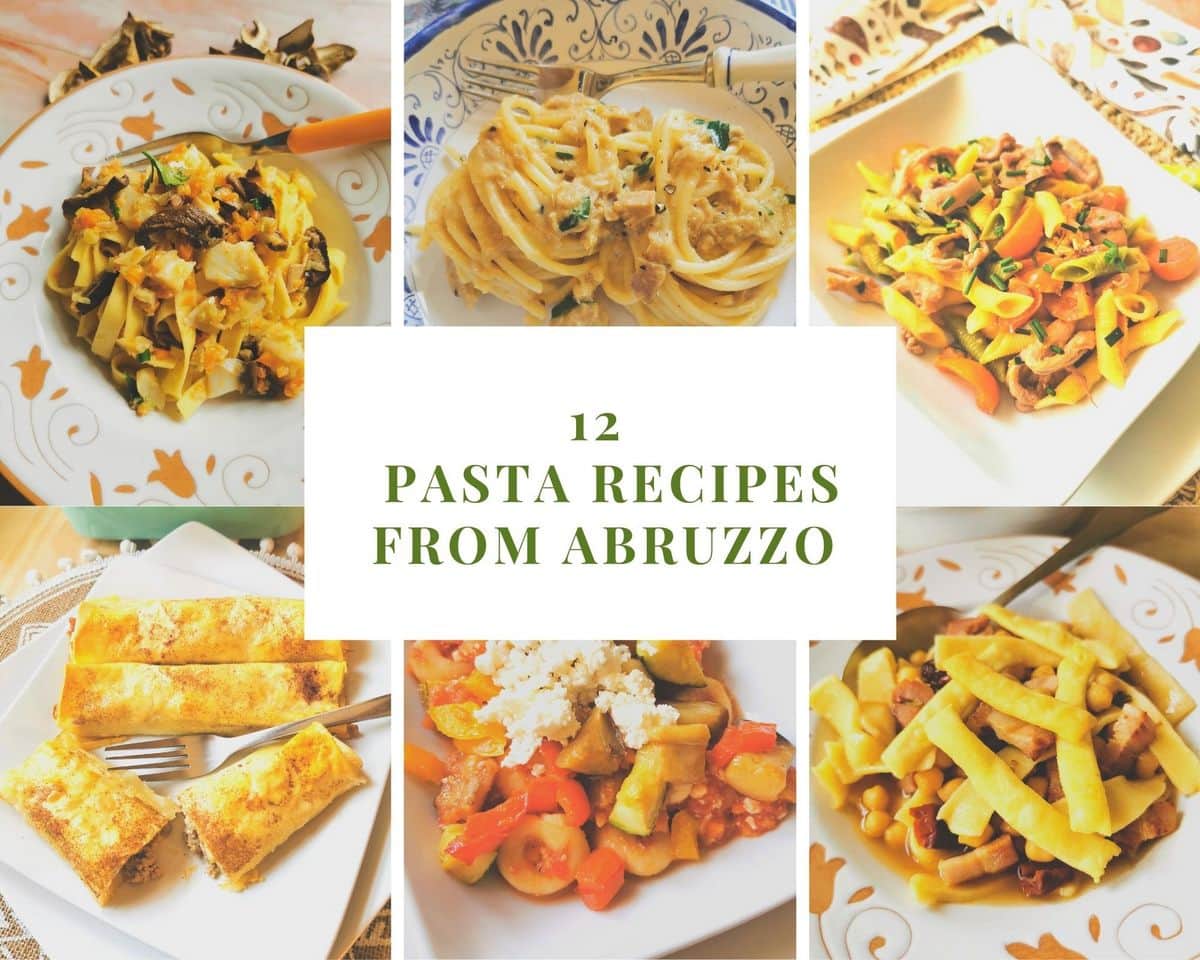 A little info about Abruzzo.
Abruzzo is a region in Central Italy stretching between the centre of the Apennine mountains and the Adriatic coast. Because much of inland Abruzzo is mountainous and covered in National parks, the region was quite isolated until the 20th century. Consequently, Abruzzo still remains unspoiled with lots of ancient villages, monasteries and castles.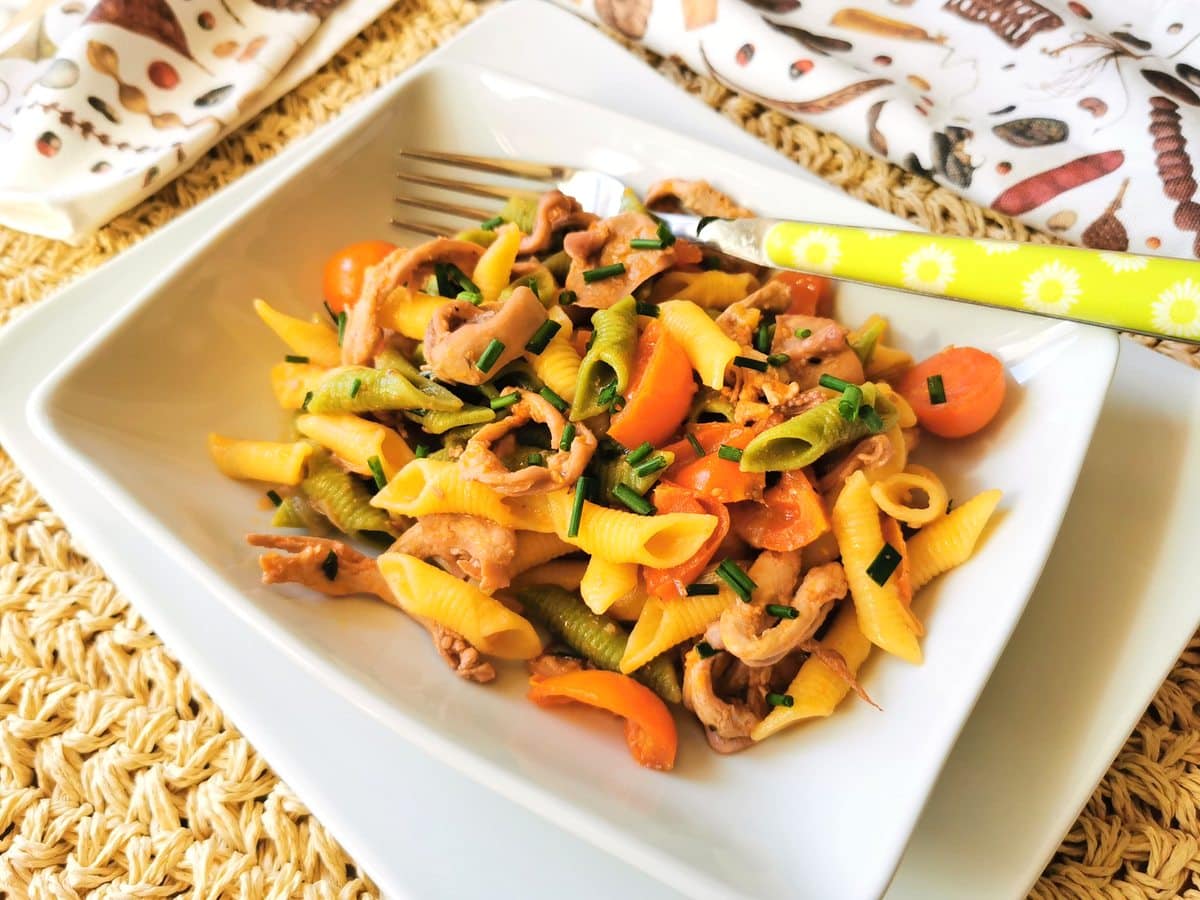 This 'isolation' also means that the Abruzzese people have kept many traditions and customs without influence from the rest of the country. As a result, Abruzzo cuisine is quite unique, and many describe it as the purest form of Italian food. You can read more about food in this region in my post about Abruzzo.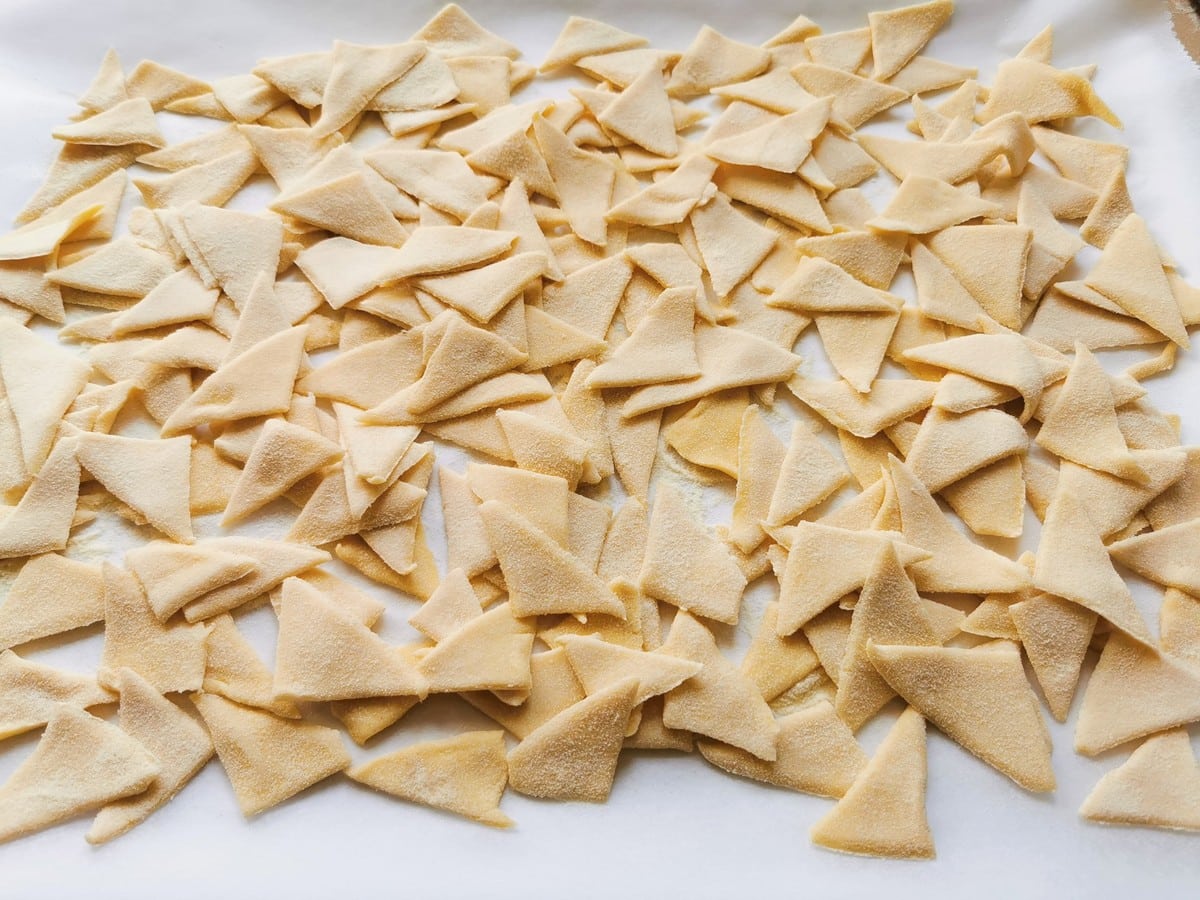 These 12 pasta recipes from Abruzzo.
As you will discover from this collection of pasta recipes from Abruzzo, some of these traditional pasta types and recipes are quite different to the Italian food many people are familiar with. These are dishes that you won't find in tourist popular Italian destinations or in other countries. So, the only way to enjoy them is to visit Abruzzo or…make them at home.
Click the recipe name to go to the recipe post.
Homemade pasta recipes from Abruzzo.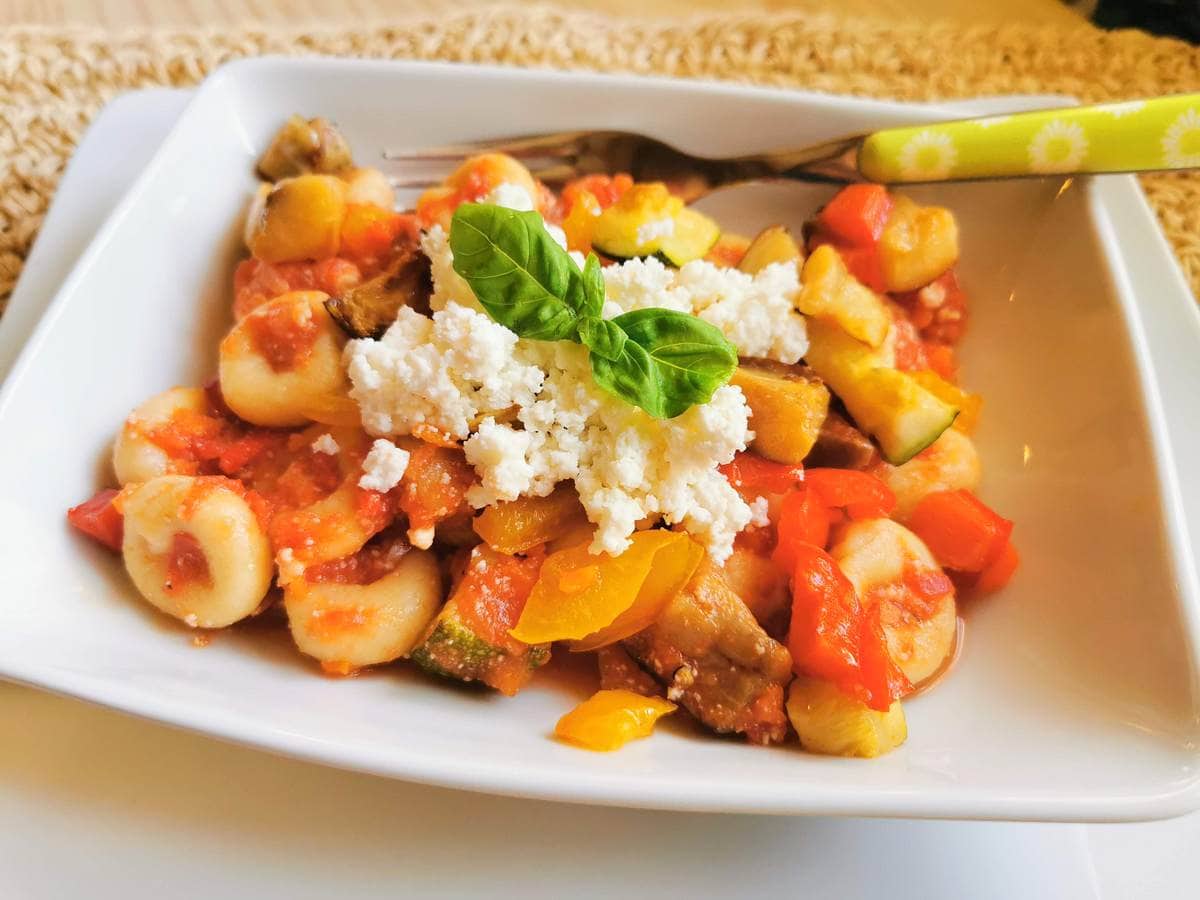 This vegetable rich traditional dish is popular in trattorias and homes in Abruzzo, particularly in and around the town of Elice in Pescara province. In this dish, homemade anellini pasta rings are served in a tomato sauce with sautéed vegetables and fresh ricotta! The anellini are fun and easy to make but, of course, you can use other pasta instead.
My kids helped me shape the pasta and we had such a good time. The memories will last a lifetime. Thanks! Jessica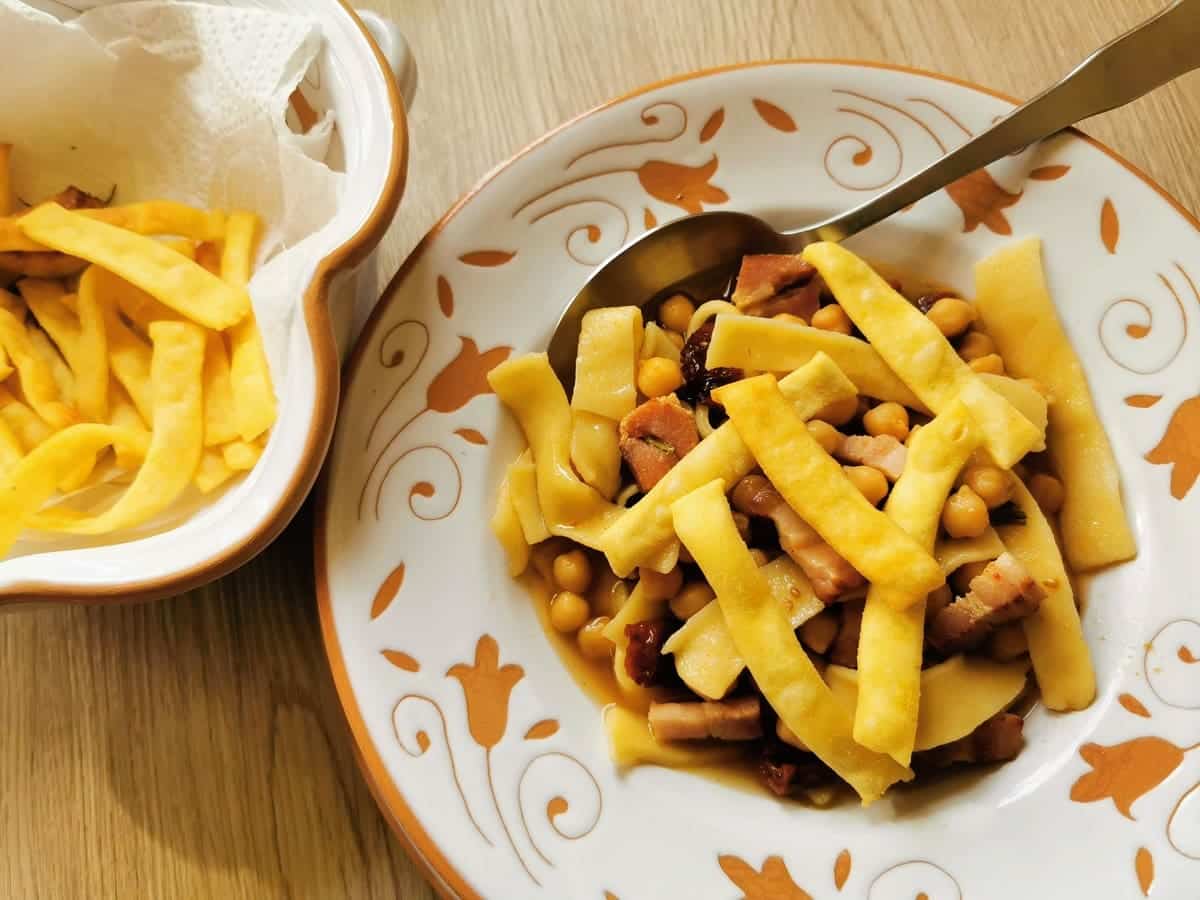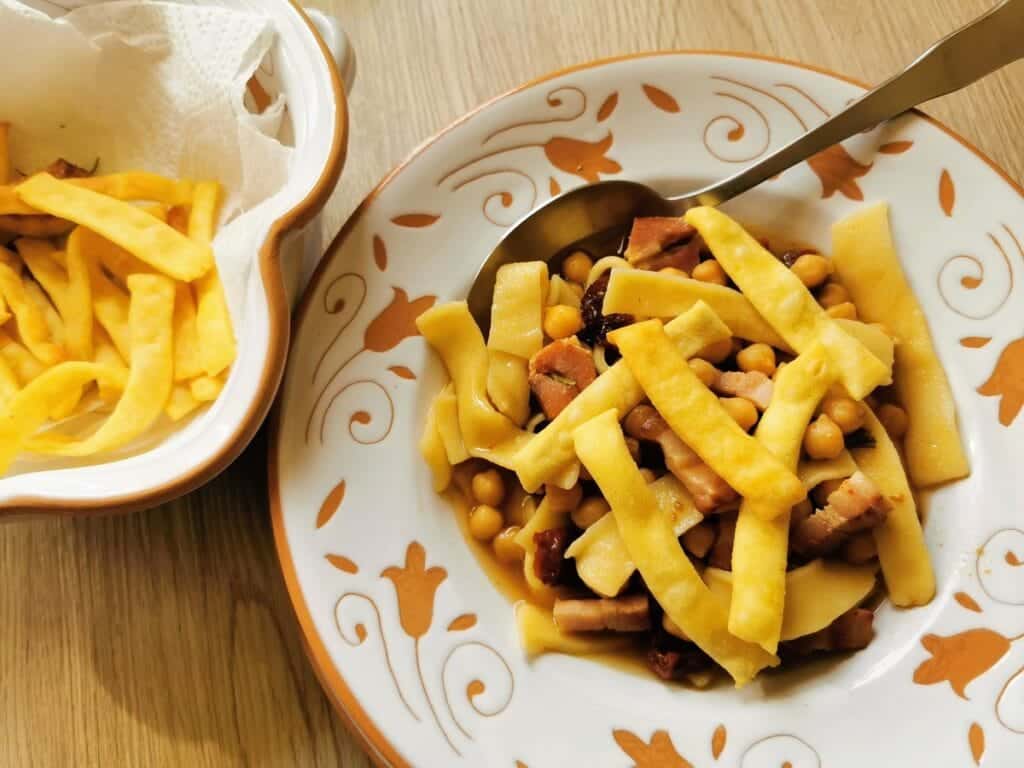 This warming and nutritious authentic pasta with chickpeas recipe comes from Chieti in Abruzzo. This dish is made with homemade sagne, a rustic pasta which looks like short thick tagliatelle or fettuccine. It's a traditional pasta type in Abruzzo, Molise and parts of Lazio. What makes this recipe unique and extra delicious is that it includes some pasta fried in garlic and rosemary. Better than croutons!
I made a vegetarian version for #MeatlessMonday. It's delicious. The fried noodles on top made the dish. George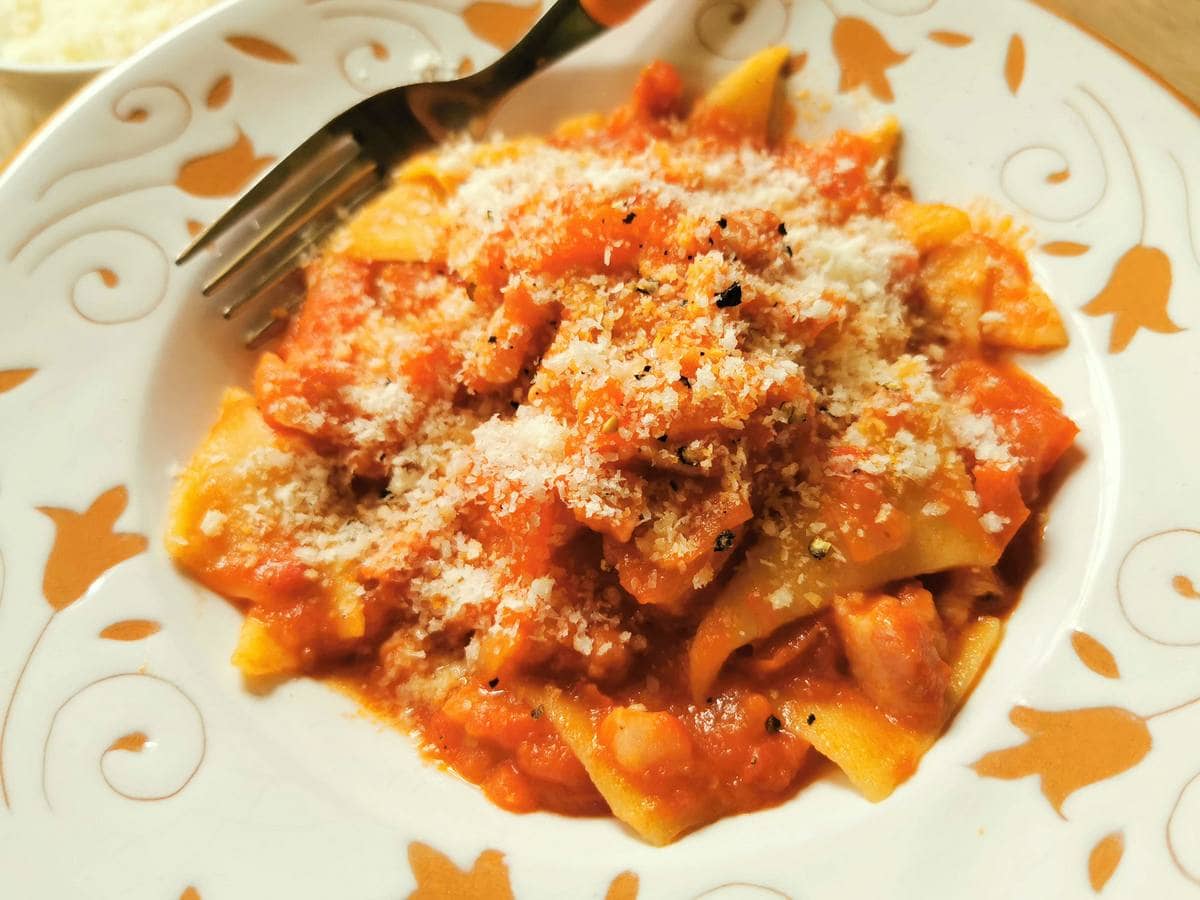 Known as patellette in Abruzzo, this ancient peasant pasta is a type of triangular maltagliati (irregularly shaped flat pasta). Traditionally, patellette pasta is eaten in a brothy tomato and pancetta sauce as in this recipe. However, you can serve it in a simple tomato sauce or with other condiments such as seafood.
I can't tell you how much we loved this dinner. It wasn't hard at all and I am a little adventurous anyway. The fine cornmeal in the dough really made the pasta special. Ginny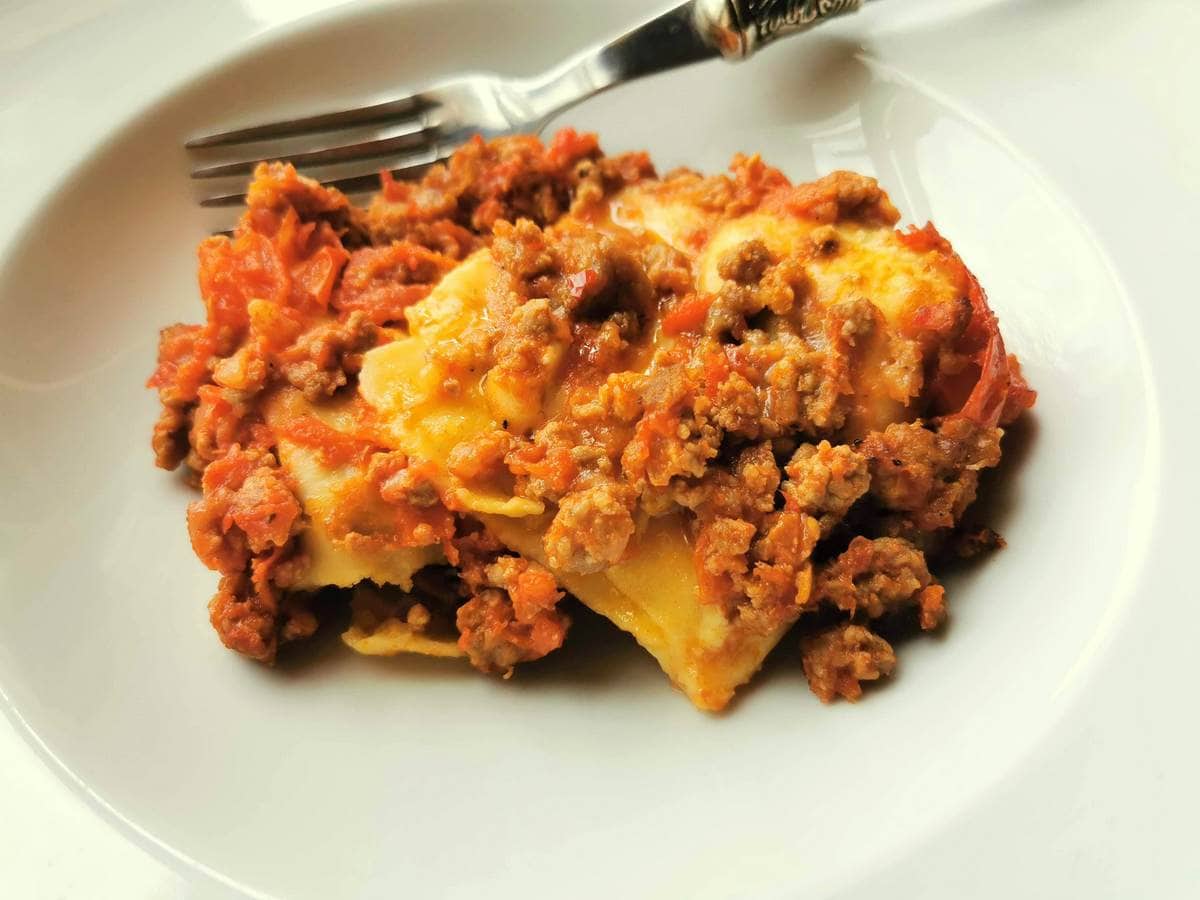 Known as fregnacce Abruzzesi, this fabulous baked fazzoletti (handkerchief) pasta dish from the Teramo province consists of homemade pasta squares filled with a meat and sausage ragu and then baked in the oven This is a delicious alternative to classic lasagna and a great way to use homemade lasagne sheets. Alternatively, you can also make this recipe with store-bought fresh pasta sheets or even parboiled dried lasagne.
I made this dish for my daughter and grand daughter and we all loved it. In fact they liked it better than lasagna. Richard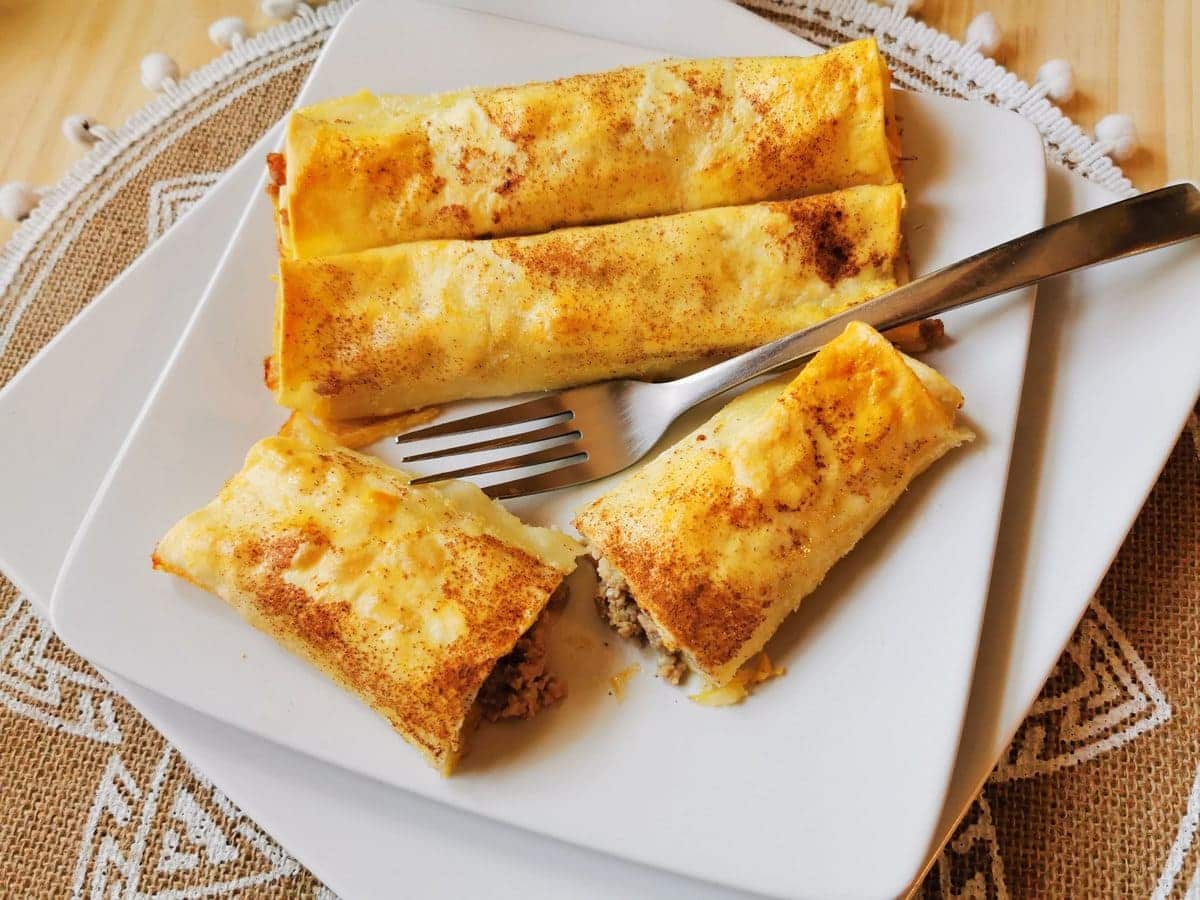 Originally cannelloni (manicotti) pasta tubes were actually fresh pasta sheets rolled around a filling. Many Italians still make them the same way today. In this popular recipe from Abruzzo, homemade cannelloni are stuffed with a three-meat filling and either baked with cinnamon and butter or in a tomato sauce. You can also make the tomato sauce version with dried pasta tubes.
I made your filling and tomato sauce recipes and filled store-bought manicotti. This brought memories of my mom, who used to make them when I was a child. Enri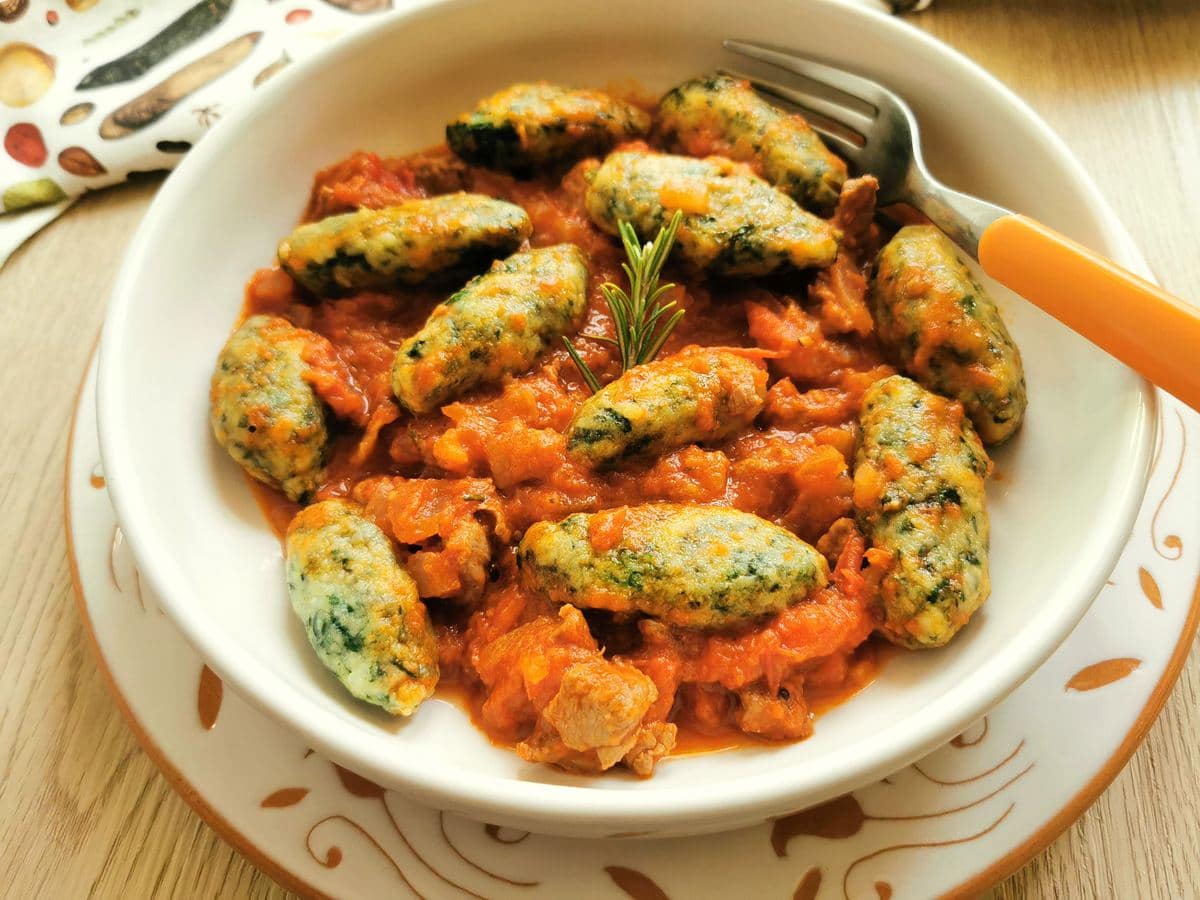 Known as 'sorcetti' or 'surgitt' verde in the local dialect, this spinach gnocchi is a traditional potato and spinach dumpling from the Teramo province. Abruzzo has a long history of sheep farming and lamb is a popular and staple meat. The lamb ragu in this recipe contains tomatoes, peperoncino, garlic, onion, rosemary and red wine. It's rich and flavourful. Of course, you can serve it with other types of pasta or gnocchi.
It turned out perfectly and is among the more delicious dishes we've had in a while. David
Dried pasta recipes from Abruzzo.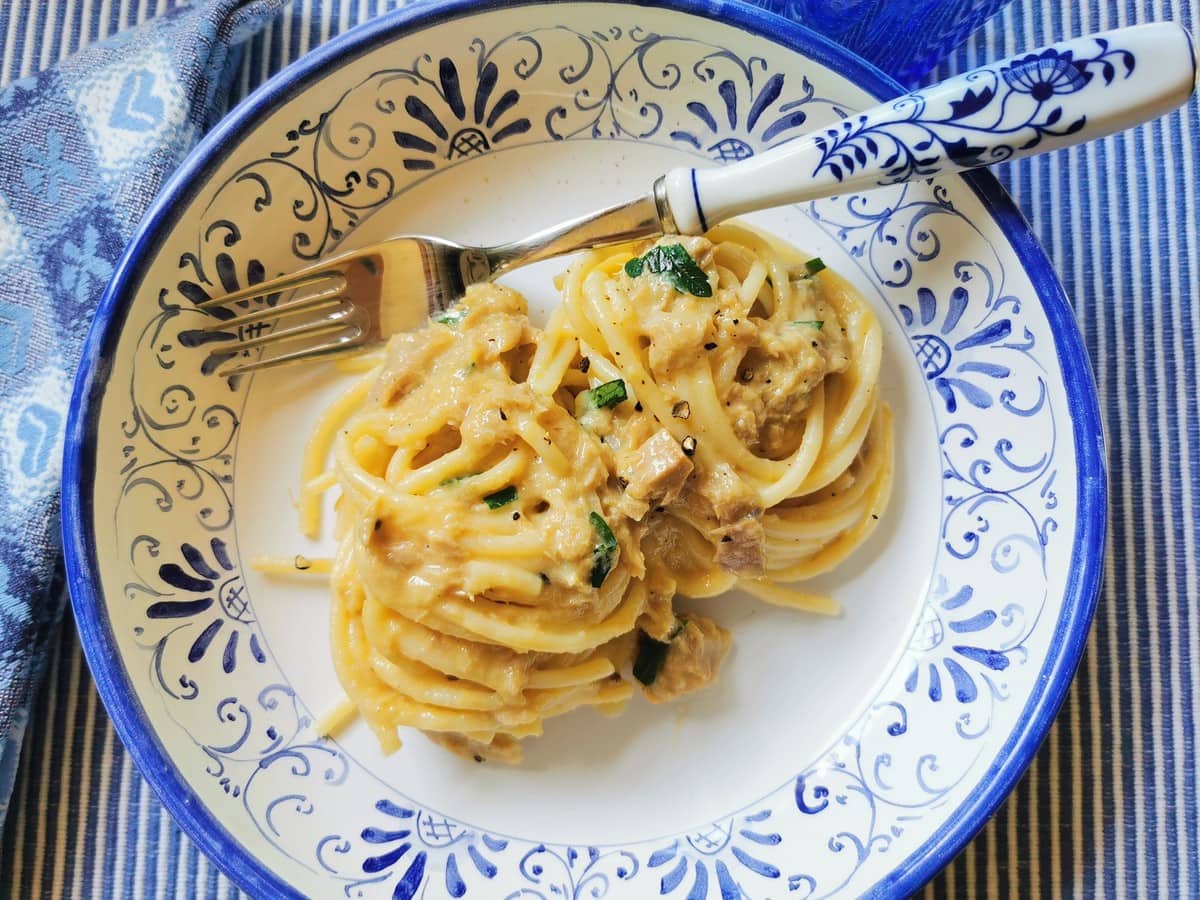 I found this recipe on an Abruzzo recipe site. So, I have included it in this collection. However, seafood carbonara or carbonara di mare, as the Italians call it, is a contemporary concept. Italians make classic carbonara with guanciale or pancetta.
These days, there are many recipes for seafood carbonara on Italian recipe sites. This one with canned tuna is one of the simplest. It's so easy to make and the ingredients are all pantry staples. Definitely, one to try if you like tuna pasta recipes.
What a delicious combination! We loved all the flavors and chunks of tuna in this pasta and it was so easy to make. Thank you so much! Kathryn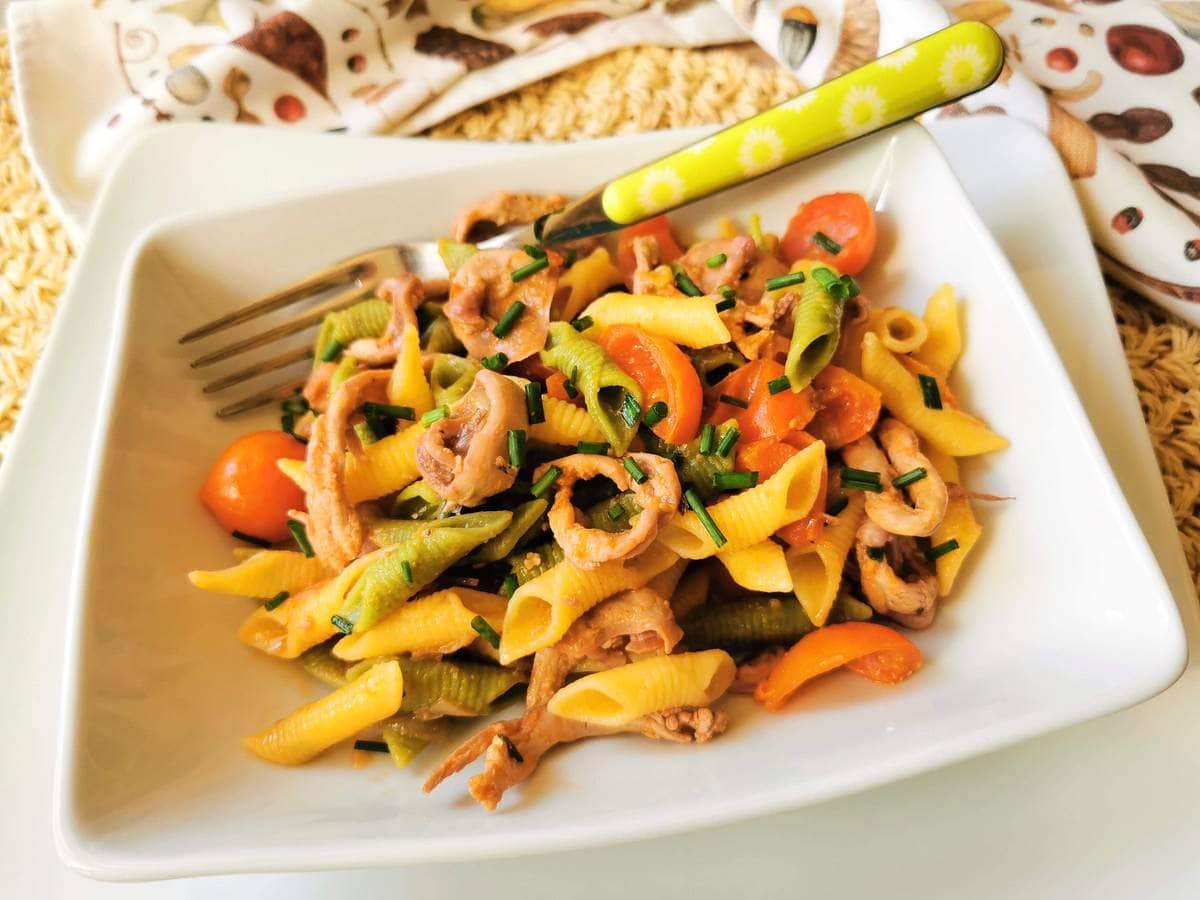 Pasta with squid (calamari or totani) is very popular and traditional in Italy, particularly in the Central and Southern coastal regions. Needless to say, recipes differ from region to region, not only in the way they cook the squid, but in the type of pasta they use as well. This easy Italian squid pasta recipe from Abruzzo has just a few fresh ingredients apart from the pasta and squid. This is a super seafood pasta recipe all the family will love!
I loved this recipe. Thank you for including the instructions on how to clean the squid. That was very helpful. Amita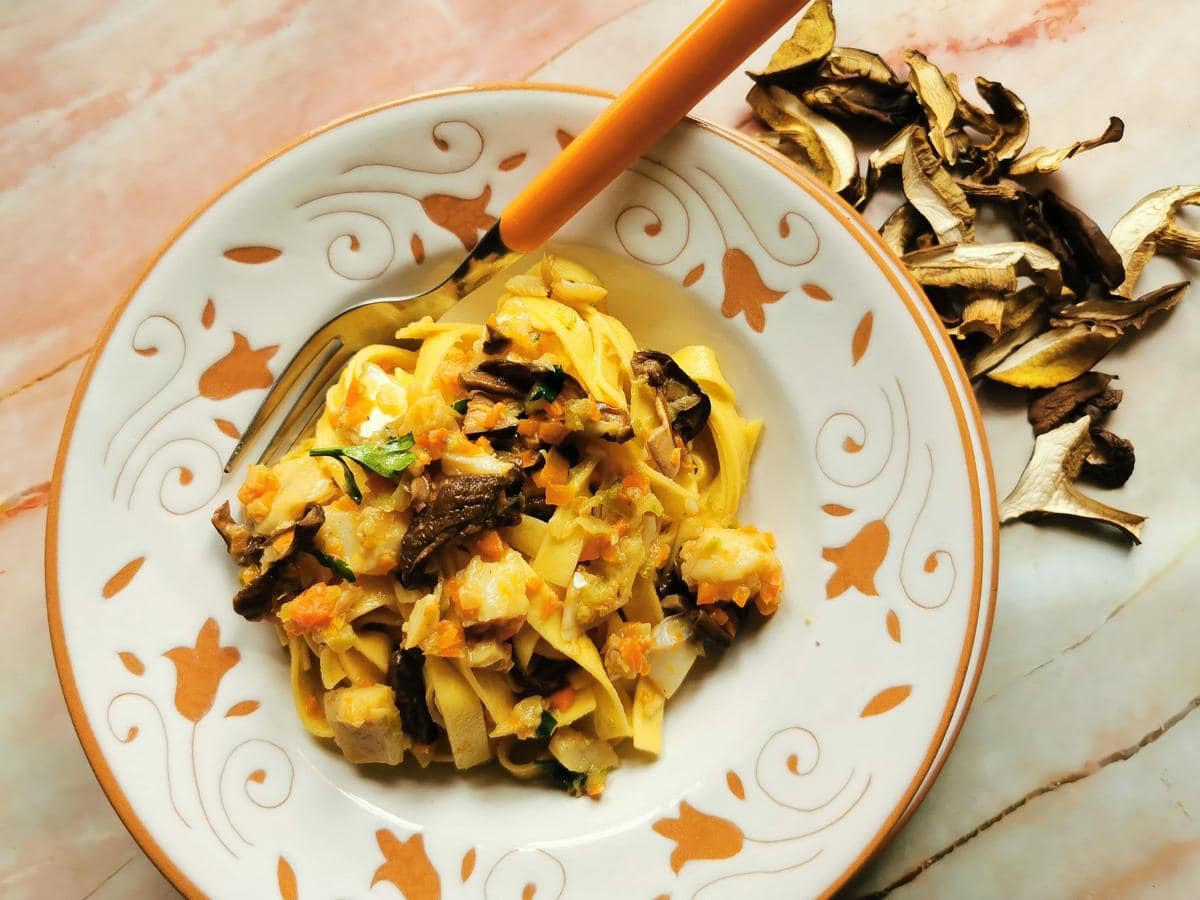 Salt cod or baccalà is very traditional in Italy, particularly at Christmas and on days of abstinence. Every region has its own salt cod recipes. This one from Abruzzo pairs baccalà with porcini mushrooms, such a delicious combo!
Apart from the cod and mushrooms the sauce has cloves, lemon zest nutmeg and wine. All these ingredients combine to give this dish a really special, unique and rich flavour. This is a super recipe for Lent and other meatless days.
Such a special dish! It made a beautiful presentation and was so flavorful. Even my kids liked it! Tristen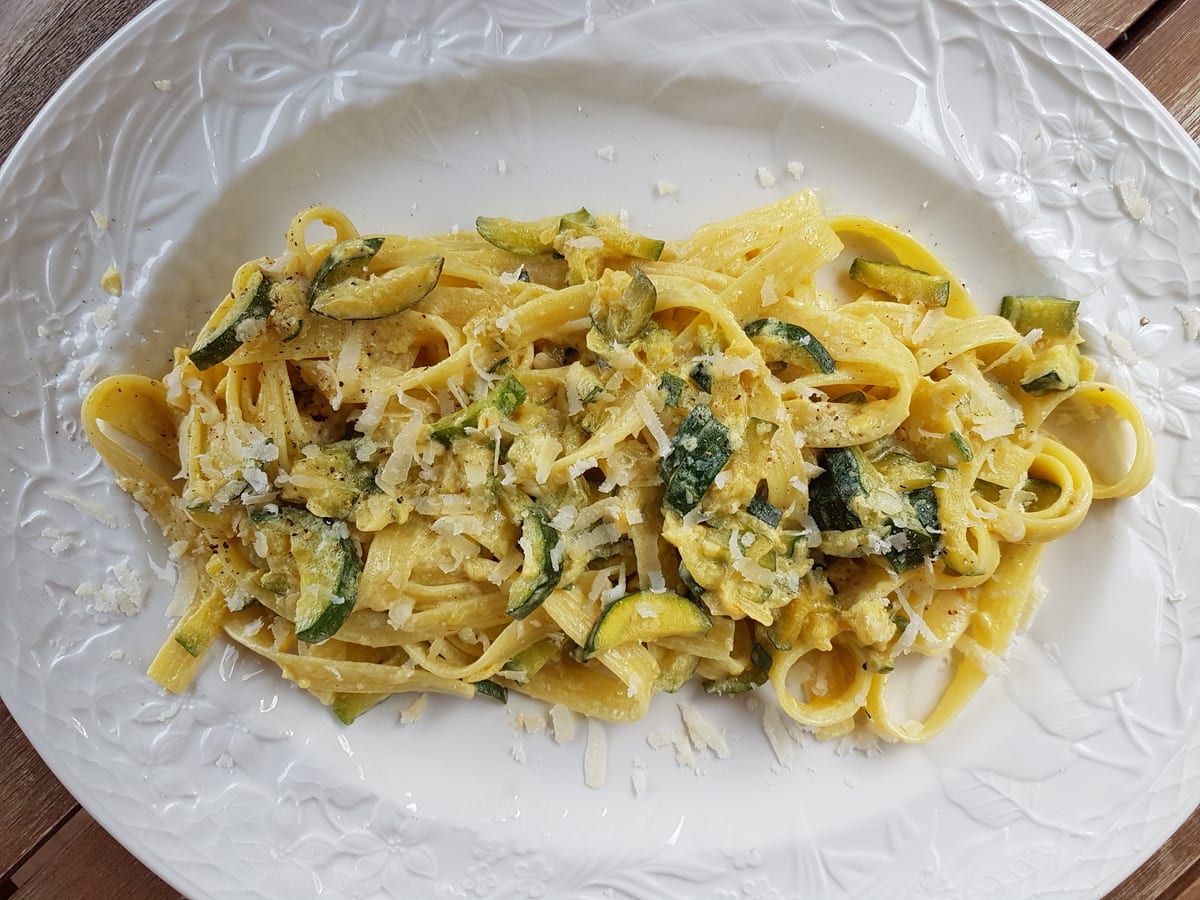 There are many Italian recipes that include saffron, particularly in regions where saffron is cultivated. Known as Navelli saffron or L'Aquila saffron, saffron from Abruzzo is considered one of the very best in the world. Saffron has been cultivated in this region since the 14th century, so there are many recipes with it.
This pasta with saffron and zucchini recipe is easy to prepare. It has just a few ingredients, basically pasta, zucchini, saffron, onion, cheese and cream. This recipe is bound to impress your guests, not only because of how tasty it is, but also because the golden colour the saffron produces makes it look so very elegant.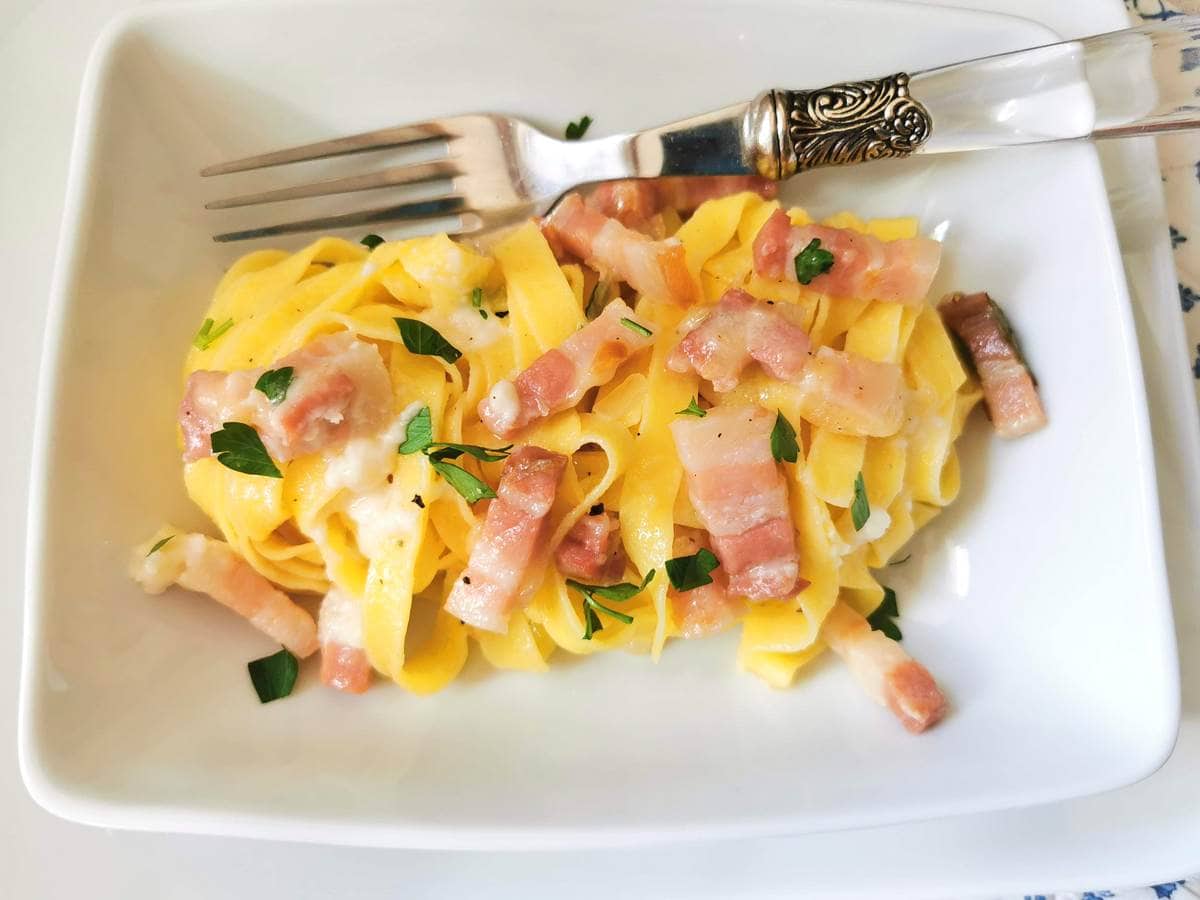 Italians love pancetta and there are a lot of recipes with it. This Italian version of bacon is grilled on the BBQ, added to charcuterie boards, used in sandwiches, and added for extra flavour to pot roasts, soups and stews. But, its most popular usage is in pasta recipes, of which there are lots!
This fettuccine all'Abruzzese (Abruzzo style fettuccine) is one of my favourites. It's quick and easy to make and yet, really delicious. All you need is pancetta, pecorino, onion, parsley, basil and pasta!
This is another great dish that works so well with gluten-free pasta! Thank you, I love the salty pancetta with the noodles. Chandice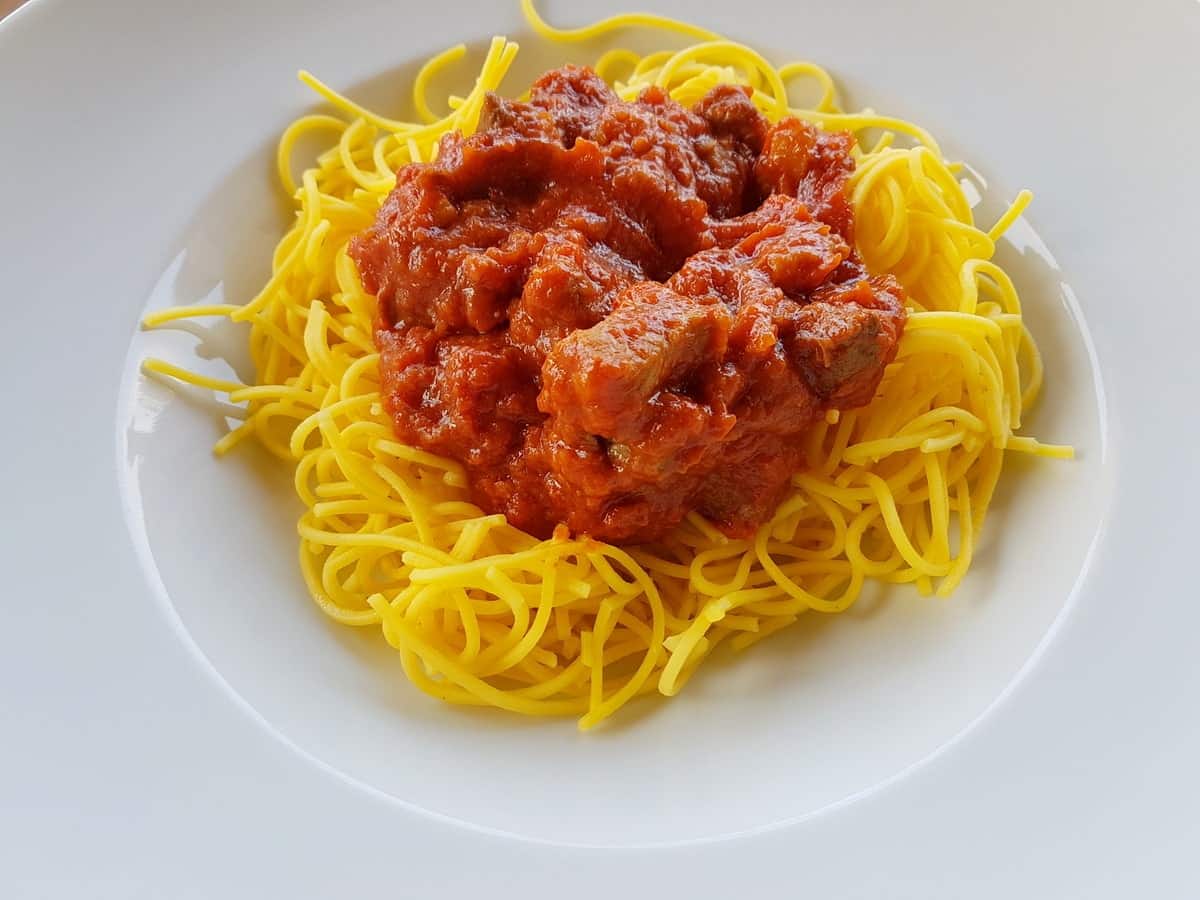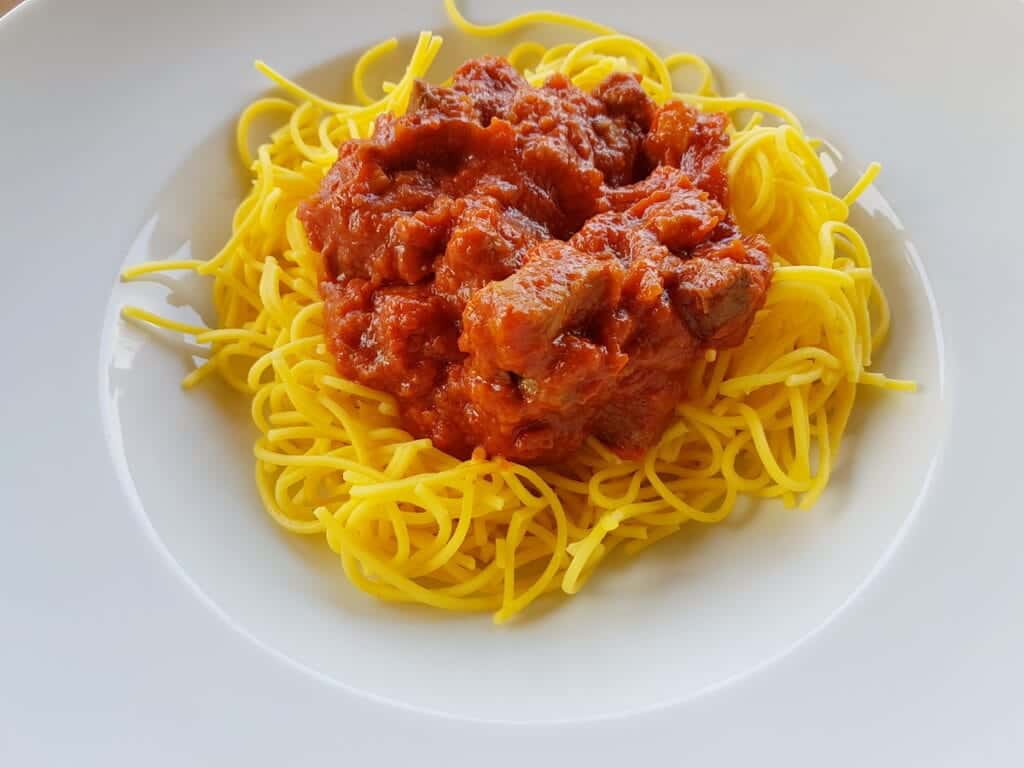 This 4 meat ragu recipe is really perfect for special occasions or just when you want to feed your family a one plate hearty and warming meal. I used lamb, veal, beef and pancetta but you can also make this ragu with pork sausage meat instead of the pancetta.
Spaghetti alla chitarra is probably the most well-known of pasta types from Abruzzo. This square cut spaghetti is traditionally made with a tool called a chitarra (guitar), hence the name! Of course, you can use normal spaghetti instead.
Pin for later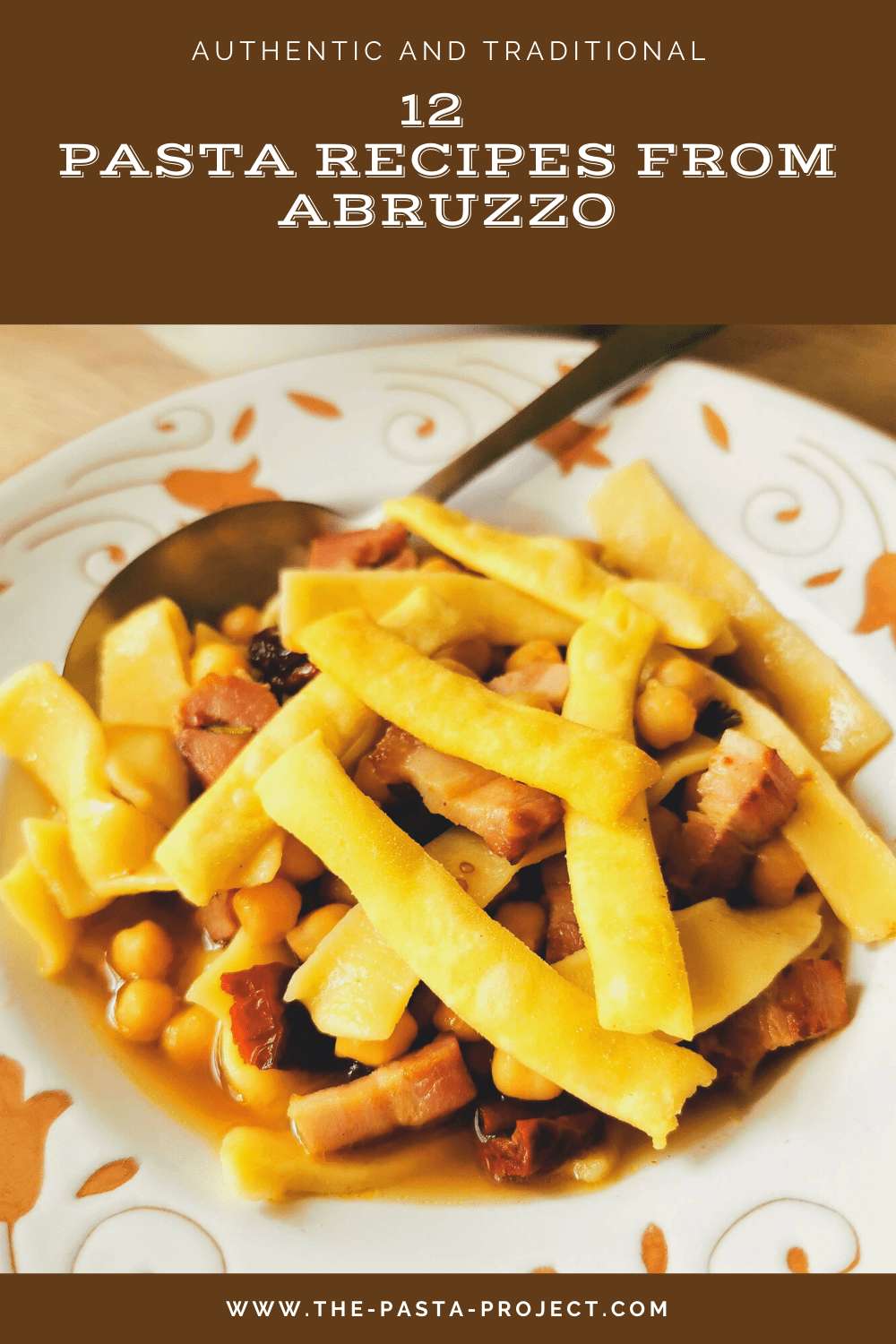 LET ME KNOW WHAT YOU THINK.
If you do try any of these 12 pasta recipes from Abruzzo, I'd love to hear what you think. Please write a comment here on the blog or post a comment on the Pasta Project Facebook page.
Your feedback means a lot to me!
Buon Appetito!
If you are interested in learning how to make other types of homemade pasta and different types of gnocchi, check out my shop page for some great video online courses from my friends in Rome! Nothing beats learning to make pasta from Italians! Plus while you're there why not order a copy of one of my pasta recipe cookbooks or checkout some recommended pasta making tools? All great prezzies for pasta lovers!