Baked Fazzoletti Pasta from Abruzzo (fregnacce Abruzzesi).
Known as fregnacce Abruzzesi, this yummy baked fazzoletti pasta recipe from the Teramo province in Abruzzo is made with handkerchief pasta squares filled with a meat and sausage ragu. This is a delicious alternative to classic lasagna and a great way to use homemade lasagne sheets.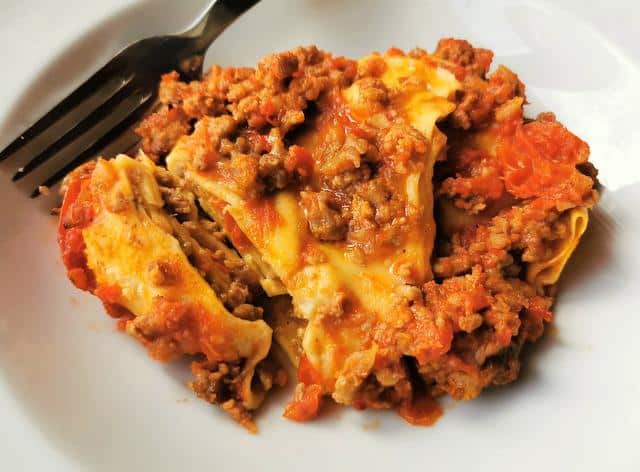 What does fregnacce mean?
The word 'fregnaccia', in the Abruzzo dialect, means more or less a 'nonsense', something simple and undemanding. Today, in the world of fast and convenience food that we live in, this baked fazzoletti may not seem simple. But, to the farming families of the past, this was a recipe they made with every day ingredients.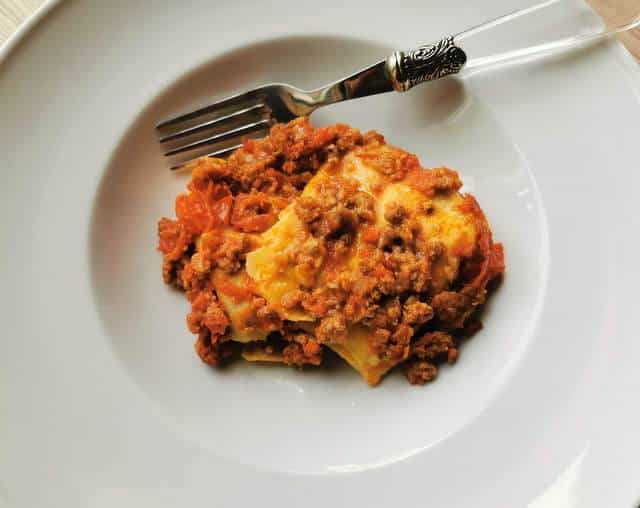 Their pasta was always homemade. Many had their own chickens or got eggs from a neighbour who did. Or they made their pasta with durum wheat flour and water. Most farming families produced their own sausages and slaughtered their own livestock for meat. Nowadays, of course, this isn't really the case even though Abruzzo remains a region with a lot of farmers and shepherds.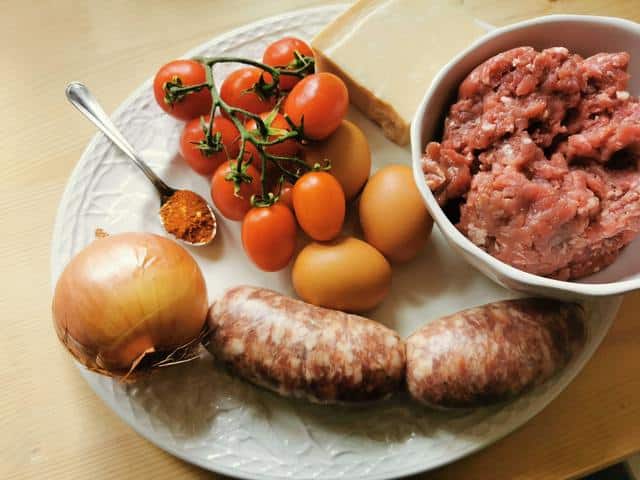 However, fregnacce Abruzzesi is still a very popular dish, especially for Sunday lunch and family get-togethers. And, although Italians now buy most their ground meat and sausages from the local butcher or supermarket, fregnacce still need to be homemade.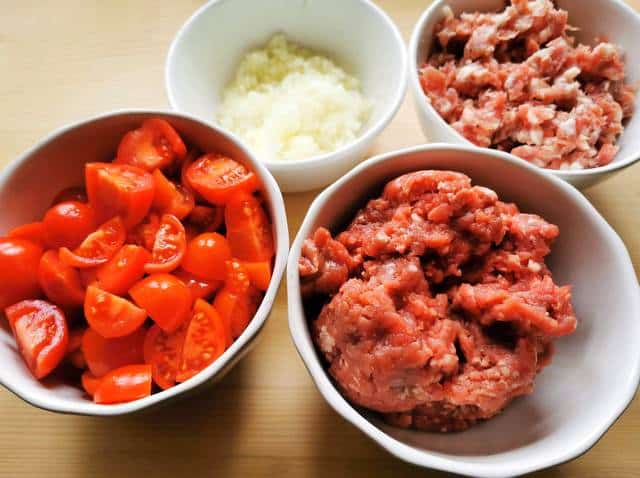 What is fregnacce pasta?
There are two types of pasta called fregnacce in Italy. One is a kind of rumboid strip or maltagliati from Marche and parts of Lazio made with durum wheat flour and water.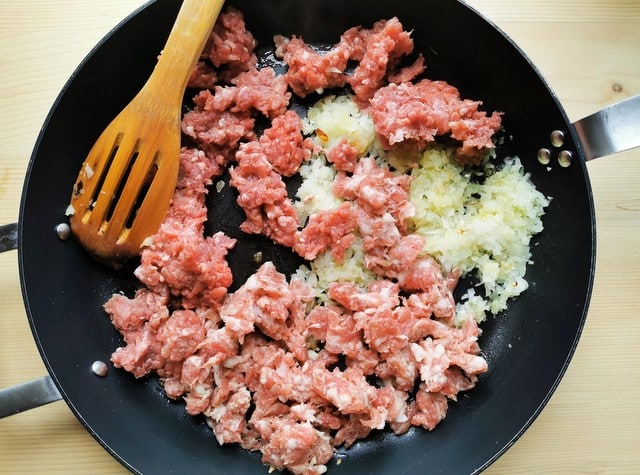 The other is the pasta used in this recipe. This kind of fregnacce is actually a type of fazzoletti or handkerchief pasta. In other words, square sheets of egg pasta made in the same way as lasagna noodles.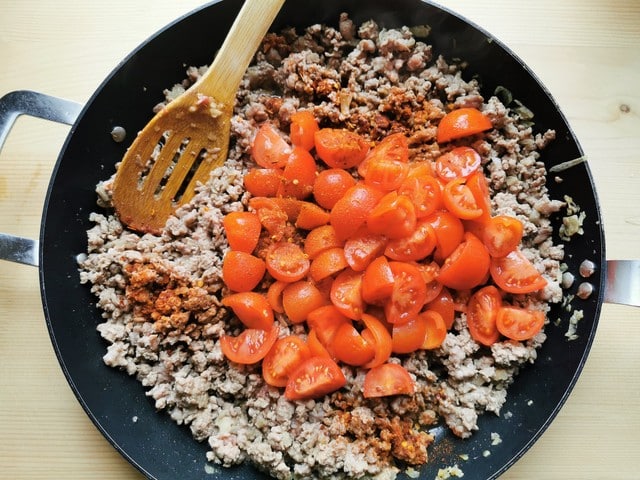 The only other traditional recipe I know for handkerchief pasta is fazzoletti with pesto (mandilli de sea) from Liguria. In that recipe, fresh pasta squares are served with basil pesto and often potatoes and green beans, like in this recipe for corzetti! Although I have made the version with corzetti pasta, I want to make it with fazzoletti too!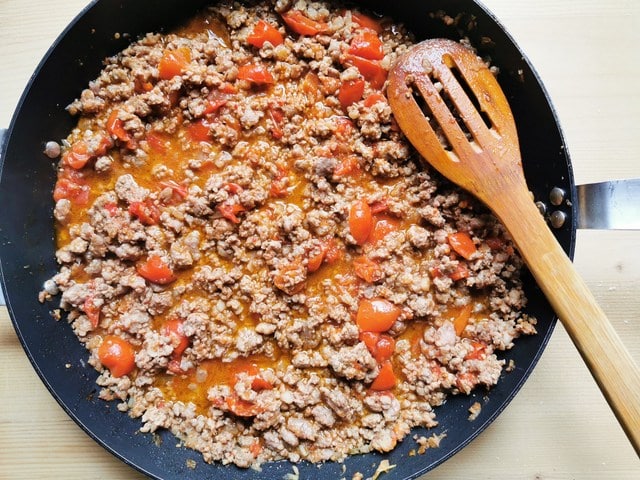 How to make fregnacce.
Fregnacce from Abruzzo are simple to make. Just follow my recipe for homemade lasagne sheets. But, cut the pasta into squares instead of rectangular.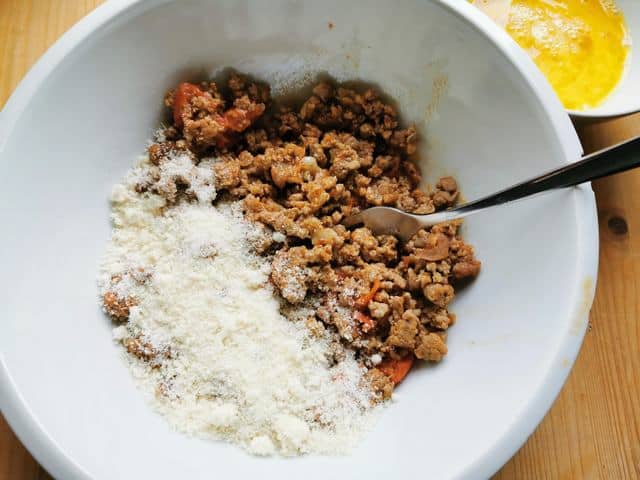 For this baked fazzoletti recipe I used 400g (14oz) of Italian '00' soft wheat flour and 4 eggs. So that's 100g of flour per egg. Each pasta square is about 16-18cm square (6 to 7 ins). I passed the dough through my pasta machine. However, I had to roll it out thinner to get the right size and thickness.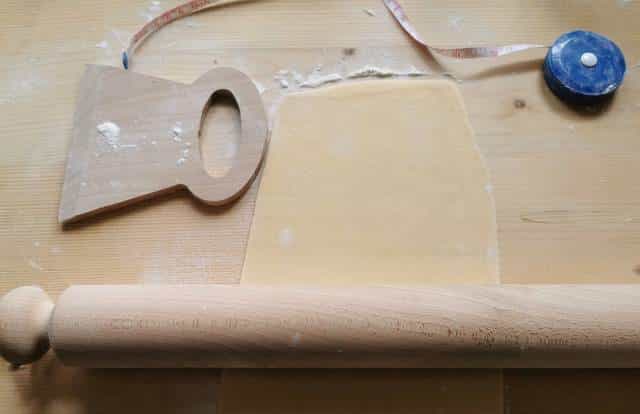 When cooking the handkerchief pasta, you have two possible methods. If your pasta isn't super thin, blanch it first in boiling salted water. If you can get it thin enough that you can see your fingers through it, then you can let it cook in the sauce!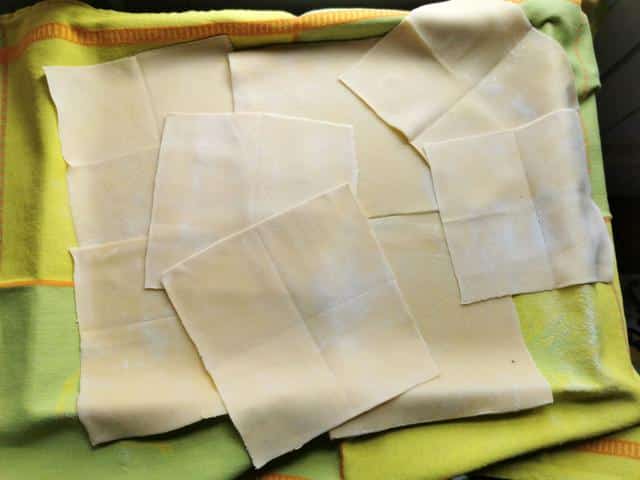 I have made this baked fazzoletti pasta two ways, with ready-made fresh lasagne sheets, which I blanched before, and homemade handkerchief pasta squares which I didn't parboil.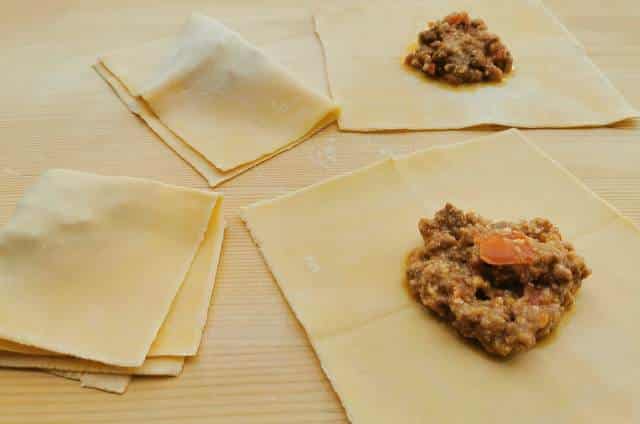 The ragu.
Fregnacce Abruzzesi calls for a ragu made with ground beef and sausage meat. I used a mix of ground pork and beef. But you can use just beef or veal. The sausages were just plain Italian pork sausages without added herbs.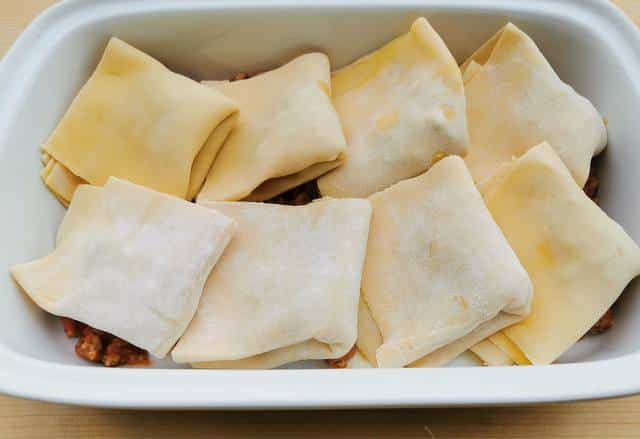 The ragu serves for the fazzoletti filling and to cover the pasta, like in lasagna. After making the ragu, you need to separate it into two portions. The half that is used for the filling has eggs and cheese added to it.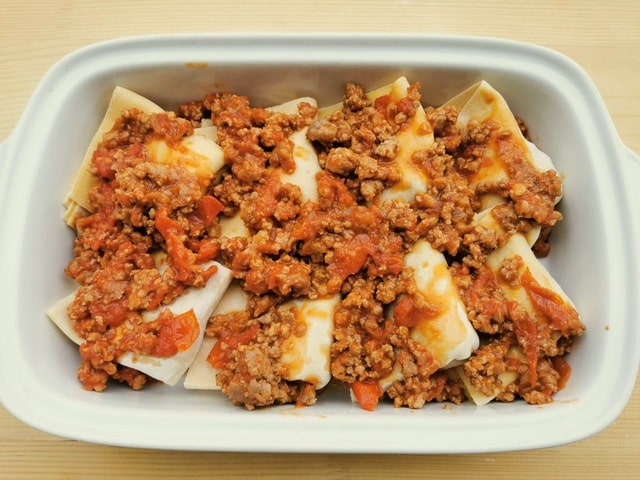 Other ingredients in this baked fazzoletti pasta.
Apart from the pasta, ground meat and sausage, you only need an onion, red chili pepper (peperoncino) and some grated Pecorino cheese to make this recipe. So, in reality, this is a pretty simple sauce or as the people of Abruzzo say, it is a 'fregnaccia'!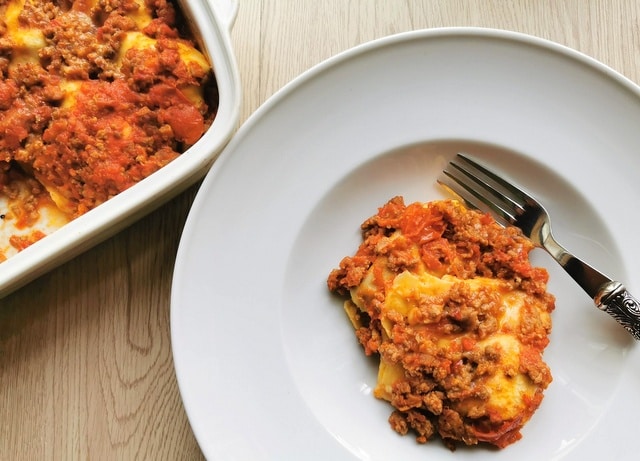 This baked fazzoletti is one of my favorite pasta recipes from Abruzzo, I'd love to hear what you think. Please write a comment here on the blog or post a comment on the Pasta Project Facebook page.
Your feedback means a lot to me!
Buon Appetito!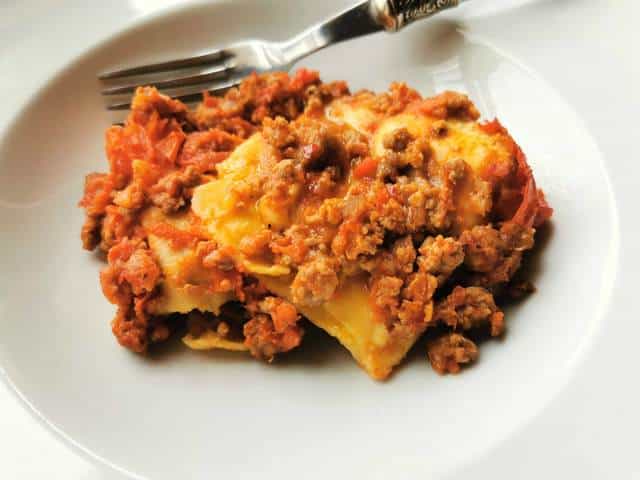 Other Pasta Recipes from Abruzzo
Save this recipe for later?
If you want to save this recipe for later, you can print it, bookmark this page or save it to Pinterest.
Pin for later.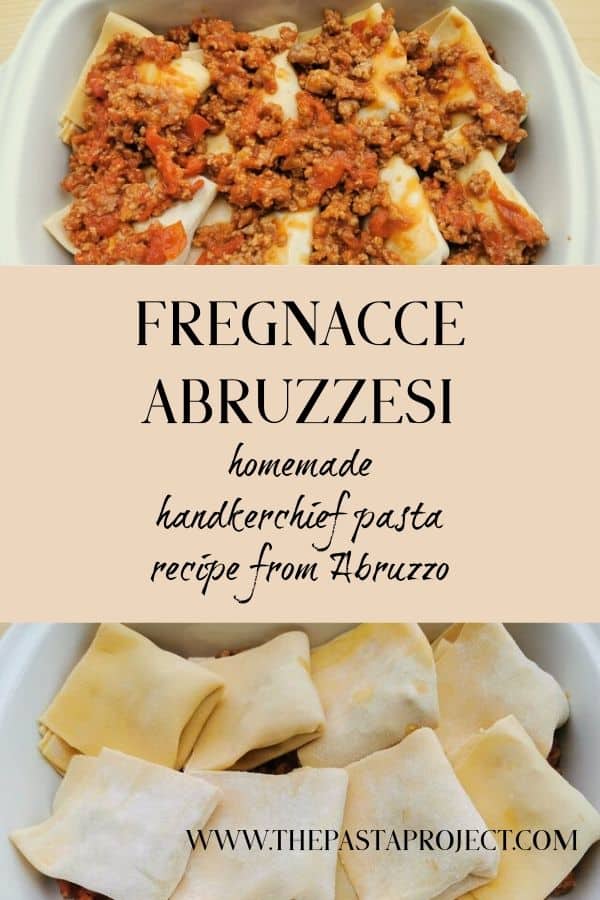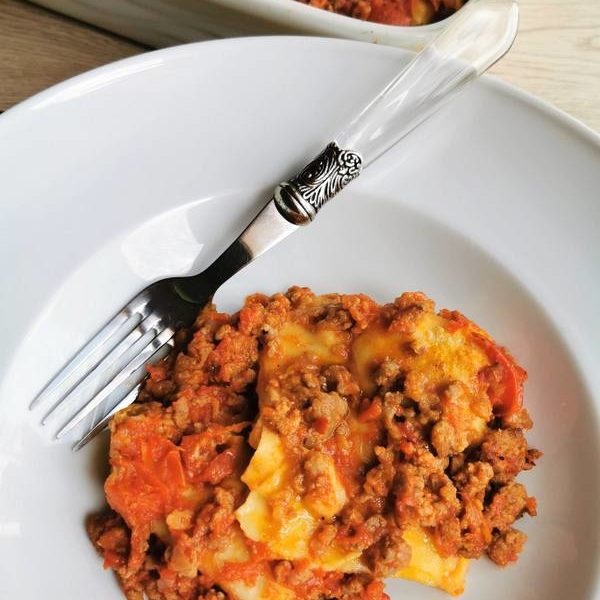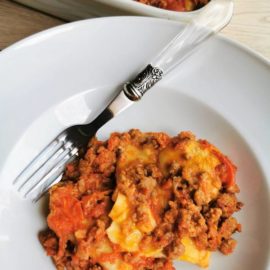 Baked Fazzoletti Pasta from Abruzzo (fregnacce Abruzzesi)
This traditional baked fazzoletti pasta recipe from Abruzzo is a fabulous alternative to lasagna. It's made with homemade handkerchief pasta squares and beef and sausage ragu. An authentic Italian pasta recipe that all the family will love.
Ingredients
Ingredients for pasta
400

g

Italian '00' flour

(14oz) or all purpose flour

4

eggs

1

pinch

salt
Ingredients for ragu and filling
400

g

minced/ground beef

(14oz) or a mix of pork and beef

2-3

Italian pork sausages

depending on the size

400

g

mature small tomatoes

(14oz) or peeled tomatoes

1

onion

peeled and finely chopped

1-2

eggs

depending on size

150

g

Pecorino Romano

(5oz) grated

200

g

tomato passata

(7oz)

1/2

fresh peperoncino (red chili pepper)

or 1 tsp red chili flakes

3-4

tbsp

extra virgin olive oil.

salt

to taste

freshly ground black pepper.

to taste
Instructions
Start making the pasta.
Sift the flour onto a pastry board, make a well in the middle, add a pinch of salt and break the eggs into it. Beat the eggs with a fork and slowly bring the flour into the centre and then knead the dough for about 10 minutes until it is smooth and compact. Roll the dough into a ball and cover it with a tea towel or in plastic wrap and let it rest for 30 minutes. You can also start mixing the dough in a bowl or stand mixer. However, when I do this, I usually turn it out onto a wooden board and finish kneading there anyway.
Start making the ragu.
Peel and thinly chop the onion. Remove the sausage meat from its casing and chop into small pieces. If using fresh small tomatoes, cut them into halves or quarters. If using a fresh chili, remove the seeds and chop into small pieces.

In a heavy frying pan or skillet, cook the onion in the olive oil until it starts to get translucent. Add the sausage meat and ground beef. Mix well and leave to brown for 10 minutes. Add the tomatoes and the red chili pepper and simmer for 40 minutes on a low heat. Add salt and black pepper to taste.
Continue with the pasta.
In the meantime, divide the dough into quarters and roll each quarter out into a thin sheet of pasta. You can do this by hand or using a pasta machine. If using a pasta machine, your sheets may not be wide enough. You will need to roll them out more on a floured pastry board. Cut the dough sheets into squares of about 16-18 cm square. If you think your pasta squares are a bit thick then parboil them as described below. If they are very thin you can skip precooking them.

Put a pot of salted water on to boil for the pasta if you want to parboil your fregnacce. Add a little olive oil to prevent the fregnacce sticking together. Blanch the pasta, 3 squares at a time. Drain the squares with a slotted spoon and arrange them on a tea towel.
Make the filling.
Take half the meat sauce, put it in a bowl, let it cool and then add 1-2 eggs and 100 g of the grated pecorino (2/3rds) and mix well.
Finish the ragu.
Add the passata to the rest of the ragu and continue cooking it for another 10 minutes while you make the fregnacce.
Finish the fregnacce abruzzesi.
Place a small tablespoonful of filling on each square of pasta and fold it into four. (see photos in post) First in half and then half again.

Grease an oven dish with a little olive oil, spread a little of the remaining ragu on the bottom of the dish then make a layer of the filled and folded fregnacce, slightly overlapping each other. Cover with the remaining ragu, sprinkle with some grated pecorino and bake in a pre-heated oven at 180 ° C for 15-20 minutes.

Par-boiled pasta will cook faster. Fresh pasta may need a little longer.
Notes
I have made this recipe with ready-made fresh lasagne but I blanched them in boiling salted water as they tend to break when folded. You can also use dried lasagne sheets.These will also need to be blanched and then cut to make squares. If using either ready-made fresh or dried lasagne, your 'squares' will be smaller.So, use less filling. 
Nutrition
Calories:
1128
kcal
Carbohydrates:
89
g
Protein:
54
g
Fat:
60
g
Saturated Fat:
22
g
Polyunsaturated Fat:
5
g
Monounsaturated Fat:
28
g
Trans Fat:
1
g
Cholesterol:
347
mg
Sodium:
934
mg
Potassium:
1088
mg
Fiber:
5
g
Sugar:
7
g
Vitamin A:
1541
IU
Vitamin C:
22
mg
Calcium:
496
mg
Iron:
10
mg