Tuna Carbonara a contemporary Italian recipe.
This pasta with tuna carbonara was my first attempt at making a seafood carbonara. It's now a family favourite. Happily my hubby loves it too. In UK, tuna melt (tuna and cheese sandwich) is popular but in Italy, cheese and fish have long been considered incompatible. Until now that is!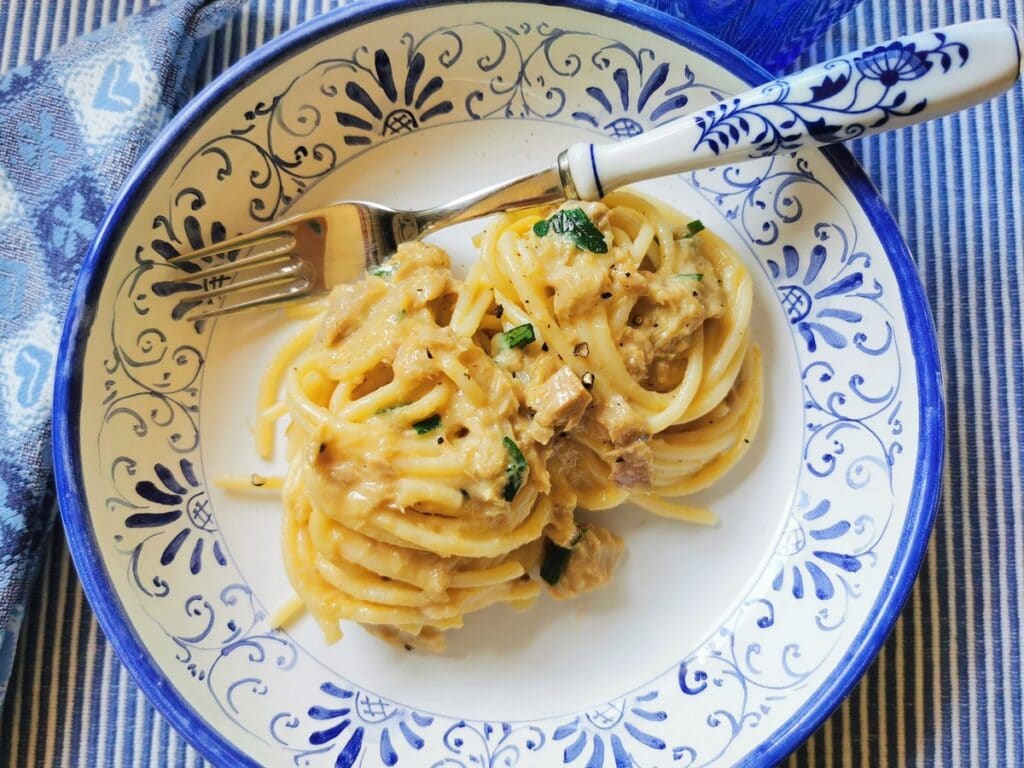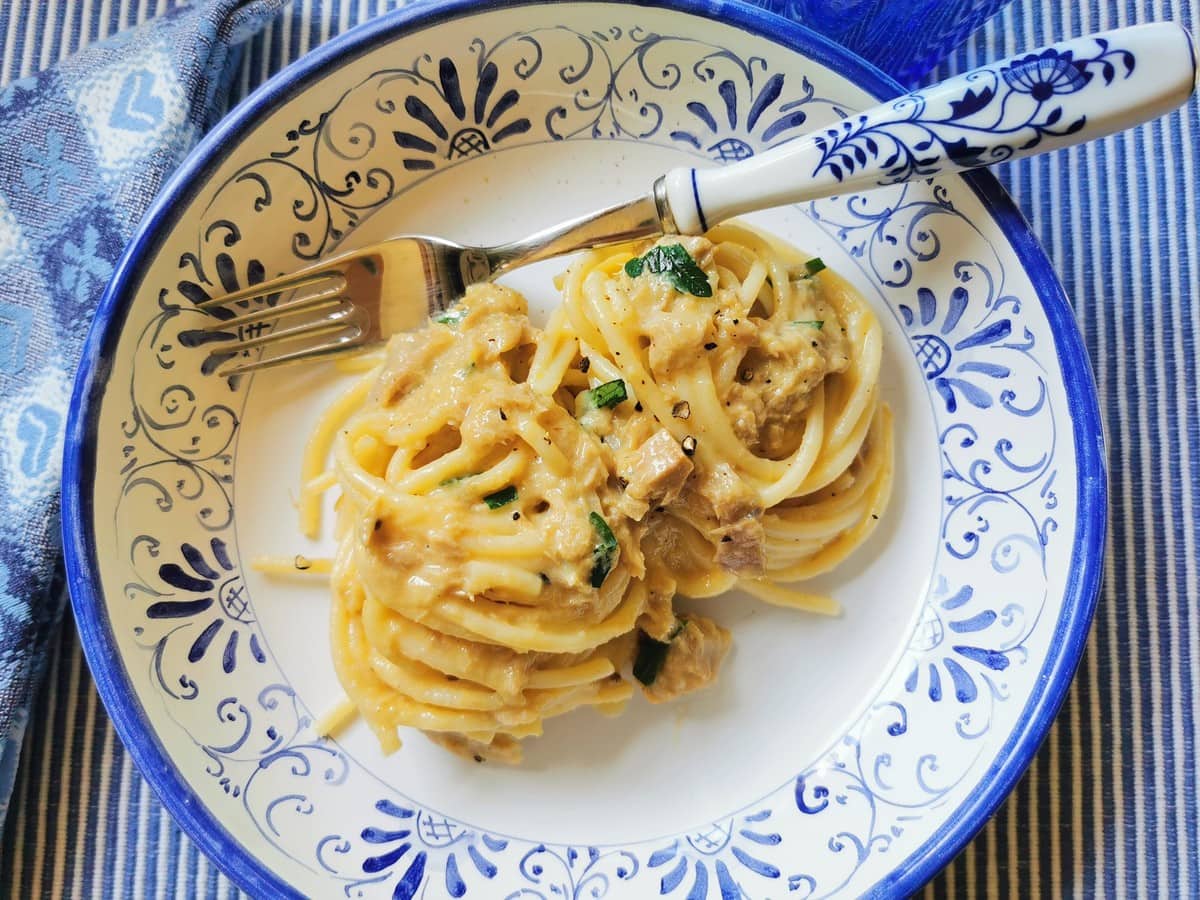 Whilst on holiday some time ago, I ate a seafood carbonara dish for the first time in a restaurant in Emilia-Romagna. The carbonara was made with calamari and bottarga. You can see that recipe on my post about the restaurant Dei Cantoni. I loved this dish! So, as a result started researching seafood carbonara recipes. It appears there are many.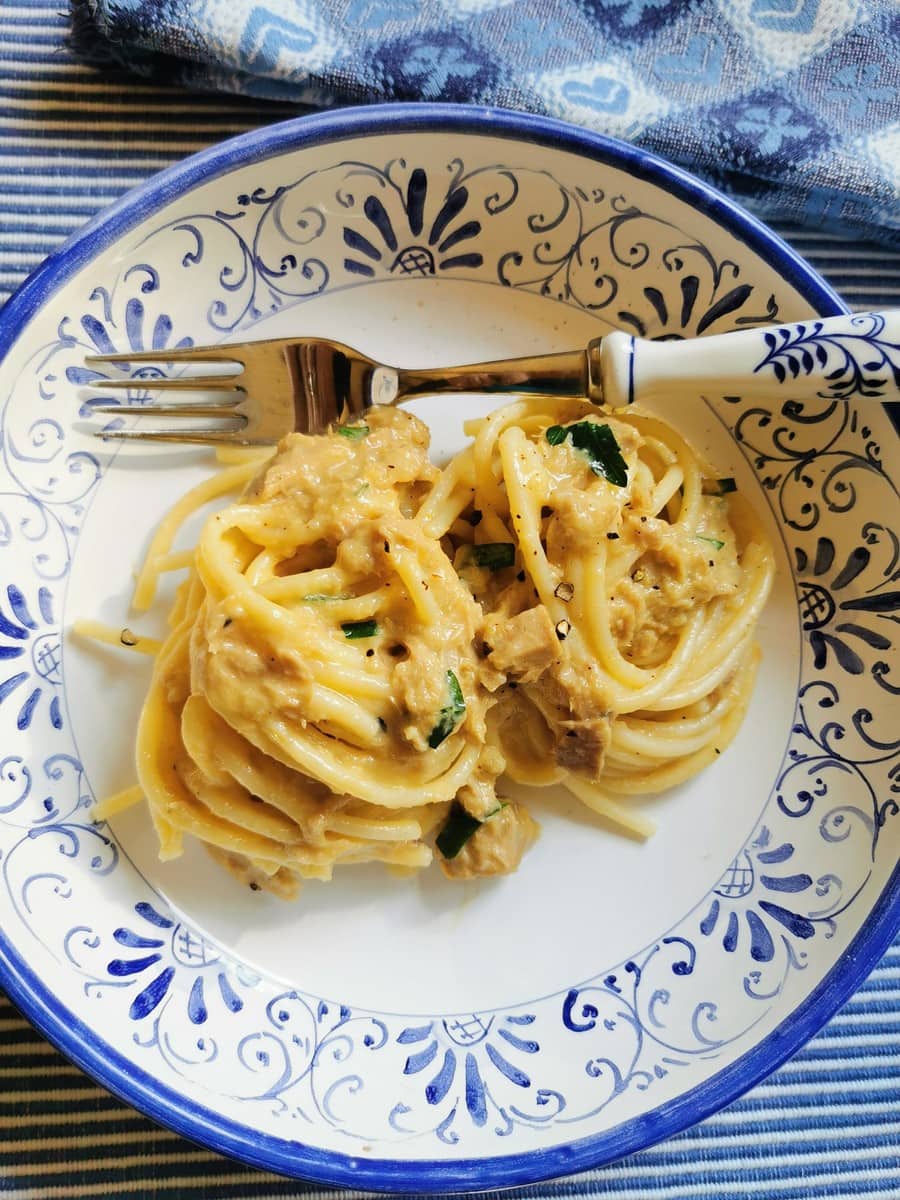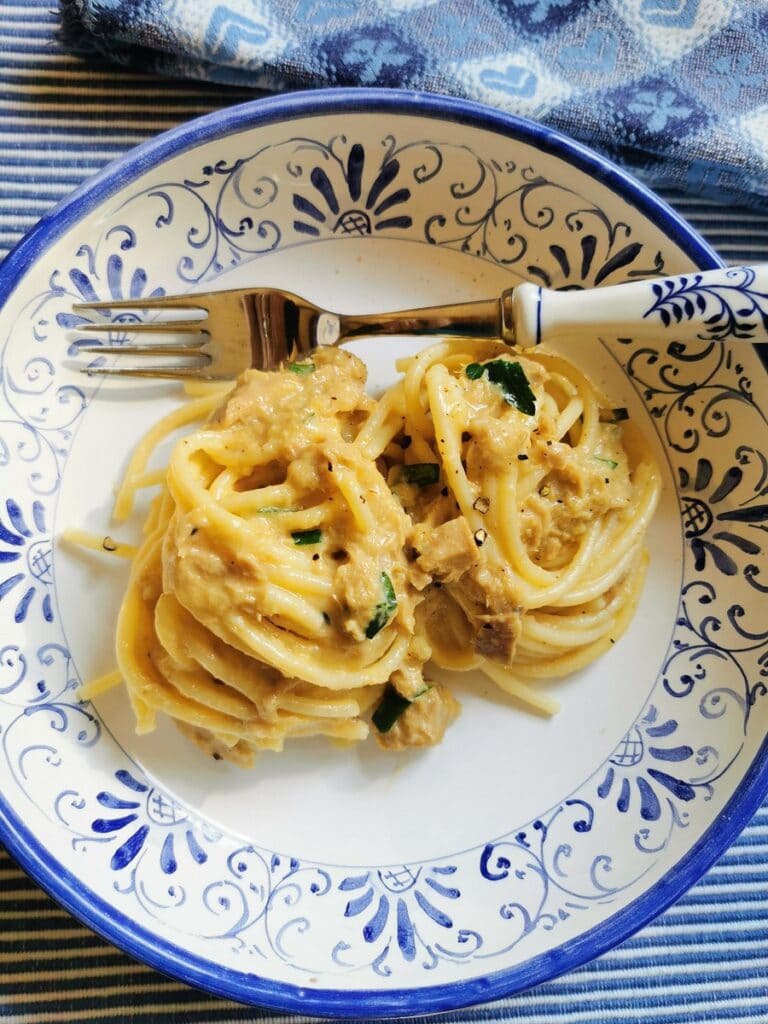 I've lived in Italy for a number of years and had never come across seafood carbonara before having it in that restaurant. However, given the number of recipes on Italian recipe and food blog sites, I guess it's been a trend for a while.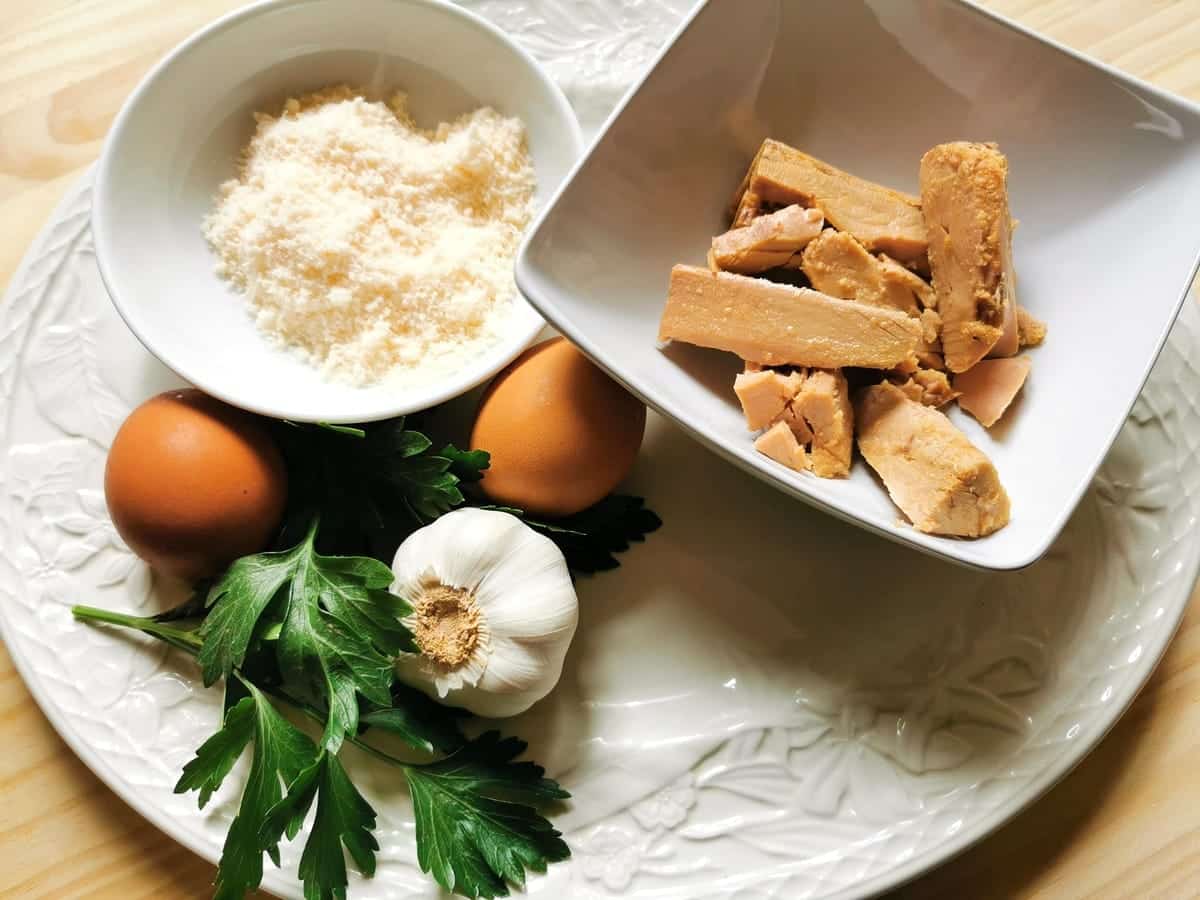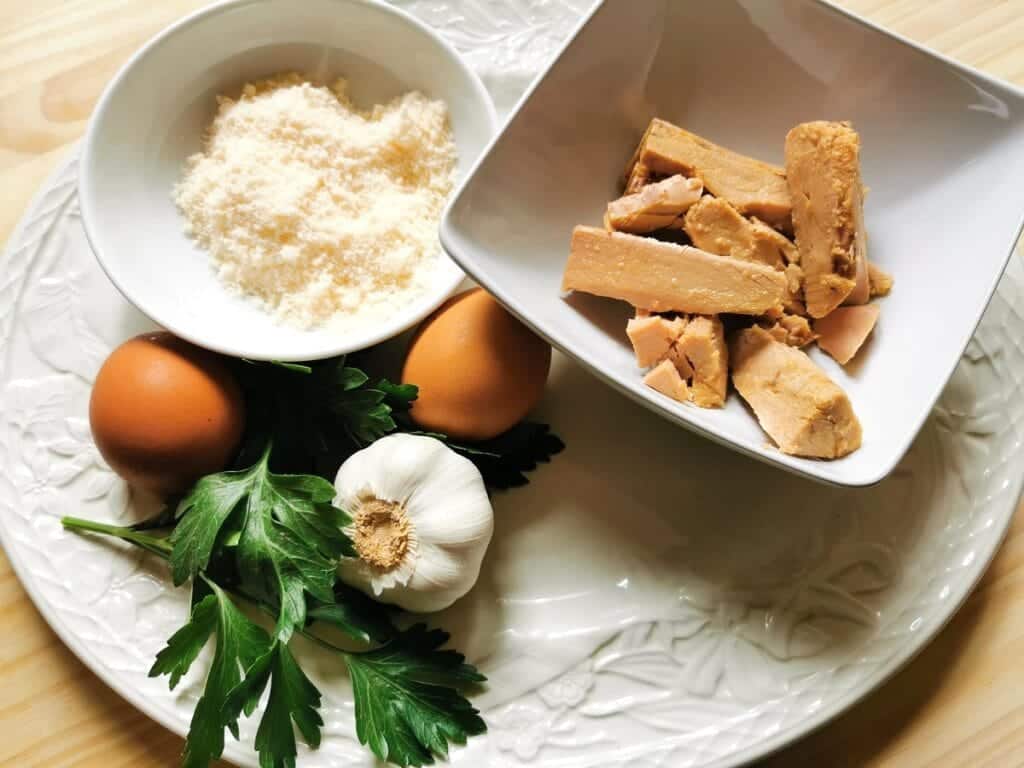 Seafood carbonara is a contemporary recipe.
It is well-known that many traditional Italian pasta recipes have been handed down from generation to generation and a lot of Italians still cook and eat what their grandmothers cooked for them. However, like all cuisines, Italian food is also obviously evolving and changing.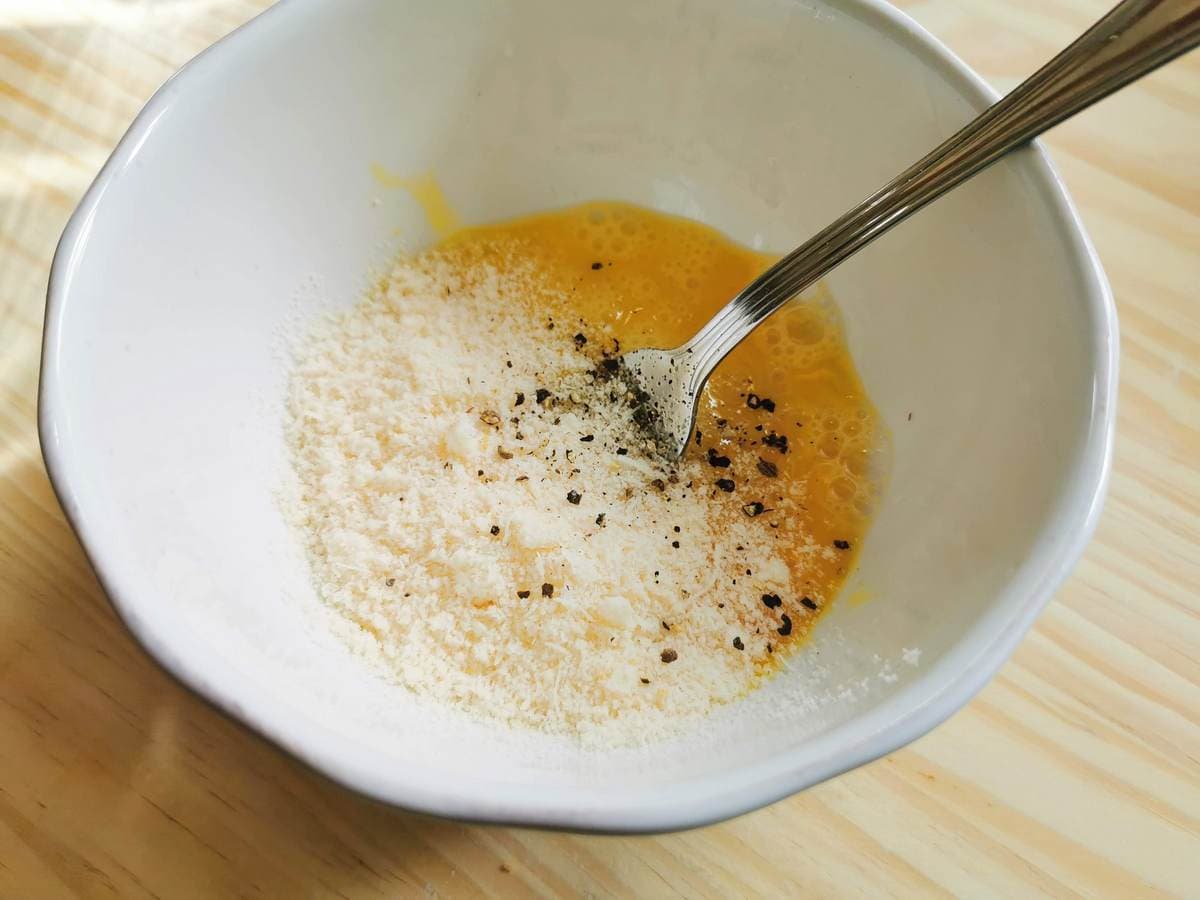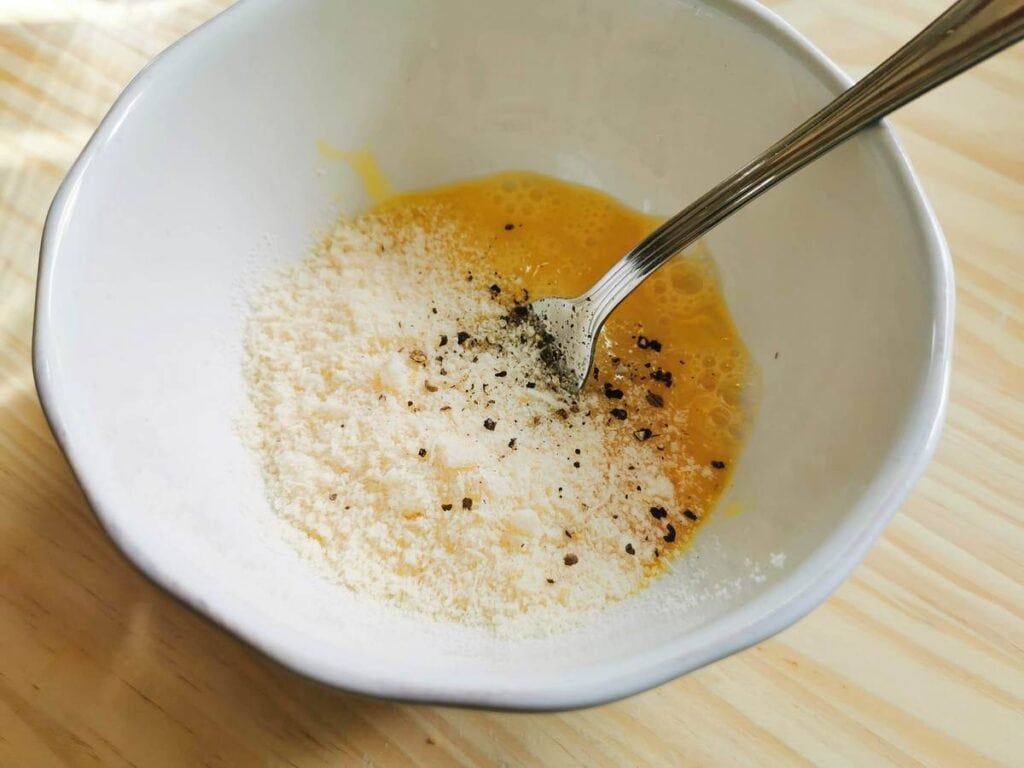 Traditionalists may find the inclusion of previously non-typical ingredients difficult to accept. But, given the fact that tomatoes only started to be used in Italian cuisine in the late 19th century, how long does it take for something to be classified as traditional?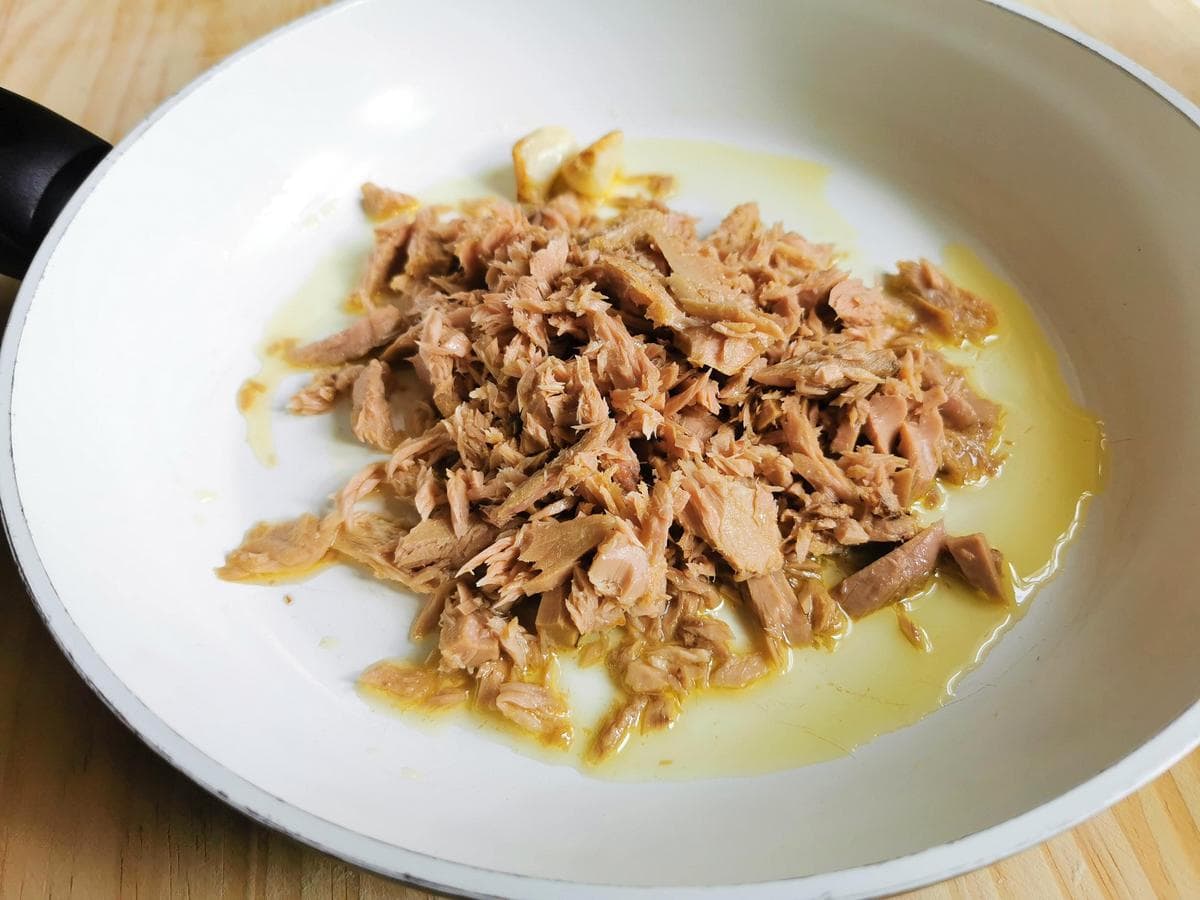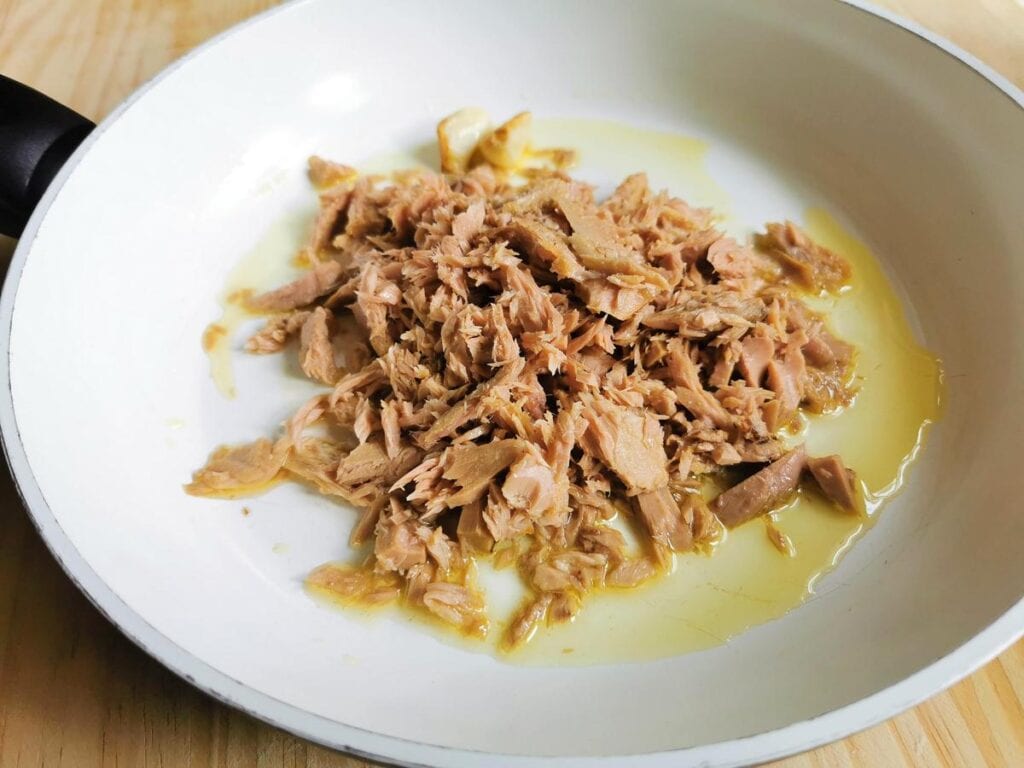 Italians are also quite famous for being rather inflexible when it comes to the ingredients they typically use together in a recipe. For example, cheese and seafood have long been a big no no on Italian tables.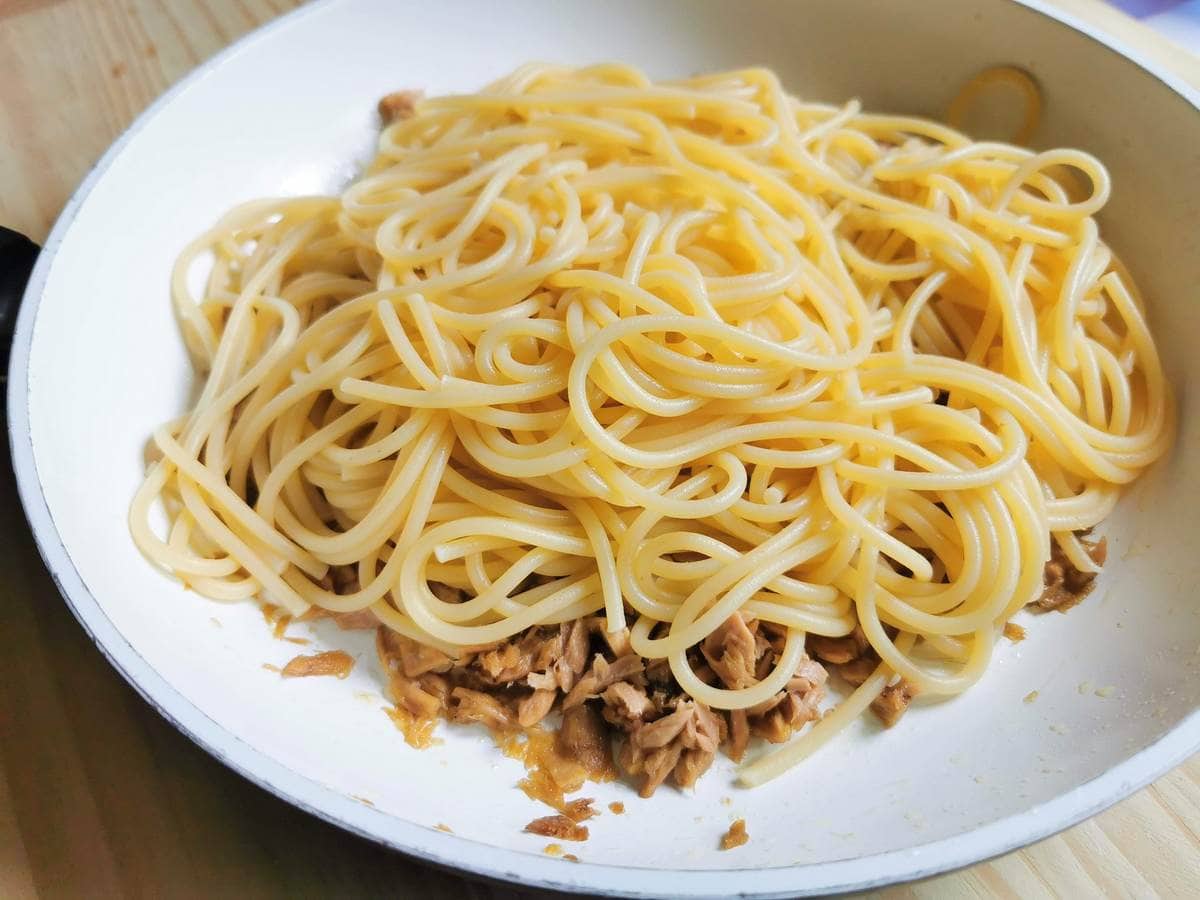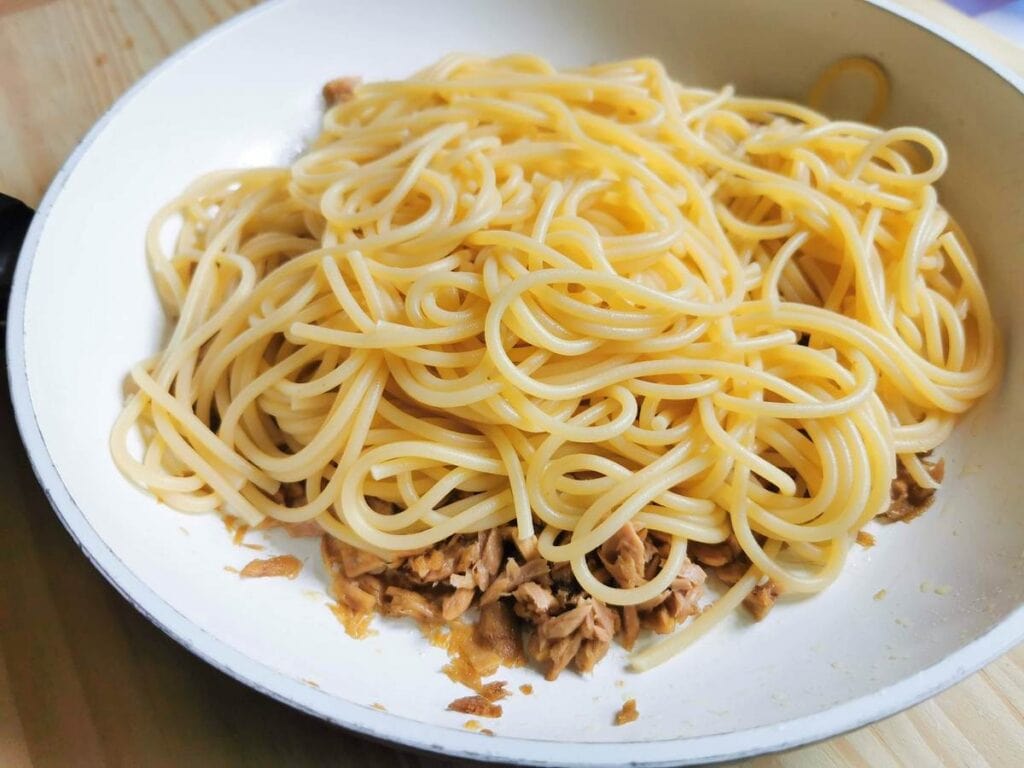 However, the basics of seafood carbonara are much the same as traditional carbonara. The sauce is made by using raw beaten eggs and grated cheese. Yes cheese! Some of these recipes also include pork cheek, along with the seafood. Others just contain fishy ingredients!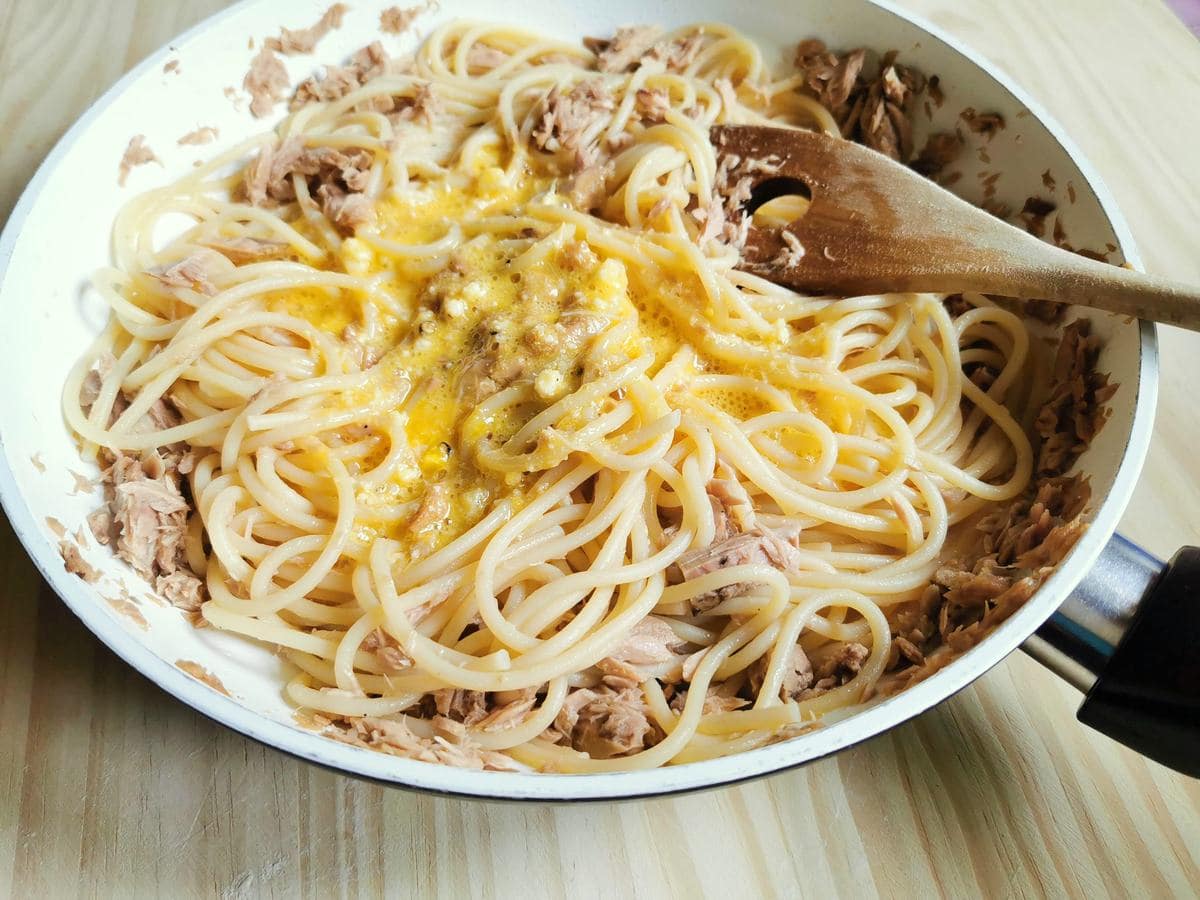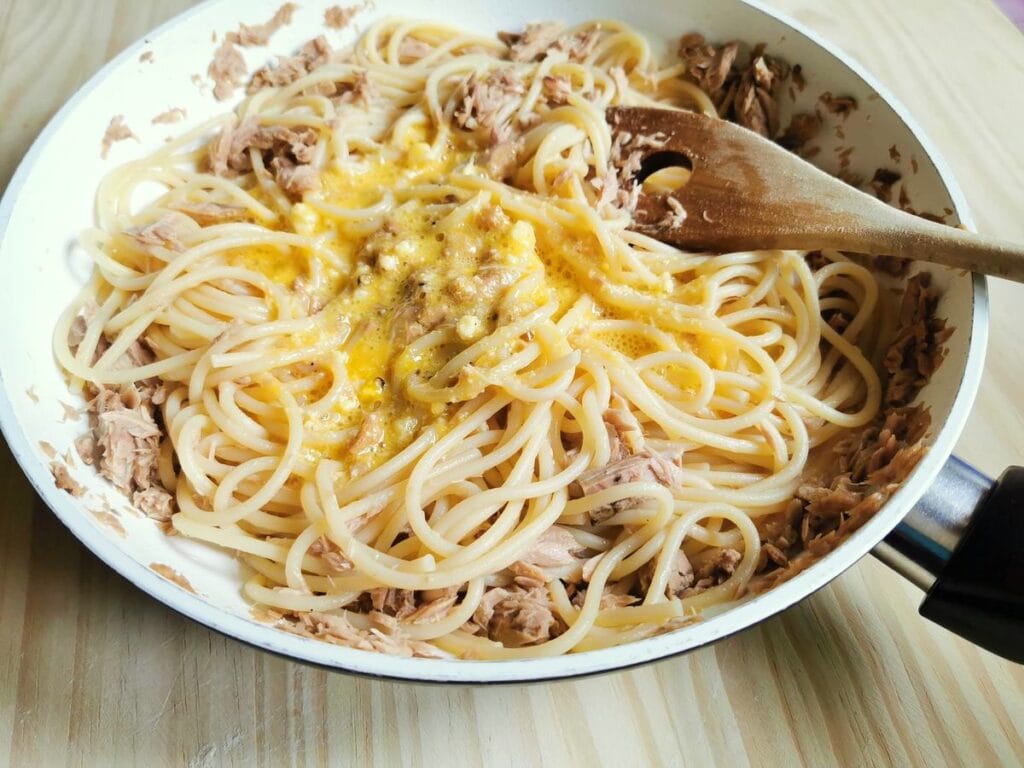 Carbonara di mare.
Italians call carbonara made with fish or seafood 'carbonara di mare'. This recipe for pasta with tuna carbonara is the simplest one I came across. I loved the fact that even though it is so quick and easy to make, it tastes amazing. I'm dying to try some more complex carbonara di mare recipes, but this one was a good start!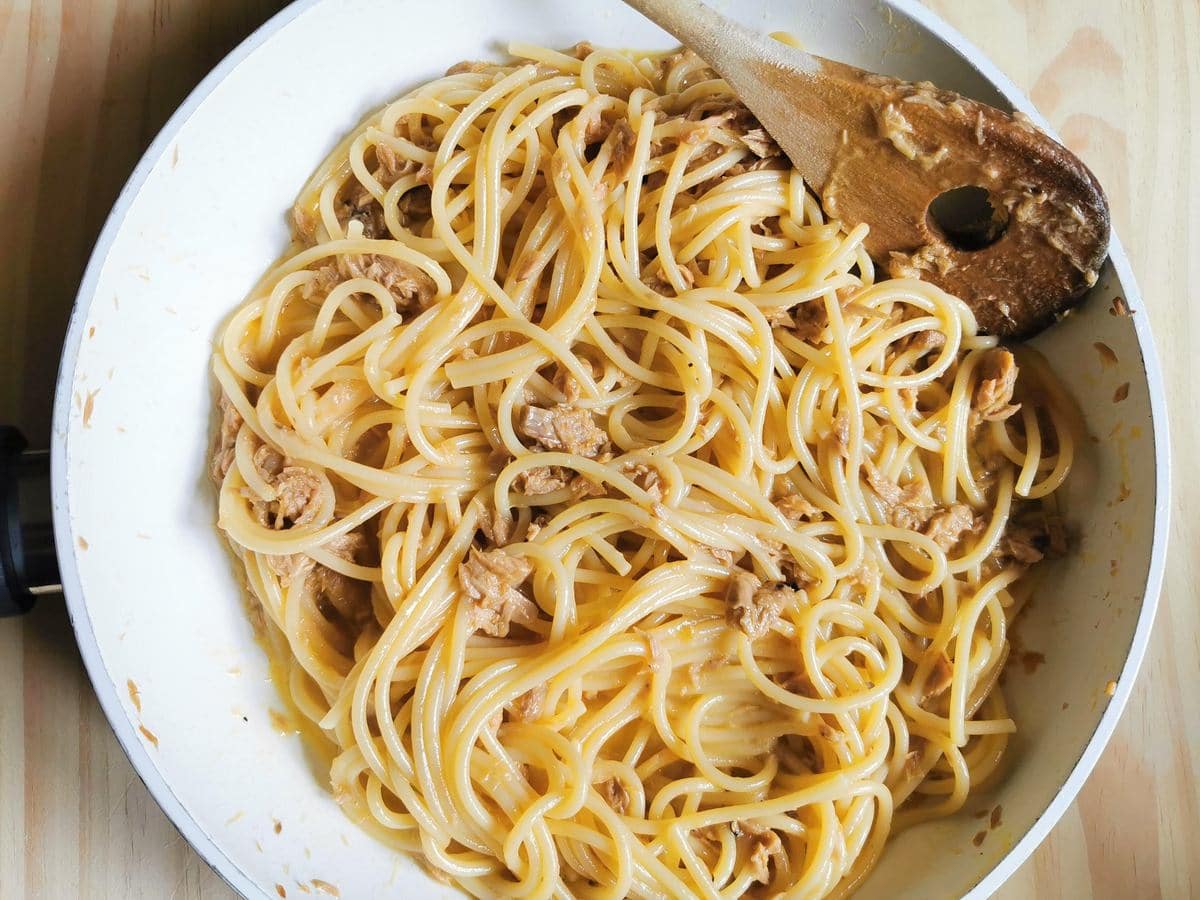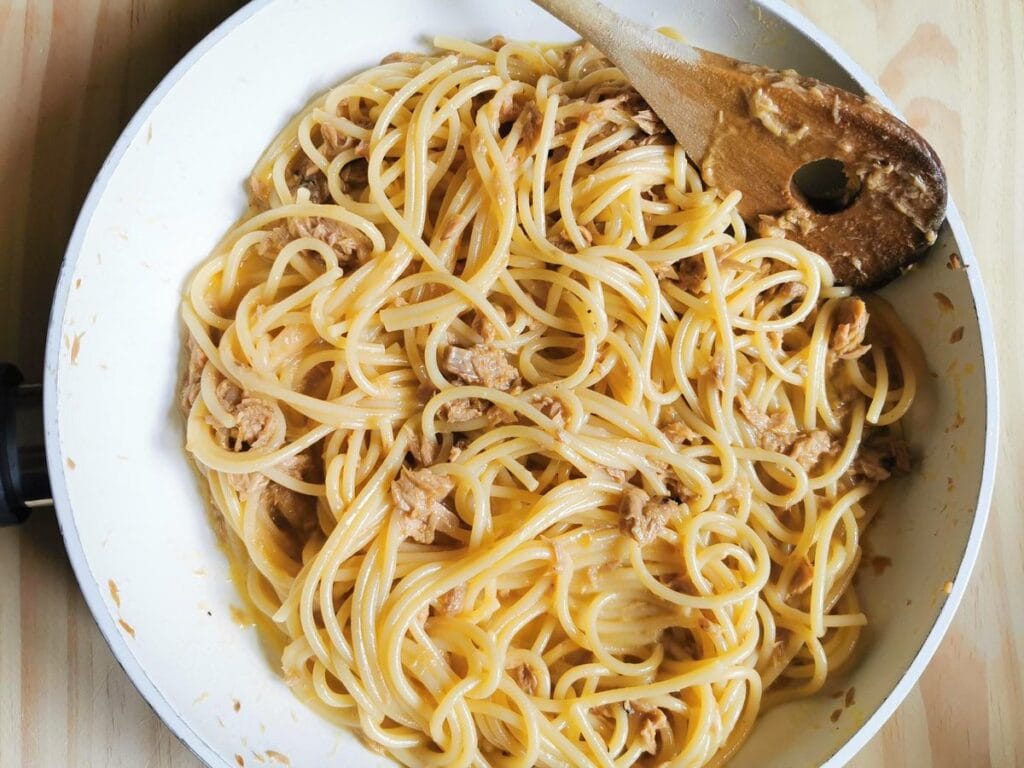 Obviously, like many simple recipes, the quality of ingredients for this pasta with tuna carbonara make a difference. If possible, it's better to use tuna fillet rather than normal canned tuna. Freshly grated parmigiano is preferable to the packet stuff and the olive oil should really be extra virgin.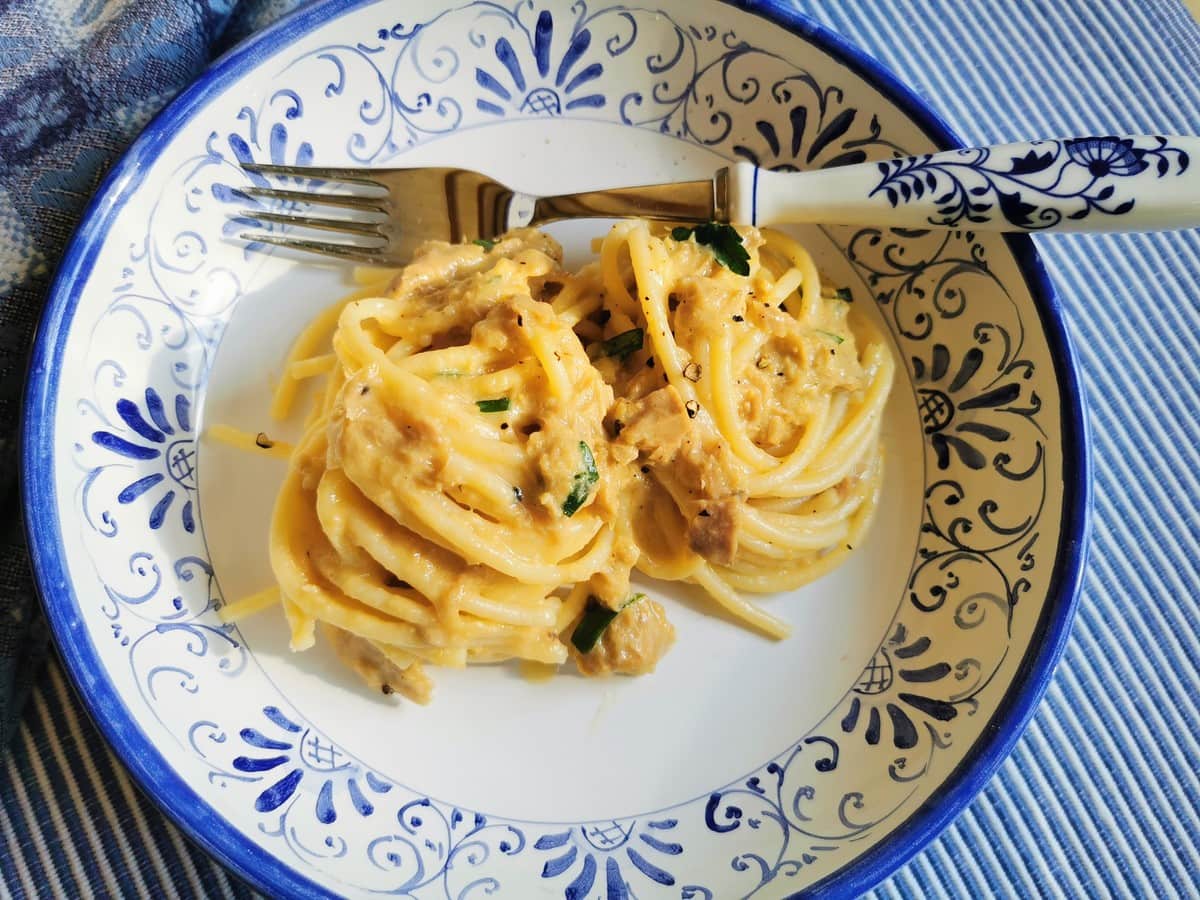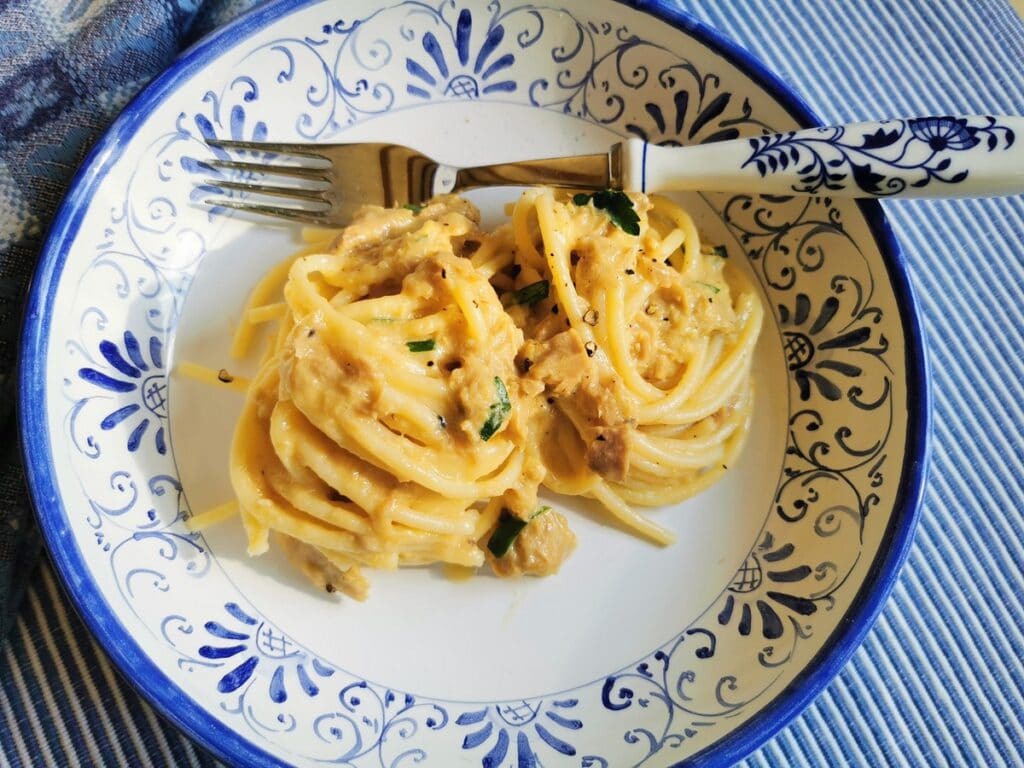 The pasta for tuna carbonara.
You can use just about any pasta for this tuna carbonara. I used chitarrini (spaghetti alla chitarra) which I had brought back with me from Abruzzo because the recipe, I based this one on, came from an Abruzzo recipe site.
Whichever pasta you use, I'm sure you'll love this dish, not only for the taste but also because it's a great go-to recipe which can be made with ingredients many of us usually have in the larder.
If you do try this recipe, I'd love to hear what you think. Please write a comment here on the blog or post a comment on the Pasta Project Facebook page.
Your feedback means a lot to me!
Buon appetito!
Other pasta with canned tuna recipes.
Other carbonara recipes.
Save this recipe for later?
If you want to save this recipe for later, you can print it, bookmark this page or save it to Pinterest.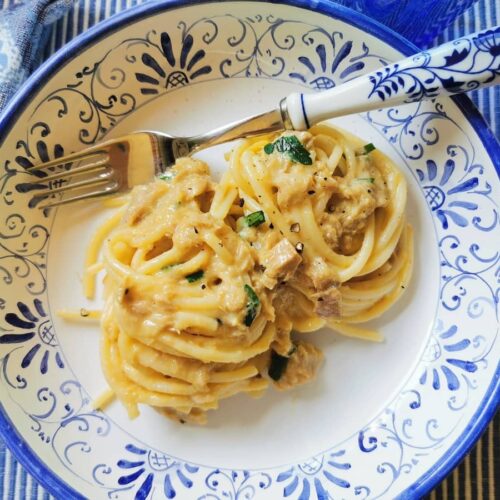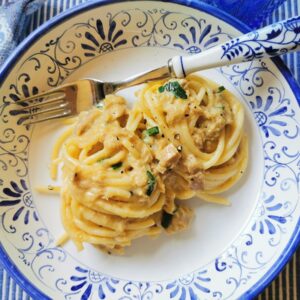 Pasta with Tuna Carbonara
This Italian recipe for tuna carbonara pasta not only tastes amazing, but is a great easy go-to seafood carbonara recipe for quick family meals. It can be made with ingredients many of us usually have in the larder.
Ingredients
400

g

chitarrini or spaghetti (14oz)

or any pasta of your choice

200

g

canned tuna fillet (7oz)

or normal canned tuna

60

g

Parmigiano cheese (2oz)

grated

2

garlic cloves

peeled

2

eggs

salt

for pasta water and to taste

ground black pepper

to taste

fresh parsley

chopped (optional)

2-3

tbsp

extra virgin olive oil
Instructions
Put a pan of water on to boil for the pasta. Add salt once it starts to boil and bring to the boil again. Cook the pasta according to the directions on the package.

While the water is boiling and the pasta is cooking, beat the eggs with the Parmigiano cheese and a little ground pepper in a bowl.

Heat the olive oil in a frying pan and cook the peeled garlic cloves until they brown. Add the tuna fillet broken into small pieces and cook for a couple of minutes. Remove the garlic cloves.

When the pasta is ready, reserve 1 cup of the cooking water and drain the pasta.

Add the drained pasta to the tuna, mix well and add some pasta cooking water. Cook for a couple of minutes then remove from the heat and add the egg mixture. Stir until the sauce becomes creamy.

If the sauce is too dry, add a little more pasta cooking water and mix until you get a creamy consistency.

Serve immediately with freshly grated pepper, chopped parsley (optional), and more grated Parmigiano.
Notes
For a thicker and richer sauce you can use 3 egg yolks instead of 2 eggs.
The eggs cook in the sauce like in traditional carbonara. But if you think they are too raw for you, return to the heat whilst mixing the pasta and sauce together. Just be careful not to scramble the eggs.
This recipe was originally published in 2017 but has been updated with new photos and text.
If you are interested in learning how to make homemade pasta and different types of gnocchi, check out my shop page for some great video online courses from my friends in Rome! Nothing beats learning to make pasta from Italians! Plus while you're there why not order a copy of one of my pasta recipe cookbooks or checkout some recommended pasta making tools?