Chifferi Elbow Pasta with Cannellini Beans and Tuna.
Recipes like this chifferi elbow pasta with cannellini beans and tuna are rarely served in restaurants or on special occasions here in Italy. However, that doesn't mean they're not delicious! Quite the contrary! Pasta with beans and tuna is seriously yummy and perfect for weekday meals.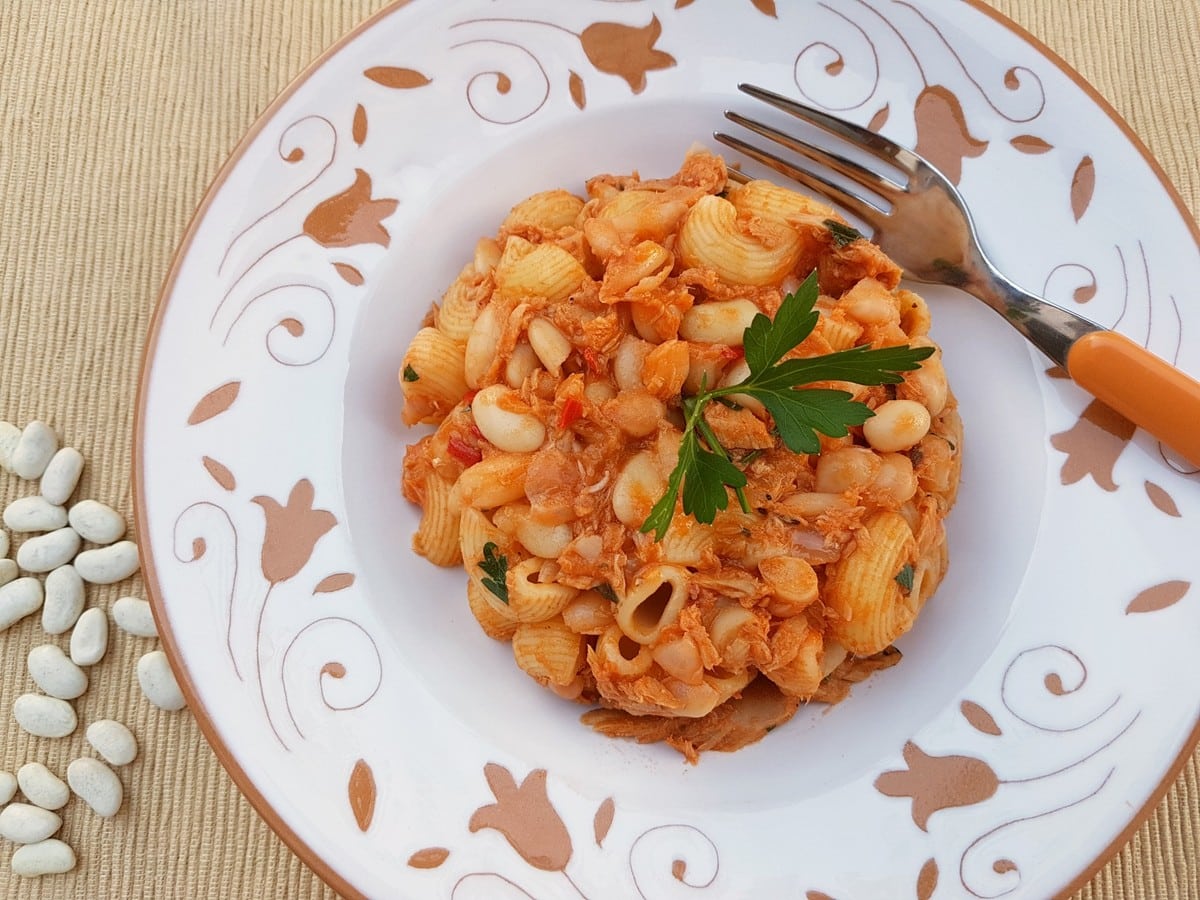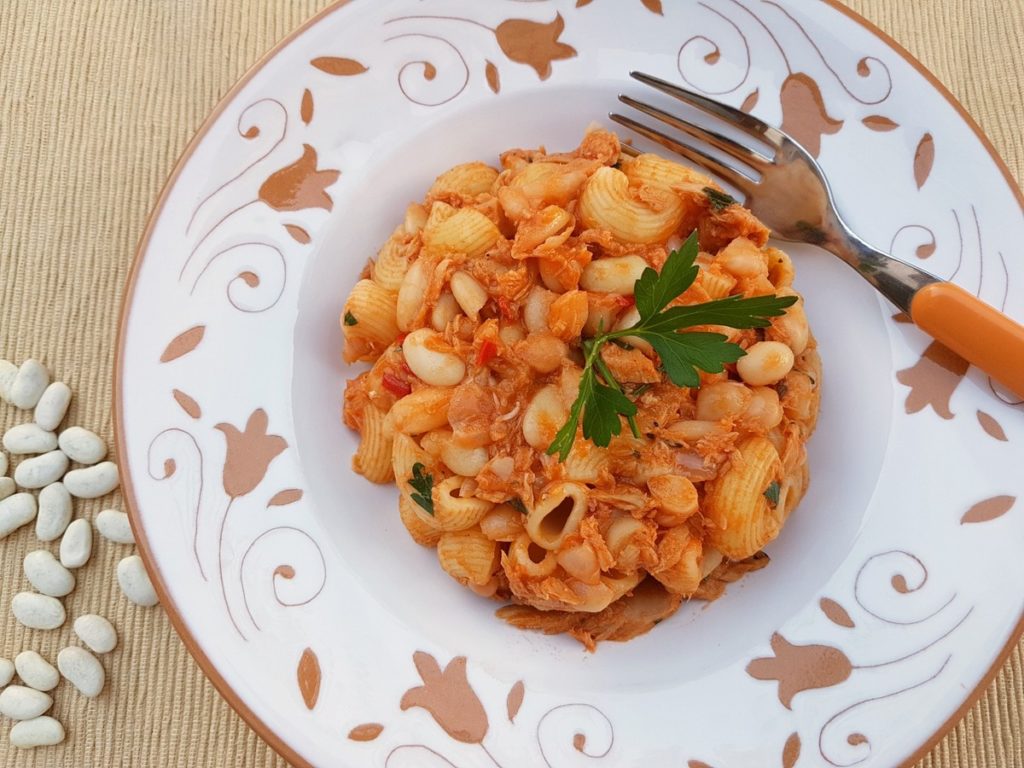 Apart from pasta, there are two things you will nearly always find in an Italian larder; tinned tuna and some kind of dried or tinned beans. Both of these are used in pasta dishes, either together or separately with other ingredients.
Many of these dishes are very traditional, some have been around for hundreds of years. But, whether old or contemporary, they are usually just simple family fare or made when there isn't the time or inclination to go shopping.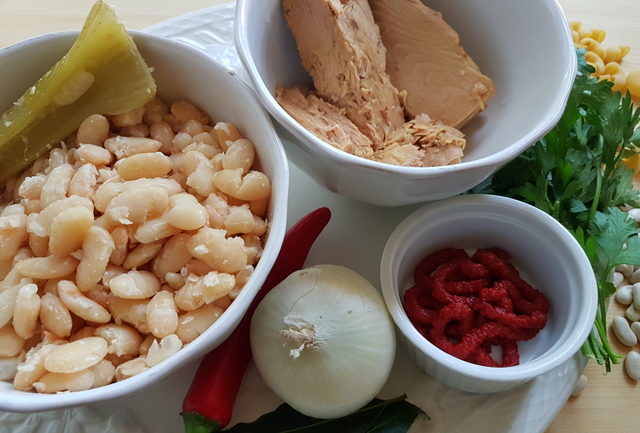 The Tuna.
In Southern Italy, pasta with tuna often includes foods like olives, tomatoes and capers. In central Italy, beans are a staple and so a more popular addition to pasta recipes. Tuna preserved in olive oil is available everywhere in Itay. Italians say 'tonno sott'olio'.
In the past, Southern Italians who lived on the coast and on the islands preserved fresh tuna in olive oil themselves. They then used it during the winter or sold it inland or further north. Some still do this themselves even today. But, needless to say, tuna in olive oil is readily available in every supermarket.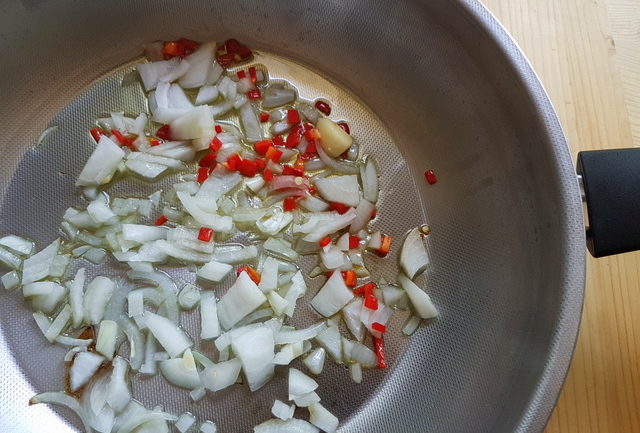 Having said that, like every ingredient, quality is key to taste. Fortunately, good quality tuna in olive oil is easily available here in Italy. When buying tuna in a tin or jar, do check the label. If it's fished and canned in Italy then it's likely to taste great!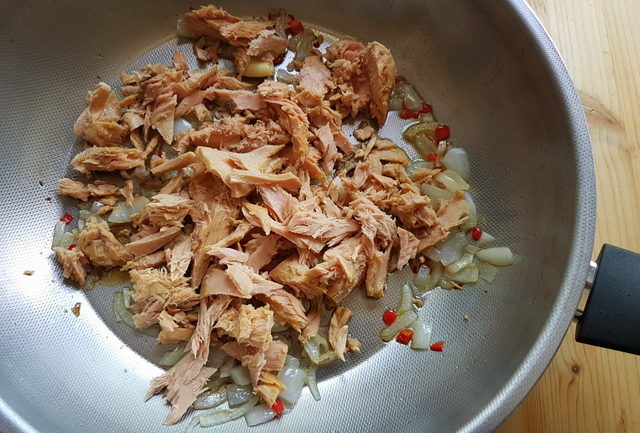 For this recipe I used tuna fillets, also in a jar but more expensive than the normal stuff. Definitely worth the extra euros in my opinion.
The Beans
Small, white and nutritious; cannellini beans are a variety of small beans, originating from central Italy, especially Tuscany. They grow inside a light green pod and are whitish with rounded ends. These beans are rich in protein and vitamins (especially group B), as well as carbohydrates and fiber. They also contain a good dose of lecithin, a substance that promotes the emulsion of fats, preventing their accumulation in the blood and therefore reducing the level of cholesterol.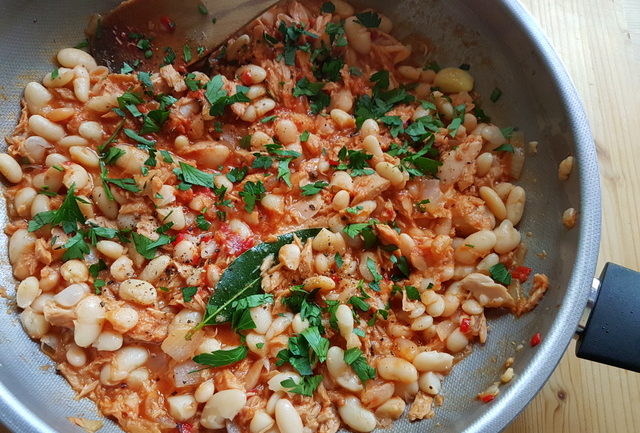 Cannellini are also a perfect summer food as they can be eaten cold and added to salads. In fact cannellini with tuna is a popular salad dish; with or without pasta!
Dried or canned beans?
I prefer to use dried beans and soak them overnight and then boil for about 90 minutes. This obviously makes this recipe rather time consuming. But, if you cook extra beans you can also use them in salads, soups or in a bean pate. Otherwise, to save time, tinned beans are okay.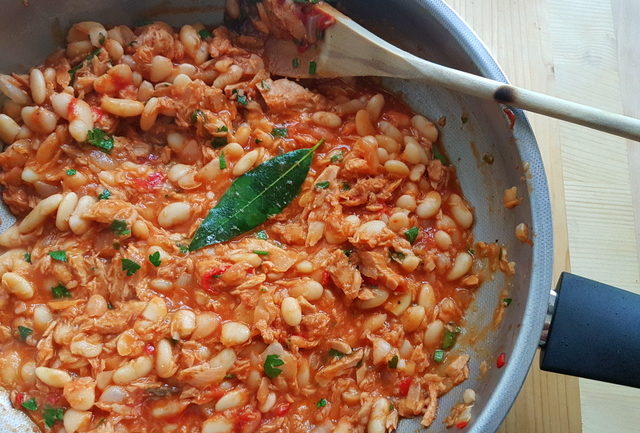 The Pasta.
The pasta I used for this recipe is called chifferi and was made by one of my favourite pasta companies La Molisana. The word chiffieri comes from the name of an Austrian crescent shaped biscuit called 'kipferl'. However, this is in fact a type of elbow macaroni or gomiti pasta.
There are many different names for elbow macaroni here in Italy, depending on the producer, the region and the market. Pasta for export may have a different name! If you don't have some type of elbow macaroni, you can, of course use other short pasta for this recipe.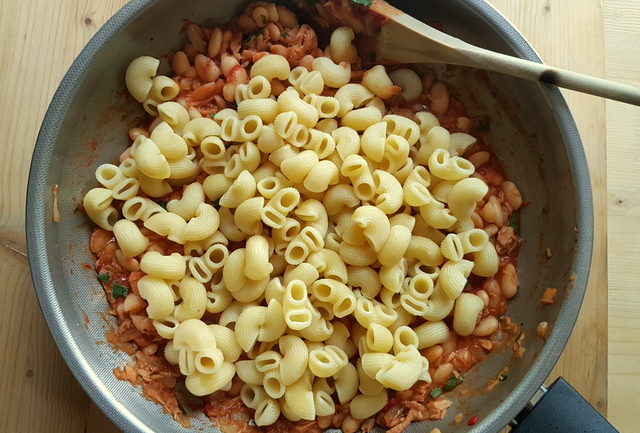 Other ingredients.
Apart from the pasta, tuna and beans this chifferi elbow pasta with cannellini beans and tuna has only a few ingredients. I used a white onion, a little fresh peperoncino for a bit of a kick, 1 anchovy fillet, garlic, parsley, a bay leaf and tomato concentrate. The sauce needs to be cooked with some of the bean cooking water. So, if you use canned beans, then I would suggest adding some vegetable stock instead.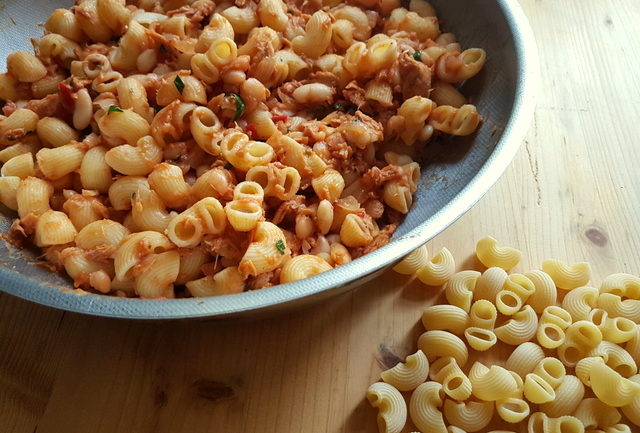 This is a very nutritious dish which can also be eaten tepid, rather than hot. If you have never eaten pasta with beans and tuna, you are bound to be impressed with how flavourful this recipe is. On the other hand, if you have eaten it before, then you'll understand why I'm so enthusiastic about it!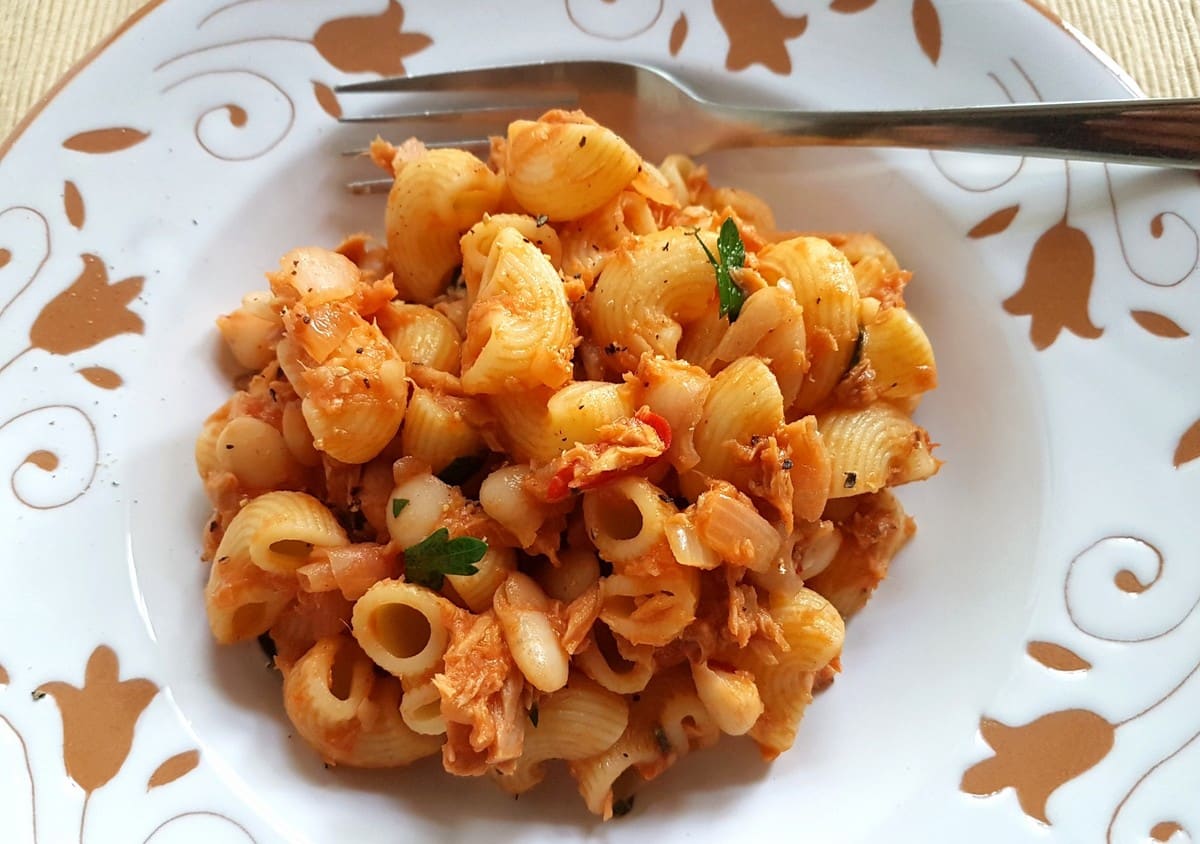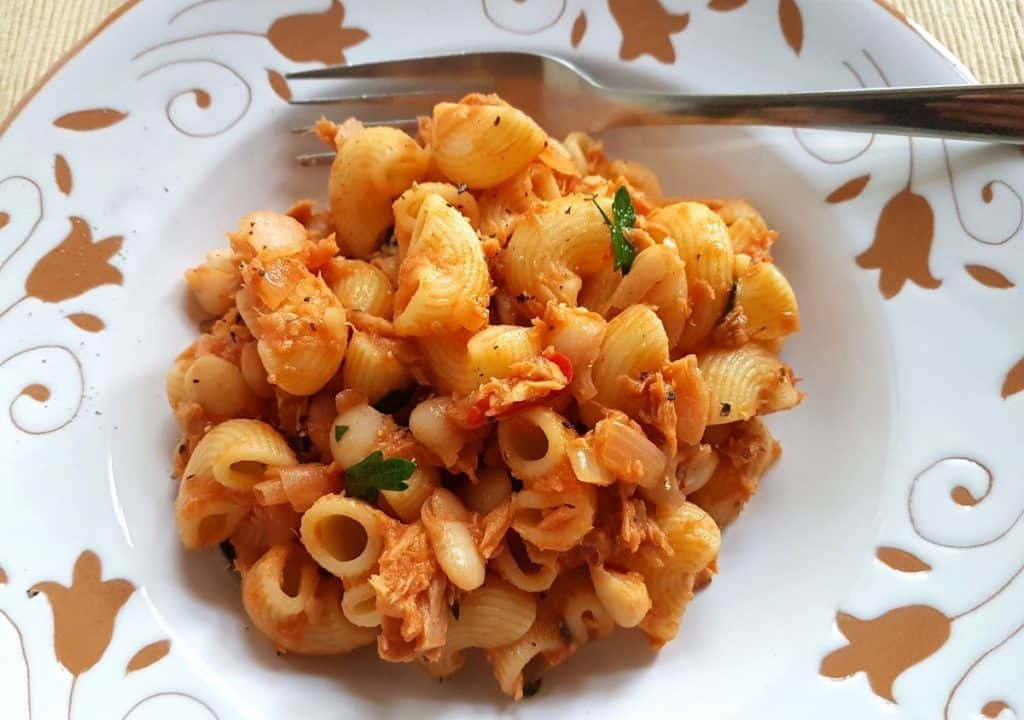 If you make this recipe I'd love to hear how it turns out and if you liked it. Please leave a comment here on the blog or on The Pasta Project Facebook page. Looking forward to hearing from you.
Buon Appetito!
Save this recipe for later?
If you want to save this recipe for later, you can print it, bookmark this page or save it to Pinterest.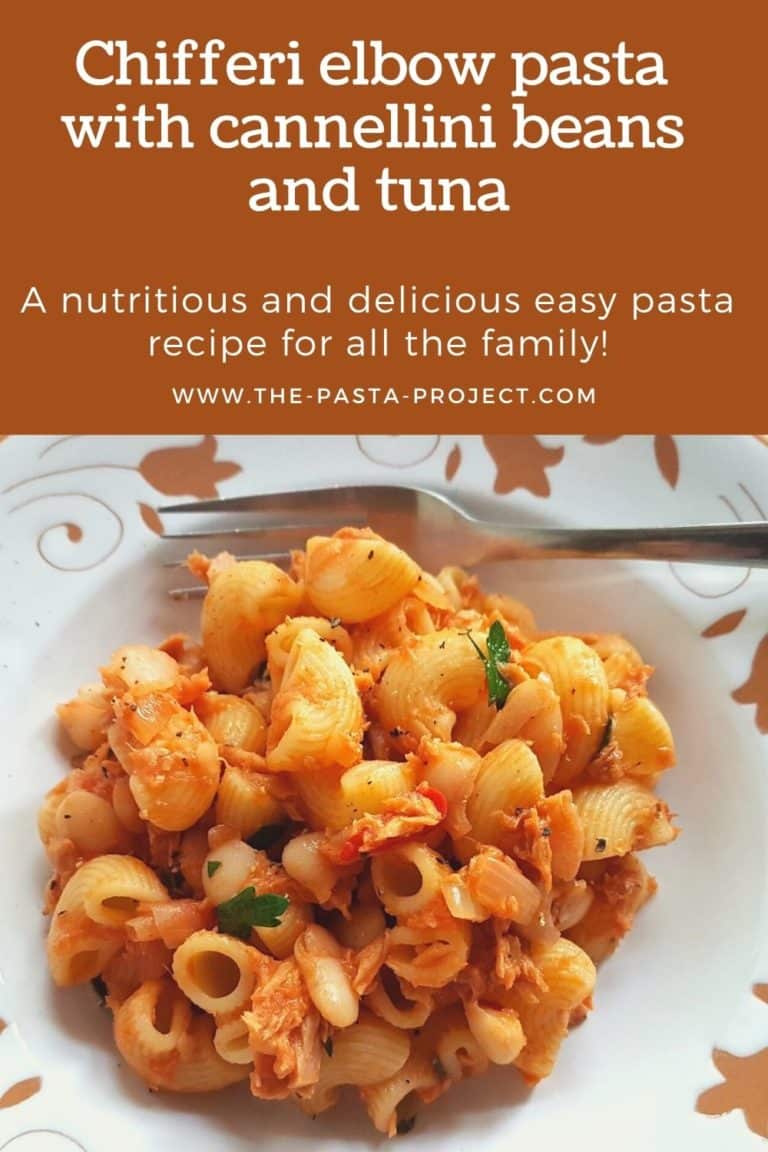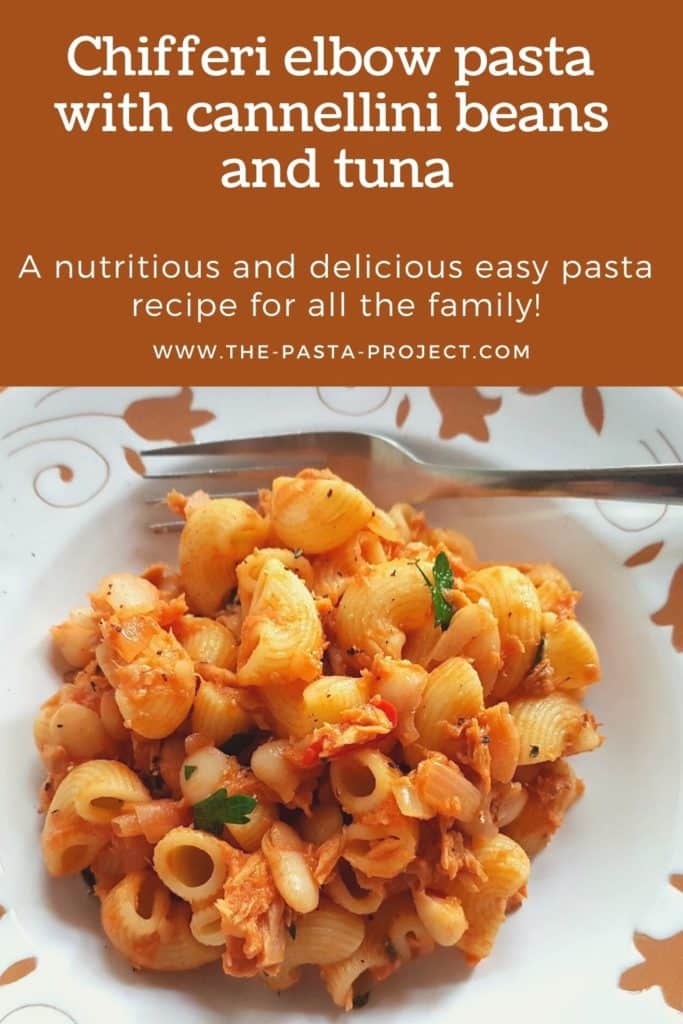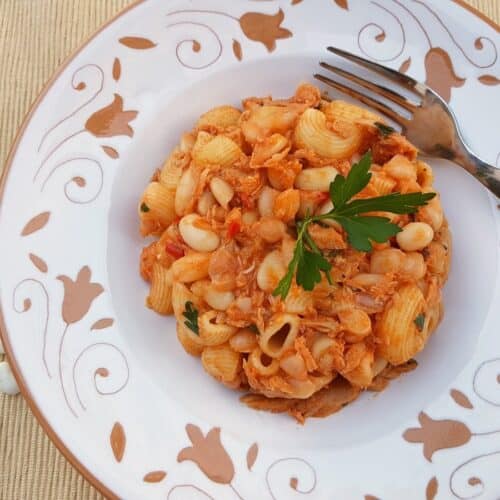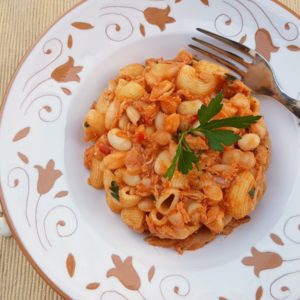 Chifferi Elbow Pasta with Cannellini Beans and Tuna
This delicious and nutritious elbow pasta recipe is perfect for weekday meals and times when you want to put a healthy meal on the table with simple pantry staples.
Ingredients
400

g

elbow pasta

(14oz) gomiti, chifferi or pipettte

200

g

dried cannellini beans

(7oz) or one can precooked beans

120

g

canned tuna

(4oz) best in olive oil

1

white onion

peeled and thinly sliced

4

tbsp

tomato concentrate

1

garlic clove

peeled

1-2

anchovy fillets

or anchovy paste

1

handful

fresh parsley

chopped

1

bay leaf

1

Italian red chili pepper (peperoncino)

deseeded and finely chopped

2

tbsp

extra virgin olive oil

salt

for pasta and to taste

black pepper

to taste
Instructions
If using dried beans, soak them overnight in a pot of cold water. Then rinse them well. Refill the pot with water and cook over a low heat for about 60 minutes until the beans are ready. I added some salt, a garlic clove and a celery stalk to the water. When the beans are ready, drain them but save the cooking water.

If using canned beans, rinse them well and discard the liquid in the can. You can use vegetable stock instead of the bean cooking water in the sauce.

Peel the onion and slice it thinly then peel the garlic. Remove the seeds from the red pepper and cut into small circles

Heat the olive oil in an iron skillet or heavy frying pan, sauté the garlic, red chili pepper and onion with 2-3 tablespoons of extra virgin olive. When they start to soften add the anchovy. When it starts to melt, add the previously drained and chopped tuna and, stir the ingredients enough to flavour them.

Add the tomato paste and a little water to dissolve it. Now add the cannellini beans and some of their cooking liquid and gently mix everything together.Next add a small bay leaf and cook covered on a low heat for about 10 minutes. Season with salt and freshly ground black pepper, sprinkle with chopped fresh parsley and then remove the garlic .

While the sauce is cooking put a large pot of water on the stove, bring it to a boil, then add salt and wait for it to boil again, pour in the pasta and let it cook al dente according to the instructions on the packet. Don't forget to stir it from time to time.

Drain the pasta once it's cooked and mix it with the cannellini and tuna bean sauce, sauté the pasta with beans and tuna for a couple of minutes and serve hot or tepid with a sprinkling of parsley.
Notes
This dish can be made with other types of elbow pasta.
If you are interested in learning how to make homemade pasta and different types of gnocchi, check out my shop page for some great video online courses from my friends in Rome! Nothing beats learning to make pasta from Italians! Plus while you're there why not order a copy of my newly published autumn/winter pasta recipes cookbook!
More pasta with tuna recipes to check out.
Pin for later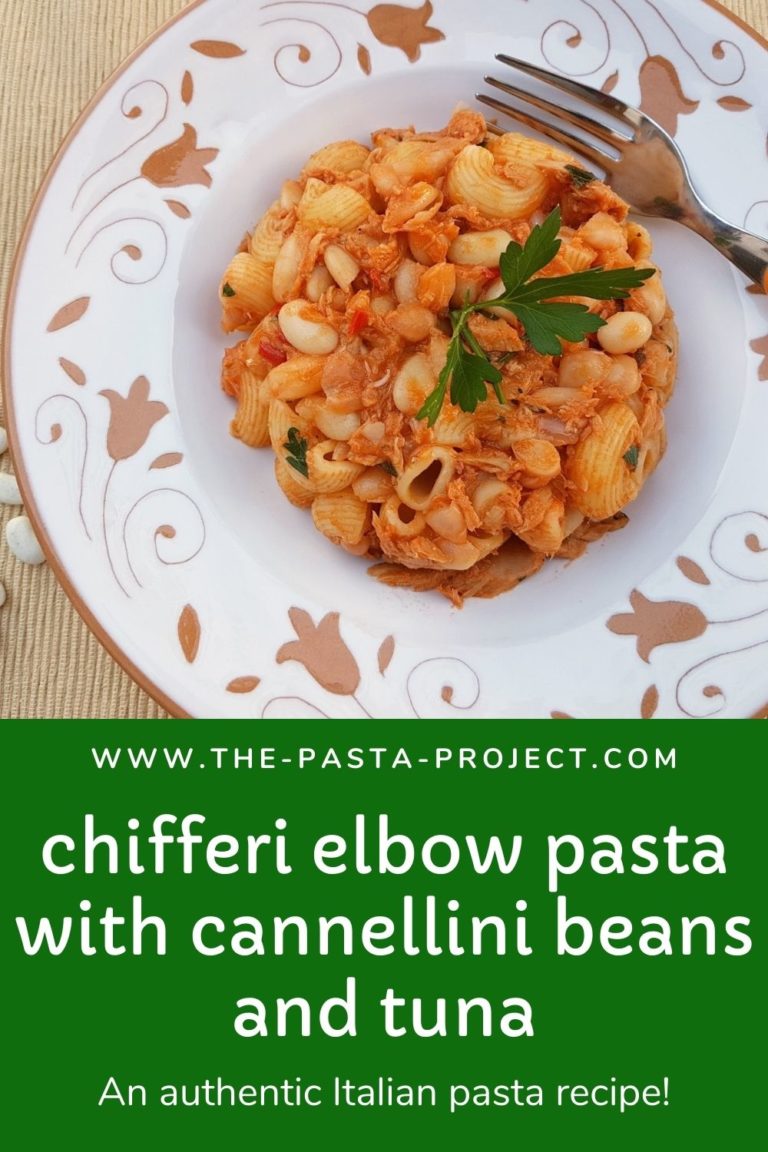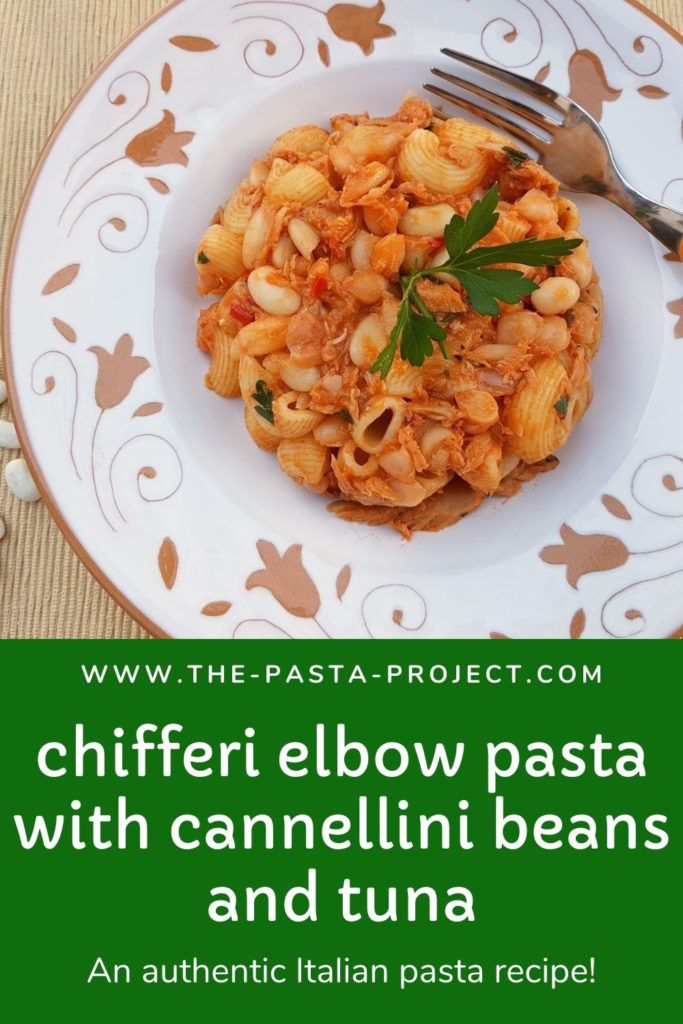 Want to know more about my life in Italy? Go to the homepage and subscribe to my newsletter. New subscribers get a free recipe e-book series too!