This easy canned tuna pasta recipe is a quick, flavorful meal using everyday pantry staples. Perfect for busy weeknights, this dish combines hearty tuna, tangy lemon, and capers, transforming them into a delicious pasta sauce that's traditional here in Italy.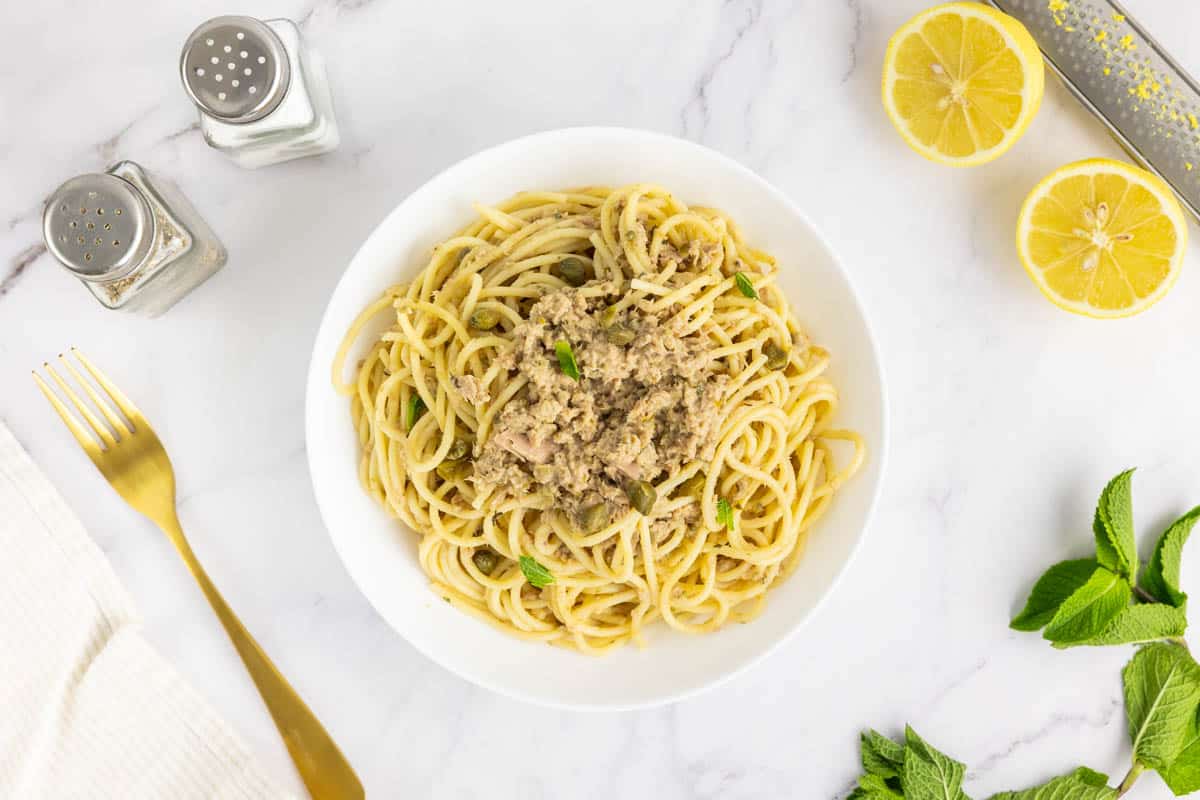 History
This canned tuna pasta recipe comes from the beautiful Aeolian Islands (Le Isole Eolie) which lie off the northern coast of Sicily and are part of that region. These seven islands (two of which are volcanoes; Stromboli and Vulcano) were designated a UNESCO World Heritage Site in 2000.
Aeolian islands
A lot of the cuisine found on the Aeolian islands consists of fresh fish and capers, as well as peppers and tomatoes that are grown locally. In fact, capers from the Aeolian islands, particularly Salina, are among the best in the world. As a result, the islanders use these edible wild flower buds in almost everything they eat.
Tuna in Italy
When it comes to fish, the islanders consume much the same as the Sicilians and, as in Sicily, tuna has long been a mainstay of their seafood diet. There are many wonderful recipes for tuna including tuna carpaccio, tuna stuffed red peppers, grilled tuna steaks and, of course, lots of canned tuna pasta recipes.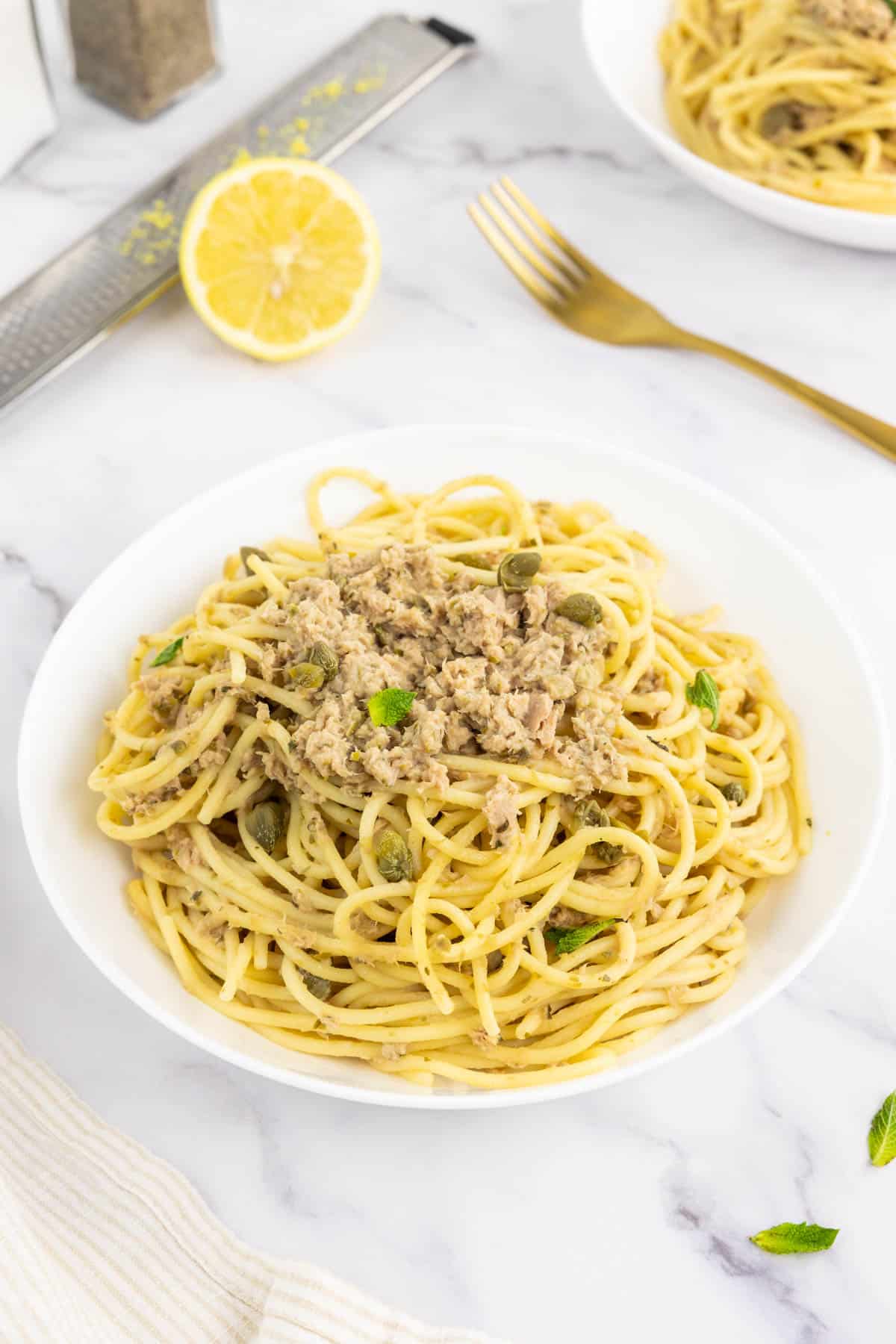 For centuries, Sicilians have fished tuna. In fact, the north and northwest coast of Sicily is the location of an extraordinary annual natural phenomenon. Sometime around the end of May and early June, large schools of Bluefin tuna arrive from the Atlantic and move to their spawning grounds in the Mediterranean.
As they migrate the fish pass close by the Egadi Islands. They then move in towards the Sicilian coastline heading towards Palermo and the southern Tyrrhenian sea, where the Aeolian islands are located.
Sadly nowadays, fish populations have been drastically reduced in the Tyrrhenian sea because of overfishing, industrial and illegal fishing and the Japanese's insatiable appetite for Bluefin tuna!
Luckily, sustainable fishing regulations are now enforced to help preserve stocks! So, for now, Bluefin tuna and other types of tuna, swordfish, amberjack, grouper and other fish species are still an important part of the islanders diet.
Because tuna is most plentiful during the spring and summer, many Sicilians and Southern Italians living on the coast and on the islands traditionally preserved tuna in olive oil. They used it during the winter or sold it inland.
Some still do this themselves to this day. Of course, these days, canned tuna in olive oil is readily available in every supermarket. Having said that, like every ingredient, quality is key to taste. Luckily here in Italy, good quality tuna in olive oil is easily available.
Ingredient Notes
The ingredients for this easy canned tuna pasta are simple but bursting with flavor and are a reflection of the vibrant cuisine of the Aeolian Islands.
Pasta: This recipe traditionally calls for spaghetti, but feel free to use your preferred type of pasta. Ideally the pasta should be dried as the starches from the dried pasta helps bind the sauce.
Canned Tuna: Preserving tuna in olive oil is a long-standing tradition in Sicily and Southern Italy. When selecting canned tuna, choose a high-quality canned tuna in olive oil, ideally from Italy.
Lemon: This recipe uses both the juice and zest of the lemon. The citrus element provides a refreshing counterpoint to the tuna and olive oil.
Capers: A staple in Aeolian cuisine, capers lend a distinct salty and briny flavor that works well with the tuna. If possible, try to use capers from the Aeolian islands but any high quality capers works well!
Fresh Mint Leaves: These infuse the dish with a bright and refreshing note. If you can't find fresh mint, parsley makes a good substitute.
Salt and Pepper: Season according to your palate. It's best to do a taste test before serving to ensure the seasoning is to your liking.
Extra Virgin Olive Oil: The extra virgin olive oil isn't cooked over high heat, so use a good quality one as it will retain much of its flavor.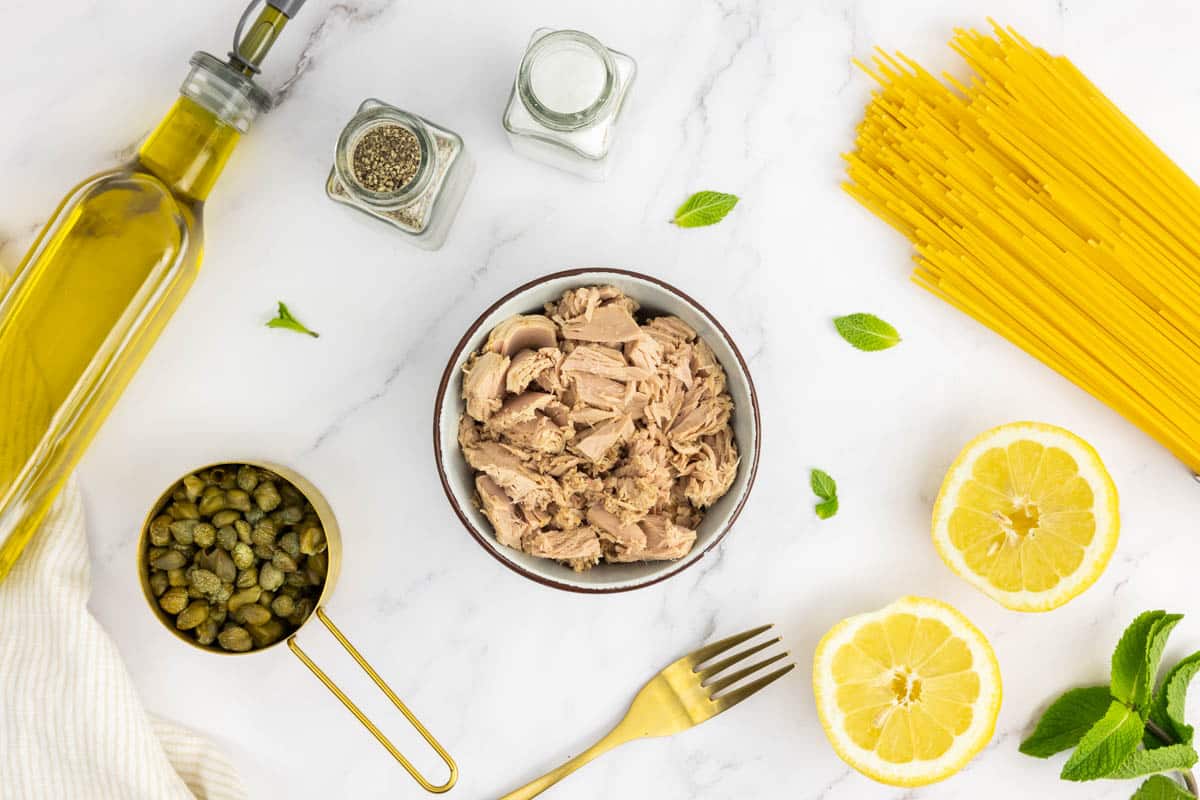 Step by Step Instructions
1) Put a large pot of water onto boil for the pasta. Add salt once the water starts boiling.
2) In a food processor or blender, add the capers, mint leaves, and drained tuna.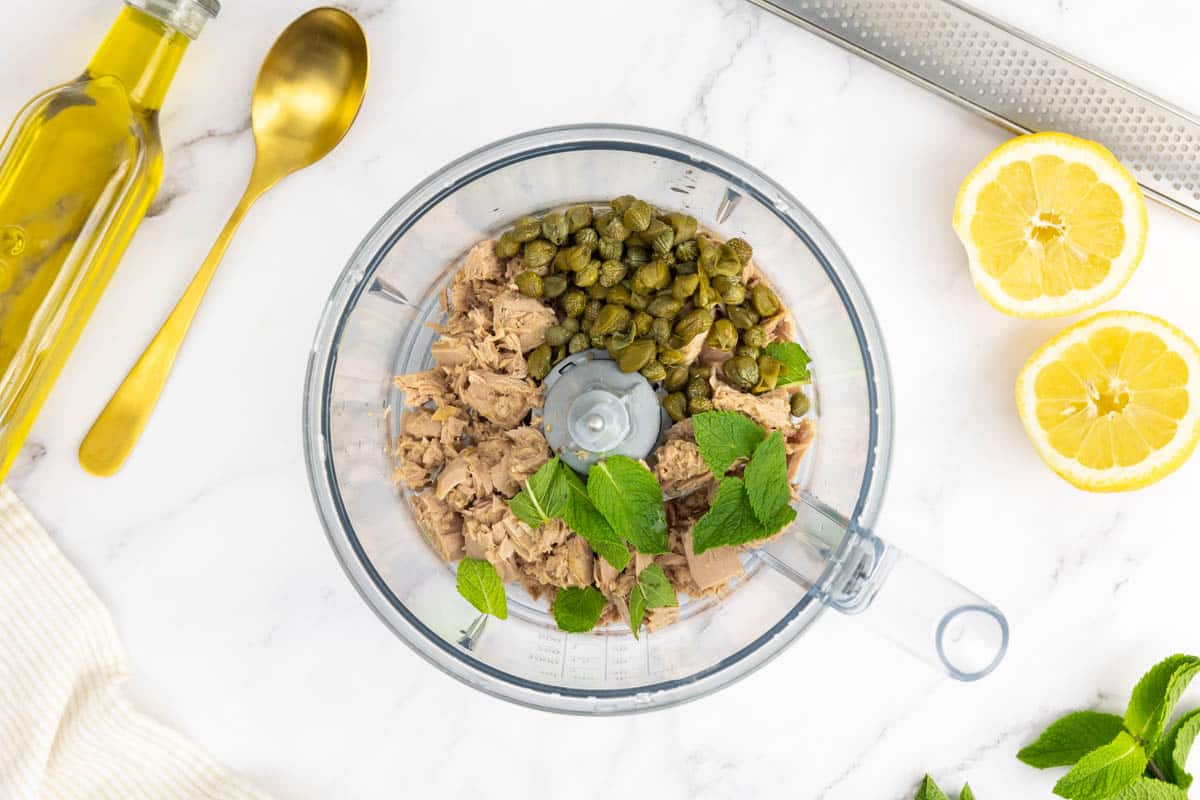 3) Next add the extra virgin olive oil, juice from the lemon, and some grated lemon rind to the food processor. Season the tuna mixture with freshly ground black pepper,
4) Cook the pasta in the boiling salted water until al dente, as per the packet instructions. And before draining, reserve one cup of the pasta cooking water.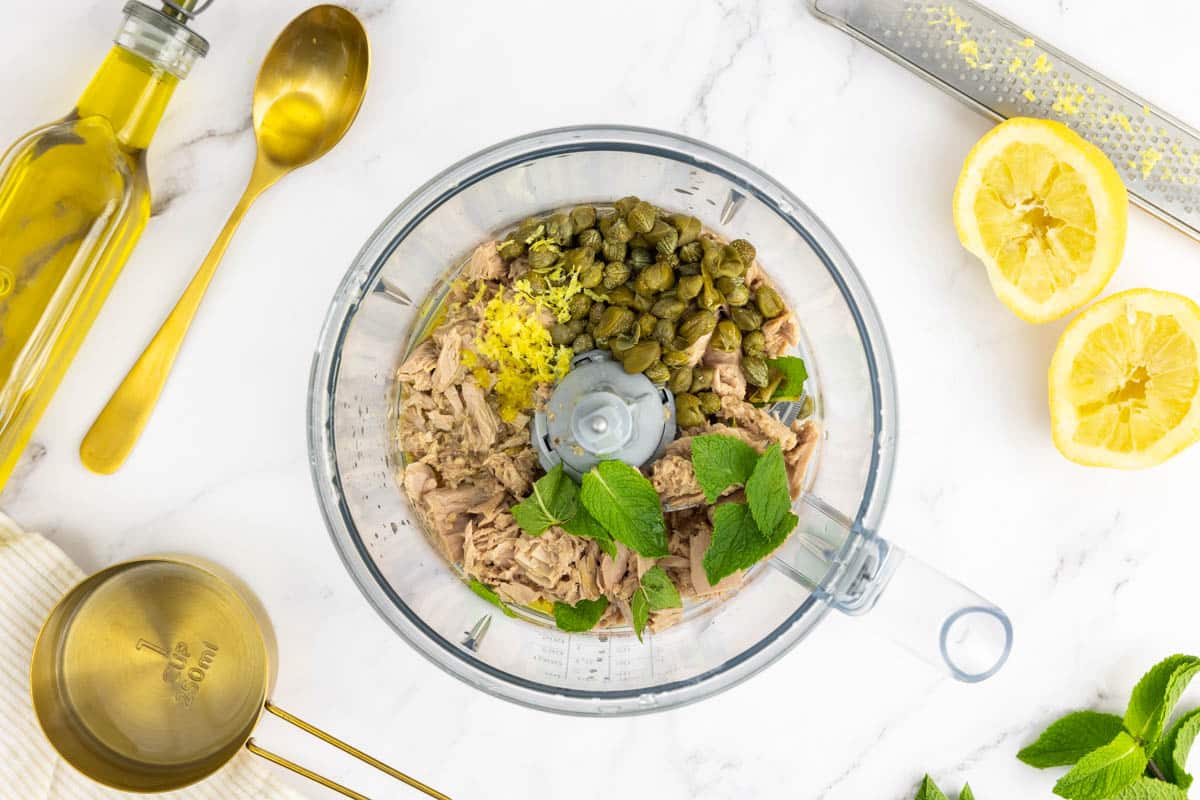 5) Add half the saved pasta cooking water into the tuna mixture and pulse a few times until you have a rough sauce (you don't want the is to be too smooth).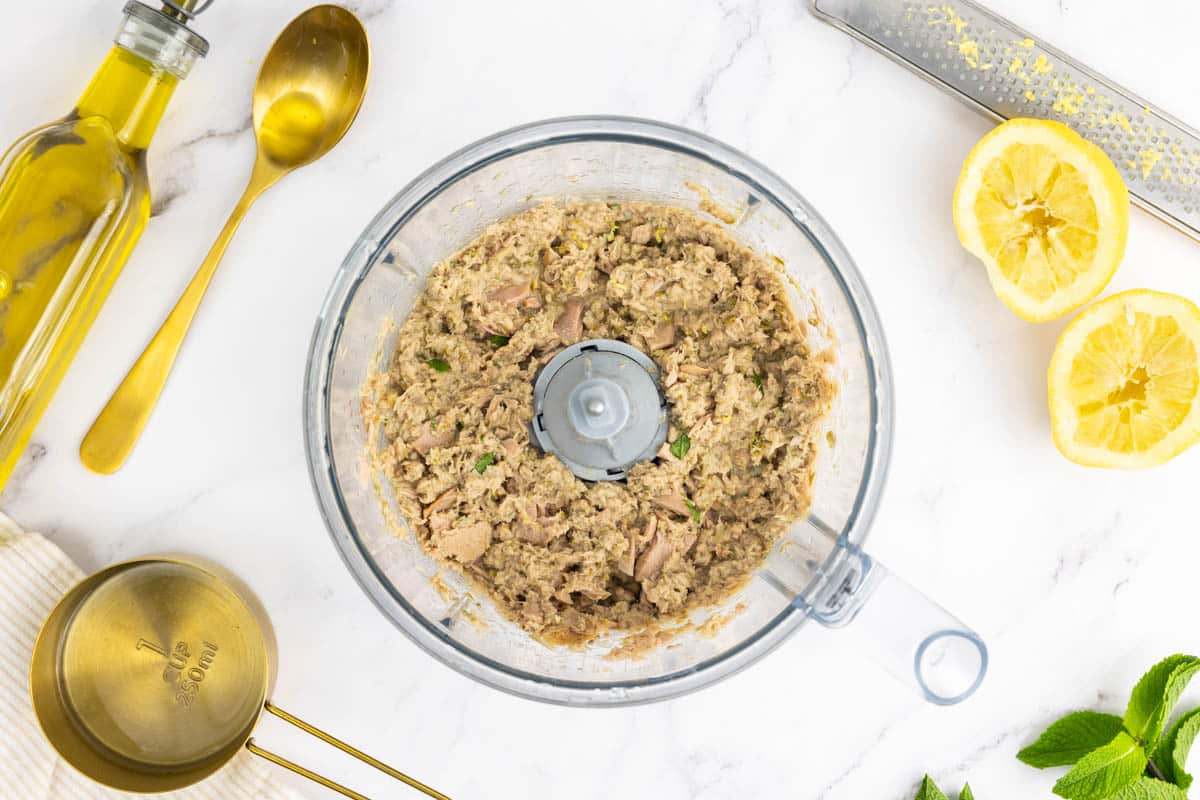 6) Add the drained pasta and tuna mixture into a large deep sauté pan or back into the pasta pot.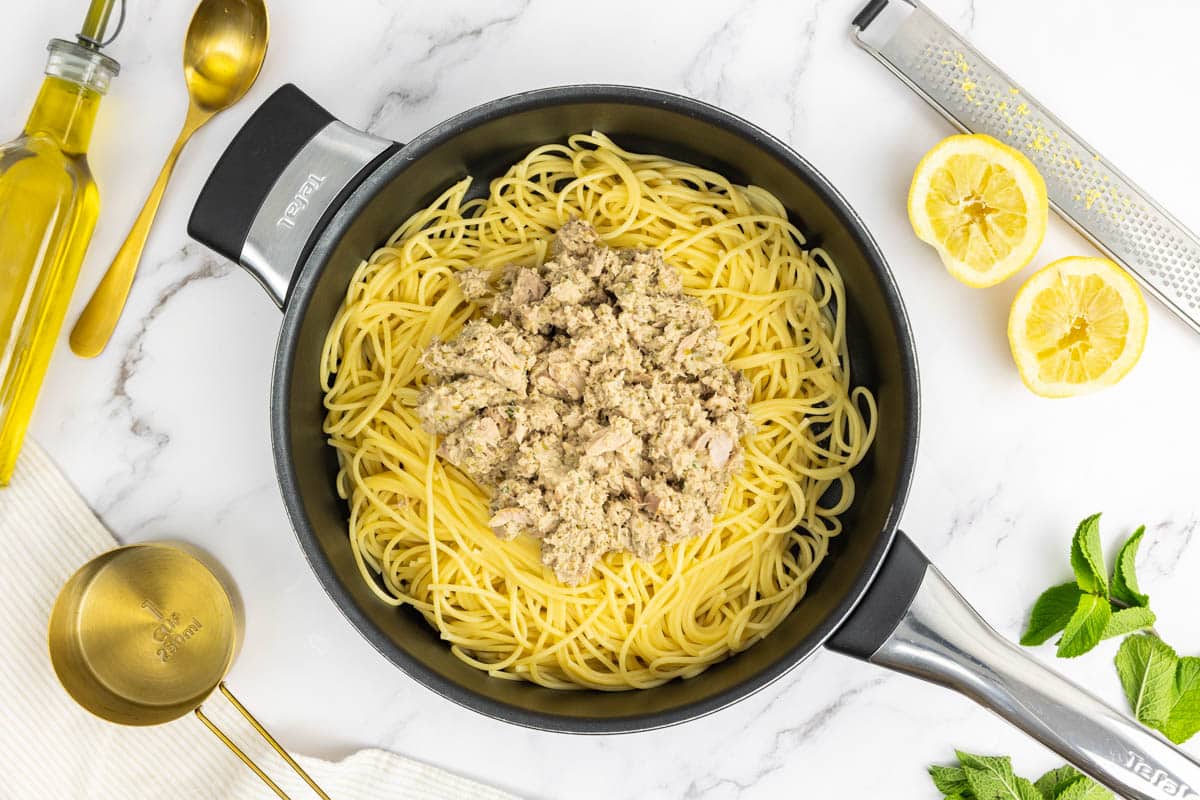 7) Place the pan or pot over medium heat and add the remaining pasta water. Slowly stir the pasta and cook until the sauce slightly thickens and looks glossy.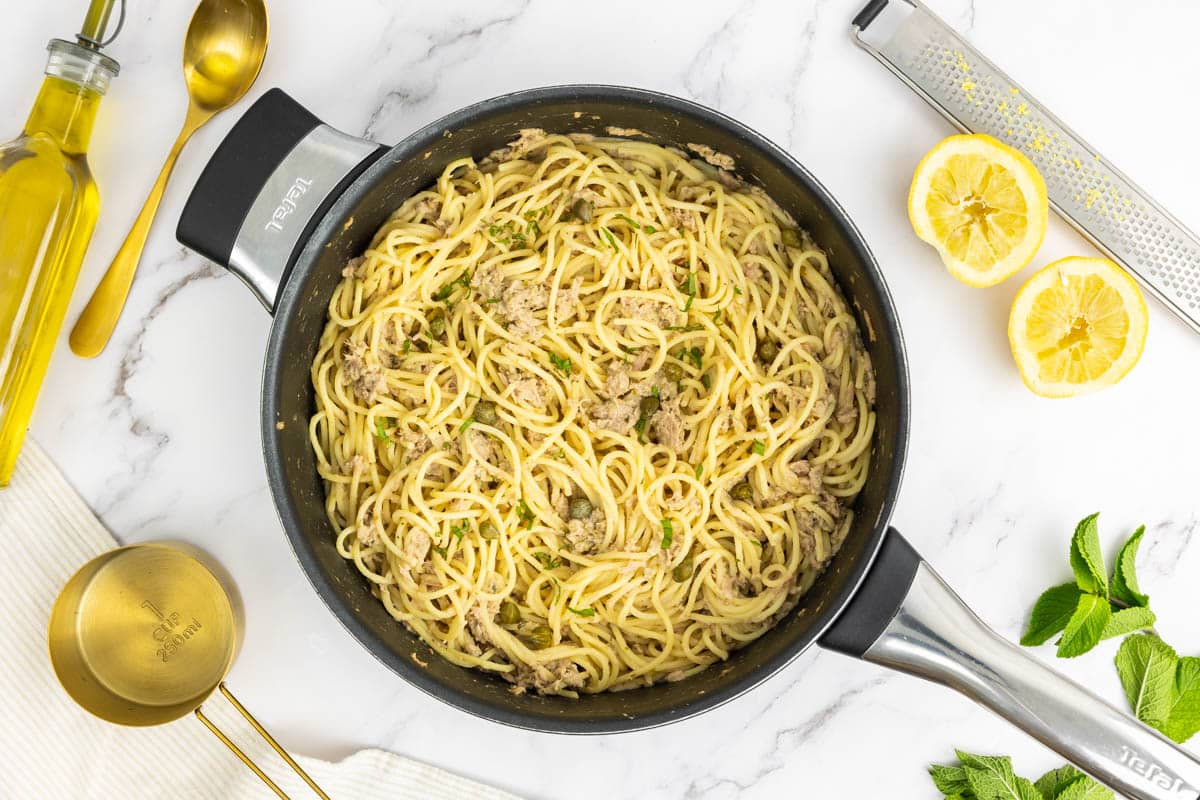 8) Turn off the heat and season to taste with salt and pepper. Serve immediately with a few whole capers and mint.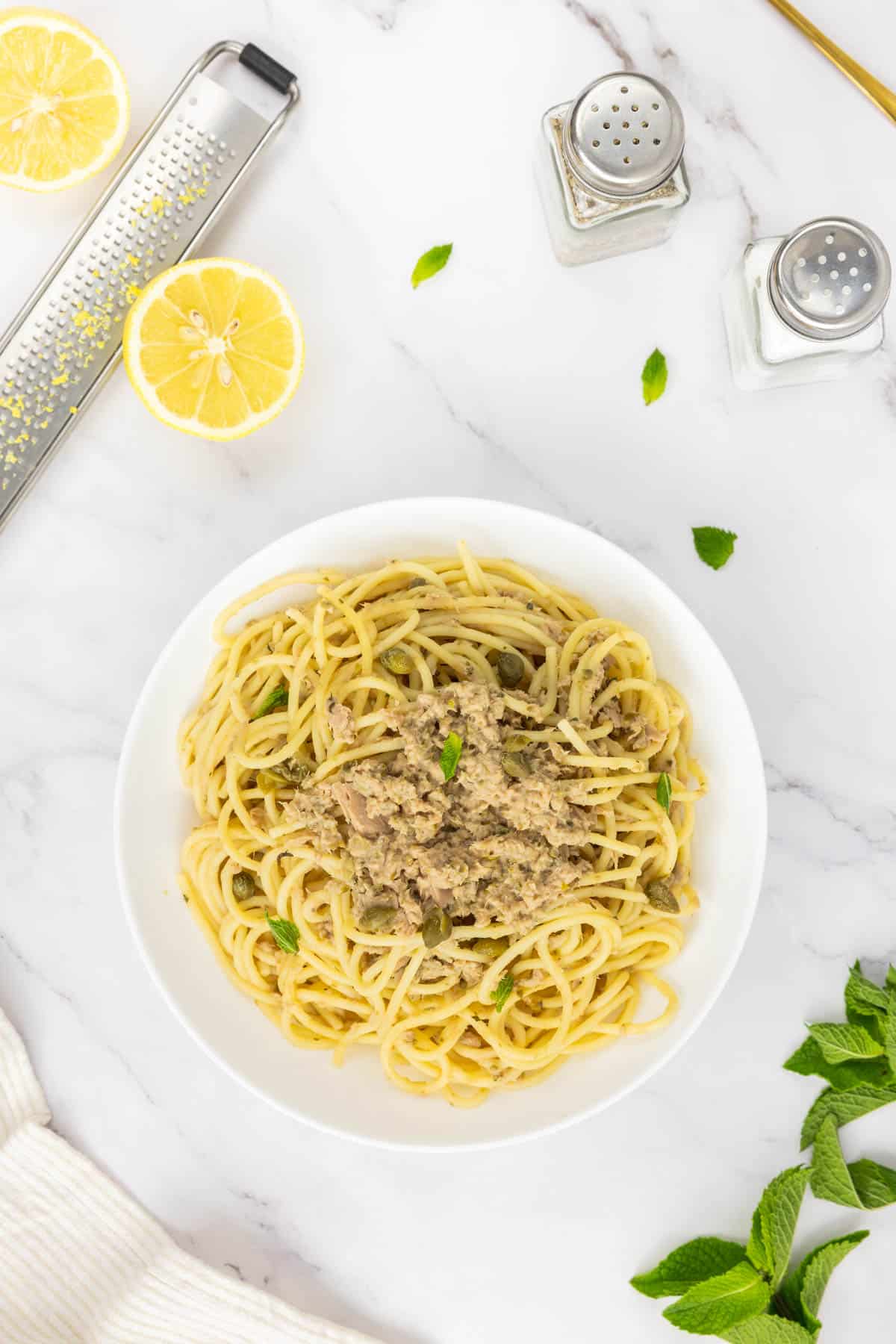 Storage and Leftovers
While this dish is best served immediately, it still reheats well. If you have leftovers, store them in an airtight container in the refrigerator for up to 2 days. To reheat, add a tablespoon of water to the pasta and reheat it covered in the microwave until hot.
FAQs
Is tuna pasta healthy?
Yes, this tuna pasta is healthy. Tuna is an excellent source of protein and contains important nutrients like omega-3 fatty acids, vitamin D, and selenium. Additionally, the capers and lemons provide a dose of vitamins and antioxidants.

If you want this recipe extra healthy, you can use wholegrain pasta to add extra fibre.
How does pasta water create a sauce?
When pasta cooks, it releases starch into the water. This starchy water serves as an emulsifying agent which can bind with other ingredients like olive oil.

In this recipe, the starchy pasta water, lemon and extra virgin olive oil bind together to make our vibrant tuna pasta sauce.
What if I don't have a food processor or blender?
You can still make this dish if you don't have a food processor or blender. You'll just need to finely chop the capers and mint leaves and flake the tuna with a fork. The sauce may be a bit chunkier, but it will still be flavorful. Mix in the extra virgin olive oil, lemon juice, and lemon zest, then add the cooked pasta and pasta water, as per the instructions.
More tuna recipes you may like:
If you do try this recipe, I'd love to hear what you think. Please write a comment here on the blog or post a comment on the Pasta Project Facebook page.
Your feedback means a lot to me!
Buon appetito!
Photos by Jack Slobodian.
This recipe was originally published in 2017 but has recently been updated with new photos and text.
Pin for Later: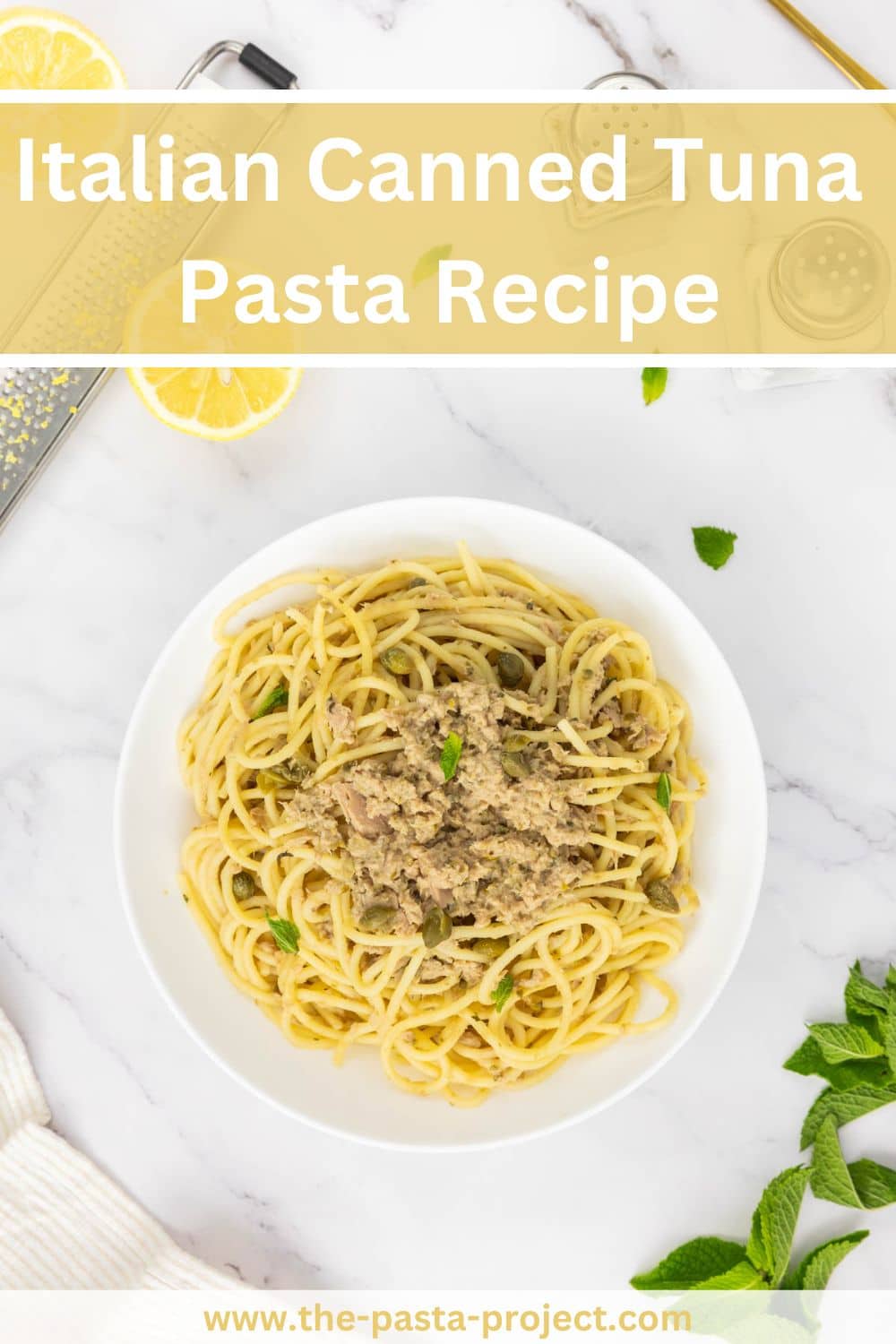 If you are interested in learning how to make other homemade pasta and different types of gnocchi, check out my shop page for some great video online courses from my friends in Rome! Nothing beats learning to make pasta from Italians! Plus while you're there why not order a copy of one of my pasta recipe cookbooks or checkout some recommended pasta making tools?