Spaghetti with tuna, mint and capers.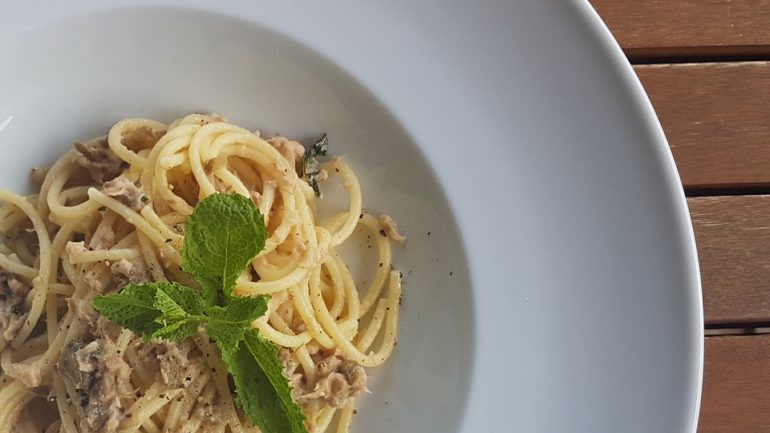 This recipe for spaghetti with tuna comes from the beautiful Aeolian Islands (Le Isole Eolie) which lie off the northern coast of Sicily and are part of that region. These seven islands (two of which are volcanoes; Stromboli and Vulcano) were designated a UNESCO World Heritage Site in 2000.
A lot of the cuisine found on the Aeolian islands consists of fresh fish and capers, as well as peppers and tomatoes that are grown locally. In fact, capers from the Aeolian islands, particularly Salina, are among the best in the world. As a result, the islanders use these edible wild flower buds in almost everything they eat.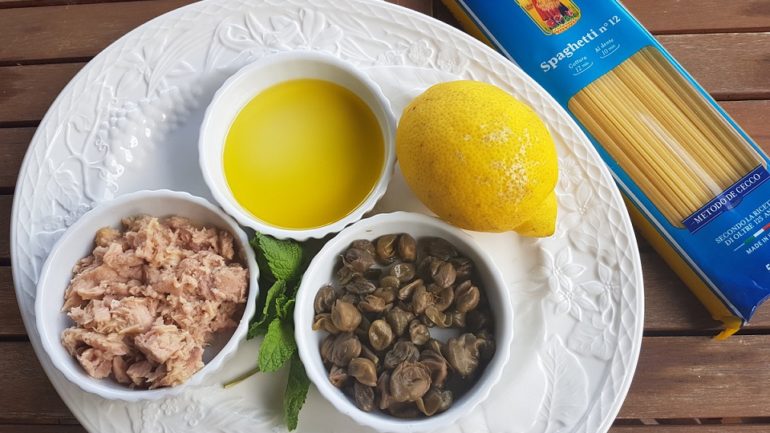 The fish.
When it comes to fish, the islanders consume much the same as the Sicilians and, as in Sicily, tuna has long been a mainstay of their seafood diet. There are many wonderful recipes for tuna including tuna carpaccio, tuna stuffed red peppers, grilled tuna steaks and, of course, lots of tuna pasta recipes.
For centuries, Sicilians have fished tuna. In fact, the north and northwest coast of Sicily is the location of an extraordinary annual natural phenomenon. Sometime around the end of May and early June, large schools of Bluefin tuna arrive from the Atlantic and move to their spawning grounds in the Mediterranean. As they migrate the fish pass close by the Egadi Islands. They then move in towards the Sicilian coastline heading towards Palermo and the southern Tyrrhenian sea, where the Aeolian islands are located.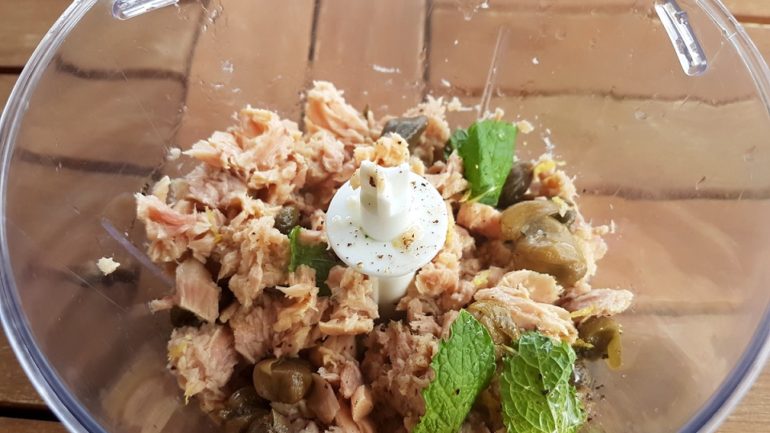 Sadly nowadays, fish populations have been drastically reduced in the Tyrrhenian sea. This is the result of overfishing, industrial and illegal fishing and the Japanese's insatiable appetite for Bluefin tuna! Subsequently, the fishing industry of the Aeolian islands is under threat! However, for now, Bluefin tuna and other types of tuna, swordfish, amberjack, grouper and other fish species are still an important part of the islanders diet.
Preserving tuna in oil.
Because tuna is most plentiful during the spring and summer, many Sicilians and Southern Italians living on the coast and on the islands traditionally preserved tuna in olive oil. They used it during the winter or sold it inland. Some still do this themselves to this day. Of course, these days, canned tuna in olive oil is readily available in every supermarket. Having said that, like every ingredient, quality is key to taste. Luckily here in Italy, good quality tuna in olive oil is easily available. When buying tuna in a can or jar take the time to read the label. If it's fished and canned in Italy then it's likely to taste great!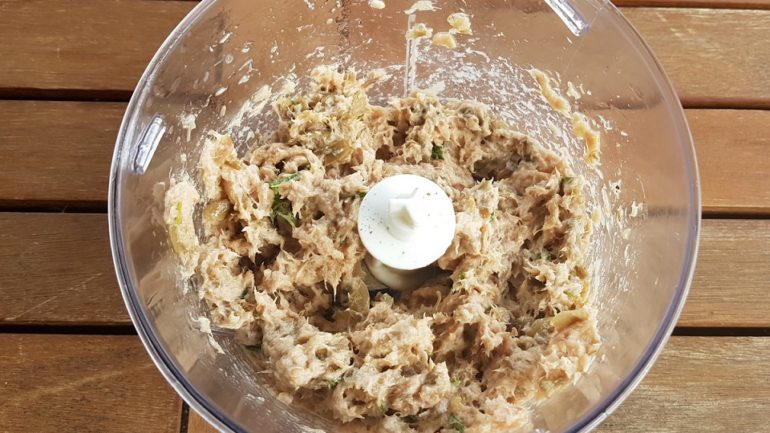 There are a lot of Italian pasta recipes like this spaghetti with tuna one which call for 'tonno sott'olio'. I guess this is a result of the old tradition of preserving tuna in olive oil for the winter months, as mentioned above. Plus the fact that canned tuna is available everywhere, costs less than fresh fish and has a long shelf life.
No-cook sauce.
This recipe is another no-cook recipe, meaning you only cook the pasta. I have used spaghetti, which is definitely the most popular long pasta in Sicily and Southern Italy, but you can use any pasta. However, dried probably works better as you need the cooking water to become relatively starchy to help the sauce get creamy. The combination of tuna, capers and mint mixed in lemon juice and olive oil gives this dressing a lot of flavour and the result is also fresh and summery, making this an excellent recipe for summer or light meals. Give it a try! I know you'll love it!
If you do try this recipe, I'd love to hear what you think. Please write a comment here on the blog or post a comment on the Pasta Project Facebook page.
Your feedback means a lot to me!
Buon appetito!
Other pasta with canned tuna recipes on The Pasta Project.
(see the recipe on the next page. Just scroll down and click 2)