6 Italian Canned Tuna Pasta Recipes.
Canned tuna pasta is one of the simplest ways to make seafood pasta! In fact, it's so popular in Italy that it's one of the first things young Italians learn to cook for themselves! However, there is more than one delicious Italian recipe for pasta with tuna.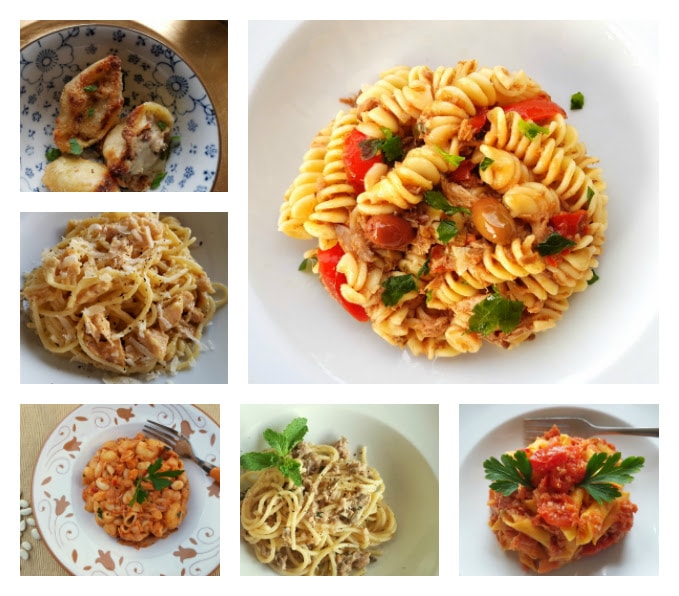 Tuna in the Italian diet.
Sicilians and other Southern Italians have fished tuna for centuries. In fact, tuna is a mainstay of the Sicilian and Southern Italian seafood diet. However, fresh tuna has always been most plentiful during the spring and summer. So, many Sicilians and Southern Italians living on the islands and in coastal areas traditionally preserved their own tuna in olive oil. They then used this tuna during the winter or sold it inland and further north.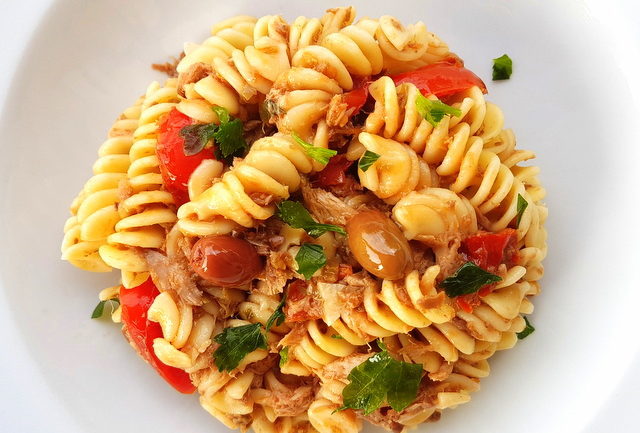 Some Italians still do this themselves to this day! But, there are, of course, many tuna canning factories in Italy and, nowadays, tuna in olive oil is readily available in every supermarket. As a result, canned tuna has a place in every Italian larder. It is particularly popular as a salad ingredient, pizza topping and with pasta.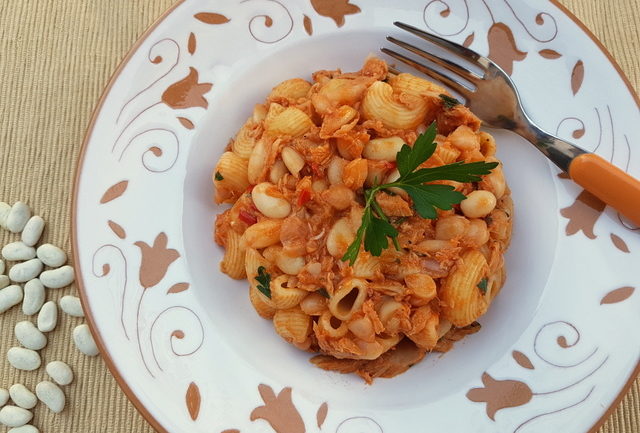 In fact, pasta with canned tuna is one of the first pasta dishes that many young Italians learn to make. It's well known as a staple among university students and young singles. But, there are many tasty Italian canned tuna pasta recipes. Some are traditional and others more contemporary. Some are super simple, others a bit more complicated. All are delicious!
Check out these canned tuna pasta recipes here on The Pasta Project! I'm sure you'll enjoy them as much as the Italians do!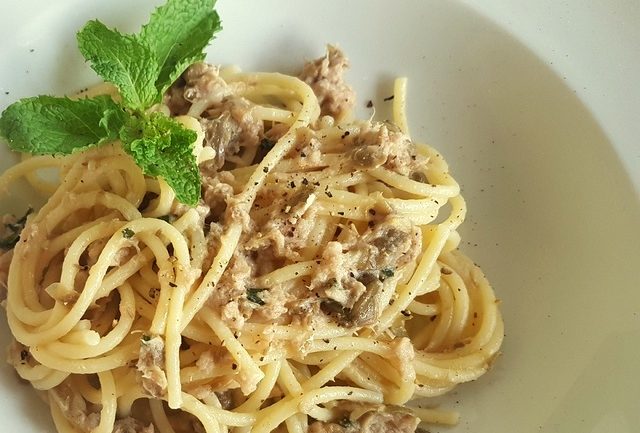 Spaghetti with tuna, capers and mint from the Aeolian Islands .
This fresh and summery traditional canned tuna pasta recipe is made with a no-cook sauce. So, it is very fast and easy to make. A super summer pasta dish! Click here for recipe.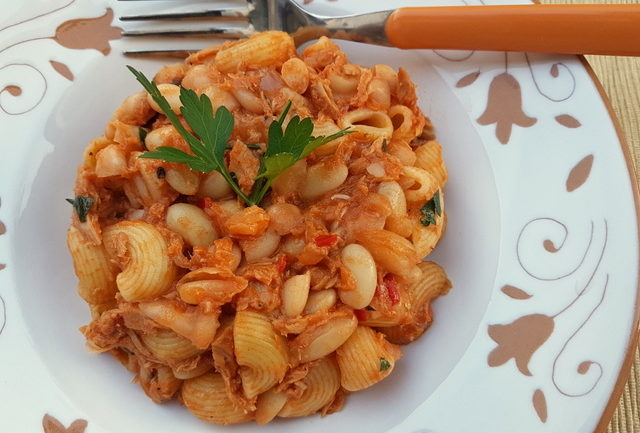 Elbow pasta with tuna and cannellini beans.
This very nutritious dish can also be eaten tepid as a salad instead of hot. If you have never tried pasta with canned tuna and beans, you are bound to be impressed with how flavourful this recipe is. Click here for recipe.

Conchiglioni pasta shells with tuna and ricotta.
These delicious stuffed pasta shells are great as party finger food. The filling requires no precooking and you can prepare this dish in advance. My guests love this pasta with canned tuna and yours will too! Click here for recipe.

Fusilli pasta with black olive pesto and tuna.
If you like olives, this recipe from Calabria for pasta with black olive pesto and canned tuna is for you. Plus,it takes no time at all to make, it's very flavourful and you can eat it warm or as a salad! Click here for recipe

Garganelli with tuna Bolognese
This super simple but delicious three ingredient pasta with canned tuna recipe from Bologna is probably the easiest Italian pasta recipe I know. However, despite its simplicity, it was recently registered as a traditional recipe from Emilia-Romagna with the Italian academy of cuisine (L'Accademia Italiana della Cucina). A great weeknight dinner option! Click here for recipe

Tuna carbonara.
This seafood version of carbonara is so easy to make, creamy and delicious! There are only 4 ingredients, not counting the pasta and you can have this dish on the table in no time at all! This is a great canned tuna pasta recipe for entertaining too! Click here for recipe
If you do try any of these canned tuna pasta recipes, I'd love to hear what you think. Please write a comment here on the blog or post a comment on the Pasta Project Facebook page.
Your feedback means a lot to me!
Buon appetito!
Pin for Later