Fusilli with black olive pesto and tuna.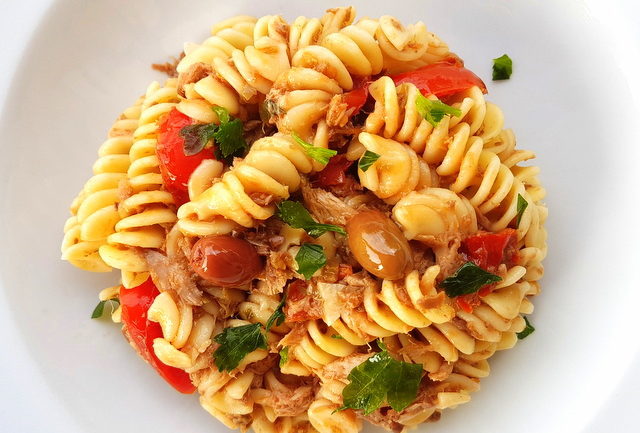 I'm always on the lookout for tasty pasta recipes which work well as salads too and don't take long to make. This recipe for pasta with black olive pesto and tuna from Calabria ticked all the boxes. It takes no time at all to make, it's very flavourful and can be eaten warm or as a salad! In fact, I ate the leftovers cold the following day and still can't decide which I preferred, hot or cold?
(click to go straight to recipe)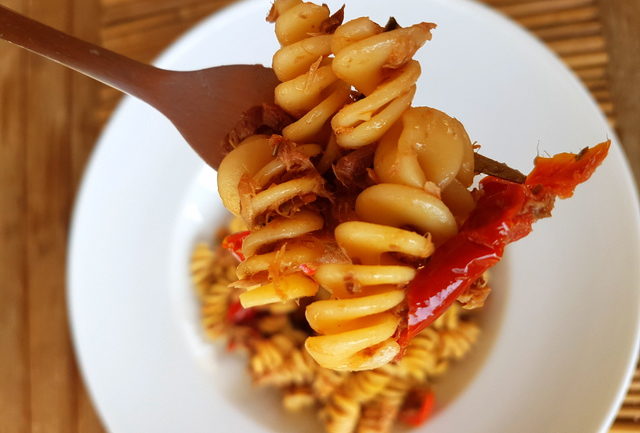 Recipes for pasta with olives are typical in Southern Italian. This is not surprising since most of Italy's olives and olive oil come from the southern Italy regions of Calabria, Puglia and Sicily. In fact, olives have been cultivated in the Southern Italian regions for thousands of years and the landscapes of all these regions are dominated by olive groves.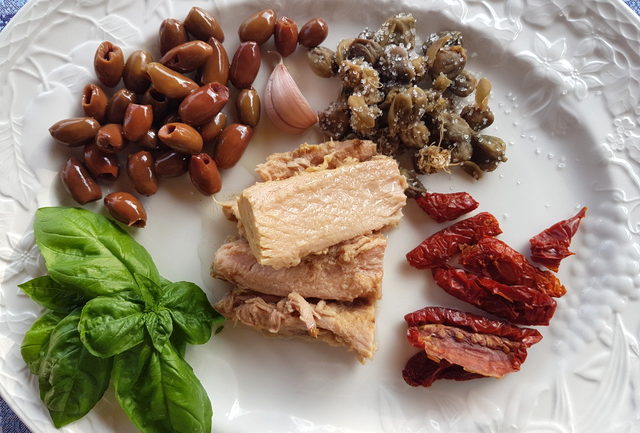 Tuna (mostly canned tuna) is very often paired with olives in pasta recipes. In Italian, they say 'tonno sott'olio'. In the past, Southern Italians living in coastal areas and on the islands used to preserve fresh tuna in olive oil, to be used during the winter or sold inland. Some still do this themselves to this day, although , of course, tuna in olive oil is readily available in every supermarket.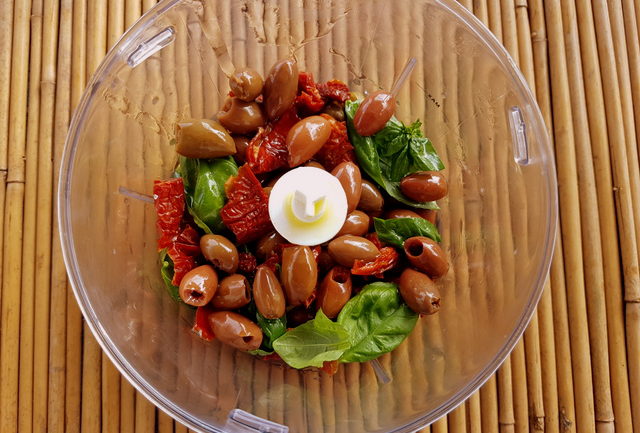 Having said that, like every ingredient, quality is key to taste. Luckily here in Italy, good quality tuna in olive oil is easily available. When buying tuna in a can or jar, take the time to read the label. If it's fished and canned in Italy then it's likely to taste great!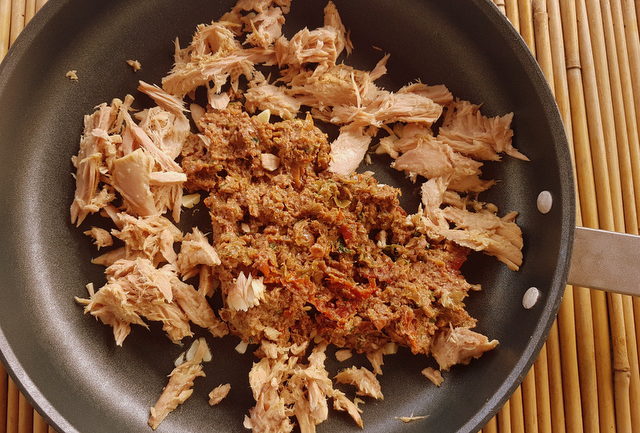 Traditionally pasta dishes with tuna and olives or with tuna, olives and capers are served sprinkled with toasted bread crumbs. Southern Italians use toasted breadcrumbs a lot. Apparently it's a throwback to the days when cheese was too expensive for the peasant population and they used breadcrumbs as a substitute. It's also very traditional on pasta with fish as, in general, Italians don't put cheese on seafood pasta dishes (except in seafood carbonara!) I decided not to use breadcrumbs myself in this pasta with black olive pesto dish, but you can and it works well!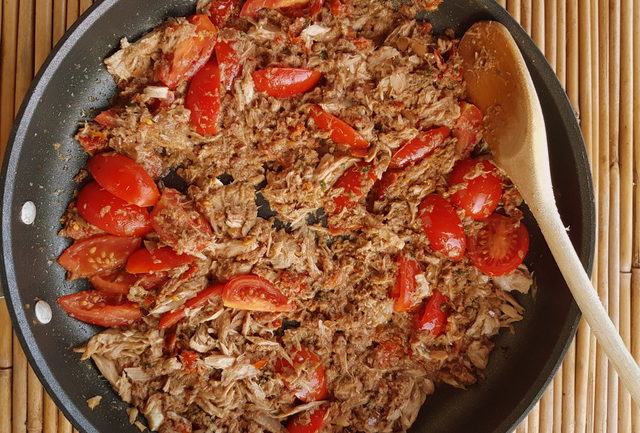 What makes this recipe is the pesto! It's similar to a rough olive tapenade but can also be used in the same way. So, if you make extra pesto, it can be served on pizza, bruschetta or crostini! In Calabria, home to 30% of Italy's olive production, olive pesto is also made and sold in jars by a number of companies. It's possible to buy it ready made all over Italy and even abroad but ,of course, I much prefer to make my own!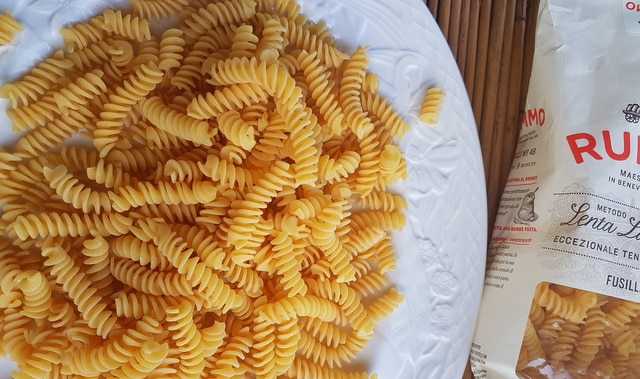 You can use a number of different types of olives to make black olive pesto. Of course, ideally you want to buy destoned olives. The pitted Spanish ones that are found in most supermarkets are okay. However, they are much darker in colour than 'black' Italian olives (which are actually purple or reddish-brown) and not as tasty or sweet. The best types, although hard to find already pitted, are Latium olives from Gaeta, Ligurian Taggiasche (my favourites!) Tuscan Lucchesi olives and even Greek Kalamata olives. Very green or bright green olives generally taste a little sour, so they're not as popular for pesto.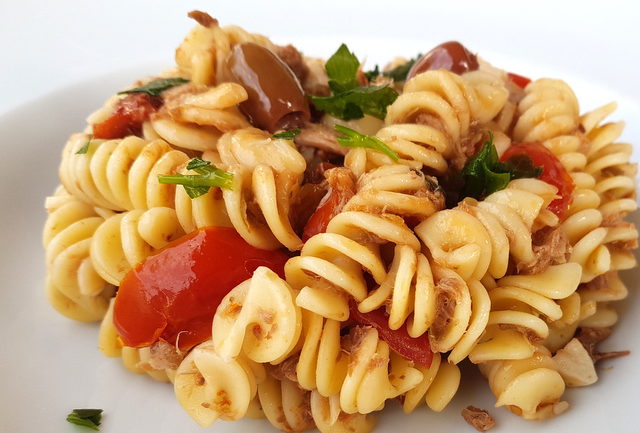 Tomatoes, both fresh and dried, and capers make up the other main ingredients in this recipe. Both are of course typical Southern Italian foods and find their way into almost all pasta or seafood dishes in the south, particularly tomatoes. I didn't use dried tomatoes preserved in oil as I used olives preserved in oil and didn't want the dish to be too oily.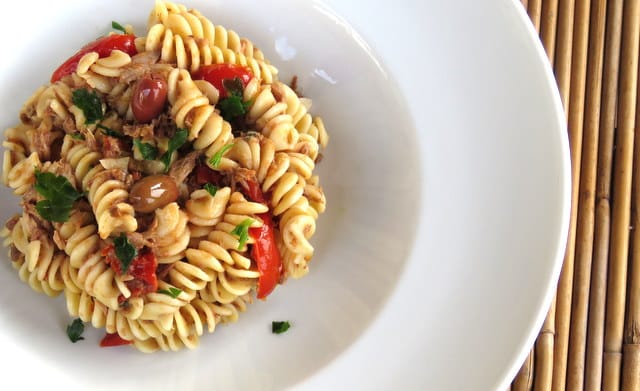 I used dried fusilli from Rummo, a pasta company from Campania which, in my opinion, produces a very high quality pasta. The fusilli were an excellent pairing for this recipe. They look really nice, keep their shape after cooking and the sauce and bits of tuna get inside the spirals so every mouthful is tasty and you don't leave most of the sauce on the plate! Having said that, as with most pasta recipes you can serve other types of pasta with black olive pesto. I would recommend short pasta tubes as an alternative to fusilli.
Buon Appetito!
(see the recipe on page 2)