I'm always on the lookout for tasty pasta recipes which work well as salads too and don't take long to make. This recipe for black olive pesto pasta from Calabria ticked all the boxes.
It takes no time at all to make, it's very flavorful and can be eaten warm or as a salad! In fact, I ate the leftovers cold the following day and still can't decide which I preferred, hot or cold?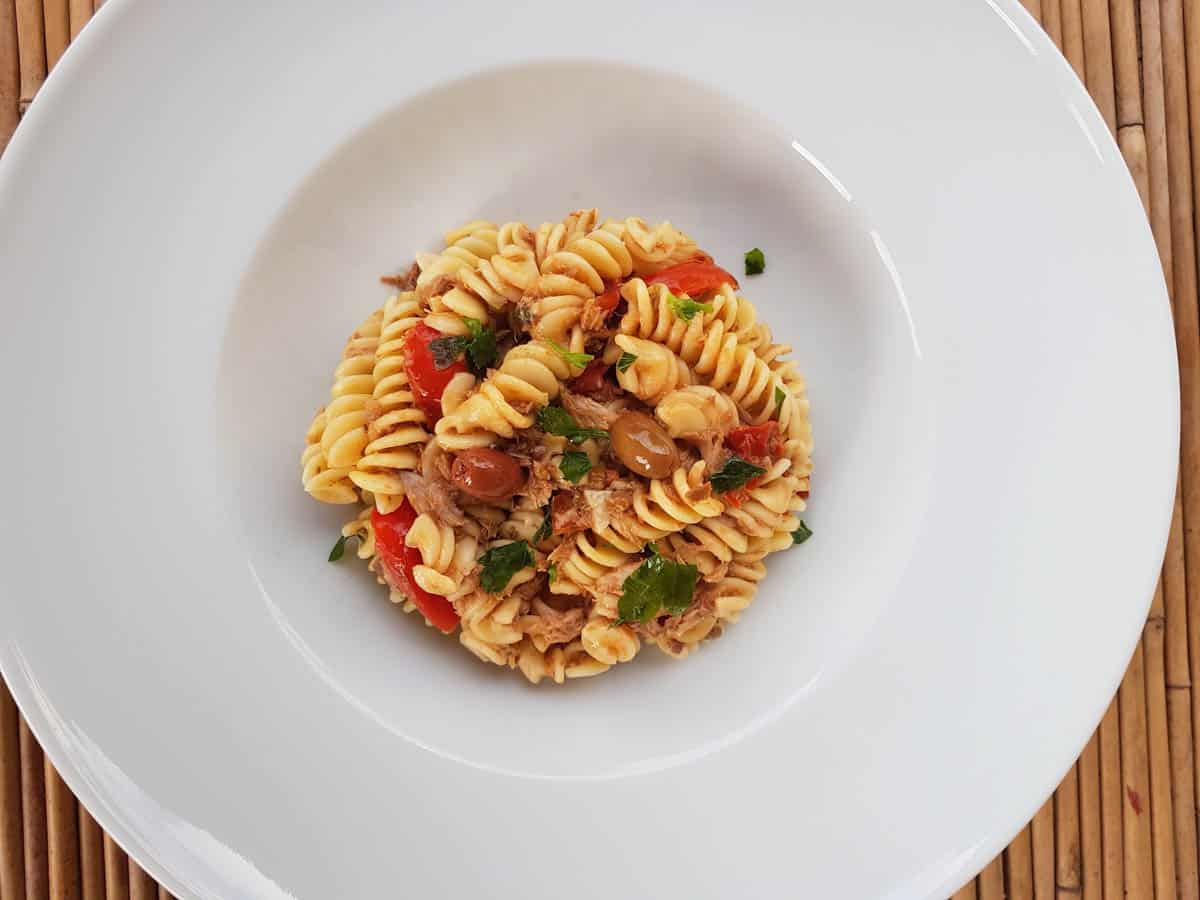 History
Recipes for pasta with olives are typical in Southern Italy. This is not surprising since most of Italy's olives and olive oil come from the southern Italy regions of Calabria, Puglia and Sicily. In fact, olives have been cultivated in the Southern Italian regions for thousands of years and the landscapes of all these regions are dominated by olive groves.
Tuna (mostly canned tuna) is very often paired with olives in pasta recipes. In the past, Southern Italians living in coastal areas and on the islands used to preserve fresh tuna in olive oil themselves.
Then, they consumed it during the winter or sold it inland. Some still do this to this day. Of course, nowadays, tuna in olive oil is readily available in every supermarket. In Italian, they say 'tonno sott'olio' for tuna preserved in olive oil.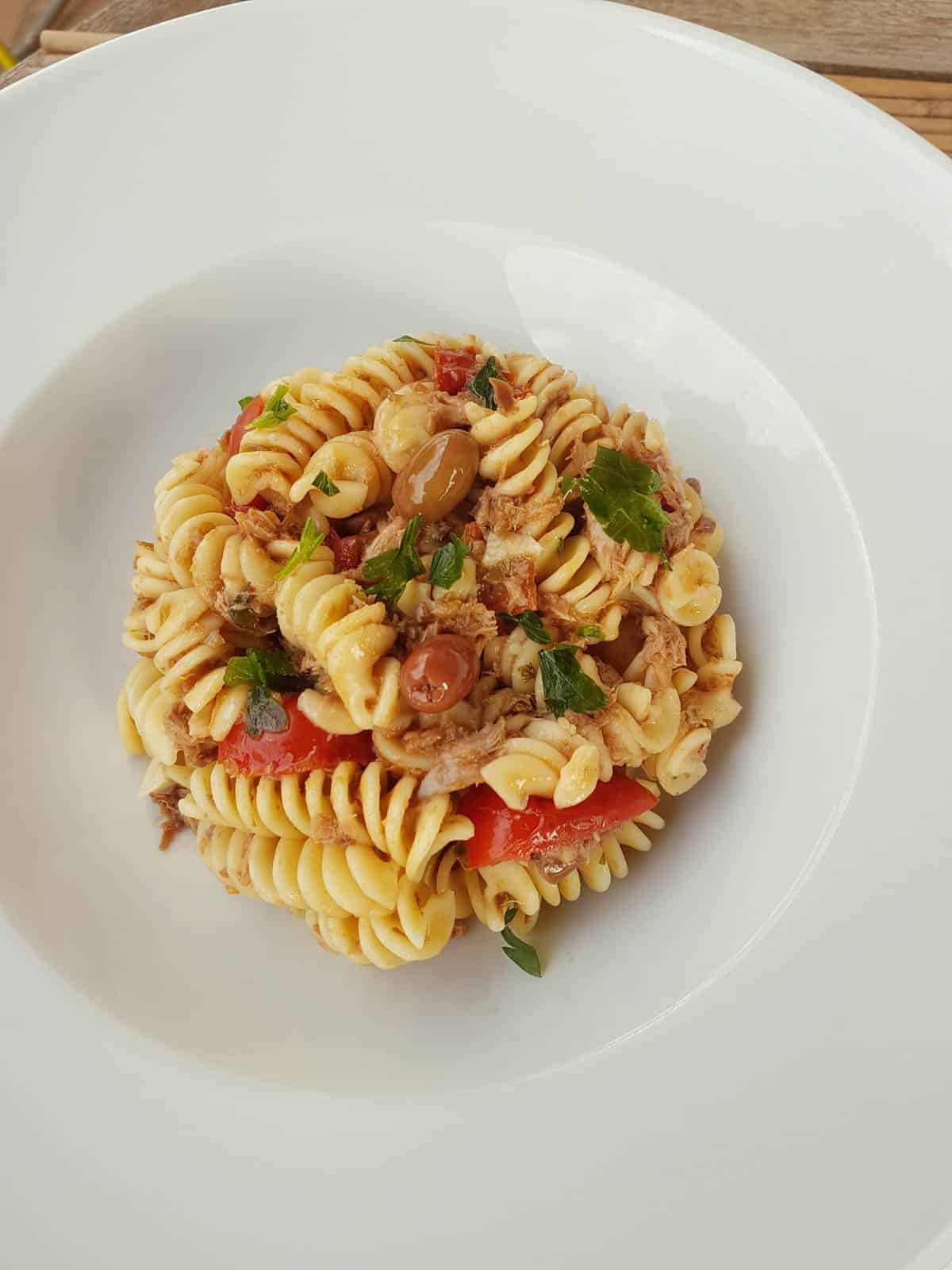 What makes this recipe is the pesto! It's similar to a rough olive tapenade but can also be used in the same way. So, if you make extra pesto, it can be served on pizza, bruschetta or crostini!
In Calabria, home to 30% of Italy's olive production, olive pesto is also made and sold in jars by a number of companies. It's possible to buy it ready made all over Italy and even abroad. However, I much prefer to make my own!
Ingredients
This olive pesto pasta uses a lot of classic southern Italian ingredients. The type of pasta you use is really up to you. I found that fusilli worked best as it's spiral shape catches and holds the pesto really well.
Pasta: I used fusilli for this black olive pesto as it's spiral shape makes it a great pasta to catch the pesto. If you want to try a different pasta, other short pasta like penne or rigatoni would work well too.
Extra Virgin Olive Oil: A staple in Italian cuisine, it adds a wonderful depth of flavor. The quality of olive oil can significantly impact the dish, so opt for a good quality one.
Olives: Ideally you want to buy destoned olives. The pitted Spanish ones that are found in most supermarkets are okay. However, they are much darker in color than 'black' Italian olives (which are actually purple or reddish-brown) and not as tasty or sweet. The best types, although hard to find already pitted, are Latium olives from Gaeta, Ligurian Taggiasche (my favorites!), Tuscan Lucchesi olives and even Greek Kalamata olives.
Sun-Dried Tomatoes: These provide a concentrated, tangy tomato flavor. I used just dried tomatoes not those preserved in oil as I used olives preserved in oil and didn't want the dish to be too oily.
Salted Capers: These tiny flavor bombs give a nice tanginess to the pesto. Be sure to rinse them well before use to remove excess salt.
Canned Tuna: Choose a good quality canned tuna for the best taste. If possible, go for one that's fished and canned in Italy.
Datterini Tomatoes: A smaller, sweeter variety of tomatoes that work beautifully in the dish. If these aren't available, cherry tomatoes are excellent substitutes.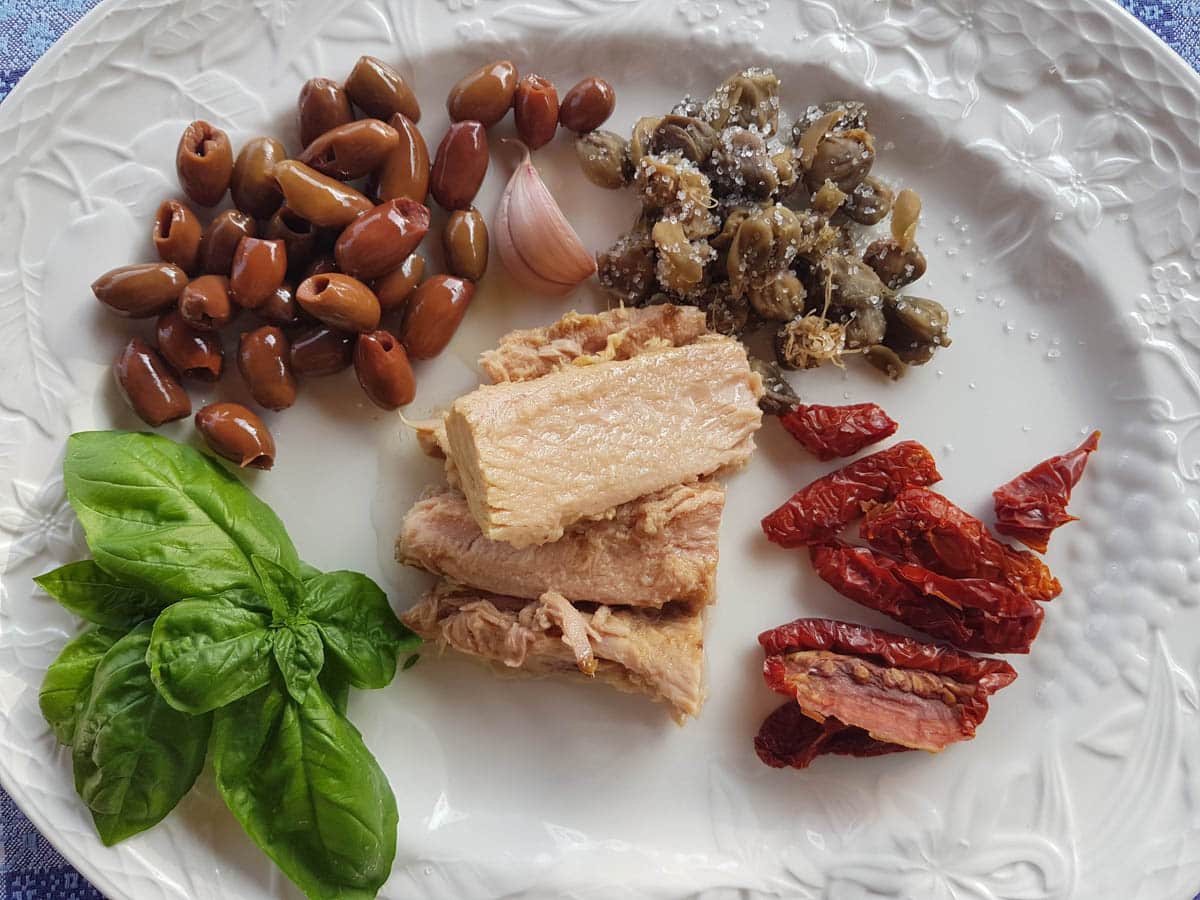 Step by Step Instructions
1) Add olives, basil leaves, sun-dried tomatoes, capers and a tablespoon of olive oil to a food processor. Pulse together until it achieves a rough, thick consistency.
Note: You don't want it to be too smooth as it won't add as much texture to your pesto pasta. If the olive pesto seems a bit dry then pulse in a drizzle more of olive oil.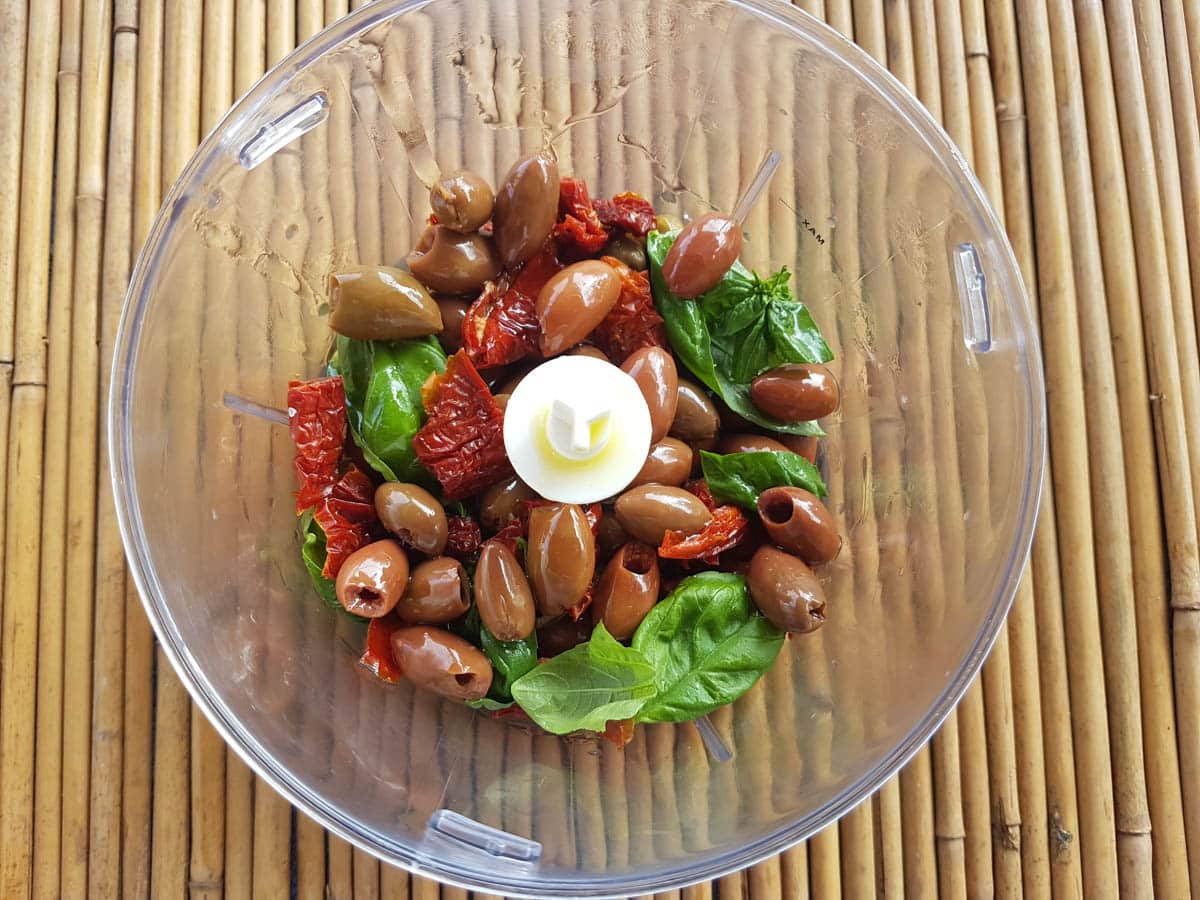 2) In a large frying pan or skillet, heat 3 tablespoons of the extra virgin olive oil. Add the finely sliced garlic cloves and cook until they start to soften. Once softened, add the olive pesto prepared earlier.
3) Stir the mixture well and let it cook on low heat for about 4 minutes. Then add the tuna and mix well.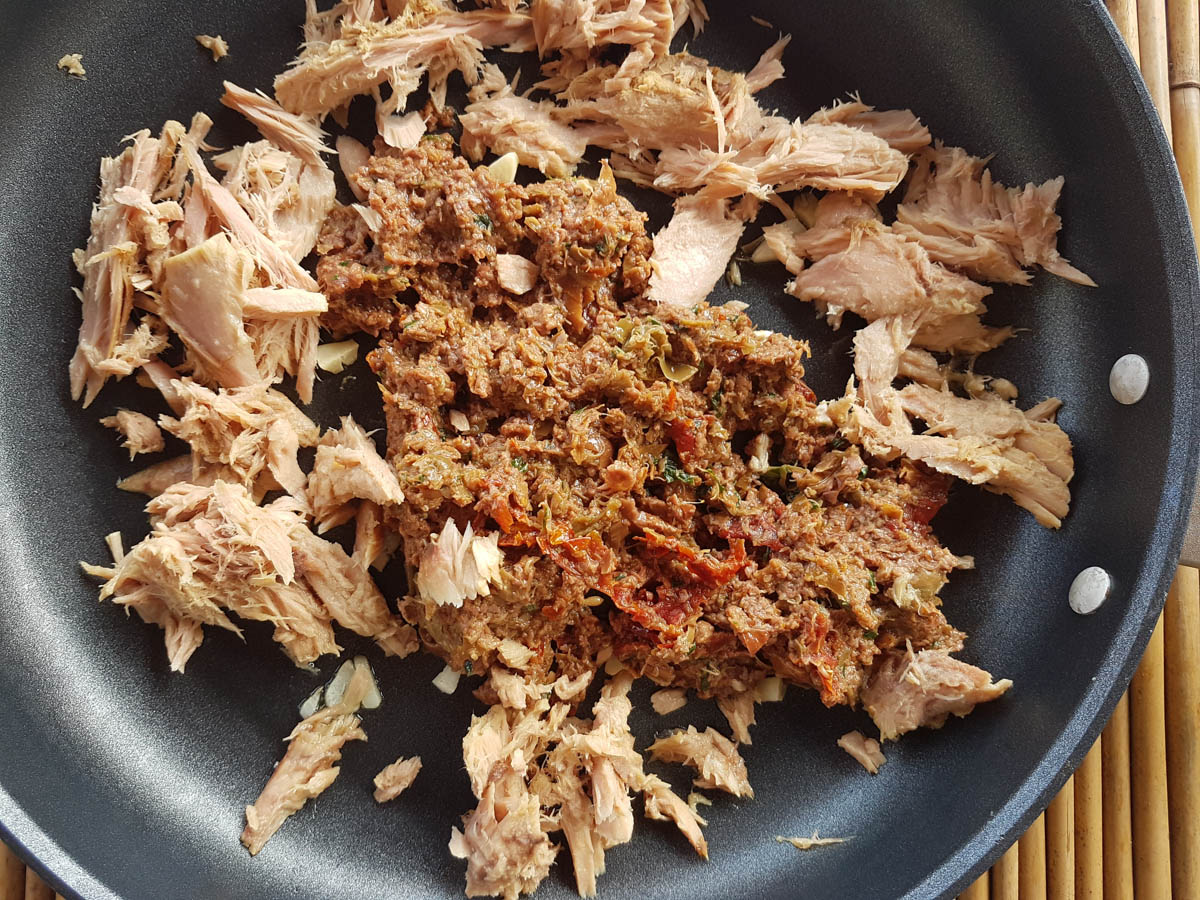 4) Add the tomatoes and cook over a medium heat until the tomatoes start to softened.
5) While the sauce is cooking, bring a pot of water to a boil for the pasta. Add salt once the water starts to boil, then let the water return to a boil. Cook the pasta in the boiling salted water until it's al dente, following the package instructions for timing. Reserve some pasta cooking water before draining the pasta.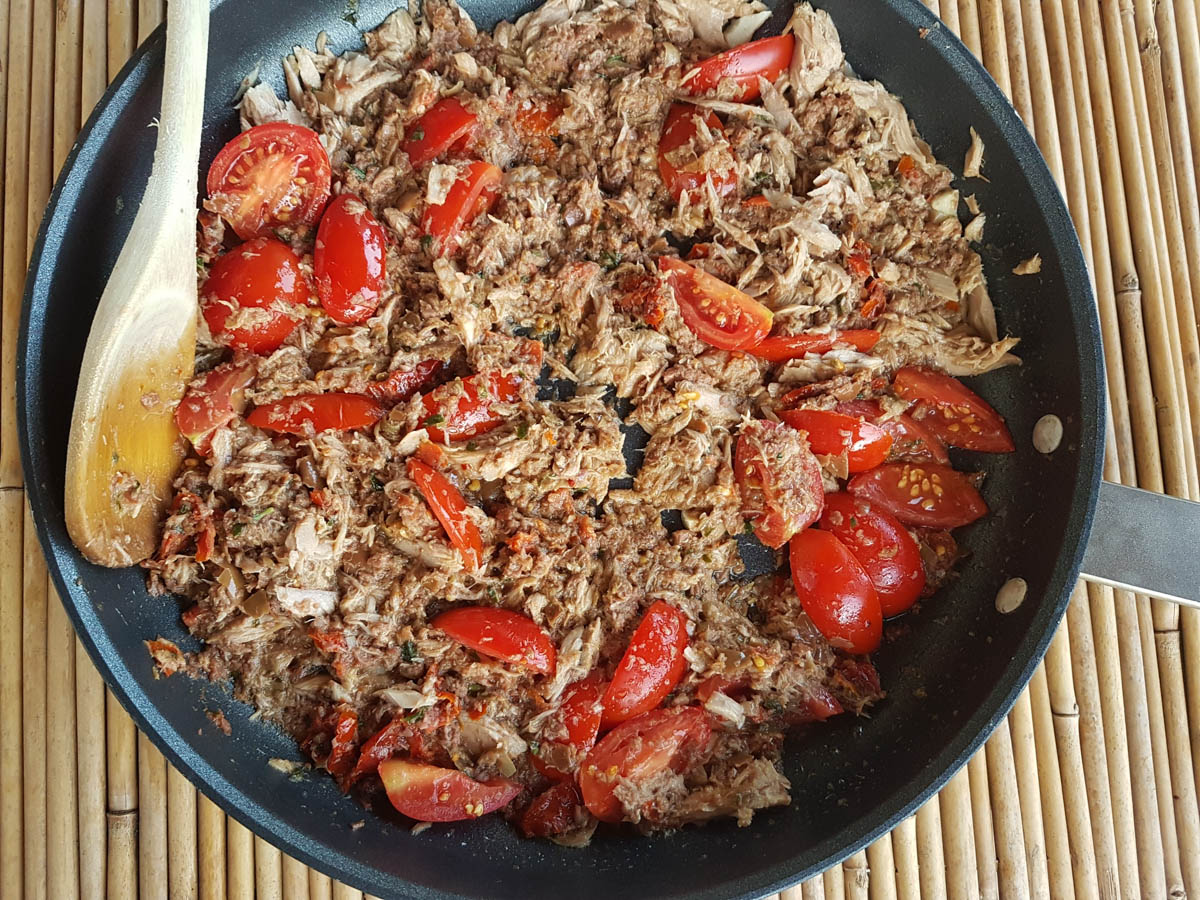 6) Add the cooked pasta to the olive pesto sauce. Mix everything well and season to taste with salt and pepper. If the sauce seems dry, add some of the pasta cooking water and mix again.
7) Serve the olive pesto pasta sprinkled with chopped fresh parsley and optional peperoncino flakes.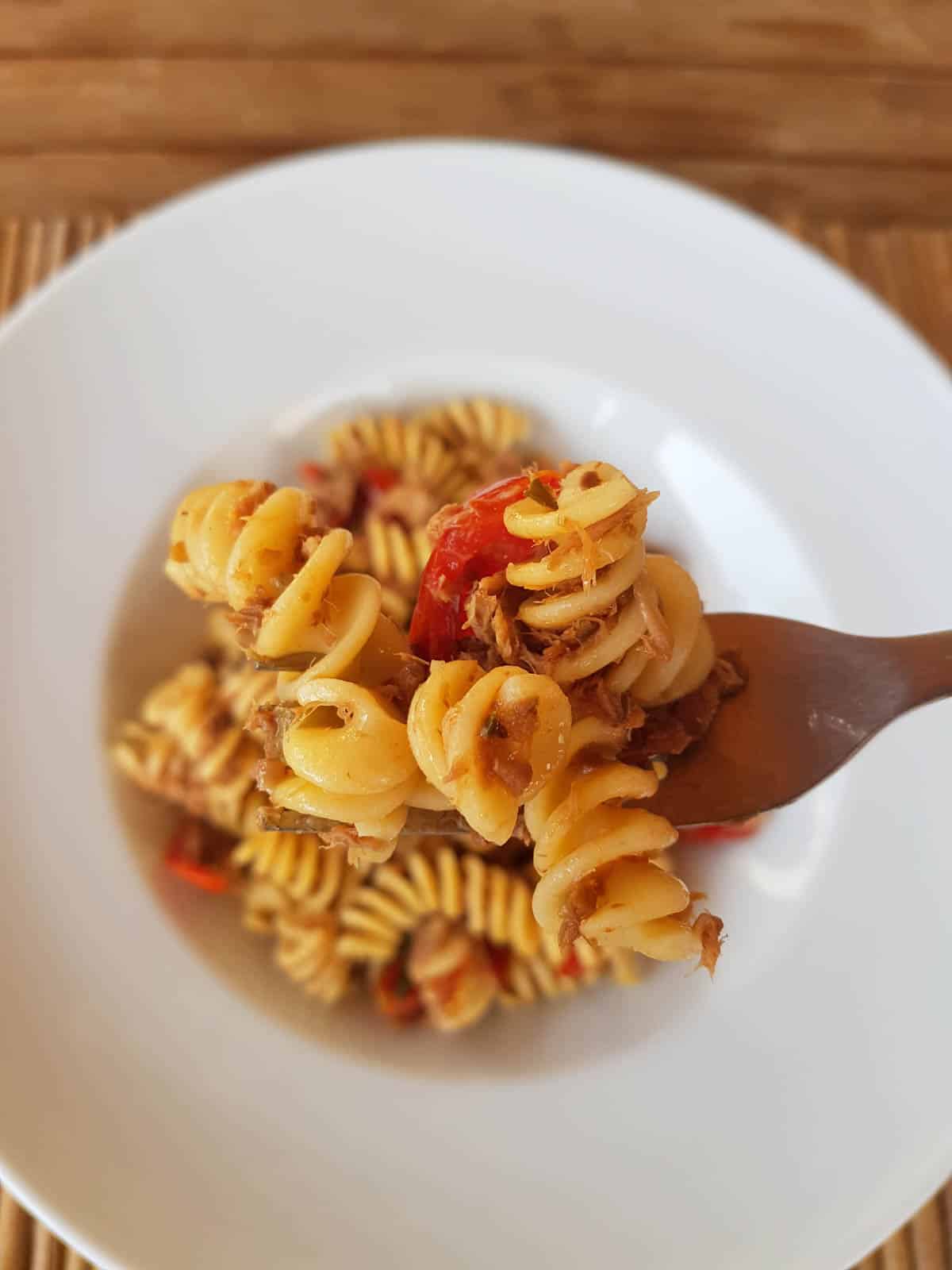 Storage and Leftover
Black olive pesto pasta makes for excellent leftovers. To store, simply place it in an airtight container and refrigerate for up to 3 days. It can then be enjoyed cold, right from the fridge for a quick meal or reheated covered in the microwave.
FAQs
I don't have a food processor. Can I still make the pesto?
Yes! A food processor is a convenient appliance but not the only way you can make this pesto. One alternative is to chop all the ingredients very finely. After doing this, place them into a ziplock bag and squash them further using a rolling pin. This will help mix the ingredients and achieve the rough texture we're aiming for. Alternatively, you could chop the ingredients and put them into a blender jar, then use an immersion blender to break them down further.
What else can I use black olive pesto for?
Apart from pasta this black olive pesto works well with various dishes, including bruschetta, crostini and on pizza.
Can I prepare this pesto ahead of time?
If you're planning for a future meal or want to save time, you can prepare the pesto in advance. Store it in an airtight container in the refrigerator, where it should keep for up to a week.
More Recipes You May Like:
If you make this recipe I'd love to hear how it turns out and if you liked it. Please leave a comment here on the blog or on The Pasta Project Facebook page. Looking forward to hearing from you.
Buon appetito!
Pin for Later: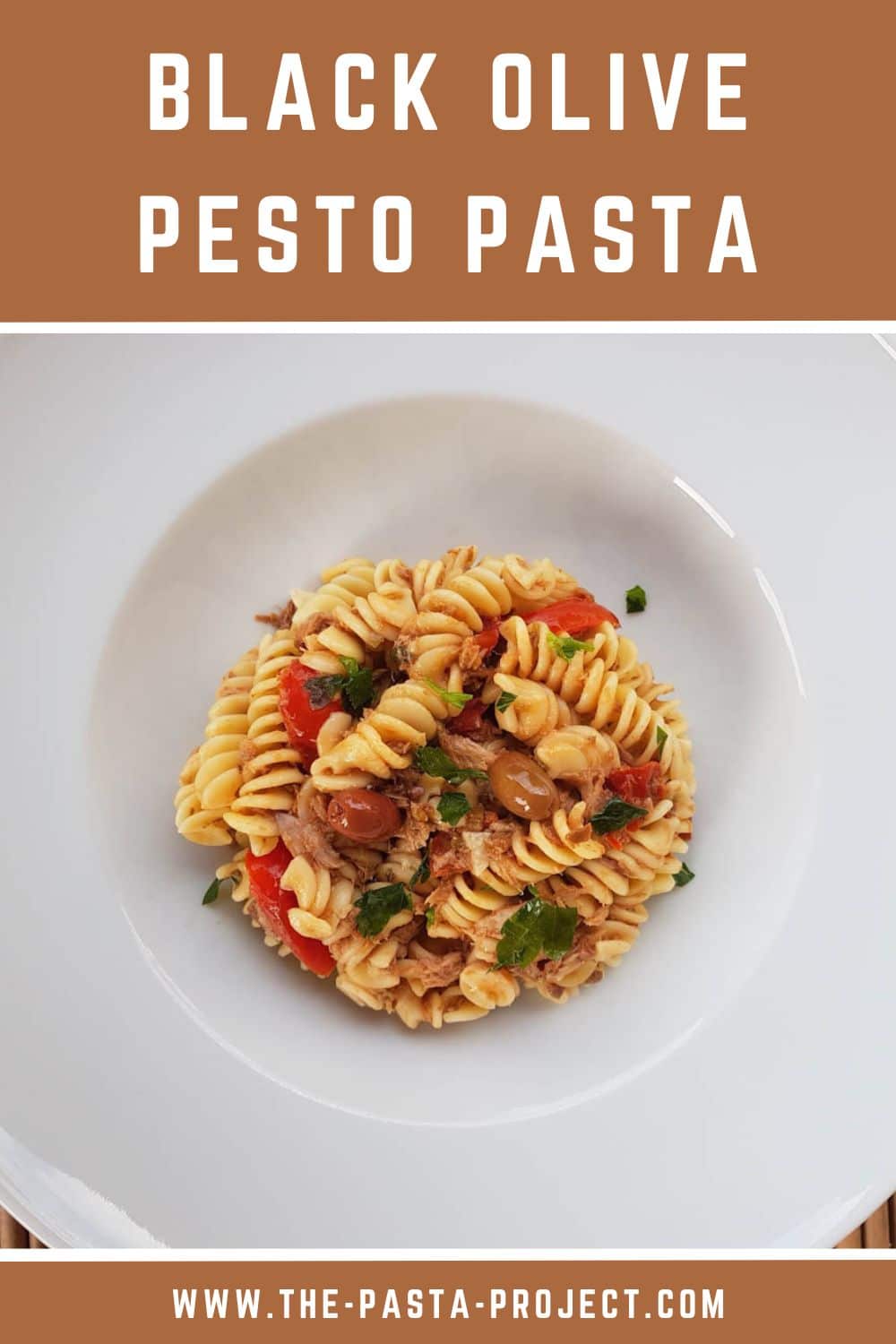 If you are interested in learning how to make homemade pasta and different types of gnocchi, check out my shop page for some great video online courses from my friends in Rome! Nothing beats learning to make pasta from Italians! Plus while you're there why not order a copy of my autumn/winter pasta recipes cookbook!?