Long fusilli with roasted pepper sauce.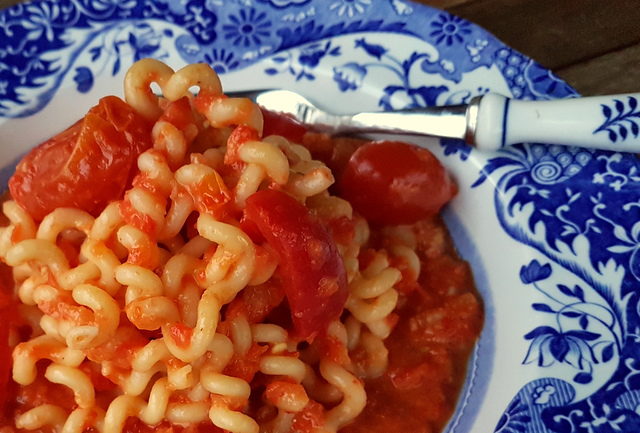 Fusilli lunghi con crema di peperoni.
Fusilli lunghi or long fusilli are originally from Campania. They are the longer version of the better known and more popular short fusilli pasta. However, I have to say that I think I love this type of fusilli more!! This recipe which pairs this lovely pasta with a roasted red pepper sauce is one of my favourite ways to eat long fusilli!
(click here to go straight to recipe)
The fusilli family!
As mentioned in a previous post, there is actually a fusilli family. The traditional short spiral pasta and this long version which Italians call fusilli lunghi, plus the short and long hollow types which are called 'bucati (meaning holed). The traditional type of fusilli was originally handmade. The spiral, corkscrew shape was obtained by twisting a strand of fresh pasta around a long needle or thin rod using a particular method which was reminiscent of spinning. In fact, the name 'fusilli' comes from 'fuso' which means spindle.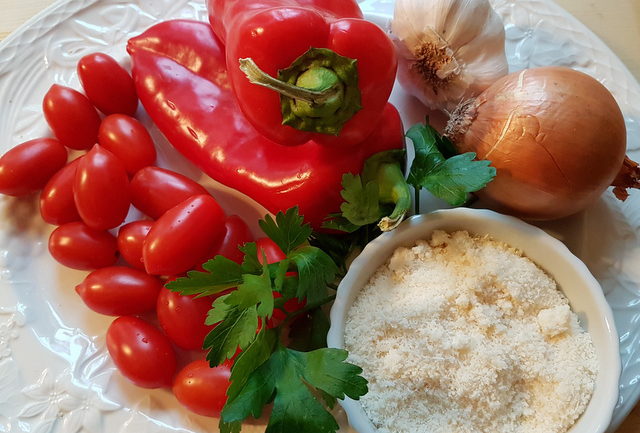 In Campania, this pasta is traditionally served with a simple sauce called 'lo scarpariello' made with fresh tomatoes and lots of Parmesan or pecorino cheese! But, on this occasion, I decided to make this long fusilli with roasted red pepper, another recipe I came across whilst researching Italian recipes for long fusilli. It is also quite simple, yet has a surprisingly rich creamy taste.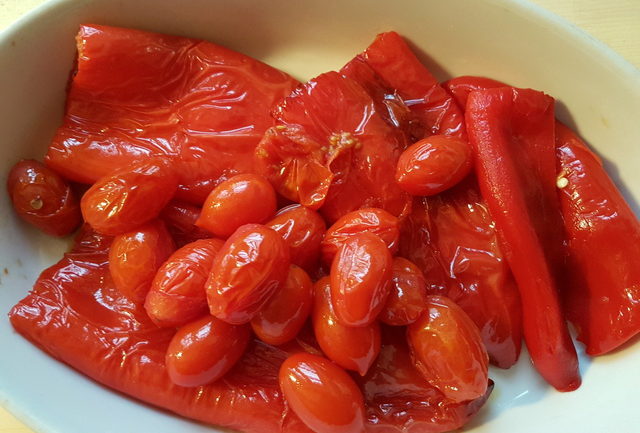 All you need for this long fusilli recipe is some red peppers (you can also mix red and yellow), Parmesan, garlic, white wine, an onion, some cherry tomatoes and a handful of chopped parsley. Instead of parsley, I actually added peperoncino (Italian chili pepper) to give it a bit of a kick, but that may not be to everyone's taste! If you do add chili, be sparing because you don't want to overwhelm the flavour of those roasted peppers. If you don't have long fusilli, you can of course use other types of thick long pasta like bucatini or bigoli, and even short pasta will work well. However, the fusilli lunghi are perfect!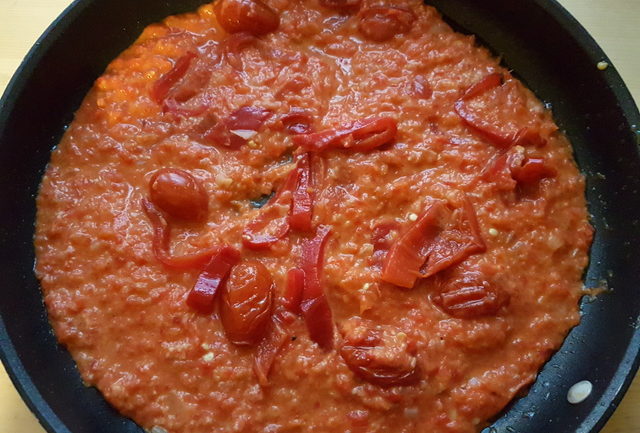 The combination of the long fusilli and the creamy red sauce make for a very attractive tasty plate of pasta. It's amazing how creamy the sauce is even though there's no cream in it! Some recipes for this dish do include cream, but I preferred to make it without and, in fact, I don't think cream is even necessary. Before liquidizing the sauce, I kept the roasted cherry tomatoes whole and saved a few pieces of roasted pepper to add some more colour and texture to the dish.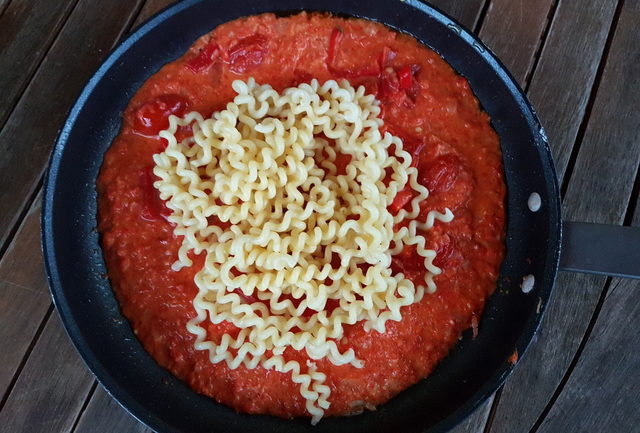 I'm sure this recipe will delight family and guests no matter their age. Do let me know if you try it! You can comment here on the blog, email me or post a comment on The Pasta Project Facebook page. Looking forward to hearing from you!
Buon appetito!
(See the recipe on the next page. Just scroll down and click 2)