Pasta with Mortadella, Pistachios and Parmigiano cream.
If you are a mortadella fan, you'll fall in love with this authentic Italian recipe for pasta with mortadella and pistachios. It's pretty fast and easy to make yet special enough to serve to guests.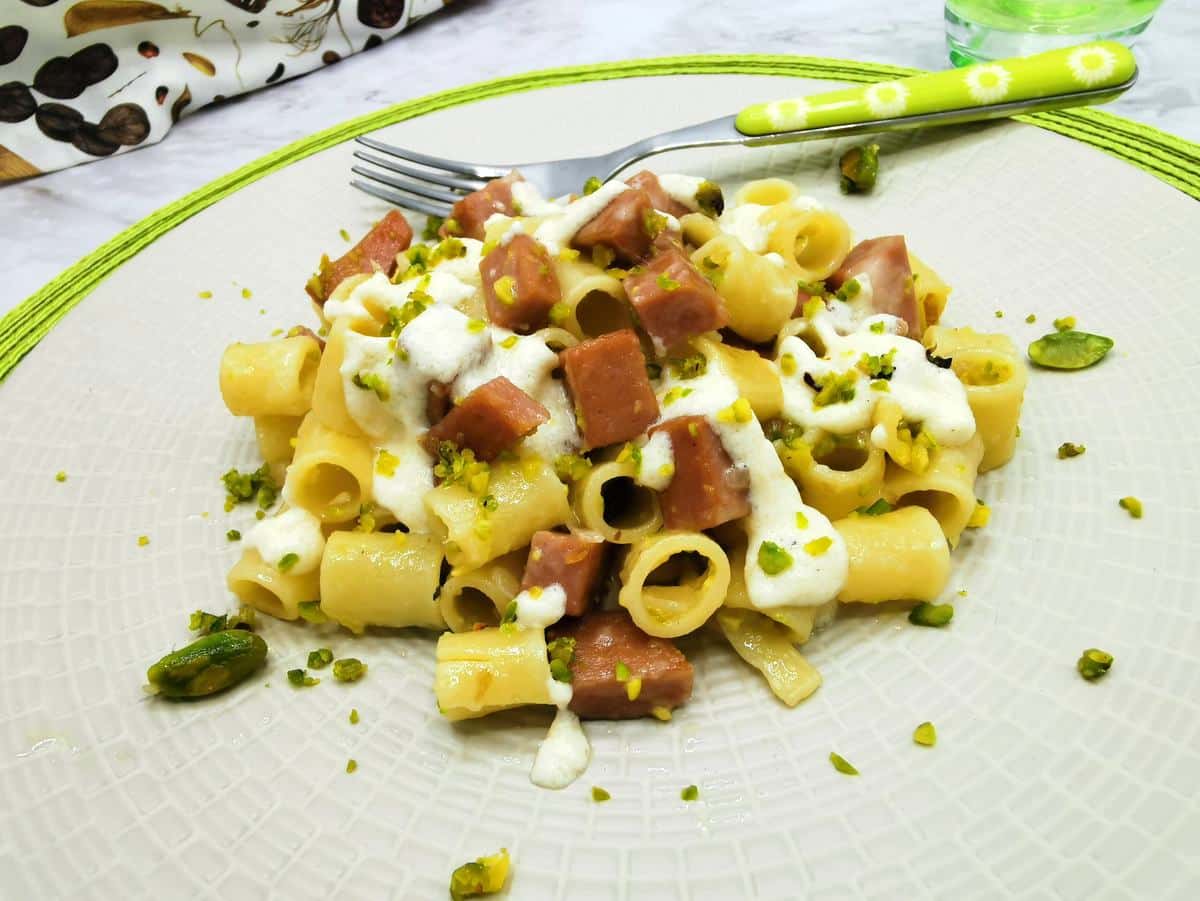 Pasta con mortadella e pistacchi.
I have to confess that, until now, I haven't been a big fan of mortadella, unlike many others I know including my hubby. What I mean is having mortadella in sandwiches or as part of a cold cuts platter just didn't do it for me. However, after making this pasta with mortadella and pistachios, I'm crazy about cooked mortadella!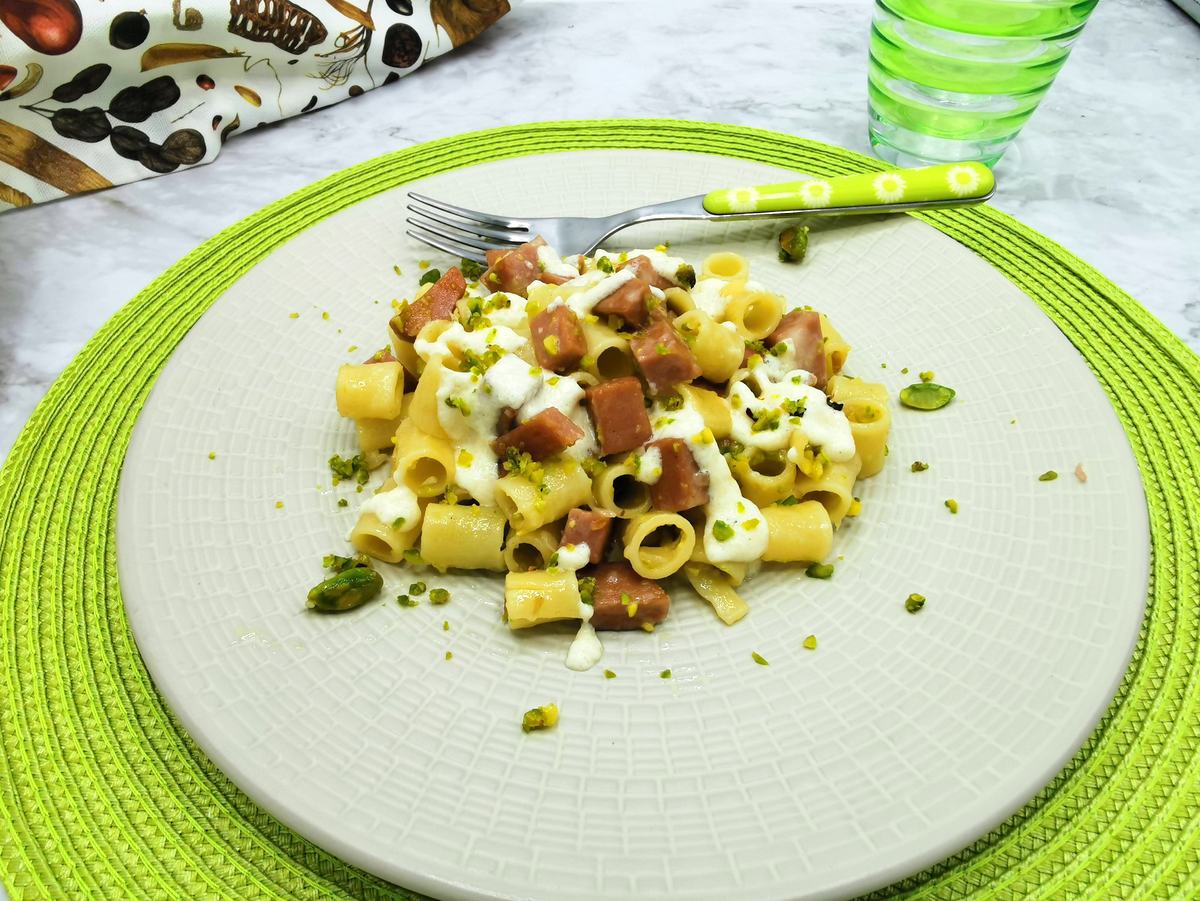 What exactly is mortadella ?
In short, mortadella or Mortadella Bologna IGP is a cured cooked pork meat sausage or luncheon meat that Italians have been enjoying for about 500 years or more!! The mortadella eaten in Italy today originated in Bologna, Emilia-Romagna, hence the name. It's made with finely minced high quality pork mixed with cubes of cooked pork fat. This mixture is filled into a giant casing and slow-cooked for about 24 hours.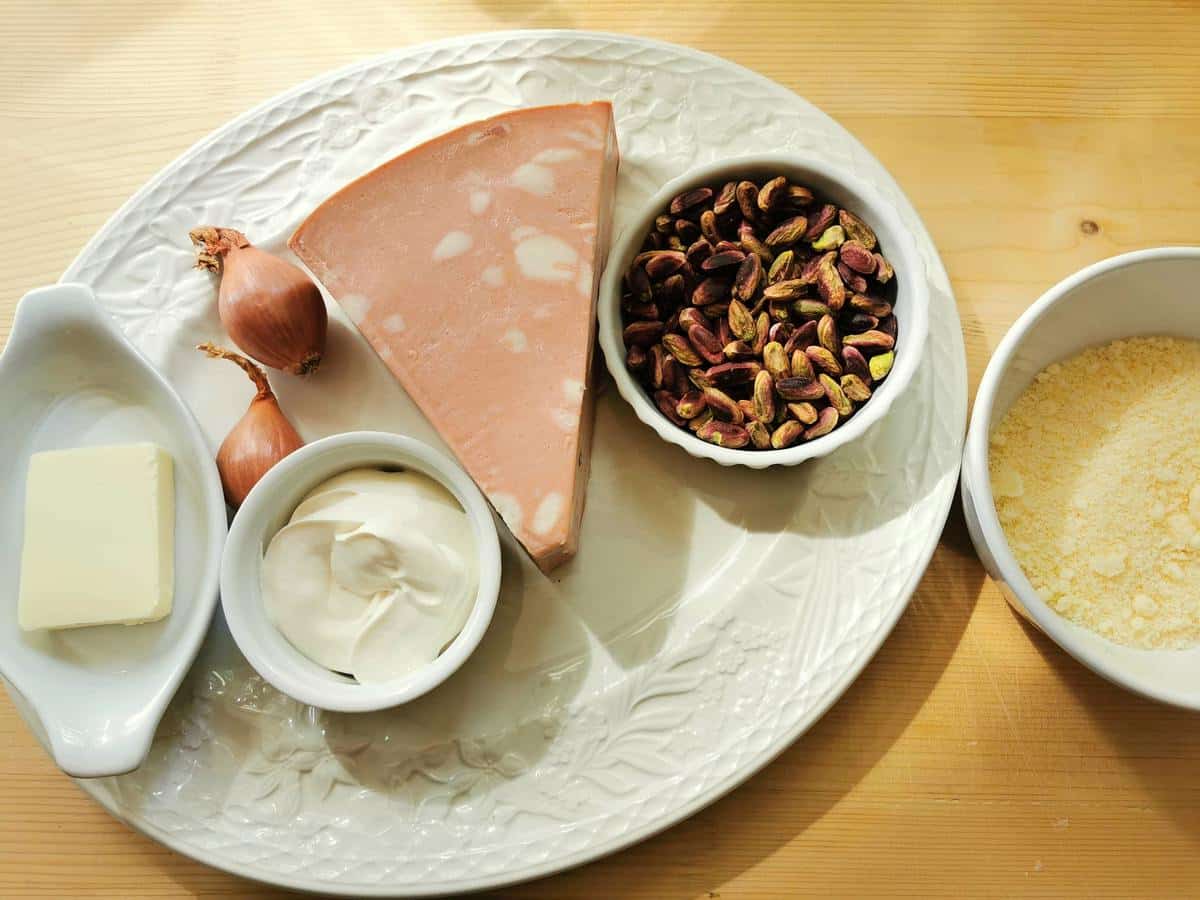 Traditionally mortadella also has black pepper corns, olives or myrtle berries in it. Some versions have pistachios. This is probably why pasta with mortadella and pistachios is a popular combination. The two really are delicious together as you will discover if you try this recipe.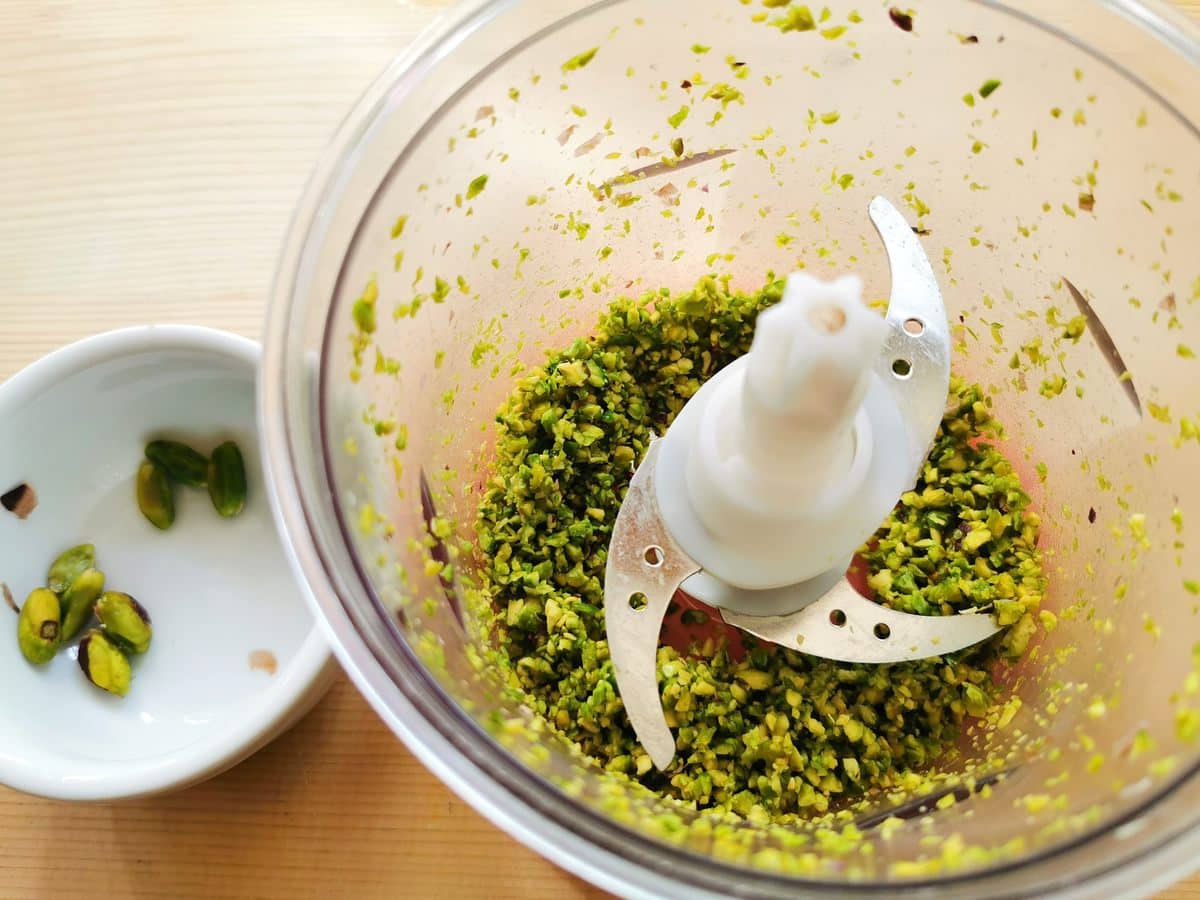 A little mortadella history.
Apparently the ancient Romans also enjoyed a version of mortadella. The first evidence of what is believed to have been a producer of mortadella is on display in the Archaeological Museum of Bologna. This is a stone slab from the Imperial Roman era. On it, there are seven pigs on one side and a mortar with pestle on the other.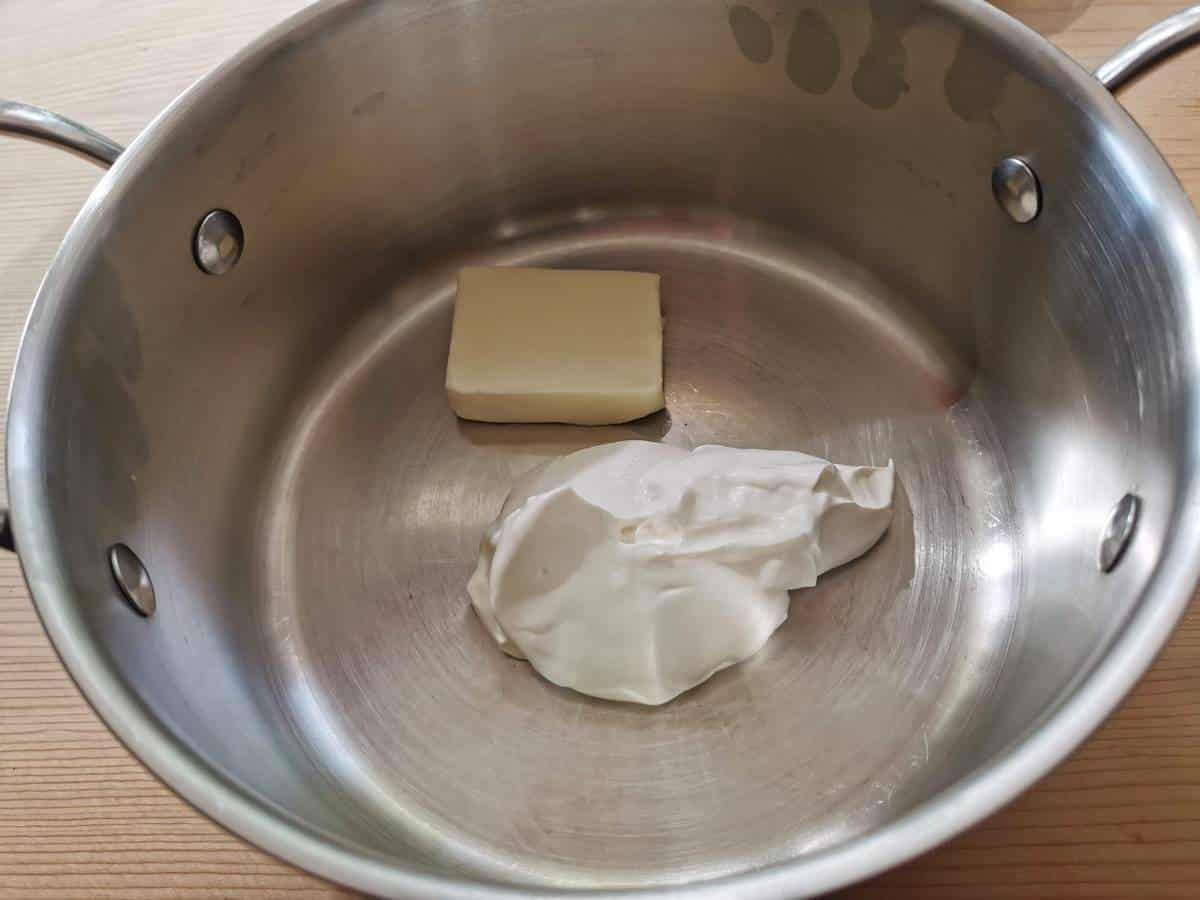 The Romans used mortars to pound and mix pork with salt and spices. So, many food historians believe that the name of this famous cured meat specialty comes from the Latin 'mortarium' or better from 'murtatum'. The latter actually means 'meat minced in a mortar'.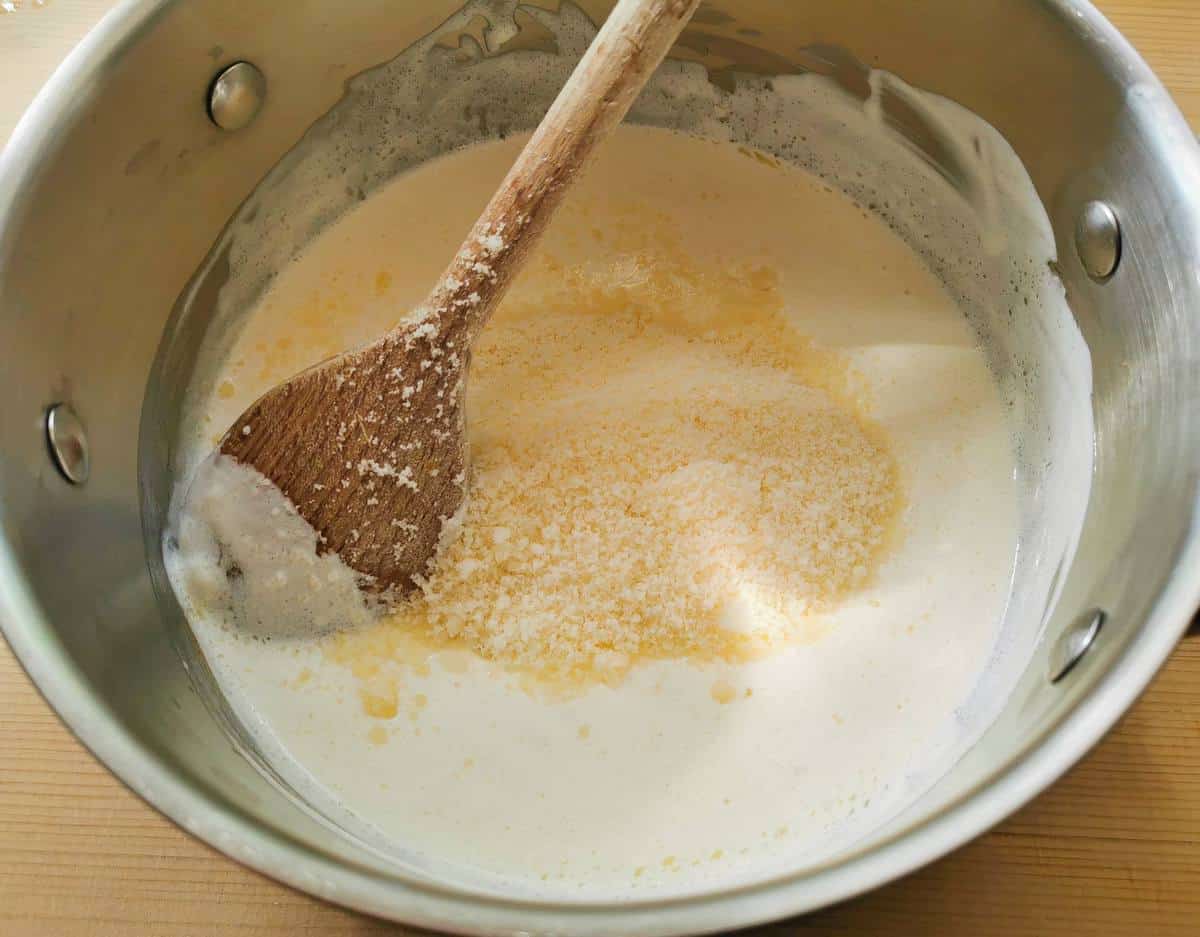 There is also a school of thought that the name mortadella comes from the Latin word 'myrtatum', meaning myrtle. Myrtle berries were one of the ingredients of a sausage the Romans called 'farcimen myrtatum'. This popular delicacy was mentioned in writings by both Pliny the Elder (23-79 AD) and Varro (116 - 27 BC). It could well have been the original mortadella!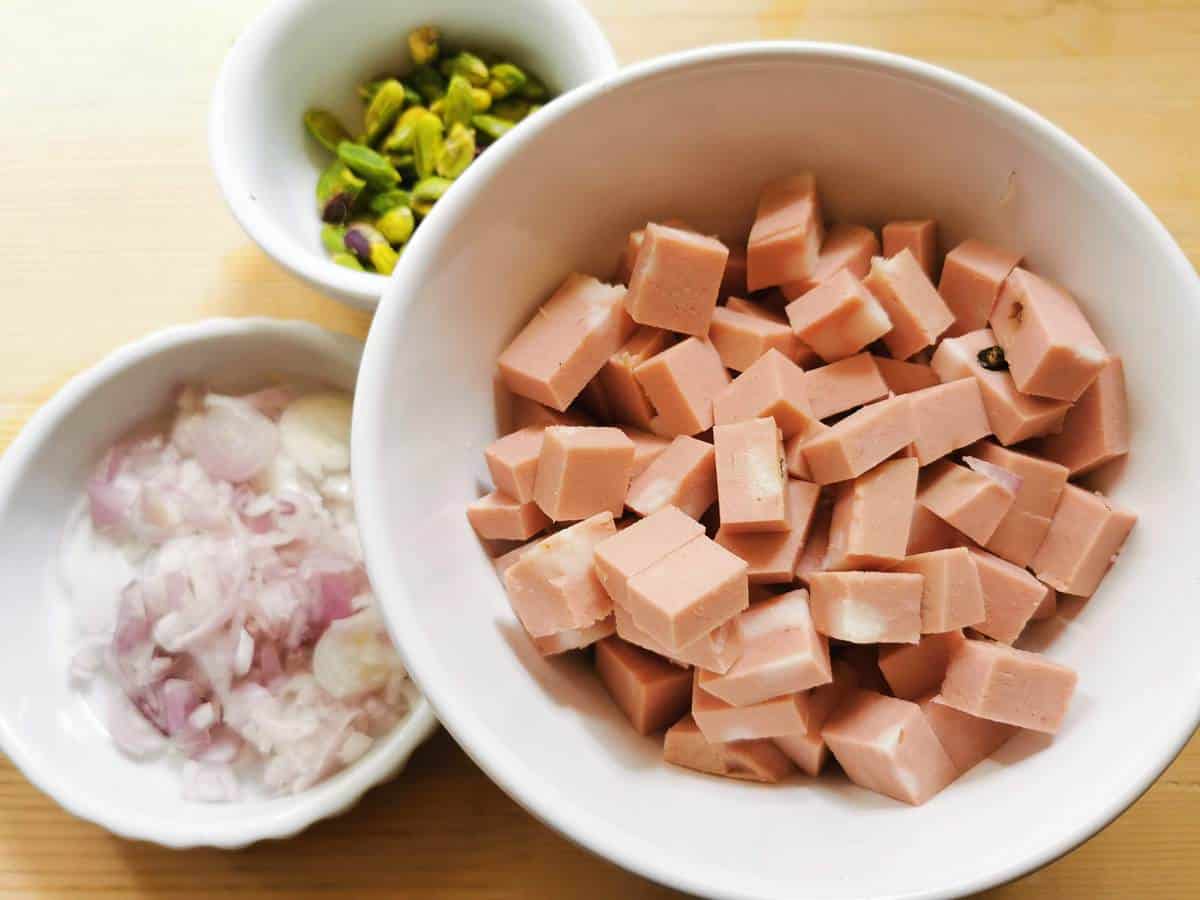 Italians actually made mortadella using a mortar until the 19th century. Then machinery made it easier and cheaper to make. Until that time, this much loved sausage was considered a delicacy and mostly eaten by the nobility. Later it became a popular food with all types of people and the mortadella sandwich was born!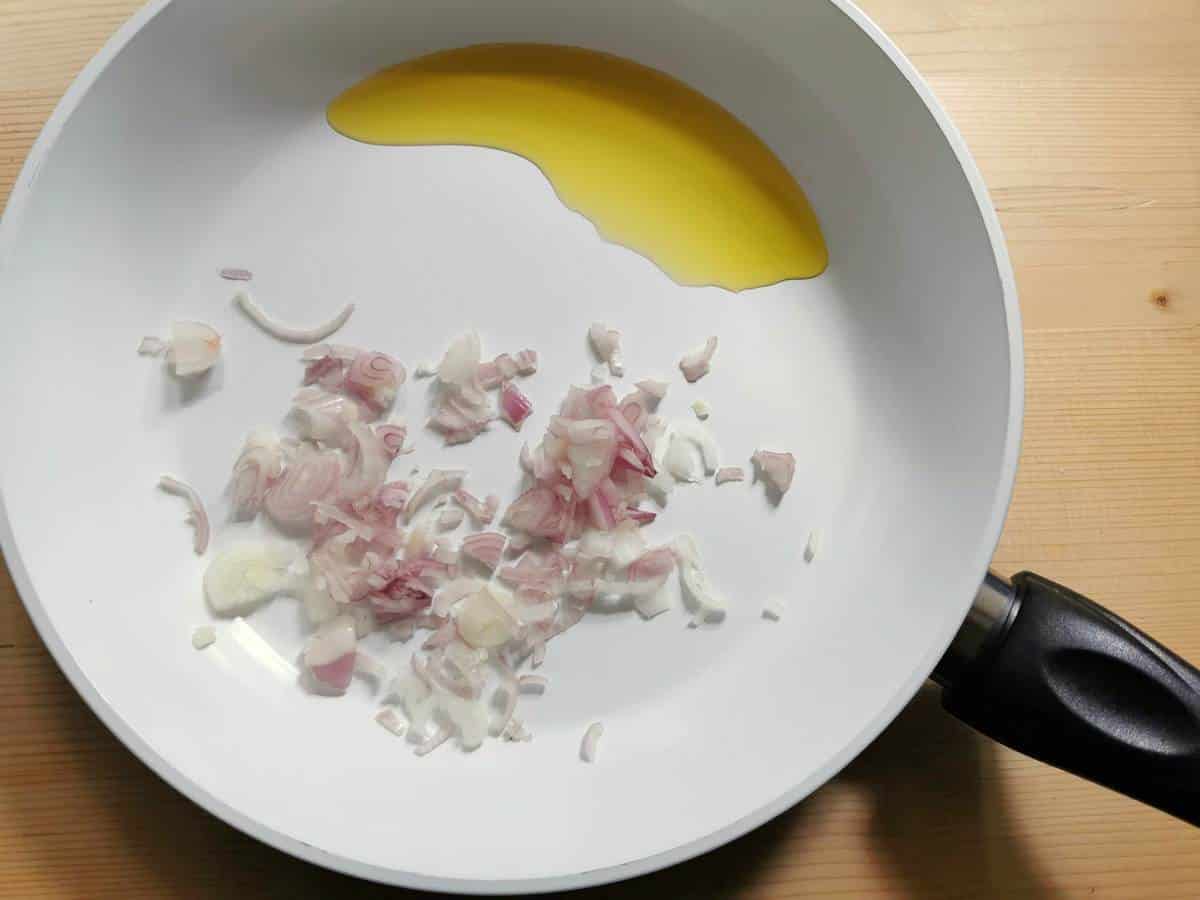 Mortadella around the world.
Here in Italy, there are different versions of mortadella. Of course, the most famous mortadella Bologna IGP is made in Bologna. However, they also make it in Lombardy, Piedmont, Veneto, Tuscany, Marche, and even Lazio and Trentino. Then there's a mortadella from Prato in which they include pounded garlic and an Italian liqueur called alchermes (actually made with the die produced by a scale insect called Kermes). In addition, there's a mortadella from Amatrice which is lightly smoked and a horsemeat version from Lazio!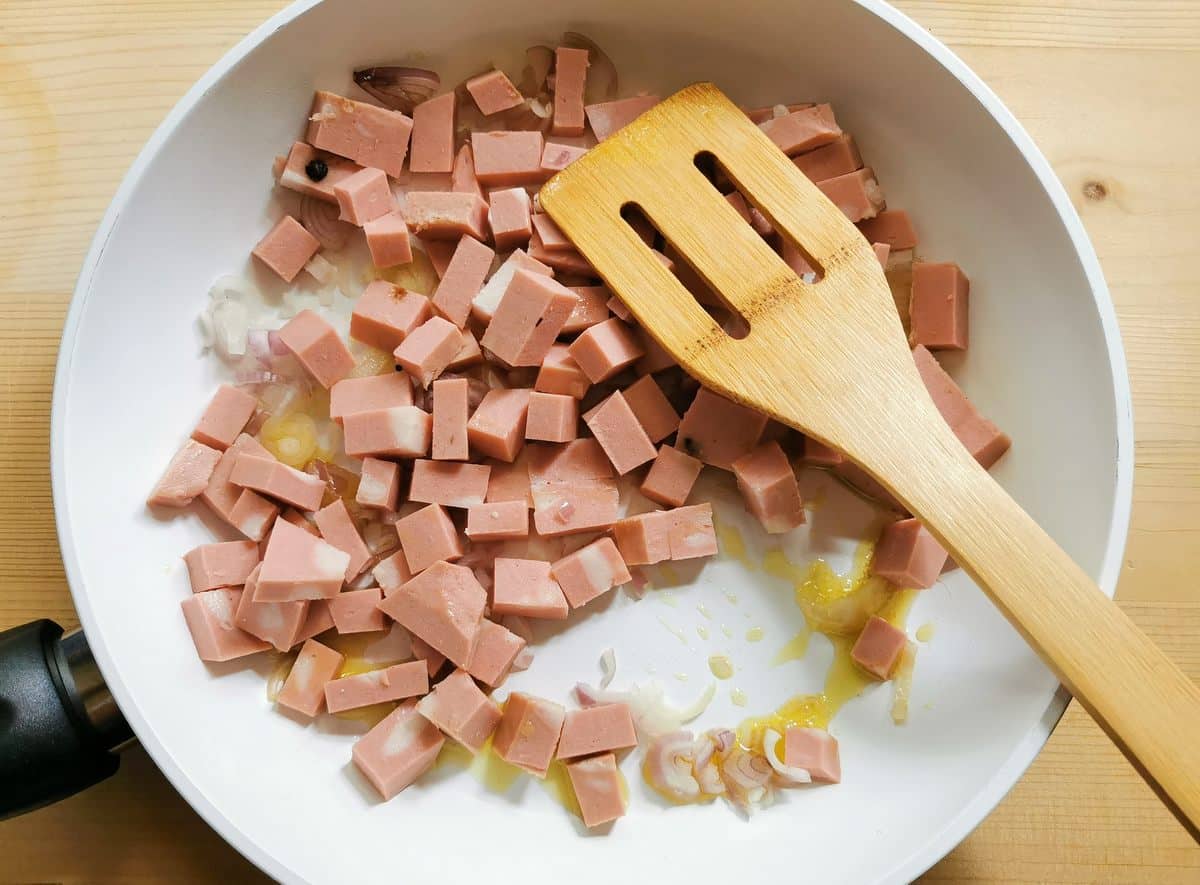 You can also find types of this cold cut in Central, Southern and Eastern Europe as well as in Spain and Portugal and most of South America. The American version of mortadella is called Bologna or baloney. However, it's not exactly the same as the Italian one.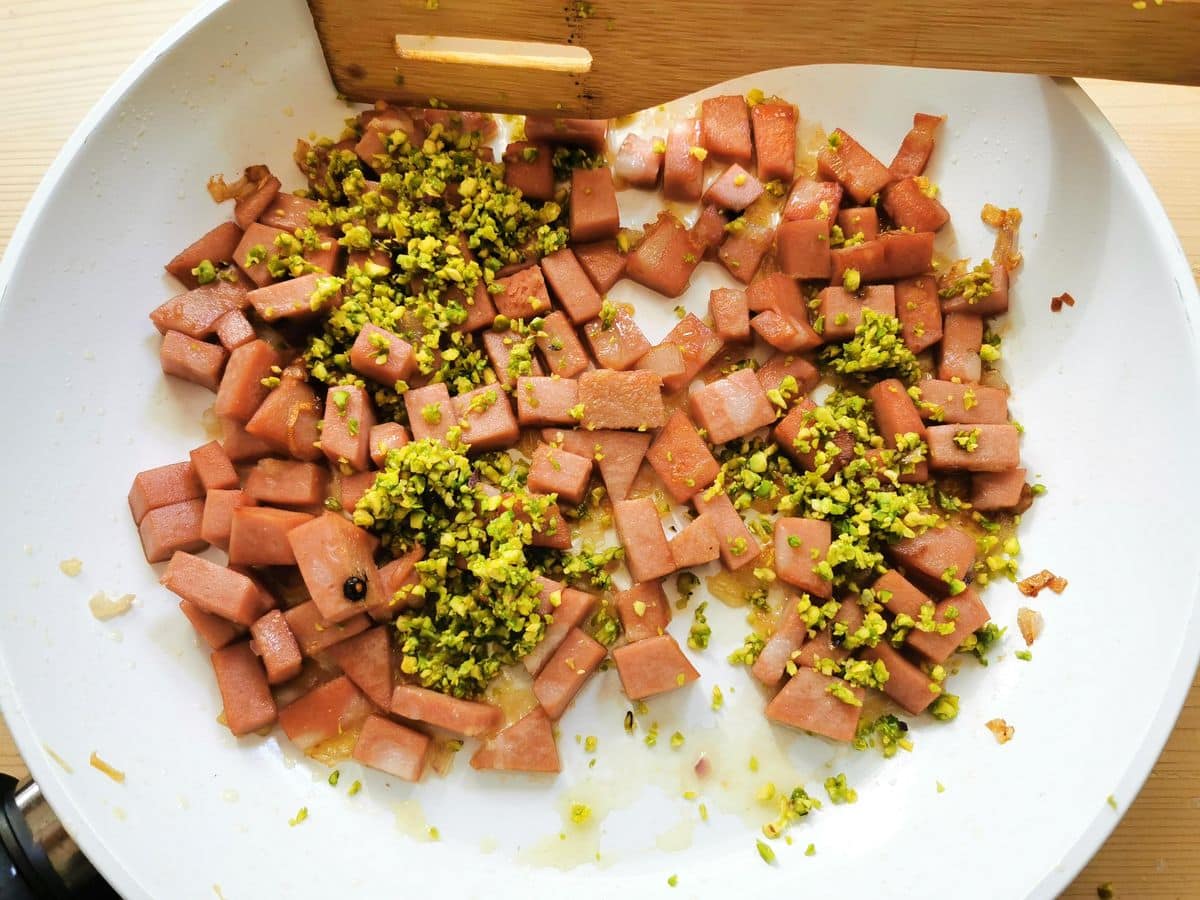 American bologna or baloney doesn't have the pieces of cooked fat and can be a mixture of pork, turkey, chicken and beef. Italian mortadella is only made with 100% high quality pork. In fact, it has been that way since 1661 when a certain Cardinal Girolamo Farnese forbade the use of any meat except for pork for its production.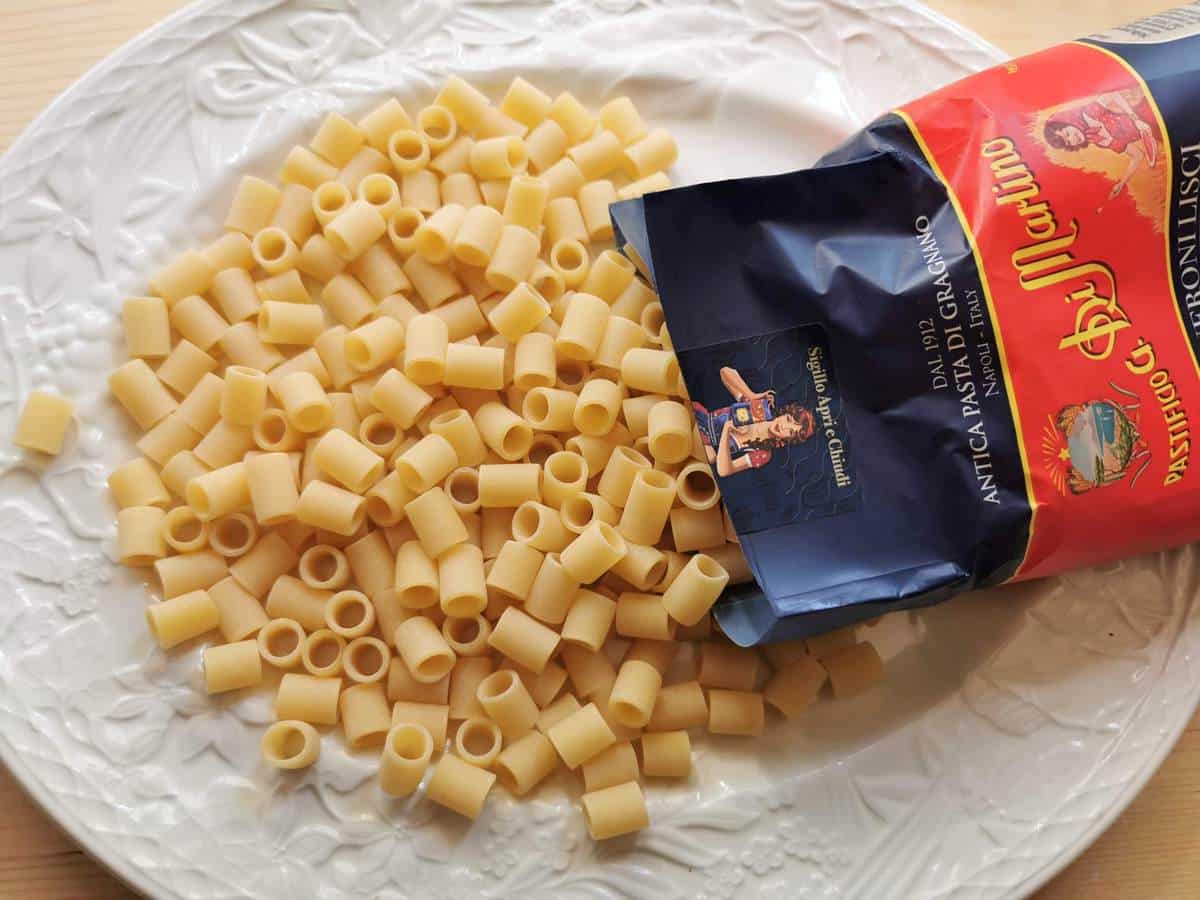 Making pasta with mortadella and pistachio.
Like in other countries, Italians eat mortadella in all kinds of sandwiches or panini, as well as on crostini and friselle. They also make it into a mousse with ricotta and add it to pizza. However, the most popular way to use cooked mortadella is in a pasta dish like this pasta with mortadella and pistachio recipe.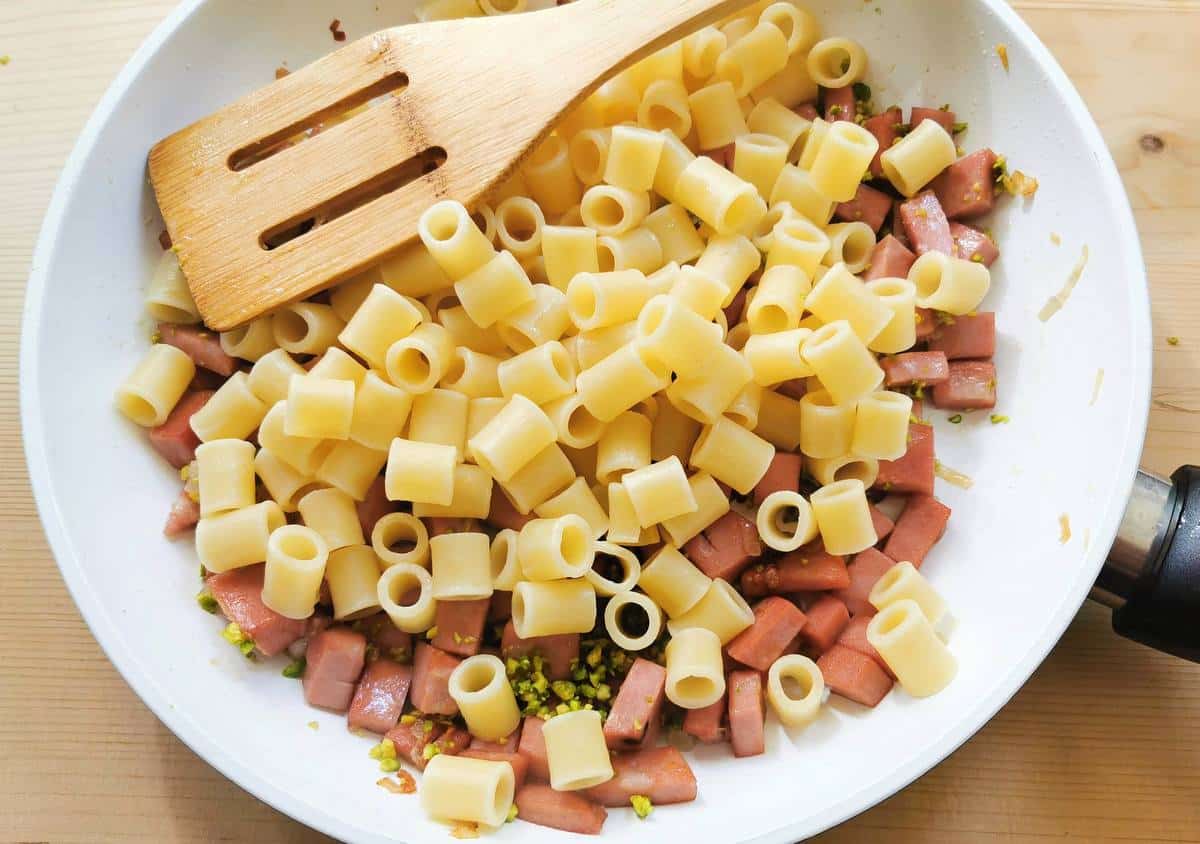 This mortadella pasta recipe is pretty easy to make. The main condiment ingredients are small cubes of mortadella with pistachio granules and shallots or other small onions. In addition, this recipe includes a divine Parmigiano-Reggiano cream which adds some creamy cheesy deliciousness to the whole dish.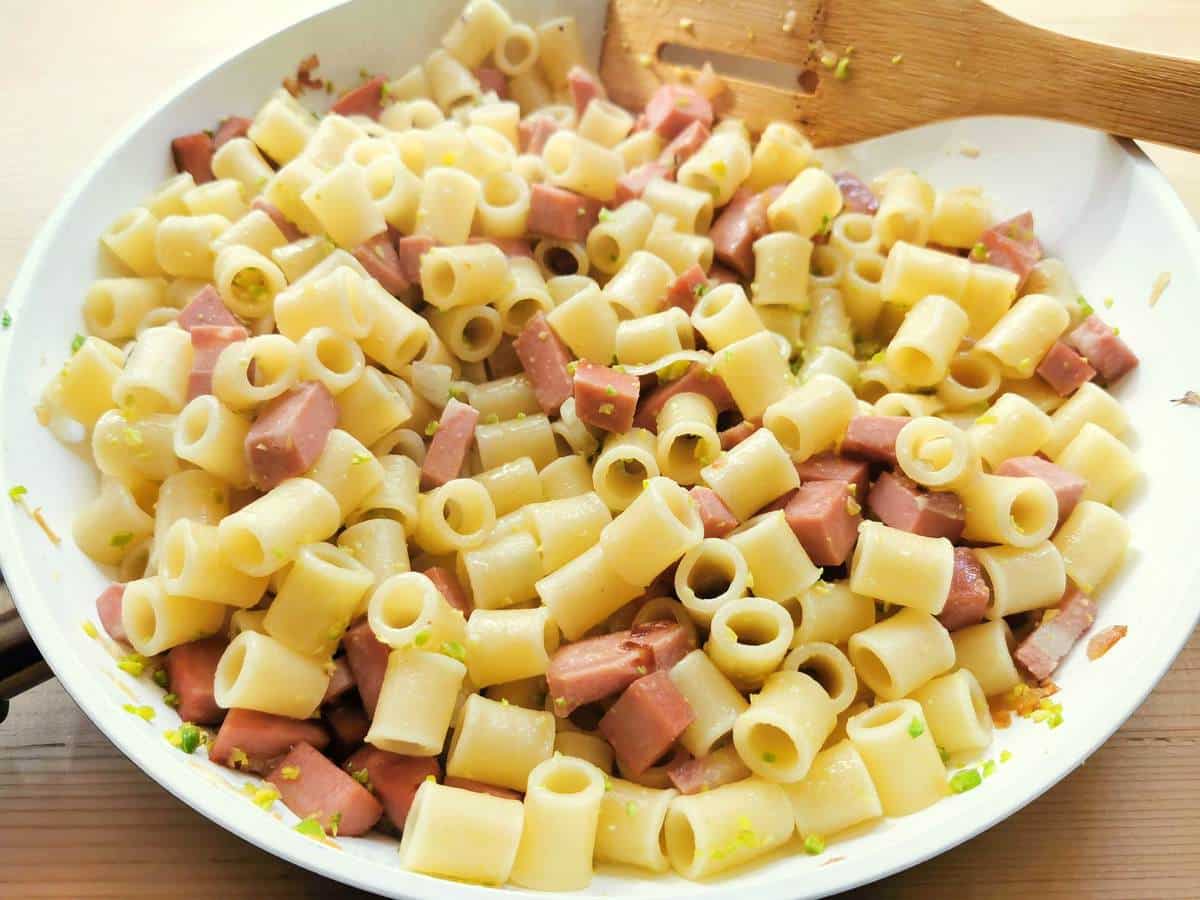 The pistachios.
I used Sicilian pistachios from Bronte. These are raw kernels which haven't been toasted or salted. They are the best pistachios in Italy and some consider the best pistachios in the world. You can read more about them in this recipe for Sicilian ricotta and pistachio pasta (link below). Of course, you can also use other pistachios but the best would be raw kernels.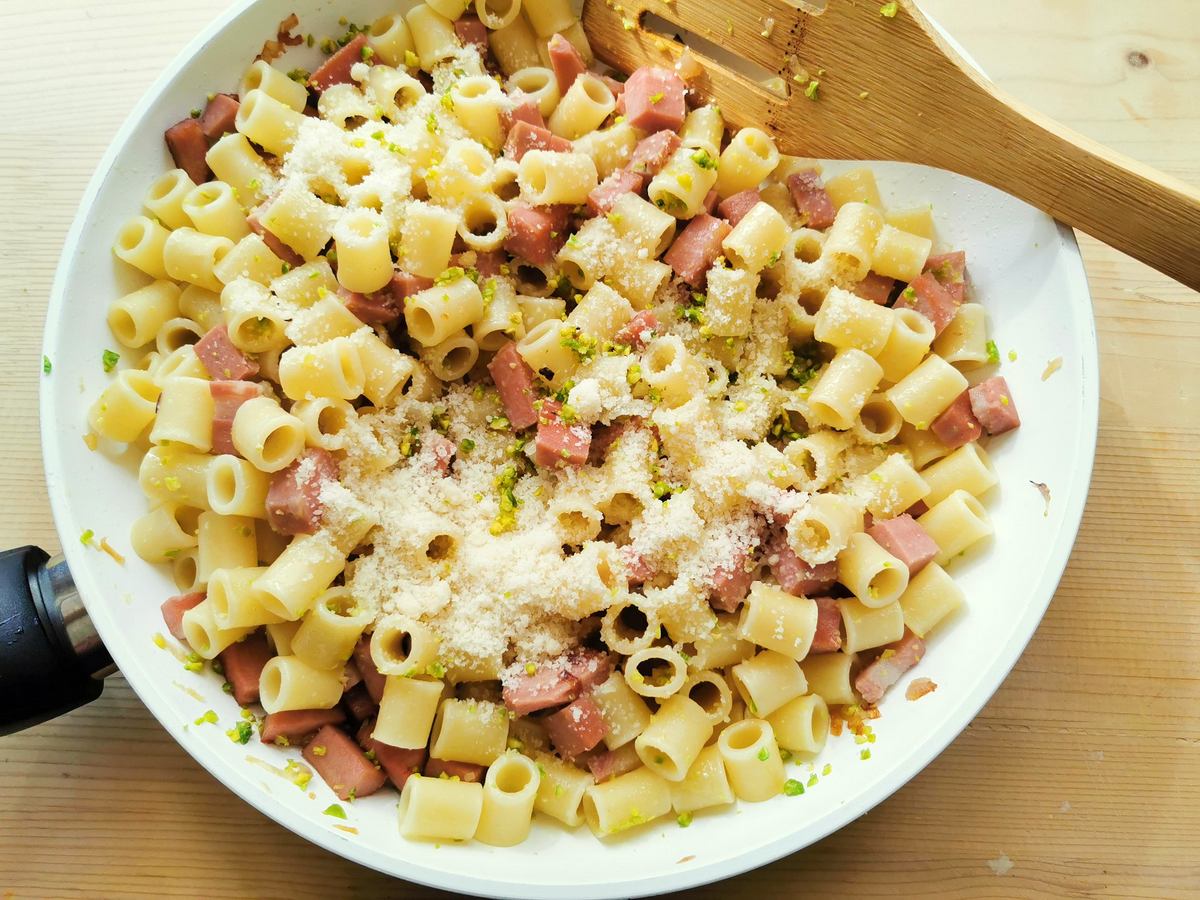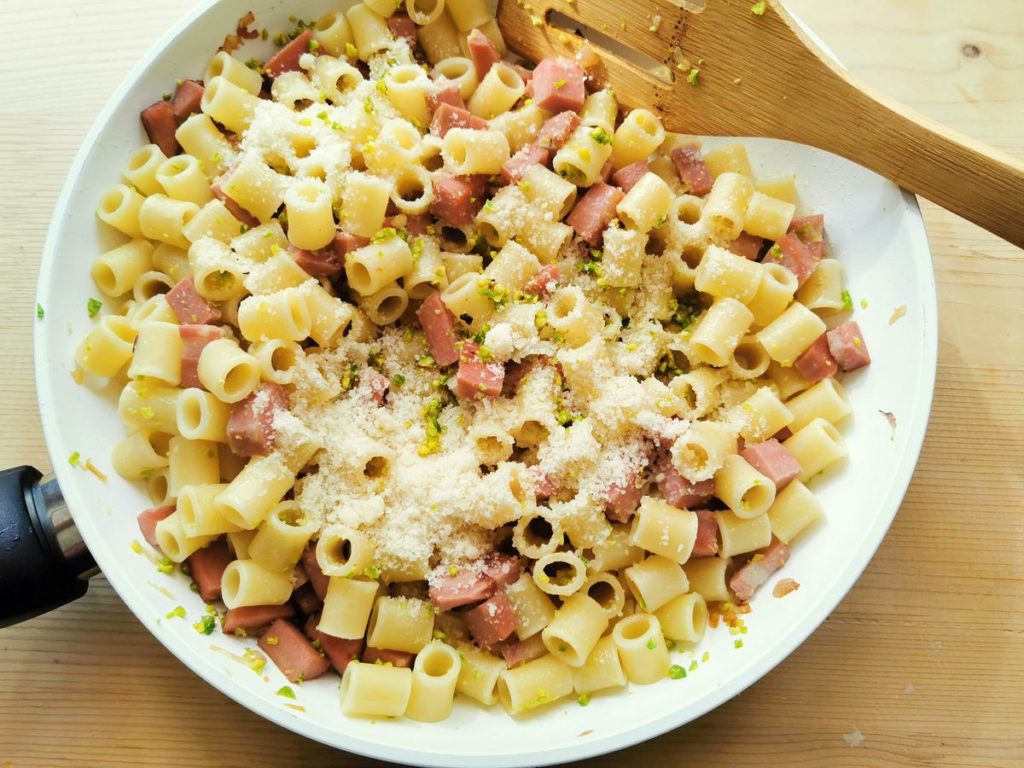 The pasta.
You can make this pasta with mortadella and pistachios with different types of pasta. I used small smooth pasta tubes from Naples called canneroni lisci made by one of my favourite pasta companies Di Martino. This is one of the Italian pasta makers from Gragnano who make Pasta di Gragnano IGP.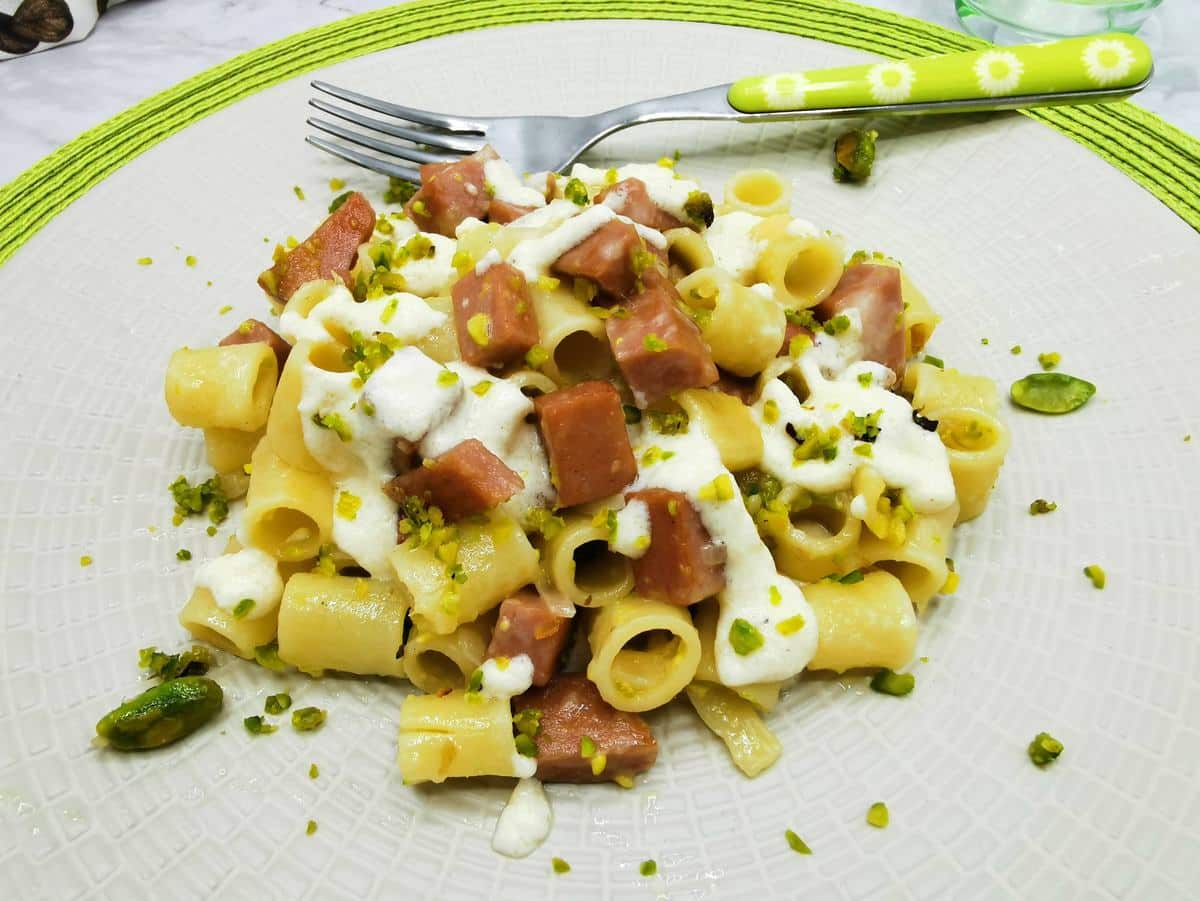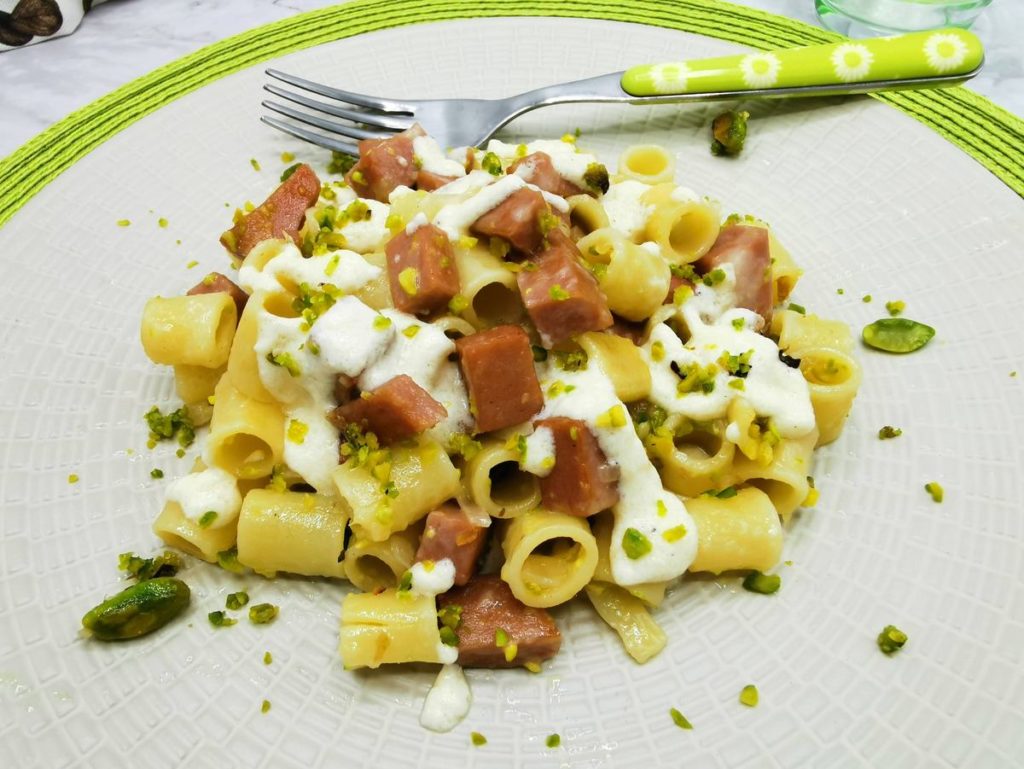 Gragnano is a town near Naples that's famous for dried pasta. In fact, it's been a centre for pasta making for more than 500 years. I visited Gragnano last year at the invitation of a subsidiary company of Di Martino called Pastificio dei Campi. If you want to learn more about Gragnano and the pasta they make there, you can check out the post about my visit.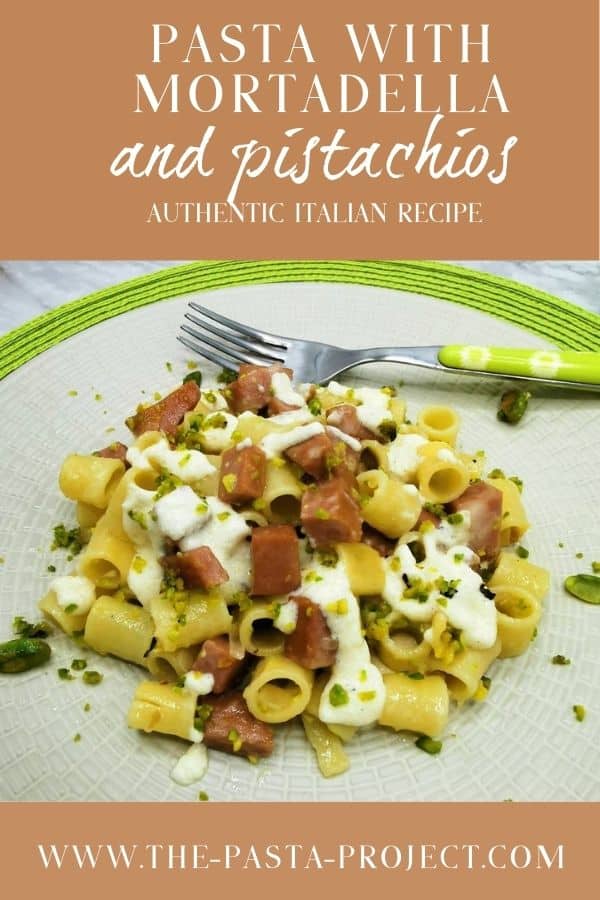 Needless to say, you can use other types of pasta for this mortadella and pistachio pasta recipe. I would suggest small tubes such as penne or even farfalle (bow-tie pasta). Spaghetti is also delicious in this dish.
Let me know what you think.
Whichever pasta type you use for this recipe, I'm sure you'll love it as much as I do. It's easy to make but quite unique and definitely a divine dish to serve to guests or on special occasions.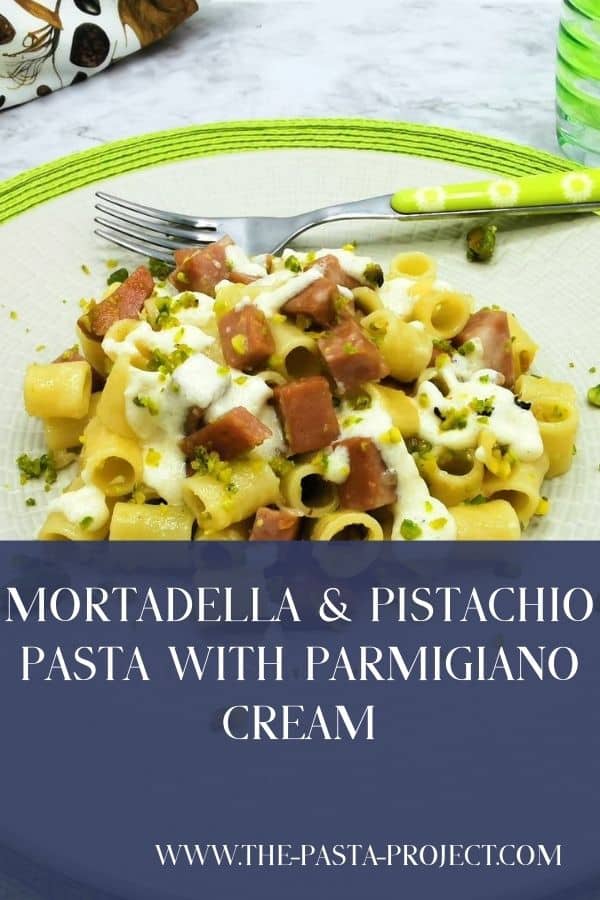 If you make this pasta with mortadella recipe, I'd love to hear how it turns out and if you liked it. Please leave a comment here on the blog or on The Pasta Project Facebook page.
Looking forward to hearing from you!
Buon appetito!
Other pasta recipes with pistachios.
SAVE THIS RECIPE FOR LATER?
If you want to save this recipe for later, you can print it, bookmark this page or save it to Pinterest.
Don't forget to pin for later.