The Best Italian Pasta Ever: Pastifico dei Campi and 'guess who's coming for dinner'
I have long been a fan of Pasta di Gragnano and a visit to the town of Gragnano near Naples was pretty high up on my bucket list! So, I was super excited to be recently invited to visit pasta makers Pastificio dei Campi, one of the companies who produce Pasta di Gragnano IGP.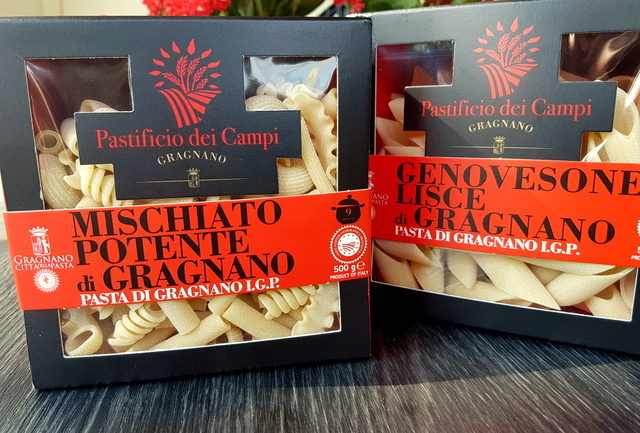 What is Pasta di Gragnano IGP?
Gragnano is a town close to Naples in Campania. It has been a centre of dried pasta production for about 500 years! In fact, for Italians the name Gragnano is synonymous with pasta.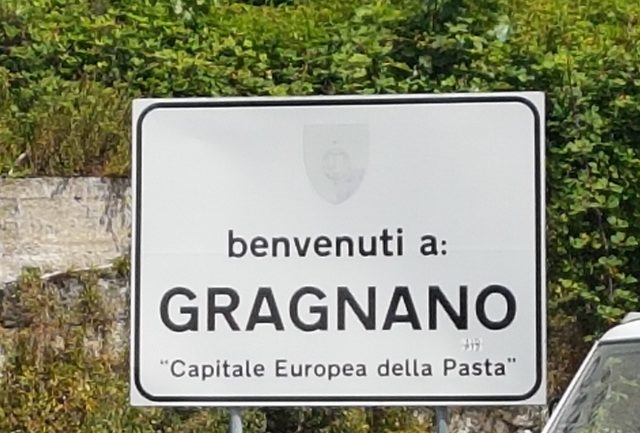 In 2013, Pasta di Gragnano was awarded an IGP certification by the European Union. This is a guarantee that the pasta is authentic, produced in a particular geographical location and made in a certain way.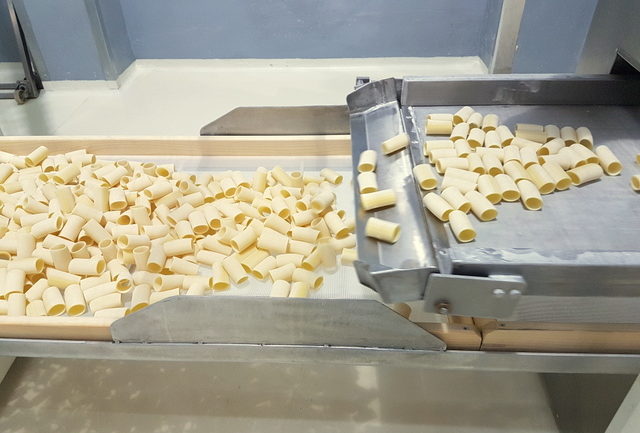 In short, Pasta di Gragnano has to be made with durum wheat semolina and water from the Lattari mountains. In addition, the dough must be extruded through rough bronze dies and slow dried at low temperatures. It has to then be packaged within 24 hours in the place of production!
Pastificio dei Campi.
As I mentioned above, Pastificio dei Campi is one of the companies that produce Pasta di Gragnano IGP. However, in my opinion, this company goes above and beyond the standards required for IGP certification. Not only is their wheat 100% Italian, but so too is everything that goes into their product. This includes the packaging materials!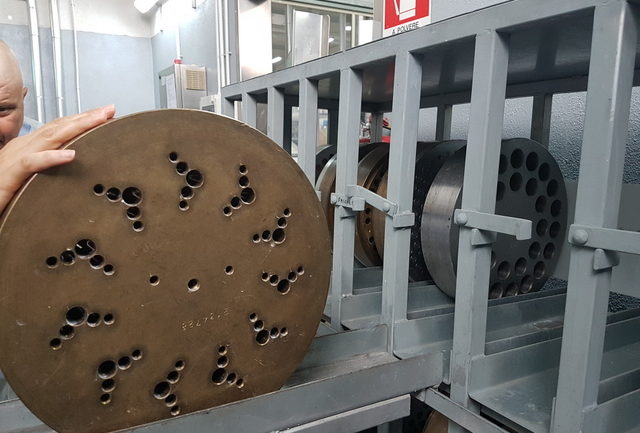 In addition, the wheat Pastificio dei Campi uses is grown in Puglia using sustainable farming methods. They also maintain a 3 year rotation cycle to prevent soil impoverishment. By sacrificing high yields, they can ensure the quality and nutritional content of the crop.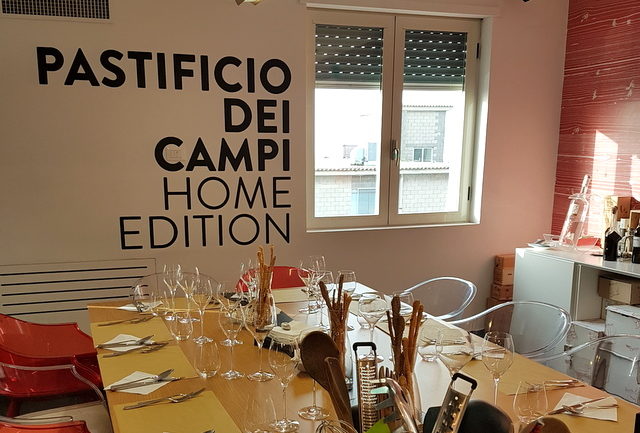 Finally, Pastificio dei Camp have introduced a unique tracking system with which consumers can track the production of each packet of pasta they buy. This innovative system of product traceability means you can find out everything about the pasta you are using. Through their website, you can see from when and where the wheat was sown to when the pasta was produced and packaged!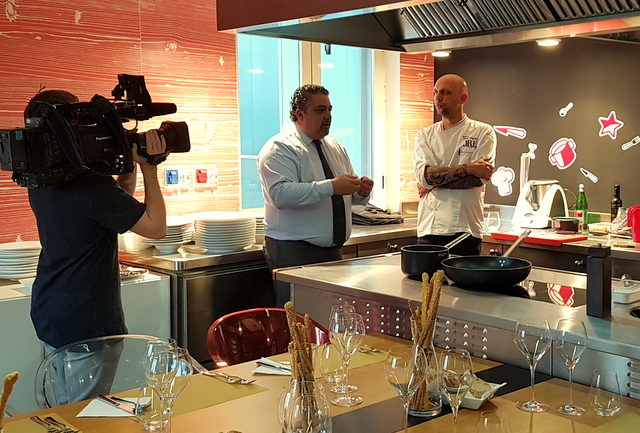 Guess who's coming for dinner?
When Pastificio dei Campi invited me to visit them, it was as a guest at their 'guess who's coming for dinner' event (#indovinachivieneacena). This is a monthly dinner held at the pasta factory in collaboration with JRE (Jeunes Restaurateurs d'Europe). Since 2013, Pastificio dei Campi has been a top sponsor of this European association and every month a chef member of the JRE goes to Pastificio dei Campi for a pasta cooking masterclass by Michelin star chef Peppe Guida.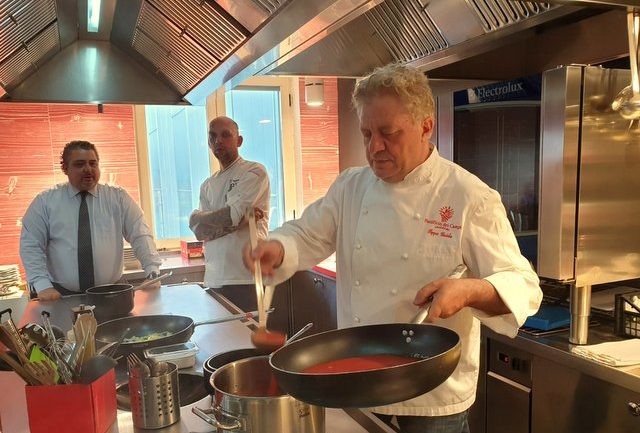 The guest chef from JRE has the opportunity to spend an entire day at the pasta factory, learning the secrets of production and the historic tradition of Gragnano pasta, along with everything they need to know about its preparation and cooking.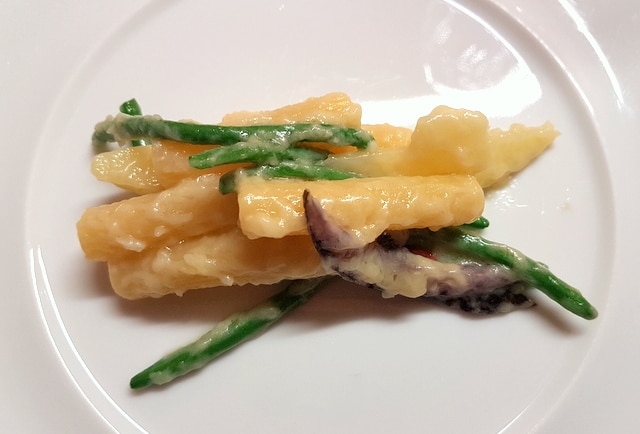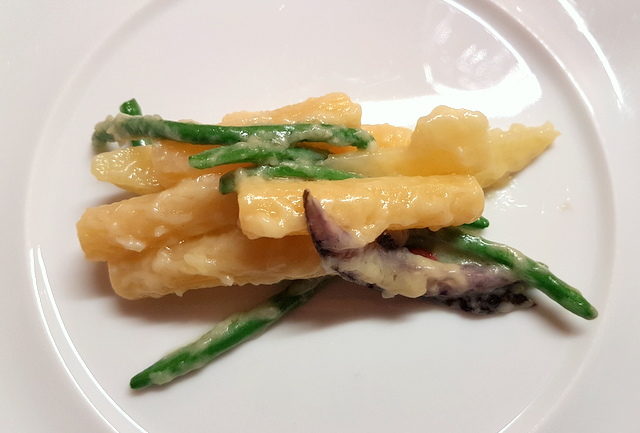 In the evening, the two chefs cook together in the kitchen. They create an unforgettable meal of a series of original and delicious pasta dishes for 10-12 guests (see photos). The guest chef while we were there (yes hubby came too!) was Dutchman Steven Klein Nijenhuis, chef and owner of one star Michelin restaurant Herberg Onder de Linden in Aduard, Holland.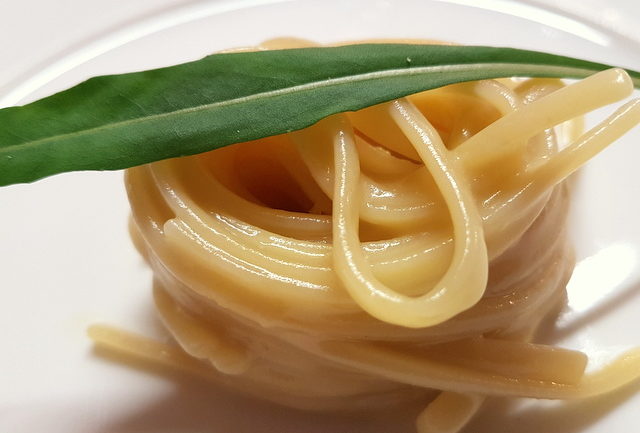 9 delicious Pastificio dei Campi pasta dishes.
Luckily for me, I was also able to tour the pasta factory and watch the masterclass and I have to say I learnt so much about the production of dried pasta and the science behind making and cooking it! Can't wait to put what I learnt into practice!!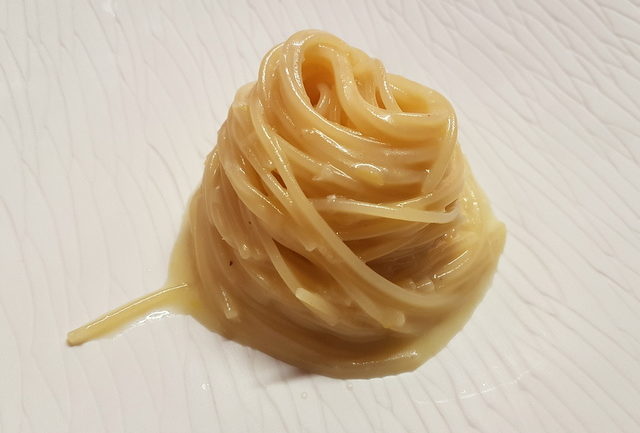 In total, the two chefs made us 9 pasta dishes. These included a divine pasta dessert made with paccheri and fresh strawberries! Chef Steven made two dishes and Chef Peppe Guida the other 7.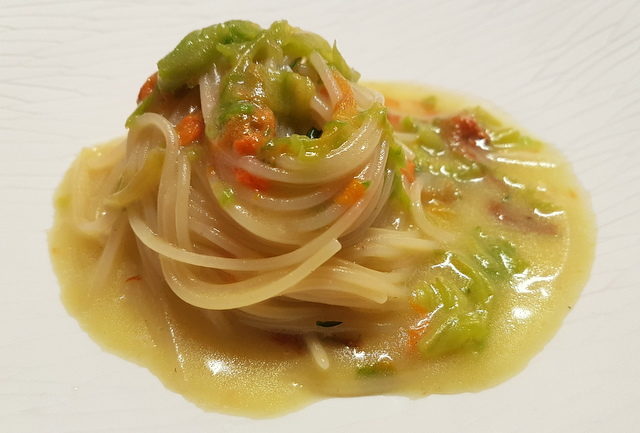 Peppe Guida and Giuseppe Di Martino.
I was so thrilled to meet Peppe Guida. He, his recipes and his restaurant (Osteria di Nonna Rosa) have been much written about in many Italian food magazines and online media! I have heard people call him the pasta whisperer! And given the fabulous dishes he made for us, I'm not surprised. I was also so happy that he made us his well-known lemon water spaghetti, a recipe that I actually posted here on The Pasta Project a year ago.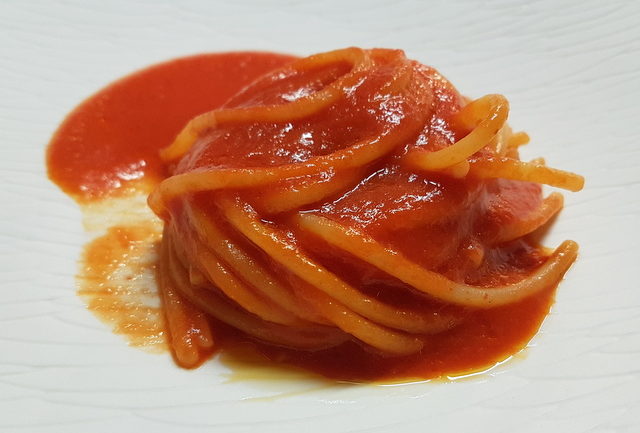 Our host was Giuseppe Di Martino. Mr Di Martino has been called the guru of pasta by the Italian food site and restaurant guide Gambero Rosso. He is the managing director of 3 pasta companies, Di Martino, Antonio Amato and, of course, Pastificio dei Campi. His family have been making pasta for 3 generations and his passion for pasta is boundless.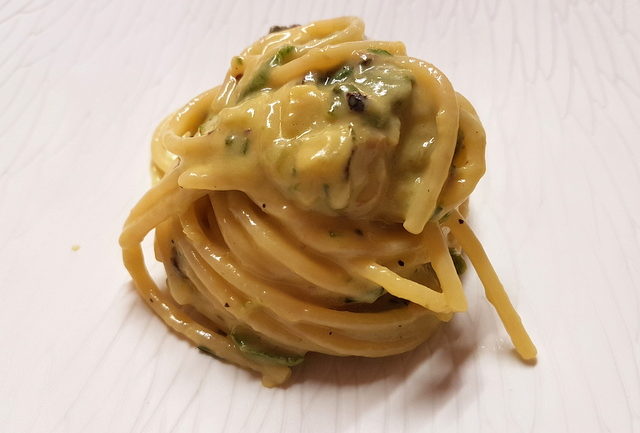 The best Italian pasta ever!
Pastificio dei Campi is definitely a feather in Giuseppe Di Martino's cap. His vision for the company was to produce the 'best Italian pasta ever' using the best wheat and the best artisans. I was fortunate to be sitting next to Giuseppe at the dinner. What I admired the most about his vision for Pastificio dei Campi is the concept of producing a dried pasta that has a place on the menu in gourmet restaurants and on foodie tables.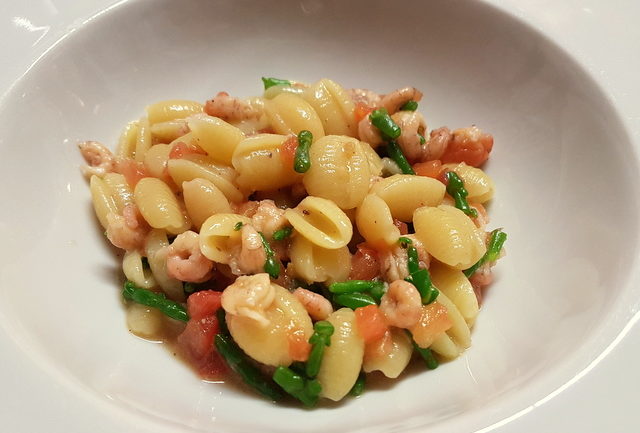 Even in Italy, dried pasta is often considered mostly a home cooking ingredient. However, after having tasted the pasta dishes prepared by the two Michelin star chefs at the Pastificio dei Campi dinner, I'm not surprised that Pastificio dei Campi pasta is on every best Italian artisan pasta list I found online.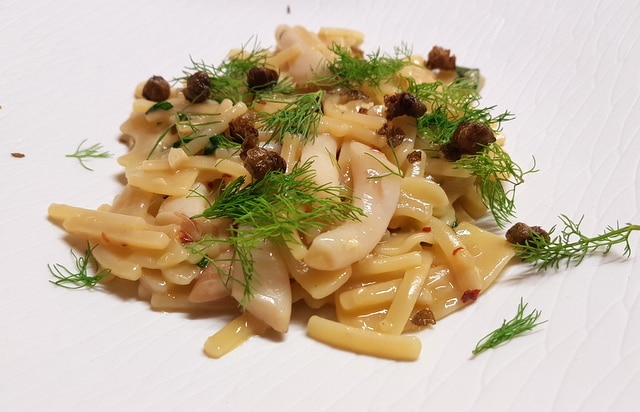 If you'd like to try 'the best Italian pasta ever', look out for their distinctive red and black boxes available in US from Di Bruno Brothers, at all Central Market stores and selected Neiman Marcus stores or order online at https://www.pastificiodeicampi.it/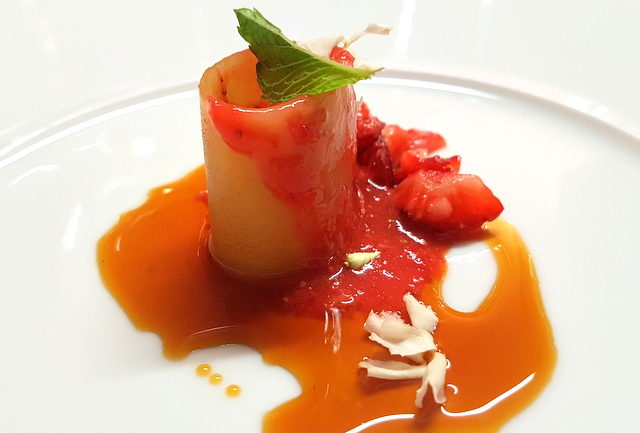 Disclaimer: Although I was invited to Gragnano by Pastificio dei Campi, I haven't received any compensation for this post and all opinions expressed are my own.
Recipes from my visit
Spaghetti with tomato sauce (La Devozione) by Peppe Guida