The Best Spaghetti with Tomato Sauce Ever! (La Devozione by Peppe Guida)
On a recent visit to Gragnano and Naples, I was very fortunate to have this best spaghetti with tomato sauce ever made for me twice! When I returned home, I just had to make it for myself! I now know I will never make this dish any other way!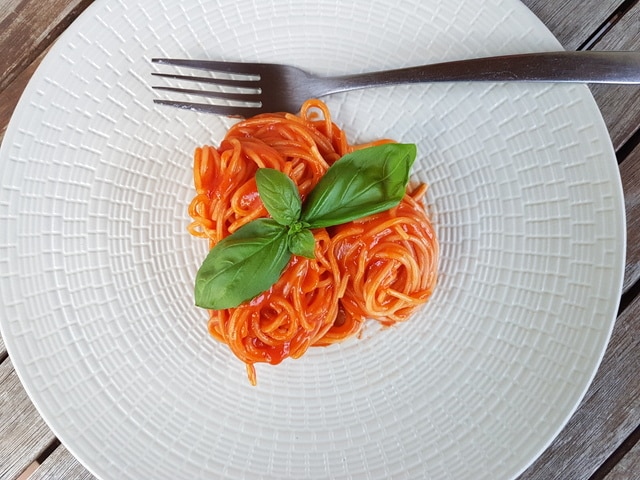 Spaghettini al pomodoro di Peppe Guida.
I first tried this fabulous spaghetti with tomato sauce during an unforgettable pasta dinner event at Pastificio dei Campi, pasta makers in Gragnano. The chef was Peppe Guida, the creator of this divine and now famous version of a Neapolitan classic.
The second time, it was a dish we ate at the Di Martino seafront pasta bar in Naples. There, La Devozione, as it is called, is a signature dish that can even be bought as a take away!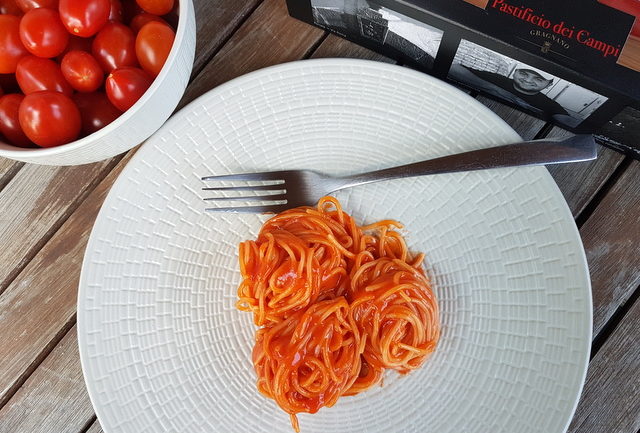 A little tomato history.
Spaghetti with tomato sauce is an iconic Neapolitan recipe that dates back to the early 1800s and has been a symbol of Italian cuisine ever since! According to food historians, the first tomatoes in Europe were transported here by the Spanish Conquistadors from South America in the 16th century. They called them 'tomatl' (actually an Aztec word).
At first, Italians thought tomatoes were poisonous
Unlike the Spanish, Italians didn't take to tomatoes quickly. In fact, most people thought they were poisonous. Subsequently, tomatoes were only used as ornamental plants. It actually took about 200 more years for tomato sauce as we know it to become a popular ingredient in the Italian kitchen!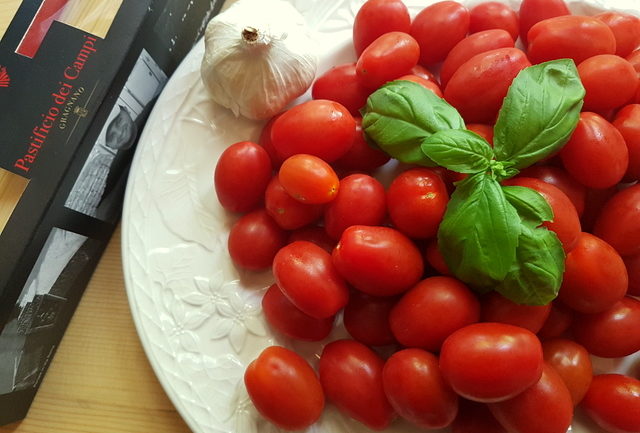 The first tomato sauce!
The first written reference to a tomato sauce dates back to 1692. However, this was a sauce made with ember roasted tomatoes chopped with onions, chili and thyme and eaten with meat! It was called 'salsa di Pomadoro alla Spagnuola'. (Spanish style tomato sauce). The Spanish were really the first Europeans to integrate tomatoes into their diet!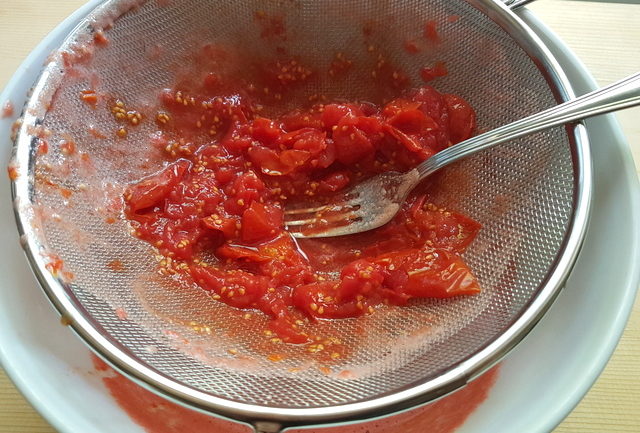 The Spanish ruled Naples and Sicily during the 16th and 17th century. So, it's not surprising that the use of tomatoes in Italian cooking started there. But, it wasn't until the 19th century that tomato sauce began to be eaten on pizza and with pasta! Pizza Margherita, named after Queen Margherita of Savoy, was invented in Naples in 1889 and the first written recipe for spaghetti with tomato sauce was published in 1837.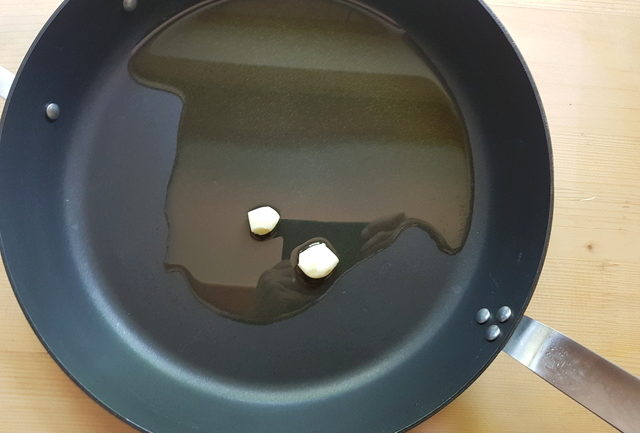 The first written recipe for spaghetti with tomato sauce was published in 1837.
Just as these dishes were becoming popular in Naples and Southern Italy, the country began its unification. This helped to spread these tomato based recipes throughout the peninsula. And the rest as they say, is history! Or rather food history!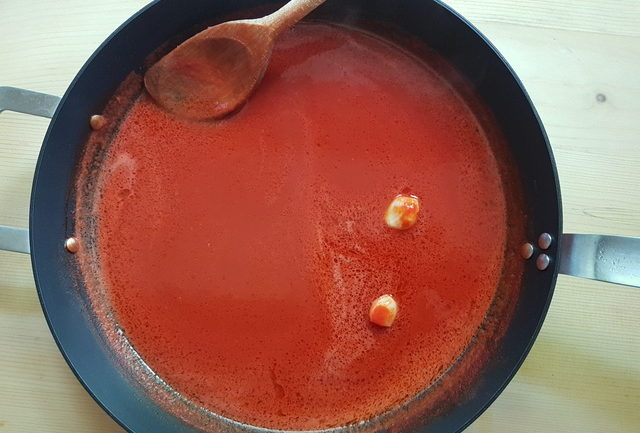 Chef
Peppe Guida.
Peppe Guida is one of Italy's celebrity chefs. He, his recipes and his restaurant have attracted a lot of media attention in recent years. Called the pasta whisperer by some, Peppe is famous for his dried pasta recipes, particularly this spaghetti with tomato sauce. Chef Guida has a talent for turning simple traditional recipes using local seasonal ingredients into gourmet dishes that would not be out of place in a Michelin star restaurant. In fact, his restaurant , Antica Osteria Nonna Rosa, has a Michelin star!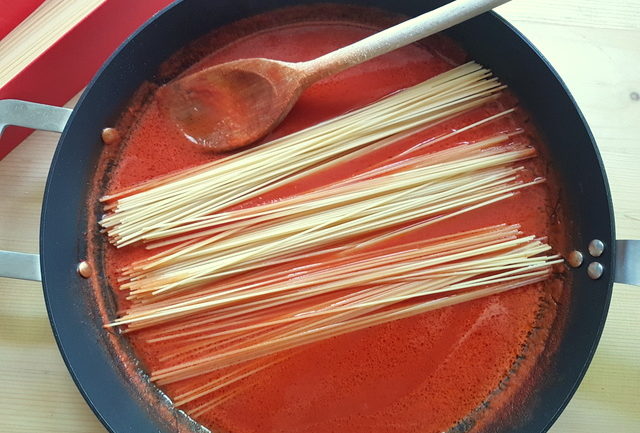 La Devozione. (The devotion)
The old traditional Neapolitan tomato sauce is made with just 3 ingredients; tomatoes, of course, lard (nowadays olive oil) and garlic. Peppe Guida's spaghetti with tomato sauce recipe (la devozione) uses the same ingredients. So what is the difference? In short, the quality of the ingredients plus, the way the sauce is made and the pasta cooked!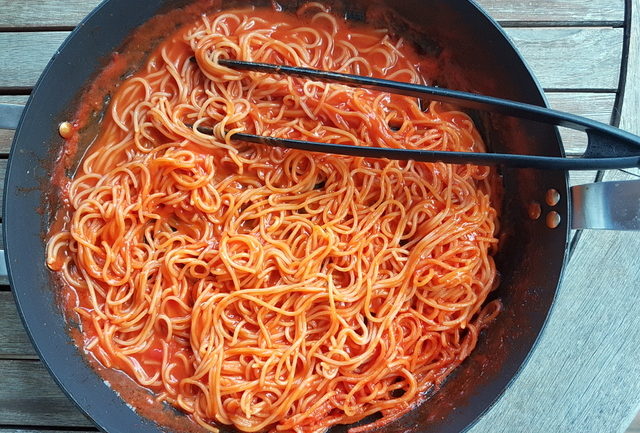 The pasta.
When it comes to recipes with only a few ingredients, it makes sense that the food you use is the highest quality The pasta, the olive oil and the tomatoes all need to be the best you can find for the tastiest result. I used spaghettini from Pastificio dei Campi, the company I was invited to dinner at. You can read more about this prestigious pasta maker and where their pasta is available on my post about my visit.
Whichever pasta you use I would strongly suggest a bronze extruded pasta, meaning the pasta dough has been passed through bronze dies (molds) to make the shape. This type of pasta has a rougher surface and absorbs sauce better. Most artisan pastas and Pasta di Gragnano is made this way.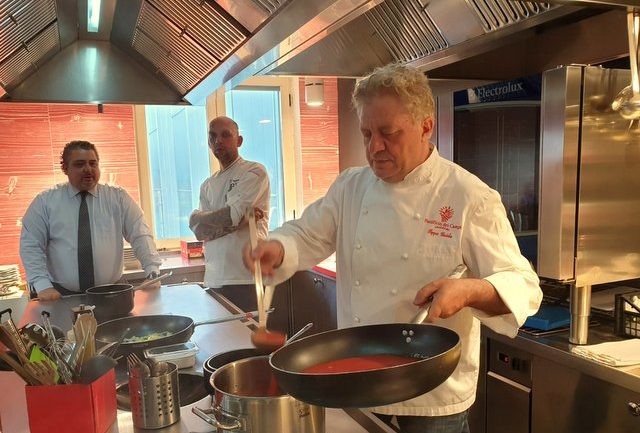 The tomatoes.
Peppe Guida's recipe calls for organic date tomatoes called lampadina from tomato growers PomoDama. These are also the tomatoes they use to make this dish at the Di Martino seafront pasta bar in Naples and at the Pastificio dei Campi dinner. Sadly I didn't think to bring some of those tomatoes home with me. Instead, I used another type of date tomato from Sicily, as I really wanted to use fresh tomatoes for my best spaghetti with tomato sauce ever!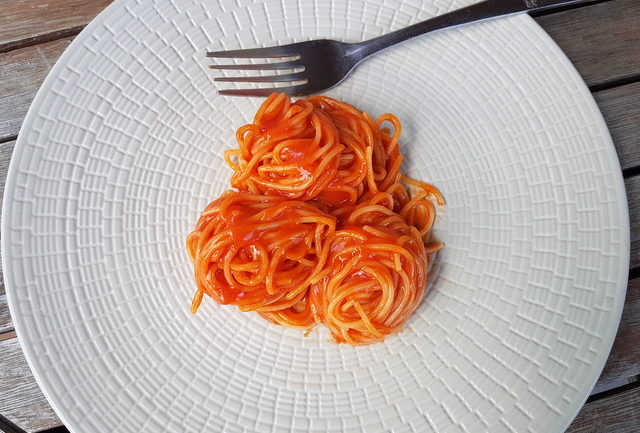 The important thing is that the tomatoes are ripe, have a deep red colour and are very flavourful. This sauce is made using pureed fresh tomatoes and it isn't cooked for very long before adding the pasta. Plus, apart from a bit of garlic and salt, there isn't any other seasoning. So, the quality of the tomatoes is essential! You could also use San Marzano.
Making this best spaghetti with tomato sauce ever.
There are actually 2 ways to make this recipe. One is to cook the spaghetti entirely in the sauce. Italians call this method pasta risottata because it's similar to making a risotto! The other method is to half cook it in boiling water and half in the sauce. I did it the first way. However, at Pastificio dei Campi and The Di Martino seafront pasta bar they use the half and half method.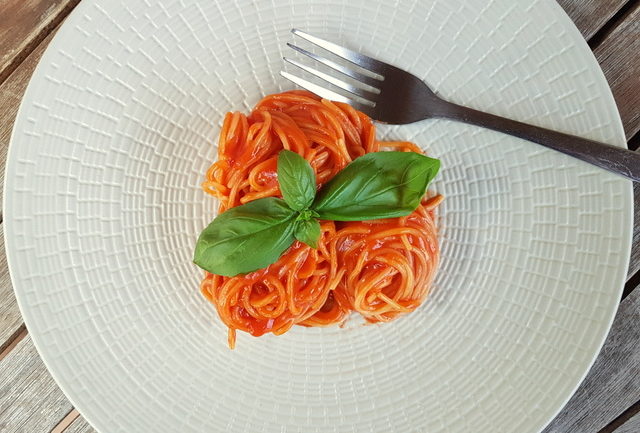 Whichever way you decide to make this recipe, I'm sure you'll agree with me it's the best spaghetti with tomato sauce ever!! They call it 'La Devozione' and it's not difficult to understand how a simple plate of pasta can inspire so much passion!
If you make this pasta recipe, I'd love to hear how it turns out and if you liked it. Please leave a comment here on the blog or on The Pasta Project Facebook page.
Looking forward to hearing from you!
Buon appetito!
Disclaimer: Although this is a sponsored post, all opinions expressed are my own.
Other recipes by Peppe Guida on The Pasta Project
Read about my visit to Gragnano and Naples
The best pasta ever; Pastificio dei Campi.
Have a look at my other homemade tomato sauce pasta recipes for more delicious recipes like this one!
Save this recipe for later?
If you want to save this recipe for later, you can print it, bookmark this page or save it to Pinterest.
Pin for later.
Want to know more about my life in Italy? Why not subscribe to my newsletter? New subscribers get a free series of recipe e-books too!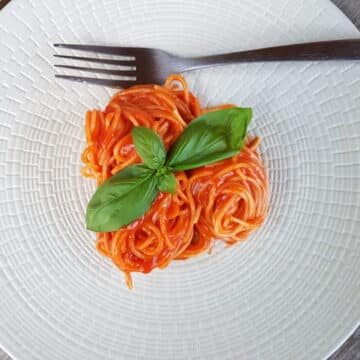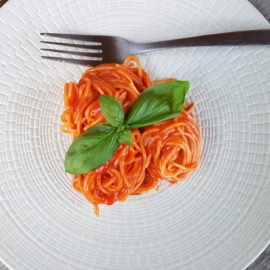 Best Spaghetti with Tomato Sauce Ever
Once you try this recipe for spaghetti with tomato sauce by Michelin star Neapolitan chef Peppe Guida, you will never want to make this classic Italian pasta dish any other way!
Ingredients
360

g

spaghetti

(12-13 oz) I used spaghettini from Pastificio dei Campi

2

garlic cloves

peeled

600-700

g

ripe date tomatoes

(21-24 oz) You can also use canned whole date tomatoes or San Marzano tomatoes. see notes

salt

to taste

fresh basil

as required

2-3

tbsp

extra virgin olive oil

Parmigiano or vegetarian/vegan cheese for grating)

grated (optional)
Instructions
Blend half of the whole tomatoes and pass through a sieve to remove the skin and seeds. Then crush the other half using a fork and pass through the sieve as well. You will obtain a fairly watery tomato sauce but it will thicken while cooking.

Peel the garlic and cook in the olive oil until it starts to soften. Add the tomato sauce and cook for about 5-10 minutes over a medium heat.

Add the uncooked spaghetti to the sauce. Be careful not to try to stir too roughly as the spaghetti may break. Once it softens you can then cook like risotto stirring frequently.

The starch from the pasta will thicken the sauce. If it gets too dry add a little water. Cook until the spaghetti is al dente. Add salt to taste and serve immediately with some fresh basil leaves and grated cheese if required.
Parboiling the spaghetti first
You can cook the spaghetti for 4-5 minutes in a pot of boiling salted water and then drain and add it too the tomato sauce. Finish cooking the pasta in the sauce. Keep a bit of the pasta cooking water to use if you need more liquid.
Notes
If you are using canned tomatoes just pour the contents of the cans (tomatoes and juice) through a sieve. Use a fork or your hands to break the tomatoes into small pieces so almost everything goes through the sieve.
If using larger types of tomatoes like San Marzano, it's better to peel the tomatoes first by immersing them in boiling water and then removing the skins. Then blend half the tomatoes and pass the other half though a sieve.
Nutrition
Calories:
425
kcal
Carbohydrates:
74
g
Protein:
13
g
Fat:
9
g
Saturated Fat:
1
g
Polyunsaturated Fat:
1
g
Monounsaturated Fat:
5
g
Sodium:
13
mg
Potassium:
562
mg
Fiber:
5
g
Sugar:
6
g
Vitamin A:
1250
IU
Vitamin C:
21
mg
Calcium:
37
mg
Iron:
2
mg
If you are interested in learning how to make homemade pasta and different types of gnocchi, check out my shop page for some great video online courses from my friends in Rome! Nothing beats learning to make pasta from Italians! Plus while you're there why not order a copy of my autumn/winter pasta recipes cookbook!?