Experience the vibrant flavors of the Mediterranean with this easy pasta recipe. It takes just 40 minutes to make and uses 8 common Mediterranean ingredients. It's perfect for an easy family dinner or for those following the Mediterranean diet.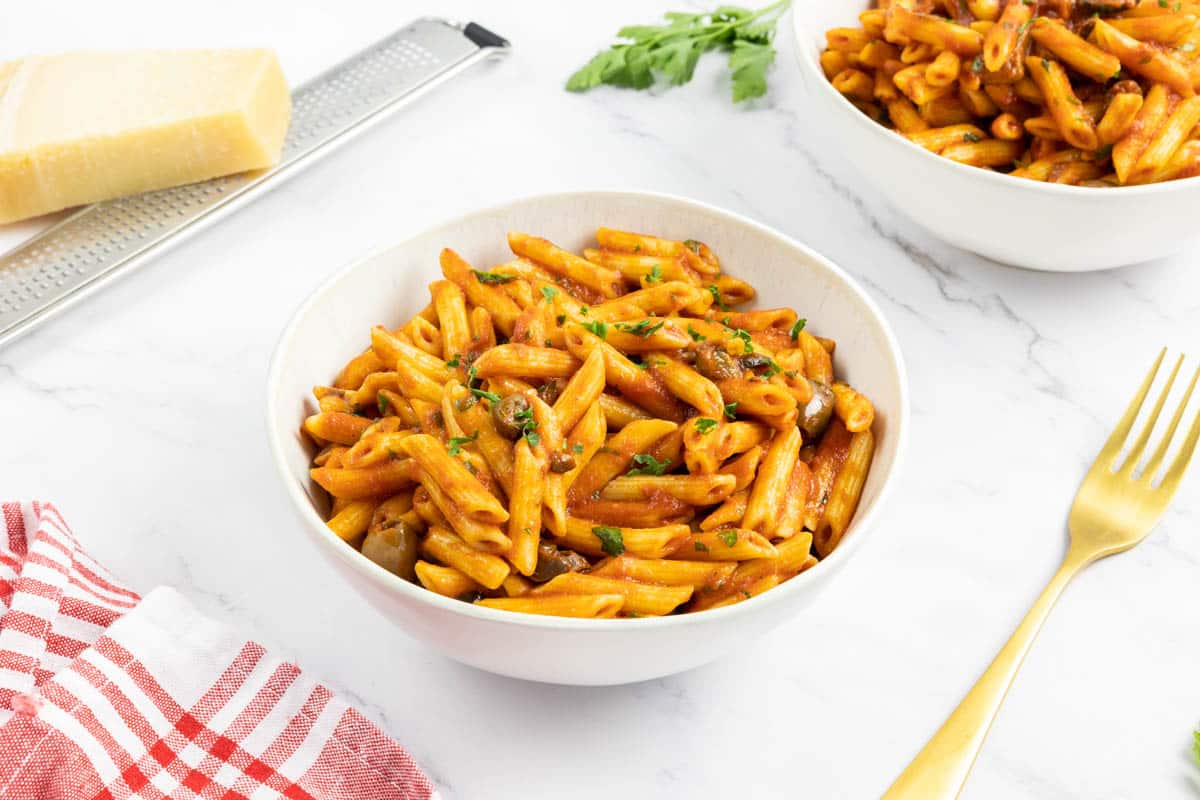 This recipe is based on a pasta dish I had in a restaurant in Emilia-Romagna as part of a family celebration.
There are a number of versions of this pasta with Mediterranean sauce here in Italy but the basic ingredients are mostly the same olive oil, tomatoes, olives, capers, garlic, and peperoncino. These are typical Mediterranean diet ingredients.
The History of Mediterranean Pasta
Pasta has been a staple ingredient in Italian cuisine for centuries. The first dried pasta was made in Sicily during the time of the Arab occupation (827-902AD). And, fresh pasta is said to date back to Roman times or even earlier.
So, it's not surprising that pasta plays a big part in the Italian kitchen. However, Italy isn't the only Mediterranean country with traditional pasta dishes.
Nobody eats as much pasta as the Italians, but you can find pasta and pasta dishes in other Med countries such as Spain (fideo), Greece (orzo, flomaria, pastitsio) Morocco (couscous, seffa), Tunisia (makrona arbi, hlalem), and Israel (ptitim, kugel noodles).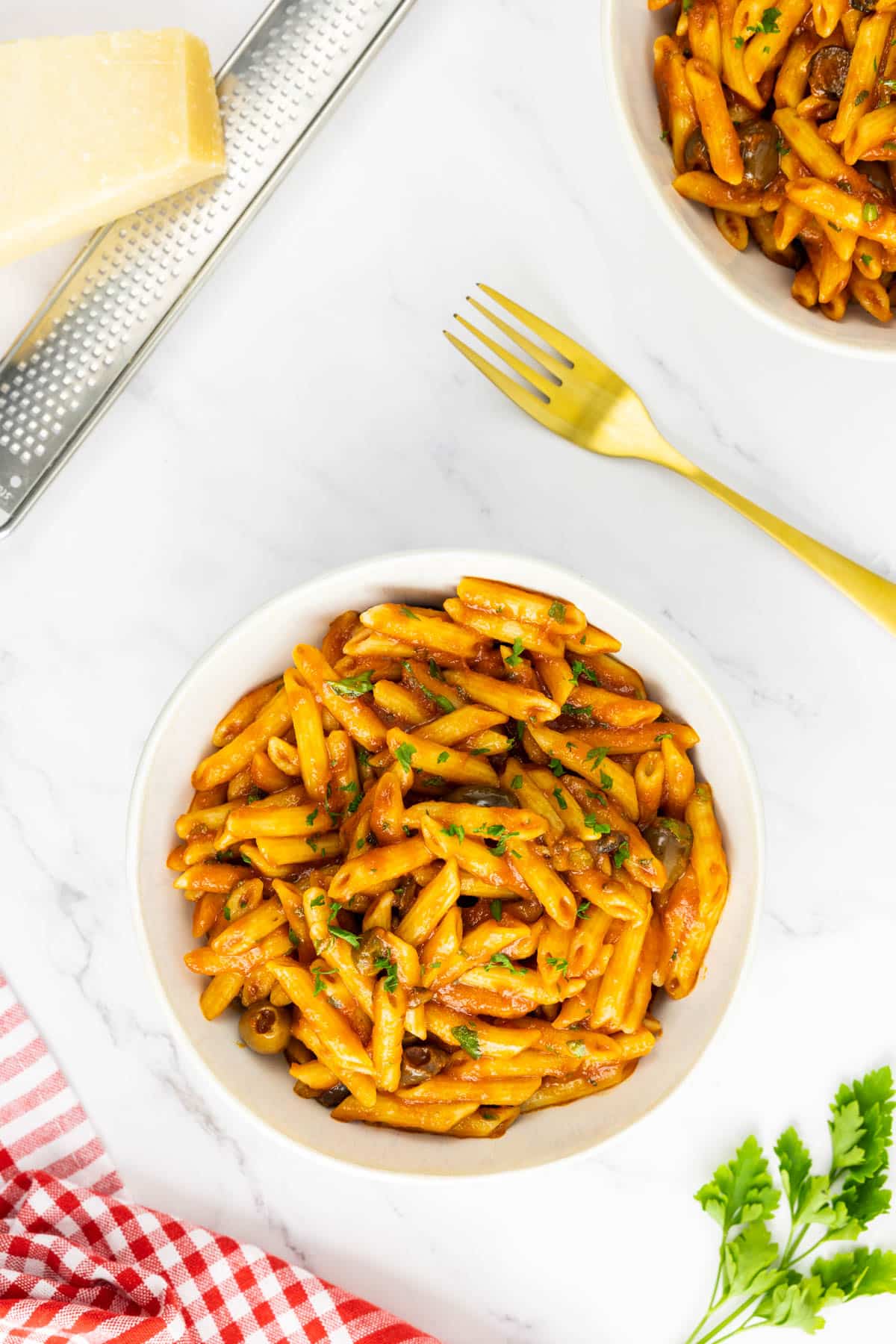 Pasta is central to the true Mediterranean diet (Italians eat on average 23-26 kilos a year per person!). Despite what some people think, it is a healthy balanced food, that is also perfect to use with so many other healthy ingredients like in this Mediterranean pasta recipe.
Ingredient Notes
Pasta: I used penne for this recipe, but you could also use other short pasta like fusilli. A long thin ribbon pasta like tagliolini would also work well.
Anchovy Fillets: Anchovy fillets add a rich and savory flavor to the sauce. However, they are only sometimes present and can be left out for a vegetarian/vegan version.
Tomato: You can use passata, canned peeled tomatoes, fresh cherry, or vine tomatoes.
Olives: I used a mix of green and black taggiasca olives which added a savory flavor to the sauce. If you have a different type of olive that you love, feel free to use them instead.
Salted Capers: Salted capers add a unique kick of flavor to the sauce. Just make sure to rinse the excess salt off them before adding them otherwise, the sauce may be too salty.
Garlic: Garlic adds a flavorful base to the dish. We slightly caramelize the garlic in this recipe to give our sauce a more robust flavor.
Extra Virgin Olive Oil: The olive oil adds depth and richness to the sauce. For the best flavor, use good-quality extra virgin olive oil.
Parsley: A handful of fresh parsley adds color and freshness to the pasta sauce. If you don't have parsley on hand, you can also use fresh basil, which is common in a Mediterranean sauce.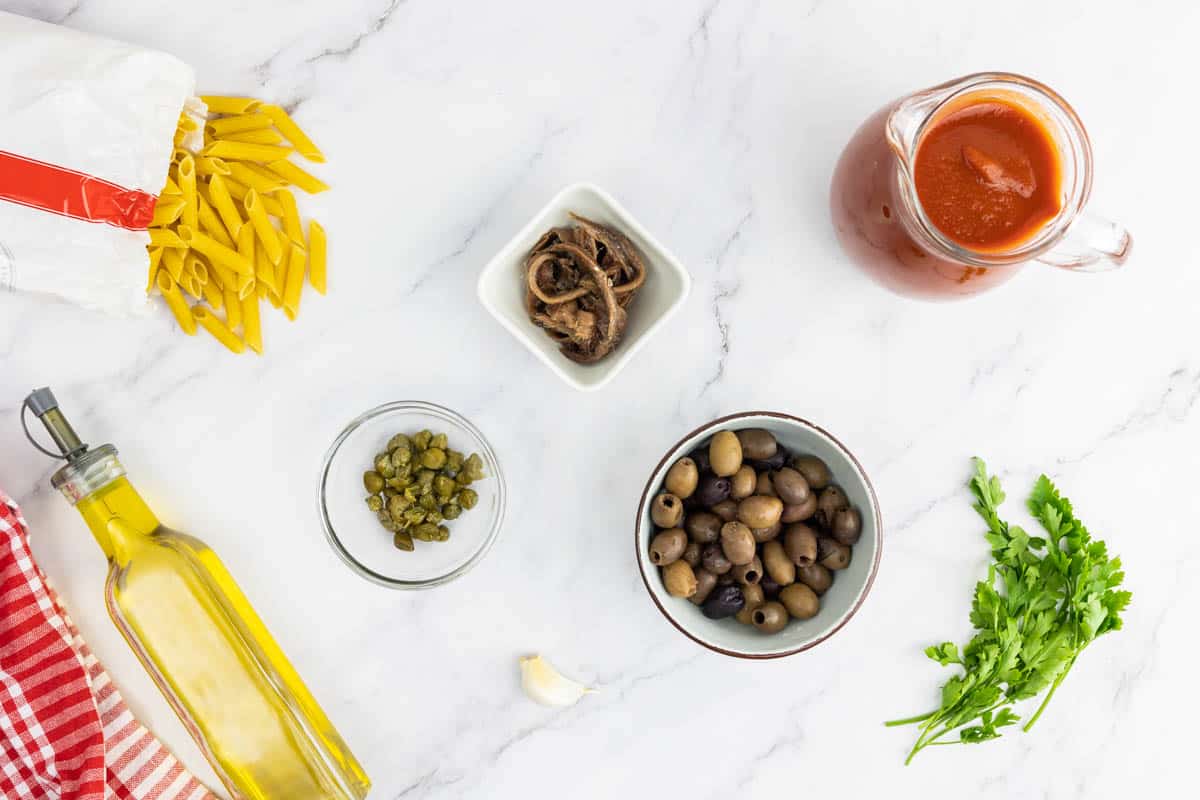 Expert Tips
These expert tips will help your pasta go from great to excellent!
Perfecting the Pasta: The pasta should be cooked until it's almost al dente as we'll continue to cook it in the Mediterranean sauce. Cooking the pasta further in the sauce helps it absorb the flavorful sauce.
Infusing the Anchovy Flavor: When cooking the anchovies, let them take their time melting into the olive oil. You might be tempted to hurry this step, but patience pays off here. This slow melting process infuses the oil with a depth of flavor that forms a delicious base for the dish.
Pasta Water: When it's time to drain the pasta, reserve some of the pasta water. If needed, this starchy water can be added to the simmering sauce to help achieve the perfect consistency. It's also a little trick that makes your pasta look extra glossy.
Cook's tip: Italian chefs don't add salt to cold water because it can not only ruin the pot, but also the water will take a little longer to boil. The salt is added as the water starts to boil.
Step by Step Instructions
1) Heat 4 tablespoons of extra virgin olive oil in a deep sauté pan. Add the peeled garlic clove and sauté until it starts to brown slightly.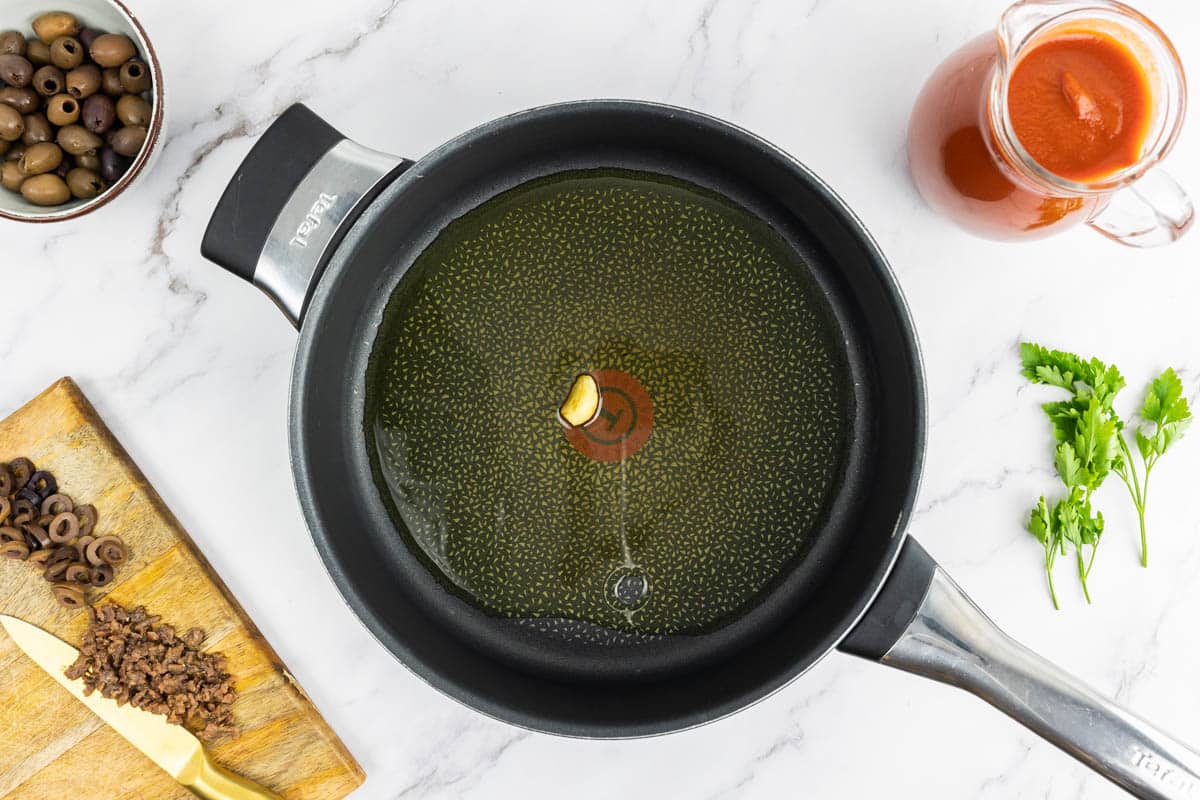 2) Stir in the chopped anchovies to the pan. They will gradually melt into the olive oil.
Note: If you're using peperoncino flakes, add them now and cook them for only a few seconds, being careful not to let them burn.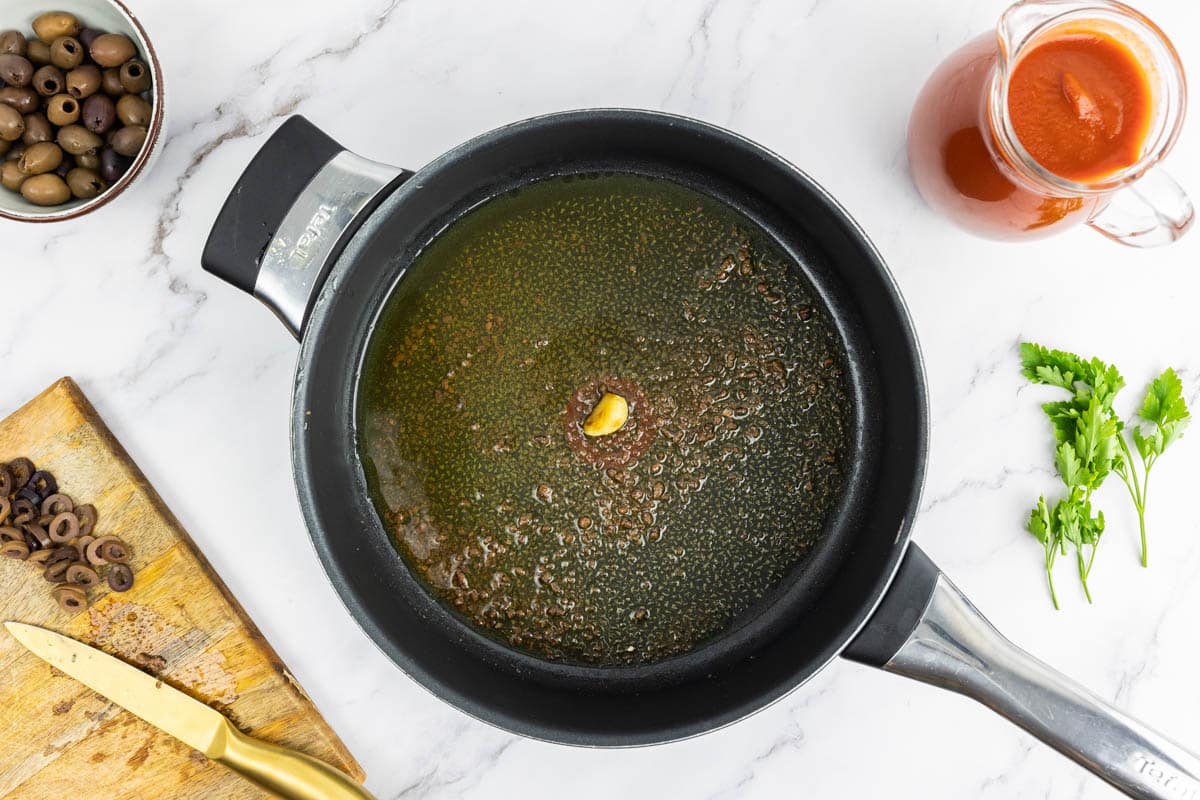 3) Stir in the tomato passata and the prepared black and green olives. Season the sauce with salt to taste and a pinch of pepper, then let it simmer over low heat for about 20 minutes, stirring occasionally.
4) Meanwhile, bring a large pot of water to a boil. Add salt once it starts to boil, then bring it back to the boil before adding your pasta. Cook the pasta for slightly less time than the instructions on the packet recommend until it's almost al dente.
Note: We will continue to cook the pasta in the Mediterranean sauce later in the recipe.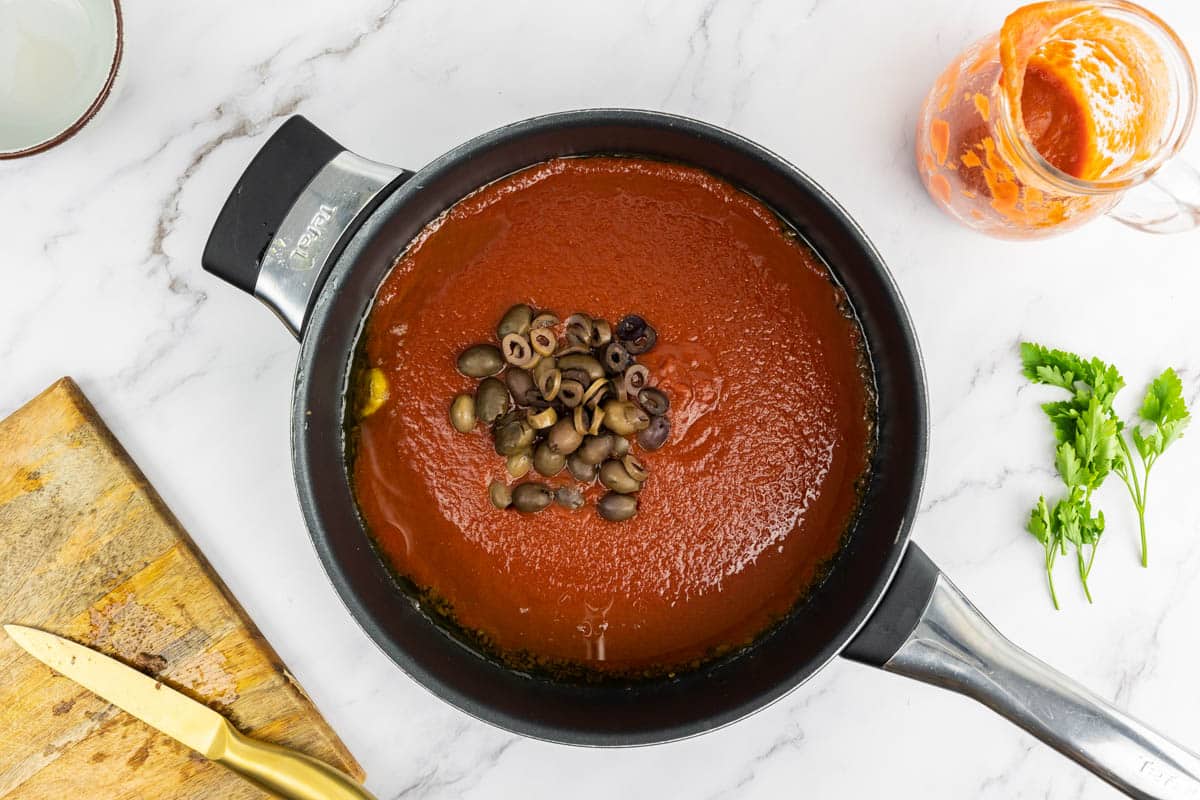 5) Near the end of the sauce's cooking time, stir in the rinsed capers and chopped parsley.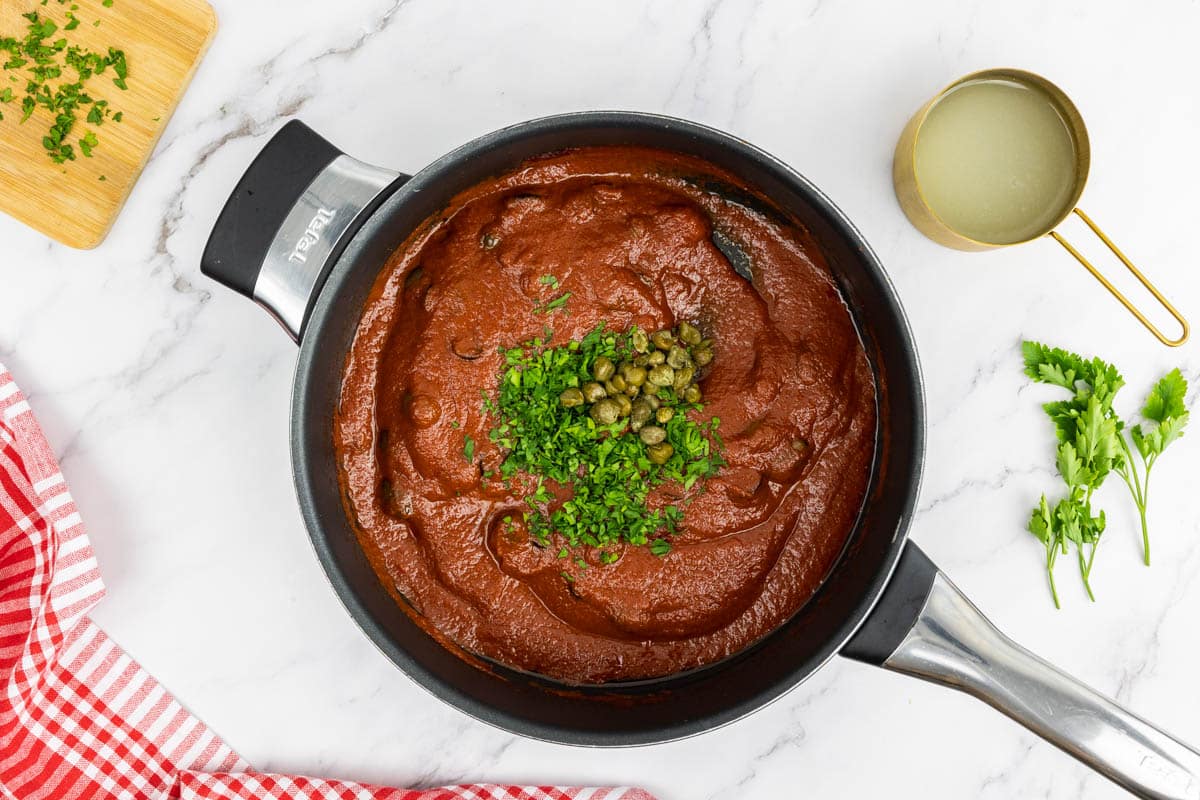 6) Once the pasta is cooked, reserve one cup of pasta water, then drain the pasta and add it directly to the sauce.
7) Cook the pasta for an additional 1-2 minutes in the sauce, adding pasta water if needed to thin out the sauce. Once the pasta is al dente and the sauce is at your desired consistency, turn off the heat.
Note: I used approximately one-third of a cup of pasta water, but this can vary.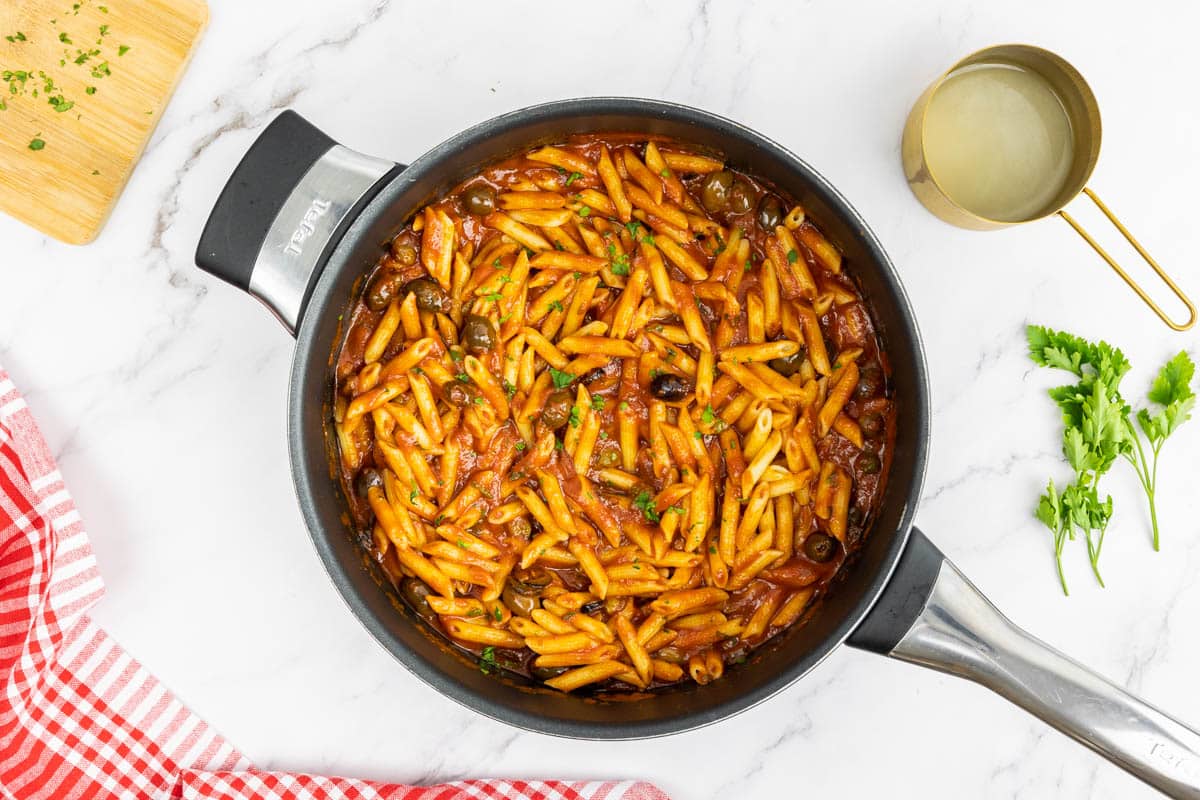 8) Portion the pasta into bowls and serve.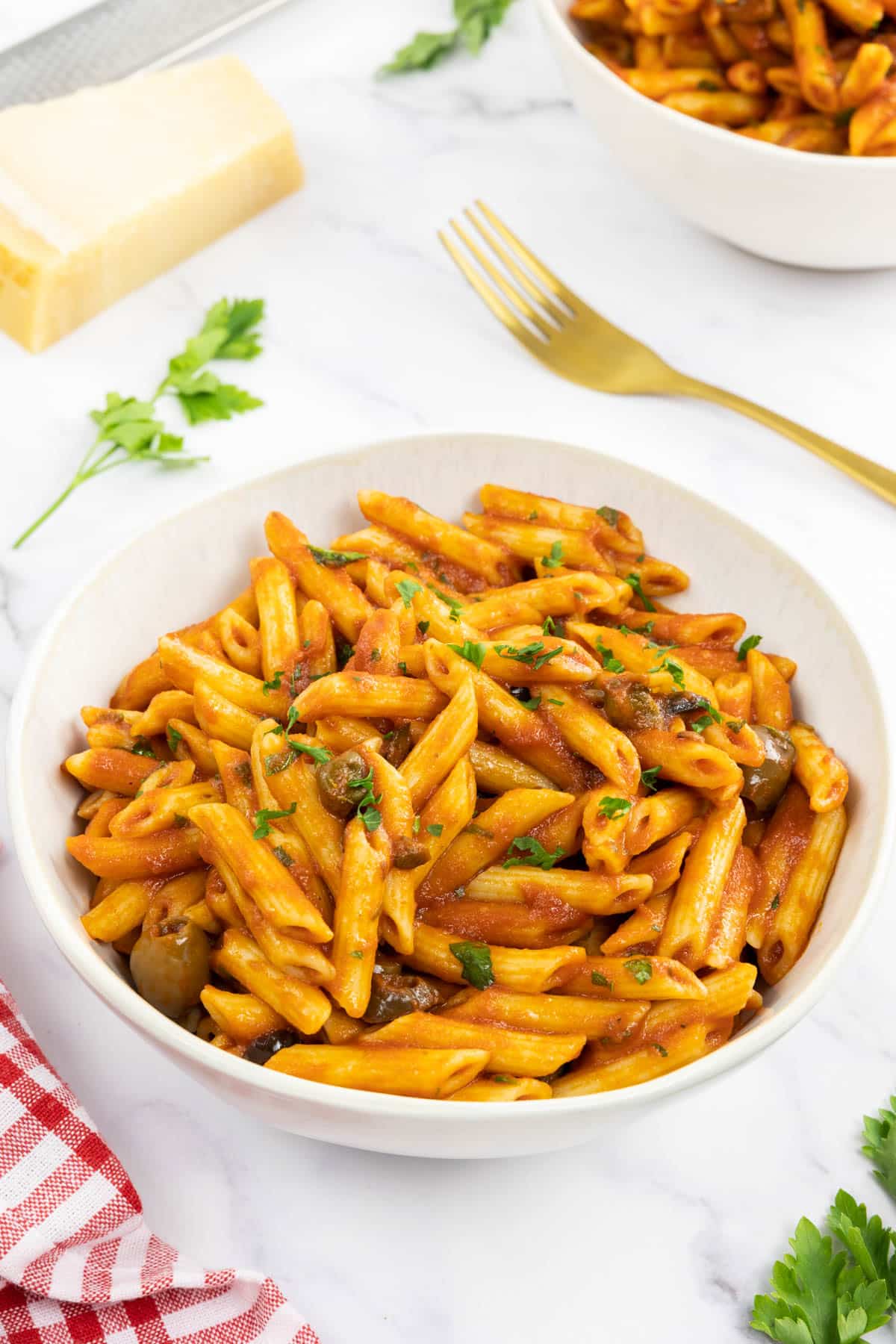 Storage and Leftovers
This Mediterranean Pasta is best enjoyed fresh, but if you have leftovers, store them in an airtight container in the refrigerator. They will keep well for up to 3 days.
To reheat, you can use either a microwave, stovetop or oven. If using a stovetop, add a splash of water to prevent the pasta from drying out and cook over medium heat with a lid on, mixing regularly until hot throughout.
If using a microwave, add a tablespoon of water and reheat covered until hot throughout, mixing halfway through.
Then lastly, my favorite way to reheat this Mediterranean pasta is in the oven. You can add the pasta to a baking dish, add a sprinkle of Parmigiano Reggiano or mozzarella slices on top and bake at 350F (180c) until hot throughout.
FAQs
Is this pasta suitable for the Mediterranean diet?
Yes, this recipe fits into the Mediterranean diet. Each ingredient is native to the Mediterranean; using wholegrain pasta will of course make it more nutritious.
Is there a specific type of olives I should use?
The recipe uses a mix of black and green Taggiasca olives. However, if these are not available or you have a different preference, feel free to use any type of olives you enjoy.
I'm not a fan of capers. Should I just leave them out?
Capers add a unique flavor to this pasta, but if they're not your favorite, you can omit them. The dish will still be delicious!
Can I prepare the Mediterranean pasta sauce in advance?
Yes, you can prepare the sauce in advance and store it in the refrigerator for up to 3 days. When you're ready to serve, heat the sauce, cook your pasta, combine, and enjoy.
More Mediterranean Recipes You May Like:
If you do try this recipe, I'd love to hear what you think. Please write a comment here on the blog or post a comment on the Pasta Project Facebook page.
Your feedback means a lot to me!
Buon appetite!
Photos by Jack Slobodian.
This recipe was originally published in 2017. It has been updated with new photos and text.
Pin for Later: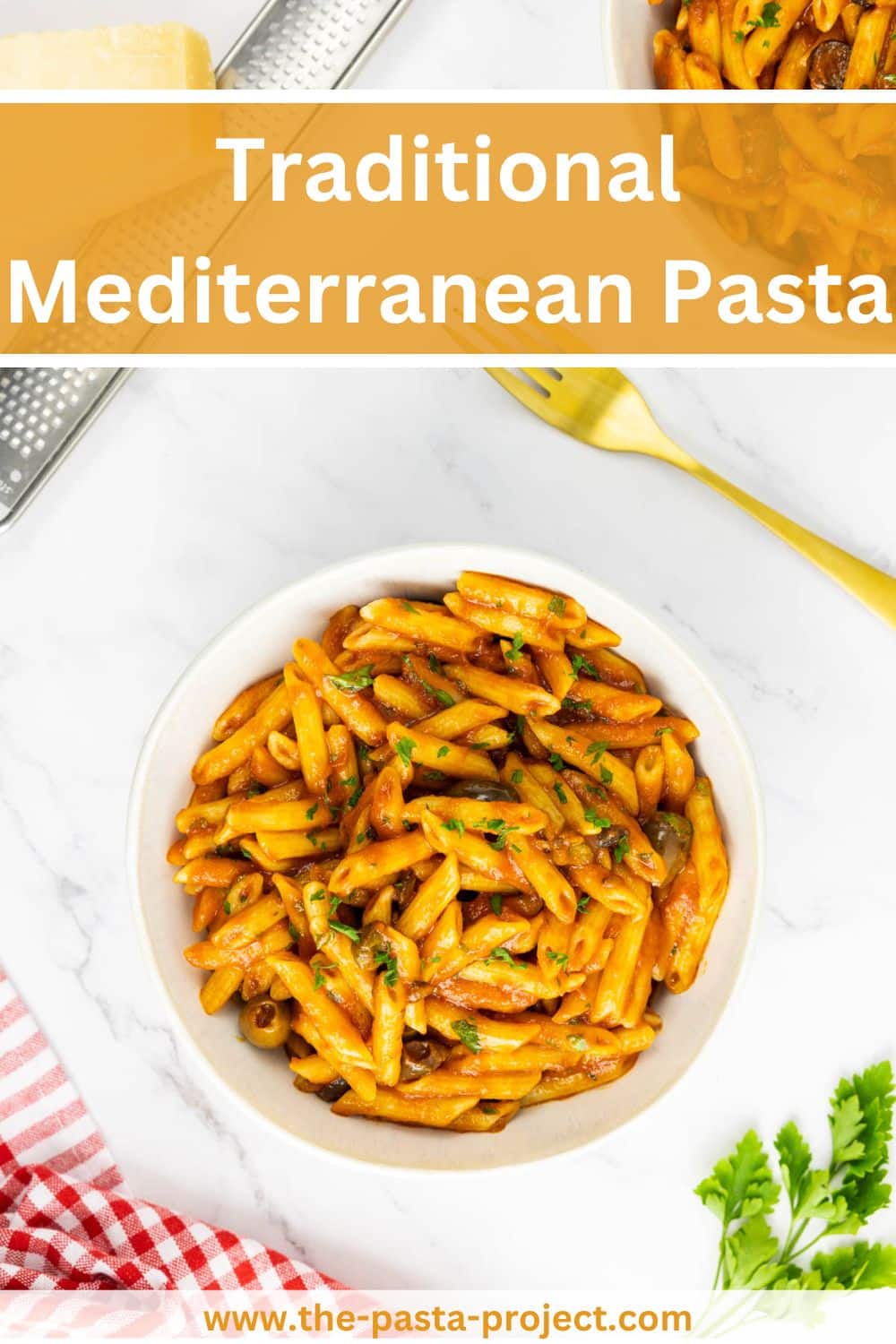 If you are interested in learning how to make other homemade pasta and different types of gnocchi, check out my shop page for some great video online courses from my friends in Rome! Nothing beats learning to make pasta from Italians! Plus while you're there why not order a copy of one of my pasta recipe cookbooks or checkout some recommended pasta making tools?