Orecchiette pasta with roasted tomatoes!
When I saw this recipe from Puglia for orecchiette pasta with roasted tomatoes, I just had to rush out to buy the ingredients so I could cook it immediately! I am so glad that I did and I know you will love it too!

Here in Italy, most pasta sauces are created in a deep frying pan to which the pasta is added once cooked. Yes, Italians generally mix the cooked pasta with the sauce before plating it, rather than serve the sauce sitting on top of the pasta. I guess this makes sense, since in order to really enjoy any pasta-sauce combination, each piece or strand of pasta needs to be coated with sauce and this is difficult to do on a plate without making a mess or ending up with sauce-less pasta pieces on your plate.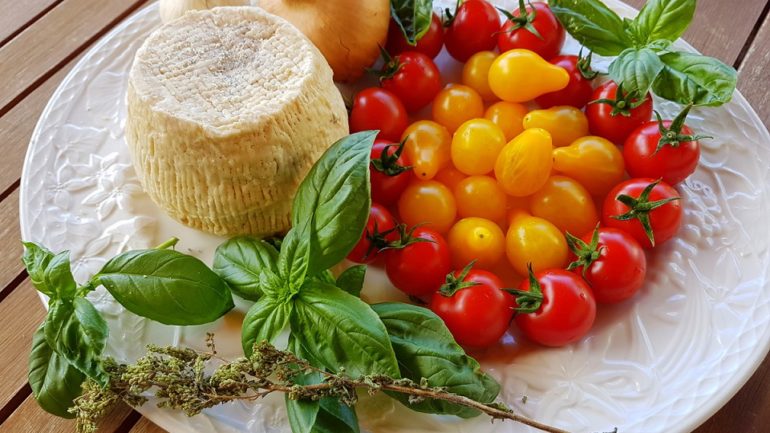 There are some sauces which are not created in a pan and this recipe for orecchiette pasta with roasted tomatoes is one I came across recently and was immediately intrigued by. Here the dressing ingredients are roasted topped with breadcrumbs, pecorino cheese and a generous amount of olive oil.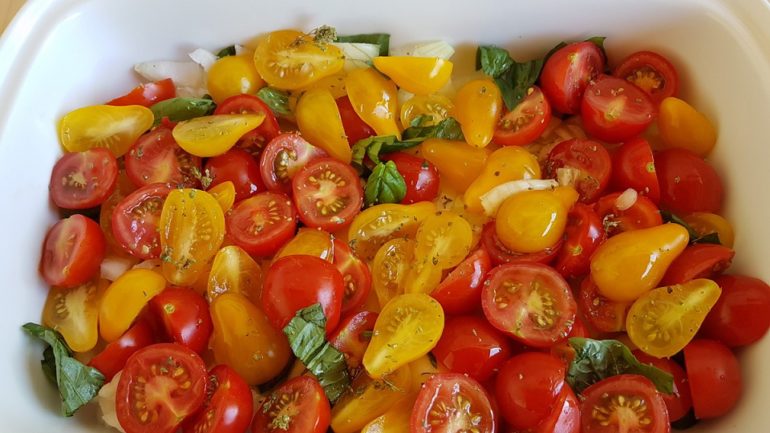 Puglia and orecchiette.
This recipe for orecchiette pasta with roasted tomatoes comes from Bari in Puglia and is sometimes also called 'alla Barese', although there are a number of other pasta recipes from Puglia or different versions of pasta with roasted tomatoes also called 'alla Barese'. Since orecchiette are quintessentially Apulian, they are the perfect pasta partner for this sauce. However, this recipe can also be made with penne, other short pasta or even with long pasta if you prefer.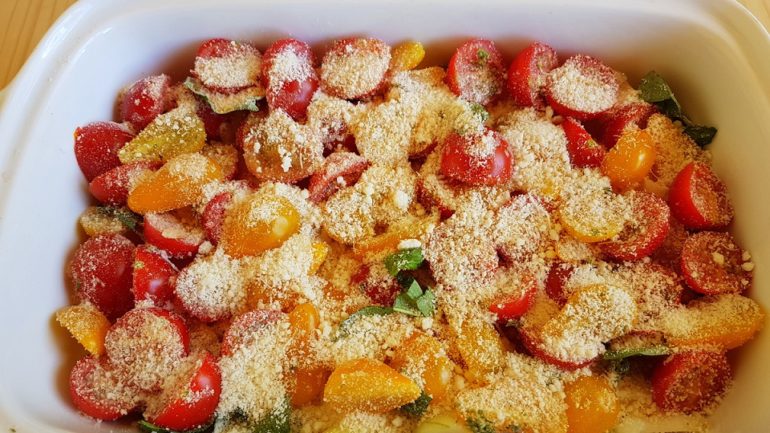 I have long been in love with roasted cherry tomatoes and in the last years have been serving them on everything, not just pasta! Roasting small tomatoes gives them a wonderful depth of flavour which cannot be replicated in a frying pan. The same is true for other veggies and even some fruit. Last year, I discovered roasted grapes, but that's another story!
Roast the sauce!
In this orecchiette pasta with roasted tomatoes recipe, the tomatoes with the other 'sauce' ingredients; onion, garlic, oregano and basil, are generously coated with EVO and then topped with a sprinkling of breadcrumbs and pecorino and roasted. I loved the flavour that the roasted onion also gave to this dressing and the texture created by the breadcrumbs.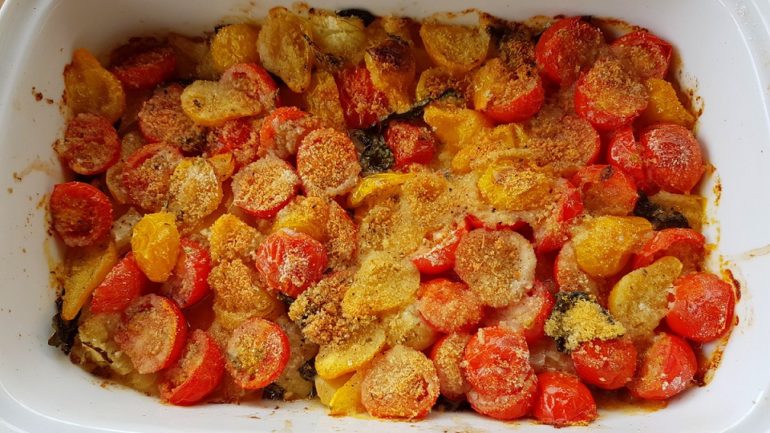 Before serving, I grated ricotta salata over the dish. Ricotta salata is an Italian cheese made from the whey part of sheep's milk, which is pressed, salted and aged for at least 90 days. It is milky white in colour with a firm texture and salty taste. It's very popular in the Southern Italian regions and often grated on pasta dishes. If you can't find this cheese you can either use an aged feta or just more pecorino.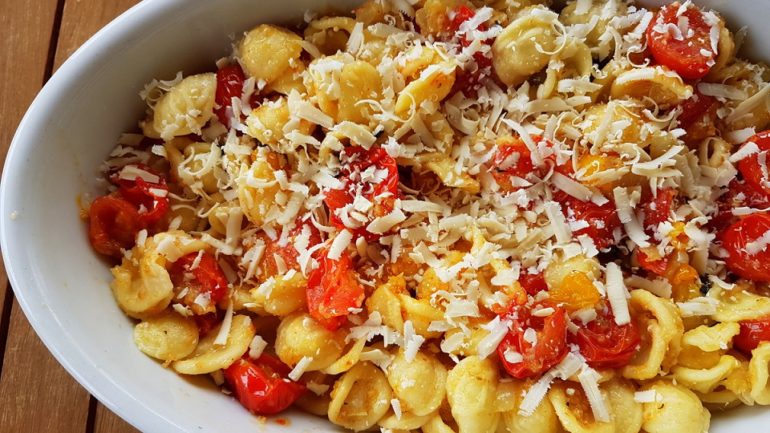 What to do with the leftovers.
In some recipes, once the pasta is mixed with the sauce, it is put in the oven or under the grill to make the top crispy. I didn't do this when I first served it, but I did it with the leftovers! All I can say is YUMMY!! This dish can also be eaten tepid or cold, making it a wonderful summer recipe.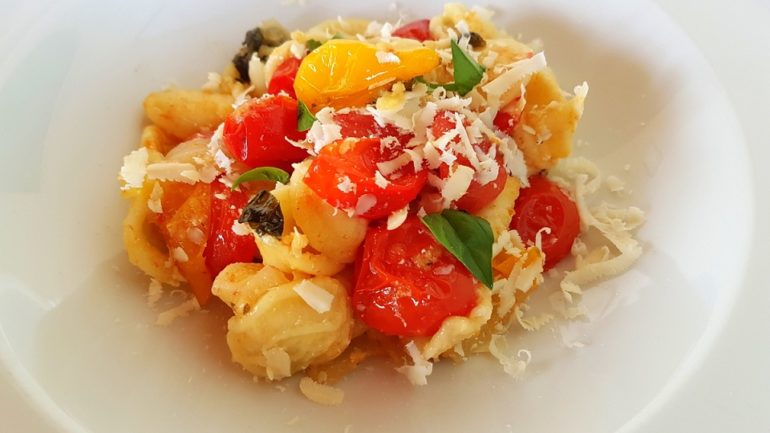 The only alteration I made to the original recipe was to use baby yellow pear tomatoes as well as red cherry tomatoes. These tomatoes have a sweeter, more subtle taste than the red ones and, of course, make the dish look even more attractive. However, whether you use red or yellow tomatoes, orecchiette or other pasta, I'm sure you are going to agree with me that this is an awesome way to make a tasty pasta sauce!
If you make this orecchiette pasta with roasted tomatoes recipe I'd love to hear how it turns out and if you liked it. Please leave a comment here on the blog or on The Pasta Project Facebook page. Looking forward to hearing from you.
Buon appetito!
(see the recipe on the next page. Just scroll down and click 2)