This delicious Italian roasted cherry tomato pasta is the perfect summer pasta dish. It delivers many sweet and fresh summer flavors while only taking 45 minutes to make.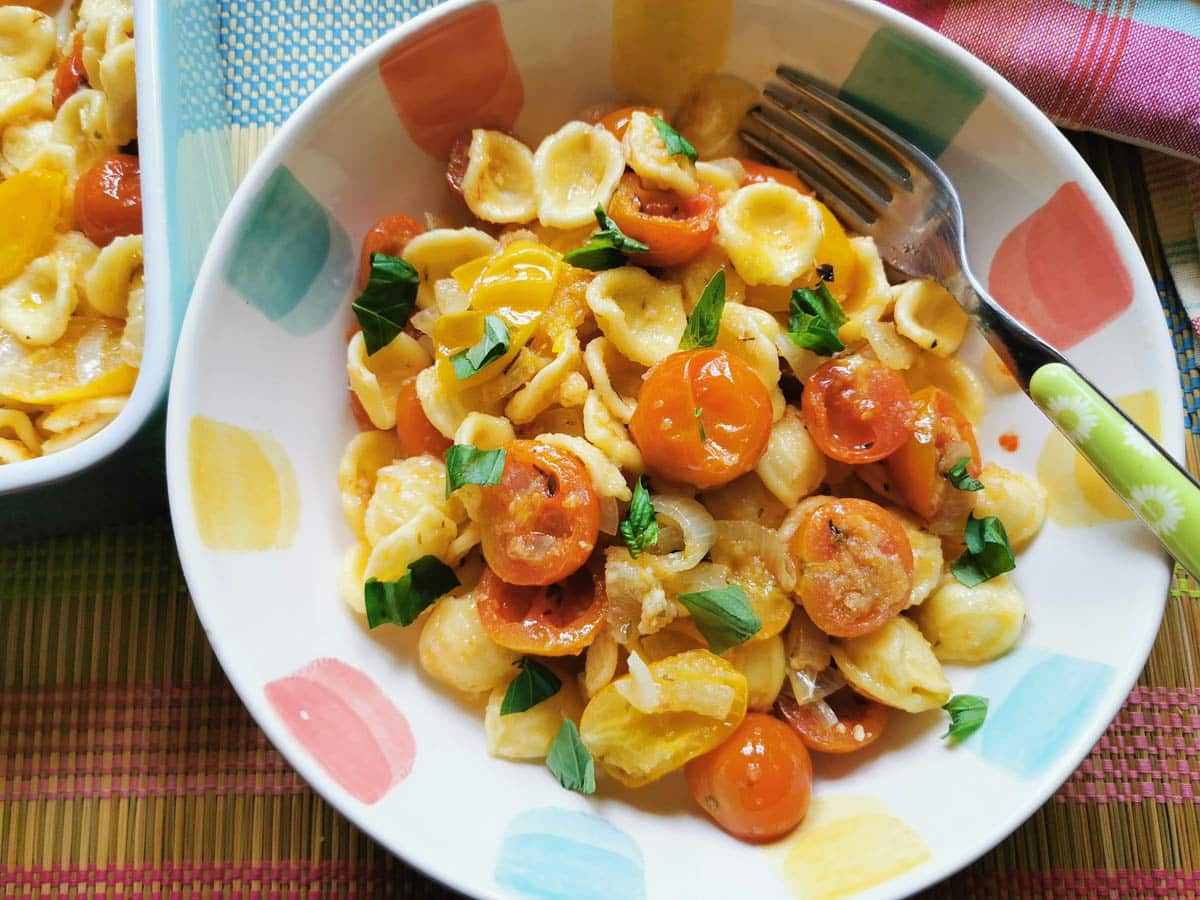 When I first saw this recipe from Puglia for roasted cherry tomato pasta, I just had to rush out to buy the ingredients so I could cook it immediately! It was love at first bite and I've made it a number of times since. This is a perfect summer pasta dish.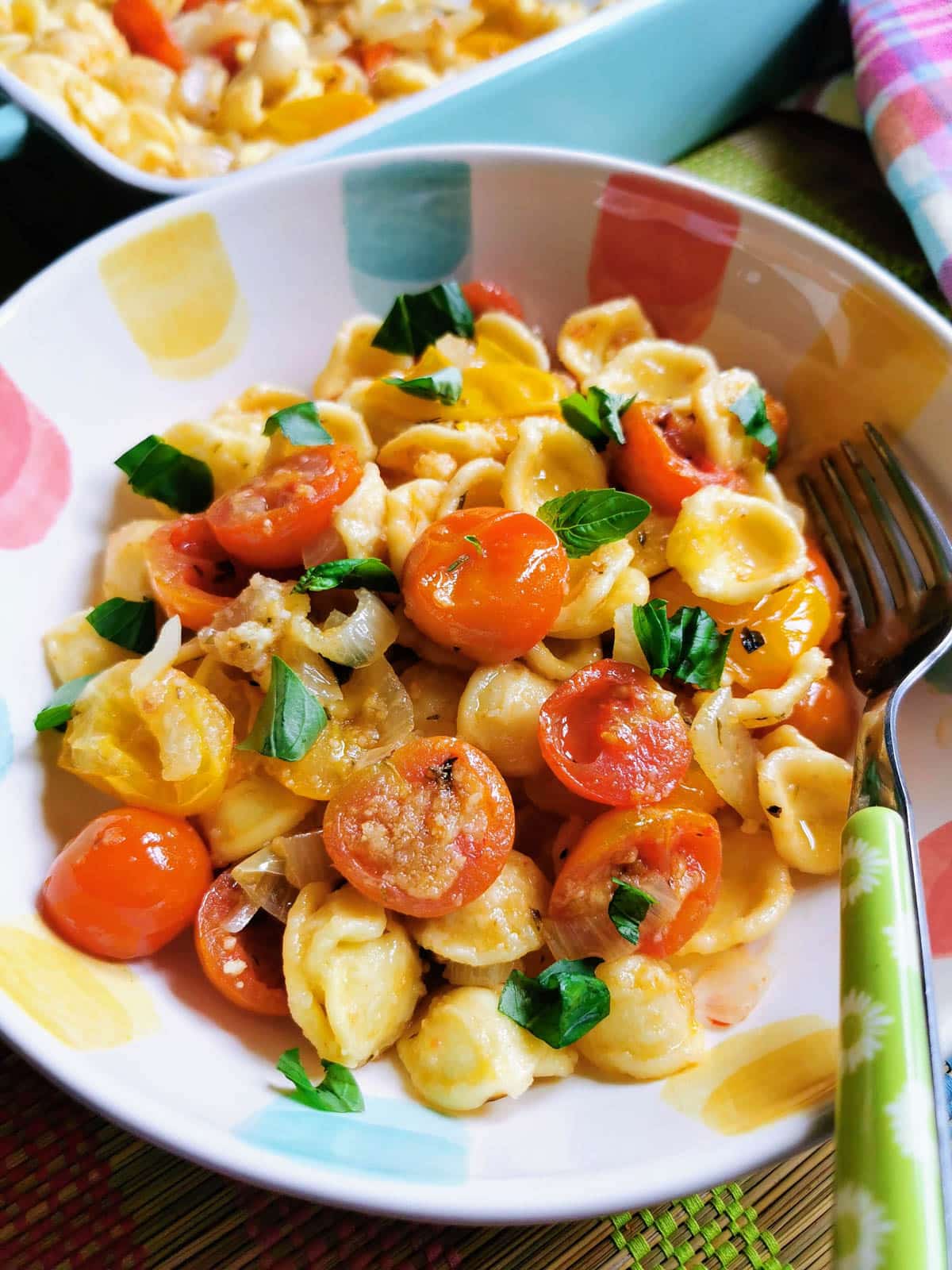 History
This roasted tomato orecchiette pasta recipe comes from Bari in Puglia and is sometimes called 'alla Barese'. However, there are a number of other pasta recipes from Puglia or different versions of pasta with roasted tomatoes also called 'alla Barese'. Like this recipe for a pasta salad.
Since orecchiette pasta is quintessentially Apulian, it is the perfect pasta partner for this sauce. This time round, we actually made the orecchiette ourselves!
In some recipes for this dish, once the pasta is mixed with the sauce, it is put in the oven or under the grill to make the top crispy. I didn't do this when I first served it, but I did it with the leftovers! All I can say is YUMMY!! This dish can also be eaten tepid or cold, making it a wonderful summer recipe.
Ingredients
You will only need a handful of ingredients for this roasted tomato pasta recipe. Most of these are easy to source. Plus, the slightly more unique ingredients like ricotta salata and pecorino romano have some easier to source alternatives that can be used.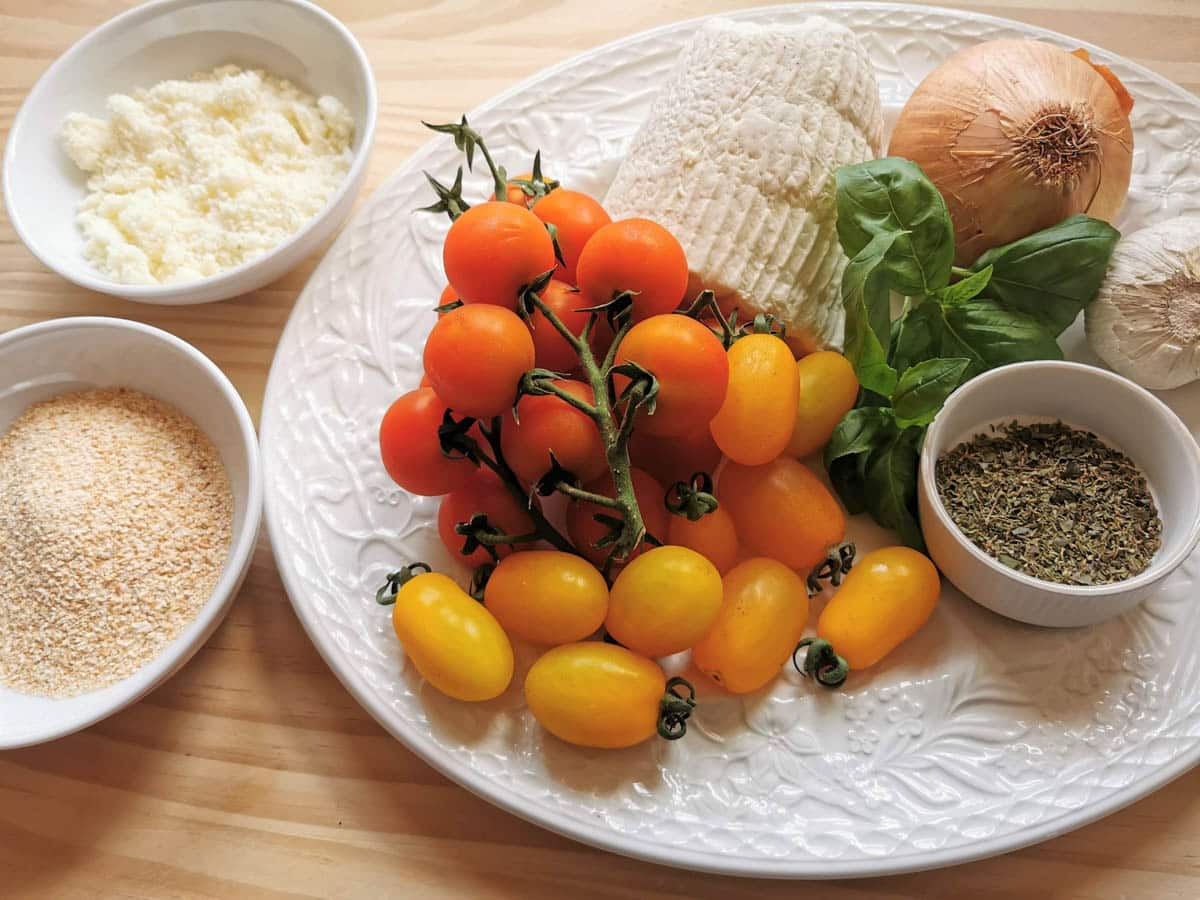 Pasta: For this recipe I used homemade orecchiette pasta which was delicious. You can also use fresh or dried orecchiette which is also traditional. Some other pasta alternatives include penne and intrecci, but feel free to use what you have on hand.
Tomatoes: Use a mix of red and yellow cherry tomatoes. This will add a delicious sweetness and color to the pasta recipe. If you can't source both red and yellow just using red works too. Another alternative for yellow cherry tomatoes are yellow datterini tomatoes.
Garlic Cloves: I used two cloves of garlic in the roasting process which added an aromatic, depth of flavor. Use fresh and firm garlic cloves for the best results.
Fresh Basil: Opt for fresh basil and not dried basil. It adds a lovely aromatic and fresh flavor that complements the cherry tomatoes well.
Oregano: Use dried Mediterranean oregano. This adds a complementary robust, earthy flavor to the pasta dish.
Onion: I've made this recipe with both red and yellow onions before; both are delicious! So pick what you have on hand.
Breadcrumbs: Use a sprinkling of breadcrumbs on the tomatoes before roasting them; this adds an extra dimension of texture.
Pecorino Romano: Pecorino adds a salty, tangy and savory flavor to the recipe. The more mature the Pecorino Romano you use, the more depth of flavor it adds. A substitute for it is Parmigiano Reggiano or Grana Padano.
Ricotta Salata: Salata is a variant of ricotta cheese that has been pressed, salted, and dried for at least 90 days. Its texture is firmer than typical ricotta, and it has a salty, slightly tangy flavor. If you can't source ricotta salata, aged feta can be a suitable substitute.
Salt & Pepper: Use salt and pepper at the end of the recipe to taste and season the recipe.
Extra Virgin Olive Oil: Use good quality olive oil as the flavor will add more depth to the recipe.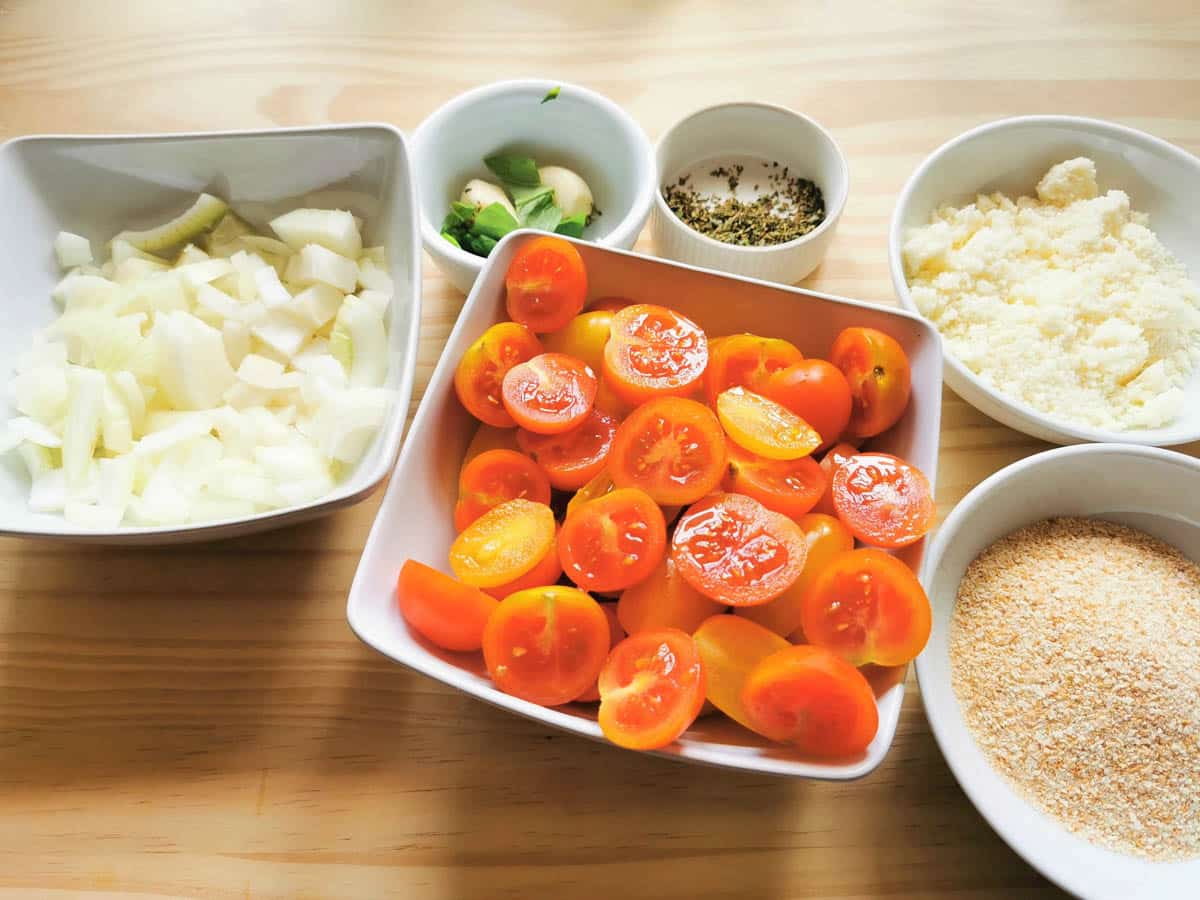 Expert Tips
Follow these expert tips to make the best roasted cherry tomato pasta possible.
Preheat the Oven: Preheating the oven is an important step that will help the cherry tomatoes caramelize better and stop them from stewing as much in their juices. This will help their flavor become sweeter while maintaining more texture.
Roasting Cherry Tomatoes: This is one of my favorite cherry tomato roasting tips. Roast the cherry tomatoes cut side up. This will help the cherry tomatoes retain a lot of their sweet juices that can then be used to coat the pasta.
Pasta Cooked Al Dente: Cook your pasta to al dente to give the recipe more texture. Al dente pasta is important in this recipe as it will add more contrast against the cooked cherry tomatoes.
Baking Sheet to Reduce Clean-Up: If you're worried about charring your new baking dish, add a piece of baking pepper underneath. This will stop the sugars from the tomatoes and vegetables from potentially charring the bottom of the baking dish.
Step by Step Instructions
1) Preheat the oven to 355°F (180°C).
2) In an oven-safe dish, combine the onion, garlic, some basil leaves, oregano, and tomatoes (with the cut side up).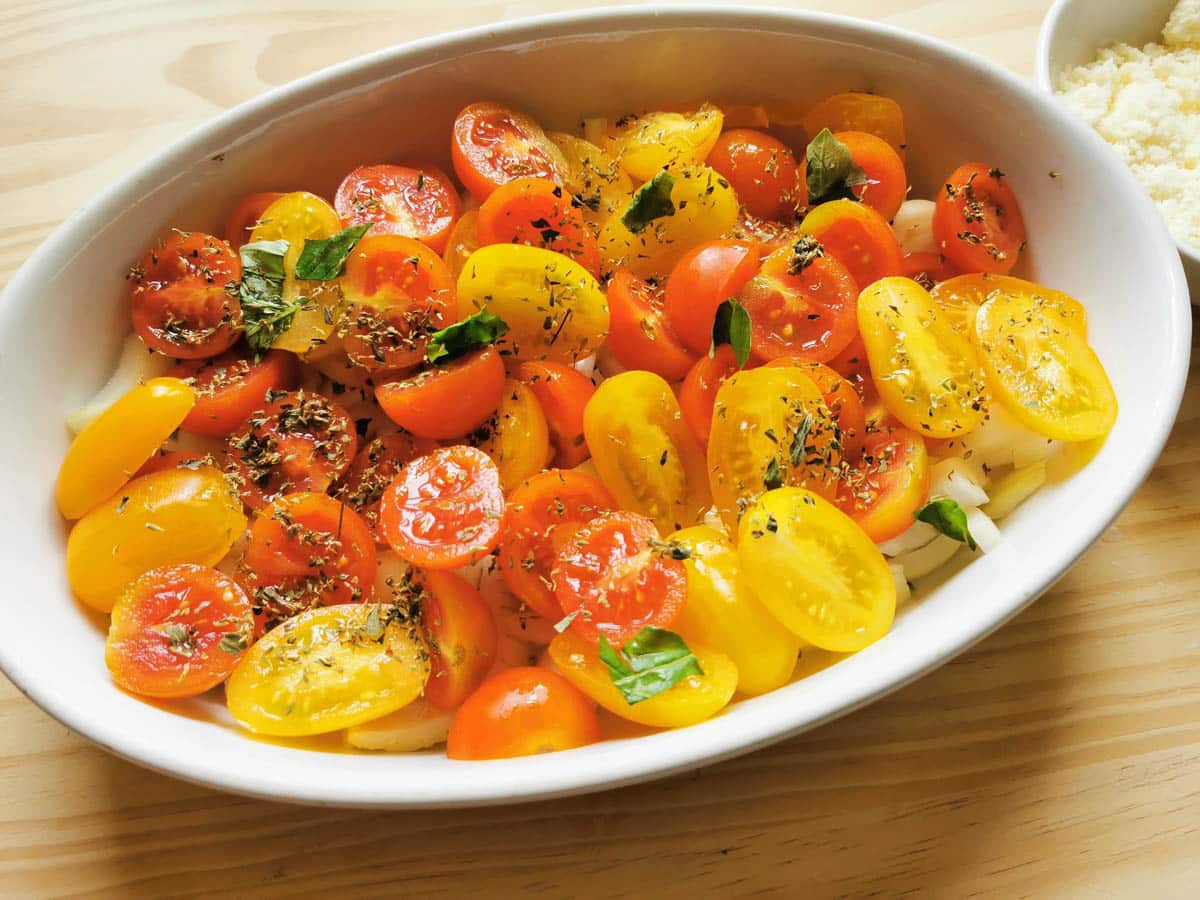 2) Drizzle the combined ingredients with olive oil. Season with salt and pepper to taste.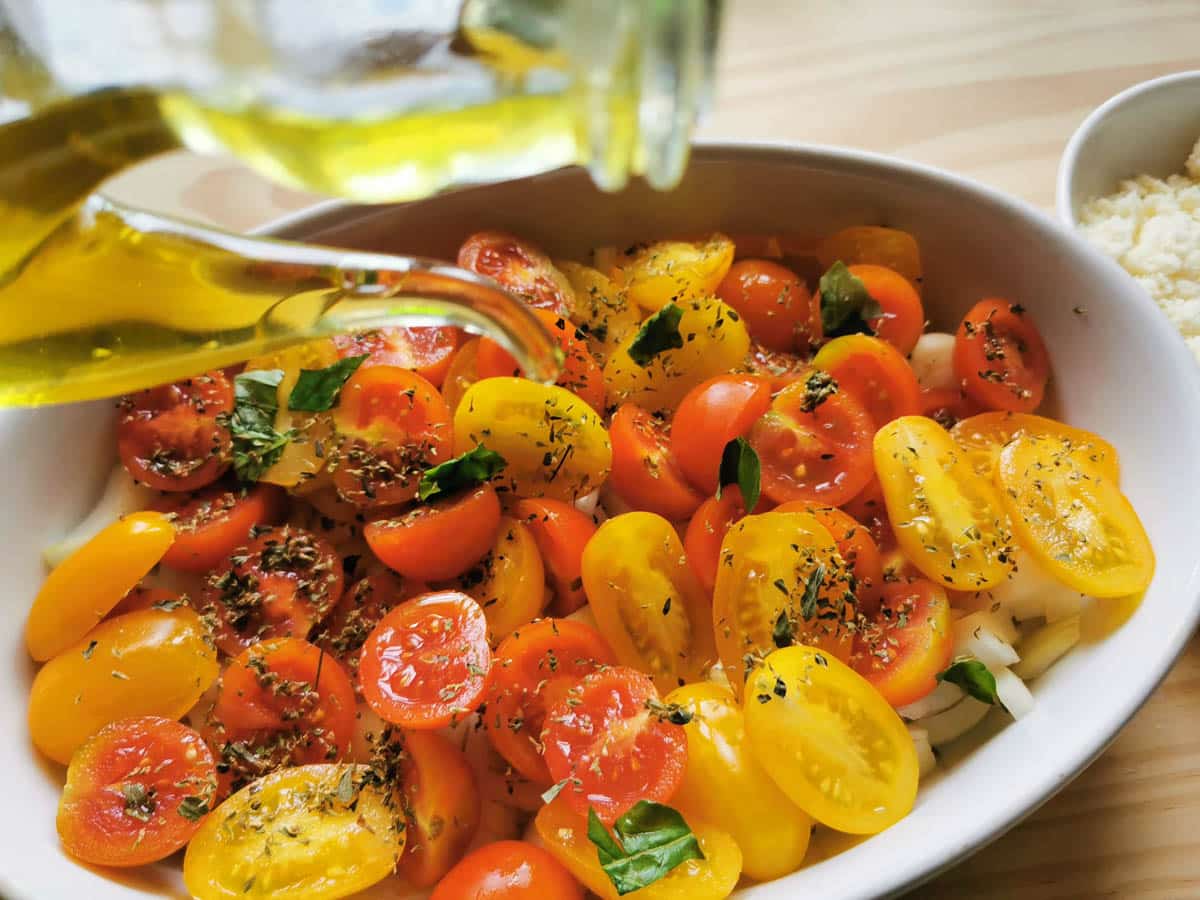 3) Sprinkle the tomatoes with breadcrumbs and grated Pecorino Romano.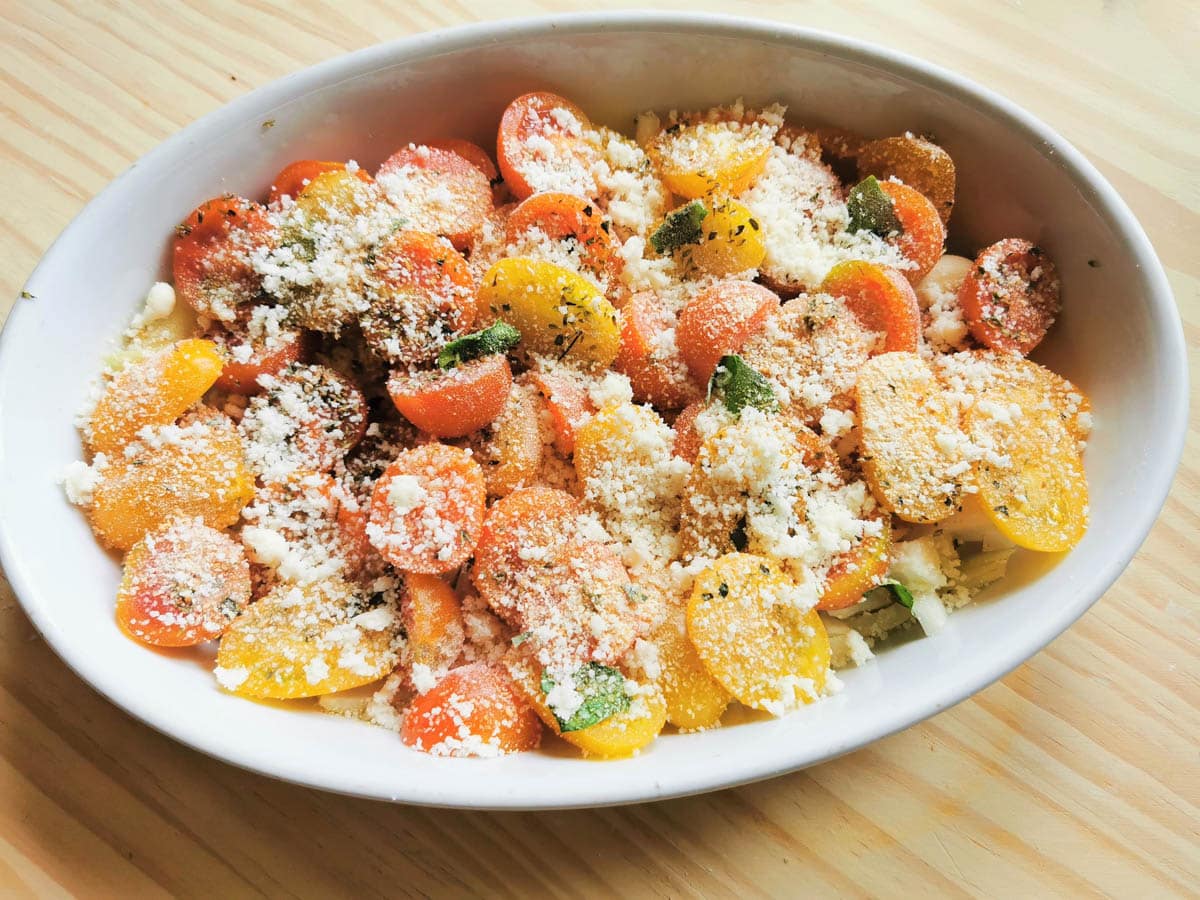 4) Place the cherry tomatoes in the preheated oven at 355°F (180°C) and roast for about 30 minutes.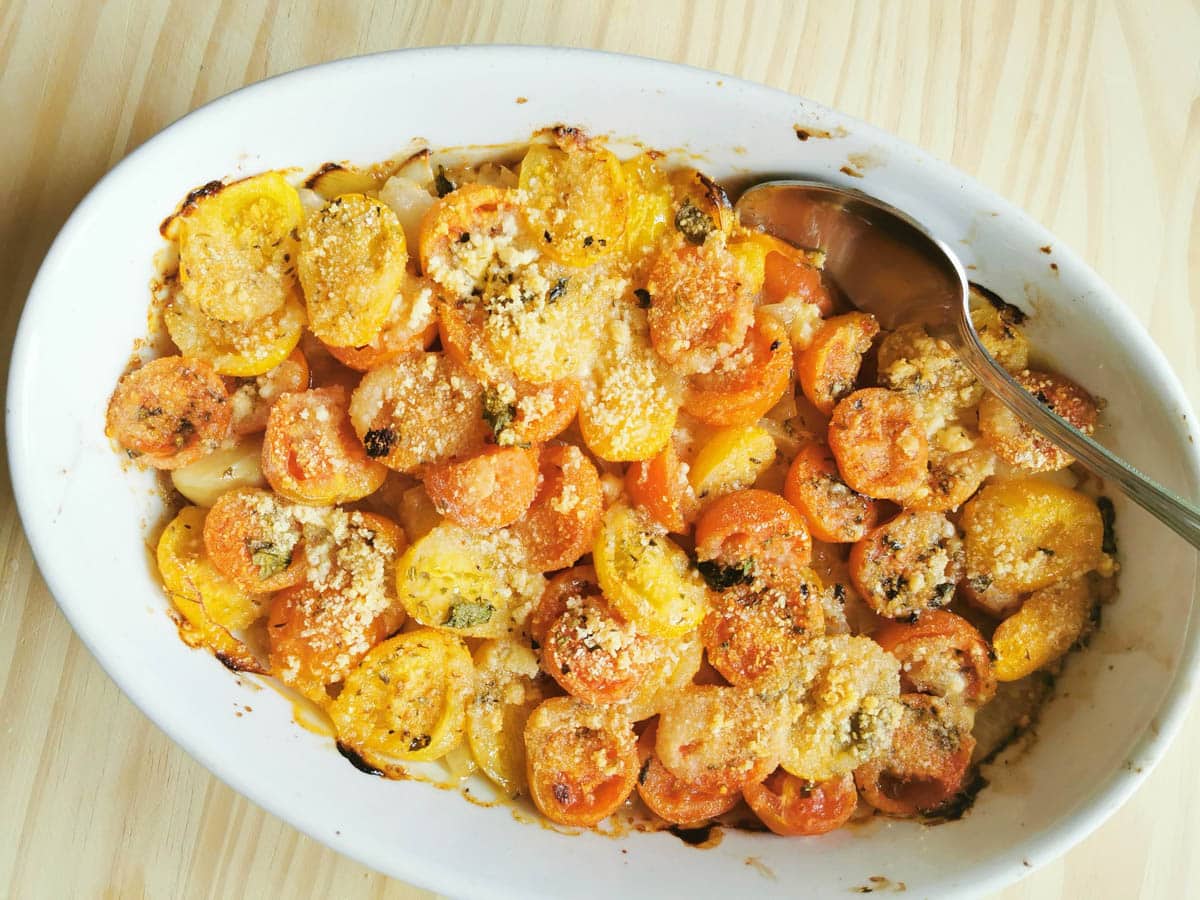 4) While the tomatoes are roasting, bring a pot of water to a boil for the pasta. Add salt once the water starts to boil, then let the water return to a boil. Cook the pasta in the boiling salted water until it's al dente, following the package instructions for timing.
Note: When using fresh or homemade pasta it usually doesn't take very long to cook.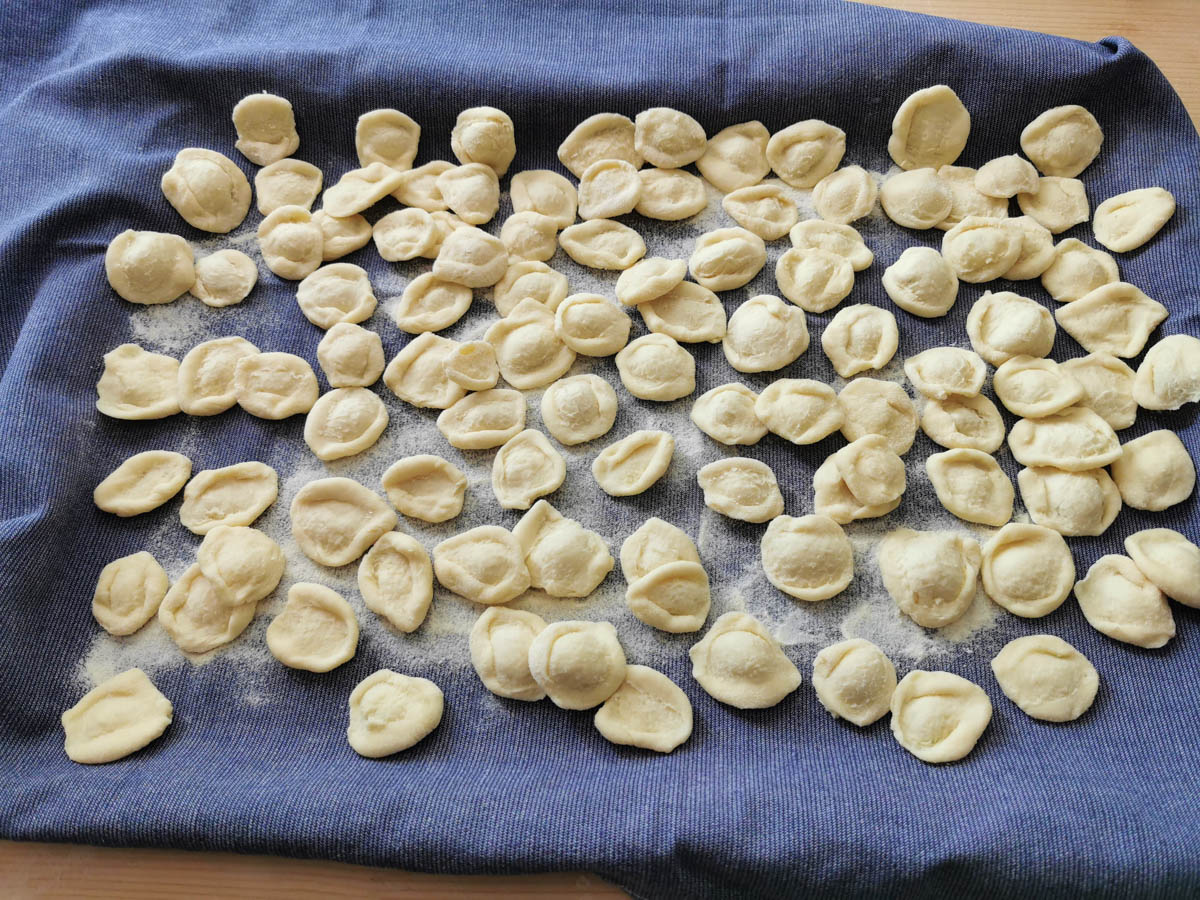 5) Once the tomatoes are ready, remove the garlic cloves from the oven dish. Transfer the roasted tomatoes and pasta to a big baking dish or serving dish.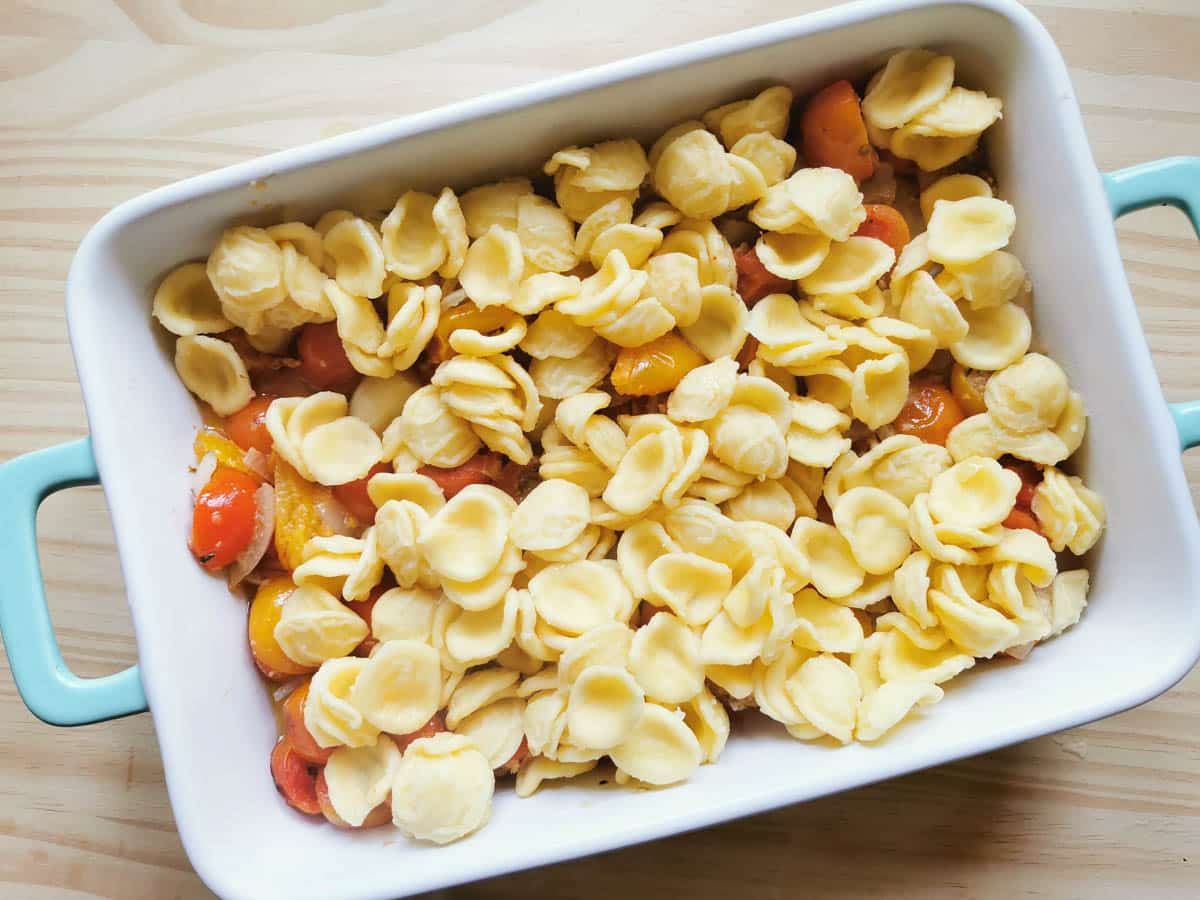 6) Mix all the ingredients together well in the dish.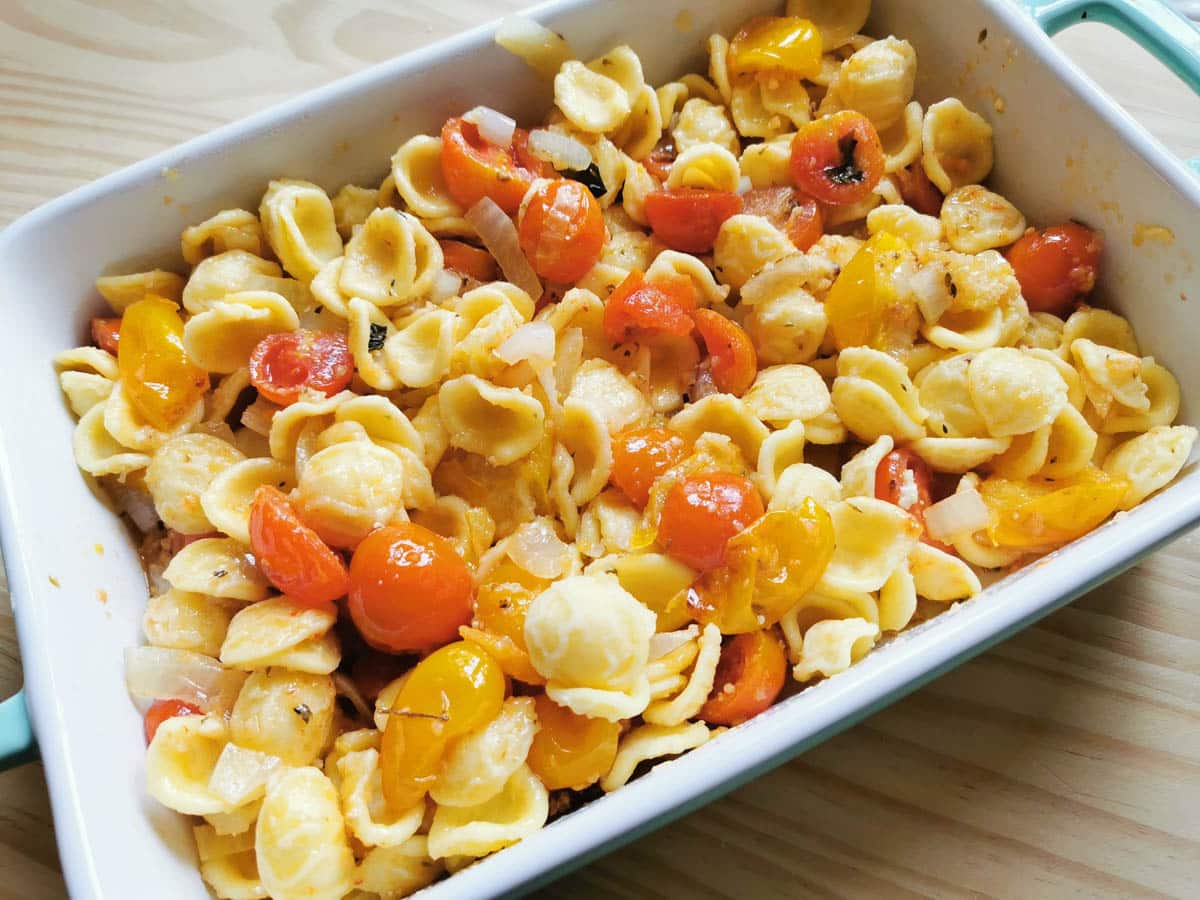 7) Serve with a sprinkle of grated ricotta salata and some additional chopped basil leaves.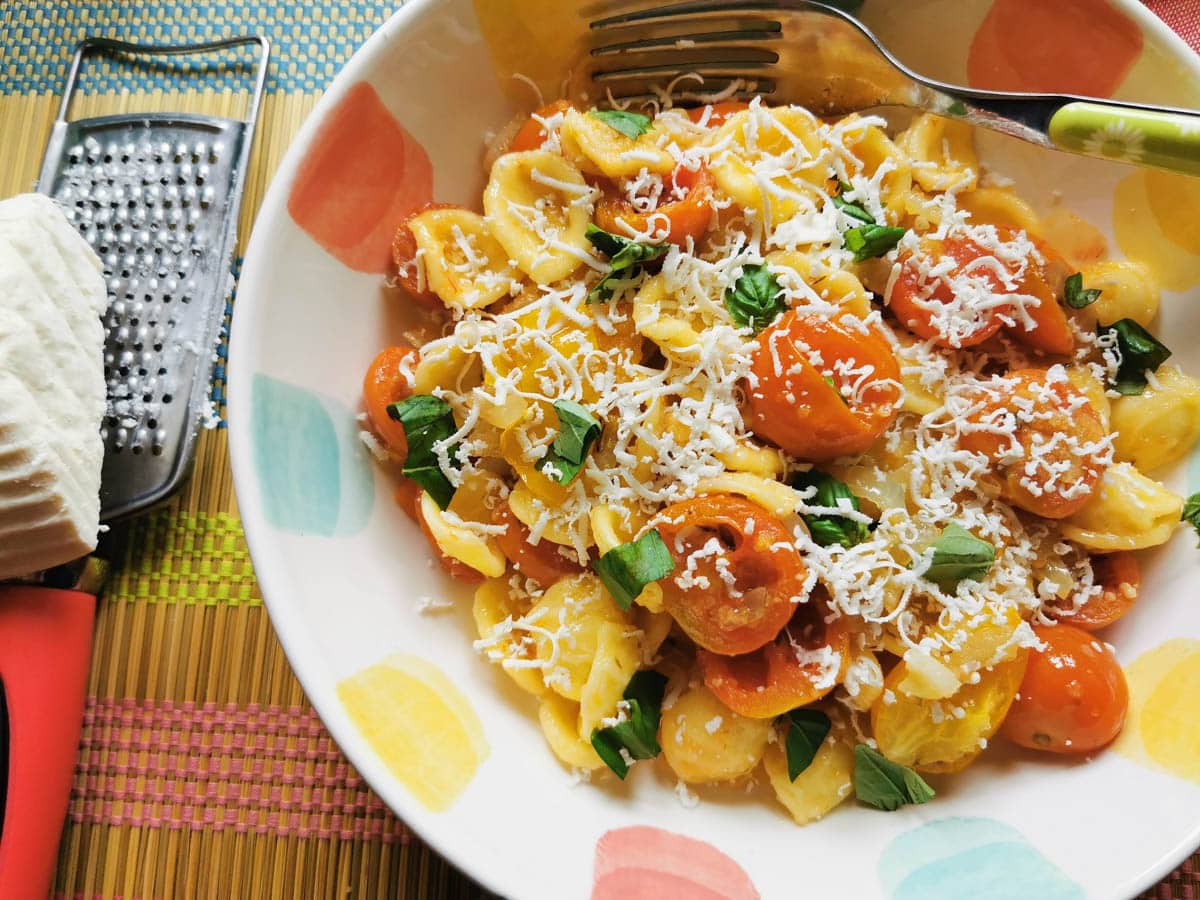 Storage and Leftovers
This dish tastes best when you eat it right after it's made. But if you have leftovers, you can put them in a sealed container and store them in the fridge for up to 3 days. You can eat this pasta dish cold or hot, it's up to you.
If you want to reheat it, you have two options. First, you can add it into an oven-safe dish with more breadcrumbs and Pecorino Romano cheese on top and heat it under the grill until it's hot. Or, for a quicker way is to reheat it covered in the microwave until hot.
FAQs
What if I can't find Ricotta Salata?
An aged feta cheese or even more Pecorino Romano can be used as substitutes.
Can I use other types of tomatoes instead of cherry tomatoes?
While cherry tomatoes are recommended for their sweetness, you could use other small tomatoes like datterini or grape tomatoes. If using larger tomatoes, make sure to cut them into smaller pieces to ensure they roast evenly.
What kind of baking dish should I use for roasting the tomatoes?
You can use any oven-safe dish for roasting the tomatoes, but a ceramic or glass baking dish is preferable. These materials don't conduct heat as quickly as metal, allowing for more even roasting.
Can I make this dish gluten-free?
Yes, use your favorite gluten-free pasta and ensure your breadcrumbs are also gluten-free.
Can this dish be made vegan?
Yes, this dish can be made vegan by omitting the cheeses or replacing them with vegan alternatives.
More tomato pasta recipes to try
If you make this roasted cherry tomato pasta recipe I'd love to hear how it turns out and if you liked it. Please leave a comment here on the blog or on The Pasta Project Facebook page. Looking forward to hearing from you.
Buon appetito!
Pin for Later: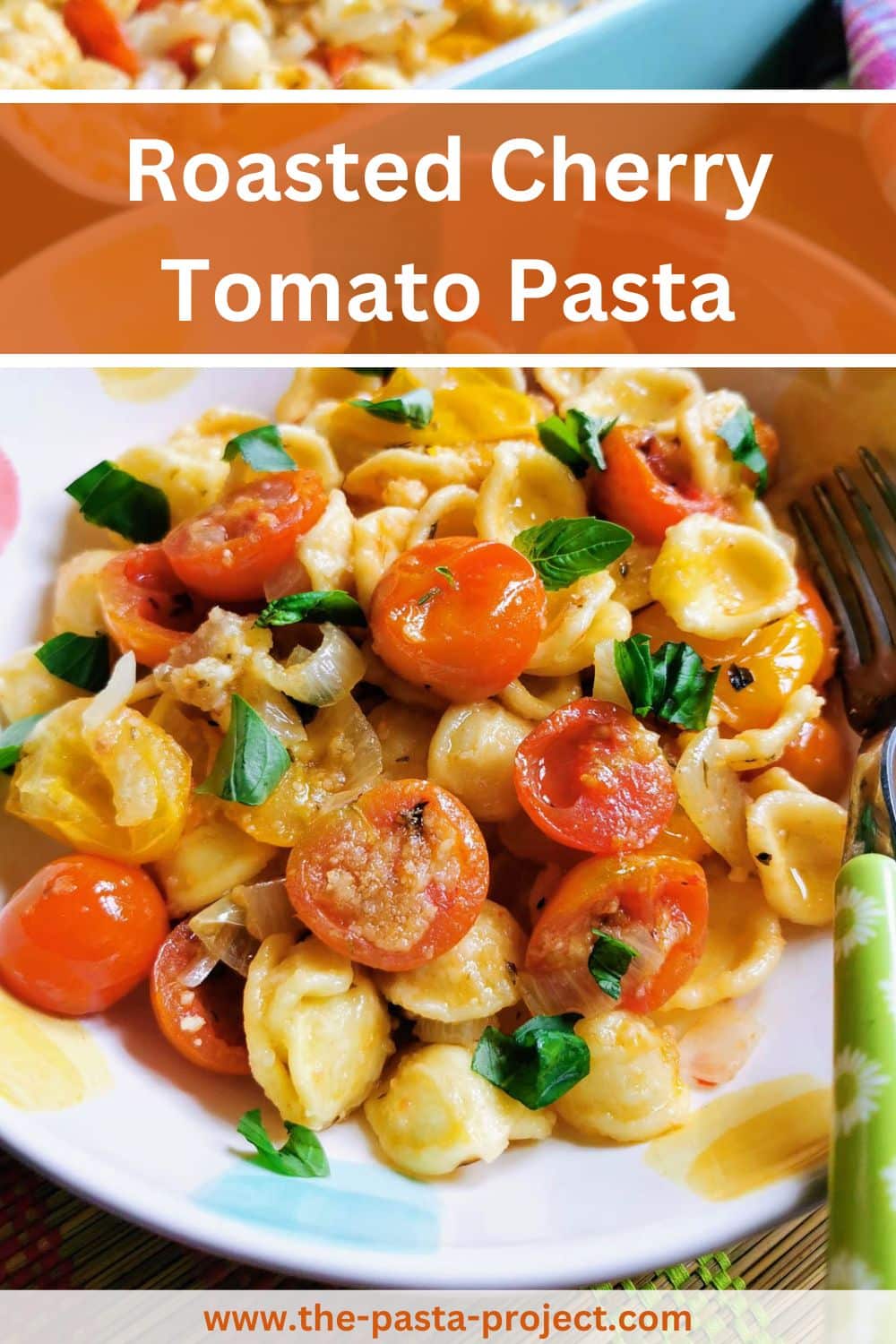 If you are interested in learning how to make different types of homemade pasta and different types of gnocchi, check out my shop page for some great video online courses from my friends in Rome! Nothing beats learning to make pasta from Italians!
Plus while you're there why not order a copy of one of my pasta recipe cookbooks or checkout some recommended pasta making tools? All great prezzies for pasta lovers!