Pasta allo scarpariello, the shoemaker's sauce.
Pasta with tomato sauce allo scarpariello is a classic traditional recipe from Naples. Originally, created to make use of leftover Sunday ragu, this is a simple tomato and cheese pasta dish that's easy to put together and perfect for family meals.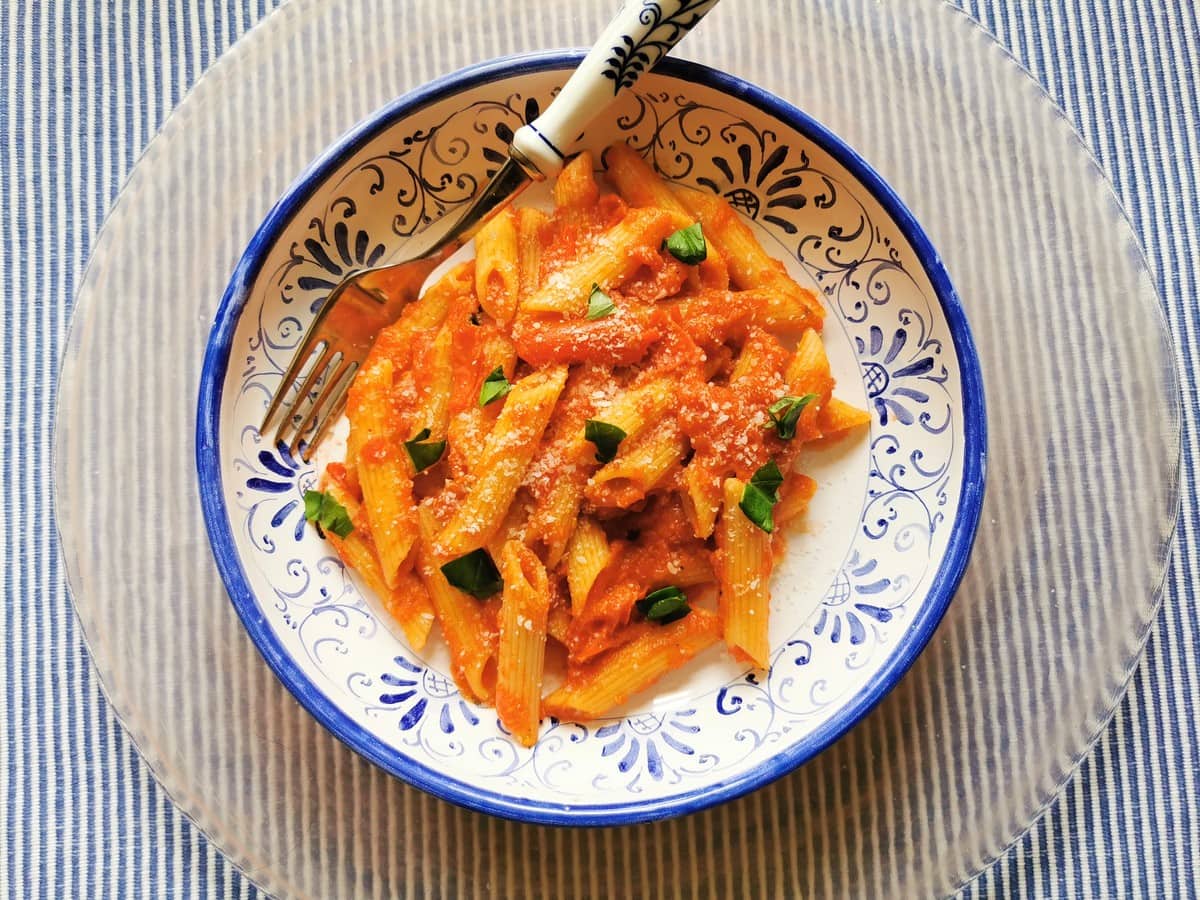 Pasta allo scarpariello da Napoli.
Despite the fact that Italians have been eating pasta since Roman times (or even before), the combination of pasta with tomato sauce is relatively recent in comparison. Tomatoes were actually only introduced to Europe from South America in the 16th century.
However, it took a long time for people to stop thinking of tomatoes as a poisonous fruit and start eating them! In fact, the first mention of pasta with tomato sauce was in a recipe from Naples in the 1800s!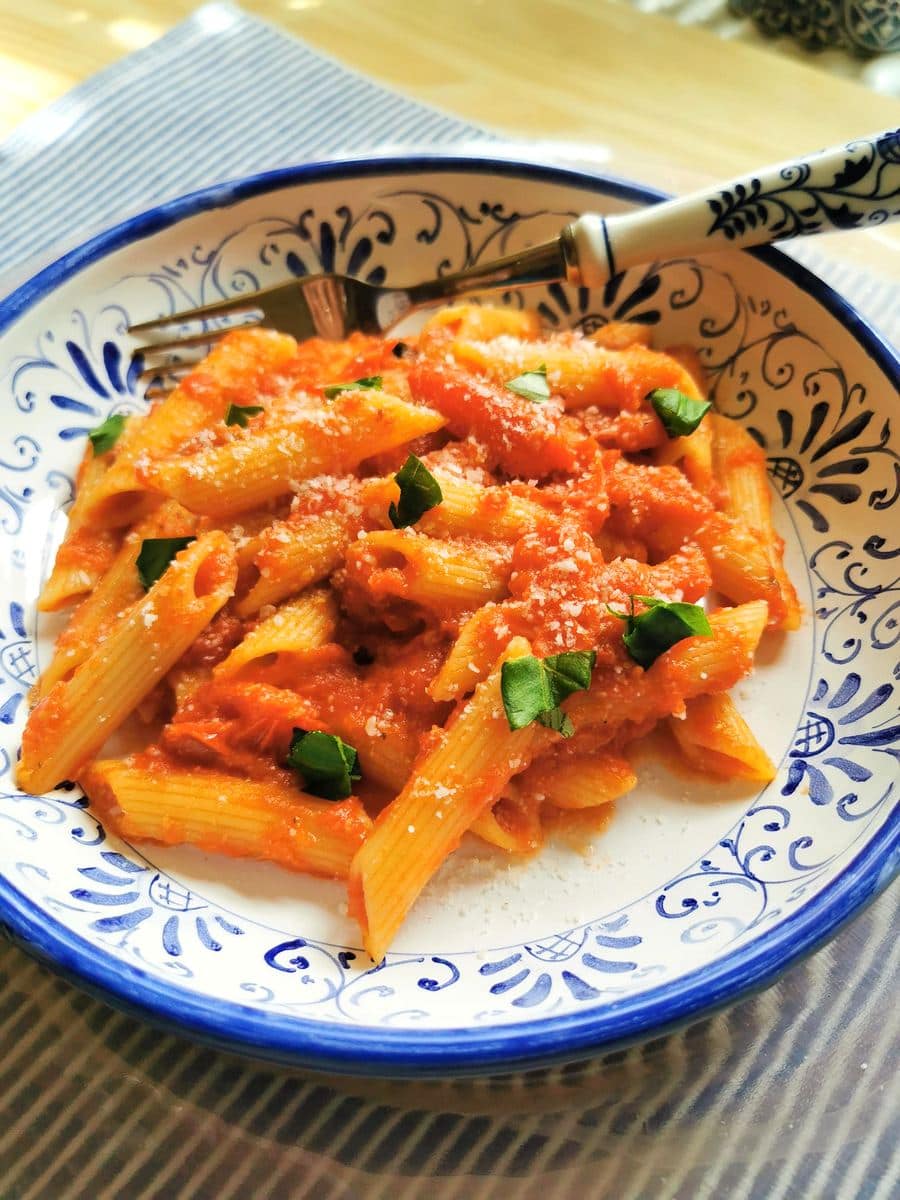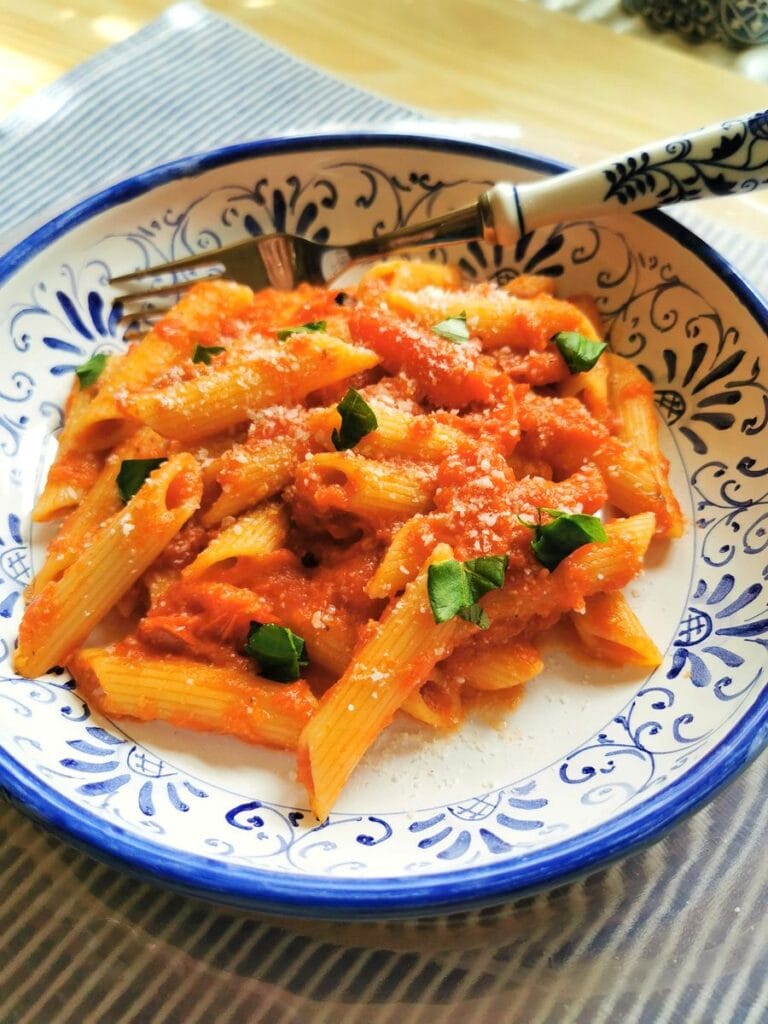 Italian kids love pasta with tomato sauce!
Once they started using tomatoes in their food, the Italians couldn't stop! Today, many people think of tomatoes as being the quintessential Italian ingredient because they appear in so many typical Italian dishes.
Pasta with a simple tomato sauce is probably the most common go-to quick recipe for Italian cooks, housewives and mothers. Italian kids love it! I have seen so many young children eating it in restaurants whilst their parents enjoy more sophisticated food!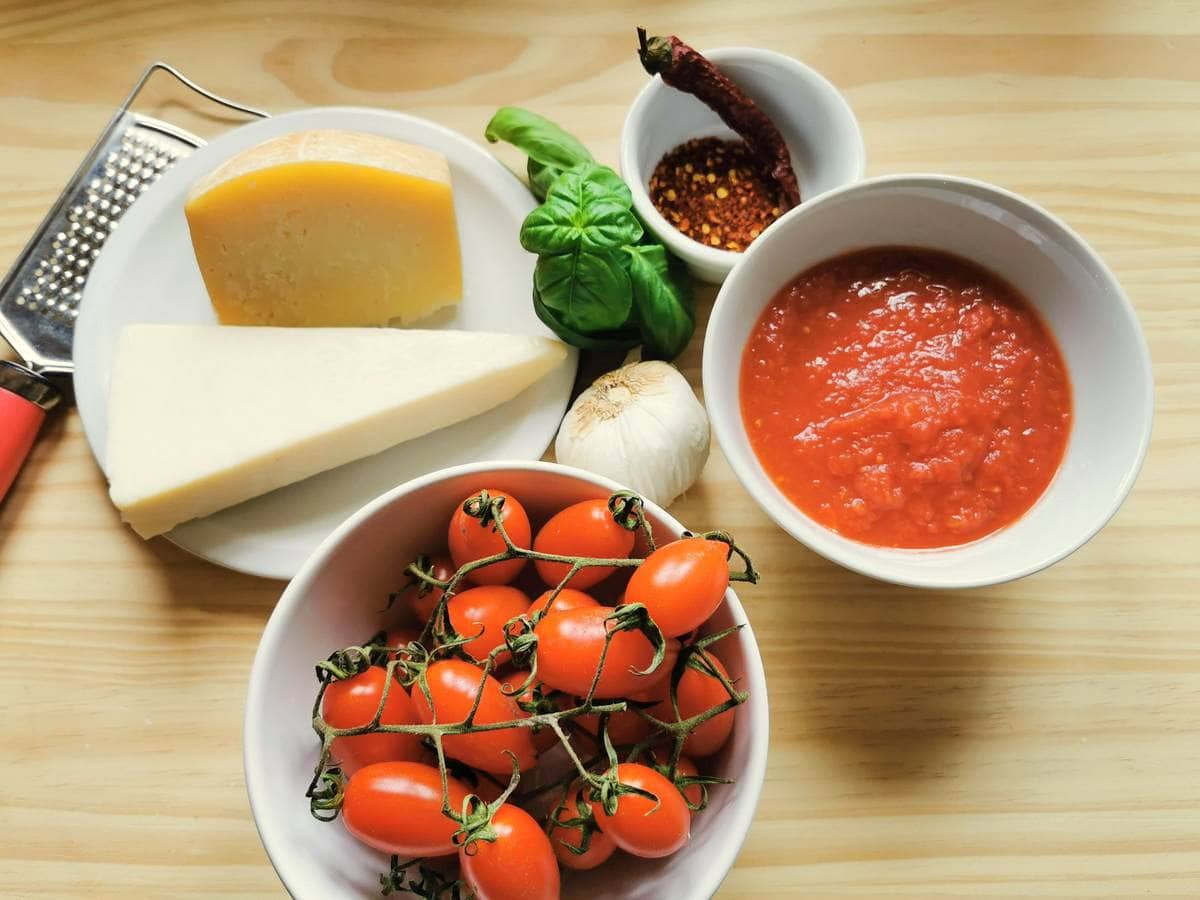 Different ways to make pasta with tomato sauce.
Although pasta with tomato sauce requires few ingredients, there are different versions of the recipe. Many Italians just use tomatoes, garlic and basil. However, some add onions instead of garlic and others include onions with carrots and celery too. This Neapolitan recipe for pasta with tomato sauce allo scarpariello is slightly different. The pasta finishes cooking in the sauce which has lots of grated cheese in it.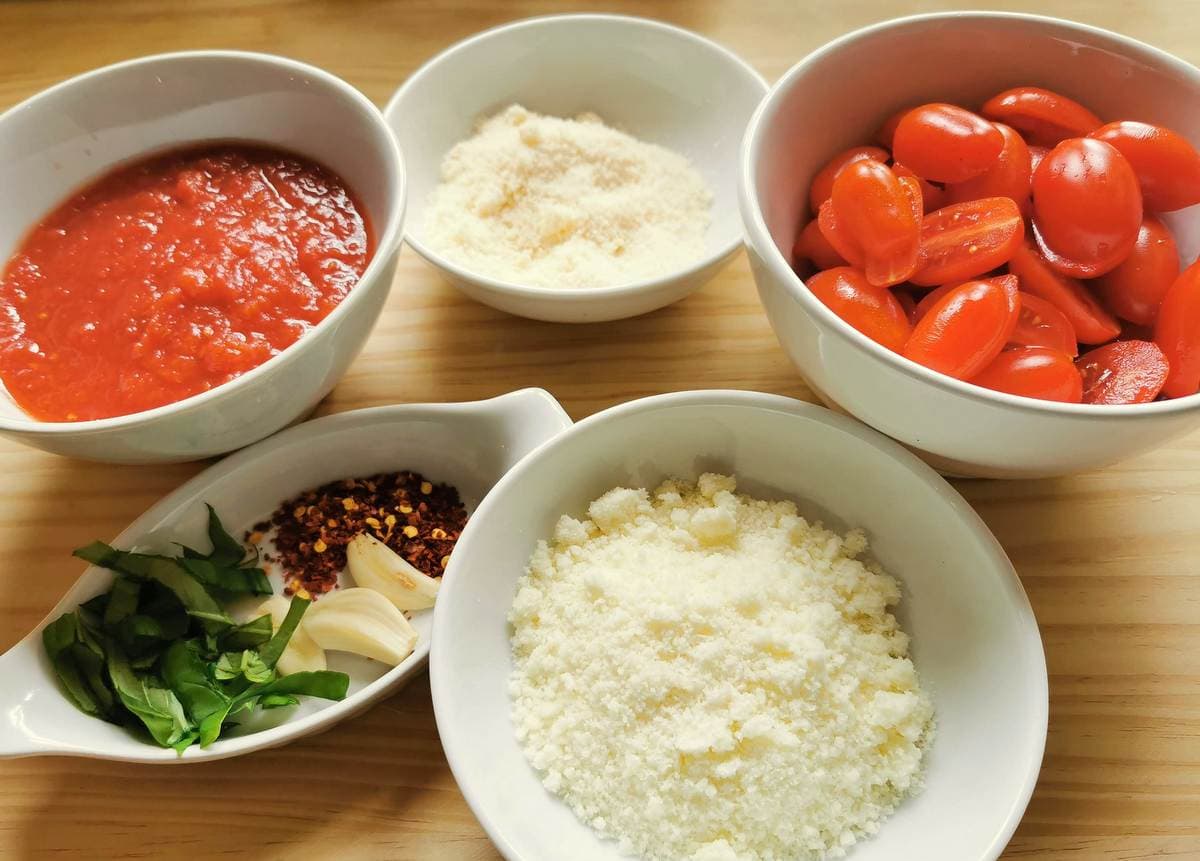 A little 'allo scarpariello' history!
Pasta allo scarpariello is, in fact, one of the most popular and traditional dishes of Neapolitan pasta cuisine. This is a simple tomato based sauce said to have been invented in the kitchens of the Quartieri Spagnoli or Spanish quarter in Naples.
This district was home to many artisan workers including shoemakers. In Neapolitan dialect, 'allo scarpariello' actually translates to the 'pasta of the shoemaker or cobbler'. Food historians say this was a popular lunch time dish among shoemakers as it was something they could eat at their work benches.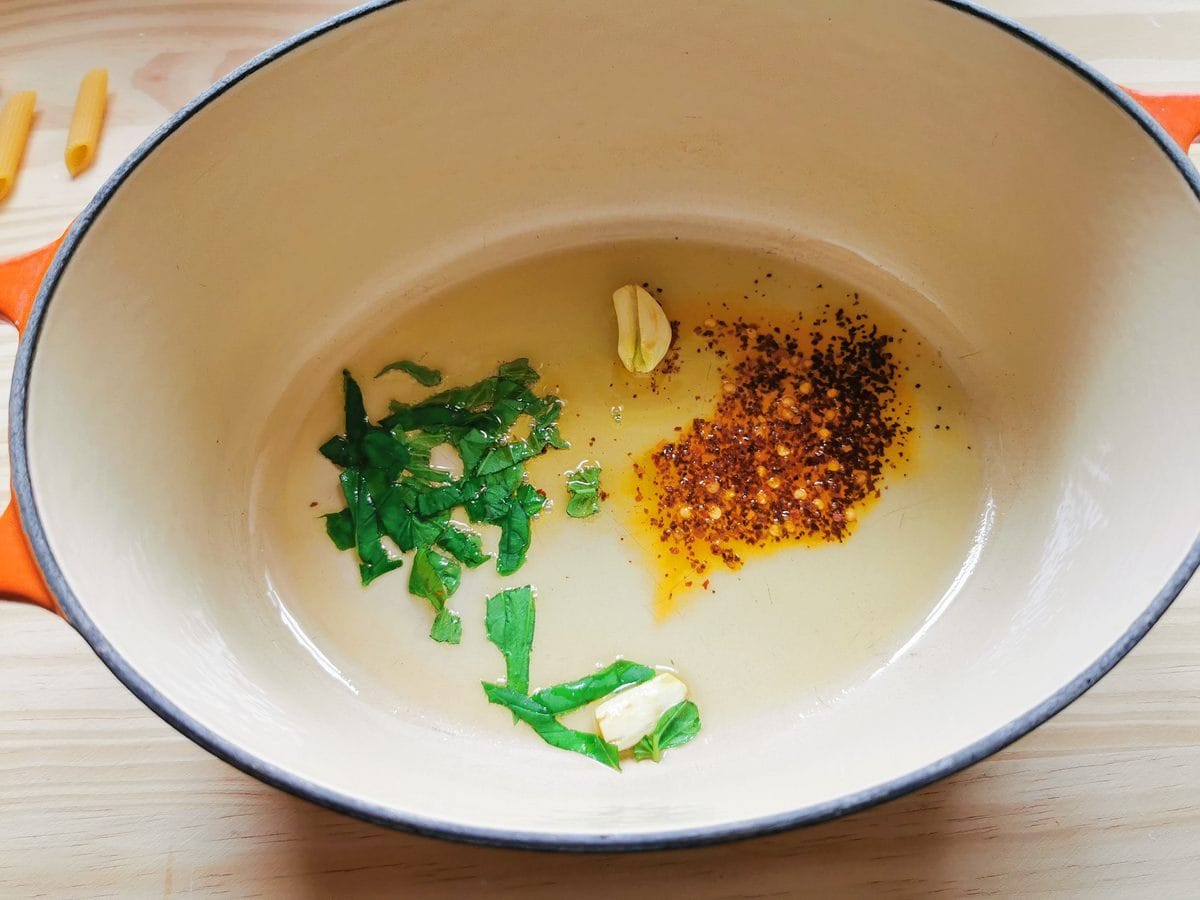 Originally, allo scarpariello was a sauce the Neapolitan artisans created to make use of the weekend's leftovers. The shoemakers (or their wives) stretched what remained of the traditional Sunday ragù by adding a lot cheese to it, probably because most of the meat from the sauce would have been eaten on Sunday!
Cheese made the sauce more filling and was something the shoemakers apparently always had plenty of. I read that shoe repairs were often paid for in basic foodstuffs instead of money by poorer customers.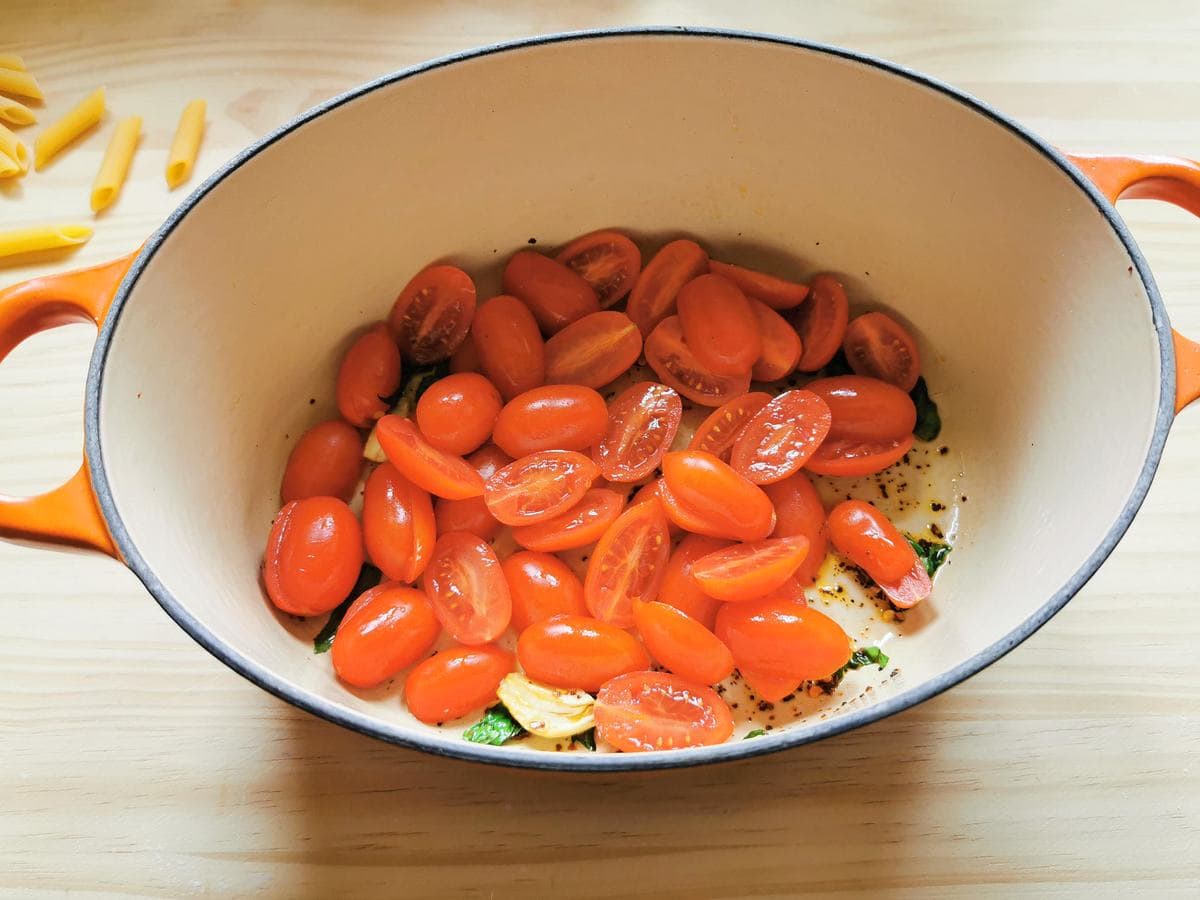 This quick and simple recipe soon became popular among Neapolitans in general and until today is still often served in homes and restaurants in Naples and throughout Campania!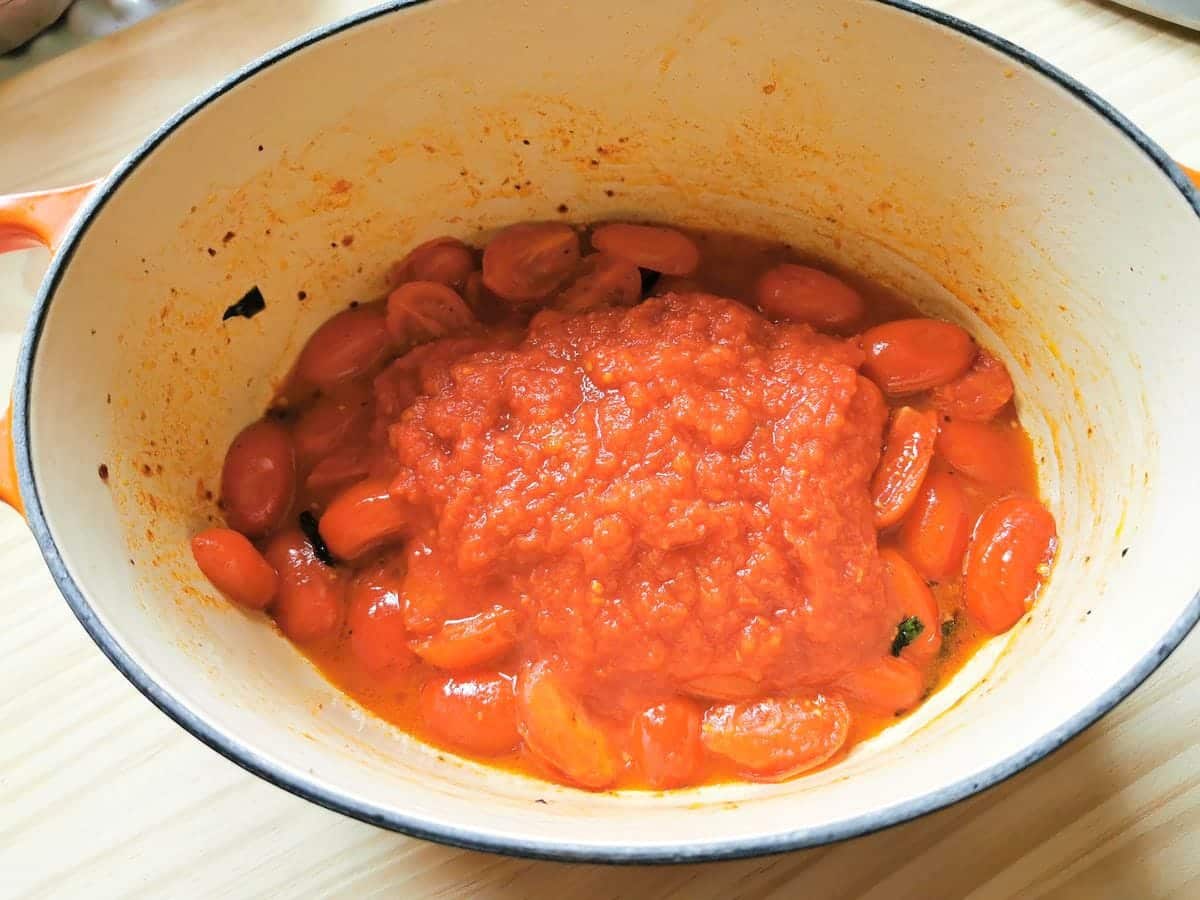 Changes to the original allo scarpariello recipe.
Over time, the ingredients for 'allo scarpariello' have changed. Instead of leftover meat sauce, fresh or preserved tomatoes are usually used to make a basic tomato sauce. Then they add lots of grated cheese and, sometimes, peperoncino (red chilli pepper). The original recipe also called for lard (strutto in Italian) as the fat to cook the sauce in. But, nowadays, most people use extra virgin olive oil which, of course, is healthier.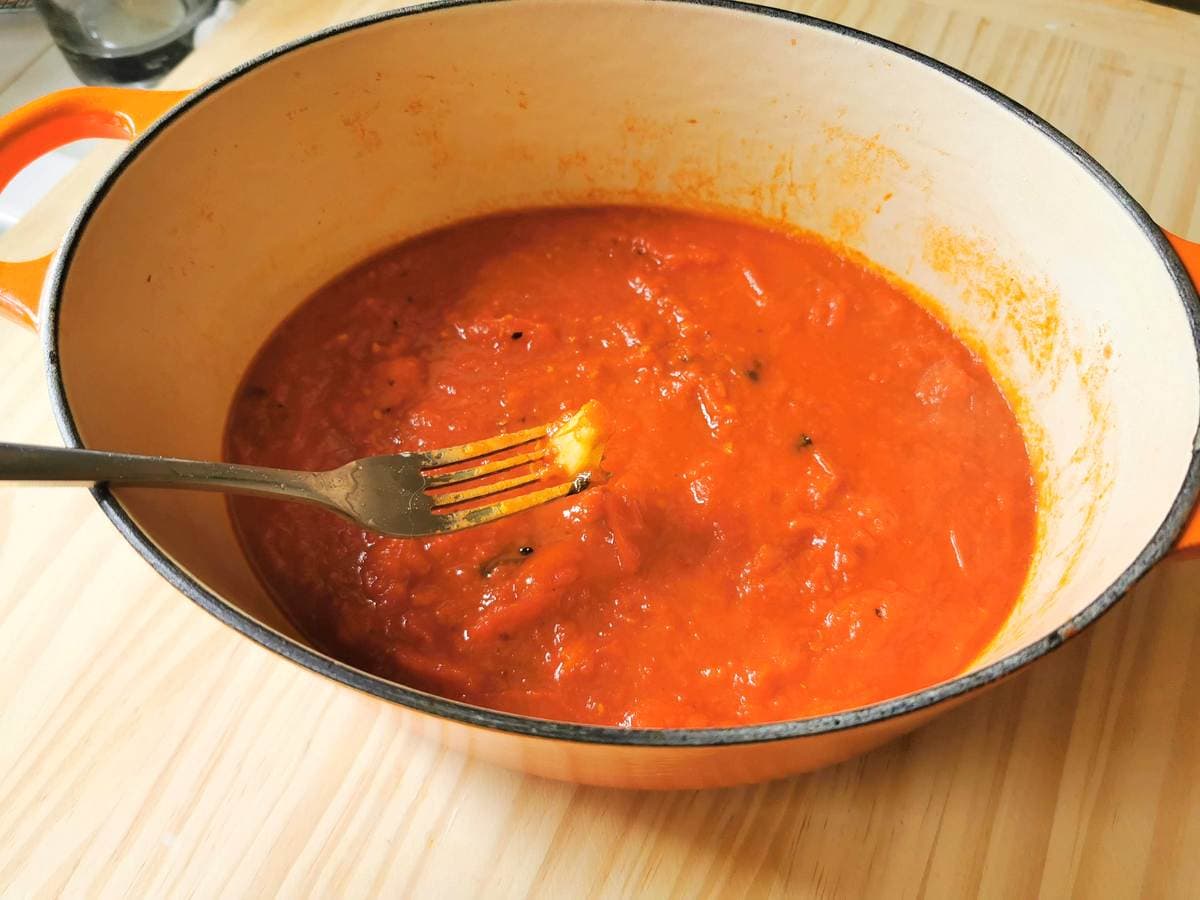 This pasta with tomato sauce allo scarpariello is an extremely simple dish. However, like many other traditional recipes from what the Italians call 'la cucina povera' (the peasant kitchen), it has also become fashionable.
There are even expensive sophisticated restaurants serving it. Michelin star chef Mario Affinita has made it at Don Geppi di Sant'Agnello restaurant in Sorrento. His recipe includes datterini tomatoes, lardo and three types of cheese.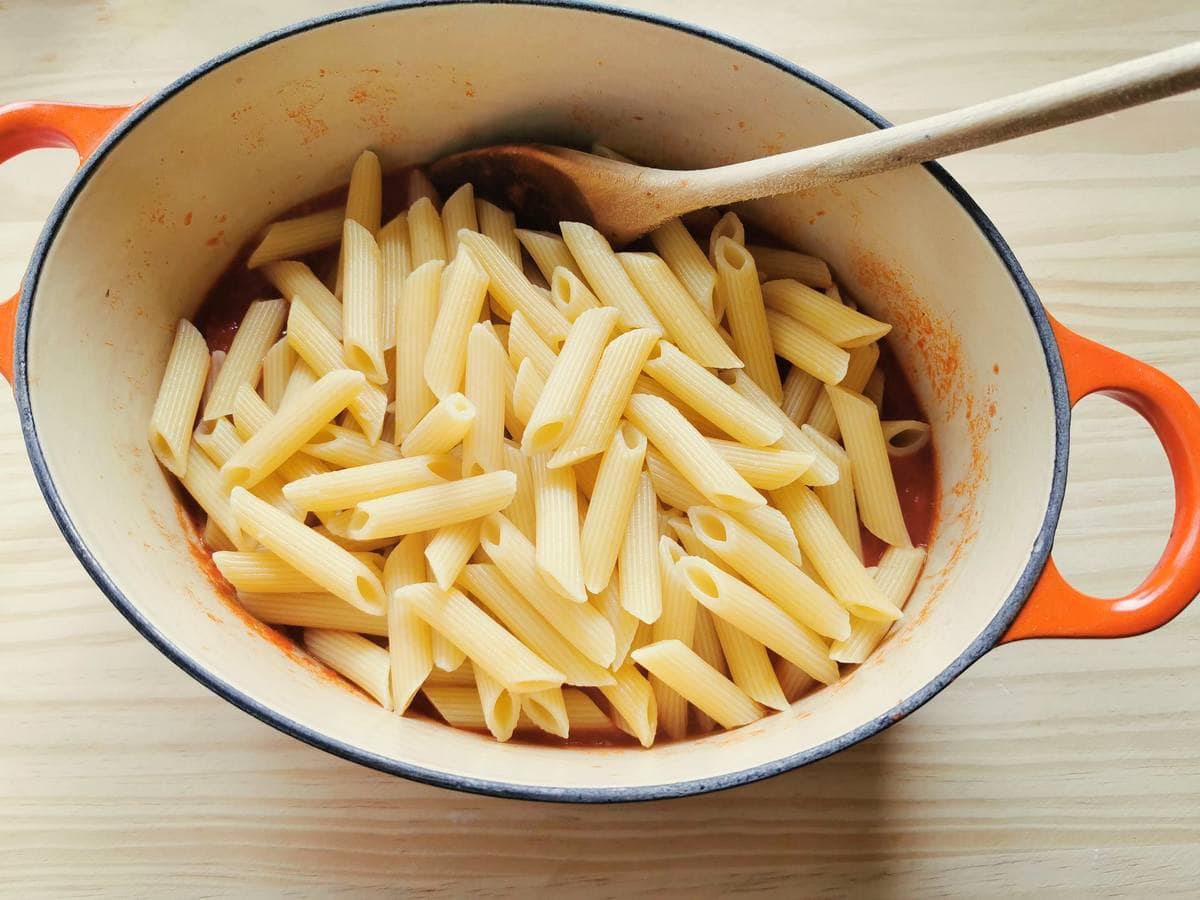 Other versions of allo scarpariello.
Other versions of this recipe also exist in Campania. One is scarpariello salernitano which includes sausage meat and another is scarpariello beneventano which has a bit of cream in it. What you won't find in Italy is chicken scarpariello. The latter is a popular dish in Italian-American cuisine. It also has very different ingredients despite having a similar name.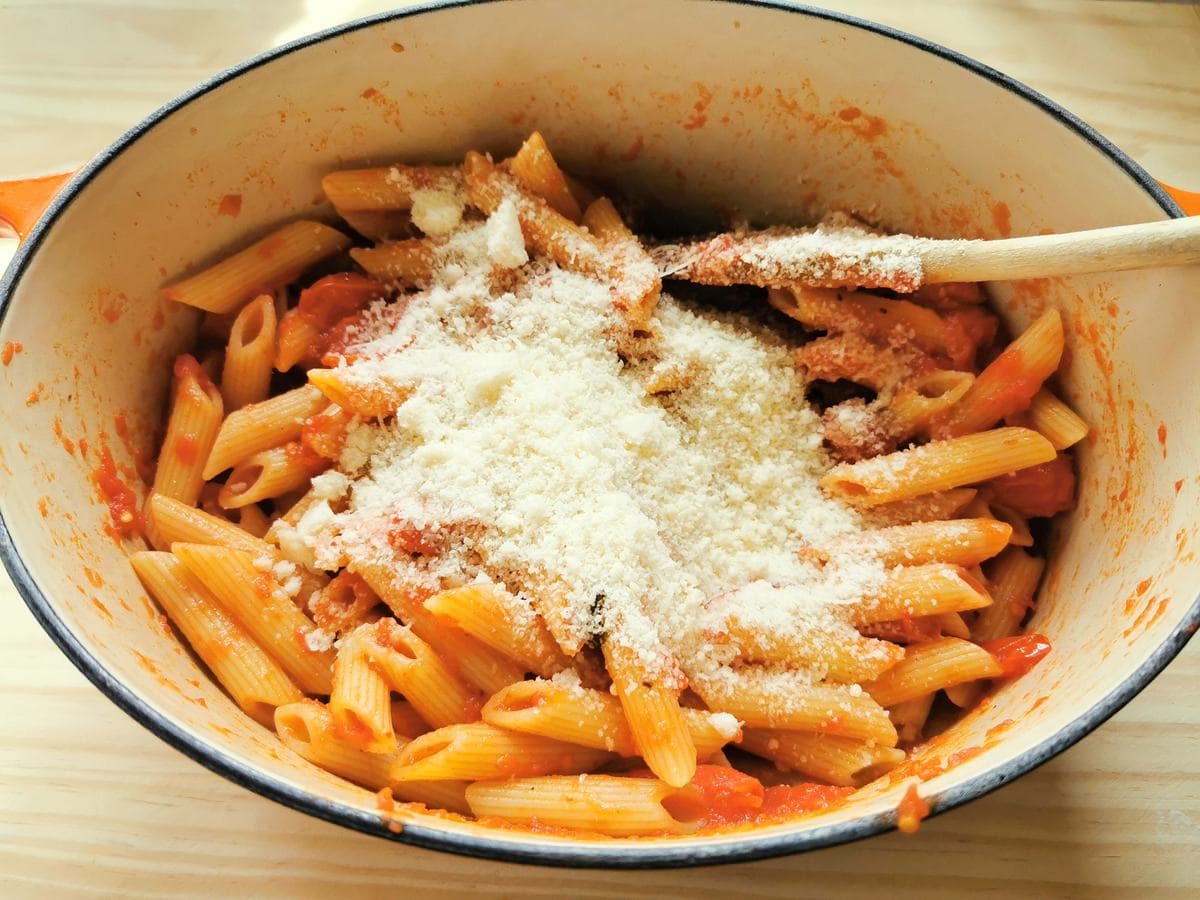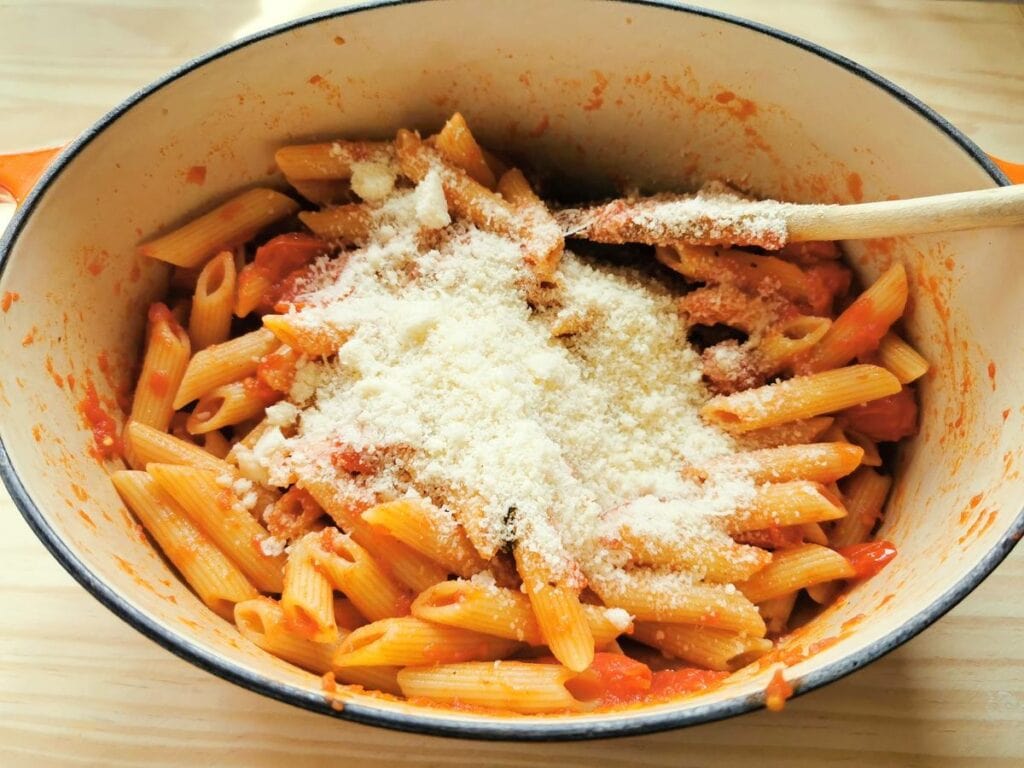 What kind of cheese can you use?
Traditionally, allo scarpariello has both Parmigiano and Pecorino in it. I used both of these, but it works with only one type too. However, neither of these cheeses are vegetarian. Both Italian Parmigiano Reggiano and Pecorino Romano contain animal rennet. So, strict vegetarians will want to use a vegetarian parmesan.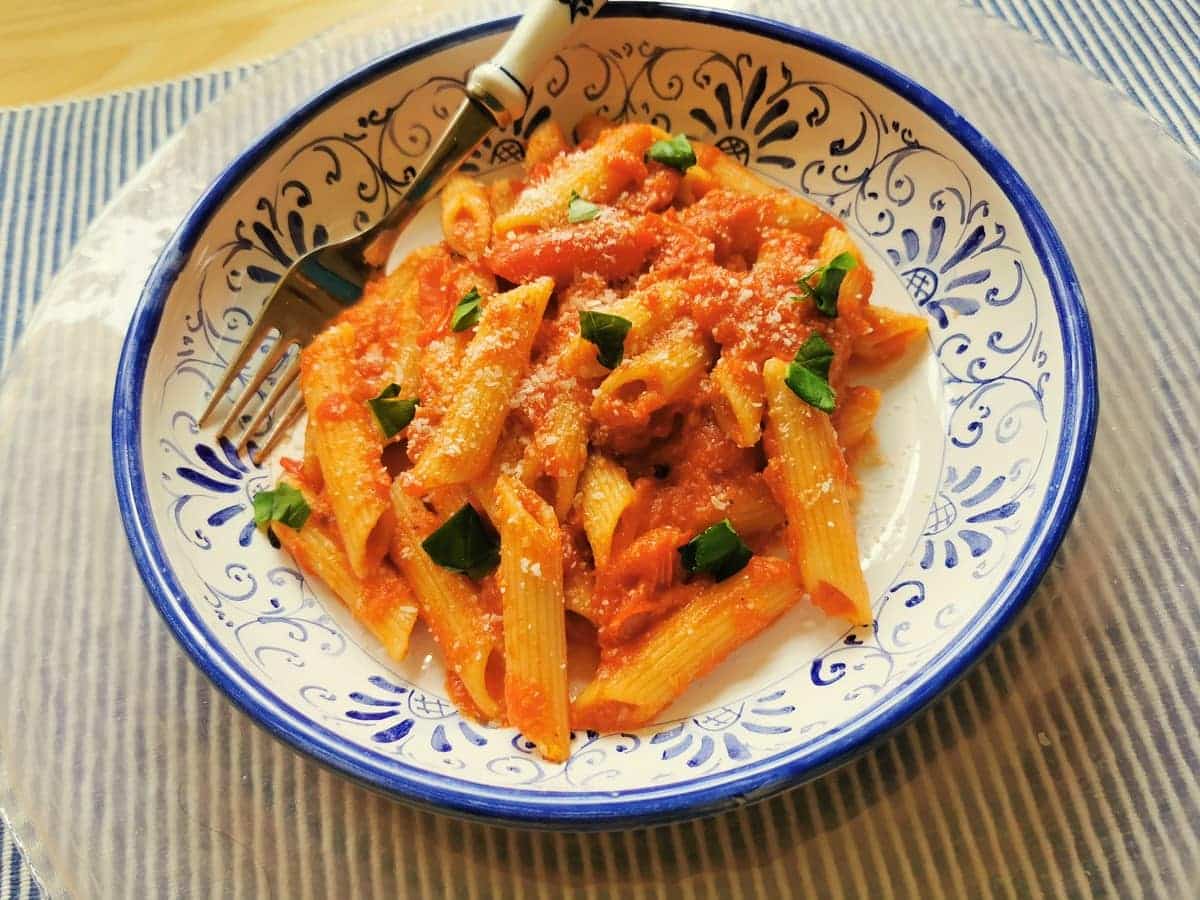 What type of pasta goes with allo scarpariello?
Traditionally the pasta served with allo scarpariello is either spaghetti, paccheri or penne rigate. I made it with penne rigate from Lidl's Italiamo range. But, you can use lots of other types of pasta. I think fusilli or long fusilli, for example, would be wonderful too!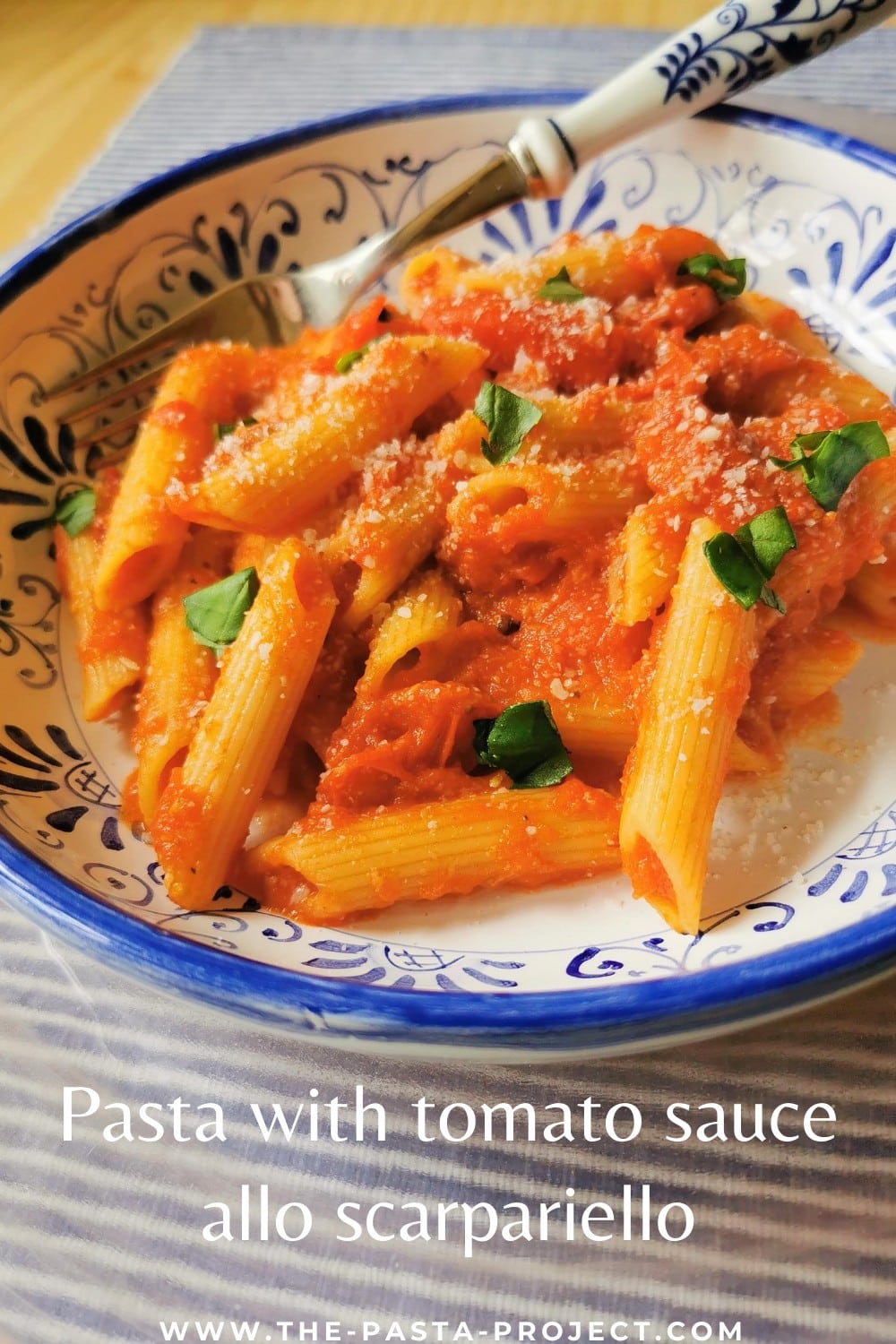 Let me know what you think.
This is a very simple recipe that takes very little time to make. However, it's not to be under-estimated. I'm sure you will be surprised at just how delicious it is. If you try it, I'd love to hear what you think. So, please feel free to message or comment here on the blog or on The Pasta Project Facebook page.
I'm looking forward to hearing from you!
Buon appetito!
This recipe was first published in 2018 but has been updated with new photos and text.
Other pasta with tomato sauce recipes to try.
If you want to bookmark any more tomato sauce recipes, have a look at these homemade tomato sauce recipes or any of the below:
CHECK OUT OUR SHOP PAGE.
If you are interested in learning how to make homemade pasta and different types of gnocchi, check out my shop page for some great video online courses from my friends in Rome! Nothing beats learning to make pasta from Italians! Plus, while you're there why not order a copy of one of my pasta recipe cookbooks or check out some recommended pasta making tools? All great prezzies for pasta lovers!