Creamy ham and tomato penne is a perfect weeknight pasta recipe. Not only is this dish super creamy and full of flavour but, it's fast and easy to make. In fact, you can have it on the table in the time it takes to boil the water and cook your pasta! Known as penne al baffo here in Italy, this is a great recipe to use up leftover holiday ham.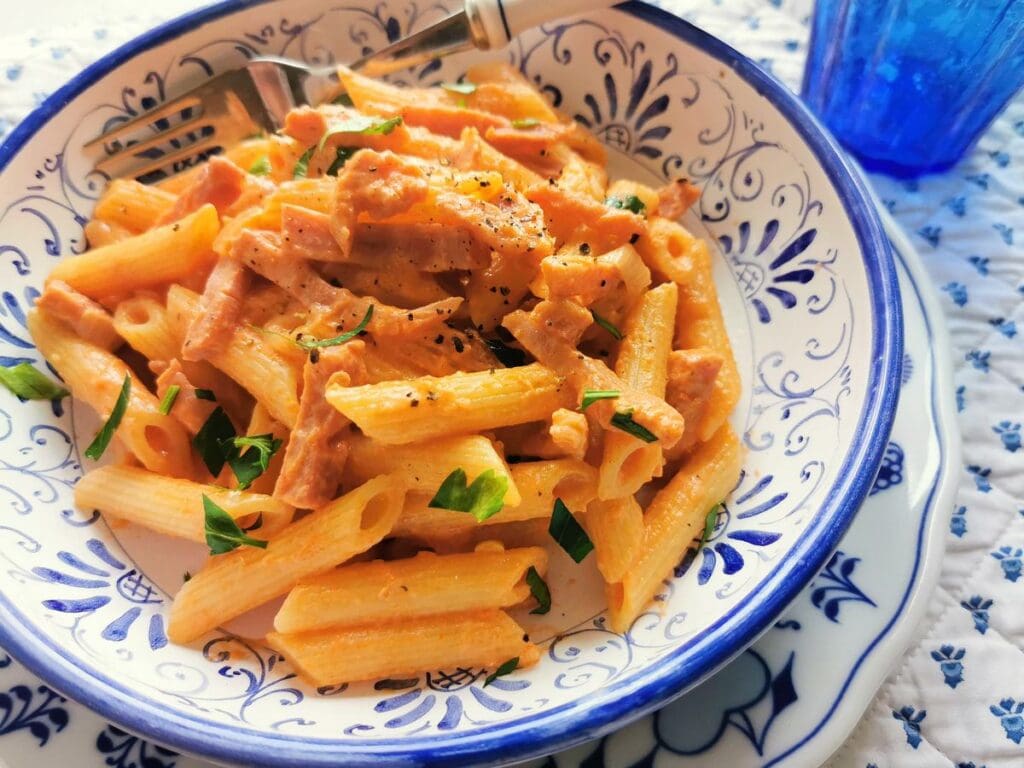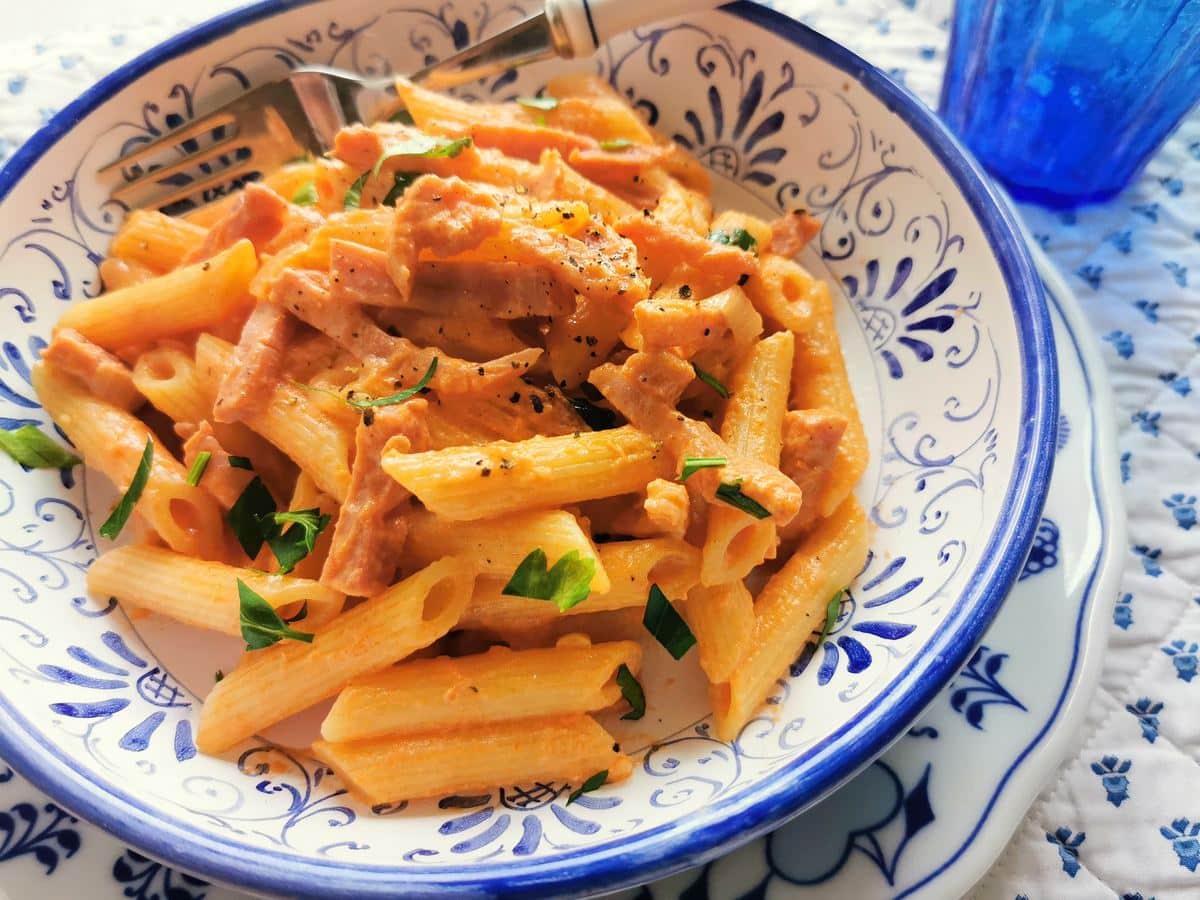 Penne al Baffo.
Italians call this pasta recipe penne al baffo. Al baffo is an abbreviation of the expression 'da leccarsi i baffi' meaning 'so good you'll lick your whiskers'. It's kind of the Italian equivalent of finger lickin' good! And, I have to say this dish deserves its name. Even though its made wth just a few staple ingredients, this creamy ham and tomato penne is definitely finger lickin good!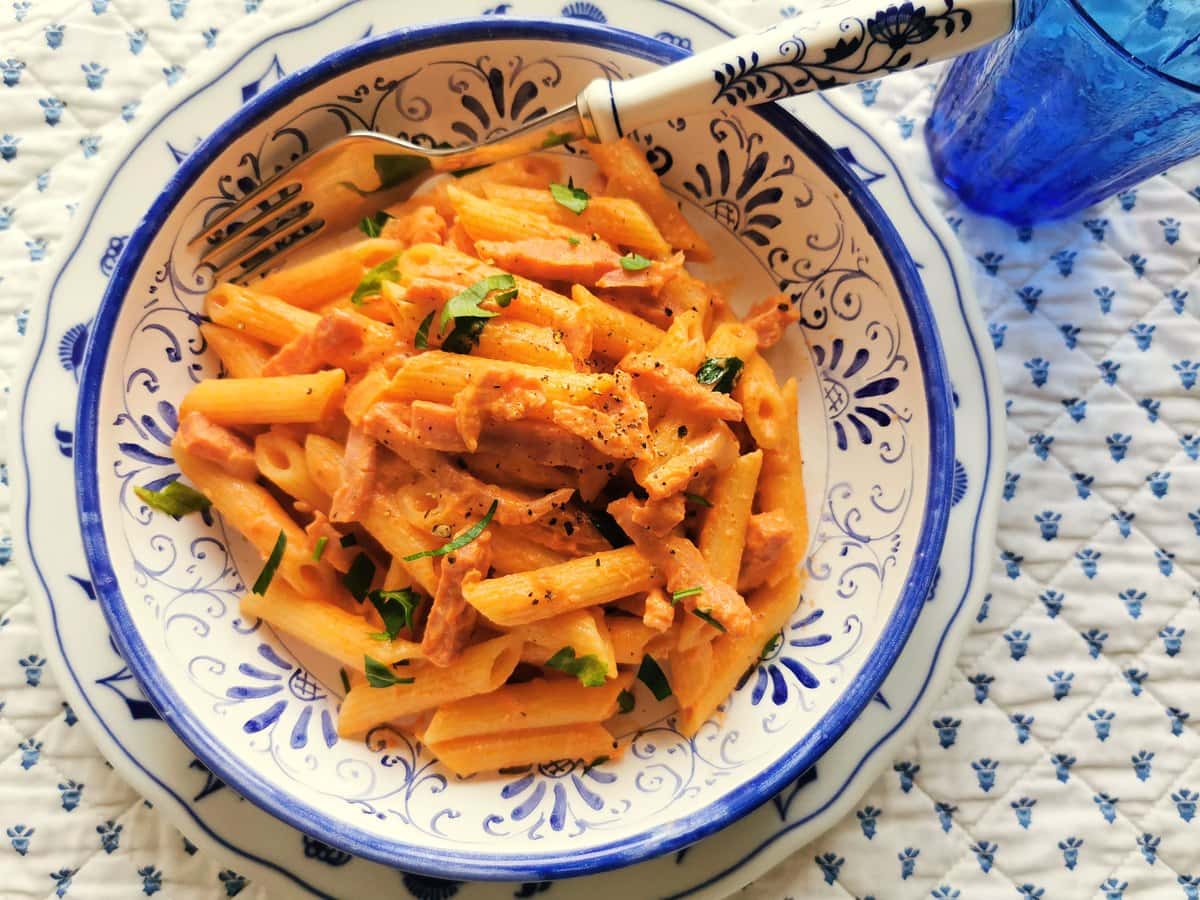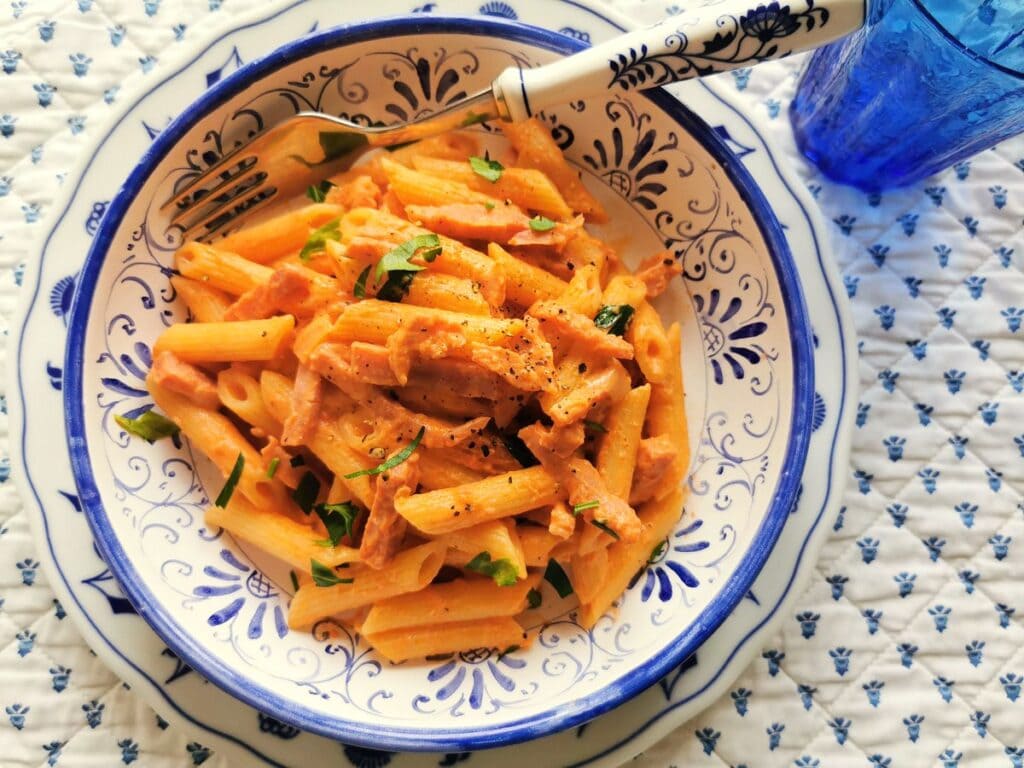 A little penne al baffo history.
Penne al baffo is not an old traditional recipe. It's a retro dish from the 70s and 80s, when pasta sauces with cream and tomatoes were in vogue in Italy. However, this recipe is very popular nowadays too.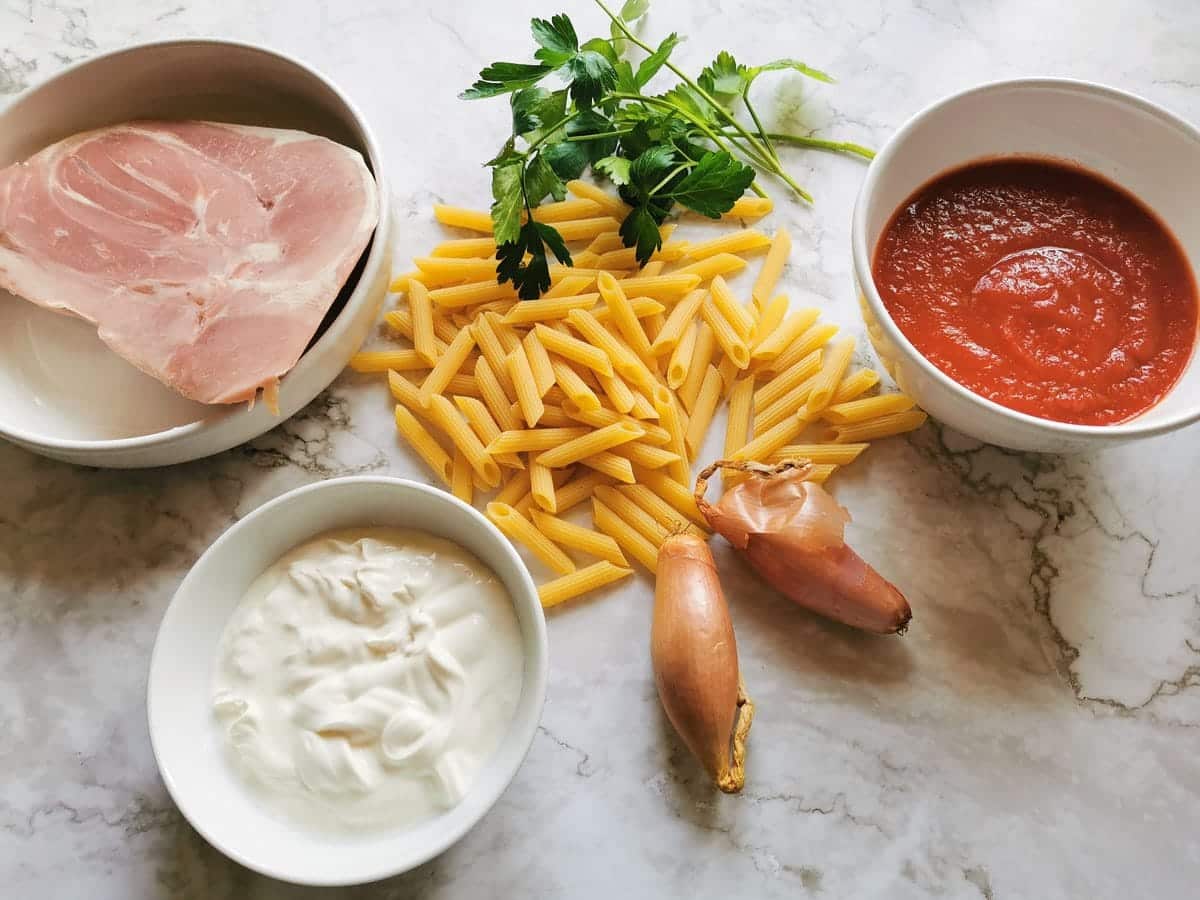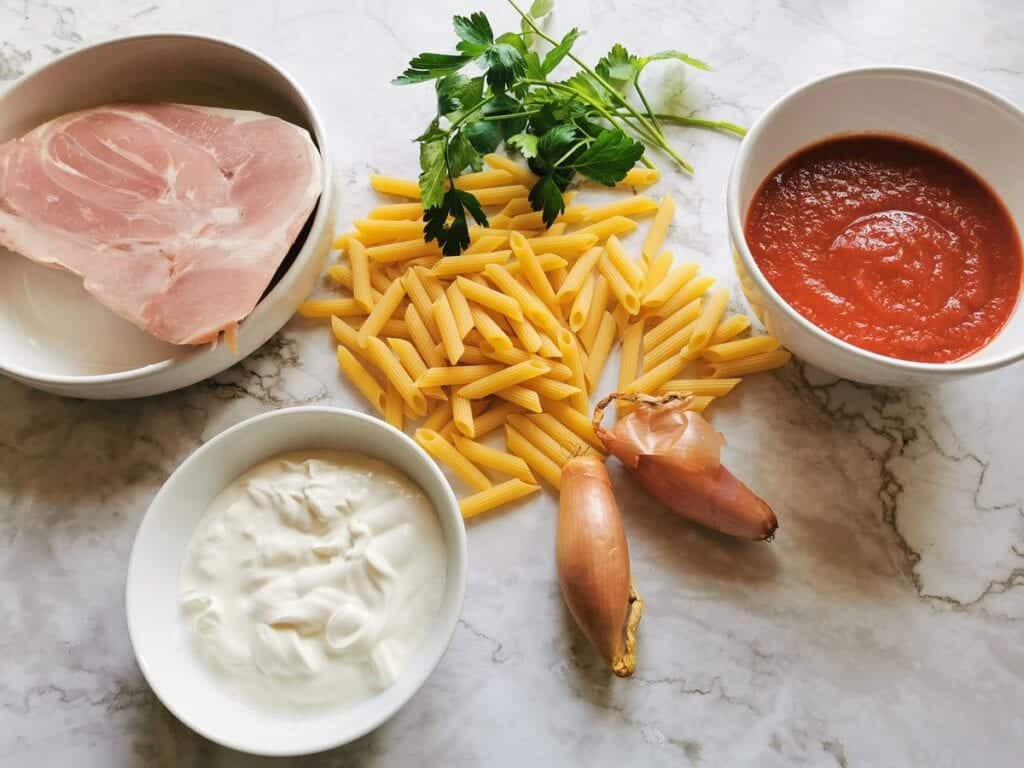 Another similar recipe is penne alla vodka, which also has tomatoes and cream. But, has pancetta instead of ham and peperoncino (red chili pepper) for a bit of a kick. Of course, you can add some peperoncino to penne al baffo as well.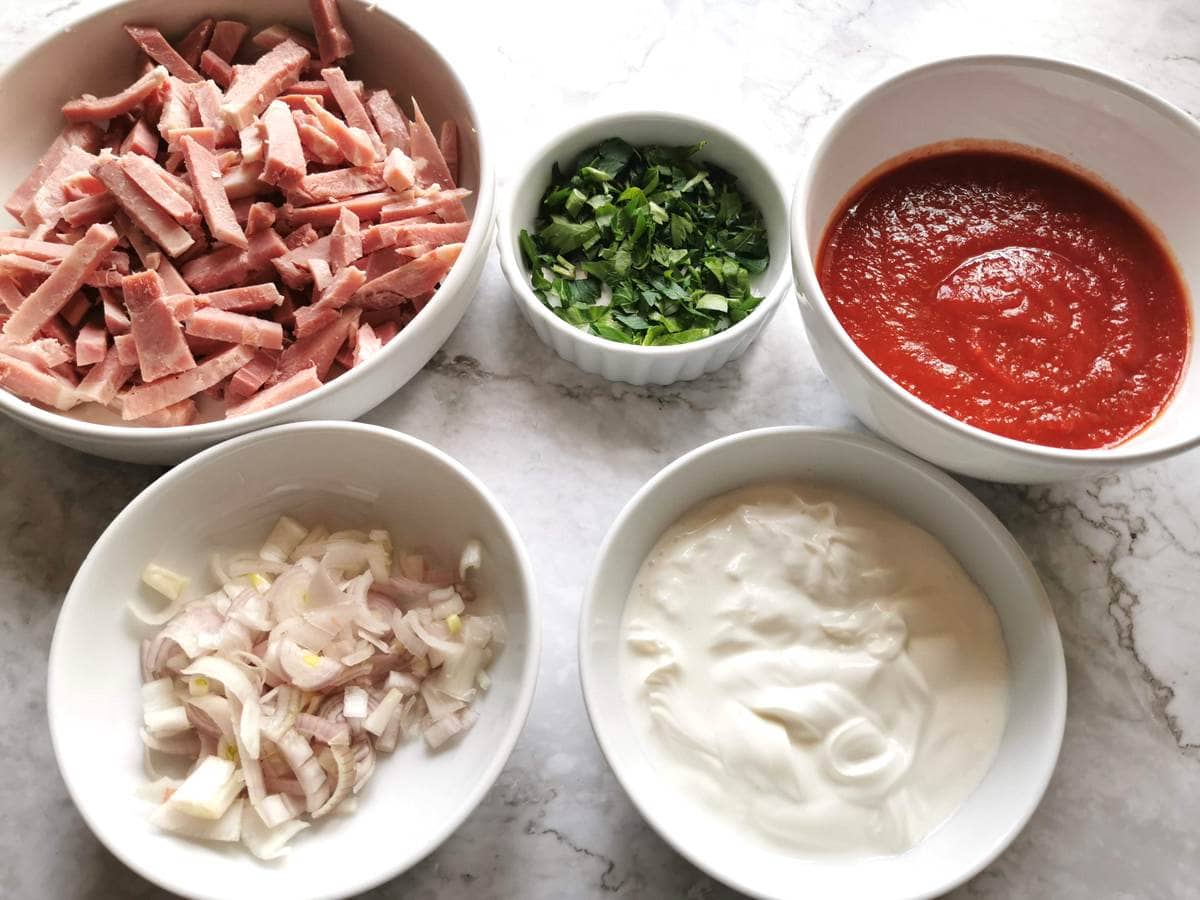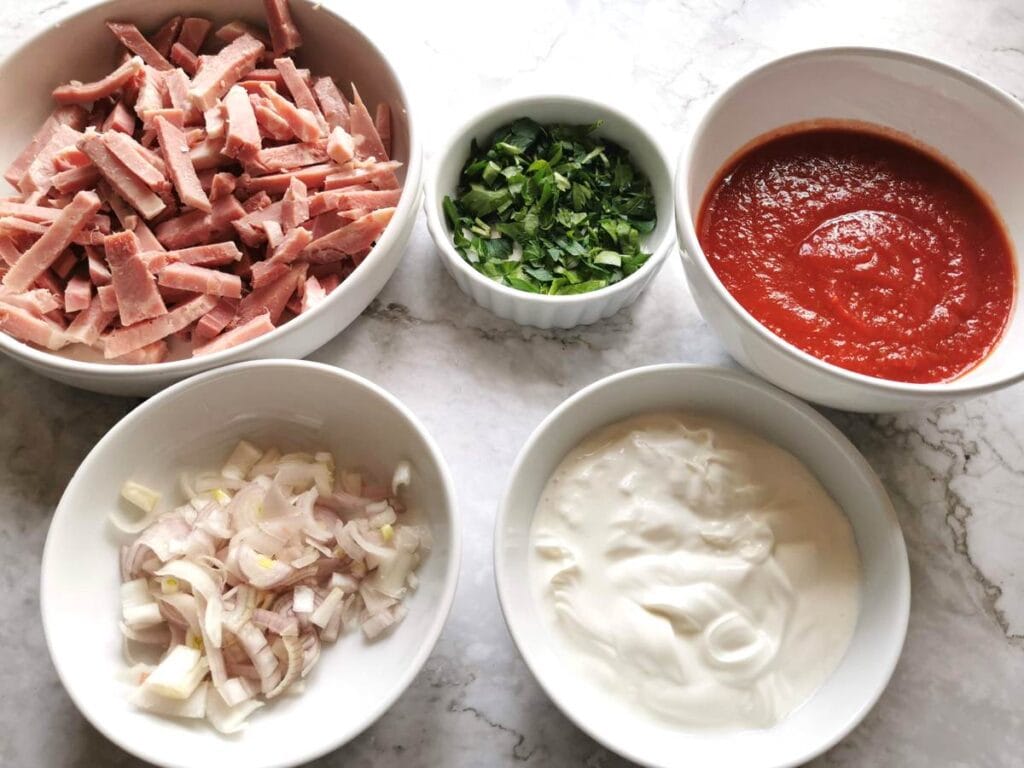 Some Italian food traditionalists look on pasta with tomatoes and cream as an unthinkable fusion of two Italian cuisines, namely from the North and from the South. In the south, tomatoes are a staple ingredient and would never be mixed with cream. Whereas, they use cream a lot in the North but tomatoes are less traditional!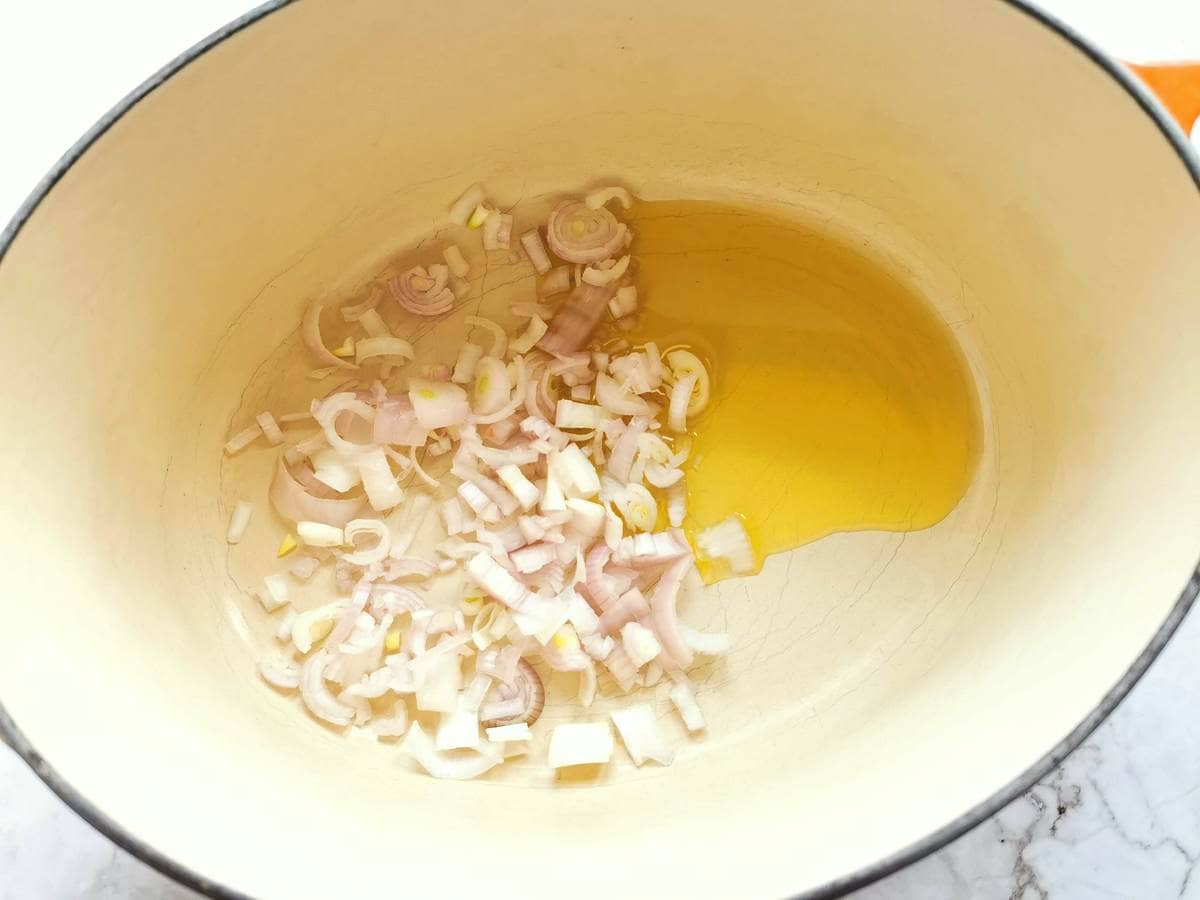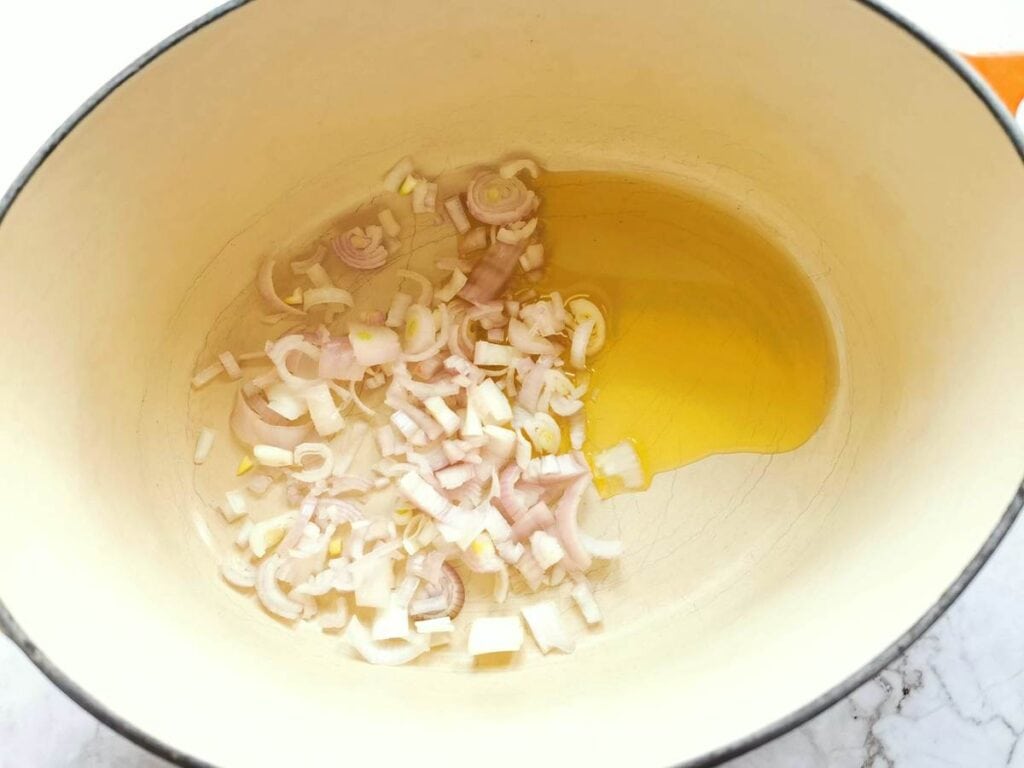 The ham
One of the few ingredients needed for this recipe is cooked ham. You can either use ready cut ham slices or a thicker piece of ham. I prefer the latter. So, this is a great recipe for when you have leftover ham from holiday meals like Easter, Thanksgiving or Christmas. Here in Italy, we can buy unsliced ham either in small blocks or the end of a ham. This is what's left from a whole ham after the rest has been cut for slices. It's usually very good and perfect for pasta recipes.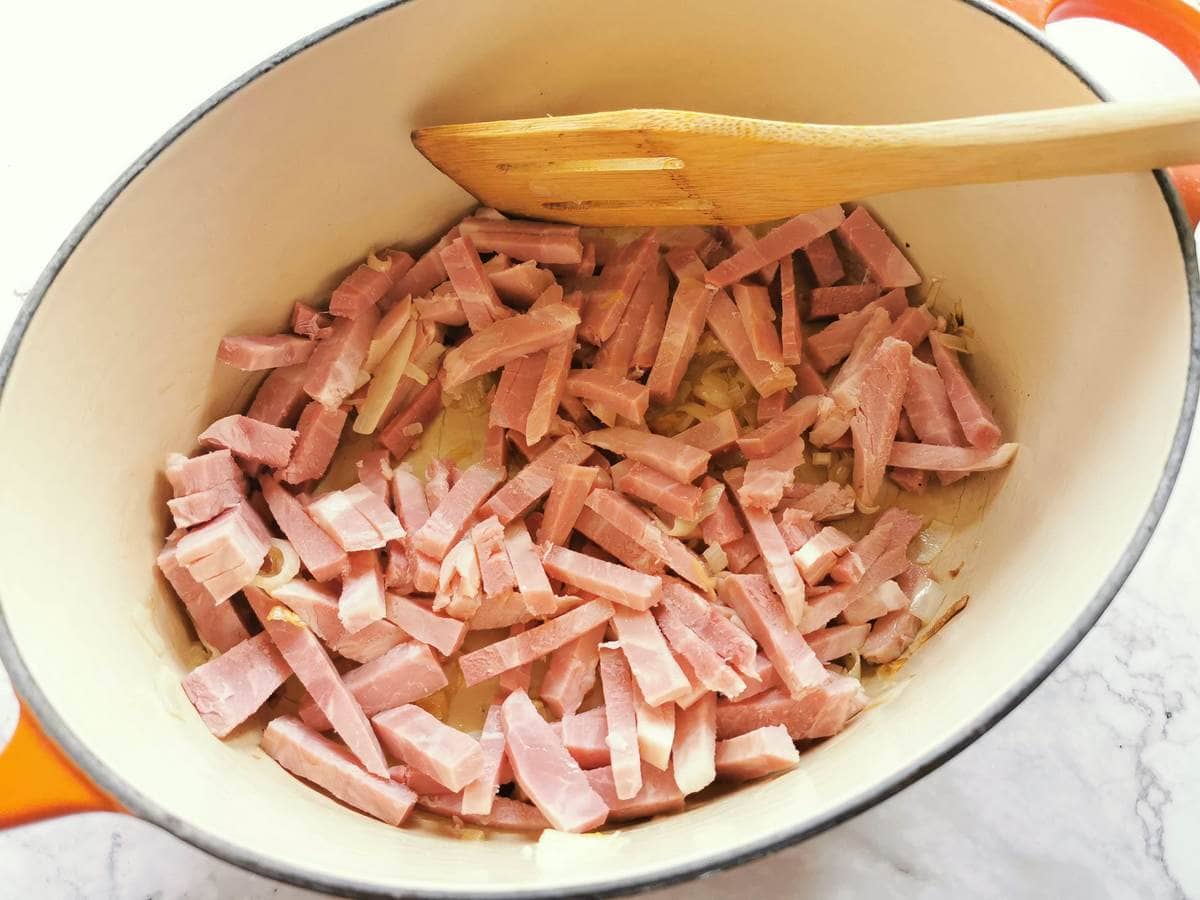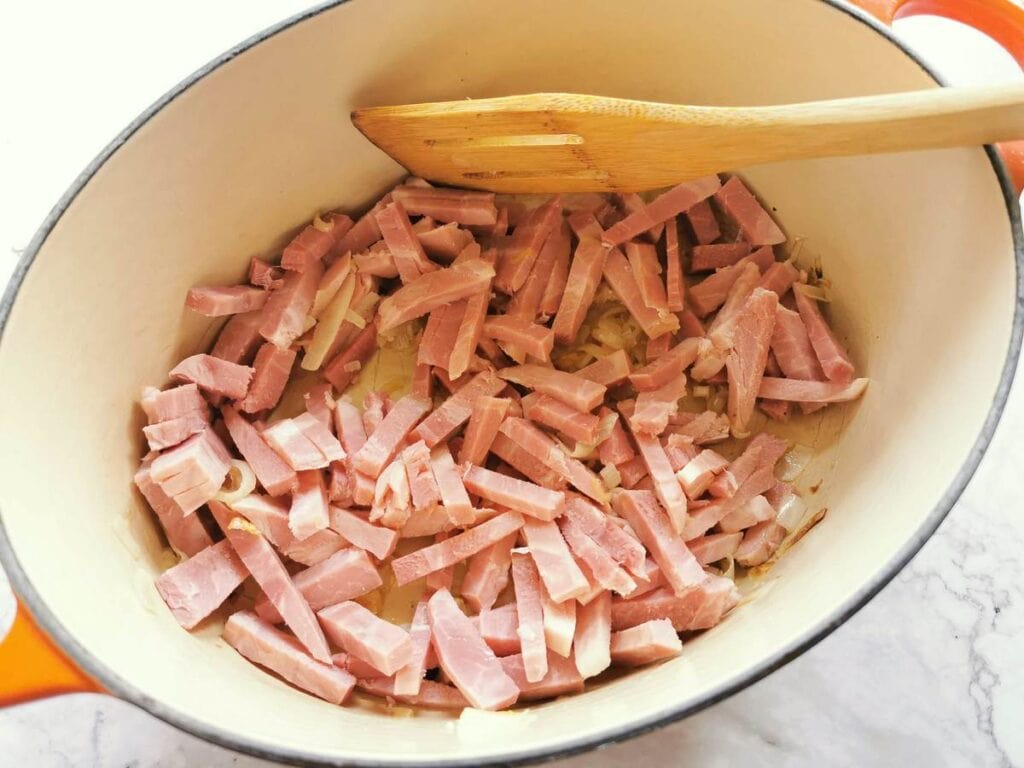 The tomatoes.
When it comes to the tomatoes, normally I would say fresh is best, especially if you can get hold of San Marzano tomatoes. However, a good quality or homemade passata (tomato puree) is perfect for this dish. In fact, most recipes for this creamy ham and tomato penne call for passata. Penne al baffo is a simple family meal dish made with pantry staples and little effort. You can find passata (homemade or store bought) in every Italian larder. Using it makes meal prep a lot faster than when using fresh tomatoes.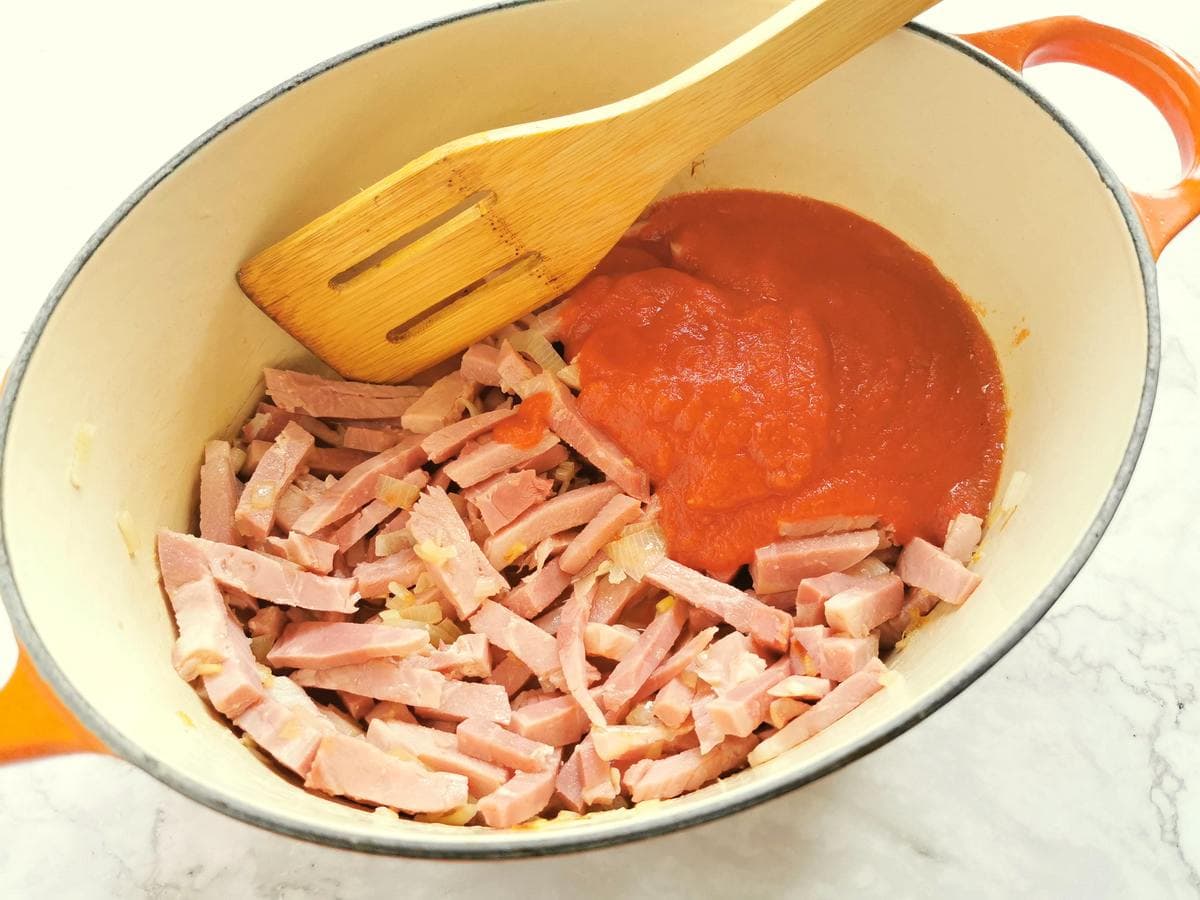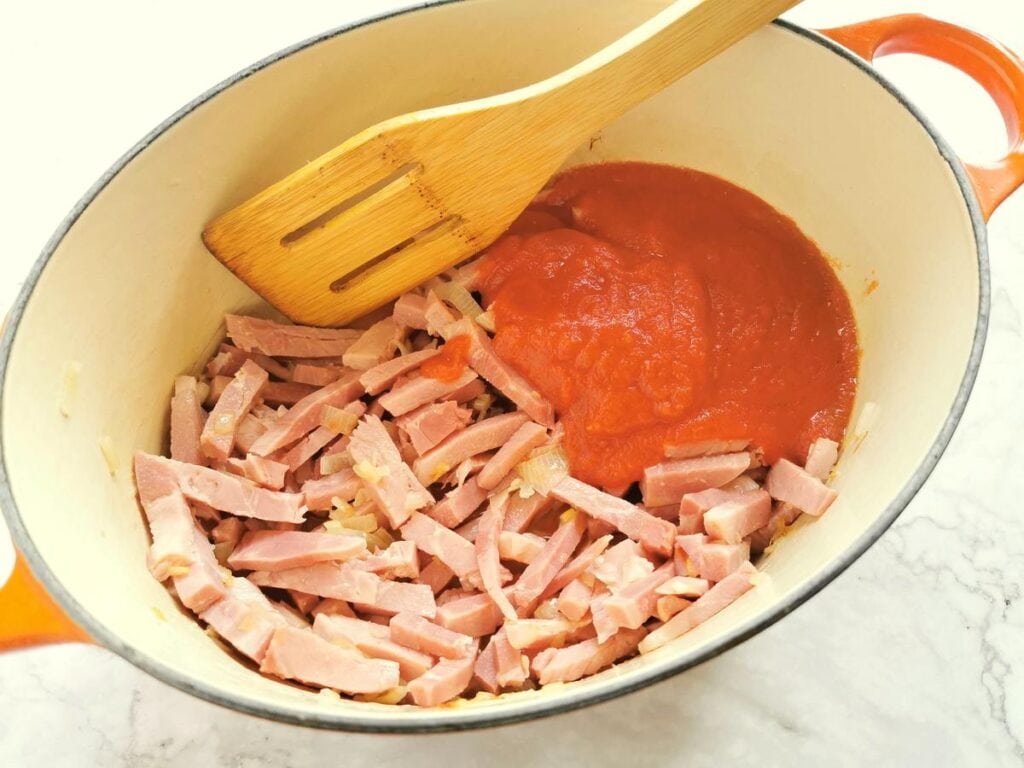 The pasta.
As I'm sure you can imagine, the go to and most popular pasta for this recipe is penne. I used penne rigate which means grooved penne. I like this kind of pasta because the grooves help the sauce adhere to the pasta. But, you can also use penne lisce (smooth penne). I've also seen this recipe made with fusilli.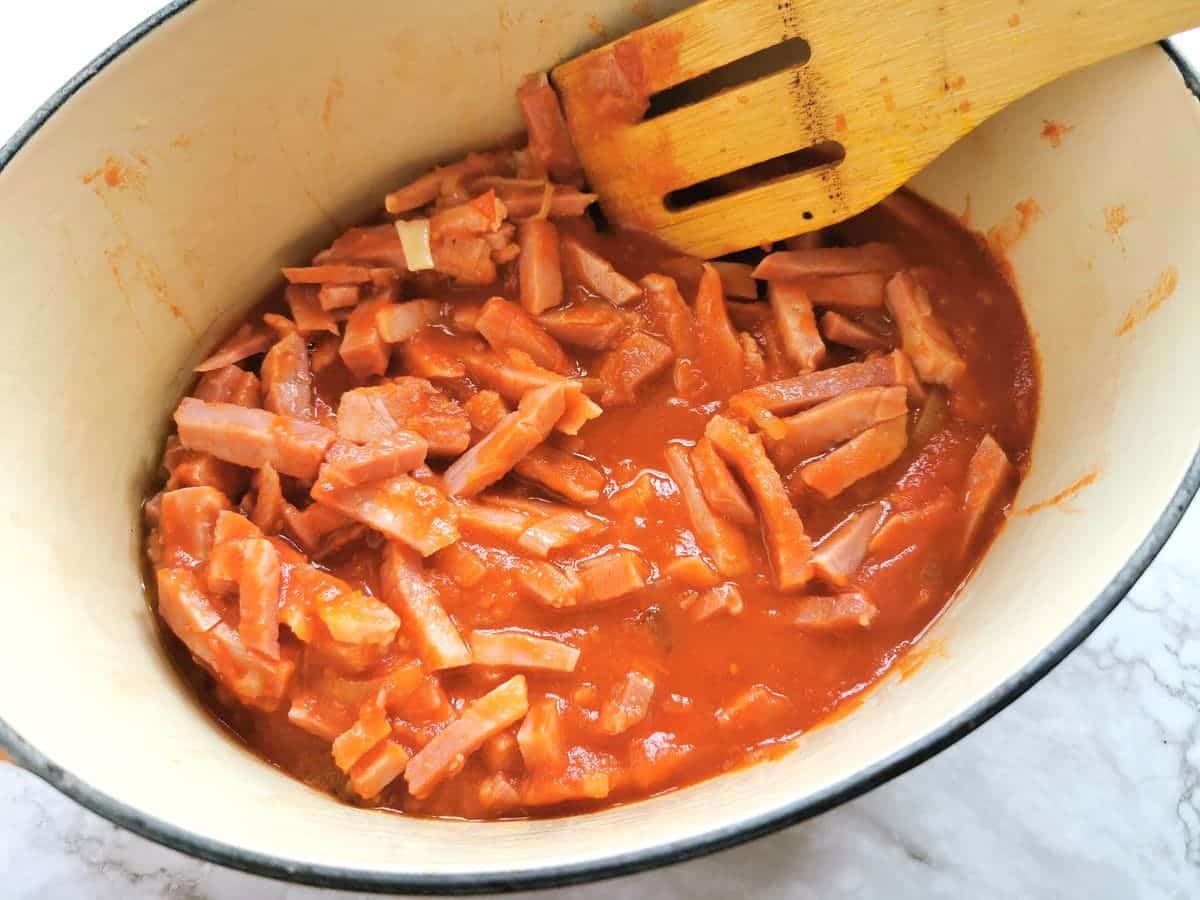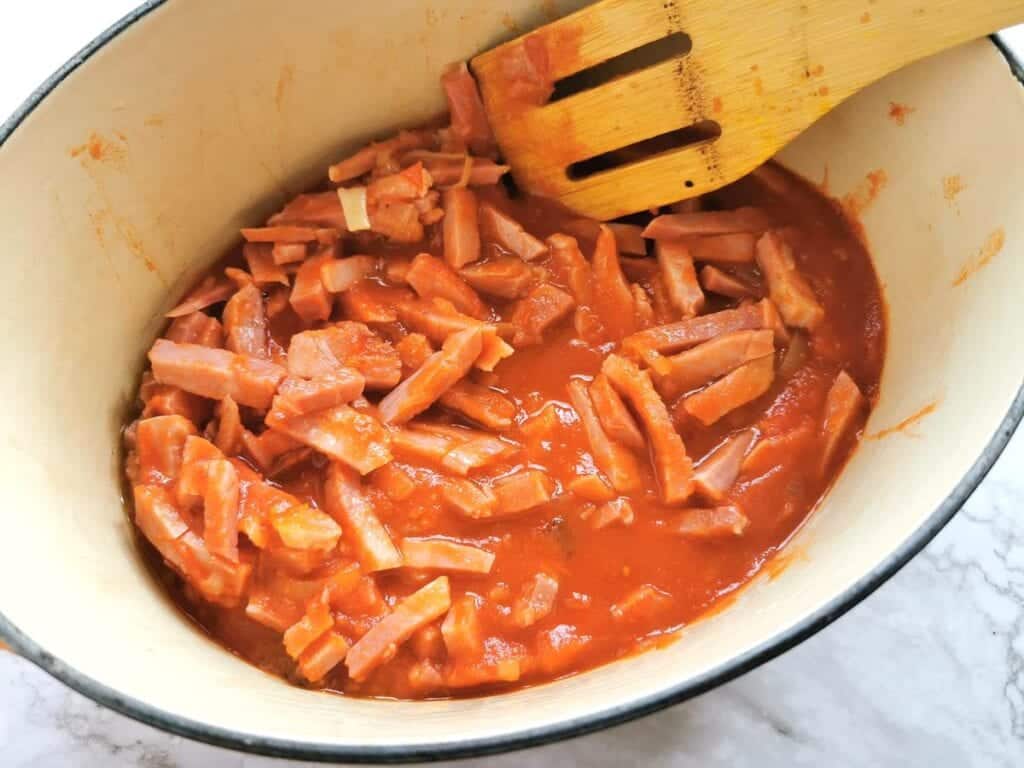 My penne was made by La Molisana a pasta maker located in Molise, Italy's second smallest region. They produce a range of bronze extruded pasta made with 100% Italian grains which I really like (just my opinion!) They also make gluten free pasta for those on a gluten free diet.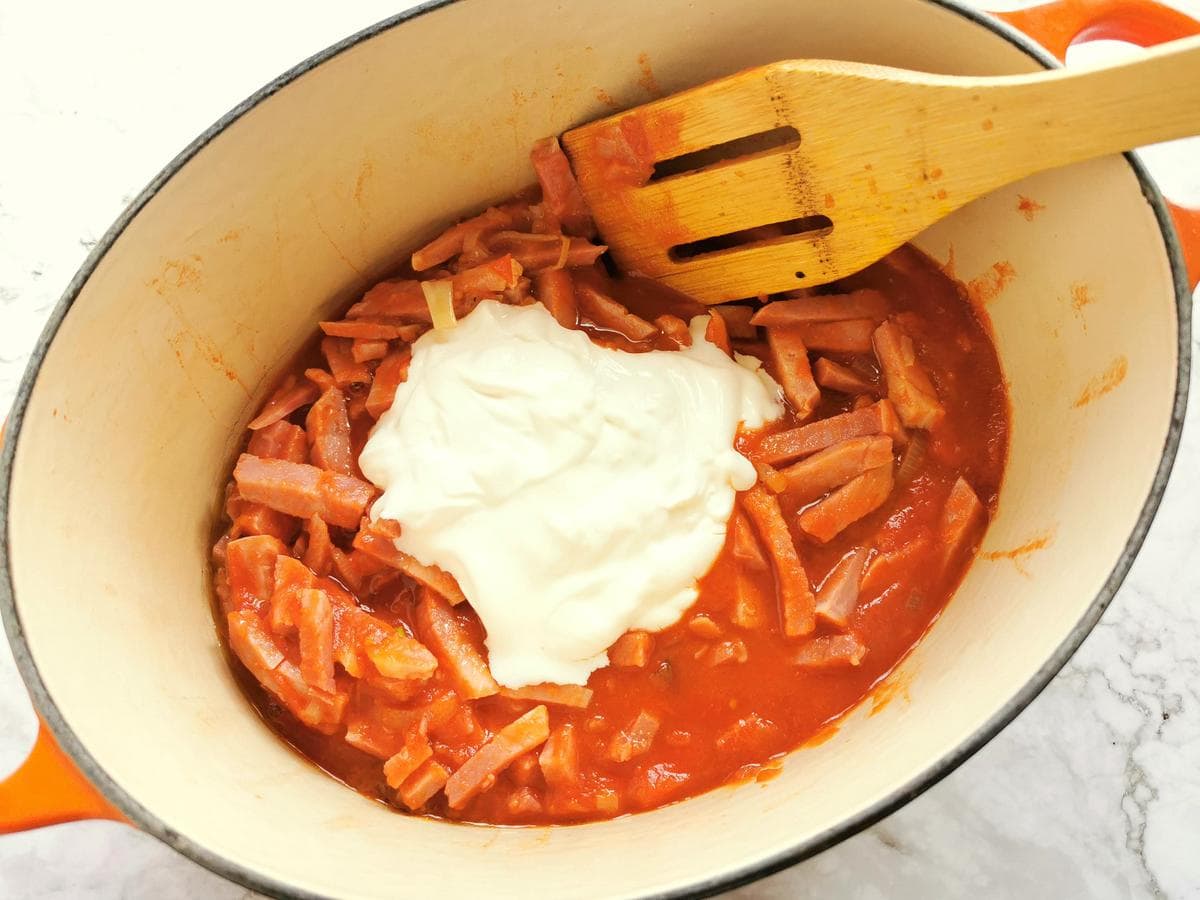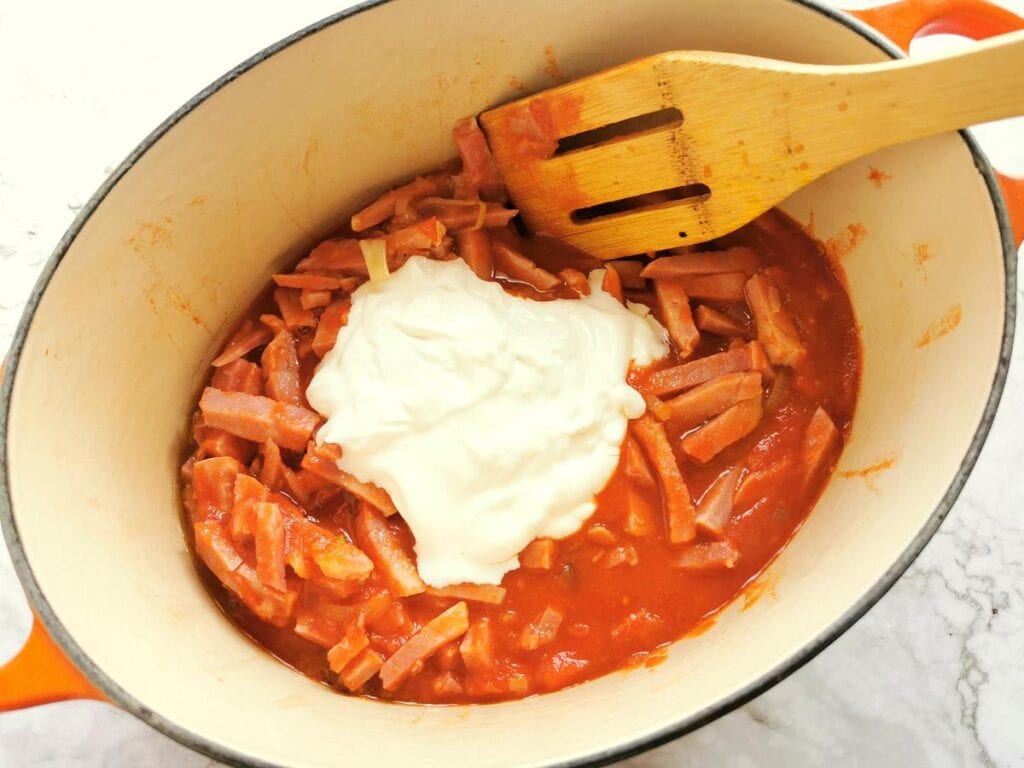 Other ingredients for penne al baffo
Apart from the tomatoes, the pasta and the cooked ham, this recipe has just a couple of other ingredients. I used shallots. But, you can use normal onions. I think yellow/brown or white onions are preferable as red onions can affect the colour of the sauce. I've seen recipes for this creamy ham and tomato penne that don't include onions, so they can be left out if you prefer.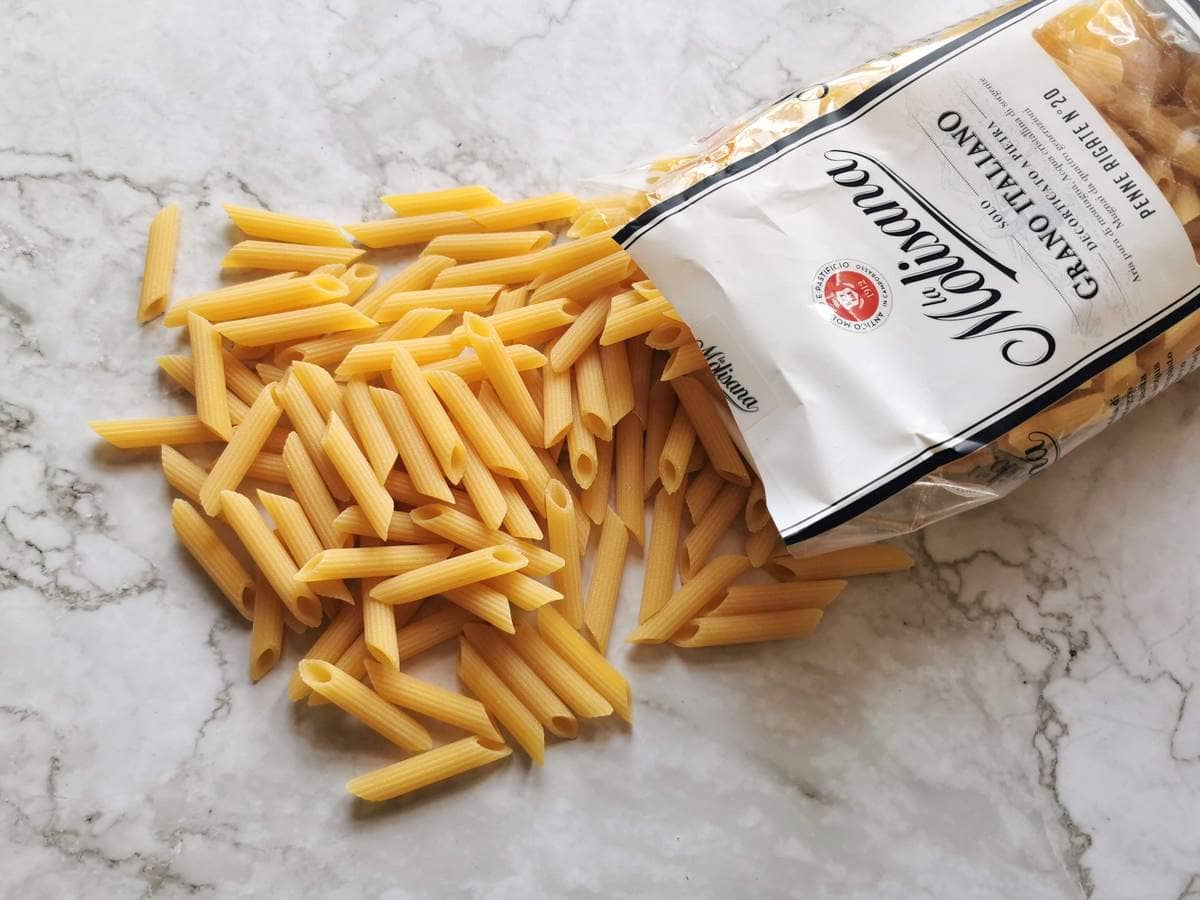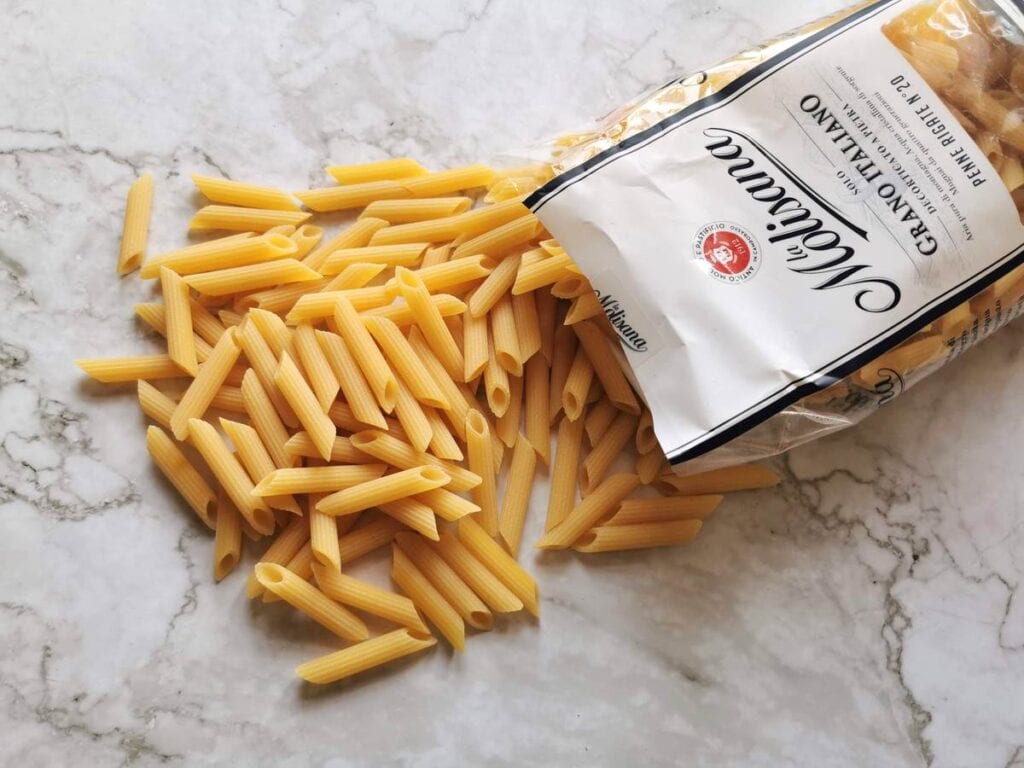 The other main ingredient is cream. Here in Italy, we have a long-life heavy cream called panna da cucina. This is typically used for cooking. It has less fat than whipping cream (panna da montare) and is actually thicker than whipping cream or heavy cream.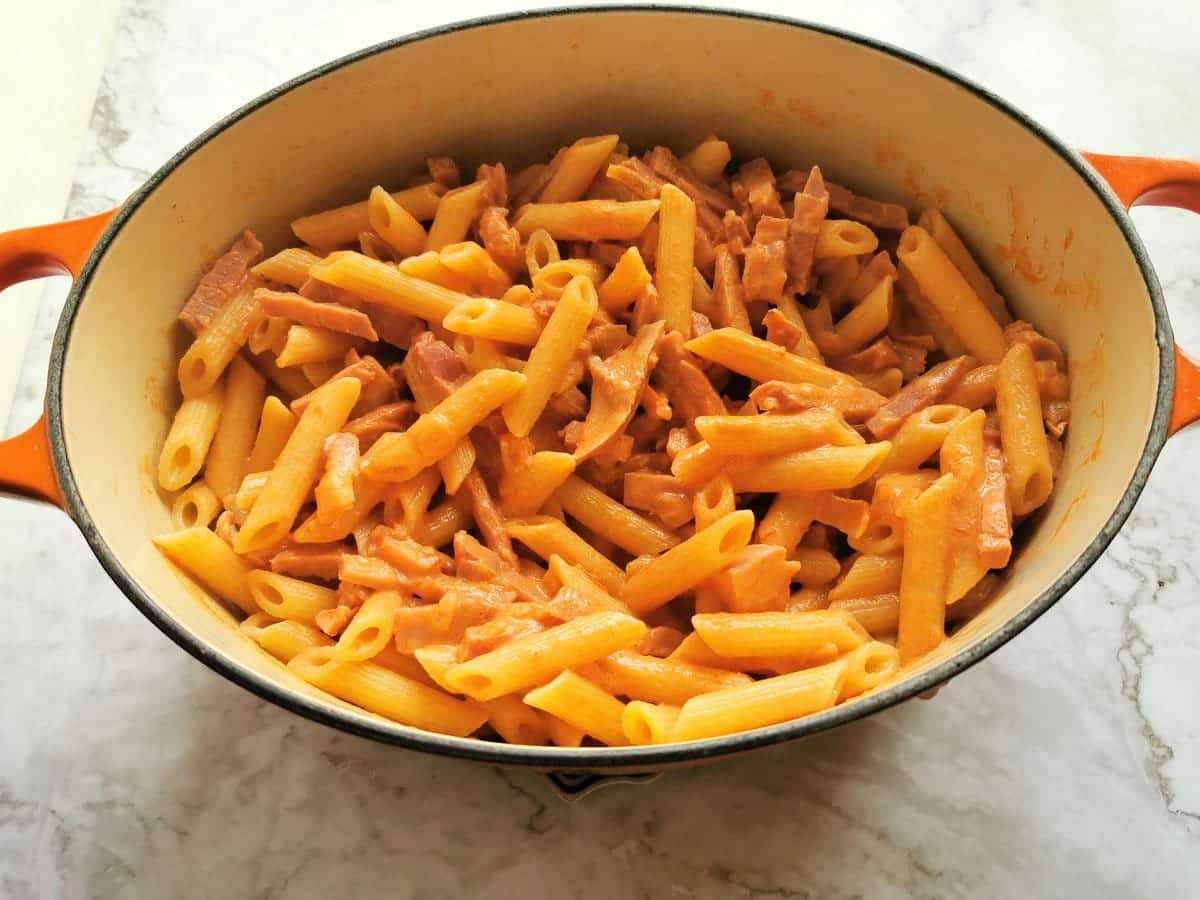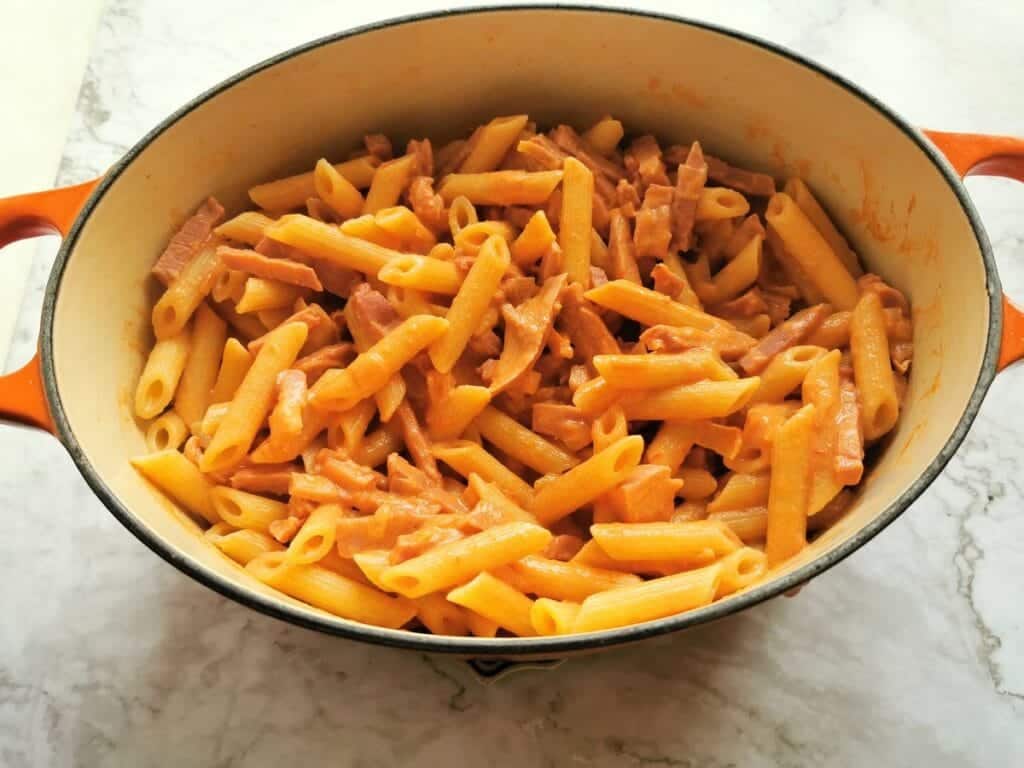 We use panna da cucina a lot in savoury dishes and that's what I put in my penne al baffo. Fresh single cream works well too. But, you may need to simmer the sauce a little longer to thicken it as fresh cream is more liquid.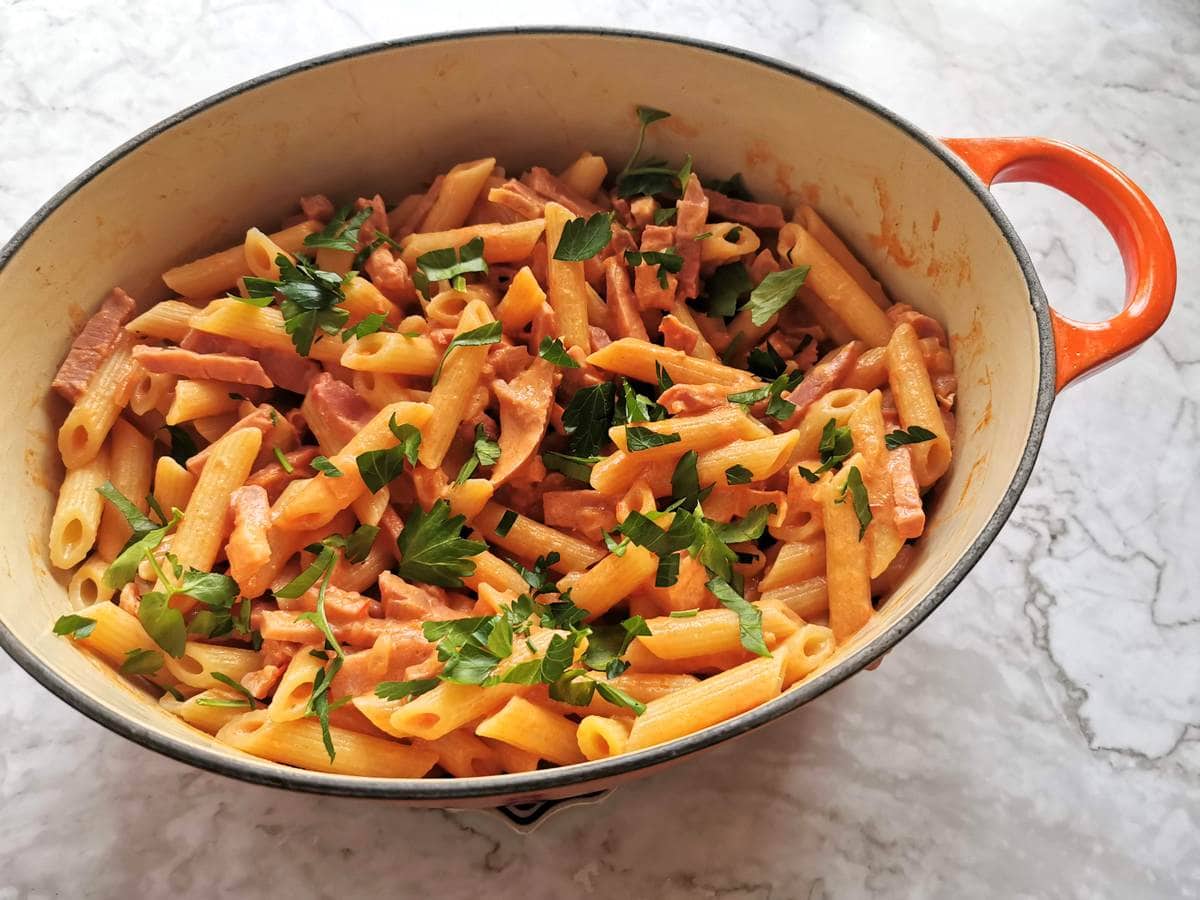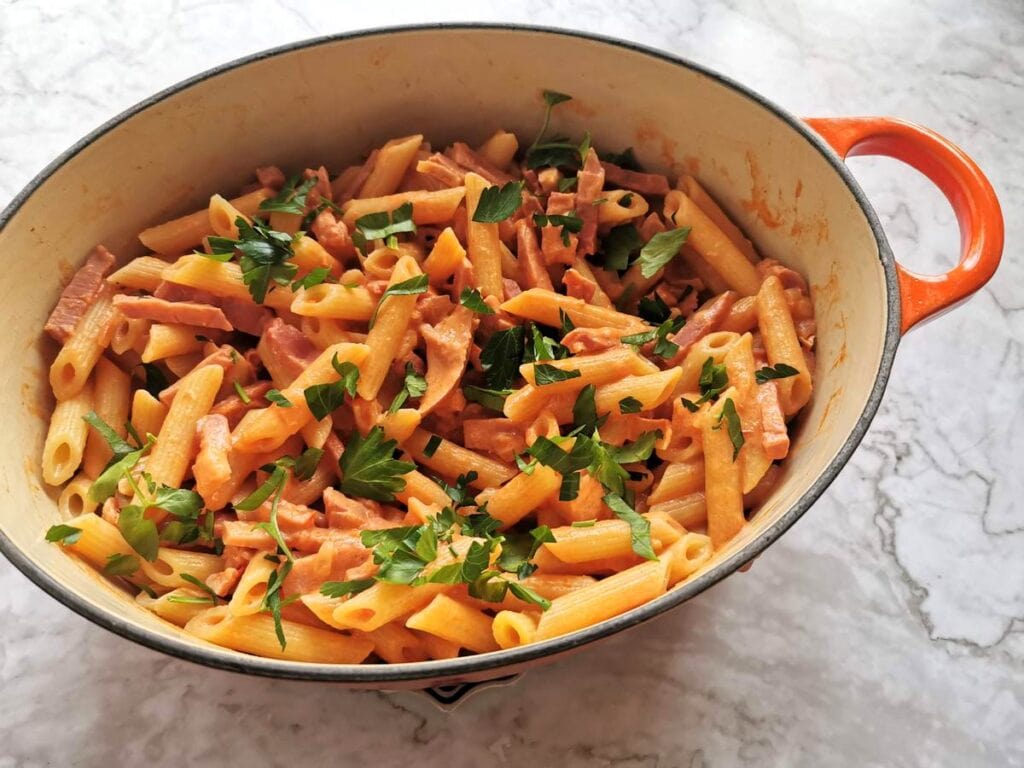 Variations and substitutions.
In Northern Italy, they make penne al baffo with speck or prosciutto crudo. There are also versions with guanciale or pancetta. Some Italians make this recipe with seafood instead of meat. Most popular of the seafood versions are with shrimps or with canned tuna. But, I've come across recipes that include calamari or other seafood. Veggies are sometimes included too. The most common are zucchini, mushrooms or peas!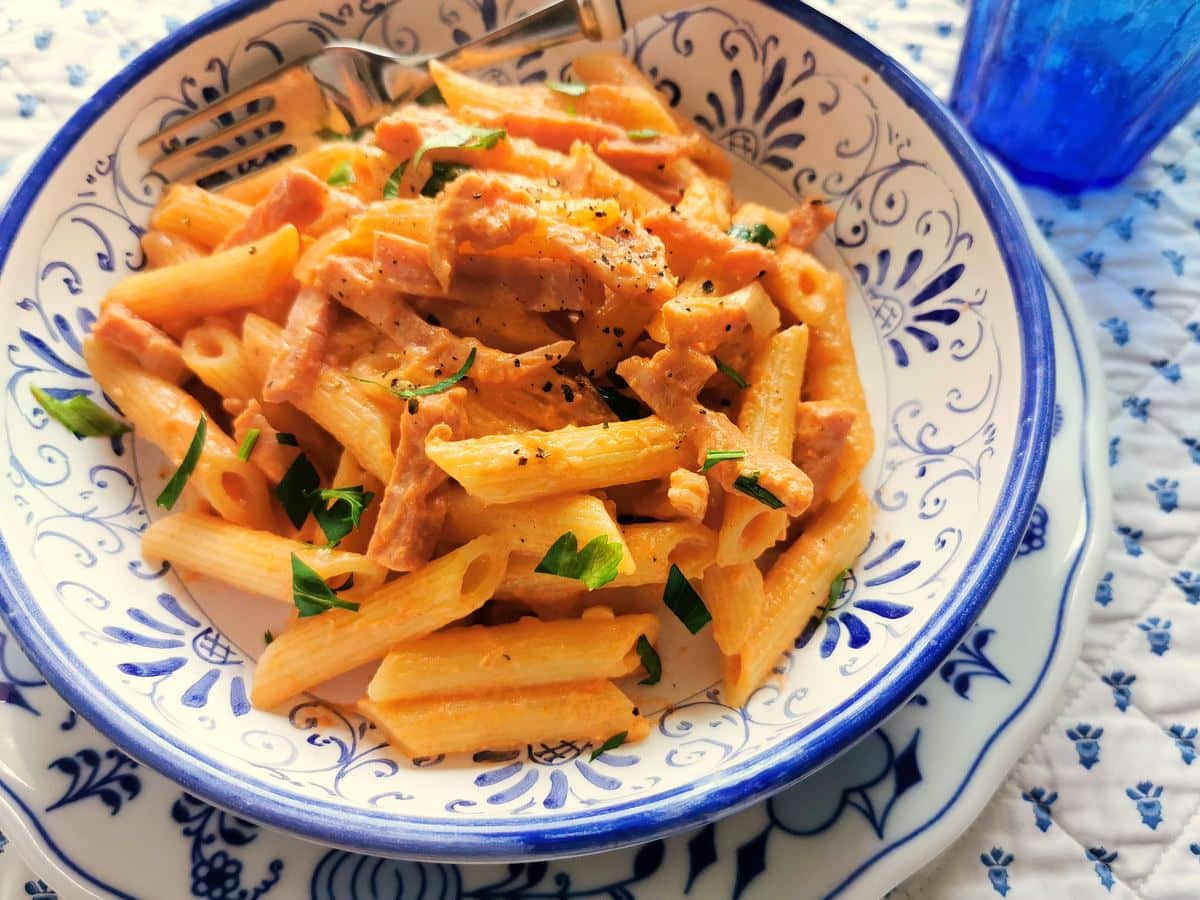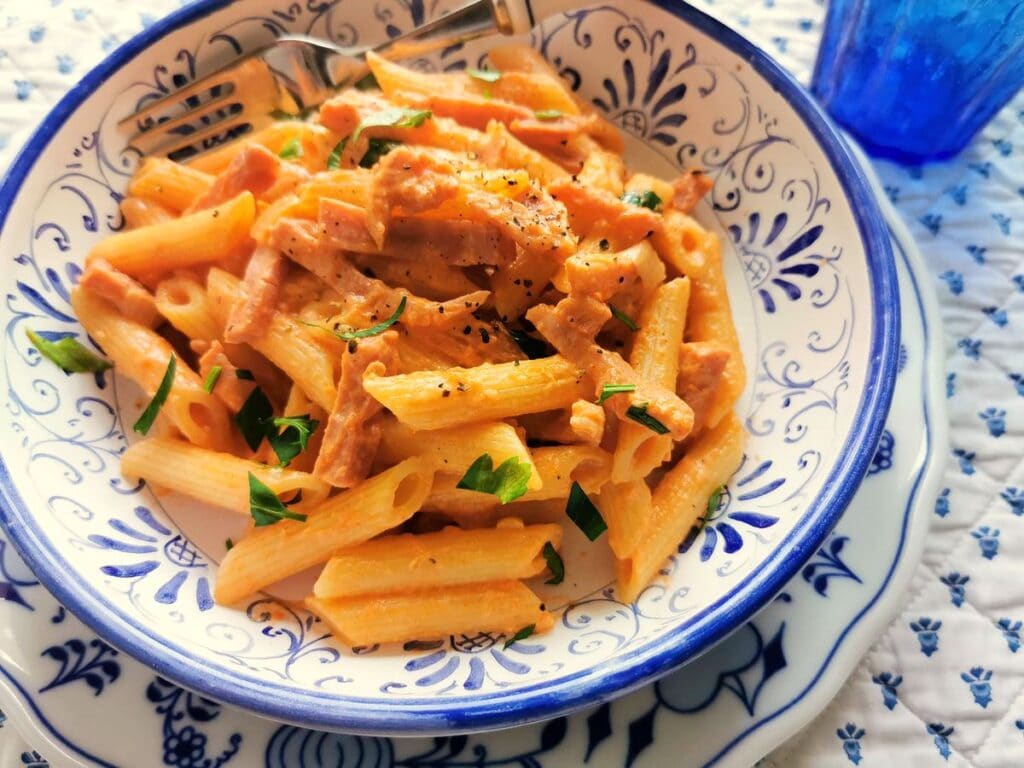 So, this is really a recipe you can easily make your own. I've not yet made it any other way but would like to try it with shrimps. I'm sure it's yummy too!
If you do try this creamy ham and tomato penne, I'd love to hear what you think. Please write a comment here on the blog or post a comment on the Pasta Project Facebook page.
Your feedback means a lot to me!
Buon Appetito!
Save this recipe for later?
If you want to save this recipe for later, you can print it, bookmark this page or save it to Pinterest.
Other pasta recipes which are great for leftover ham.
Want to know more about my life in Italy? Why not subscribe to my newsletter? New subscribers get a free series of recipe e-books too!
Pin for later.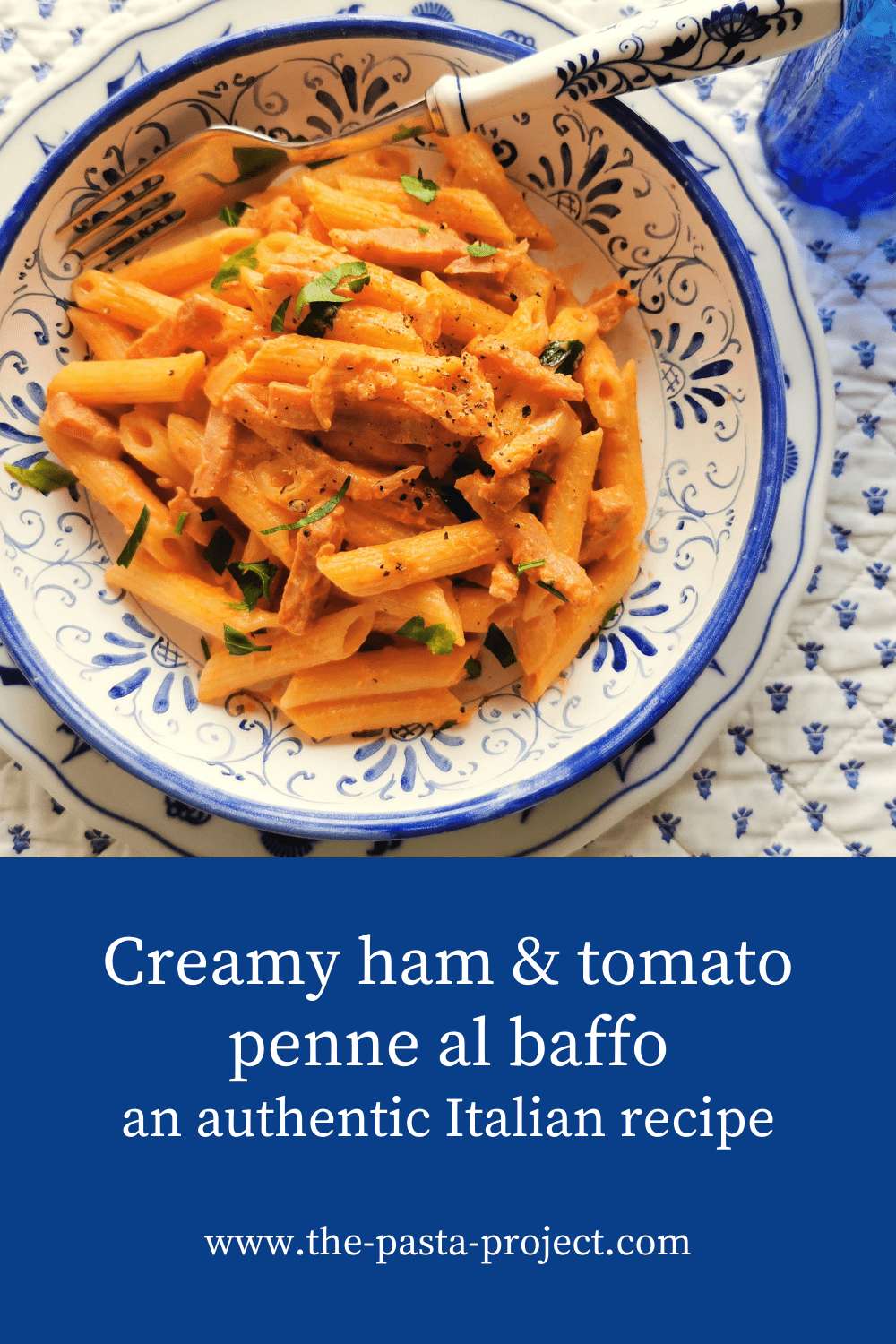 If you are interested in learning how to make homemade pasta and different types of gnocchi, check out my shop page for some great video online courses from my friends in Rome! Nothing beats learning to make pasta from Italians! Plus while you're there why not order a copy of my autumn/winter pasta recipes cookbook!?