Creamy ham and tomato penne al Baffo is a perfect weeknight pasta recipe. Not only is this dish super creamy and full of flavor but, it's fast and easy to make.
In fact, you can have it on the table in the time it takes to boil the water and cook your pasta! Known as penne al baffo here in Italy, this is an excellent recipe to use up leftover holiday ham.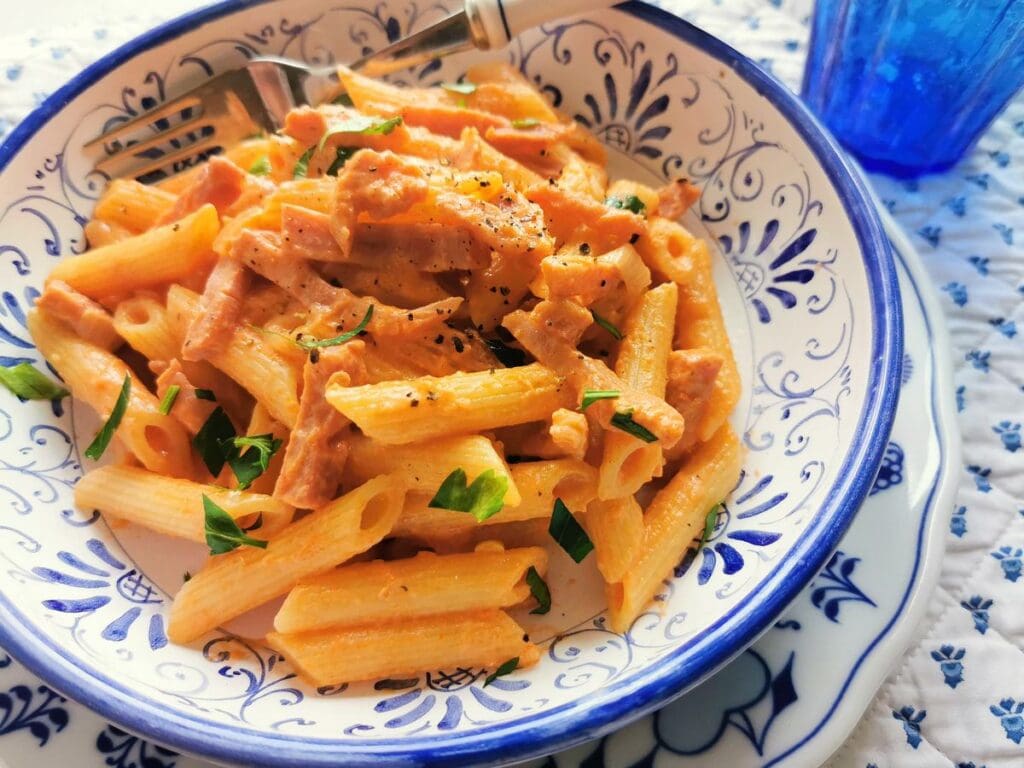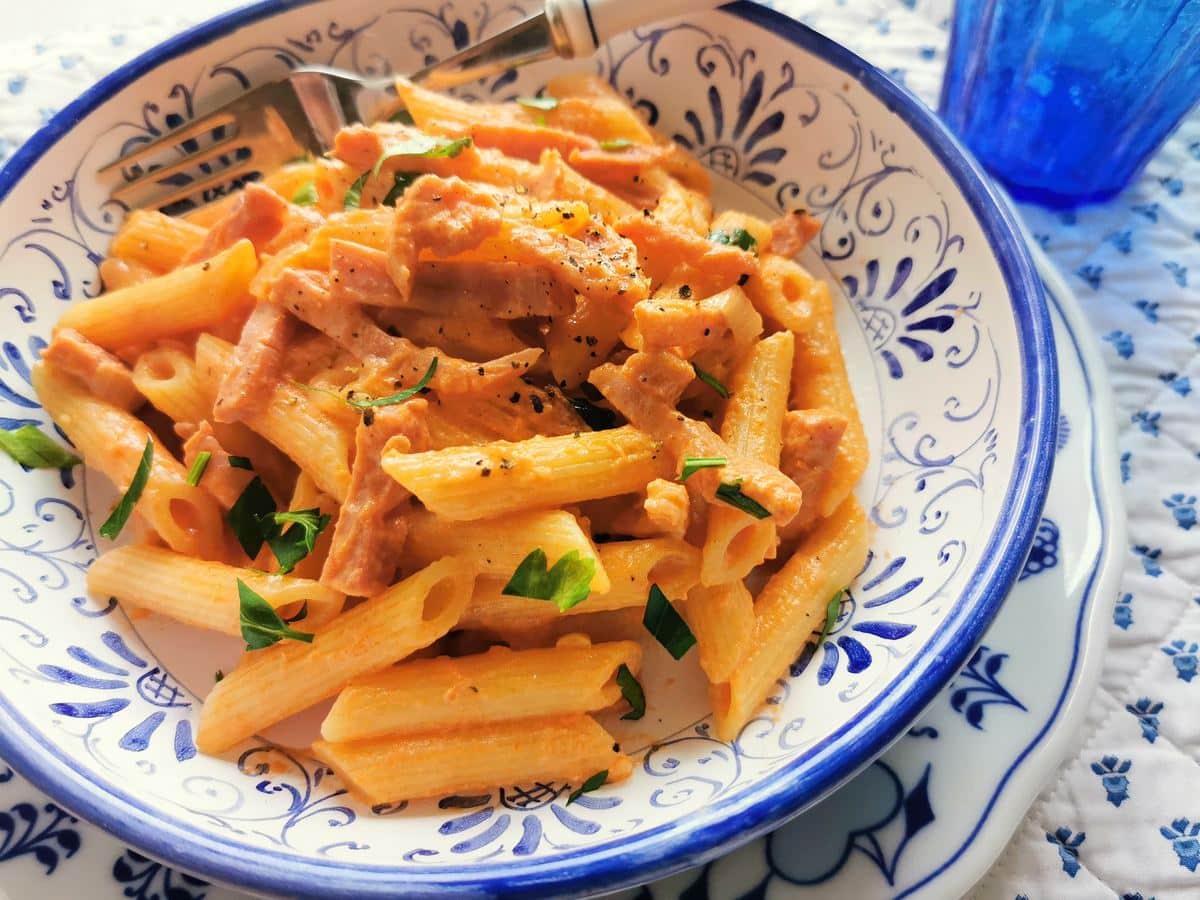 Penne al Baffo.
Italians call this pasta recipe penne al baffo. Al baffo is an abbreviation of the expression 'da leccarsi i baffi' meaning 'so good you'll lick your whiskers'. It's kind of the Italian equivalent of finger lickin' good! And, I have to say this dish deserves its name. Even though it's made with just a few staple ingredients, this creamy ham and tomato penne is definitely finger-licking good!
A little penne al baffo history.
Penne al baffo is not an old traditional recipe. It's a retro dish from the 70s and 80s, when pasta sauces with cream and tomatoes were in vogue in Italy. However, this recipe is very popular nowadays too.
Another similar recipe is penne alla vodka, which also has tomatoes and cream. But, has pancetta instead of ham and peperoncino (red chili pepper) for a bit of a kick. Of course, you can add some peperoncino to penne al baffo as well.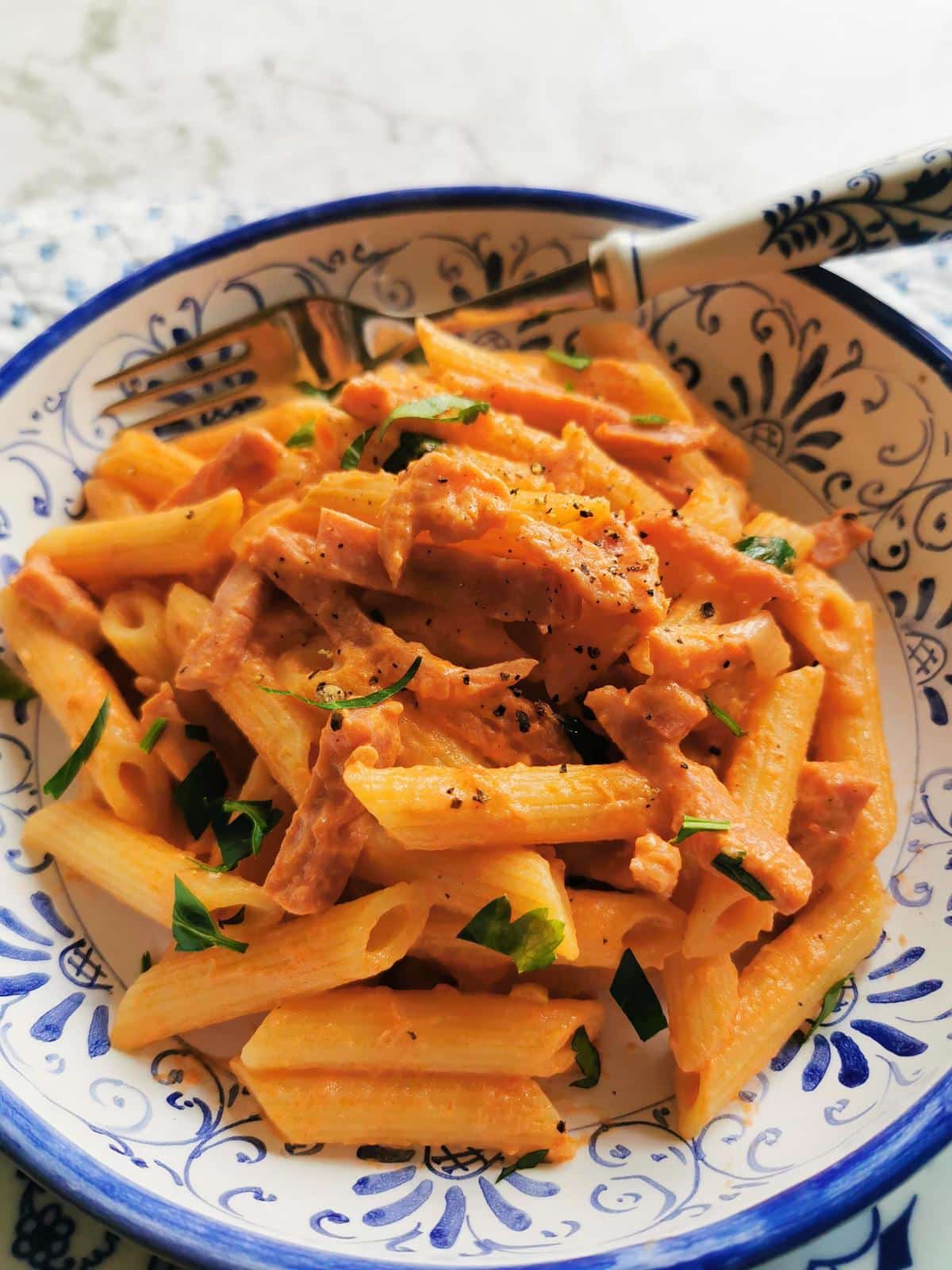 Some Italian food traditionalists look at pasta with tomatoes and cream as an unthinkable fusion of two Italian cuisines, namely from the North and from the South. In the South, tomatoes are a staple ingredient and would never be mixed with cream. Meanwhile, they use cream a lot in the North, but tomatoes are less traditional!
Ingredients
Penne Pasta: The ideal pasta for this ham and tomato pasta recipe. Penne's tubular shape perfectly captures the creamy sauce. If you prefer, you can substitute penne with other tube-shaped pasta like rigatoni or ziti, or even fusilli.
Cooked Ham: Use a thick piece rather than pre-sliced ham for best results. This recipe is also an excellent way to utilize leftover ham from festive occasions.
Tomato Passata (Tomato Puree): Choosing a high-quality passata, like one made with San Marzano tomatoes, can significantly enhance the depth of the sauce's flavor. As an alternative you can use fresh tomatoes which will add a wonderful flavor.
Heavy Cream: In Italy, we use 'Panna da cucina', a less fatty, thicker version of heavy cream. If it's unavailable, you can substitute it with standard heavy cream or a lighter alternative like half-and-half. However, this slightly changes the sauce's richness and requires more simmering time to achieve the desired thickness.
Extra Virgin Olive Oil: A staple in Italian cooking, it's used for sautéing the shallots. Use a good quality one for better flavor.
Shallots: Shallots add a subtle sweetness to the recipe. Alternatively, you can use regular onions or omit them if you're not a fan.
Fresh Parsley: Adds a fresh, herby touch to the dish. Fresh parsley is recommended over dried for a more vibrant flavor.
Salt and Freshly Ground Pepper: Essential seasonings for enhancing all the flavors in the dish.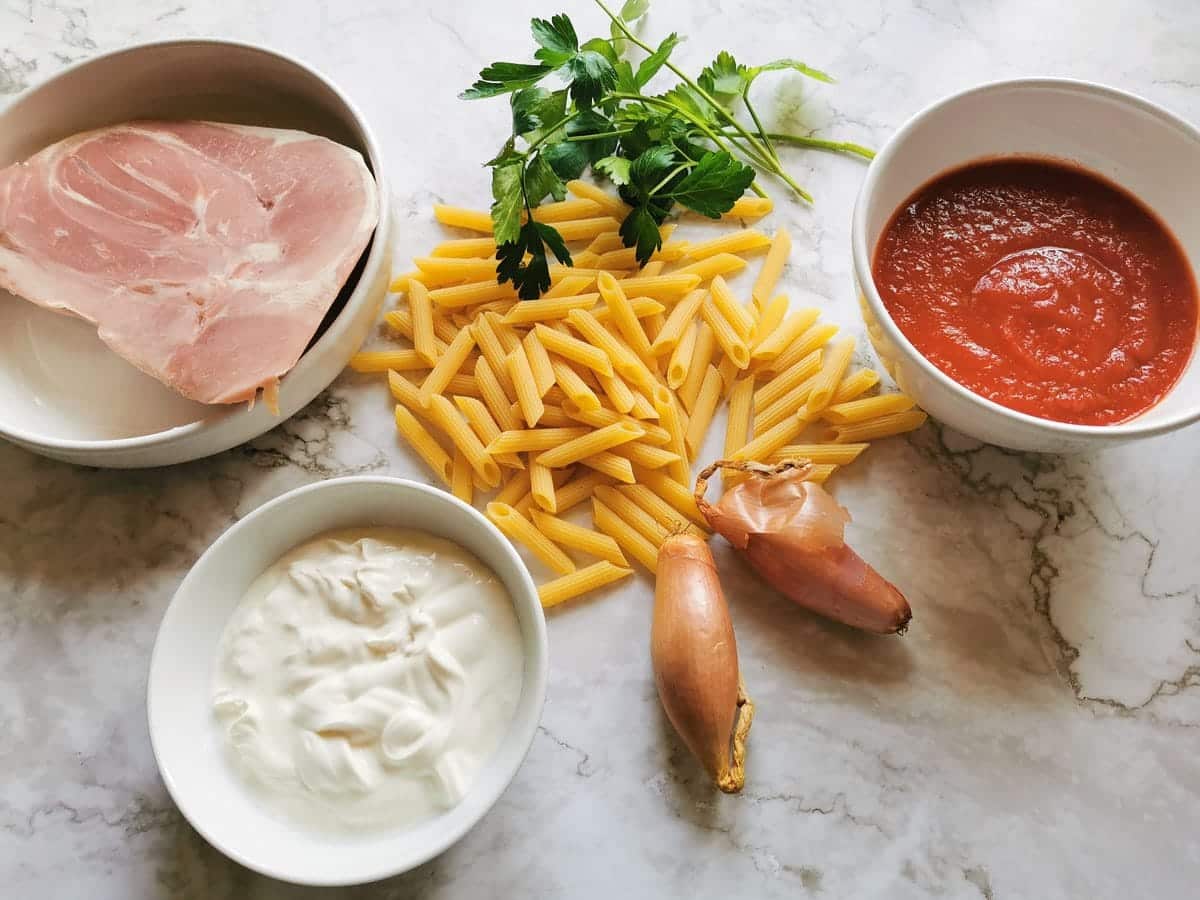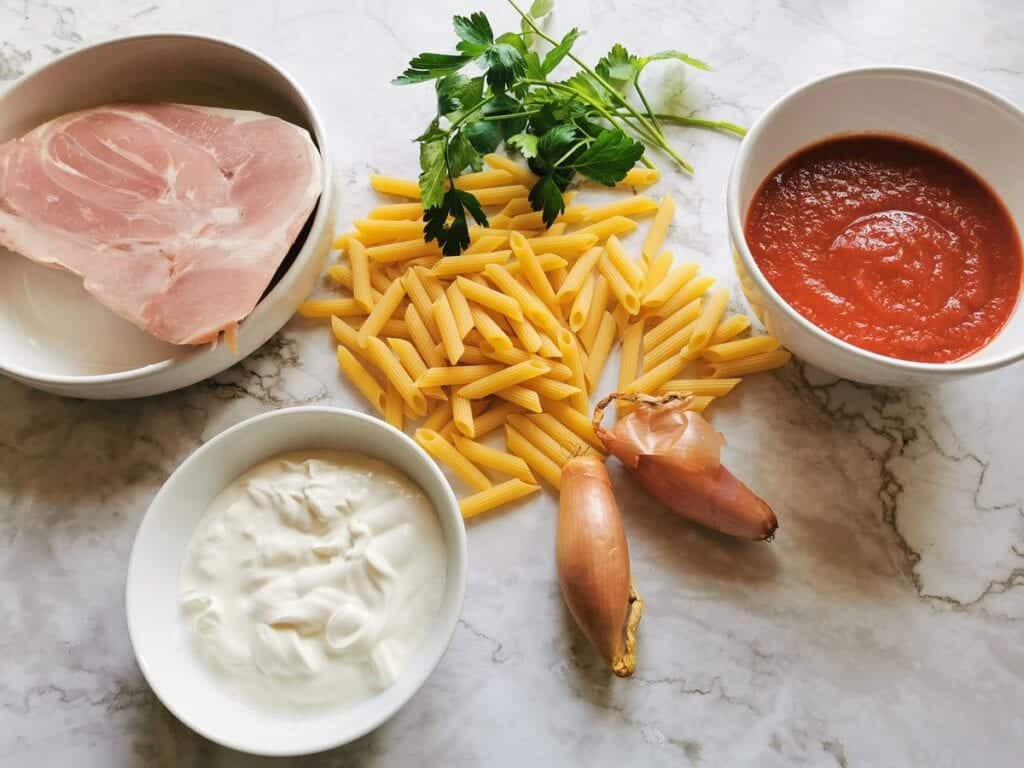 Variations and substitutions
In Northern Italy, they make penne al baffo with speck or prosciutto crudo. There are also versions with guanciale or pancetta. Some Italians make this recipe with seafood instead of meat.
The most popular of the seafood versions are with shrimp or with canned tuna. But, I've come across recipes that include calamari or other seafood. Veggies are sometimes included too. The most common are zucchini, mushrooms or peas!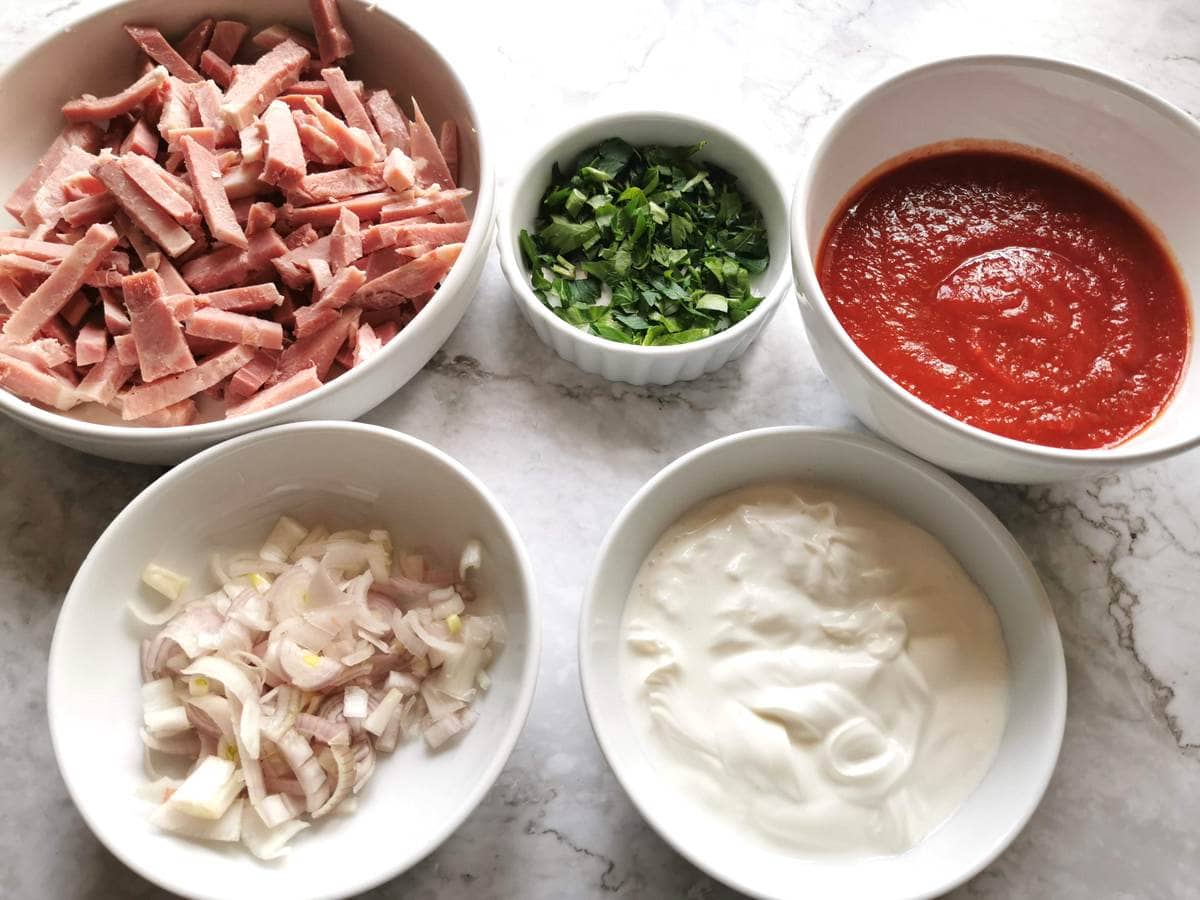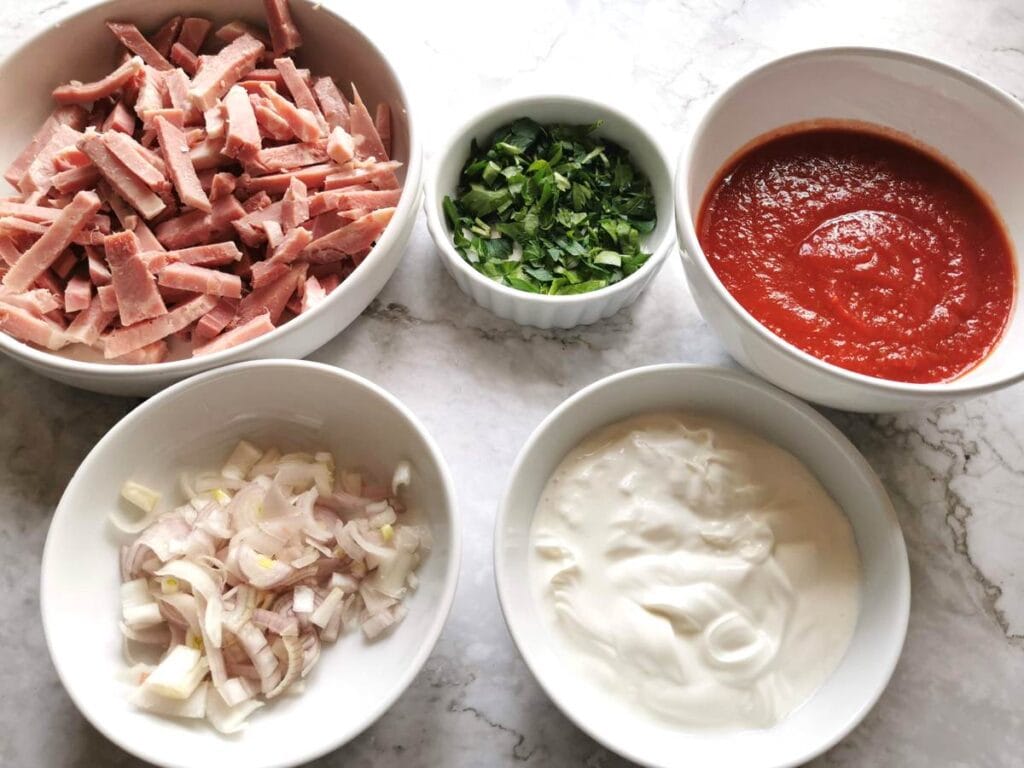 Expert Tips
Perfect Pasta: Cook the pasta to just 'al dente' as it will be further simmered in the sauce. This helps it retain a slight firmness and doesn't become mushy after being simmered in the sauce.
Sauce Consistency: When using heavy cream or half-and-half instead of the traditional 'Panna da cucina', you may need to adjust your simmering time. These alternatives are thinner and often require a slightly longer simmer to reach the rich, creamy texture that is signature to this dish.
Adding Vegetables: To give this recipe an extra nutrition kick, you can incorporate traditional vegetables such as zucchini, mushrooms, and peas. Sauté the zucchini and mushrooms right after the shallots to soften them up. Add the peas at the same time as the tomato passata, allowing them to cook within the sauce.
Step by Step Instructions
1) Start by bringing a large pot of water to boil for the penne pasta. Add a pinch of salt once it starts to boil.
2) In a large pot, gently sauté the sliced shallots in olive oil until they start to become translucent.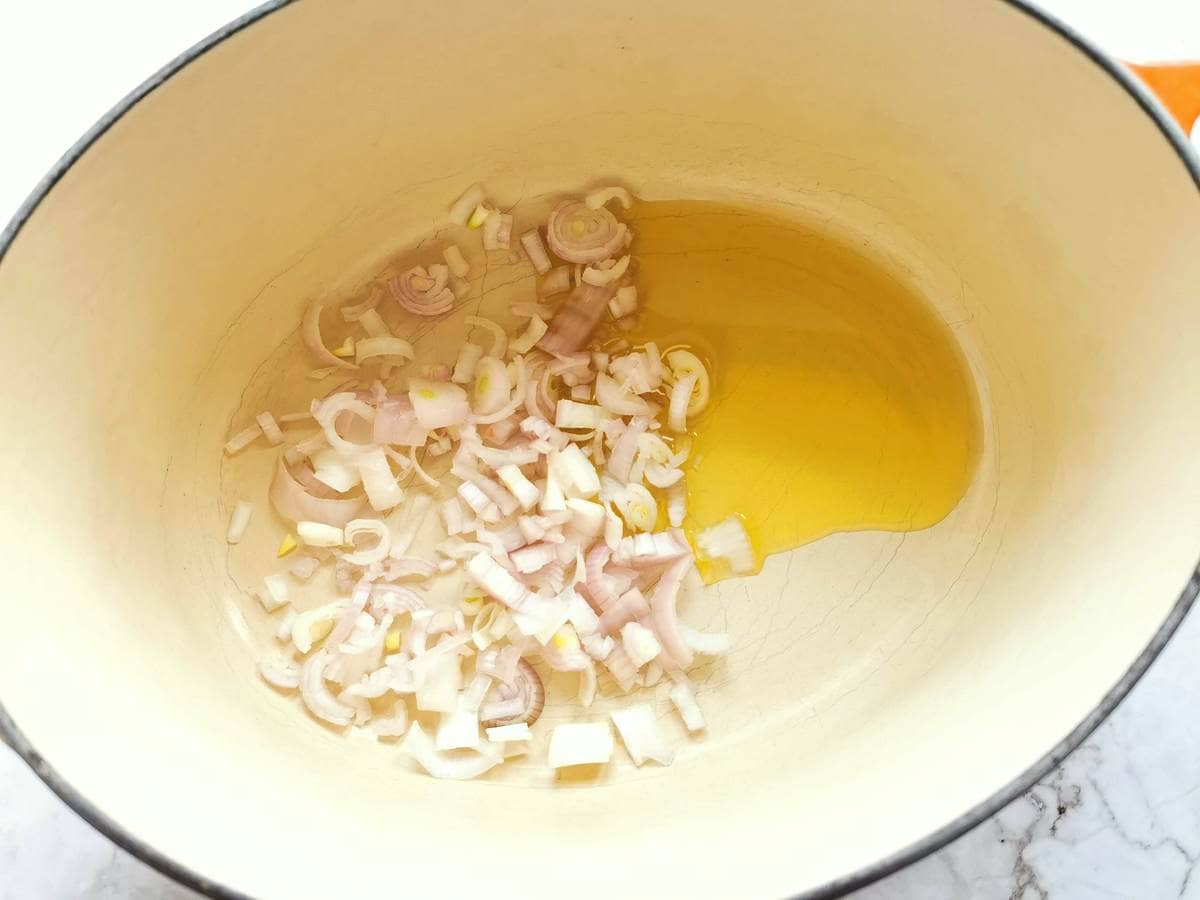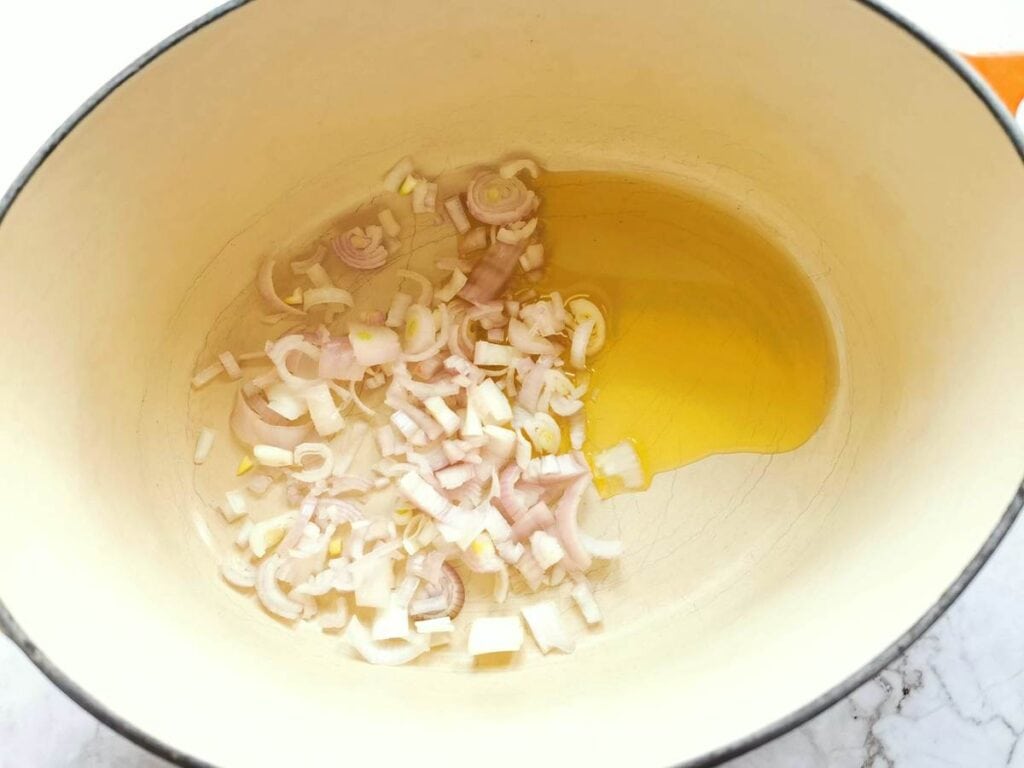 3) Add the prepared ham pieces to the skillet. Sauté over slightly higher heat until they begin to brown slightly around the edges.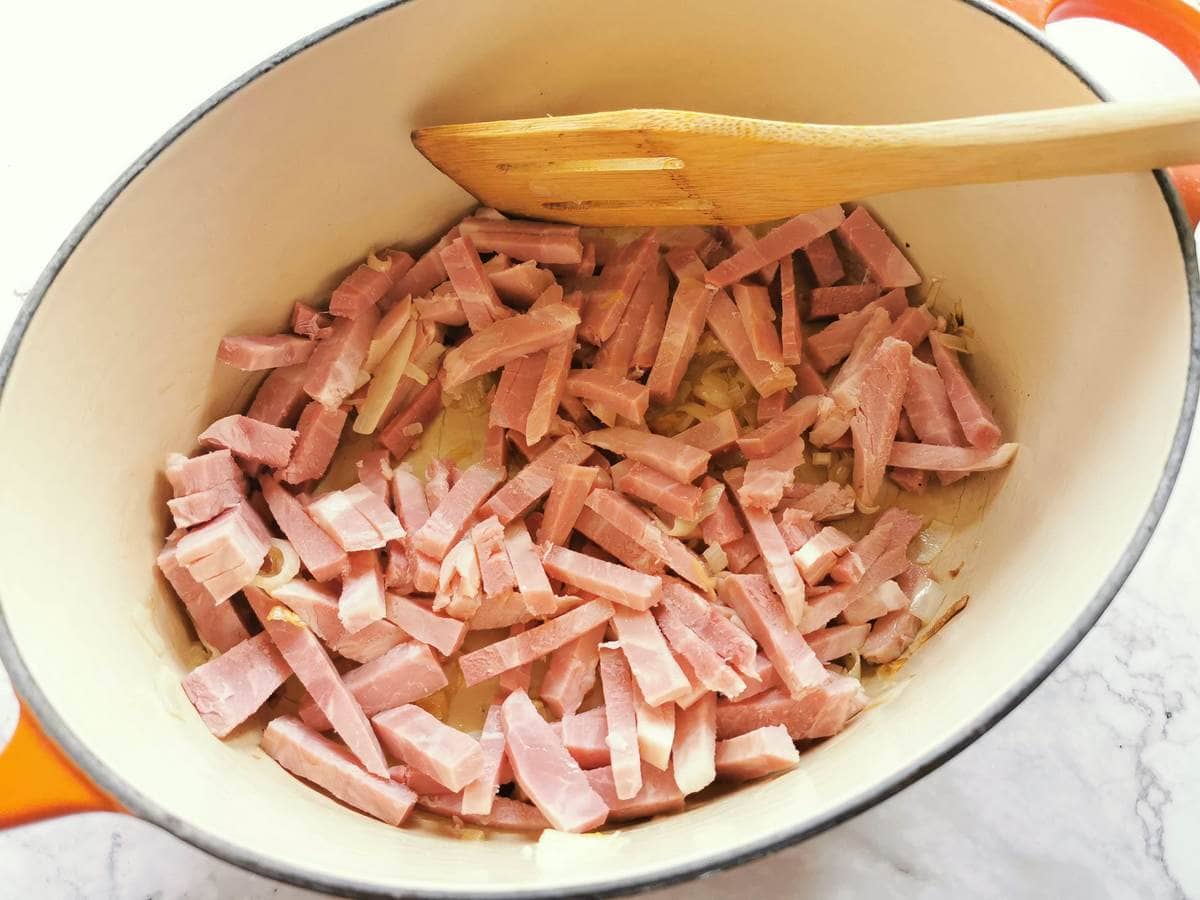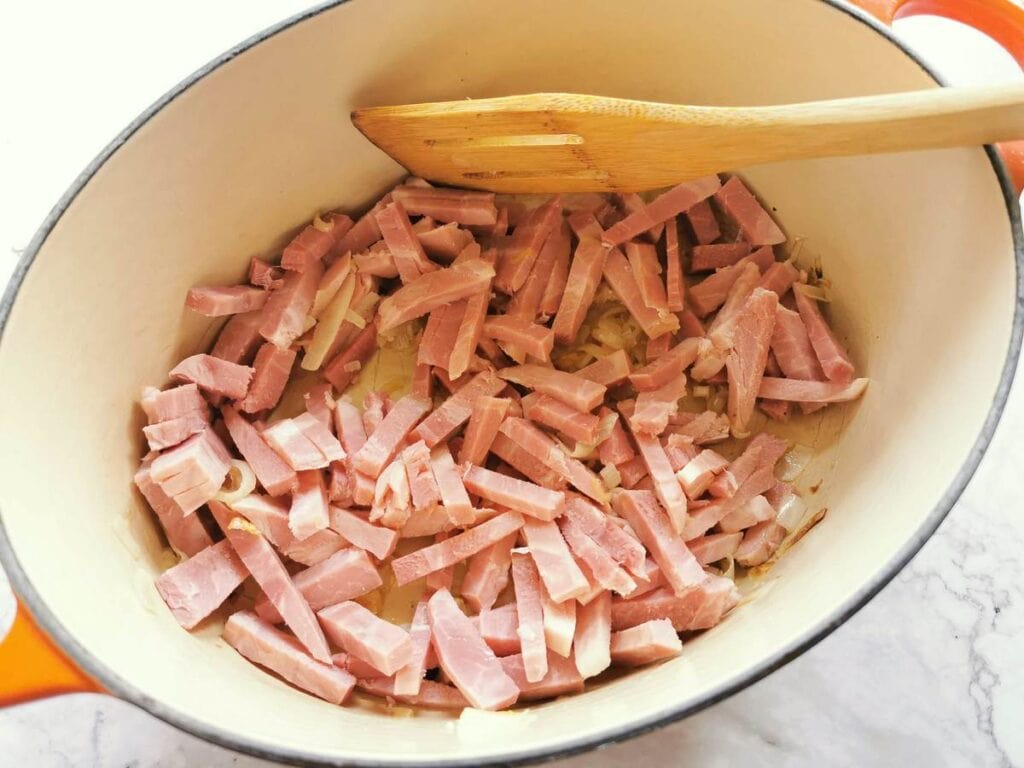 4) Stir in the tomato passata to the skillet. Let it simmer gently, allowing the sauce to thicken, approximately 10 minutes. Season with salt according to your taste.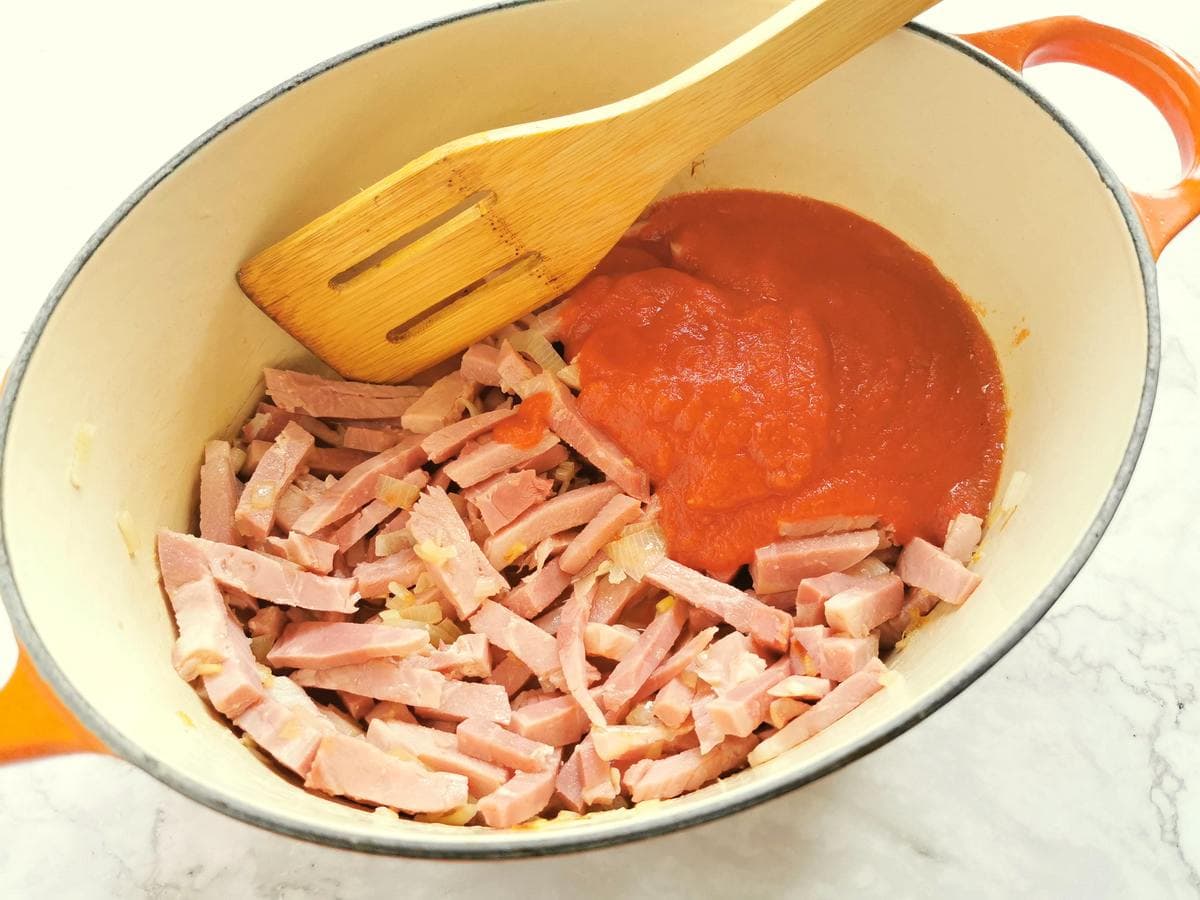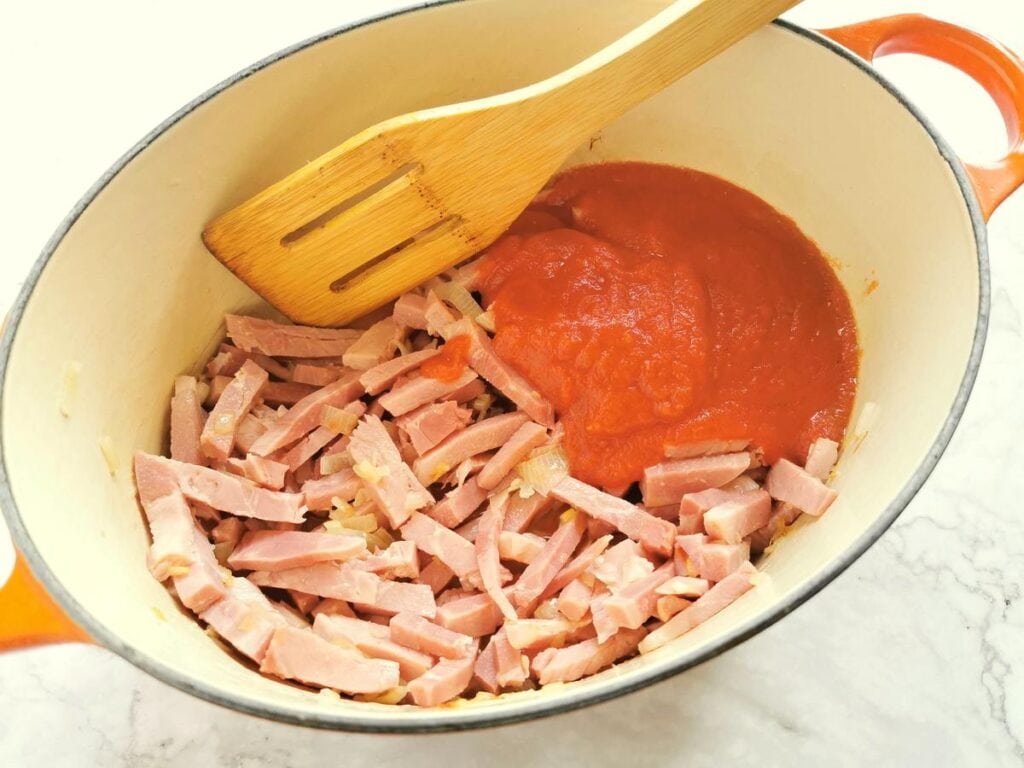 5) Pour in the heavy cream and blend it with the tomato sauce. Continue simmering for an additional 4-5 minutes until the sauce turns into a rich, coral color.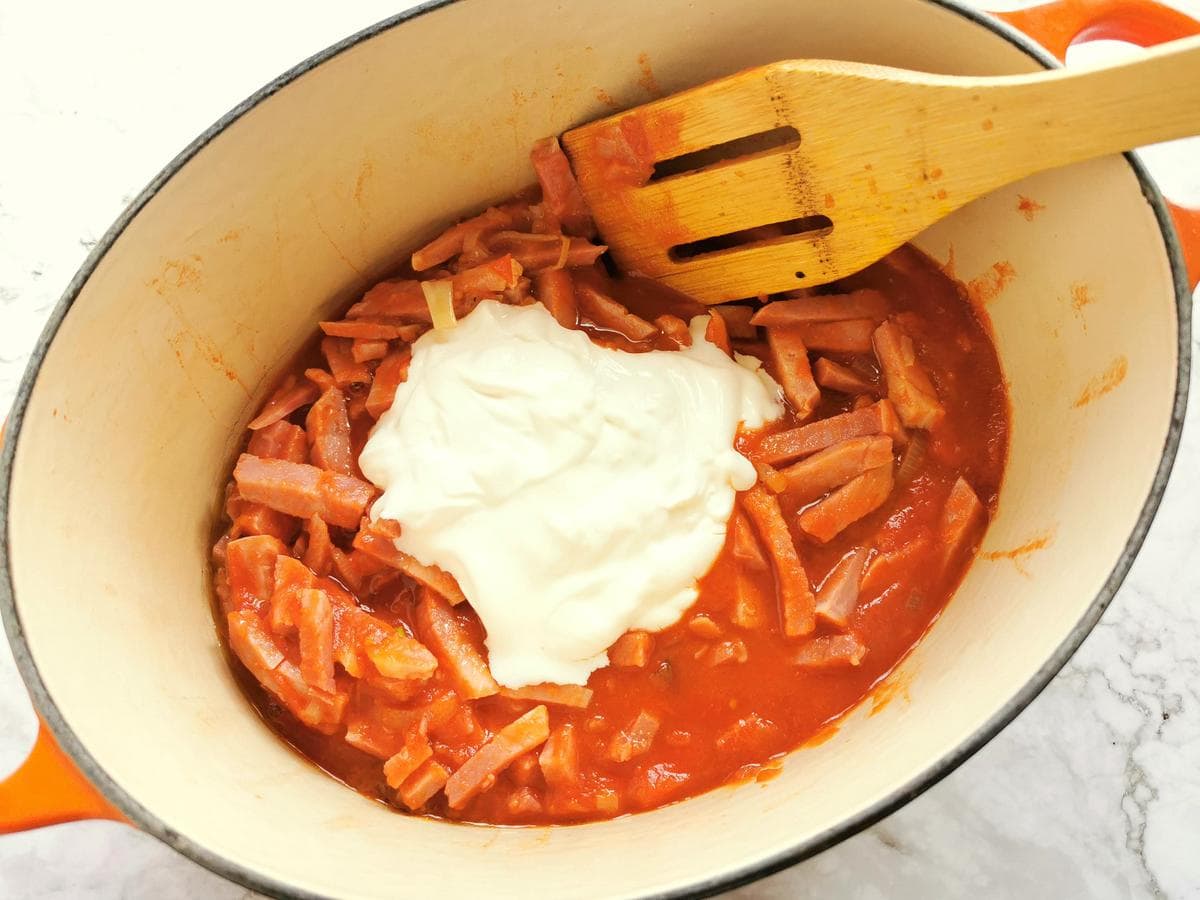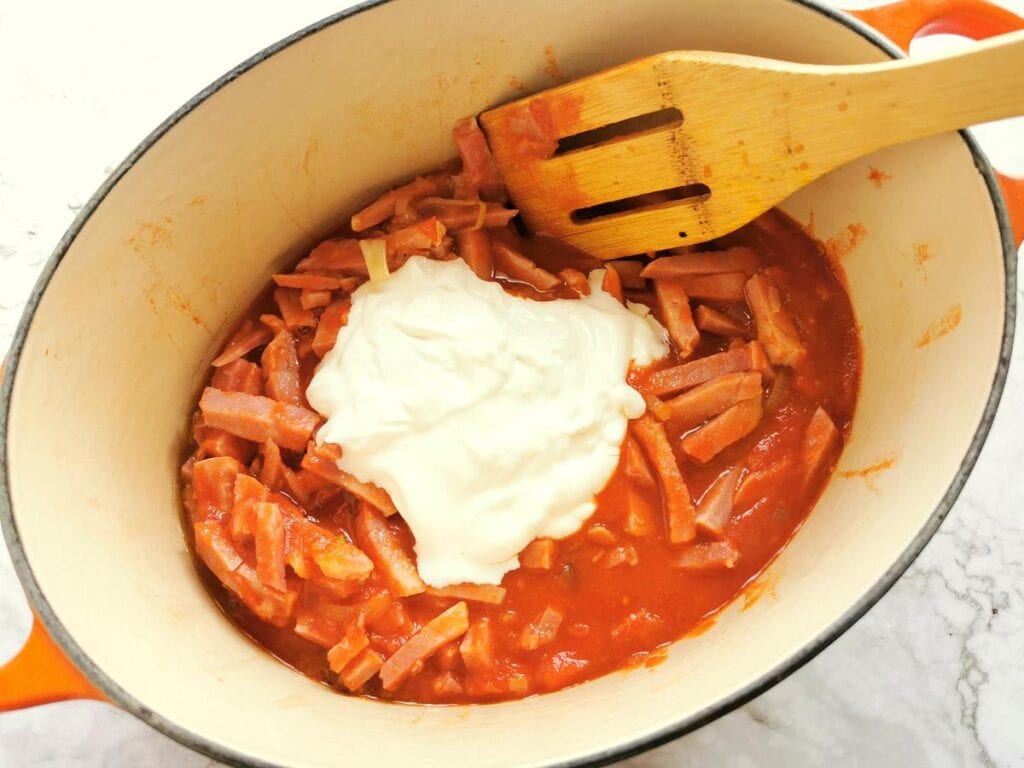 6) As the sauce simmers, cook the penne pasta in the boiling water. Aim for slightly less than al dente. Before draining, reserve a bit of the pasta cooking water.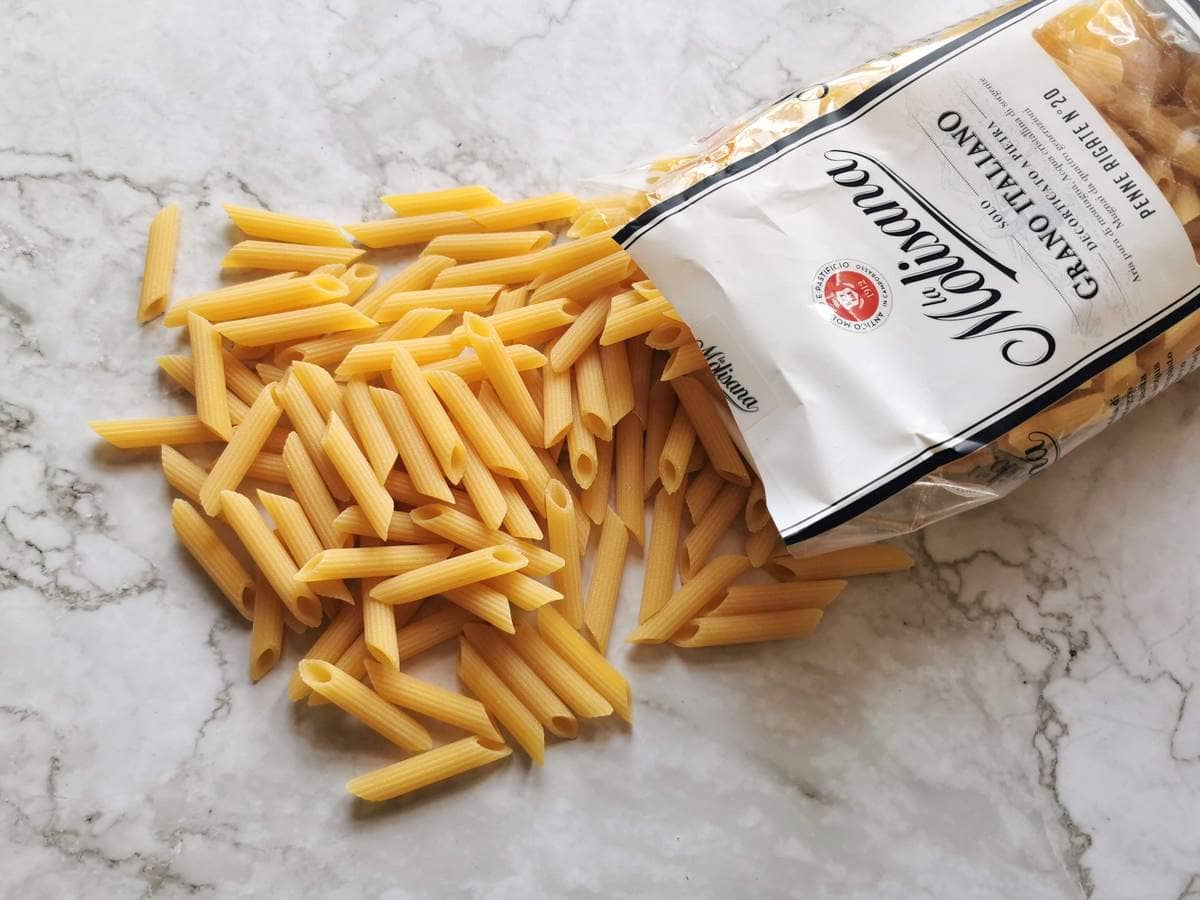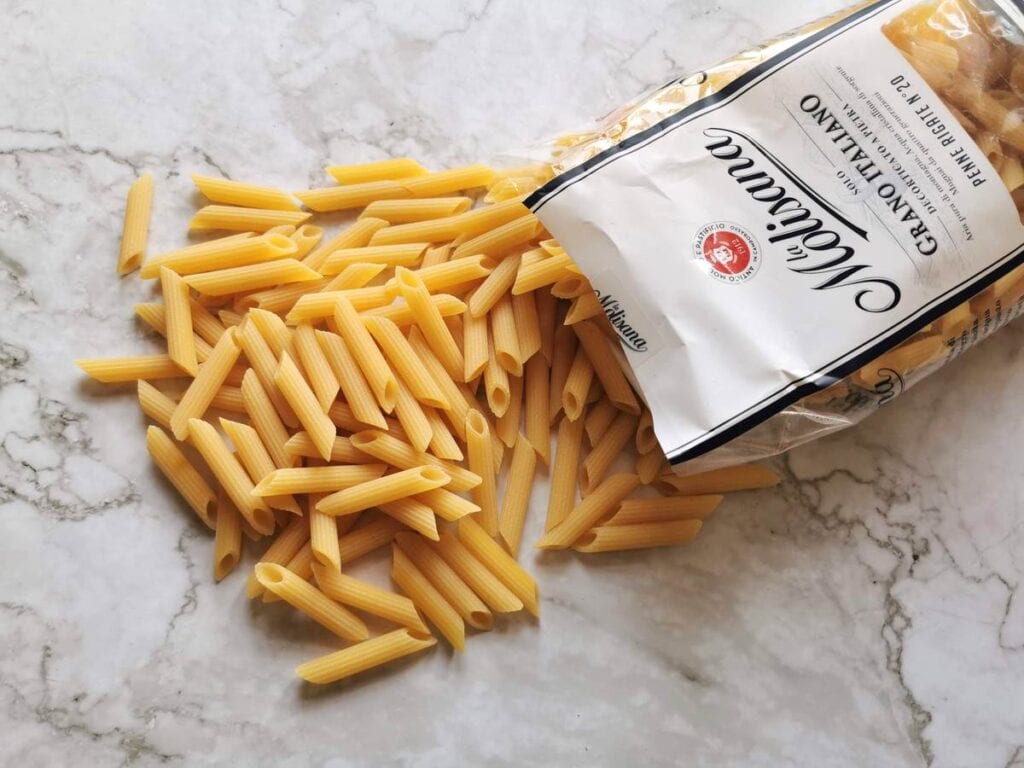 7) Drain the pasta and add it to the sauce. Pour in half a ladleful of the reserved pasta water. Increase the heat, letting the pasta simmer in the sauce for a couple of minutes, stirring continuously until the sauce coats the pasta well.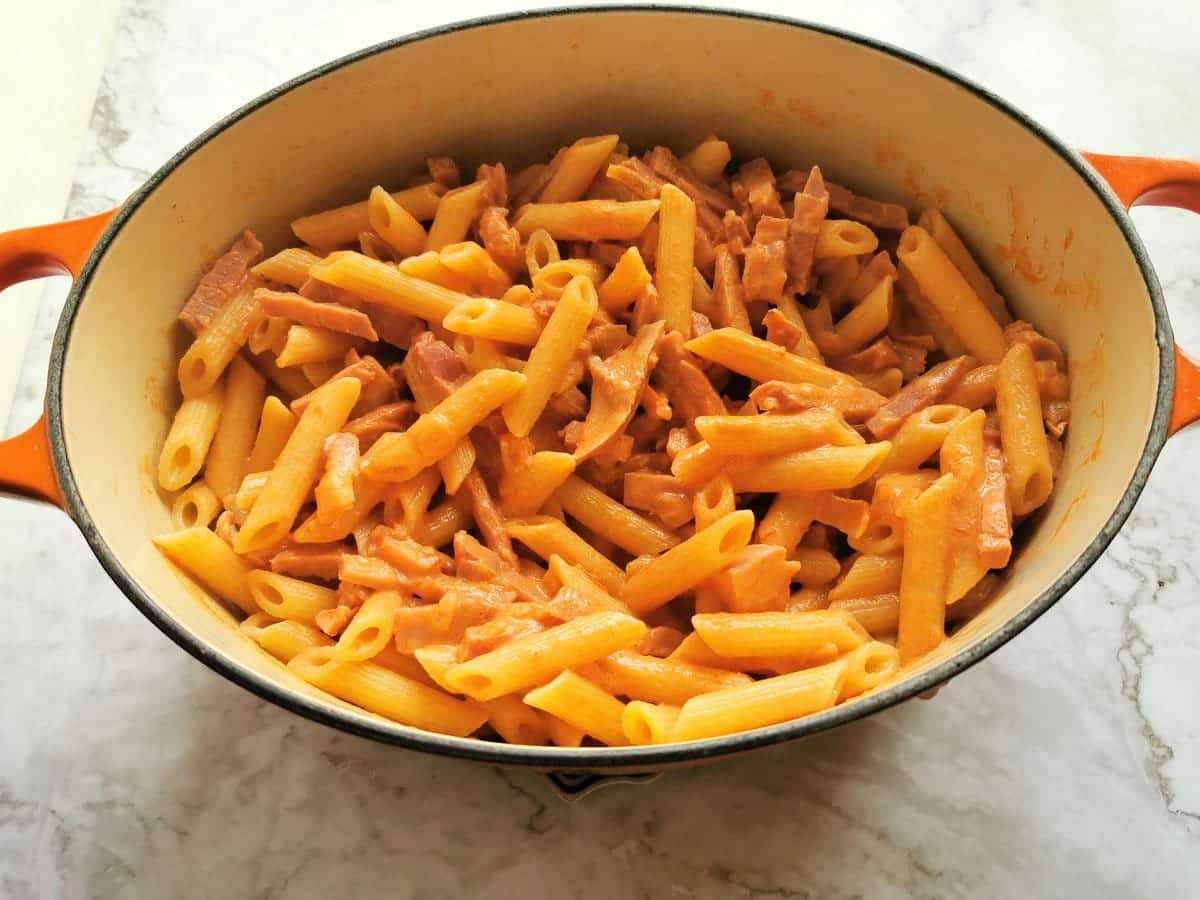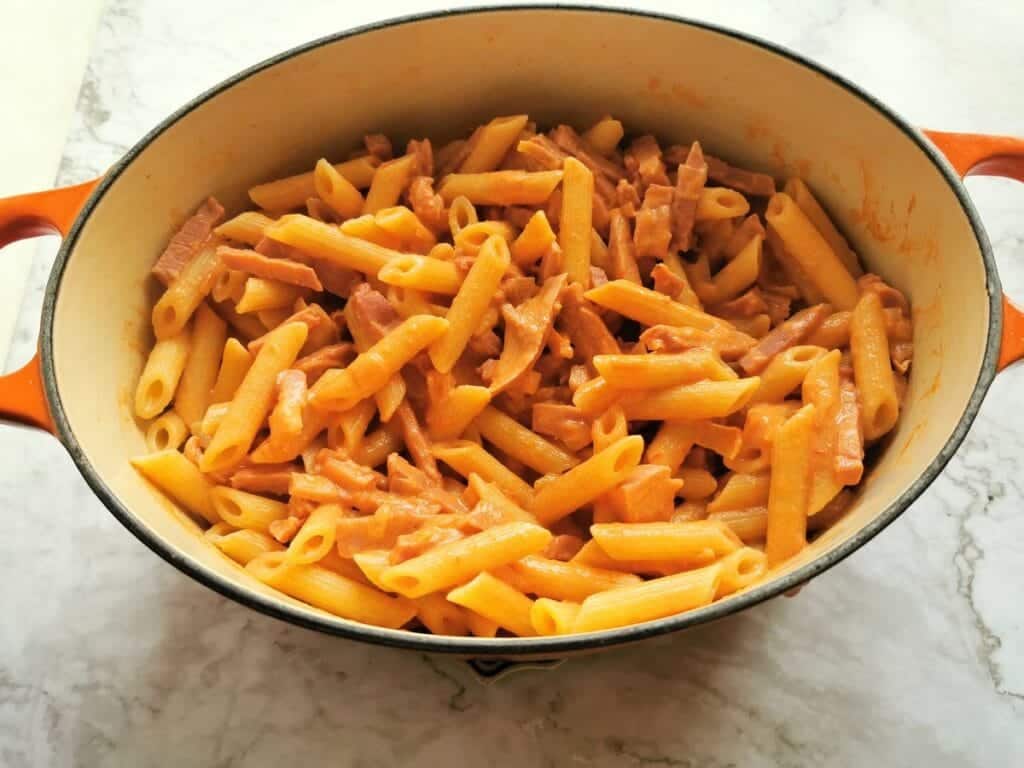 8) Finally, stir in the chopped parsley. Serve the pasta hot, topped with freshly ground black pepper and an extra sprinkle of parsley.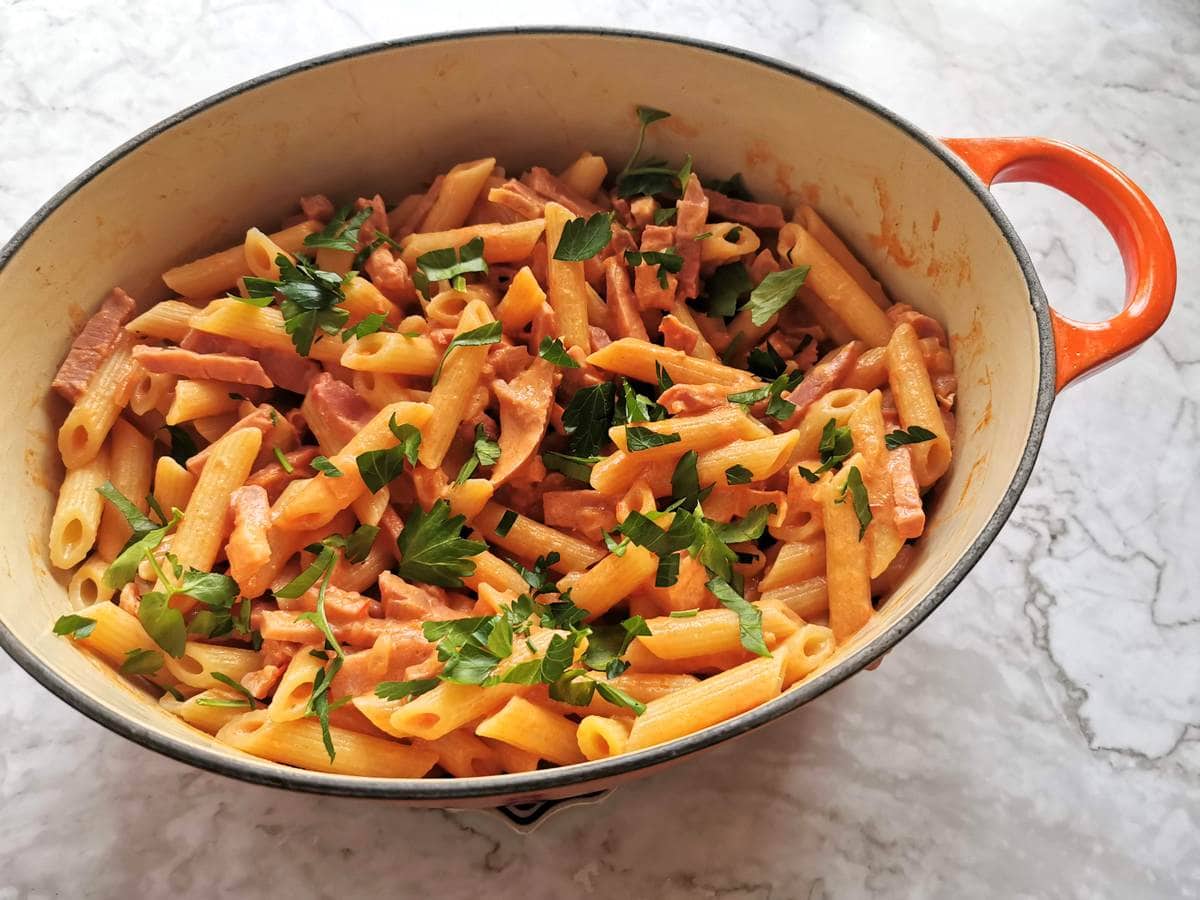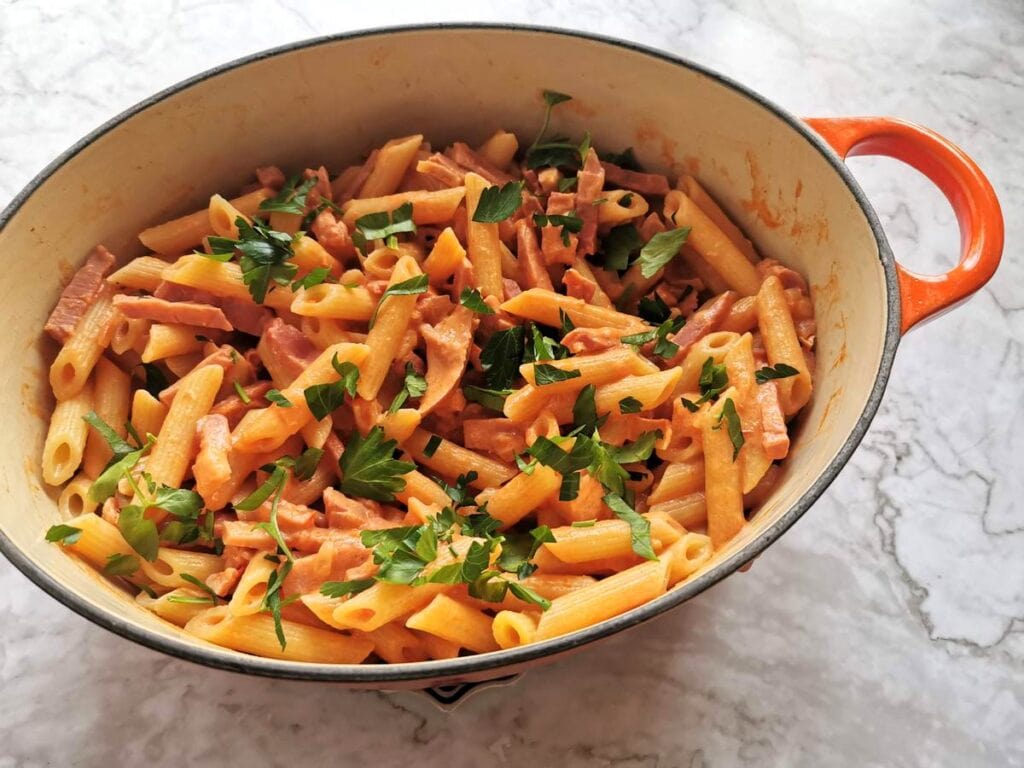 Storage and Leftovers
To store any leftover ham and tomato penne al baffo, allow the pasta to cool to room temperature first. Then, transfer it to an airtight container and refrigerate. Properly stored, it will last for up to 3 days.
When you're ready to reheat, place the desired amount of pasta in a microwave-safe dish and cover it. Reheat in the microwave in intervals, stirring occasionally, until it's hot throughout.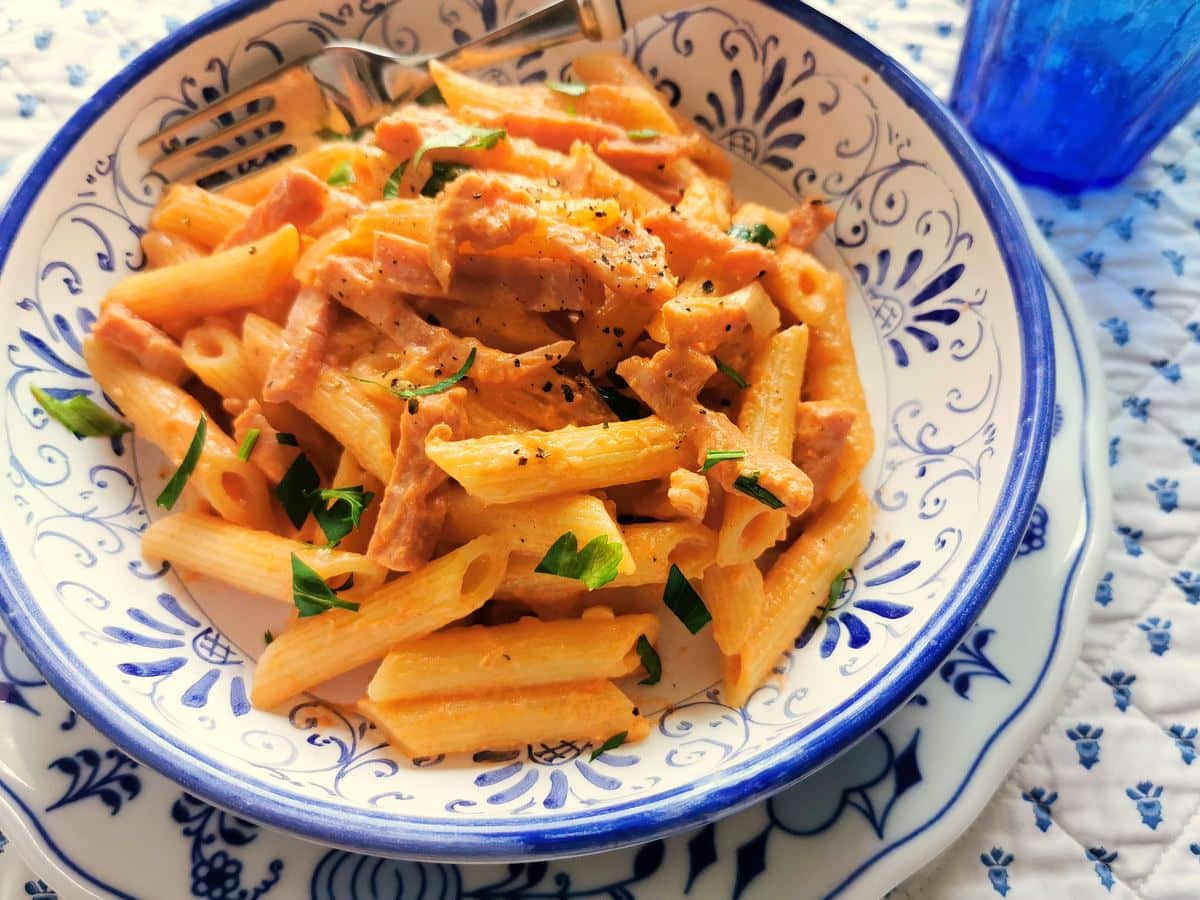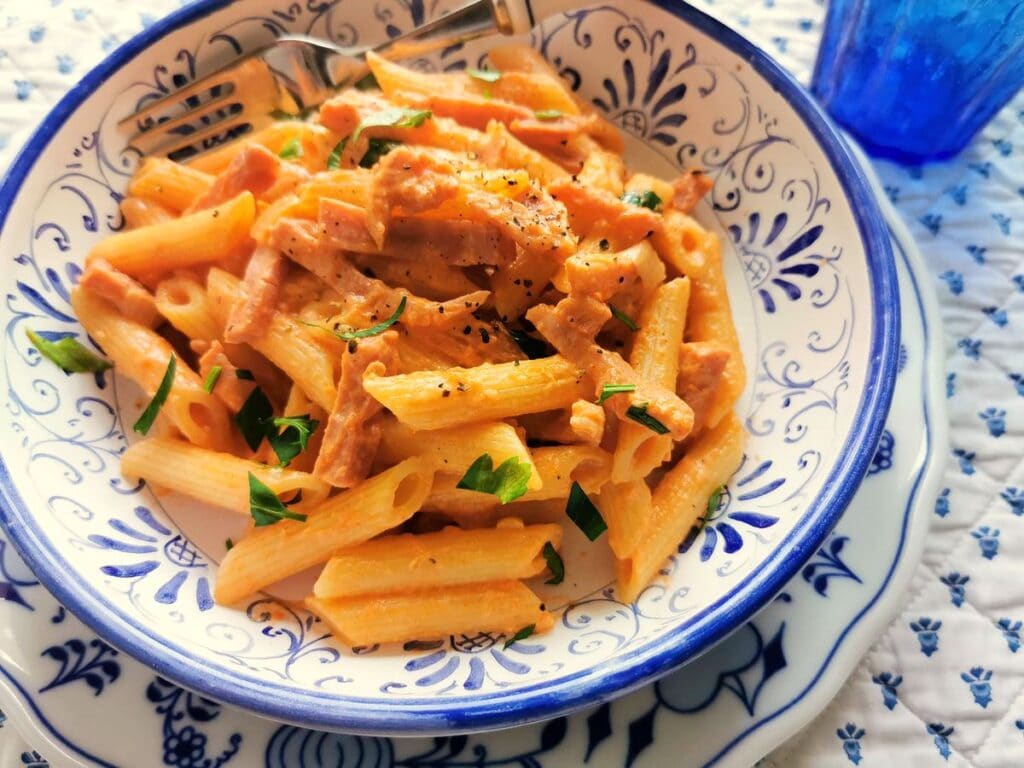 More pasta recipes which are great for leftover ham:
If you do try this creamy ham and tomato penne al Baffo, I'd love to hear what you think. Please write a comment here on the blog or post a comment on the Pasta Project Facebook page.
Your feedback means a lot to me!
Buon Appetito!
Pin for later: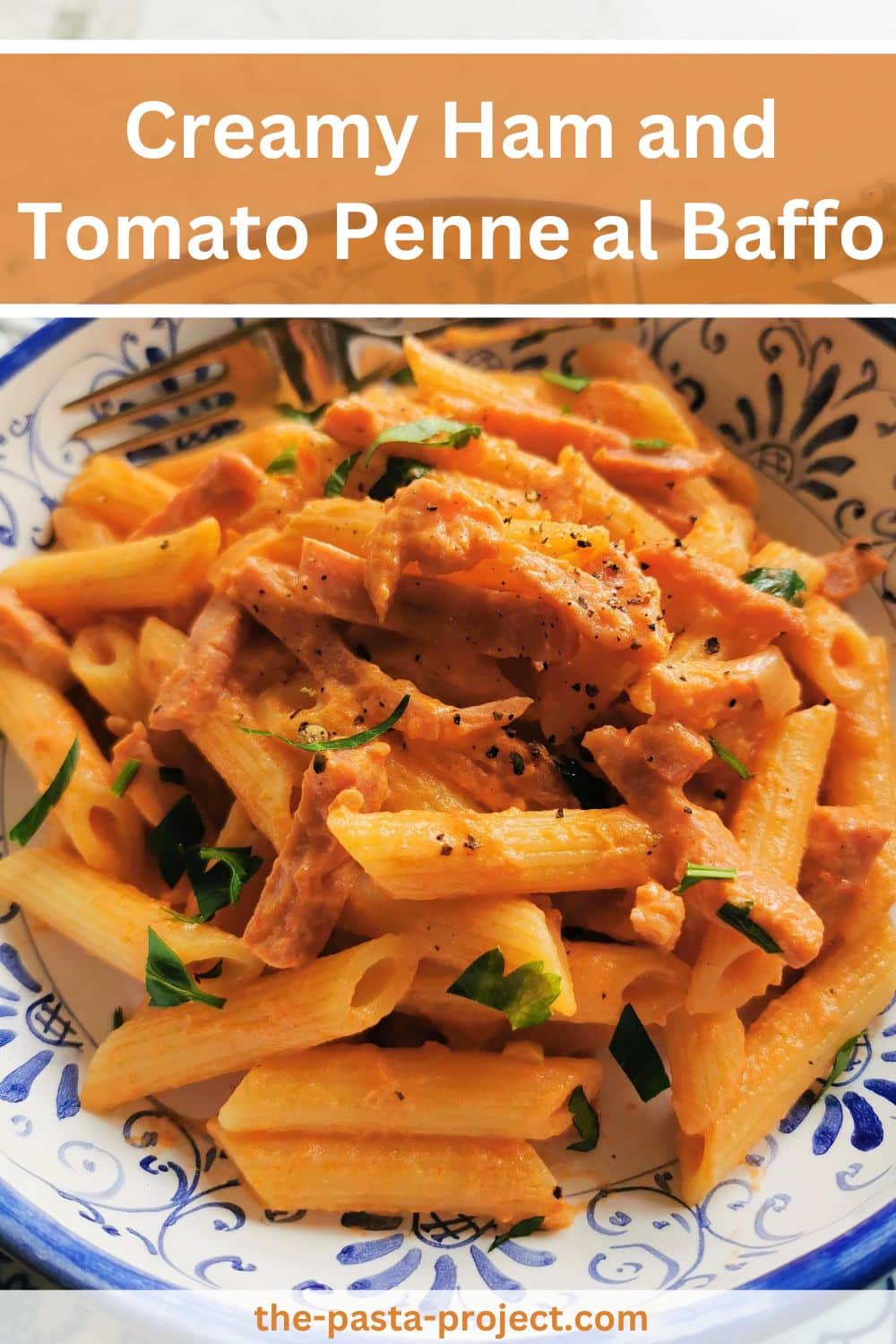 If you are interested in learning how to make homemade pasta and different types of gnocchi, check out my shop page for some great video online courses from my friends in Rome! Nothing beats learning to make pasta from Italians! Plus while you're there why not order a copy of my autumn/winter pasta recipes cookbook!?