Neapolitan Baked Ziti Pasta al Gratin
Maccheroni al gratin.
Neapolitan baked ziti pasta al gratin with béchamel is a traditional dish from Naples, Southern Italy. Like other baked pasta recipes, it's popular for family meals on Sundays and holidays. However, this delicious baked pasta comes together very quickly and can easily be part of a weekly menu.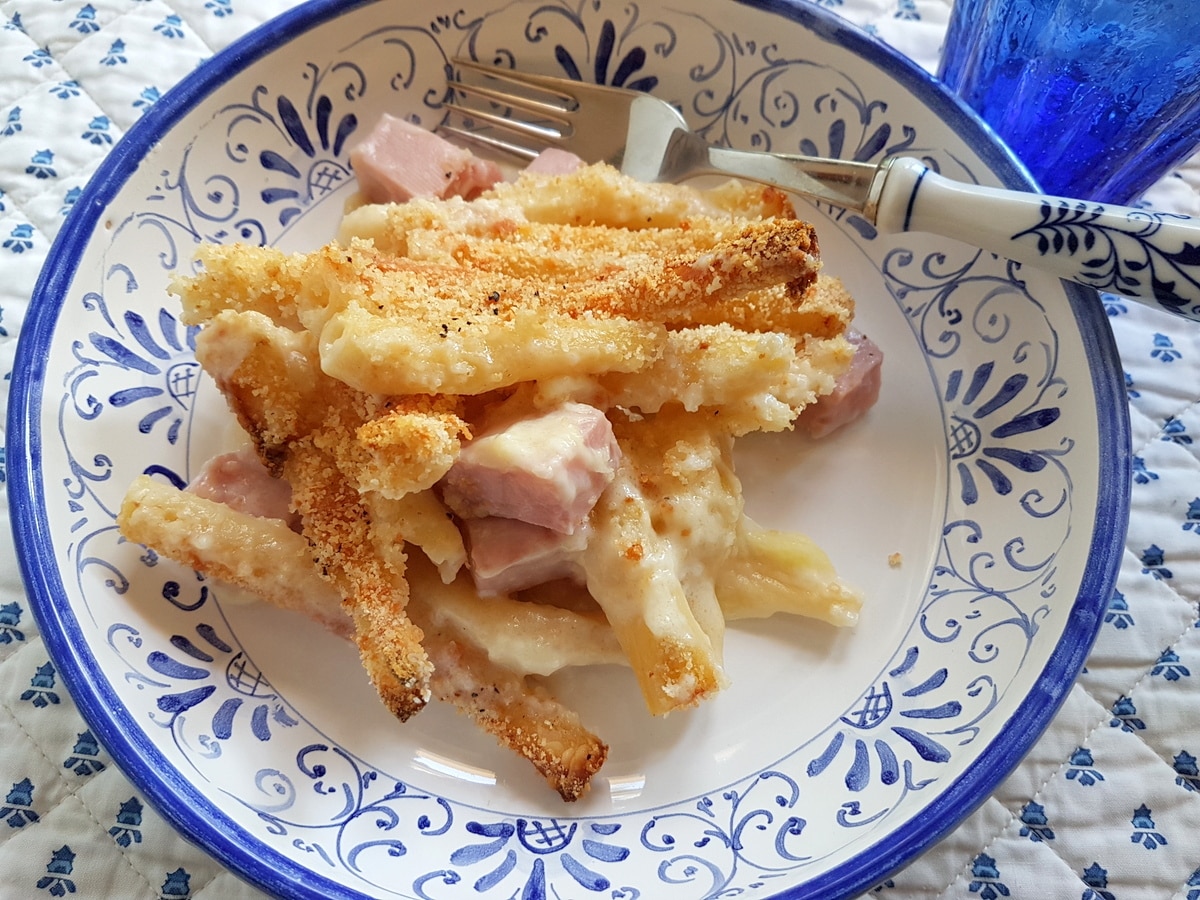 Isn't béchamel French?
Béchamel sauce, as it's generally called in Europe, is a white sauce made from flour, butter and milk. Today, people use it in a lot of recipes in many countries. But, as the name suggests, it is originally French (or is it?).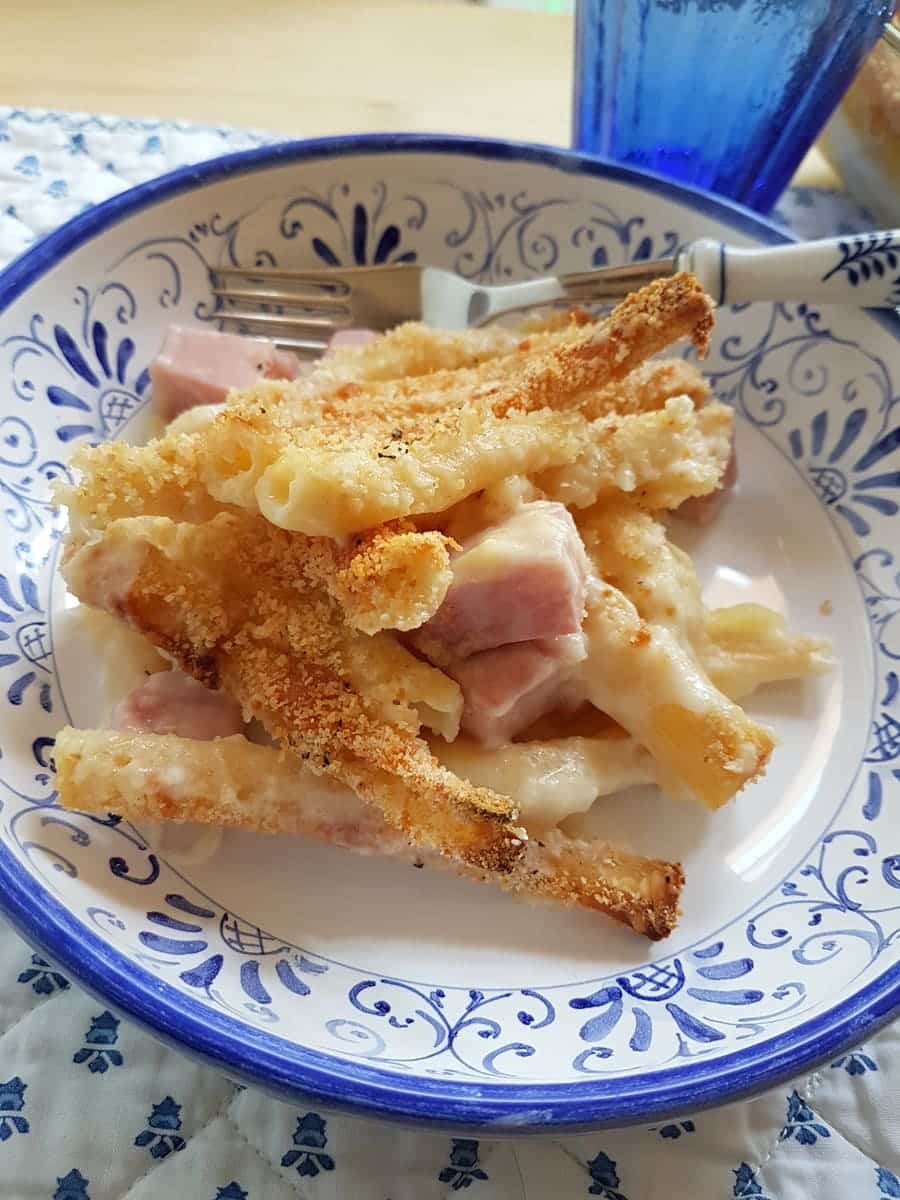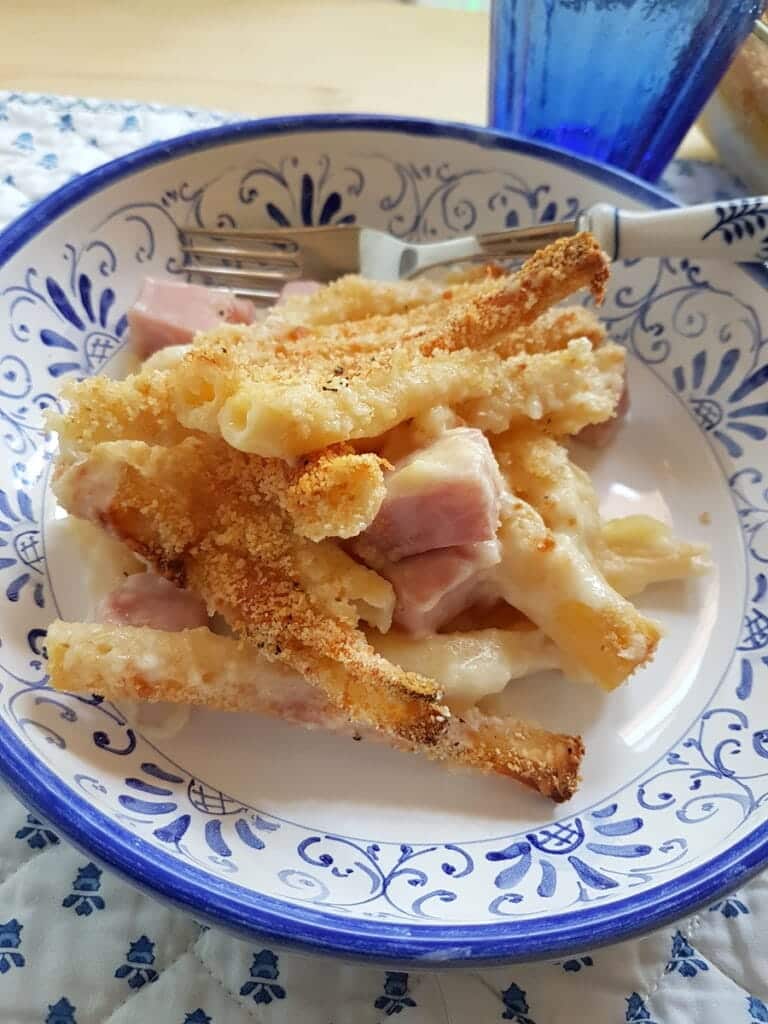 Louis de Béchamel was a French financier and patron of the arts who lived in Brittany in the 17th century. He also liked to dabble in the kitchen and is said to have created béchamel sauce. But, his sauce was, apparently, really just an improvement on an already existing sauce which the French used in à la crème dishes.
However, there is also a school of thought that béchamel was actually originally based on a Tuscan sauce called 'salsa colla' (glue sauce). This sauce was brought to France by the chefs of Catherine de Medici when she became the wife of Henry II.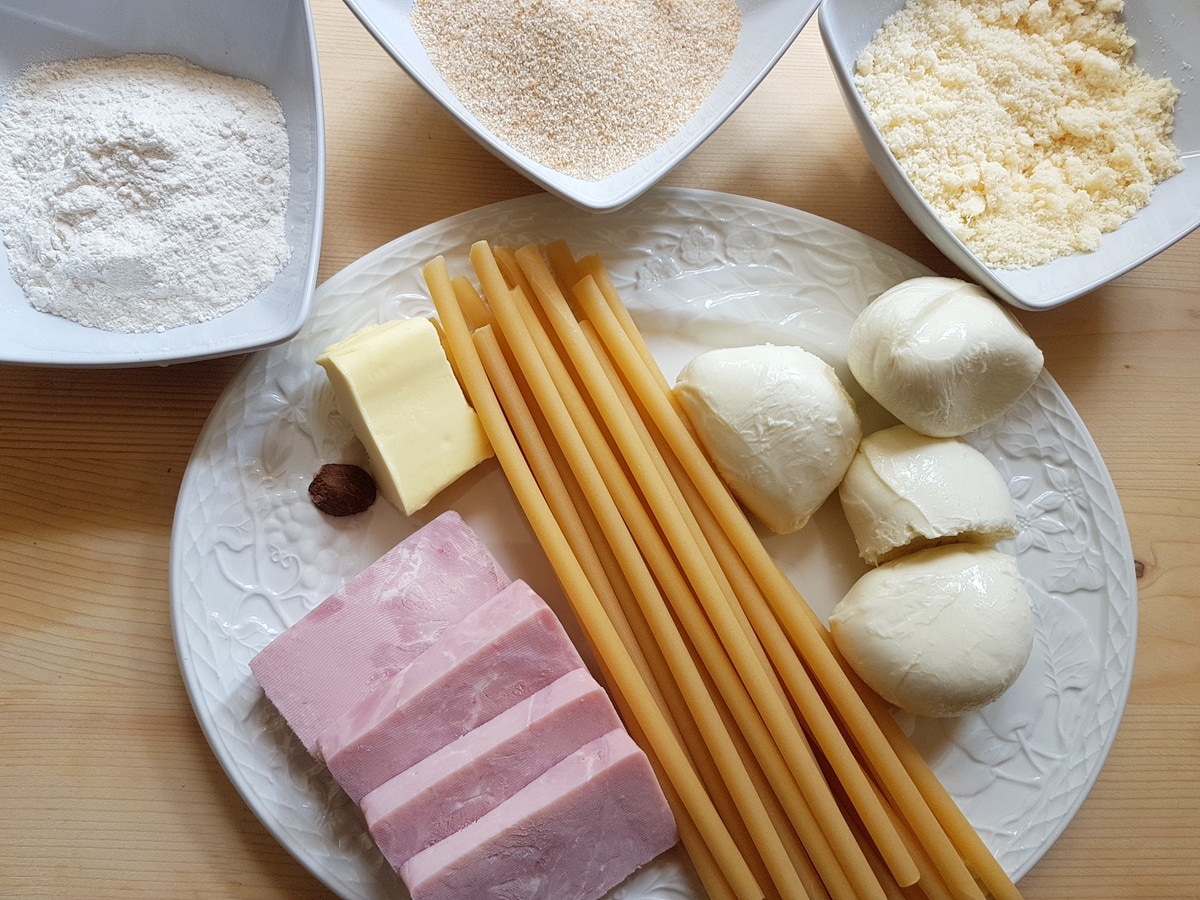 French Culinary influence on Italian food.
Whatever the origins of the original béchamel, the French actually brought a lot of culinary traditions to Southern Italy during the Bourbon reign of the kingdom of two Sicilies (Sicily & Naples) in 1800s. During that period the nobility in Naples and Sicily most often had French chefs who then passed on their skills and recipes to Italian cooks.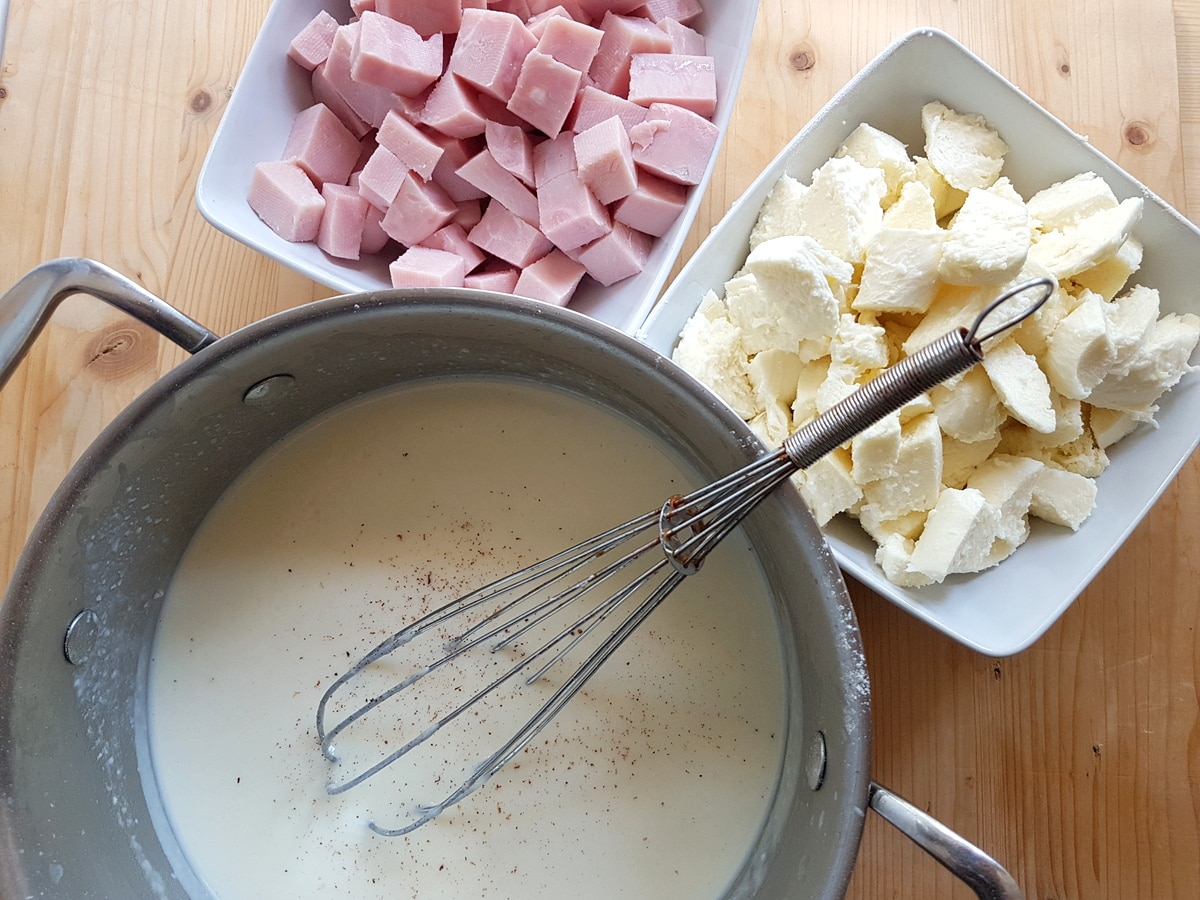 The use of French béchamel (besciamella in Italian) and the technique of cooking 'au gratin' are two cooking methods that have remained very popular, especially in baked pasta recipes. Funny, without the French, there would be no lasagna al forno as we know it!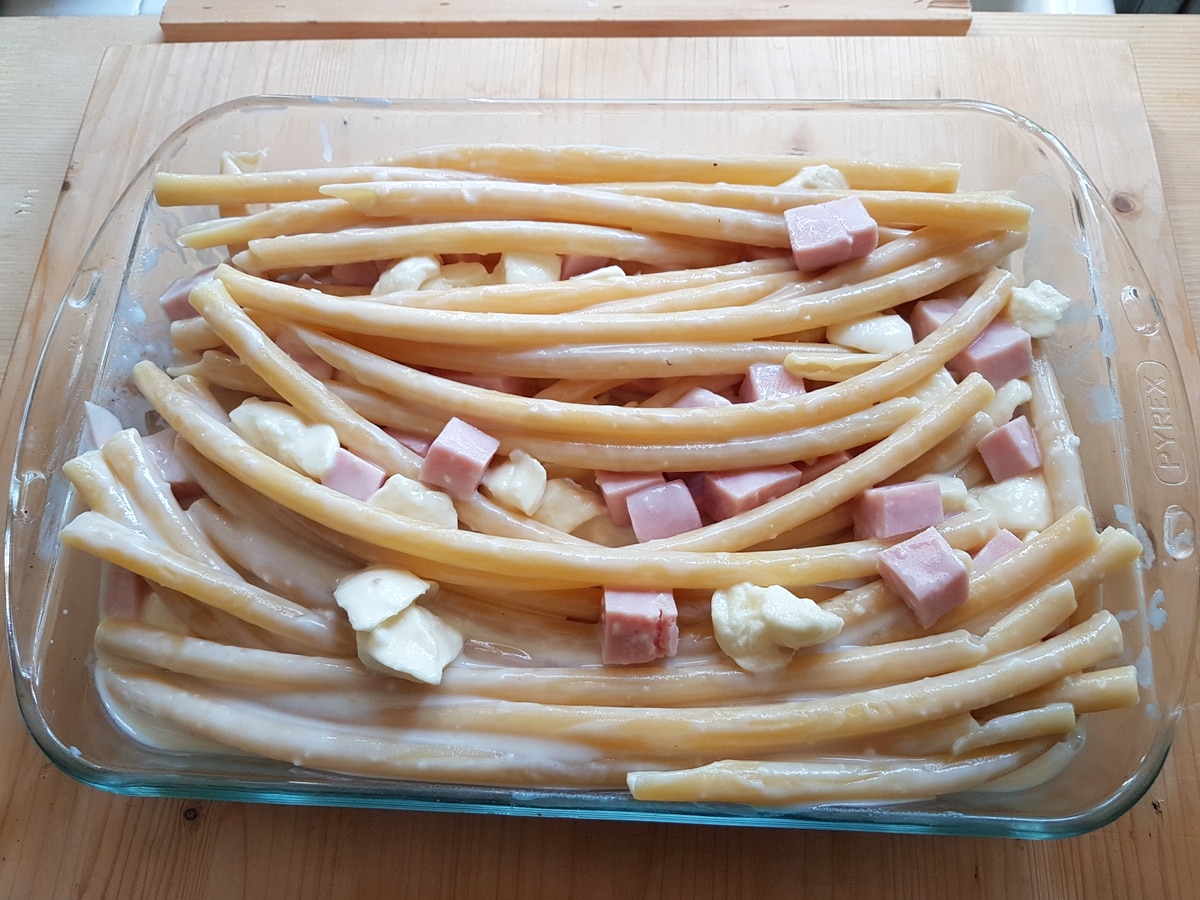 The Pasta for this recipe.
In Neapolitan dialect the word 'maccheroni' is used to mean pasta in general, although it most often refers to long pasta tubes. For this recipe I used zitoni. These are wide long ziti. In Italy, both ziti and zitoni are traditionally long 25cm dried pasta tubes, similar to giant bucatini. However, it's also possible to buy ready cut short ziti.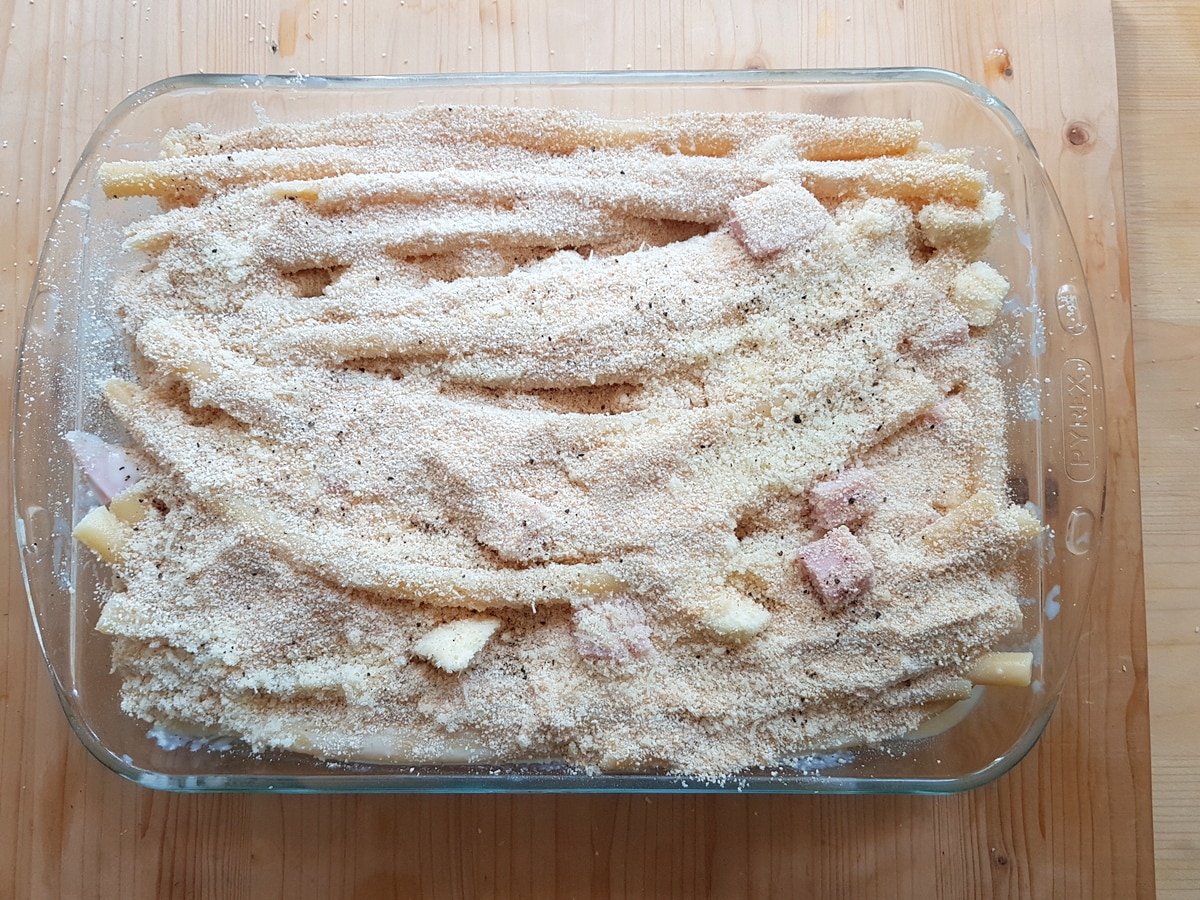 Quintessentially Neapolitan, ziti and zitoni are THE pasta for feasts and holidays in Campania. They are usually broken into halves or pieces by hand before cooking but I decided to bake them whole. If you don't have ziti or zitoni, you can use other pasta tubes such as rigatoni or penne for this recipe or the even longer candele!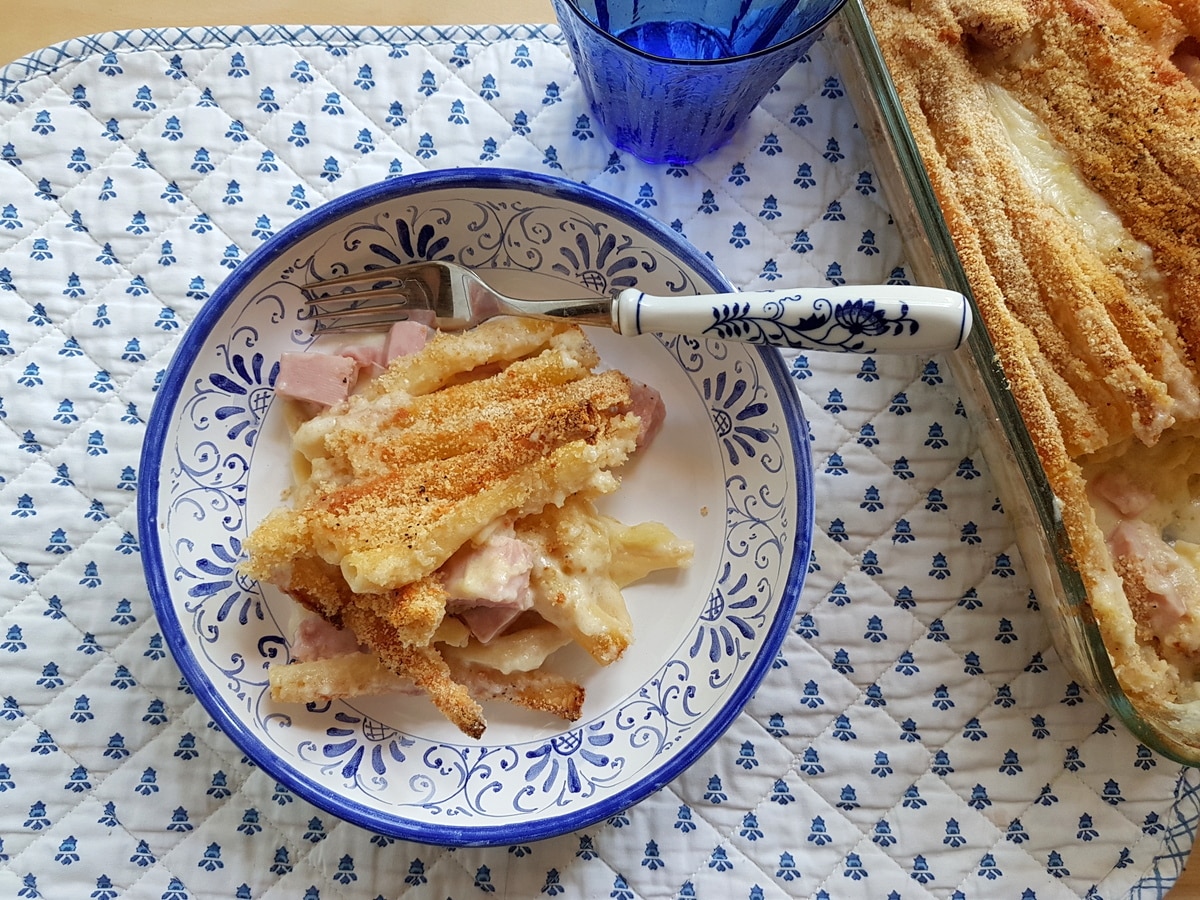 Making this Neapolitan baked pasta al gratin.
This Neapolitan baked pasta al gratin recipe can be made even faster by using ready-made béchamel. But I prefer to make my own. It only takes ten minutes. The other sauce ingredients don't need to be pre-cooked. I kept to a simple version with just mozzarella and ham cut into cubes.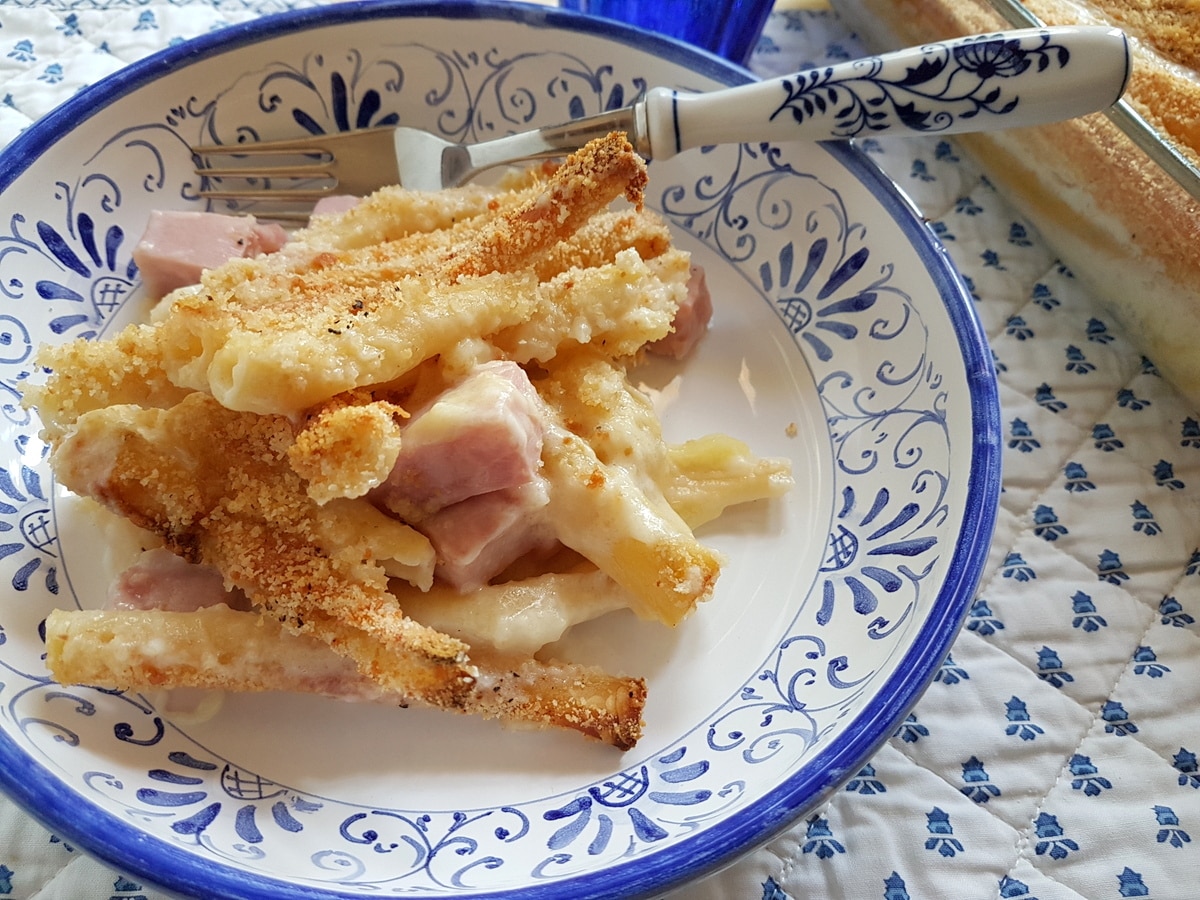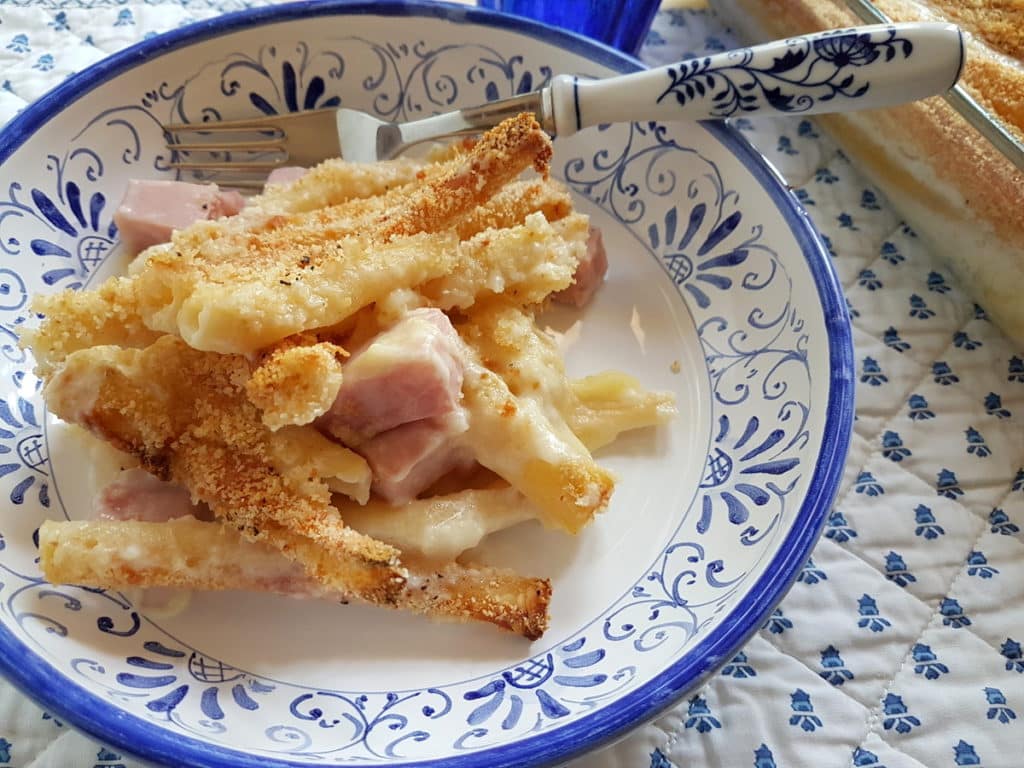 Some versions of Neapolitan baked pasta al gratin include hard boiled eggs and/or others vegetables such as peas. The gratin for this recipe is made with a mixture of grated Parmigiano and breadcrumbs.
The combination of the golden crispy gratin and the creamy, cheesy sauce make this baked ziti al gratin a divinely delicious plate of pasta! It's a winner with kids as well and I'm sure once you try it, it'll become a firm family favourite. It's also a great way to use up leftover holiday ham!
Pin for later!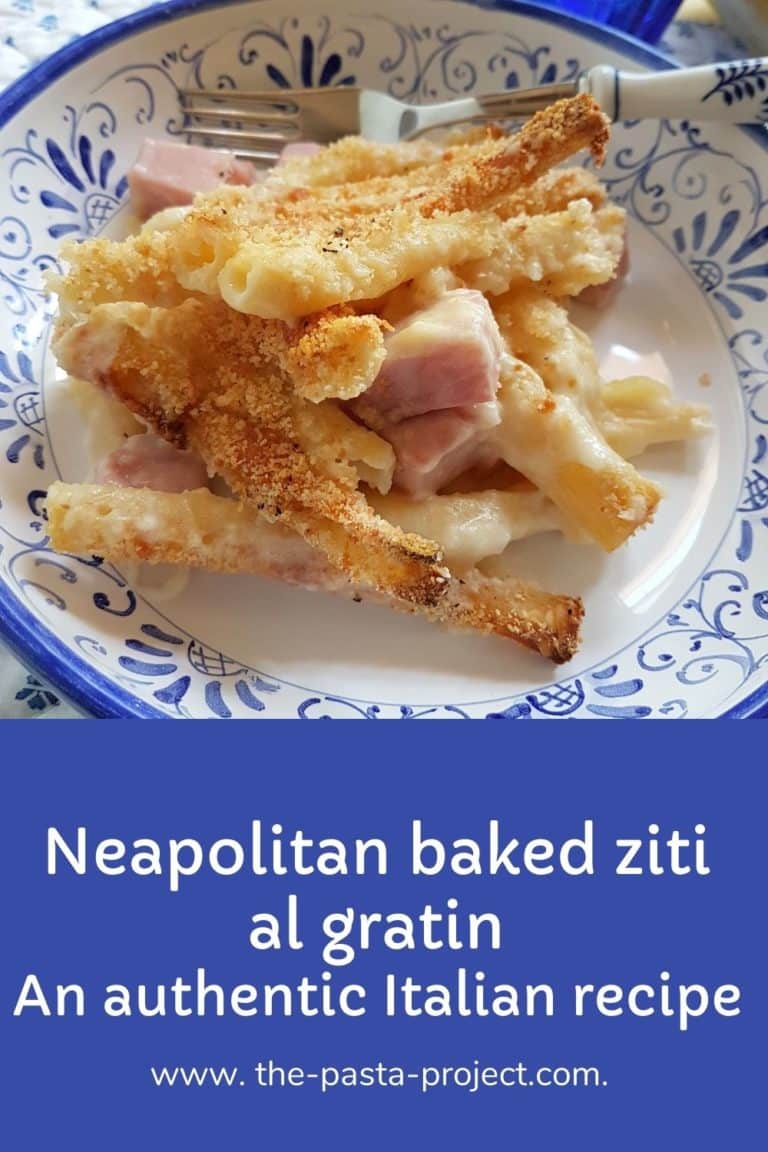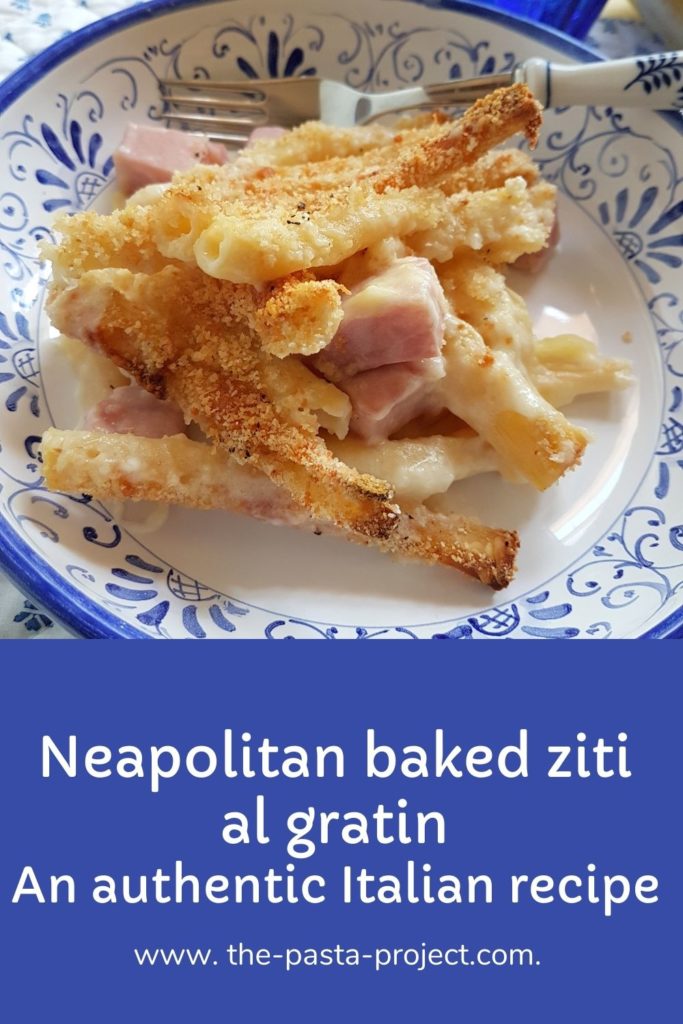 If you make this Neapolitan baked ziti pasta recipe I'd love to hear how it turns out and if you liked it. Please leave a comment here on the blog or on The Pasta Project Facebook page.
Looking forward to hearing from you!
Buon appetito!
Other Italian baked pasta recipes with béchamel to try.
If you are interested in learning how to make homemade pasta and different types of gnocchi, check out my shop page for some great video online courses from my friends in Rome! Nothing beats learning to make pasta from Italians! Plus while you're there why not order a copy of my newly published autumn/winter pasta recipes cookbook!
Save this recipe for later?
If you want to save this recipe for later, you can print it, bookmark this page or save it to Pinterest.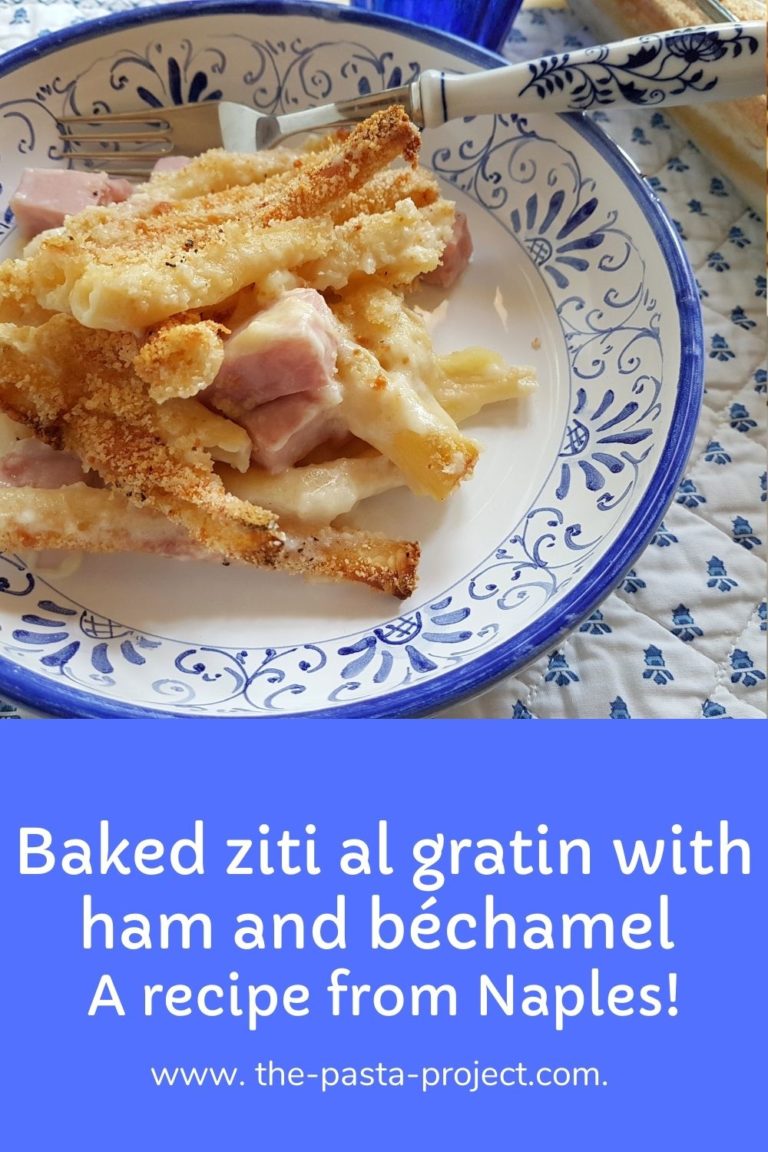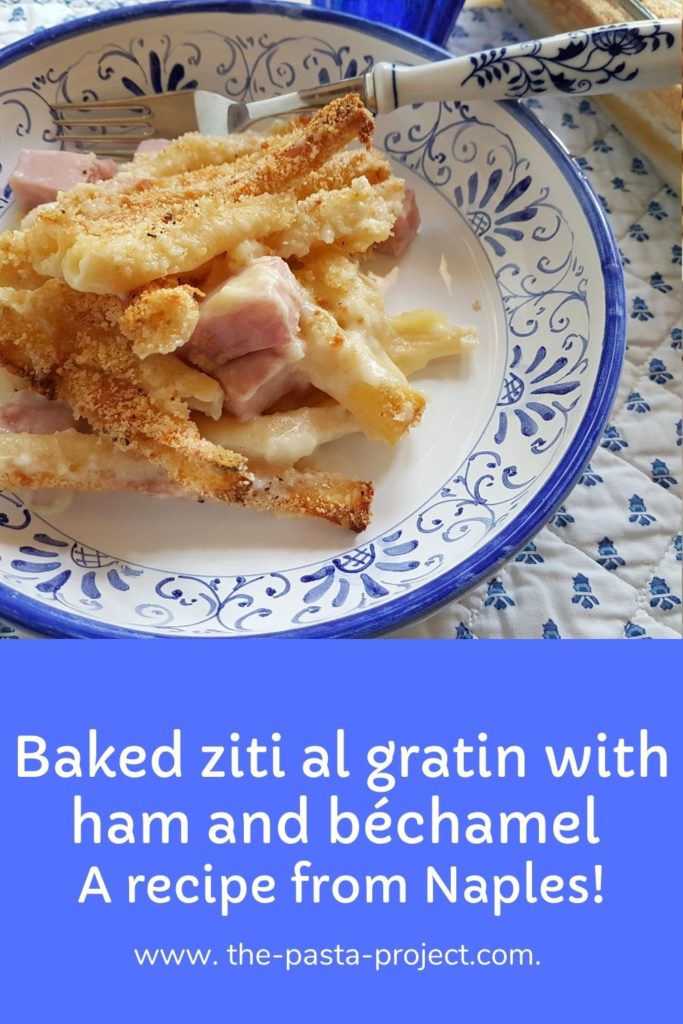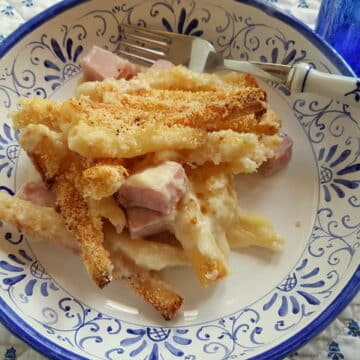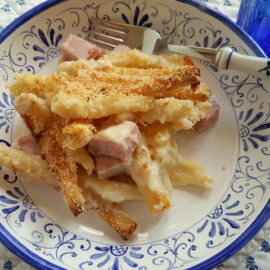 Neapolitan baked ziti pasta al gratin
A traditional Neapolitan baked pasta recipe that is simple to make yet so delicious! A family favourite that's also a great way to use up leftover holiday ham!
Ingredients
320

g

Ziti or Zitoni

(11oz) I used zitoni pasta from Granoro (their Dedicato line)

300

g

mozzarella

(10oz) drained and cut into cubes

300

g

ham

(10oz) thick slices cut into cubes

50

g

butter

(1.5oz)

90

g

Parmigiano

(3oz) grated

1/2

cup

breadcrumbs

salt

to season and for pasta

black pepper

to season
for the béchamel
0.75

lt

milk

(3 cups)

75

g

flour

(2.5 oz)

75

g

butter

(2.5oz)

nutmeg

as required
Instructions
Cut the mozzarella and the ham into cubes
Make the béchamel sauce (white sauce)
Put the butter in a pan over a low heat, melt it, add the flour and mix until it forms a thick paste (roux), then remove it from the heat. At this point slowly add the milk and stir continuously to dissolve the roux without making lumps.

Put the pan on a moderate heat and keep stirring constantly until it starts to simmer and thicken. Lower the flame, wait a couple of minutes, then turn it off.

Add a pinch of salt, pepper and nutmeg, mix it again for a few minutes and then allow it to cool to thicken it further. You can also leave it in the fridge.
Cook the pasta and finish the dish
Put a pot of water on to boil for the pasta. Add salt once it starts to boil and bring to the boil again. Cook the pasta very al dente. (slightly less than the time given on the packet). Drain the pasta and mix it with the béchamel and the mozzarella and ham cubes.

Fill a buttered oven dish with the pasta mixture and sprinkle with the grated Parmigiano and breadcrumbs. Bake for 25 minutes in a preheated oven at 180 degrees (350F) until the top is golden and crispy.

Allow the baked pasta to sit for a few minutes before serving. I like to serve it quite quickly. It won't hold together well as the sauce is creamy! 
Notes
You can use other pasta such as rigatoni, penne or even candele to make this dish. Candele will definitely need to be broken into more manageable pieces. 
If you want to make this recipe faster then ready-made béchamel can be used instead of making it yourself.
This recipe was first published in 2018 but has been updated.