Rigatoni, pasta with ridges.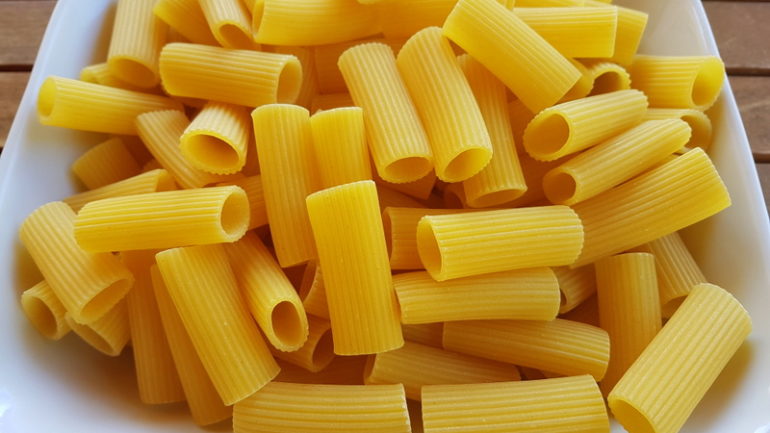 The word rigatoni comes from the Italian word 'rigate' which means ridged, grooved or lined. 'Rigatoncini' are a smaller version, more similar in size to penne.
Rigatoni are a form of tube-shaped pasta of varying lengths and diameters. They are larger than penne, sedani and ziti and sometimes slightly curved, though nowhere near as curved as elbow macaroni. Rigatoni characteristically have ridges down their length, sometimes spiraling around the tube, like elicoidale. And unlike penne, rigatoni's ends are cut square to the tube walls instead of diagonally.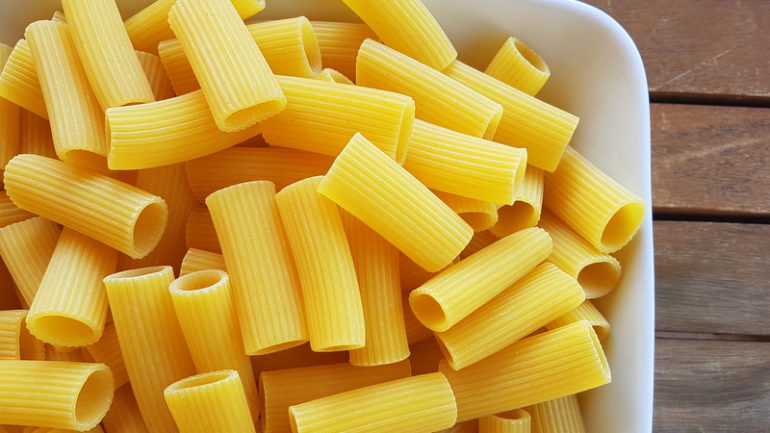 Ridges or grooves in pasta is something that developed after industrialized pasta production started. Homemade pasta, doesn't have ridges! Many Italians believe that the ridges actually make a better surface for sauces and grated cheese to adhere to than smooth pasta like penne lisce. In fact, ridged tubular pasta like rigatoni is ideal with heartier meat sauces and so they are often the pasta used in timballo or classic baked pastas.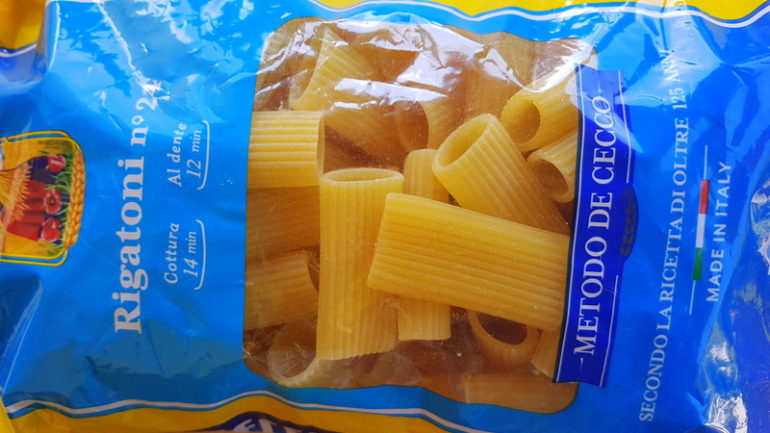 Rigatoni recipes from Rome and Sicily.
Rigatoni were originally most popular in Lazio, especially Rome, where they are the traditional pasta partner for the Roman dish 'la pagliata', or 'pajata' in the local dialect. This very popular with Romans but not so popular with tourists recipe is made with the intestine of a milk fed calf. I have eaten it and it is extremely good but I'm not so sure about cooking it!! Other more appealing Lazio pasta dishes usually made with rigatoni are the light and simple 'alla burina' and the more substantial 'alla zozzona'.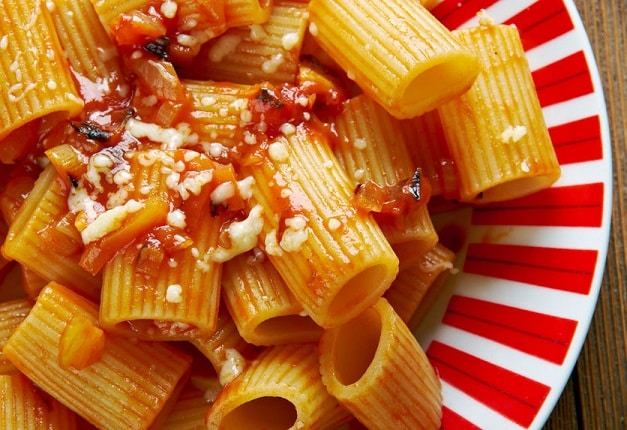 However, rigatoni also became a particular favorite pasta shape in the south of Italy, especially in Sicily, where it is used in many typical dishes such as 'alla Norma' (named after Bellini's opera Norma), pasta'ncaciata alla siciliana' (made famous by the books and TV series about Commissario Montalbano) and 'Il Taganu or Tagano di Aragona' from Agrigento, which is traditionally prepared on Easter Saturday and eaten on Easter Monday. In the past, this interesting dish was cooked in a clay jar which was then broken at the end of cooking, to serve the dish. Today, this rich and super nutritious dish is cooked in a terracotta pan. I am waiting for some cooler weather to try this dish out, as it's a bit heavy for the hot summer days we are experiencing now.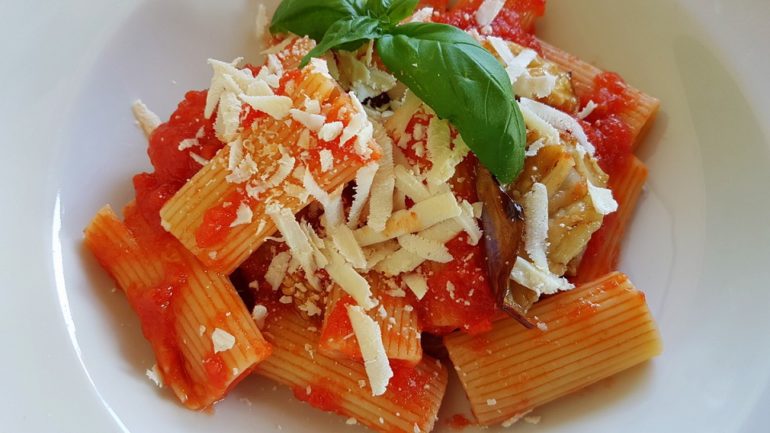 Another rigatoni dish which I am dying to make is 'Il Vesuvio di Rigatoni' created by Alfonso Laccarino, the chef at two Michelin star restaurant Don Alfonso 1890 on the Amalfi coast. 'Il Vesuvio di Rigatoni' has become a great classic of Mediterranean cuisine and is a classic example of the transformation of a traditional family dish, baked pasta, into haute cuisine. However, it's quite complicated to make so I'm working my way up to it!
The first recipe I have posted for rigatoni is 'alla Norma'. The fact that my hubby is Sicilian made this a given. However, as I mentioned above, there are a number of delicious traditional recipes for this pasta, especially from Lazio and Sicily, so more rigatoni recipes will be added in the not too distant future.