Sausage Rigatoni alla Zozzona Recipe from Rome.
Sausage rigatoni alla Zozzona is a traditional pasta recipe from Rome that Romans make to use up leftovers of typical local ingredients. It's easy to put together and substantial enough to be a meal on its own.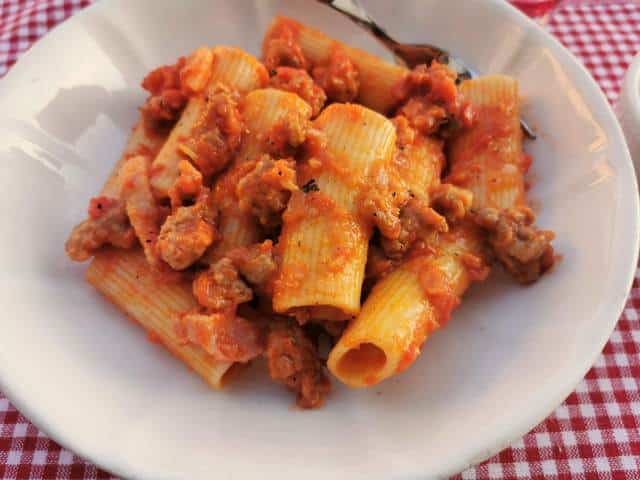 Rigatoni alla Zozzona.
The traditional cuisine in Rome and the rest of Lazio is filling and hearty. It's based on ingredients produced in the surrounding countryside and the popular belief that servings needs to be abundant to feed a population that once worked in the fields!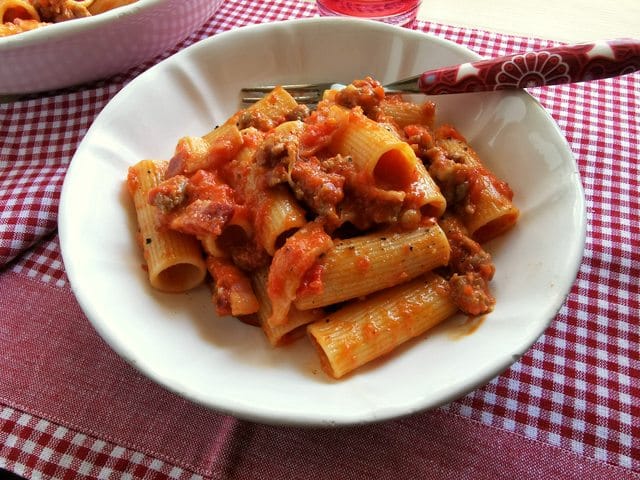 Pasta is a mainstay of the Roman diet and there are many well-known pasta recipes from this part of Italy. Spaghetti alla Carbonara, Amatriciana and Cacio e Pepe have all gained immense popularity throughout Italy and abroad. Although, as we know, many overseas versions of carbonara aren't quite the same as the authentic Italian recipe!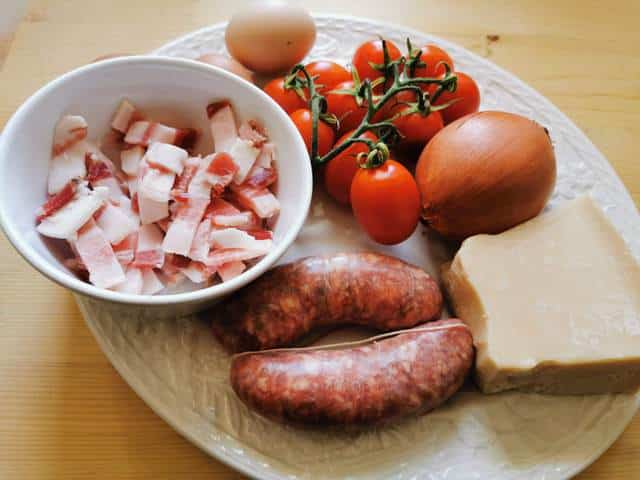 There are also a lot of typical Roman pasta recipes that aren't as well-known outside of Italy. But, they are just as delicious as those mentioned above. Pasta alla Gricia, which is like Amatriciana without tomatoes, and creamy pasta alla Papalina with ham are two that come to mind (links below). This sausage rigatoni alla Zozzona falls into this second category.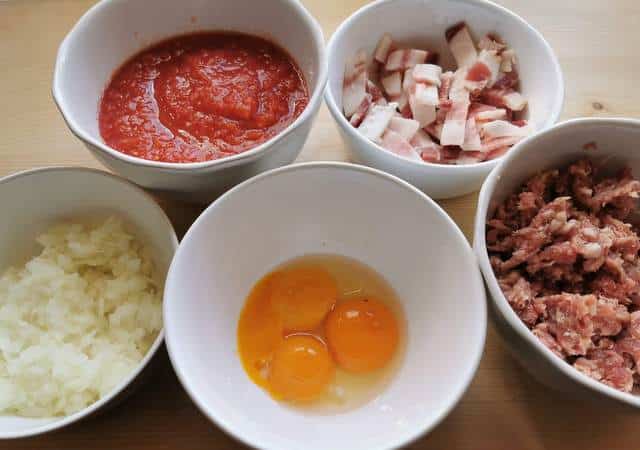 What's in sausage rigatoni alla Zozzona?
Like other pasta recipes from Lazio, rigatoni alla Zozzona is a filling and hearty recipe and made with frequently used typical ingredients. In this case, guanciale, tomatoes, eggs, Pecorino and sausage. In fact, many of Rome's favourite pasta recipes make use of the same ingredients.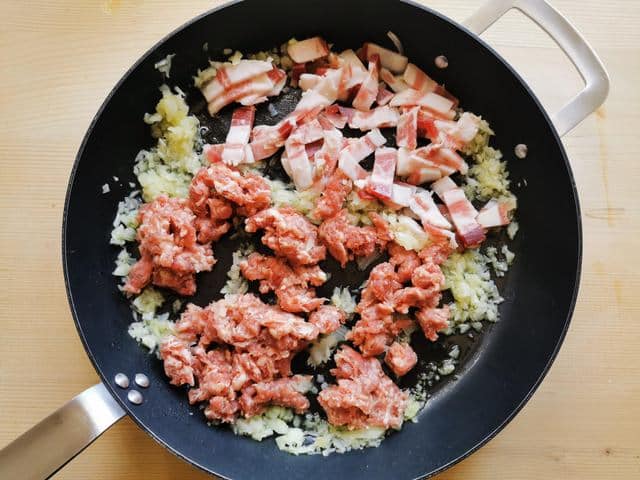 Guanciale (pork cheek) or, if not available, pancetta goes into Carbonara and Amatriciana. Raw eggs are mixed into the dish before serving in Carbonara and alla Papalina. And, pecorino Romano is the cheese of choice for the majority of Lazio pasta recipes, especially cacio e pepe!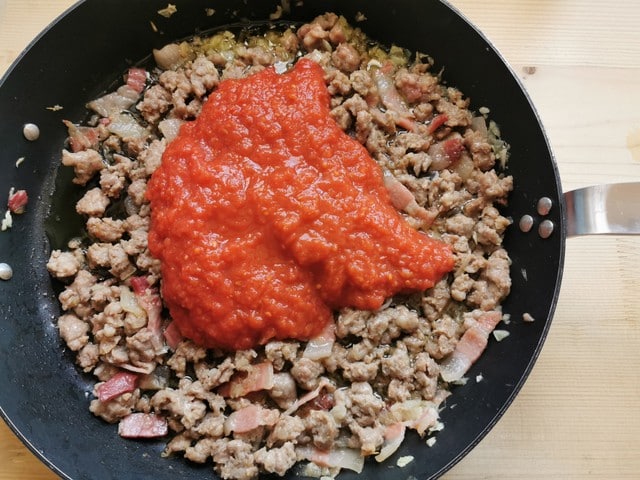 The only ingredient in pasta alla Zozzona that doesn't appear in the other classic Roman recipes I have mentioned is sausage. However, almost every Italian region makes use of pork sausage in pasta sauces and Lazio is no exception.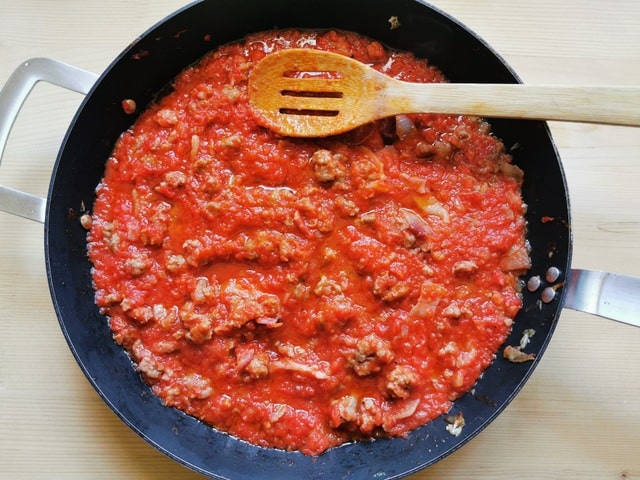 What does Zozzona mean?
In Rome, the term 'zozzo' in the context of food refers to something particularly rich, substantial, fatty, succulent and above all calorific. So, this is not a light plate of pasta. But, it is definitely a flavourful winner for those who like hearty dishes! For Italians, it's also a recipe that can be thrown together with ingredients that most have in their fridge, freezer or larder. It is often made to use up leftovers of those ingredients.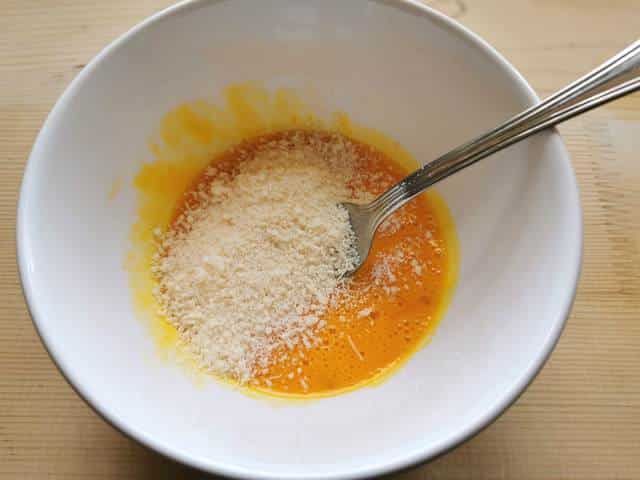 Where to eat sausage rigatoni alla Zozzona in Rome.
If you visit Rome, you are unlikely to find sausage rigatoni alla zozzona in fancy restaurants. However, you will find it in the traditional trattorias of Trastevere or, even better, the fraschette taverns in the Castelli Romani area. The Castelli Romani is an area outside of Rome that incorporates 17 towns including Frascati, which is where many believe the origin of the name of these typical taverns comes from.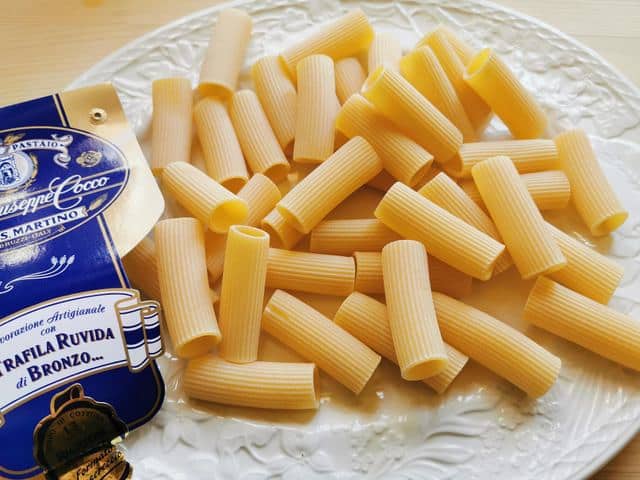 Fraschette were originally places where people went to try new wines. They didn't have kitchens, but served the wine with just bread and maybe cheese. Sometimes customers brought their own food with them and only asked for wine. Over time, stands selling food began to appear in front of the fraschette.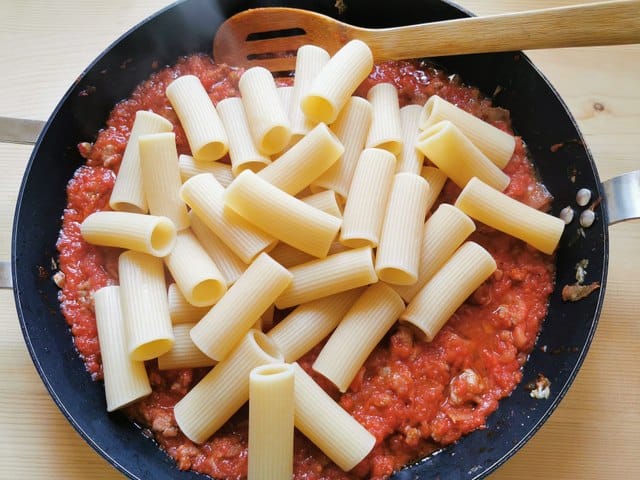 Nowadays, fraschette are more like normal restaurants but they serve mostly traditional Roman fare including porchetta, a typical local roasted pork, and pasta dishes like this sausage rigatoni alla zozzona. However, there's also a restaurant in the centre of Rome called Lo Zozzone that specializes in this dish!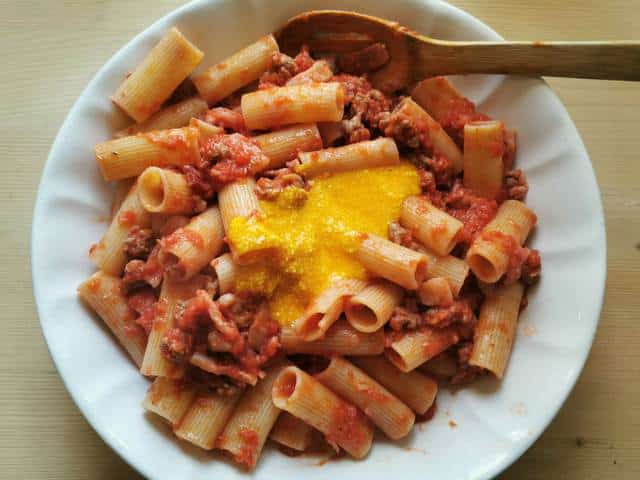 What pasta should you use?
As you can imagine from the name, pasta alla zozzona is traditionally made with rigatoni, a favourite type of pasta in Rome. I used large rigatoni from a company in Abruzzo called Giuseppe Cocco. This was actually only the second time I have used their pasta. But, it won't be the last. I really really like this pasta. It's bronze extruded and made with natural spring water. Sadly, it's not easy to find where I live. In fact, I bought mine when I was passing through Abruzzo last year. But, I know this company exports to US and US readers can buy it online from https://www.supermarketitaly.com/ . I'm not sure where else they export to.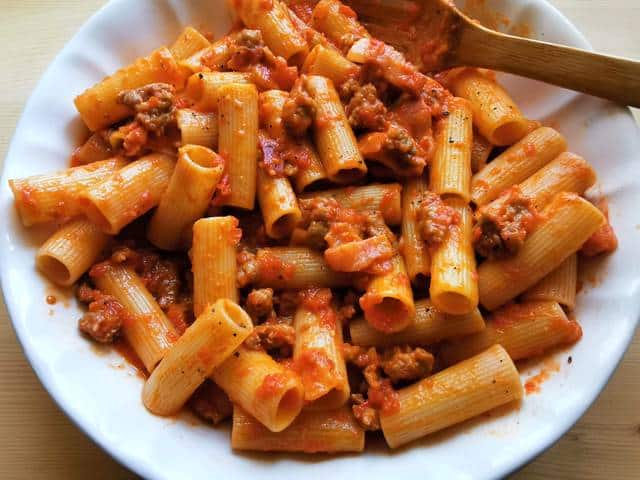 If you don't have rigatoni; then another largish pasta tube such as tortiglioni or pennoni or even smaller penne, fusilli, sedani, mezze maniche or elicoidale would work well too. There are SO many types of Italian pasta tubes to choose from!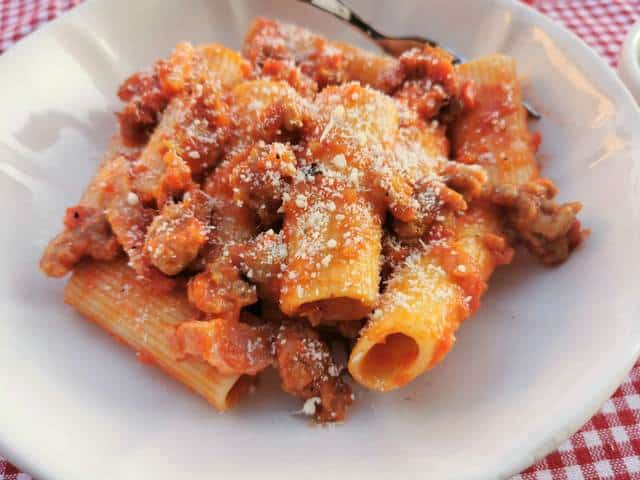 The other ingredients you need for sausage rigatoni alla Zozzona.
As I mentioned above, this sausage pasta recipe is made with guanciale (pork cheek). But, you can make it with pancetta. The other ingredients are Italian pork sausages, egg yolks, grated Pecorino Romano, sauce tomatoes or tomato passata and an onion. Some versions I came across in my research didn't include onion, but I did. I also found recipes that included a little milk when mixing the egg yolks with the Pecorino. I made this dish without milk.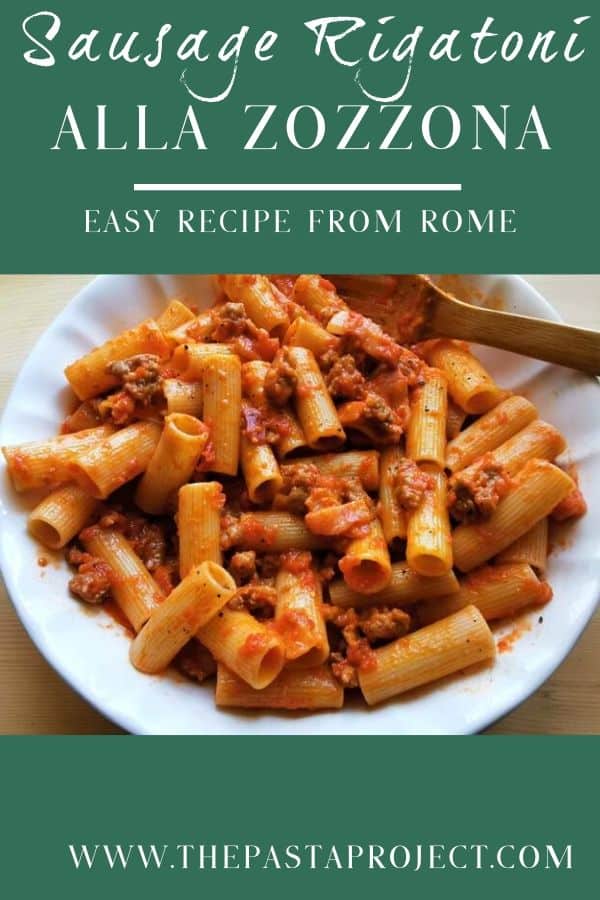 For the sausages, I would suggest very simple pork sausages made without added herbs or spices except salt and pepper. Italian sausages with fennel would change the taste of the finished dish. But, I think those with rosemary would be very good too.
A great weeknight family meal.
This sausage rigatoni alla Zozzona is a great family meal weeknight recipe. Plus, it doesn't take long to put together. In fact, the sauce can be ready in the time it takes you to boil the water and cook the pasta!
Pin for later.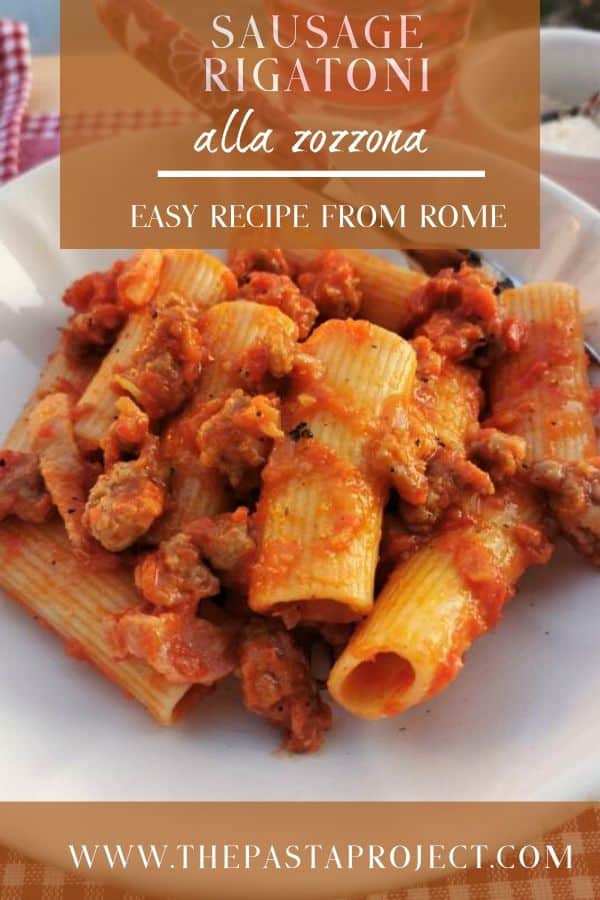 If you do try this sausage pasta recipe, I'd love to hear what you think. Please write a comment here on the blog or post a comment on the Pasta Project Facebook page.
Your feedback means a lot to me!
Buon Appetito!
Other traditional Roman pasta recipes to try.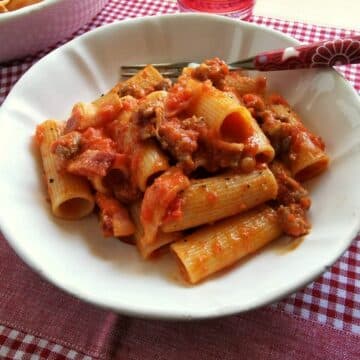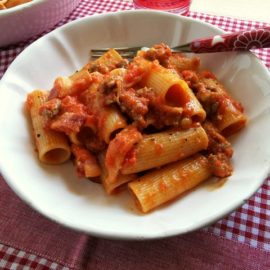 Sausage Rigatoni alla Zozzona
This sausage rigatoni alla Zozzona from Rome is a great family weeknight meal recipe. It's hearty and filling and easy to make.
Ingredients
320

g

rigatoni

(12oz) or other type of pasta tube

2-3

Italian pork sausages

skins removed

200

g

pork cheek (guanciale)

(7oz) or pancetta cut into cubes

450

g

tomato passata

(1lb) or peeled tomatoes

1

onion

peeled and finely chopped

3

egg yolks

100

g

Pecorino Romano

(3.5oz)

salt

for pasta and taste

ground black pepper
Instructions
Peel and chop the onion finely. Remove the sausage meat from the skin and chop or break into small pieces. Cut the guanciale or pancetta into small cubes or lardons. If using fresh tomatoes, blanch them in boiling water, peel and cut into quarters.

Fry the onion in olive oil until it starts to become translucent. Then add the sausage meat and the guanciale/pancetta. When the guanciale and sausage has started to brown add the tomatoes/tomato passata. Simmer for 10-15 minutes. Add salt and pepper to taste.

While the sauce is cooking boil the water for the pasta. Add salt once it starts to boil and bring to the boil again. Cook the pasta al dente according to the instructions on the packet.  When the pasta is ready, save a little of the cooking water and drain.

Beat the egg yolk with a fork and add pepper and a couple of tablespoons of pecorino, mix well.

Add the pasta to the pan with the sauce and sauté for a couple of minutes. Remove the pan from the heat or move the pasta and sauce to a serving bowl and add the egg yolks and cheese. Mix everything together well. Serve immediately with some more Pecorino and black pepper as required.
Notes
It's important to add the egg yolks and cheese OFF THE HEAT, otherwise the eggs will scramble. Mix everything together well immediately and serve. Leftovers are delicious baked with some slices of mozzarella on top.This recipe is traditionally made with rigatoni but you can use other types of pasta tubes such as large or small penne, tortiglioni, fusilli etc
Nutrition
Calories:
993
kcal
Carbohydrates:
74
g
Protein:
34
g
Fat:
62
g
Saturated Fat:
25
g
Polyunsaturated Fat:
3
g
Monounsaturated Fat:
10
g
Cholesterol:
257
mg
Sodium:
1079
mg
Potassium:
855
mg
Fiber:
5
g
Sugar:
9
g
Vitamin A:
873
IU
Vitamin C:
15
mg
Calcium:
334
mg
Iron:
4
mg