Abruzzo; home to the purest form of Italian food.
Abruzzo is located on the Adriatic coast in Central Italy. Because much of inland Abruzzo is mountainous and covered in National parks, the region was relatively isolated up until the 20th century. As a result, Abruzzo still remains fairly unspoiled with lots of ancient villages, monasteries and castles. This 'isolation' has also meant that the Abruzzese people have maintained many traditions and customs without influence from the rest of Italy. Consequently, the cuisine in this region is quite unique and many believe it to be the purest form of Italian food.
Seafood in Abruzzo.
Abruzzo cuisine is very much linked to the land and the sea. Abruzzo and a small area of Puglia are the only parts of the Italian coastline where fishing was done from large platforms built on stilts and jutting out from the shore called 'trabucchi. Most of these are no longer used for fishing but are protected historical constructions.
So, the coastal areas have a great tradition for fish and especially for 'brodetto', a bouillabaisse-type fish soup. This soup is slow-cooked in an earthenware pot, flavored with fresh tomato, herbs and various spices. On the region's northern coast it has a strong flavour because of the use of peperoncino, whilst in the south it is milder.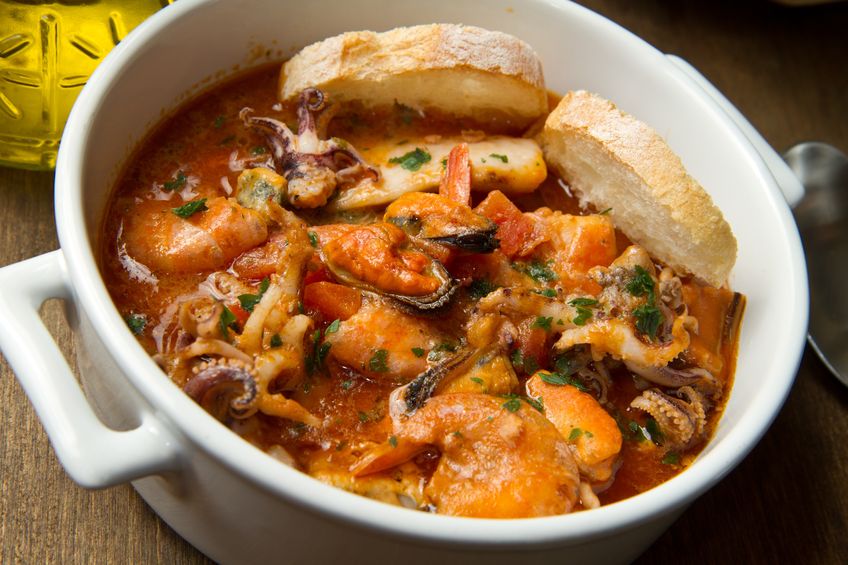 Meat and other produce.
Inland, Abruzzo is historically a land of ancient agricultural and pastoral traditions. So, part of the region's cuisine revolves around fresh seasonal produce, roasted meats, cured pork, aged cheeses and foraged foods such as porcini mushrooms, truffles and chestnuts.
The countryside is dotted with herds of sheep and goats. As a consequence, lamb and kid are the most popular meat. These are often simmered slowly in sauce and served with polenta or pasta. On special occasions large pieces of milk fed lamb are spit roasted. Lamb is also slowly cooked in a sealed clay casserole dish along with olives, lemons, hot peppers and oregano in a dish called 'agnello alle olive'. A very popular street and barbecue food is lamb skewers called 'arrosticini'. These are cooked on a special grill the locals call 'lu fornacell'.
Beef is not so common in this region but many families still raise their own pigs and, as in Calabria, flavorful, lean pork meat and cured meats such as salami are produced from these often free-roaming pigs throughout the region.
L'Aquila Saffron.
Interestingly, Abruzzo is where Navelli saffron, more often called L'Aquila saffron, is grown. This is generally agreed to be one of the very best saffron in the world. Its stigmas are longer, its aroma stronger and its colour deeper than most others. It is also known as the red gold of Abruzzo and sells for more than $200 an ounce! In the area around Aquila, saffron is used in many dishes including a wonderful pasta dish known as 'cannarozzetti allo zafferano' which includes sheep's ricotta, pork cheek and saffron.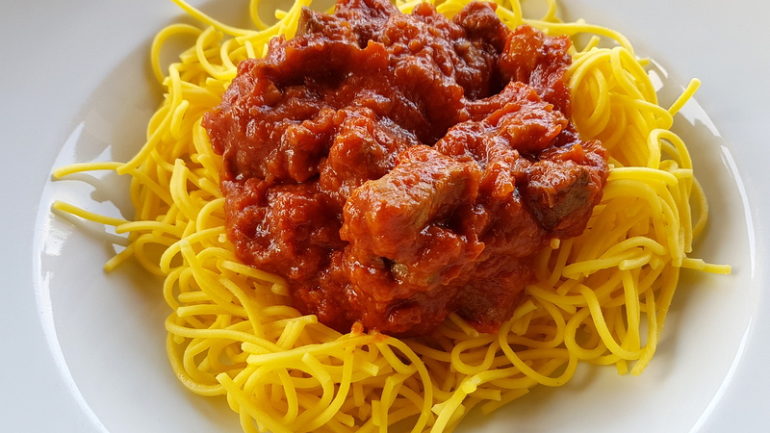 Abruzzese pasta.
As in the rest of Italy, many meals in Abruzzo begin with a pasta course. One of the most well-known types of pasta is 'maccheroni alla chitarra', or guitar pasta. The dough for this pasta is cut into quadrangular strips using a tool resembling an acoustic guitar, hence the name. The pasta is then traditionally served with 4 meat ragu or a lamb and tomato sauce seasoned with peperoncino, garlic and bay leaves or a lamb ragu with sweet peppers. It is also often served with a simple spicy tomato sauce or with pesto Abruzzese which is a spicy pesto made with peperoncino, sun-dried tomatoes, black olives, pecorino and anchovies.
Other regional pasta dishes include Maccheroni alla Molinara, a very long spaghetti kneaded with salt water, and Cannelloni all'Abruzzese, pasta tubes filled with a mixture of ground pork, chicken and veal. 'Sagne e Fagioli', is a typical slow-cooked soup made with beans and simple water and flour noodles called sagne. These are boiled in broth with fresh tomato sauce, garlic, oil and the ubiquitous Abruzzo peperoncino.
Peperoncino rather than cheese!
Like other southern Italians the Abruzzese love spicy dishes! In fact, grated cheese is not as popular on pasta in Abruzzo as it is in other parts of Italy. Instead, the Abruzzese pass around a small bowl of oil, flavored with either dried or fresh peperoncino. In some places you can also sometimes see a whole fresh green chili being passed around with scissors for snipping!
Near the coast seafood pasta is the norm. Dishes worth mentioning (although there are lots more!) are 'spaghetti al cartoccio', a seafood and spaghetti dish which is finished off in the oven wrapped in baking paper and pizzichi di farro, pasta made from farro, an ancient wheat, with calamari, sepia, mussels, clams and scampi.
Some saffron pasta recipes to try.
I have visited Abruzzo only once, so I didn't get to try all the food I wanted too. Still high up on my Abruzzo pasta bucket list is ravioli stuffed with ricotta, sugar and cinnamon and dressed with chunky pork ragu. However, I did see the trabucchi, buy a chitarra, some pasta and some saffron and eat some fantastic seafood and lamb. I have posted some recipes I made with my Navelli saffron. If you like saffron, click the links below. I'm sure you'll want to try one or two!
Buon Appetito!
Pasta with zucchini and saffron