Trescatori Pasta from Abruzzo.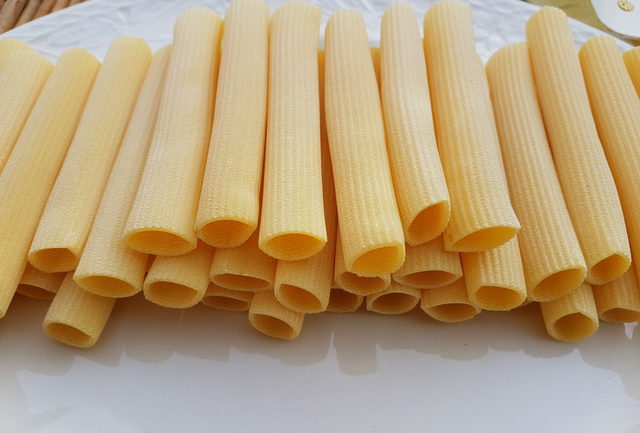 Trescatori is another pasta I bought whilst on holiday in Abruzzo earlier this year. However, after doing some research about this pasta, I could only find it made by a couple of artisan pasta makers in Abruzzo. These pasta makers describe this pasta as being typical of Abruzzo, but so far I haven't been able to find much more about it online. I'm planning to write to those producers to see if they can tell me more and will update this post if I get more info.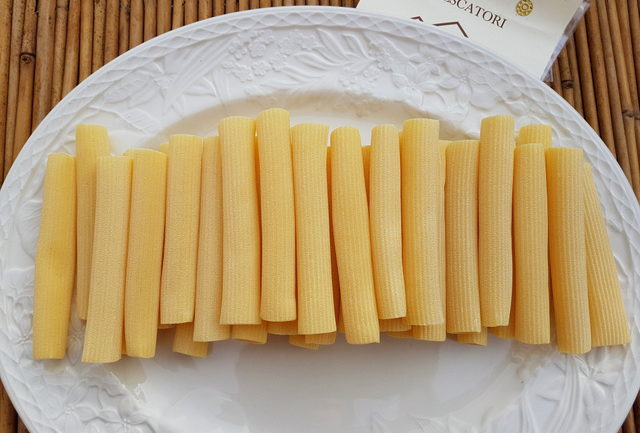 Having said that, I thought this pasta was excellent, actually beyond excellent. The company who makes the packet I used is called Maiella and is located in Abruzzo in the heart of the Maiella (also written Majella) National park at the foot of the Maeilla massif, a group of mountains whose highest peak is Mount Amaro (2,793m).
According to the company info, Maiella make their pasta dough using mountain spring water. The dough is then extruded through bronze dies and then slow dried. Just the way high quality pasta should be made!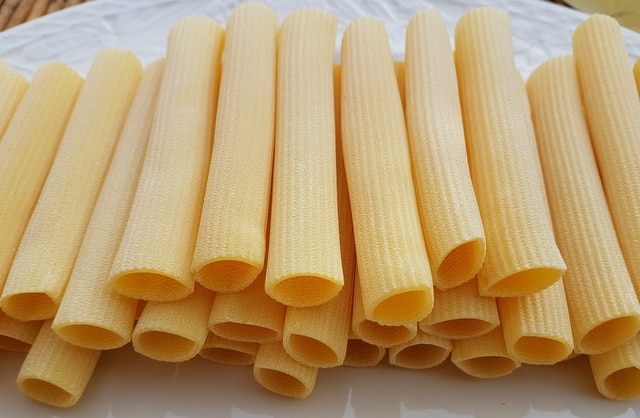 Trescatori rigati look like small grooved candele pasta or large, long, grooved maccheroni. Interestingly, what Italians call maccheroni is not the same as macaroni found in American macaroni and cheese! That pasta is more like Italian 'gomiti' or elbow pasta. The Italian 'maccheroni 'is straight tubular pasta with a square end, although the name 'maccheroni ' is also used to describe some types of long pasta such as maccheroni alla chitarra and a variety of homemade pastas in Southern Italy.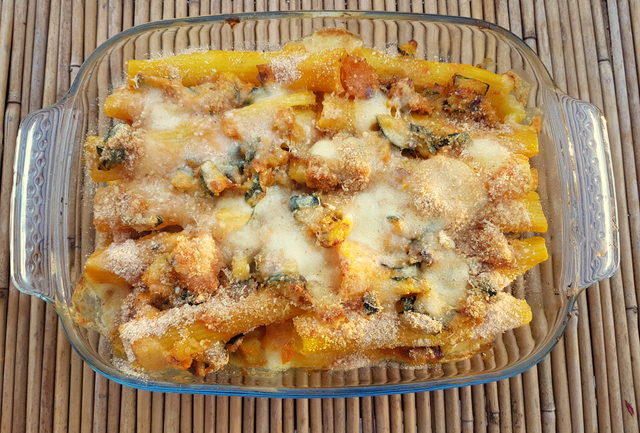 Because this pasta isn't that well known outside of Abruzzo, it's not easy to find. However, there are some Italian online sites that sell it, such as www.abruzzonatural.com, who ship abroad. I have also found a company in UK called Pasta & Truffles that sells other types of pasta by the same pasta maker, Maiella. I couldn't find trescatori on their list but they may be able to get it.
If you find artisan trescatori pasta, buy it!
If you manage to get hold of some trescatori, I would recommend using it in baked pasta recipes such as the baked pasta with pumpkin and zucchini I used it in recently. Of course, delicious pasta dishes can be made with more easily available pasta. But, I guess it's like the difference between homegrown produce and store bought, or the taste of aged Balsamic vinegar as opposed to the cheaper stuff you find in supermarkets. Occasionally, it is great to treat ourselves to ingredients that are going to make our food taste even better!