Cannelloni all'abruzzese 2 ways.
Baked cannelloni has long been a popular pasta dish both here in Italy and abroad. Italians like to serve it on Sundays or holidays. Of course, there are a number of cannelloni recipes originating in different parts of the country. This homemade cannelloni all'abruzzese recipe comes from Abruzzo in Central Italy. There, they typically cook and serve it 2 ways, with or without a tomato sauce. Both ways are seriously delicious and definitely worth trying!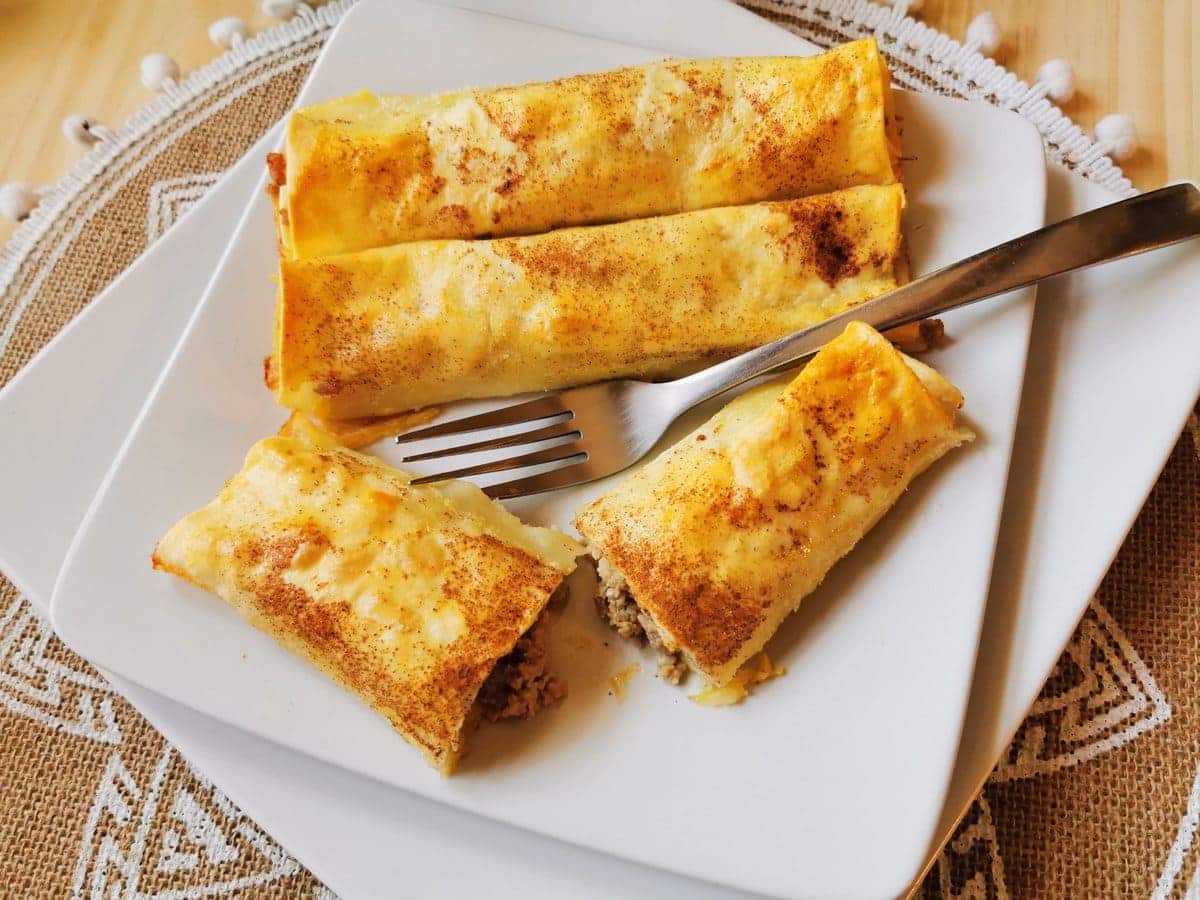 The difference between cannelloni and manicotti.
Here in Italy, we can't find large, ridged pasta tubes called manicotti. It seems that this type of pasta and the name is Italian-American. Instead, the largest pasta tubes on the Italian market are cannelloni. We can buy them dried, but they are usually smooth not ridged.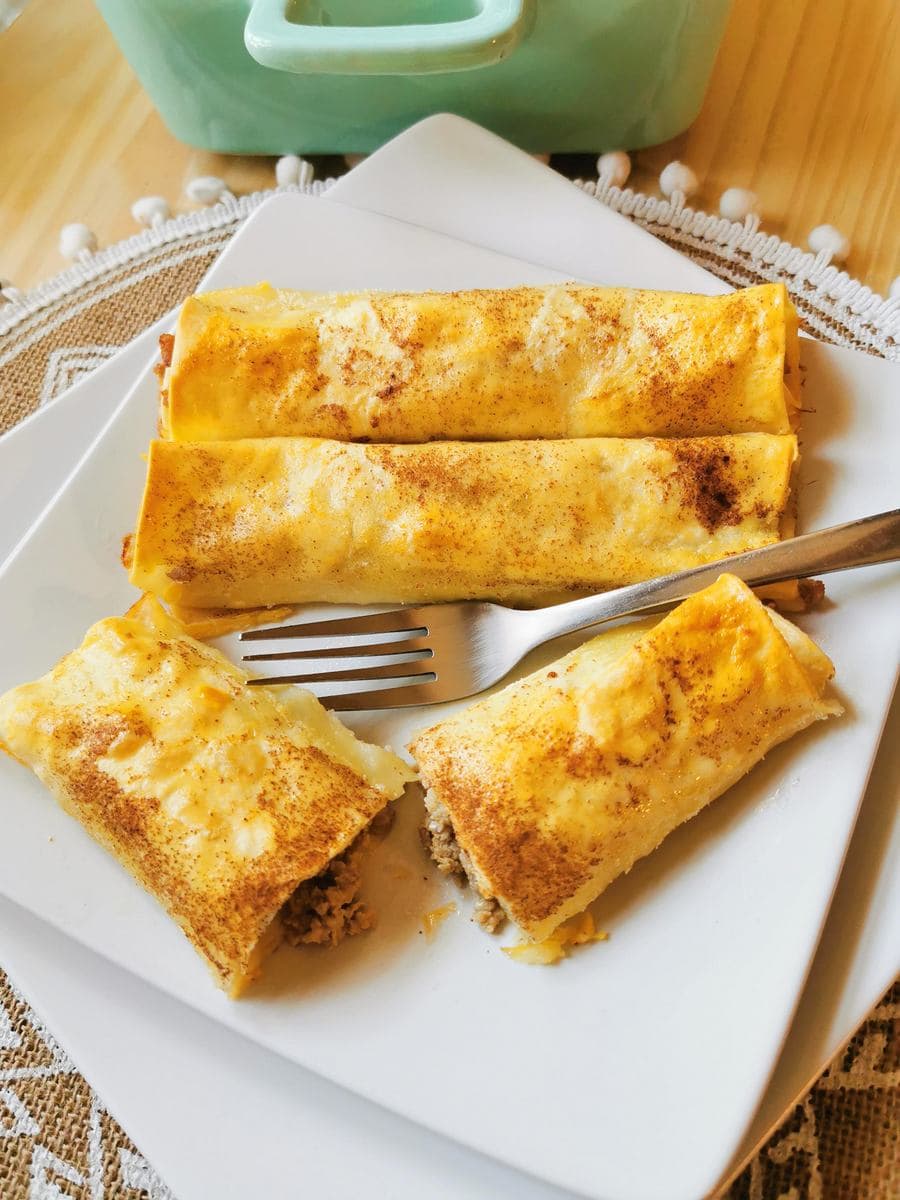 Of course, you can use dried cannelloni or manicotti for most baked cannelloni recipes including this one from Abruzzo. But, many Italian cannelloni recipes actually call for homemade or ready-made fresh pasta sheets which are then rolled around the filling. This is how the first cannelloni tubes were made and is still a traditional way to make them today.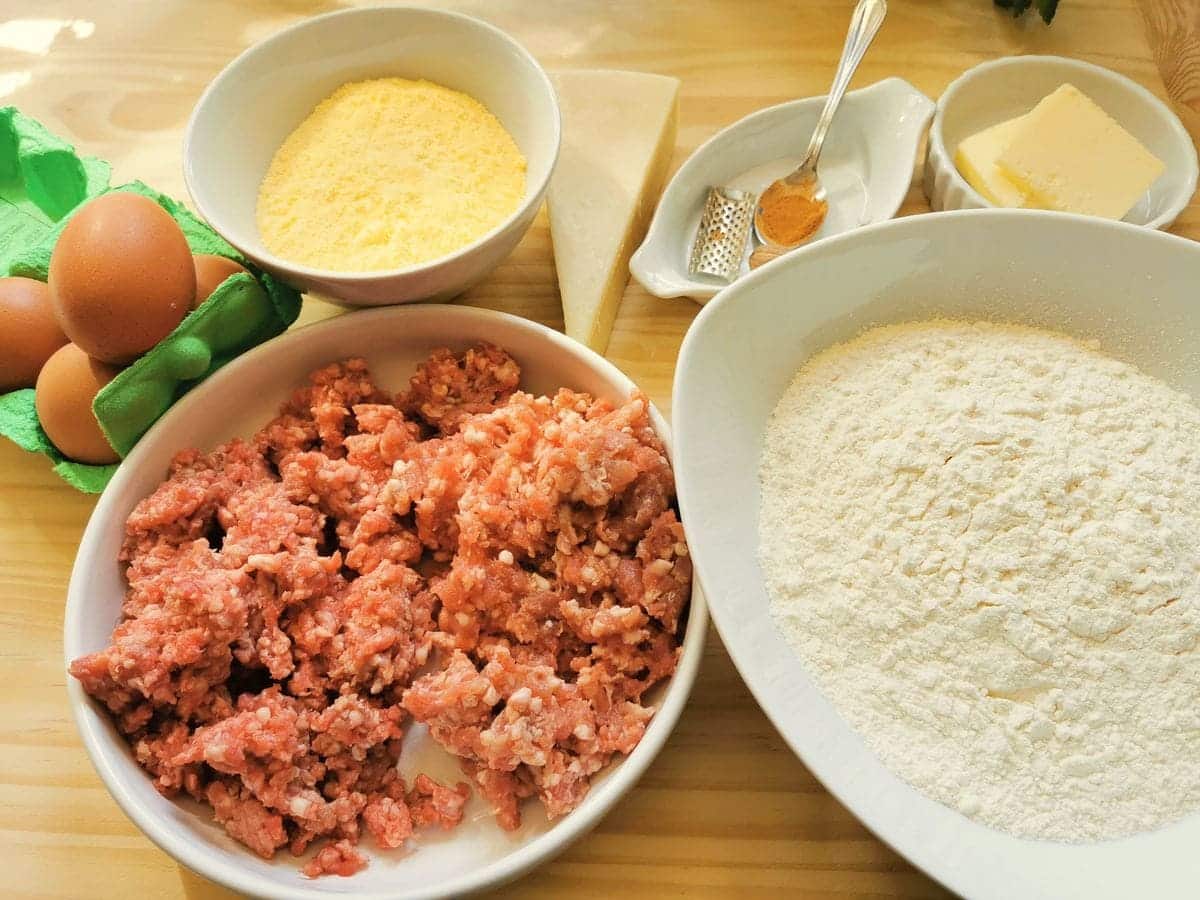 Some cannelloni history.
Like other types of pasta, there are different views among Italian pasta makers and food historians about the origins of cannelloni (rolled up sheets of pasta that are served baked and stuffed). According to some, the first stuffed pasta tubes resembling cannelloni date back to the 18th century.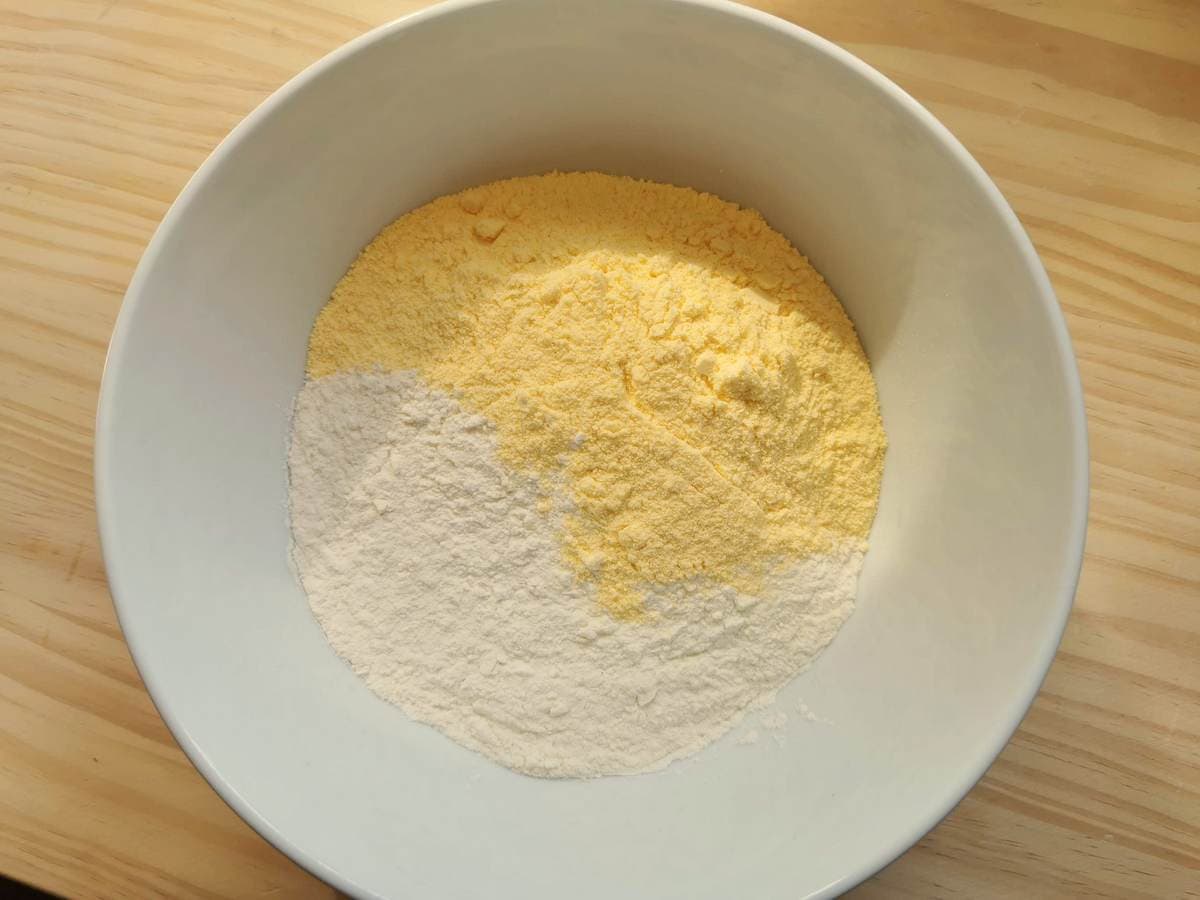 Apparently, the 18th century Neapolitan chef and cookbook author Vincenzo Corrado made a 'pacchero' filled with ground meat and truffles, and cooked in tomato sauce that many consider the prototype of homemade cannelloni and later dried cannelloni or manicotti!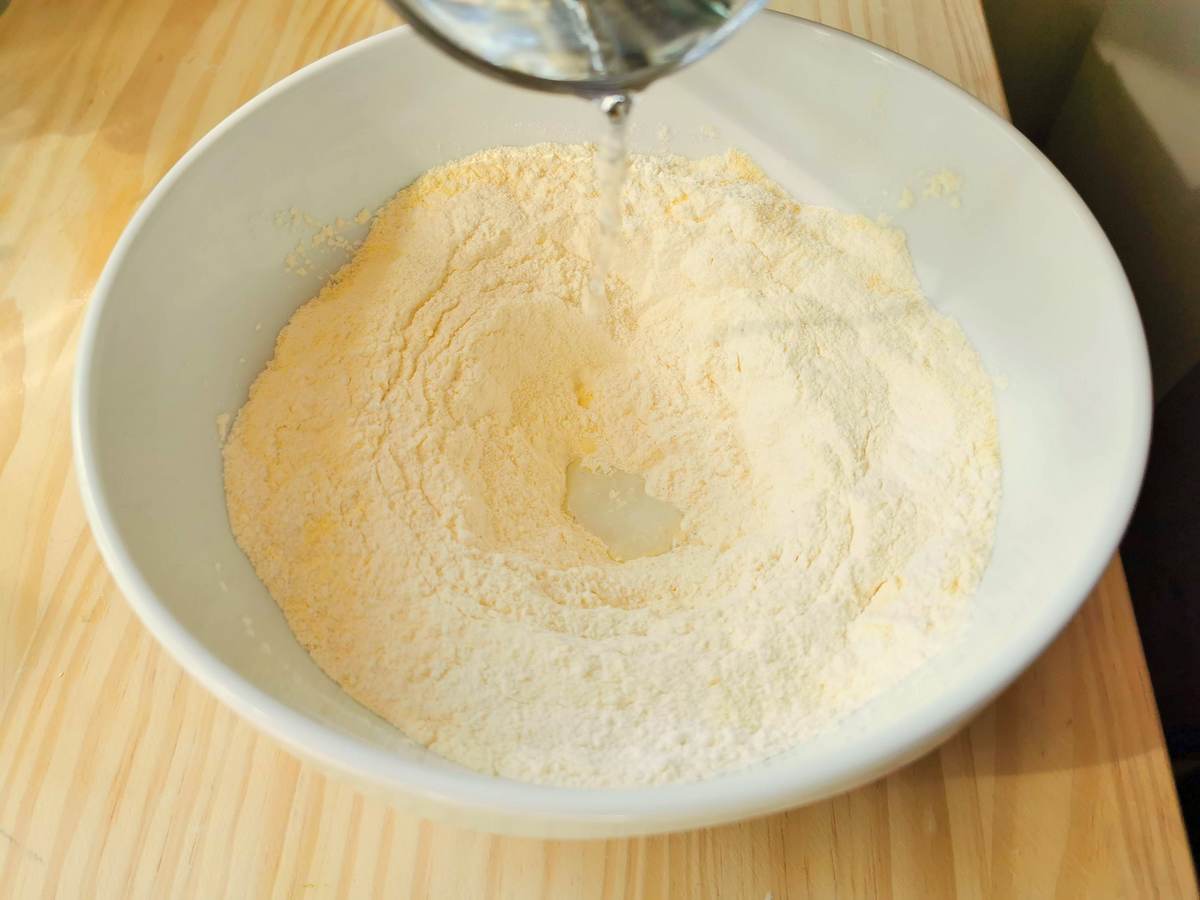 Corrado was the 18th century equivalent to today's celebrity chefs. He was famous for producing sumptuous and elegant banquets at the court in Naples and in 1773 published a cookbook called 'Il Cuoco Galante' (the Gallant Cook) which was defined at the time as a book of haute cuisine.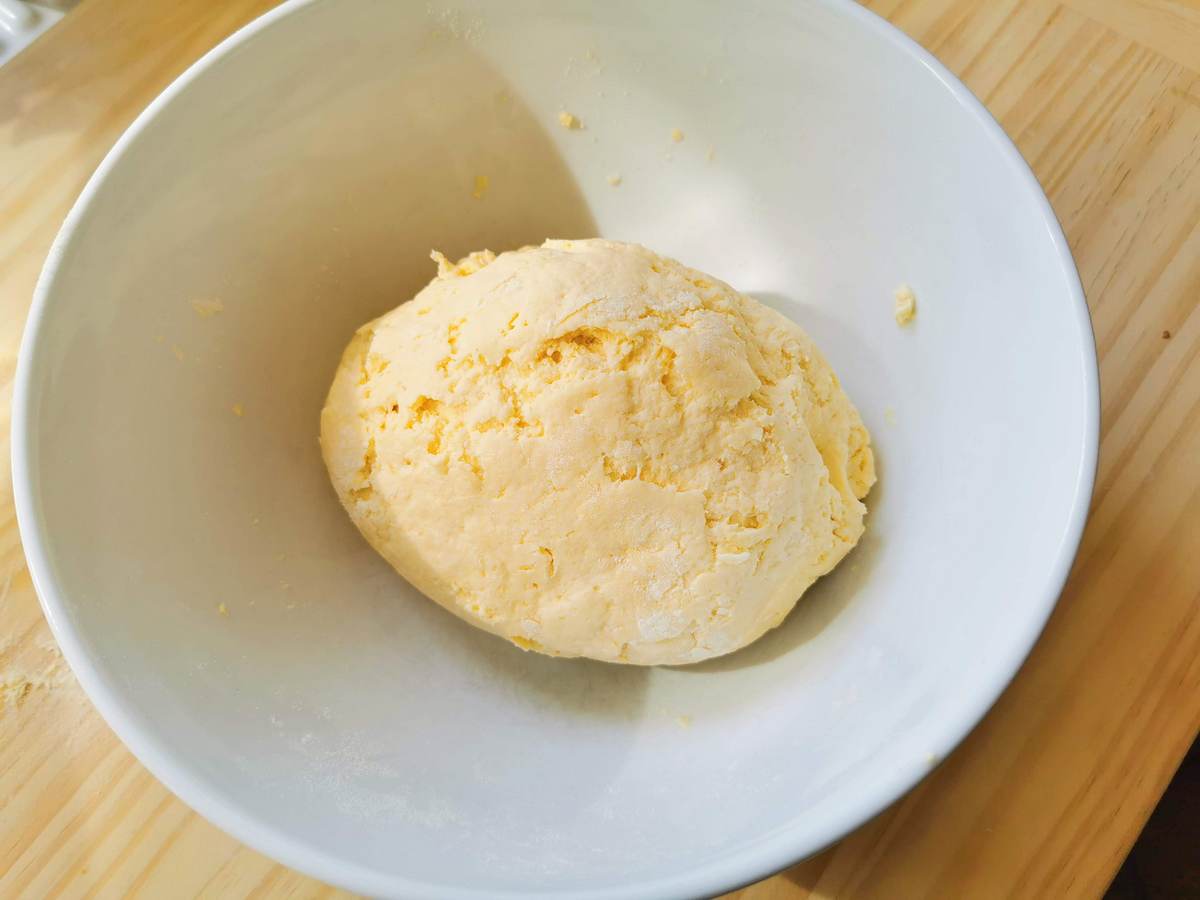 However, there is also a popular belief that homemade cannelloni tubes were invented by a chef in Campania called Salvatore Coletta in 1924. You can read more about the history of this pasta in my cannelloni and manicotti post.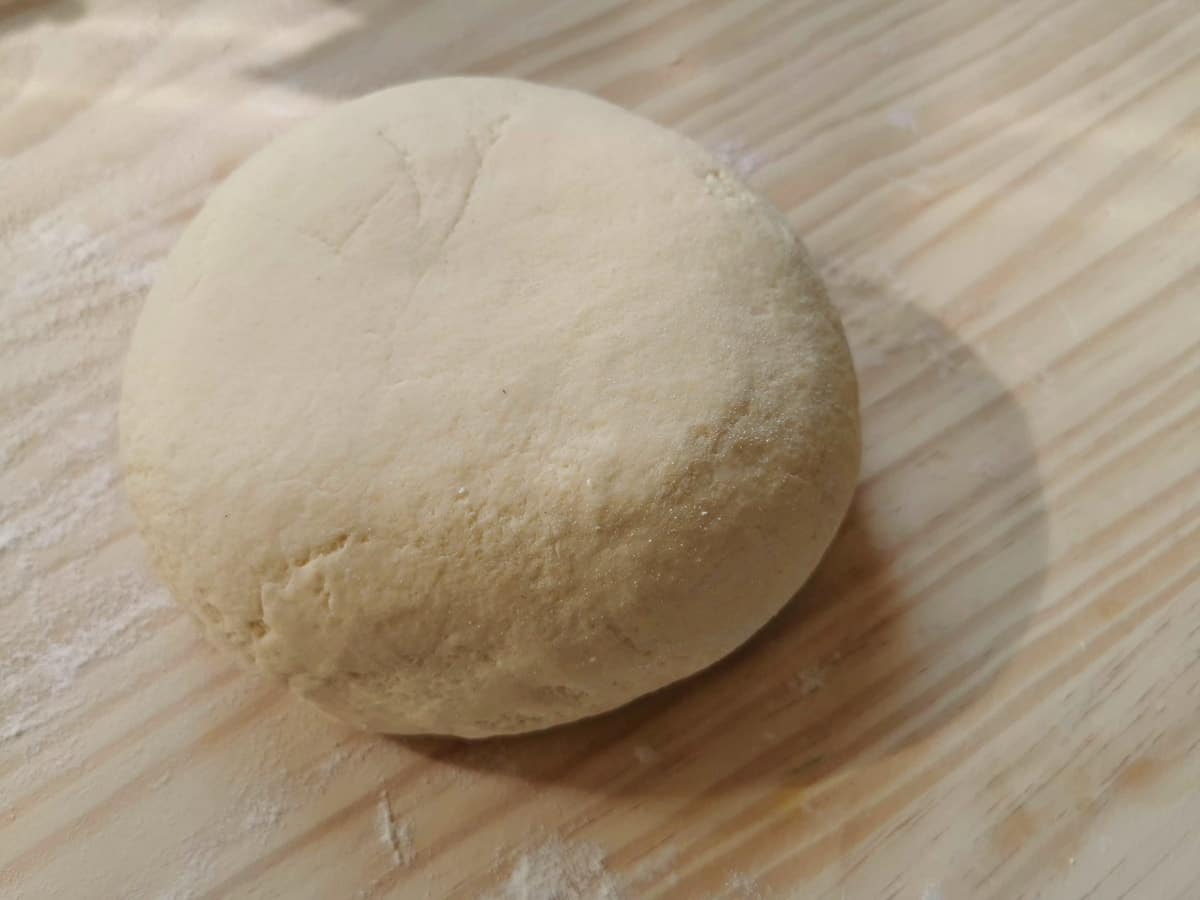 Cannelloni is a 'modern' pasta type.
Whatever the real origins of cannelloni, I find it interesting that these giant pasta tubes are a 'modern' culinary invention. Italians have been baking sheets of flour and water pasta since the times of Ancient Rome. Plus, they have been stuffing fresh egg pasta shapes like tortellini for centuries. But, the concept of rolling pasta sheets into tubes stuffed with a filling is a relatively new idea in comparison. In fact, cannelloni only really became a popular pasta type after World War II.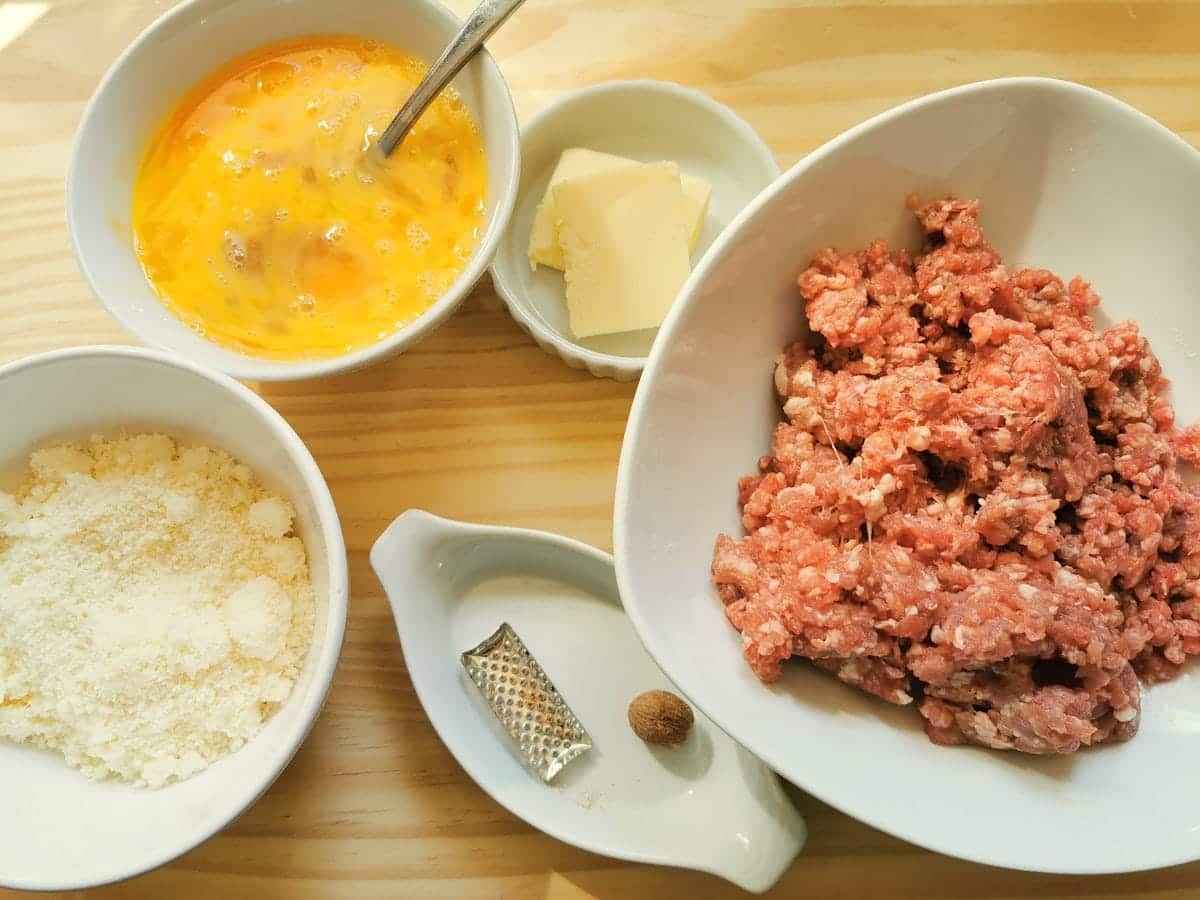 Other baked cannelloni recipes.
Today, you can find quite a few regional versions of baked cannelloni, especially in Central Italy. Italians make many types of cannelloni fillings including different combinations of ground meat or fish or cheese with various greens or herbs.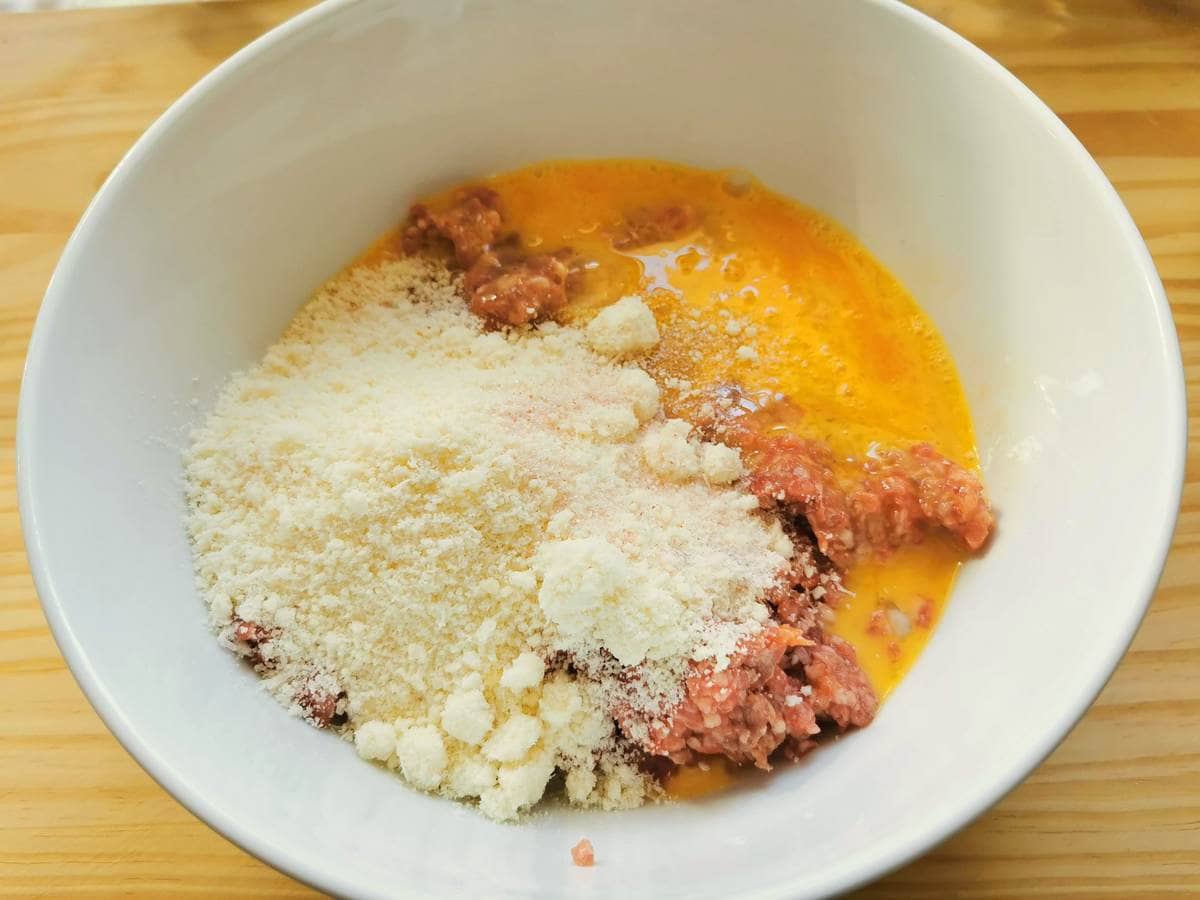 The two most well-known cannelloni recipes are firstly, pasta tubes stuffed with spinach and ricotta and baked in a tomato or béchamel sauce. And, secondly, cannelloni filled with Bolognese and baked in a tomato and/or béchamel.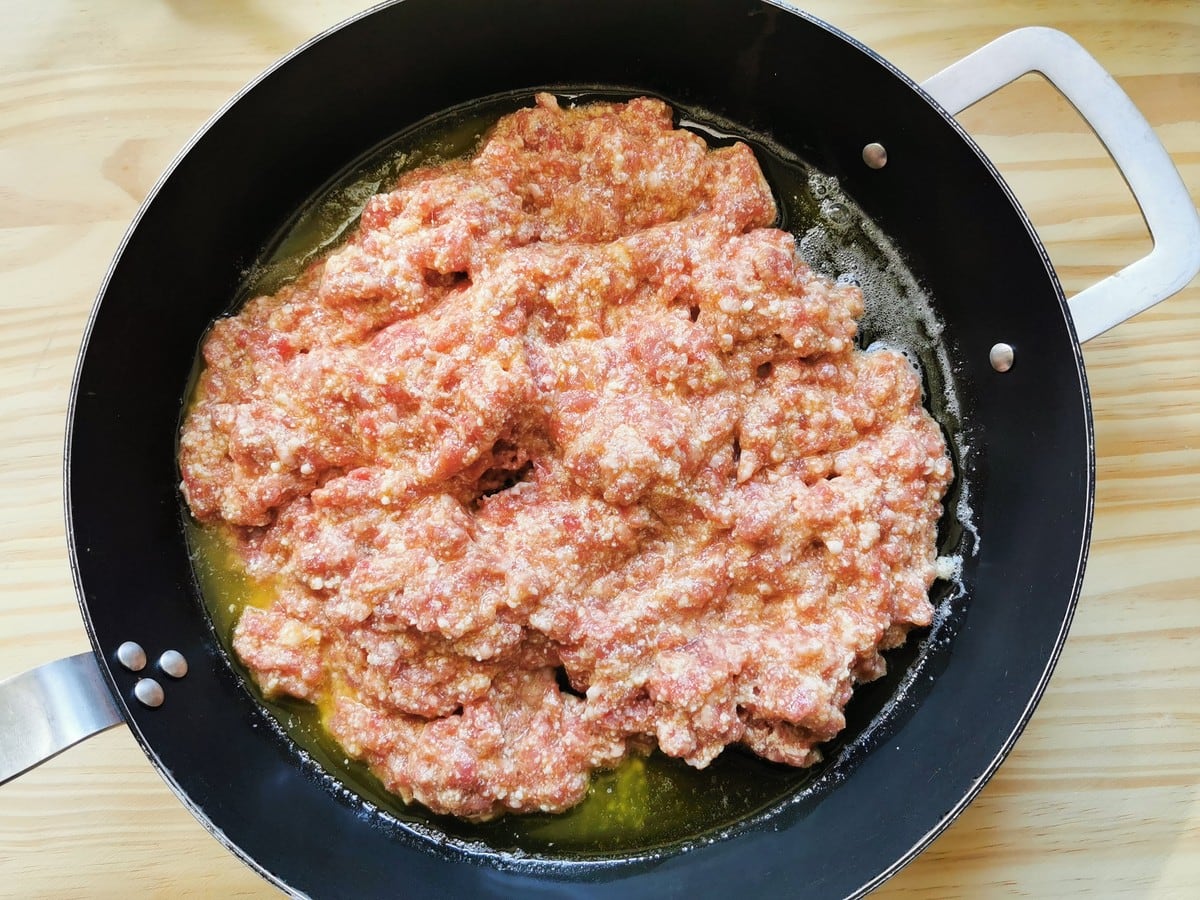 However, many less well-known recipes are equally delicious. On my to-publish list are cannelloni alla Sorrentina which has ricotta in the meat sauce and is similar to this recipe for giant caccavelle pasta shells alla Sorrentina.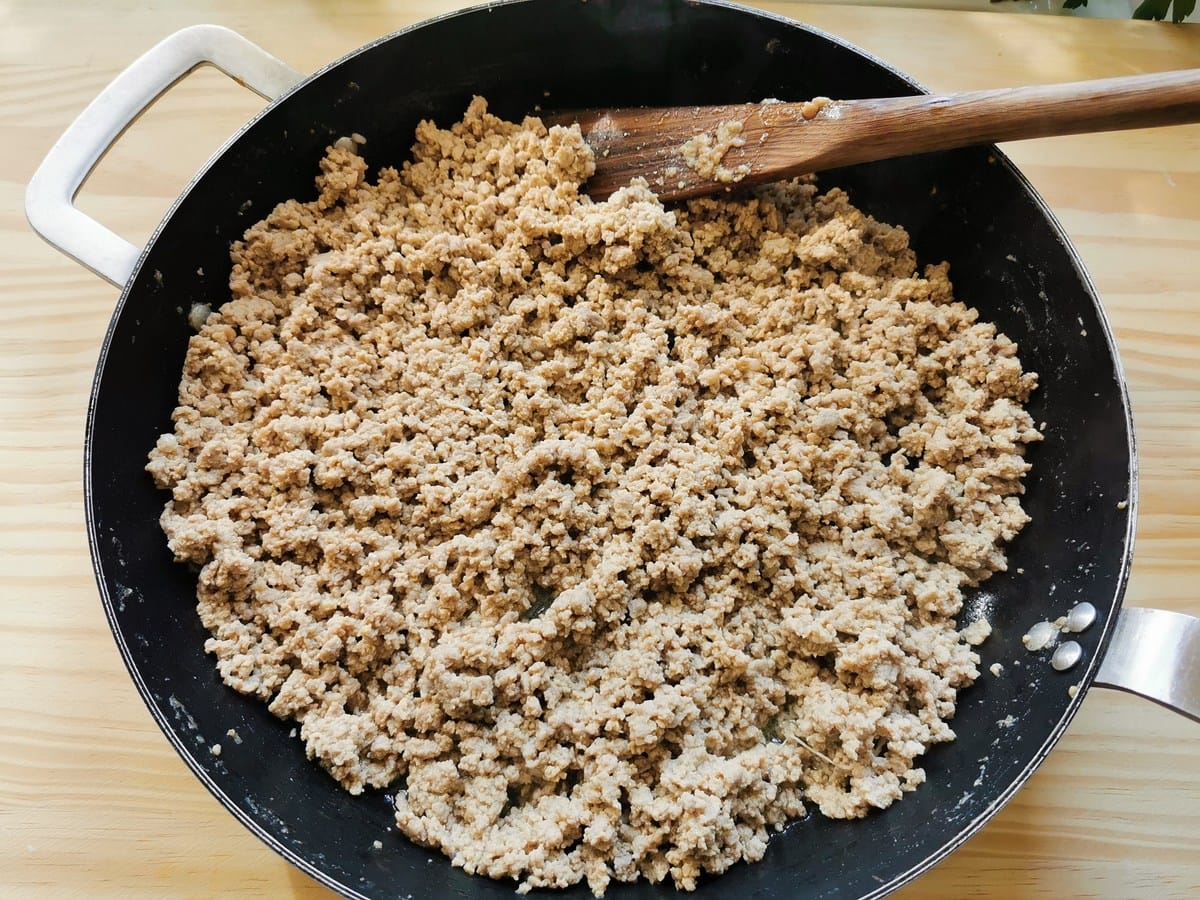 I also want to make cannelloni alla Napoletana with mozzarella, anchovies and tomatoes; alla Romagnola filled with pork, beef, sausage and prosciutto and Sicilian crusetti. The latter are small cannelloni with a filling based on zucchini!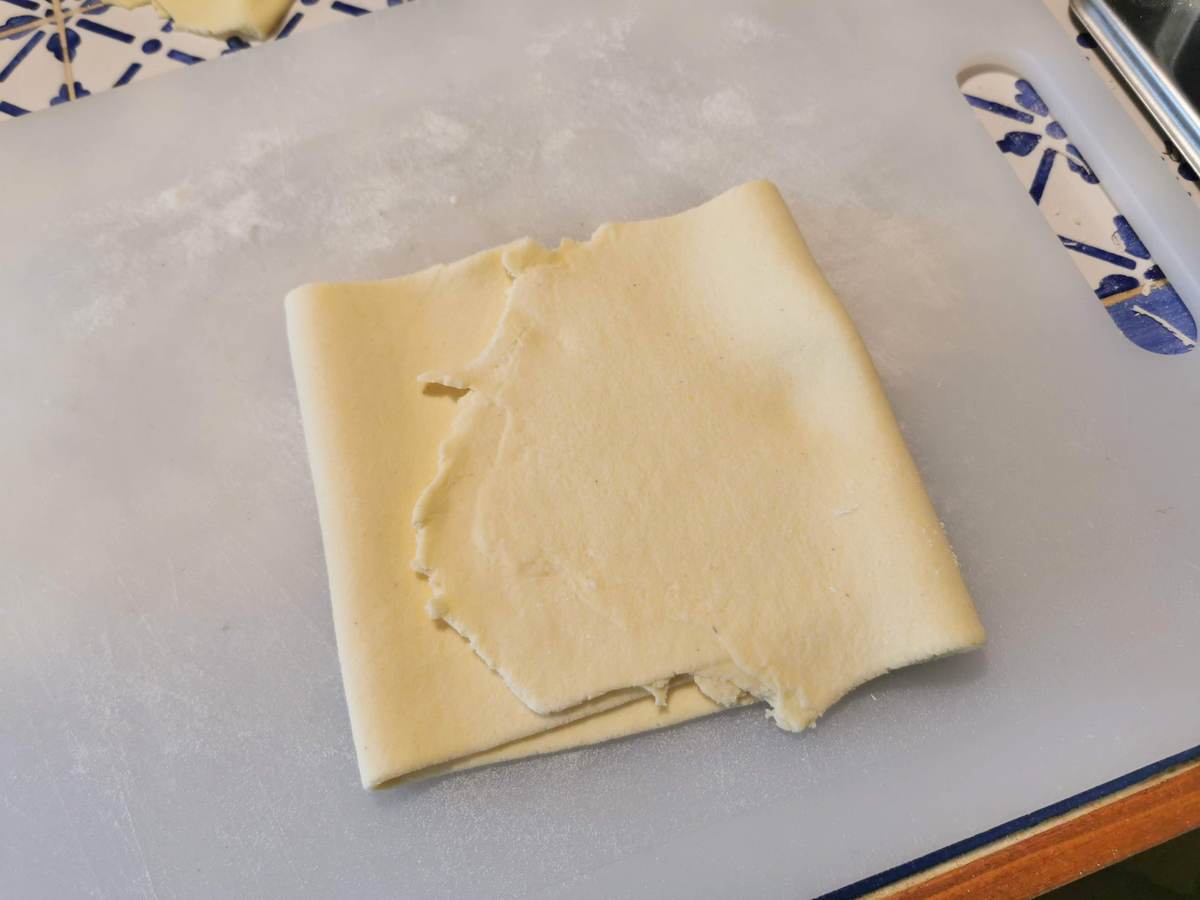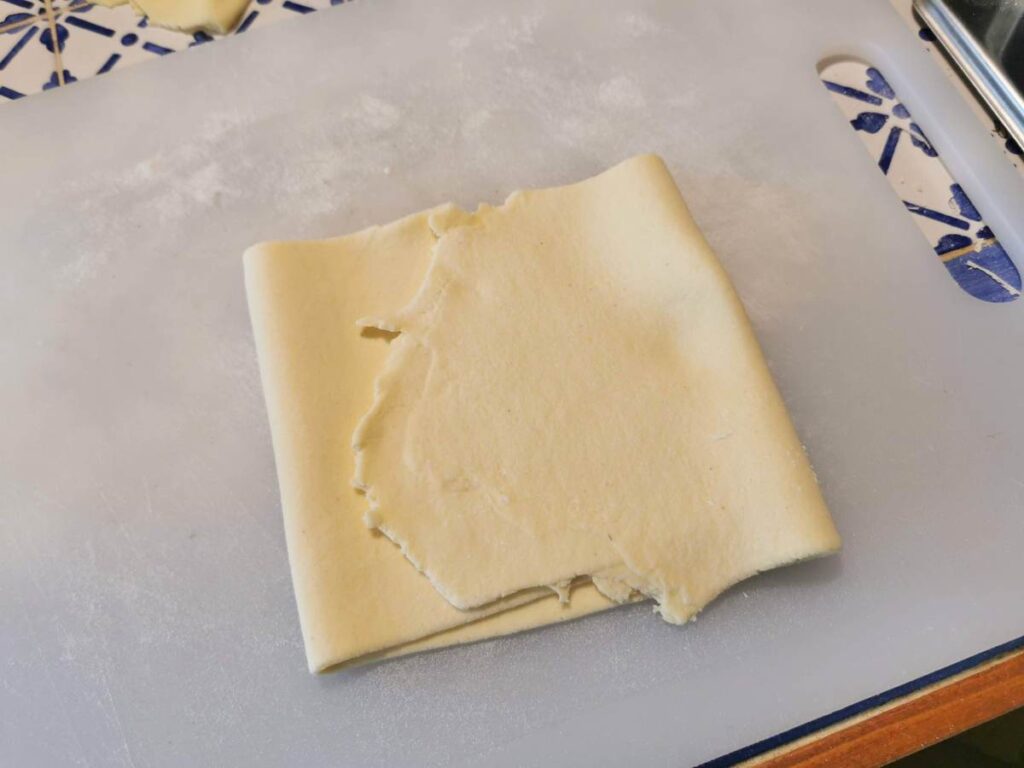 This homemade cannelloni from Abruzzo.
For now, let's talk about this cannelloni all'abruzzese. As I mentioned above, you can cook this filled pasta recipe 2 ways. The filling is the same for both. The most traditional method is to bake the filled pasta tubes in just butter and a sprinkling of cinnamon. This method requires parboiling/blanching the pasta sheets or tubes before filling them.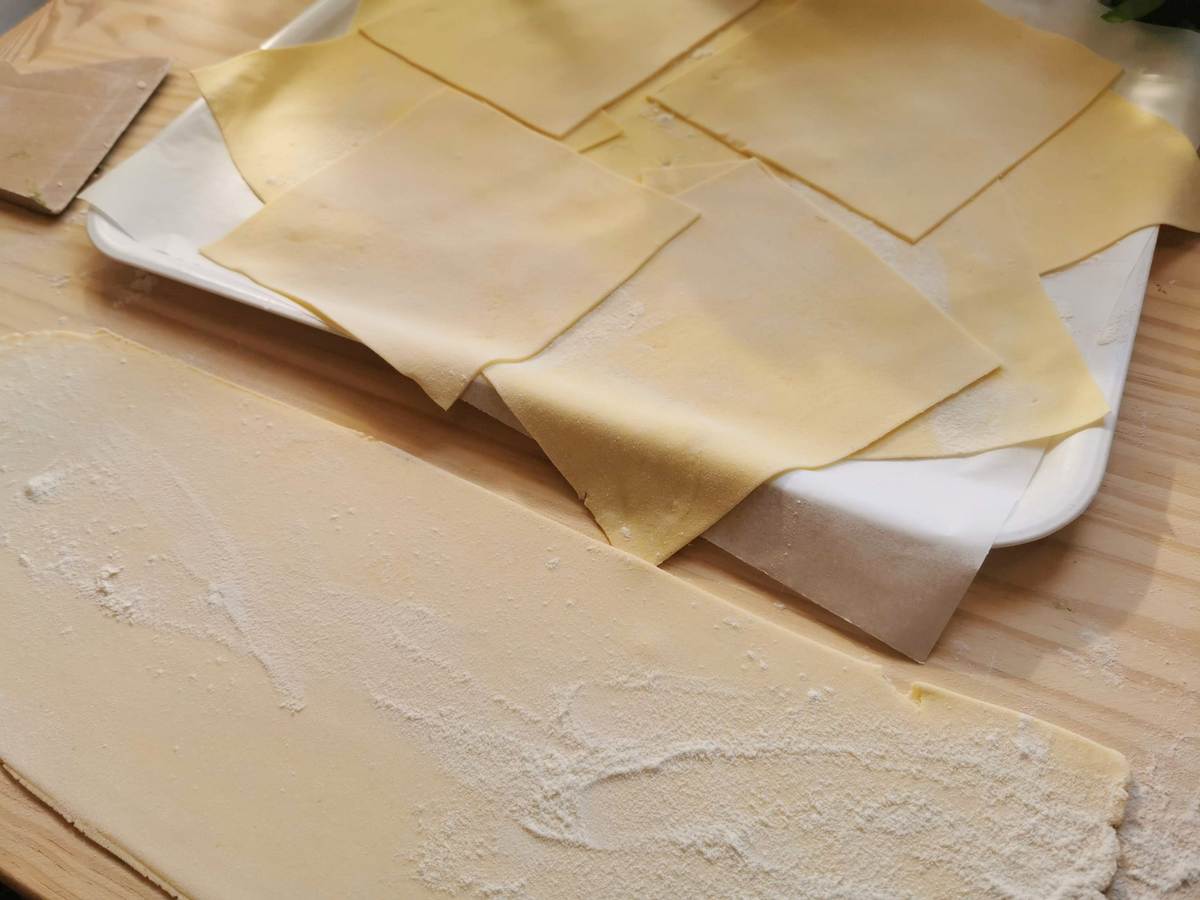 The second method involves baking the filled cannelloni in a simple tomato sauce with a sprinkling of parmigiano on top. Whether you are using dried or fresh pasta this way, it doesn't need parboiling. Just make the sauce a little liquid and the pasta will cook in the sauce.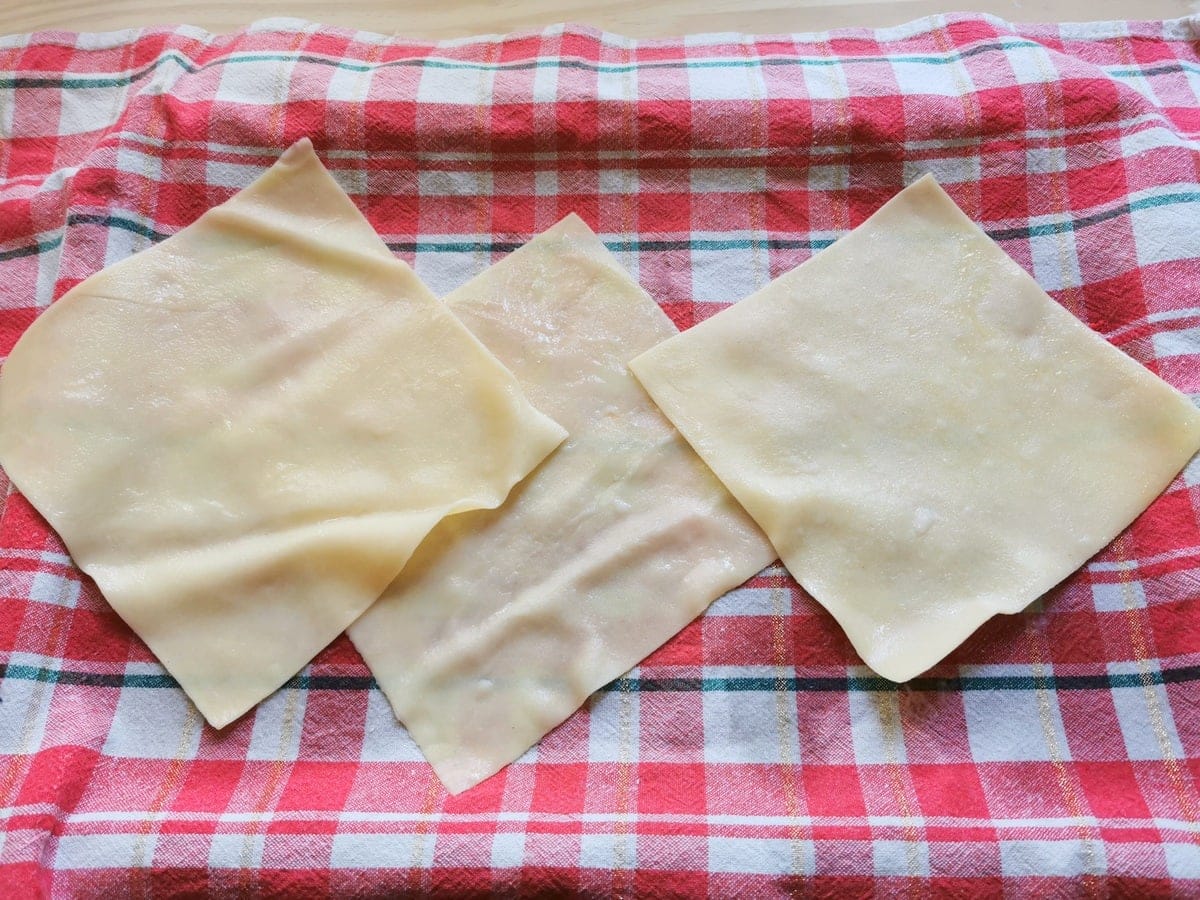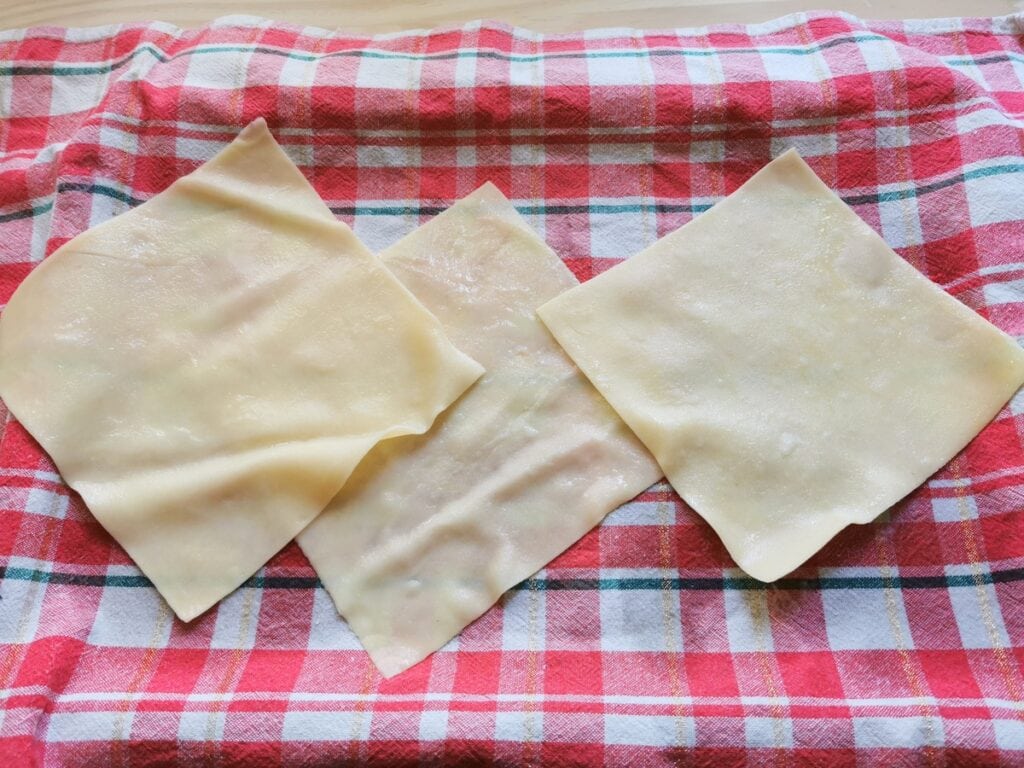 How to make fresh cannelloni sheets.
Many Italian cannelloni recipes make use of egg pasta sheets the same as those we use in a lasagna. Normally, lasagne pasta dough contains 1 large egg for every 100g of flour and the flour is Italian '00' soft wheat flour. If you want to make cannelloni all'abruzzese with egg pasta, check out the recipe on my homemade lasagne sheets post.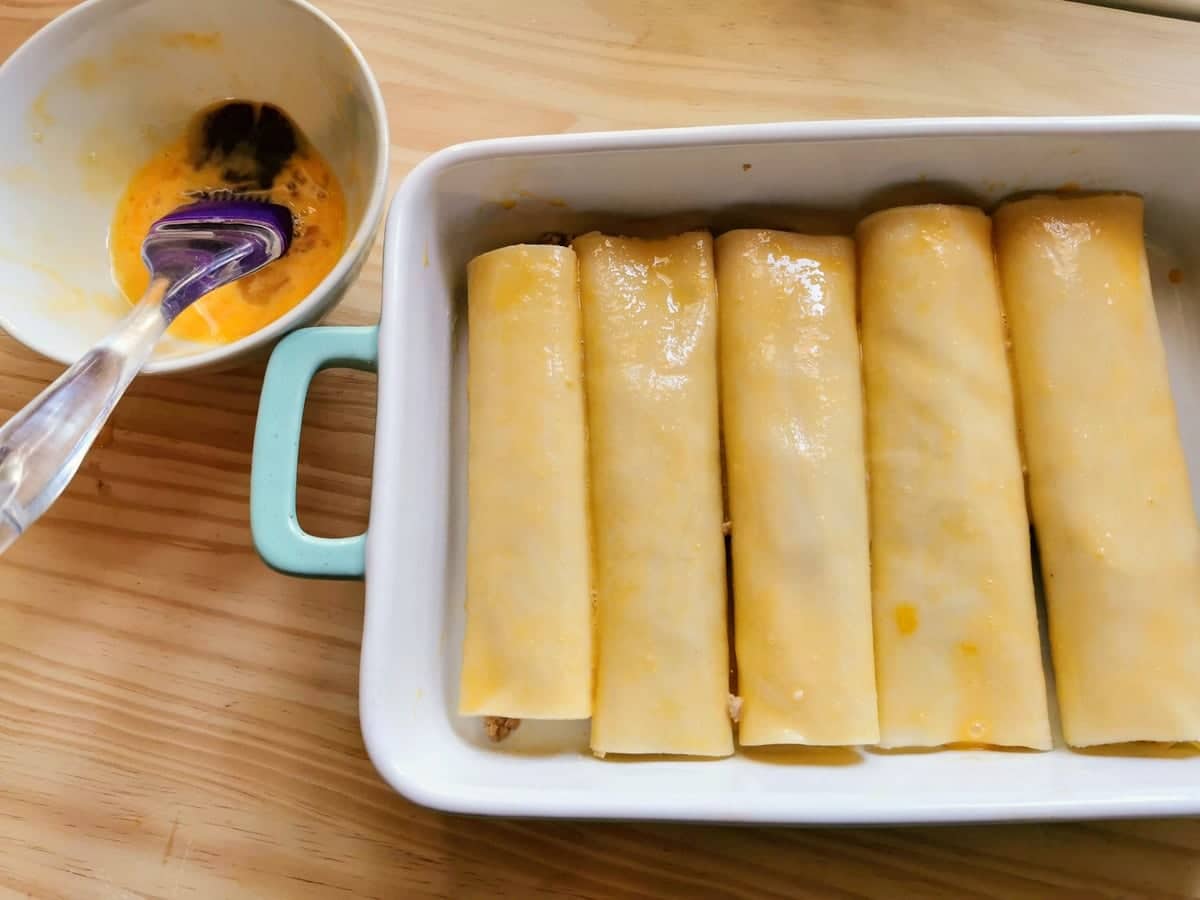 Traditionally the pasta dough for these homemade cannelloni from Abruzzo is made with a mixture of '00' soft wheat flour and corn flour with water and a pinch of salt. So, there are no eggs. This is how I made it.
Once the dough had rested, I rolled the sheets out using my pasta machine and then cut the sheets into squares. Traditional cannelloni is made with square sheets not rectangular like lasagne.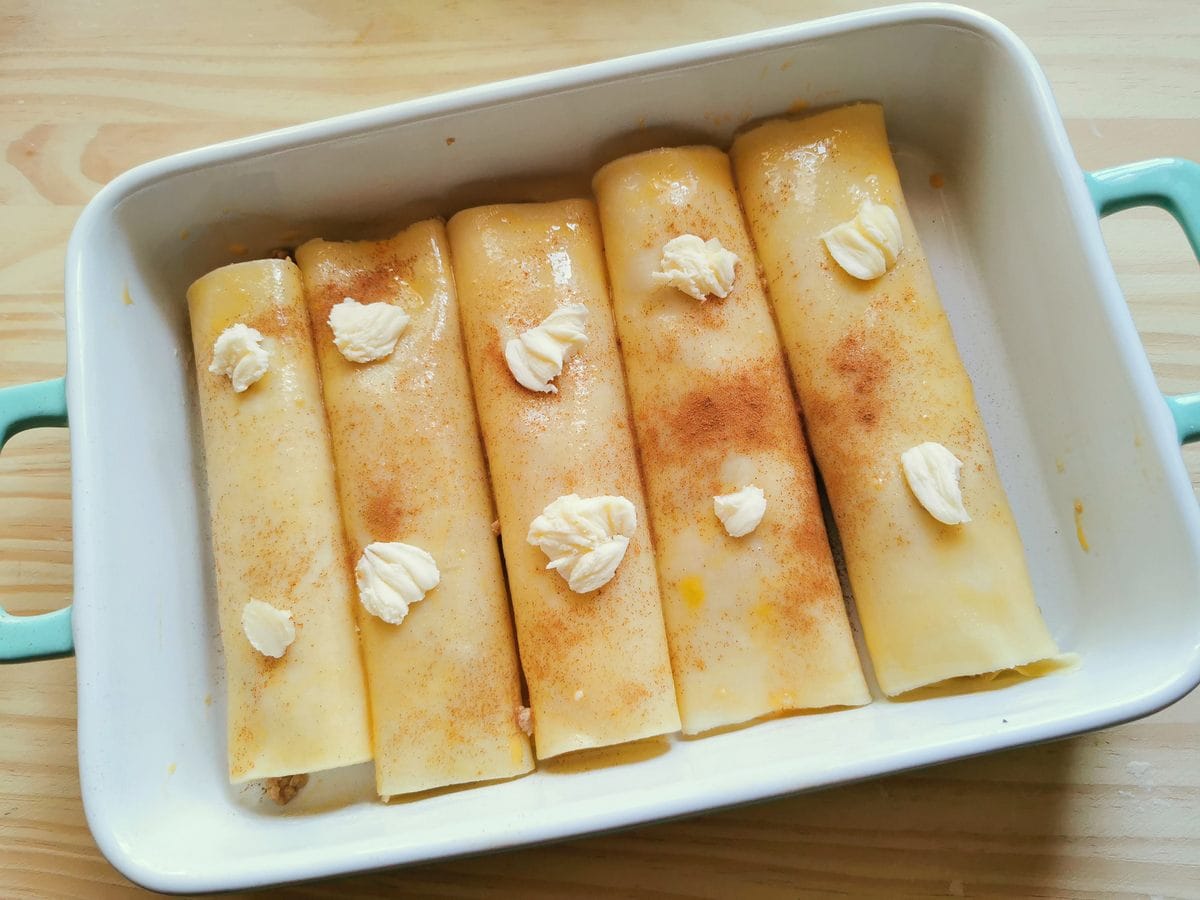 The filling for cannelloni all'abruzzese.
The filling in this cannelloni recipe contains a mixture of 3 types of ground meat; pork, beef, and lamb. You can you use only two types instead. Apart from the meat, the filling has pecorino, eggs, nutmeg, and salt. I followed a recipe that says to mix the filling ingredients together before cooking it in a little olive oil and butter. However, some recipes say to brown the meat first and then mix in the eggs, cheese, nutmeg, and salt when it's cooled a little.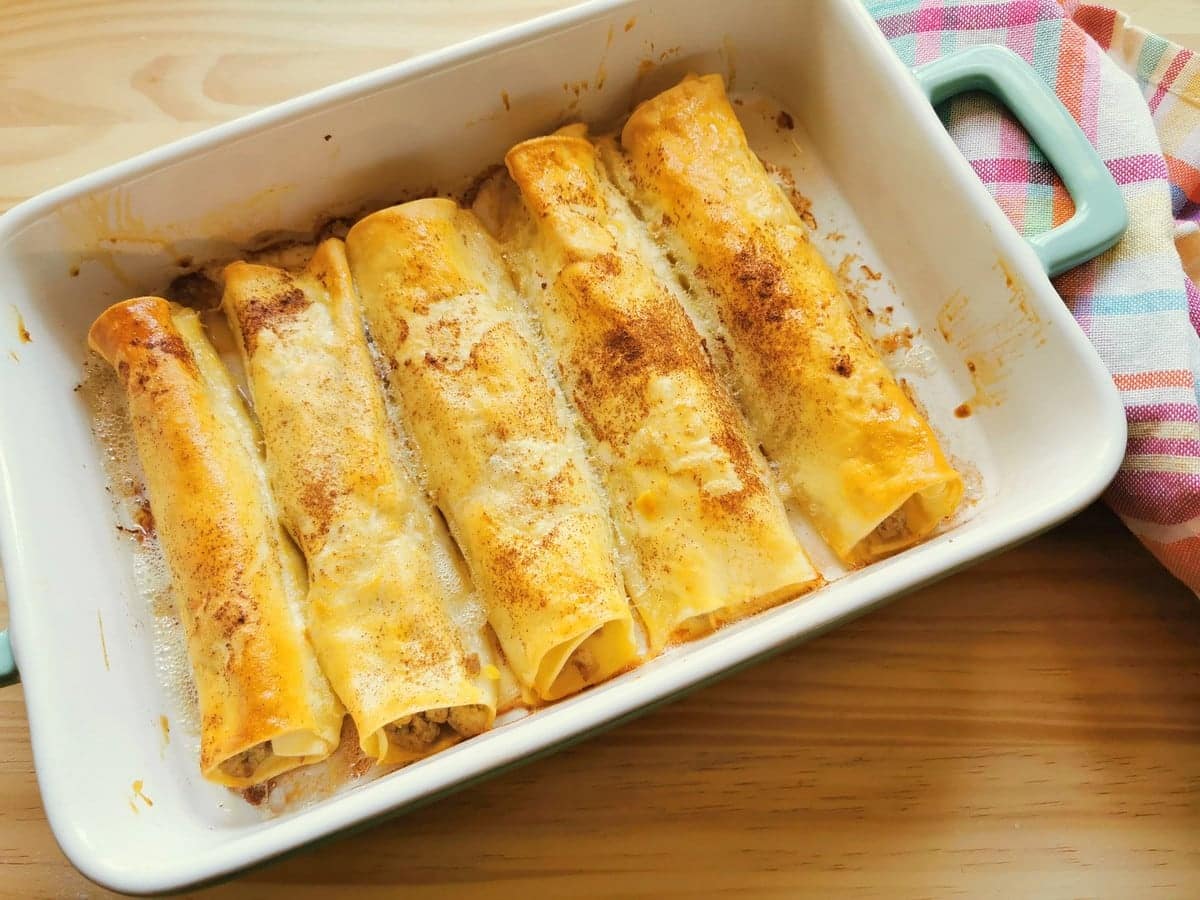 Two ways to make and bake these homemade cannelloni.
First method - Baked with butter and cinnamon the traditional way.
This traditional method for making homemade cannelloni from Abruzzo isn't difficult but takes a little time especially as you are using homemade pasta sheets and parboiling them.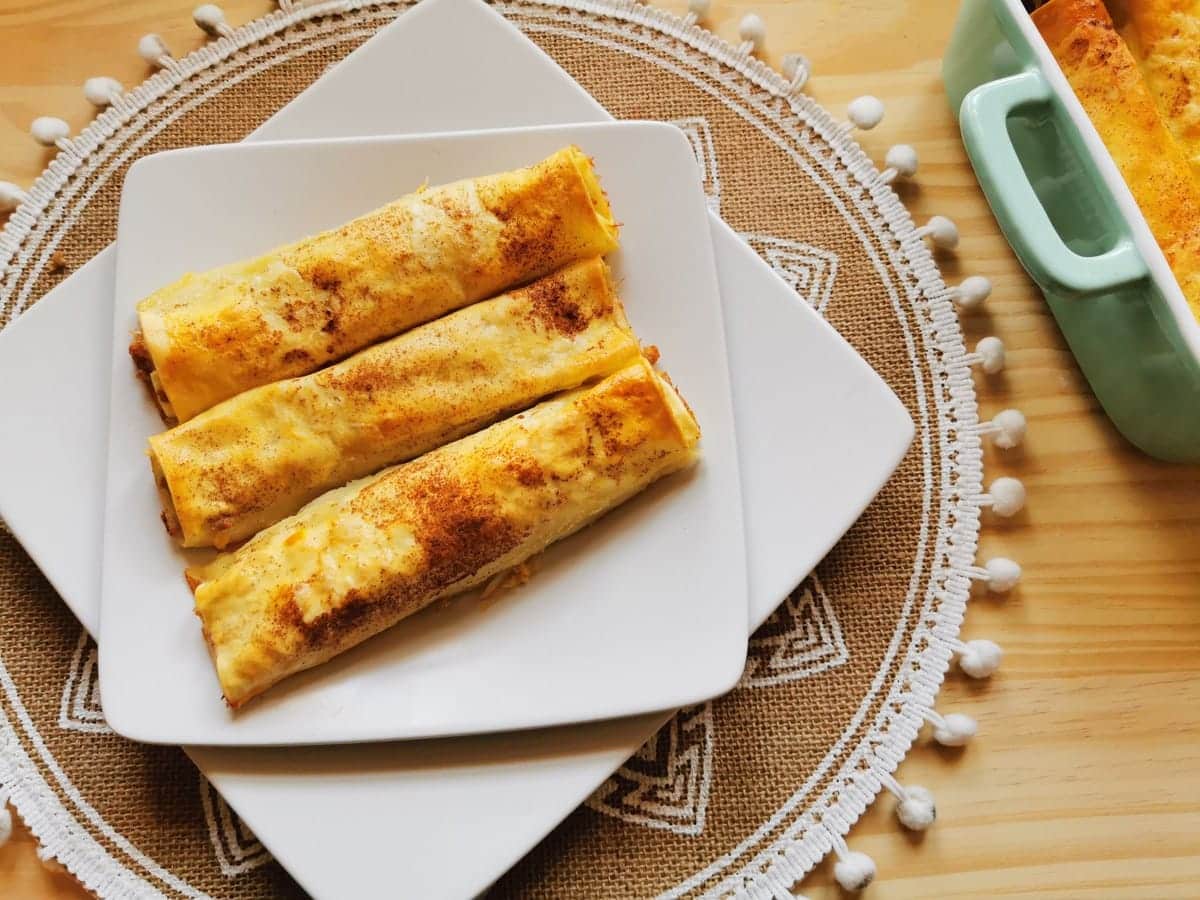 Once you have made the dough and cut it into squares, blanch the sheets in boiling water to which you have added a dash of olive oil. The olive oil stops the pasta from sticking together. Blanch the sheets 2-3 at a time and then remove them carefully from the water and place them spread out on to a tea towel.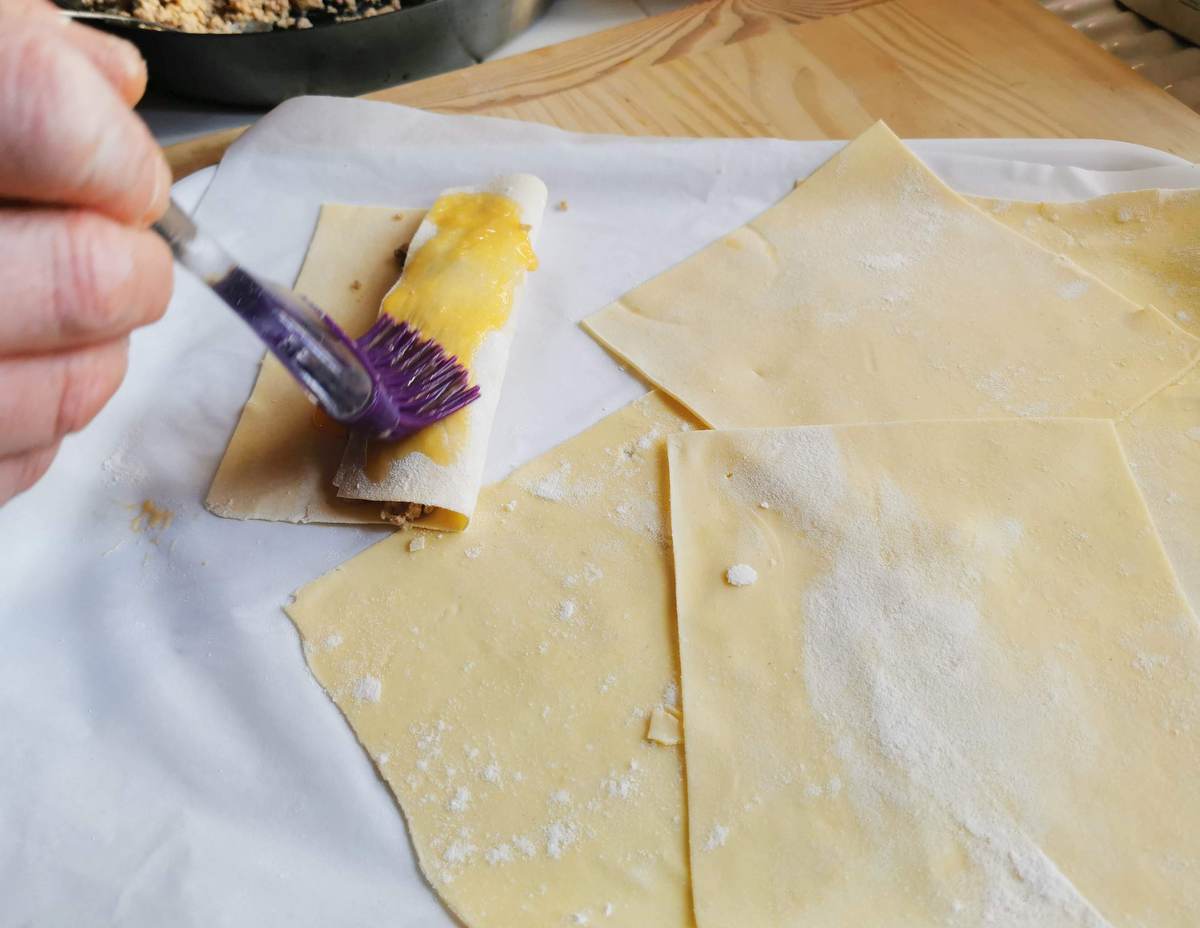 The next step is to place some filling along the middle of each sheet and then roll the pasta around the filling. Place the cannelloni seam side down into a buttered oven dish. Brush them with egg yolk and then sprinkle with cinnamon and add some small bits of butter on top. Bake your cannelloni all'abruzzese in a preheated oven at 160°c for about 20 minutes until they are slightly golden and crispy on top.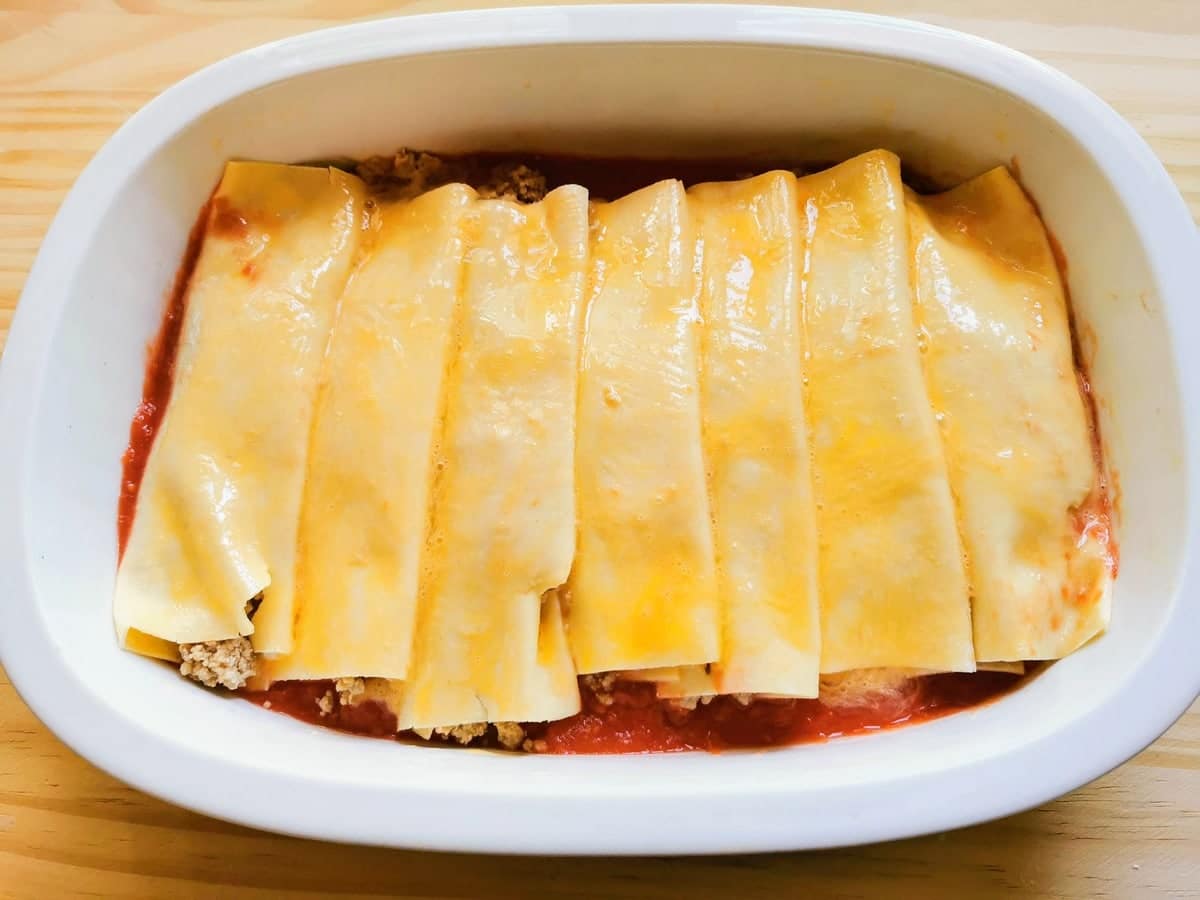 Second method- Baked in tomato sauce.
You don't need to parboil the pasta sheets to make your homemade cannelloni this way. Just place some filling on each pasta sheet. Brush one end with egg yolk and roll the pasta tightly around the filling. Place the cannelloni seam side down in an oven dish in which you have first spread some tomato sauce in the bottom.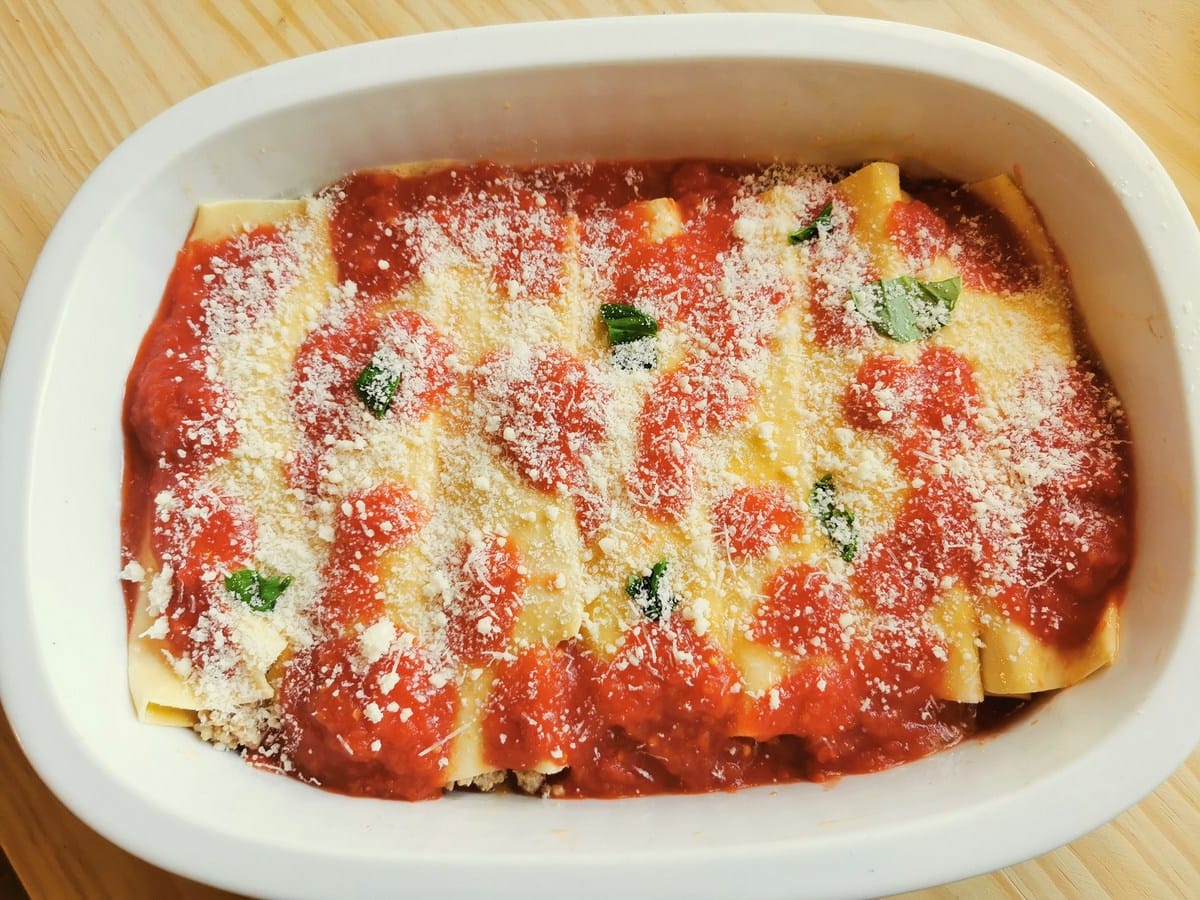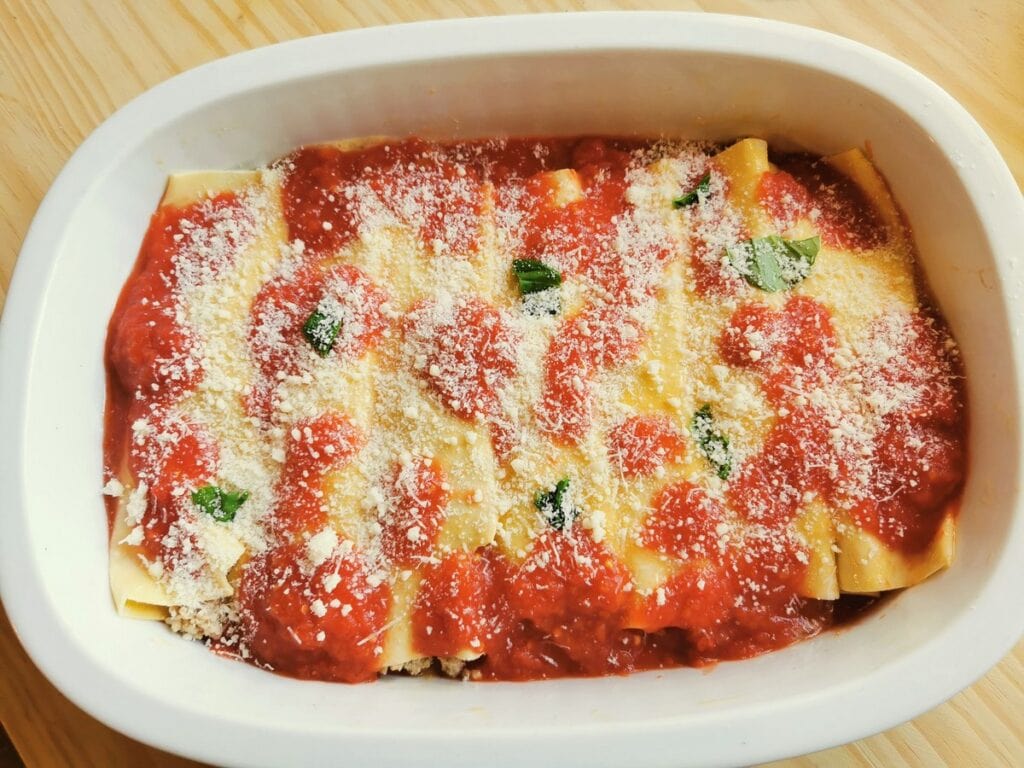 Cover the cannelloni with more tomato sauce, a sprinkling of parmigiano and some basil and bake in the oven at 175 °c for about 25 minutes. Check the pasta is cooked before switching off the oven. You can do this by piercing a cannelloni with a fork to gauge the softness of the pasta.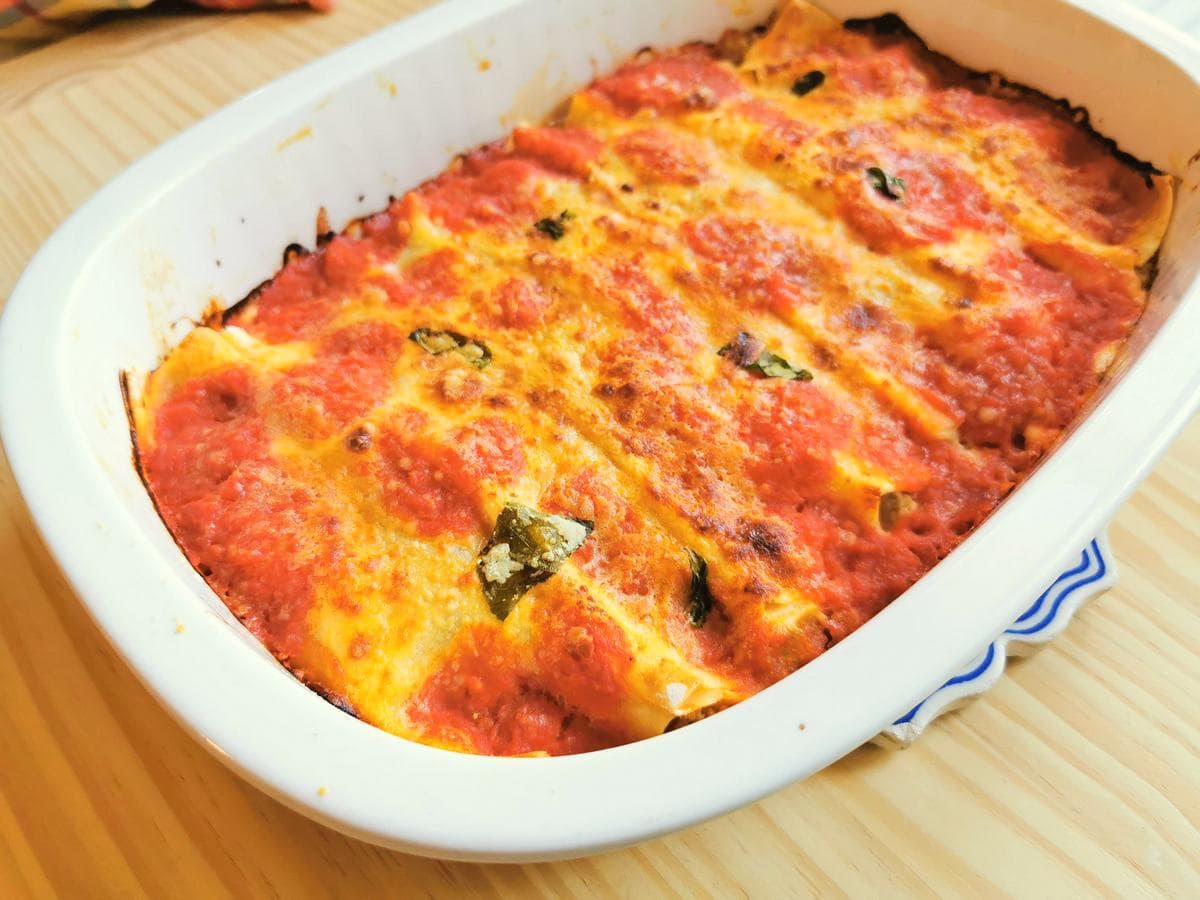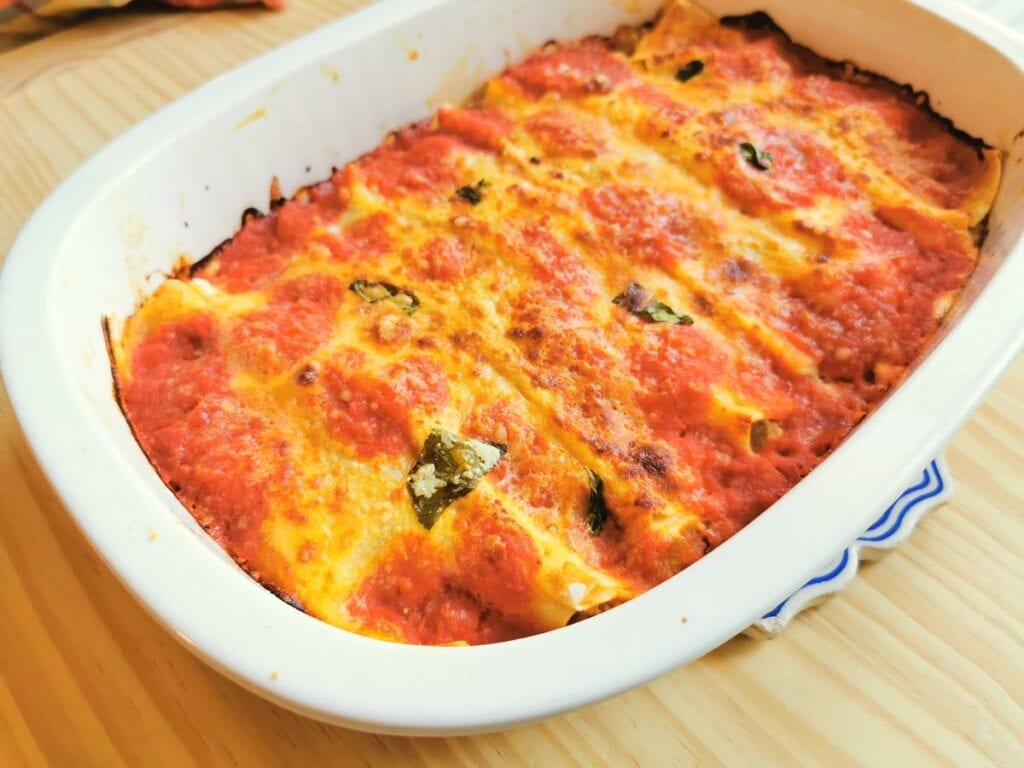 Let me know what you think.
I cooked my homemade cannelloni from Abruzzo both ways, so, some with cinnamon and butter and some in tomato sauce. We loved them both. The traditional method without tomato sauce is quite unique and the butter and cinnamon give the pasta a wonderful flavour. However, the cannelloni baked in tomato sauce were just as delicious. If, like me, you try both ways, I'd love to hear which you prefer!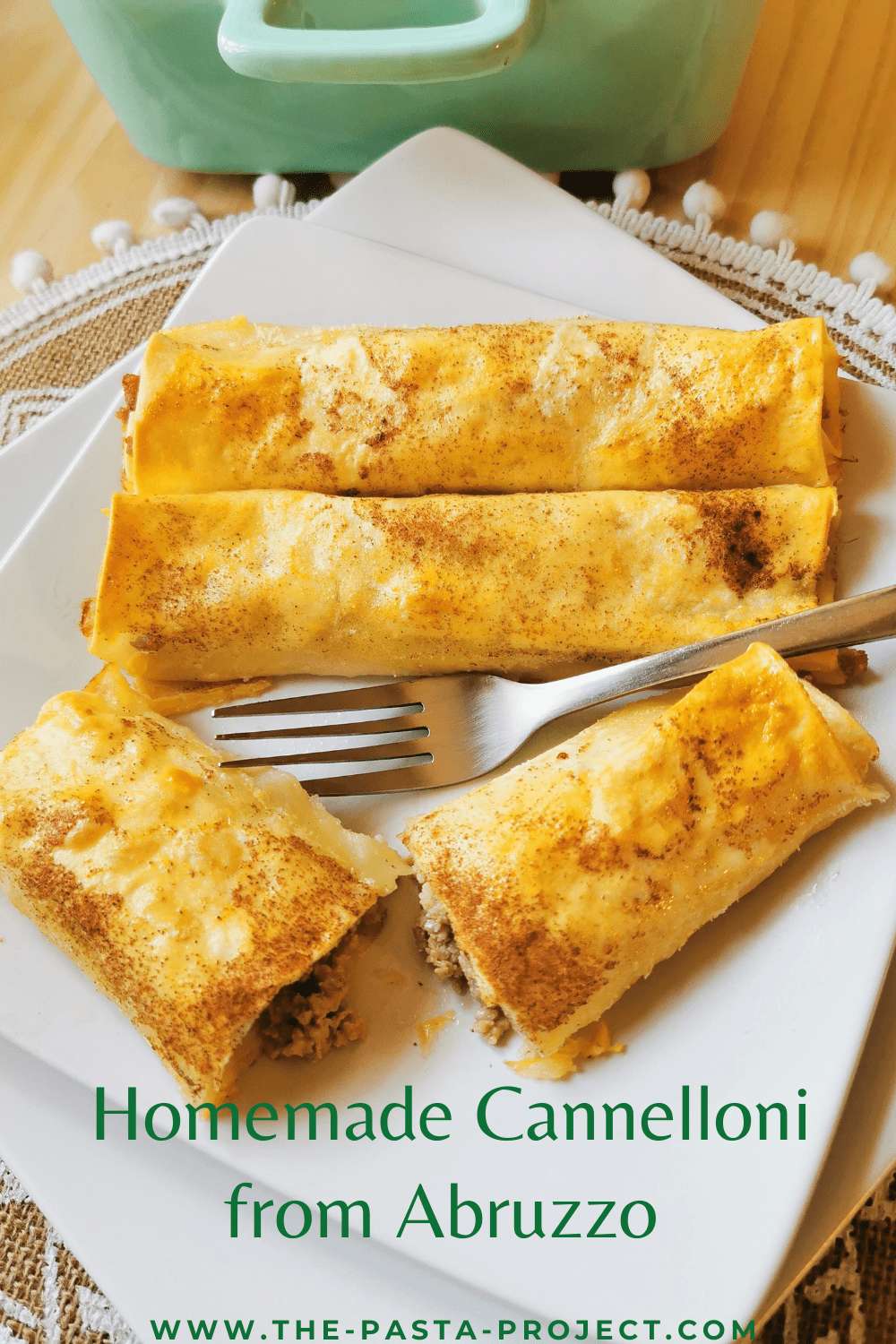 Even if you try just one way of cooking this homemade cannelloni from Abruzzo, I'd love to hear what you think. So, please feel free to message or comment here on the blog or on The Pasta Project Facebook page.
I'm looking forward to hearing from you!
Buon Appetito!
Other homemade cannelloni recipes to try.
CHECK OUT OUR SHOP PAGE.
If you are interested in learning how to make homemade pasta and different types of gnocchi, check out my shop page for some great video online courses from my friends in Rome! Nothing beats learning to make pasta from Italians! Plus, while you're there why not order a copy of one of my pasta recipe cookbooks or check out some recommended pasta making tools? All great prezzies for pasta lovers!