Cannelloni or Manicotti.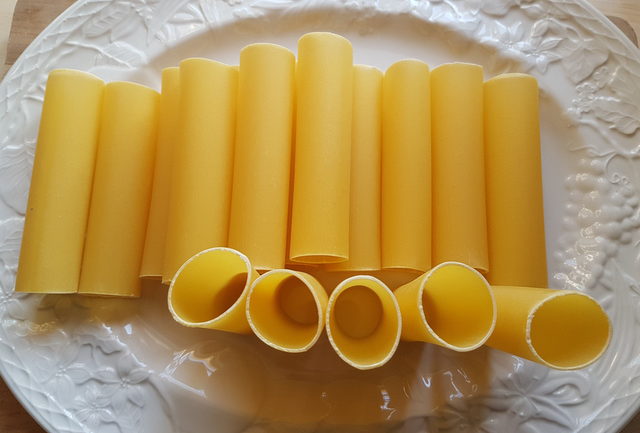 There are differing views among Italian pasta makers and food historians about the origins of cannelloni or manicotti. I say cannelloni or manicotti because, in Italy, this pasta is cannelloni. In USA, it goes by the name of manicotti or maniche, meaning sleeves. Both names refer to dried pasta tubes or rolled up sheets of fresh pasta that are served stuffed and then baked.
According to some food historians, the first cannelloni prototype or rather the first stuffed pasta tube dates back to the first half of the nineteenth century. Then, a Neapolitan cook called Vincenzo Corrado reportedly made a 'pacchero' filled with minced meat and truffles and cooked it in tomato sauce! For the time, it was an unusual way to serve paccheri.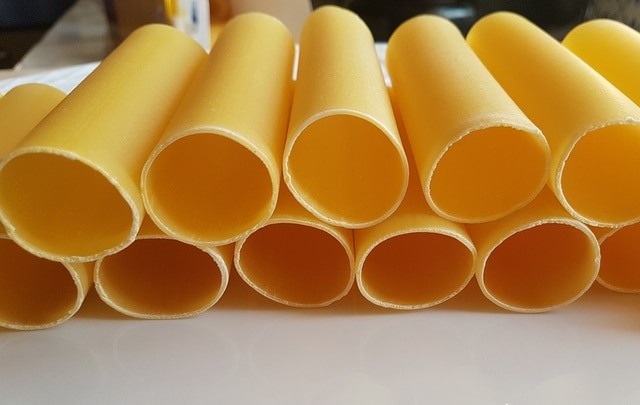 The birth of cannelloni!
However, there is also a popular belief that cannelloni were invented by a chef in Campania called Salvatore Coletta in 1924. The story 'the birth of cannelloni in Amalfi' appeared in a book from the 1980s written by Italian journalist and writer Gaetano Afeltra.  According to Afeltra, in the early 1900s, there were two grand hotels in Amalfi located in two converted monasteries. One was the Hotel Luna, which still exists today, and the other the Cappuccini hotel, which is now the Grand Hotel Convento.
In the nineteenth century, these hotels were leased to two families; the first to the Barbaro family, the second to the Vozzi family. These two hotels had an agreement whereby when the kitchen of one invented a new dish, the first taste and judgment belonged to the other. In August 1924, the chef of the Cappuccini, Salvatore Coletta, prepared a dish that he personally presented to Don Alfredo Vozzi, the owner of the Cappuccini.  He called his dish cannelloni. After tasting the cannelloni, Don Alfredo sent Coletta to Don Andrea Barbaro (the owner of the Hotal Luna). 
Don Andrea was a well-known gourmet. After he tasted the dish, he stood up with his napkin still tied around his neck and gave orders to ring the bells of the convent church in celebration. All the bells of Amalfi began to ring in response and a pasta star was born!  Or so the story goes!
Fresh cannelloni or manicotti are just rolled up lasagne!
Cannelloni or manicotti tubes, as we know them today, cannot be bought fresh. They really only exist in a dried version which is produced by most Italian pasta makers, who call them manicotti when sold in US and cannelloni in Italy!  However, manicotti are usually ridged in US.
Quite confusing really and I'm not sure how that came to be because the original idea of manicotti was actually more like a crepe. However, Italians call crepe 'crespelle' and you can't buy a pasta called manicotti in Italy!
Fresh cannelloni, on the other hand, are basically rolled up sheets of fresh pasta (lasagne). This was, most probably, the pasta used by the Amalfi chef. The original filling for Coletta's cannelloni contained minced meat, béchamel sauce, ricotta, Parmesan  and Fior di Latte mozzarella. He then baked his cannelloni in tomato sauce.
There are many delicious Italian recipes for cannelloni or manicotti!
This original cannelloni recipe (or versions of it) is still very popular in Campania and throughout Italy. However, there are many other ways to fill cannelloni or manicotti, whether you use dried tubes or fresh lasagna sheets. This pasta is eaten throughout Italy but considered traditional in Marche, Campania and Emilia-Romagna, where it is often filled with Bolognese sauce or sausage ragu.
Another very popular way to serve cannelloni or manicotti is to fill them with ricotta and spinach and cook in tomato sauce or béchamel, or a mixture of both. You can use this recipe for stuffed pasta shells to make cannelloni or manicotti with spinach and ricotta. Just use cannelloni instead of conchiglioni. In Emilia, they sometimes cook spinach and ricotta filled pasta tubes in Bolognese instead of tomato sauce!!
Another recipe here on The Pasta Project for cannelloni or manicotti is with a delicious pumpkin and goat cheese filling. This week I also posted a divine cannelloni with potato and porcini recipe, I recently made. Of course, other recipes will join these in the future, so I hope you'll come back and check them out another time.