Homemade Smoked Salmon Cannelloni (Manicotti).
Homemade smoked salmon cannelloni is a delicious alternative to the more traditional Italian cannelloni filled with ground meat or spinach and ricotta. This recipe is very simple to prepare and divinely delicious. Perfect for entertaining or as part of a holiday menu.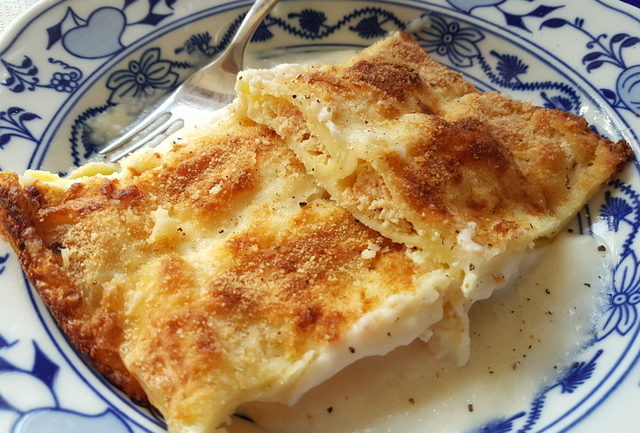 Smoked salmon in Italy.
Although the Italians don't eat as much smoked salmon as the Germans, French and British, it has become an increasingly popular food in Italy over the last 30 years or so. In fact, nowadays there are a number of companies smoking salmon here. However, the salmon itself usually comes from Scotland or Norway.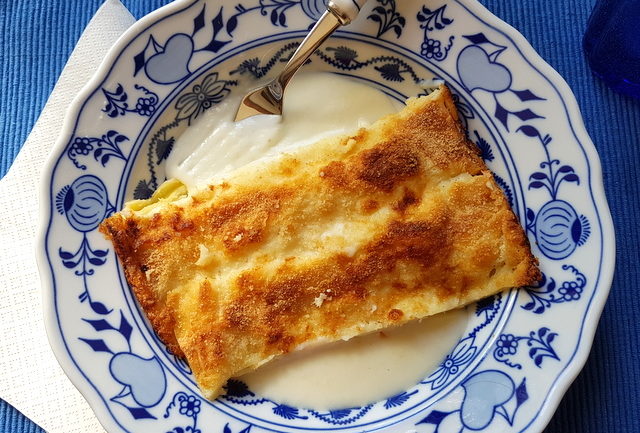 Italians don't often eat smoked salmon on bread as is popular in UK and Germany. They prefer to eat it as an antipasto (starter) , in salad, in a frittata or in a flan. However, the most popular way to cook with smoked salmon is with pasta. There are many delicious pasta recipes with both fresh and smoked salmon.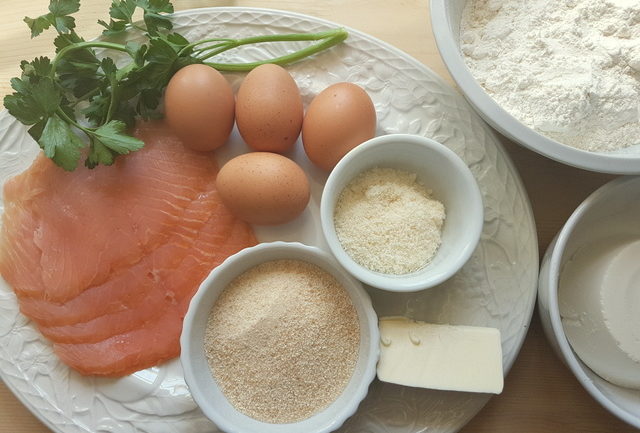 Other salmon pasta recipes.
So far here on The Pasta Project, I have posted a couple of other delicious salmon recipes. One is a wonderful poached salmon and asparagus lasagna recipe, perfect for the spring when asparagus are in season. The second is farfalle (butterfly pasta) with zucchini and smoked salmon. This is one of the most popular recipes on this site. And no wonder, it's superlicious! And now I am adding homemade smoked salmon cannelloni to the list.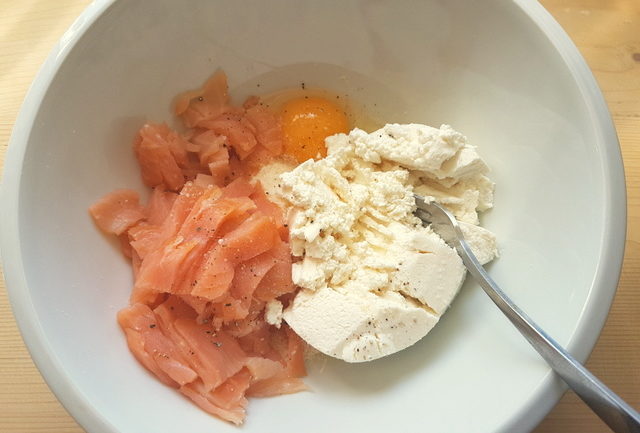 The pasta.
I made this smoked salmon cannelloni recipe with fresh pasta. Dried cannelloni (or manicotti as it is called in US) is large dried pasta tubes. Fresh cannelloni, on the other hand, is rolled lasagne sheets. Of course, you can use dried cannelloni for this recipe. In that case, I would recommend blanching the tubes first in boiling water before filling them. You can read about the history of cannelloni pasta if you click here
You can also buy fresh lasagne sheets and then roll them around the filling. I do that sometimes and when I do, I usually use Giovanni Rana fresh lasagne. This time round we made fresh sheets ourselves. I say we because my Sicilian hubby helped me. He's very good at cutting and filling the pasta, but then he's a surgeon! I make the pasta sheets using a simple pasta machine.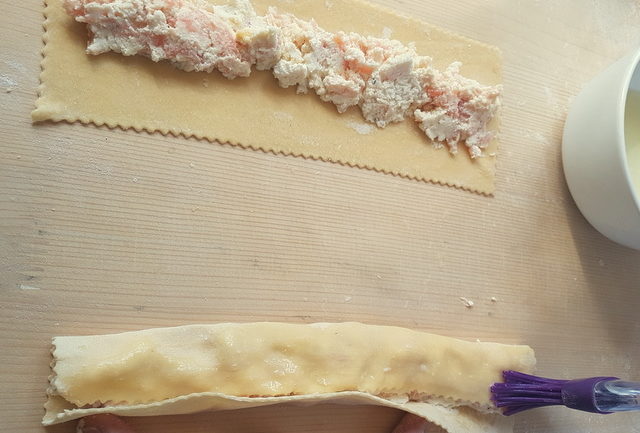 For this smoked salmon cannelloni recipe, we made the dough in my Ferrari stand mixer. But, we often just make it by hand. It's not so difficult once you've done it a few times. You can read about making fresh lasagna/lasagne pasta if you click here.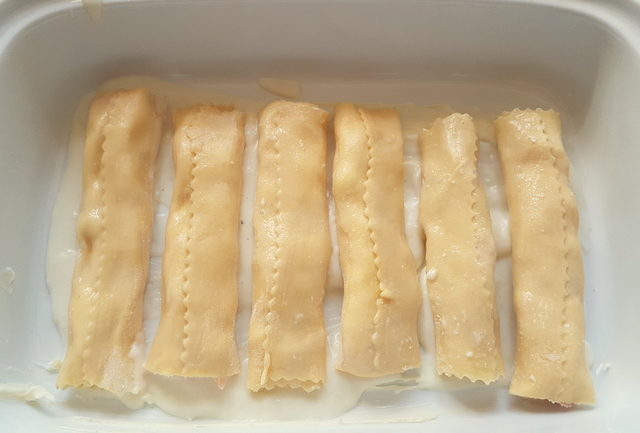 Making this homemade smoked salmon cannelloni.
The filling for this homemade smoked salmon cannelloni is super easy and requires no cooking. Just mix smoked salmon pieces, fresh ricotta, Parmigiano and eggs together in a bowl.
Apart from the filling and making the pasta (if using homemade) all you need is a béchamel sauce. Even here, you can reduce cooking and preparation times by using a ready-made béchamel. However, I prefer to make my own. It only takes 10 minutes.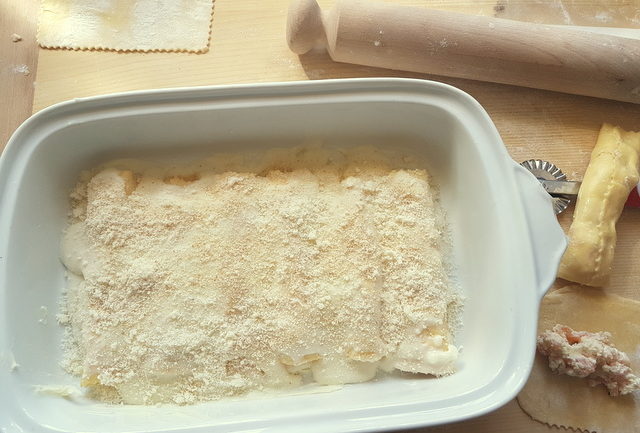 Once you have your pasta sheets, filling and béchamel ready, then you just need to assemble the smoked salmon cannelloni and place them in an oven dish with the béchamel and some grated Parmigiano and bake until the top becomes golden and crispy.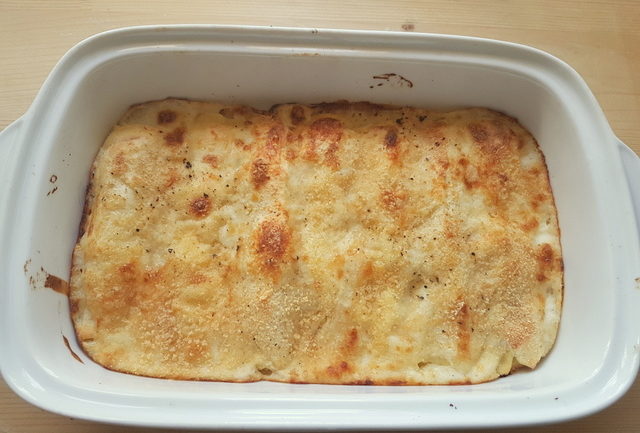 The result is a fabulous creamy pasta dish that I'm sure you (and your guests) will love. This is a great recipe for the upcoming Easter weekend and any other special occasion meal. You can also just treat yourself and make homemade smoked salmon cannelloni on a weeknight!
If you do try this homemade smoked salmon cannelloni recipe, I'd love to hear what you think. Please write a comment here on the blog or post a comment on the Pasta Project Facebook page.
Your feedback means a lot to me!
Buon Appetito!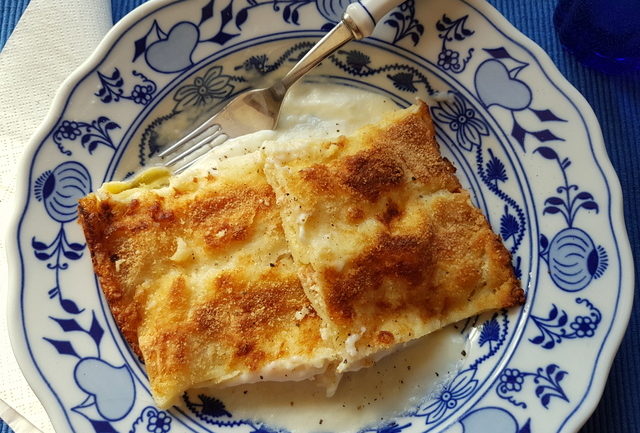 Save this recipe for later?
If you want to save this recipe for later, you can print it, bookmark this page or save it to Pinterest.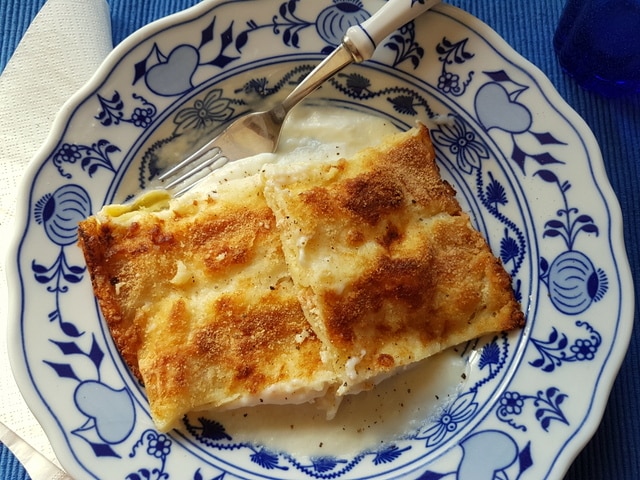 Homemade smoked salmon cannelloni
This delicious Italian baked smoked salmon cannelloni recipe is easy to make, creamy and delicious. I used fresh pasta and homemade bechamel (white sauce) but for a quicker version use dried cannelloni (manicotti) and ready made white sauce.
Keyword:
baked pasta recipe, cannelloni, manicotti, ricotta, smoked salmon
Ingredients
For fresh pasta (click link to recipe in recipe notes below for instructions)
400

g

durum wheat '00' flour

or All Purpose Flour (14oz)

4

eggs

1

pinch

salt
For smoked salmon cannelloni
12-16

fresh pasta sheets

or dried cannelloni (3-4 per person)

250

g

smoked salmon

(9oz)

250

g

fresh ricotta

(9oz)

2

eggs

(one for filling/ one for egg wash

100

g

Parmigiano

(3.5oz) grated (more may be required)

salt

as required

black pepper

as required

breadcrumbs

as required to sprinkle on cannelloni

butter

as required for flakes

400

ml

bechamel

(13floz) homemade or ready made
For homemade bechamel
60

g

butter

60

g

flour

600

ml

milk

1

pinch

salt
Instructions
Make the fresh pasta see homemade lasagne recipe post
To make the bechamel
Melt the butter in a saucepan over medium-low heat. Stir in the flour. Keep stirring until the butter and flour are incorporated and you have a roux.

Whisk in a little of the milk at a time, stirring continuously until you have a smooth, slightly thick sauce. Remove from the heat and season with salt and pepper. Add nutmeg or grated cheese for additional flavour if required.
Make the smoked salmon cannelloni
Cut the smoked salmon into strips and place in a bowl with the ricotta, a handful of grated Parmigiano, a pinch of salt and pepper and one egg. Mix everything together well to obtain a homogeneous filling.

Roll out the fresh pasta and cut it into rectangles about 10 centimeters long.

Put some filling along the length of one side of the pasta rectangles and then roll them up into cannelloni. You don't want to have too much overlap otherwise the pasta will have a double layer. Close the 'seam' by brushing with egg.

Grease a baking dish with butter and cover the bottom with part of the béchamel. Place the salmon cannelloni side by side on top of the béchamel and cover them with the rest of the béchamel. Sprinkle the top with breadcrumbs and grated Parmigiano and finish off with a few butter flakes.

Cook the cannelloni in a preheated oven at 200 ° for about 30 minutes. Keep an eye on them so they don't burn. If necessary cover with foil if the top starts to get too dark. Serve the salmon cannelloni after cooling for about 5 minutes.
Recipe Notes
For faster preparation, this recipe can be made with store bought béchamel and dried cannelloni (manicotti) If using dried pasta blanch the pasta tubes in boiling water before filling them otherwise they will need more booking and more sauce.
For homemade fresh pasta sheets instructions click here
NB The recipe for fresh pasta will probably make more pasta sheets than you need. You can reduce quantities or freeze the extra pasta.
Pin for Later