Radicchio pasticcio (Italian chicory lasagna); Recipe from Veneto.
This radicchio pasticcio is a delicious traditional vegetarian lasagna from Veneto, Northern Italy. Made with Italian chicory, pasta, shallots, béchamel and cheese, it comes together easily and tastes wonderful!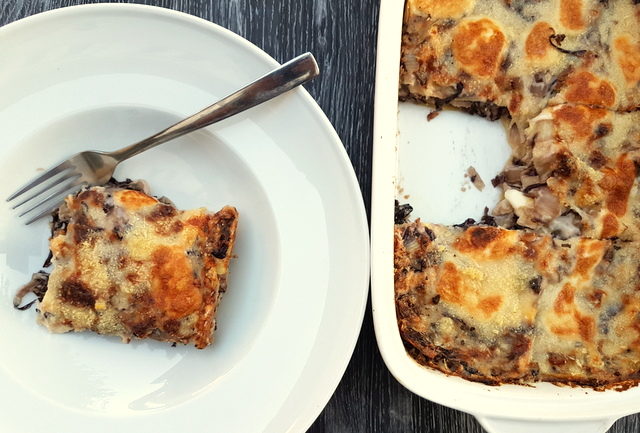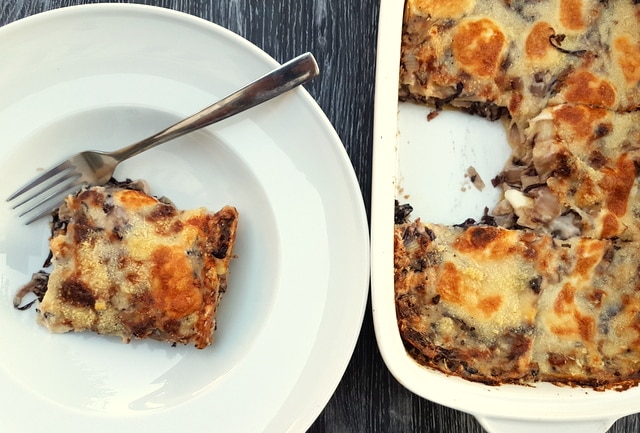 Pasticcio di Radicchio.
Here in Veneto, Northern Italy, baked pasta dishes made with flat lasagne sheets are often called pasticcio. In fact, when I first came to live here, I found it rather confusing! What not lasagna? However, most often these are made with local seasonal ingredients such as asparagus, mushrooms or, like this recipe, radicchio plus béchamel. Radicchio pasticcio is probably the most loved of these local dishes!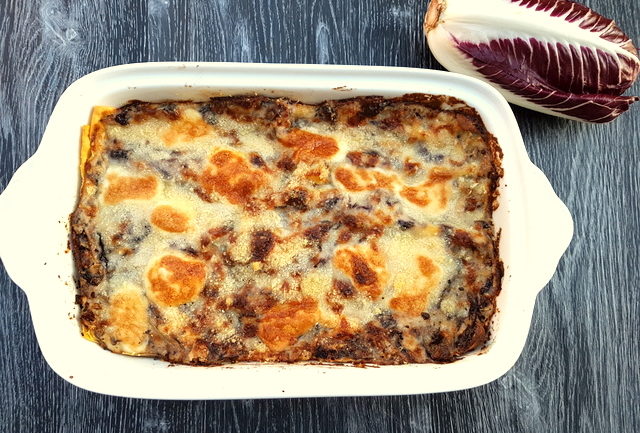 Lasagne or pasticcio?
In reality, there seems to be some confusion between the terms 'lasagne al forno' and 'pasticcio' even among Italians. Lasagne al forno (also known as lasagna outside of Italy) originates from Bologna. This is the most well-known type of lasagna. It's made with Bolognese sauce. However, there are many lasagne al forno recipes made with other ingredients, like this poached salmon and asparagus lasagne al forno.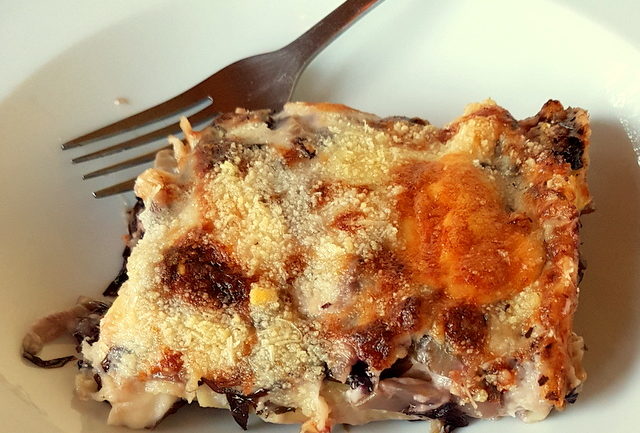 On the other hand, some Italians, especially in the South, use the name 'pasticcio' to refer to other types of baked pasta dishes. Interestingly, the word 'pasticcio' literally means 'mess'!
I guess this is most probably due to the fact that the ingredients in a 'pasticcio' are not normally separated or layered (except in Veneto!). Everything is mixed together and baked in the oven. In Southern Italy, they often encase or cover a pasticcio with pastry. This type of baked pasta is also called a timballo.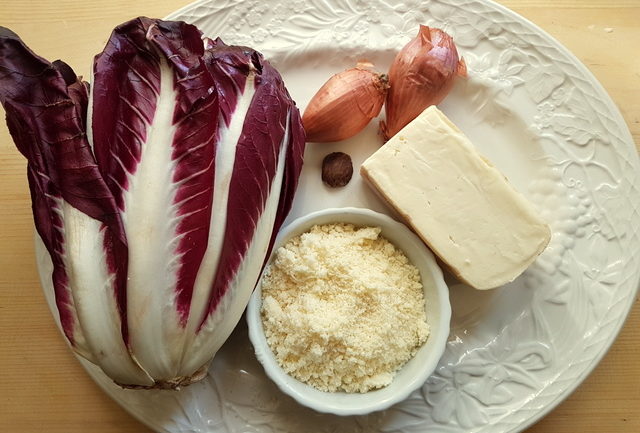 Greek Pasticcio
The Greeks have a well-loved dish called pasticcio/pastitsio which is baked pasta with meat and sauce. In all likelihood, the Greek name came from the Veneto name. The old Republic of Venice ruled the Greek Ionian islands from the mid-14th century to the late 18th century. Interestingly, the Italian word 'lasagna' comes from the Greek word 'laganon'.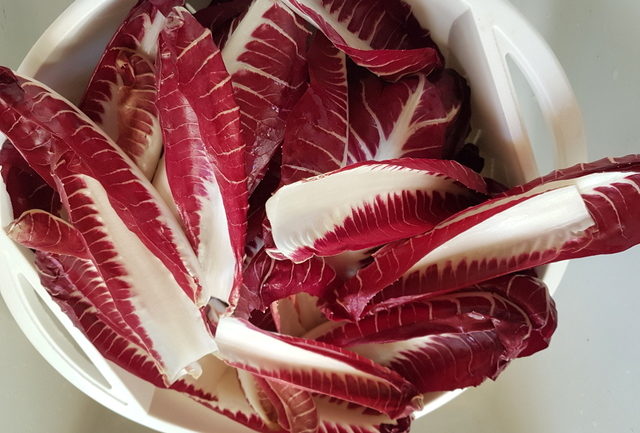 Whether you think of this recipe as a pasticcio, a lasagna or a lasagne al forno, it's a delicious vegetarian baked pasta recipe. It's also pretty easy to make. The main ingredient, apart from the pasta sheets, is radicchio (Italian chicory).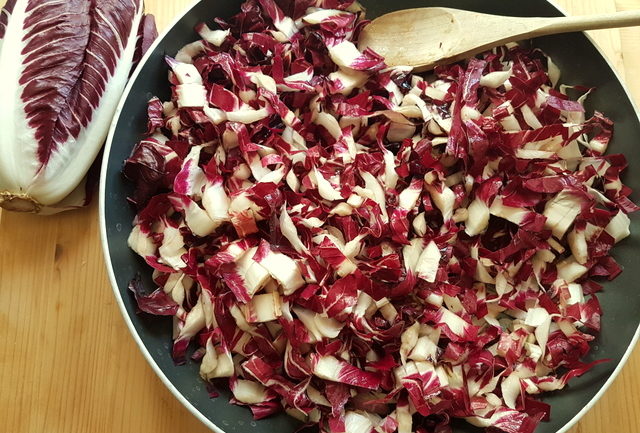 Radicchio
Radicchio is a leafy chicory which has been grown here in Italy since the 1600s. It's very popular here in Veneto, as well as, Trentino and Friuli Venezia Giulia. There are different types of radicchio. Among the most common is 'radicchio di Treviso' which looks like Belgian endive. That's the type I used for this radicchio pasticcio.
Also widely available here are 'radicchio di Chioggia' which is round and looks a bit like a purple cabbage and 'Tardivo' radicchio, which resembles flowers. Italians use a lot of radicchio in salads. But, they also cook it in risotto and with pasta, like in this radicchio pasticcio recipe.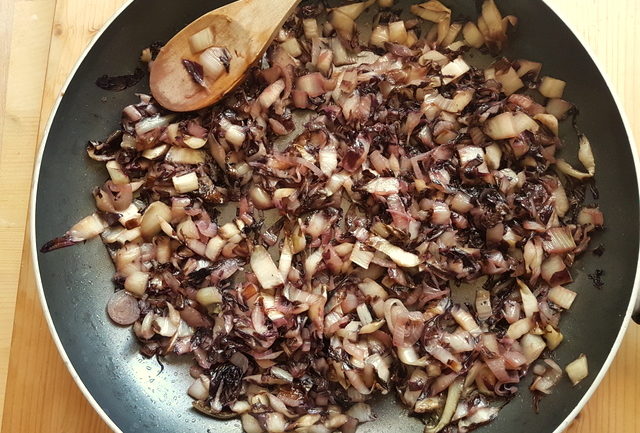 The cheese
In addition to the radicchio, this pasticcio contains just some shallots, a homemade béchamel, grated Parmigiano and another local cheese called taleggio. Taleggio is a soft cow's milk washed-rind cheese with an interesting, pungent and aromatic taste. It is normally ripened for about 40 days.
This is a very ancient cheese that originally comes from the Taleggio valley near Bergamo. Apparently, they first made it there in the 10th century!! Taleggio is eaten on its own or used in cooking. It melts really well and is great in a risotto or with polenta. Instead of taleggio, which may be difficult to find outside of Italy, you can use brie, scamorza, robiola or fontina.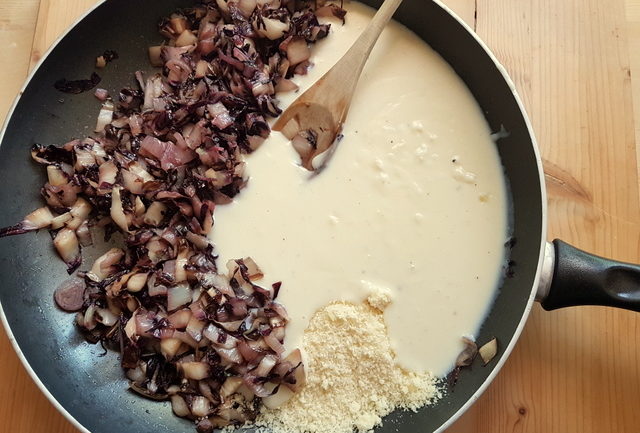 The pasta
I didn't make my own lasagne sheets for this recipe. Instead, I bought ready-made fresh ones from Giovanni Rana. This company makes extra thin lasagne sheets, so you don't need to precook them! However, if you can't find fresh pasta and don't want to make your own, dried is fine. You will need to blanch the pasta sheets in boiling salted water before assembling your radicchio pasticcio. If you want to try your hand at making your own lasagne sheets.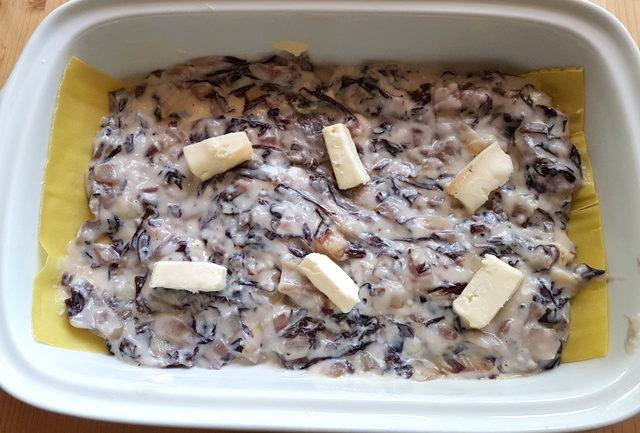 Since this radicchio pasticcio (Italian chicory lasagna) has only a few ingredients, it doesn't take long to prepare. To speed things up, you can use ready-made béchamel! I made my own. Even so, it didn't take that long to have this baked pasta on the table. However, despite it being easy, it's seriously delicious. I'm sure you'll agree with me if you try it.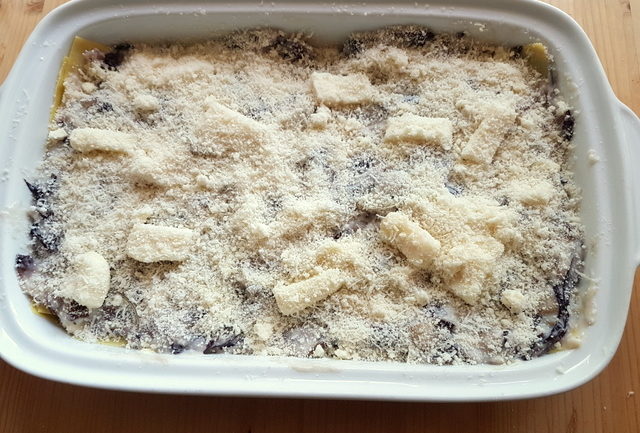 Let me know what you think.
If you make this radicchio pasticcio (Italian chicory lasagna) recipe, I'd love to hear how it turns out and if you liked it. So, please leave a comment here on the blog or on The Pasta Project Facebook page.
Looking forward to hearing from you!
Buon appetito!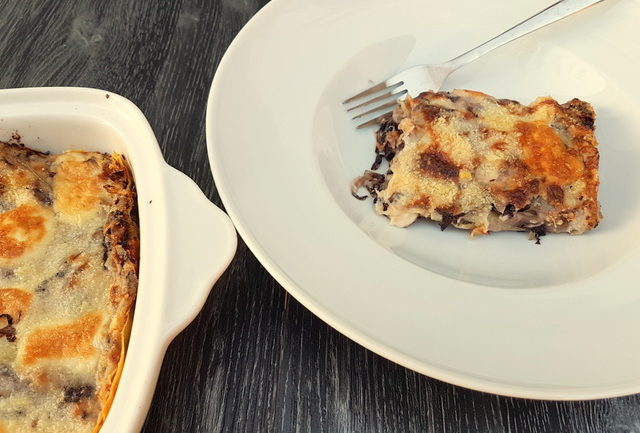 Other radicchio recipes to check out here on The Pasta Project!
Save this recipe for later?
If you want to save this recipe for later, you can print it, bookmark this page or save it to Pinterest.
Like this recipe? Have a look at some more delicious traditional lasagna recipes.
Pin for Later