Beetroot and radicchio pesto.

Most pestos are made with green leaf vegetables and herbs. The most well-known being basil pesto or pesto Genovese, as it's called here in Italy. As returning visitors will know by now, I love experimenting with different pesto recipes and am always on the lookout for new pesto ideas! In recent months, I have noticed the increasing popularity among modern chefs of two of my favourite veggies; beetroots and radicchio. (go straight to recipe)
Beetroots are packed with goodness!
Beetroots have been part of the Western diet since the time of the Romans. They were more popular in central and Eastern Europe, where they are, of course, the main ingredient in Borscht! However,these days, they are enjoying a resurgence of popularity here in Western Europe and USA not only as an addition to salads or for soup, but also as an ingredient in a variety of other recipes such as hummus and smoothies.
Of course, this is not surprising as beets are packed with goodness. Did you know that beetroot is low in fat, full of vitamins and minerals and filled with powerful antioxidants? Infact, the plant pigment that gives beetroot its rich, purple-crimson colour is betacyanin; a powerful agent which is believed to suppress the development of some cancers.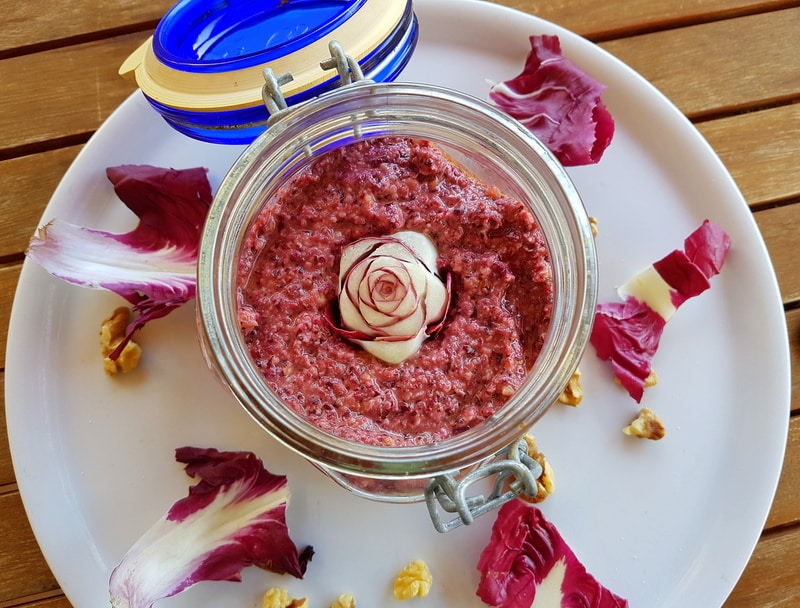 Radicchio, on the other hand, is a leafy chicory also known as Italian chicory which has been cultivated here in Italy since the 15th century, especially in the Italian regions of Veneto (where I live) Trentino and Friuli Venezia Giulia. In Italy there are different types of radicchio. The most common are 'radicchio di Chioggia' which is round and looks like a purple cabbage and 'radicchio di Treviso' which looks like Belgian endive. I particularly like the 'Tardivo' radicchio, which resembles flowers, especially for grilling. Italians use a lot of radicchio in salads, but it is also cooked in risotto and served with pasta.
Like beetroot, radicchio has many health benefits. Too numerous to mention here without sounding like a health food blog! Most importantly it is full of vitamins, minerals, electrolytes and phyto-nutrients, which means it is good for the eyes!
I adore the colour and sweetness of beetroot and the sharp pungent flavour of radicchio. So, I decided to try them together to make pesto. I have also made pesto with only radicchio which is also very good. This, however, was quite different, as the sweetness of the beetroot offsets the sourness of the radicchio. The beetroot also gives it a beautiful colour! Apart from the flavour and beauty of this pesto, it is also, as you can imagine, very healthy!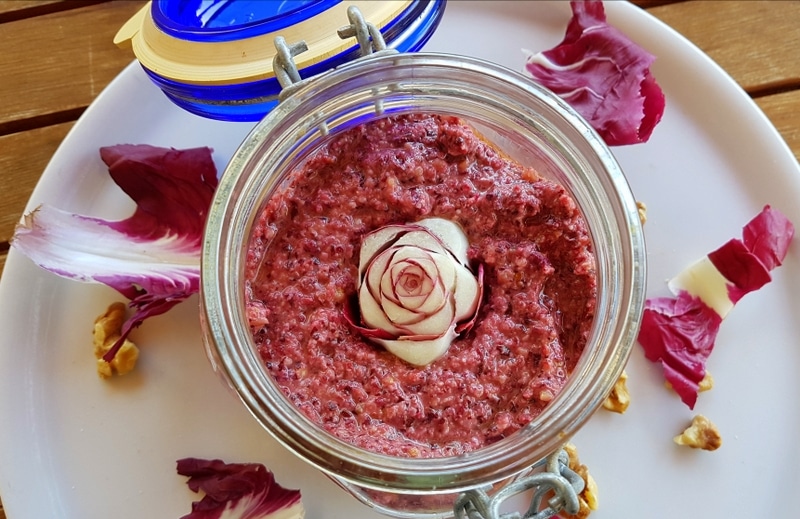 So, next time you are thinking of making homemade pesto why not give this version a try? It is simple to make and like other types of pesto can be eaten with pasta, on bread or pizza or even as a dip.
Buon Appetito!.
See the recipe on the next page.