Beetroot and radicchio pesto.
Beetroot and radicchio pesto is a fresh sweet and sour recipe that's both healthy and delicious. You can use it on pasta, on bread and as a dip!

Most pestos are made with green leaf vegetables and herbs. The most well-known being basil pesto or pesto Genovese, as it's called here in Italy. As returning visitors will know by now, I love experimenting with different pesto recipes and am always on the lookout for new pesto ideas! In recent months, I have noticed the increasing popularity among modern chefs of two of my favourite veggies; beetroots and radicchio.
Beets are packed with goodness!
Beetroots have been part of the Western diet since the time of the Romans. They were more popular in central and Eastern Europe, where they are, of course, the main ingredient in Borscht! However,these days, they are enjoying a resurgence of popularity here in Western Europe and USA. Beets make a great addition to salads or for soup! They also appear as an ingredient in a variety of other recipes such as hummus and smoothies.
Of course, this is not surprising as beets are packed with goodness. Did you know that beetroot is low in fat, full of vitamins and minerals and filled with powerful antioxidants? In fact, the plant pigment that gives beetroot its rich, purple-crimson colour is betacyanin. This a powerful agent which some say suppresses the development of some cancers.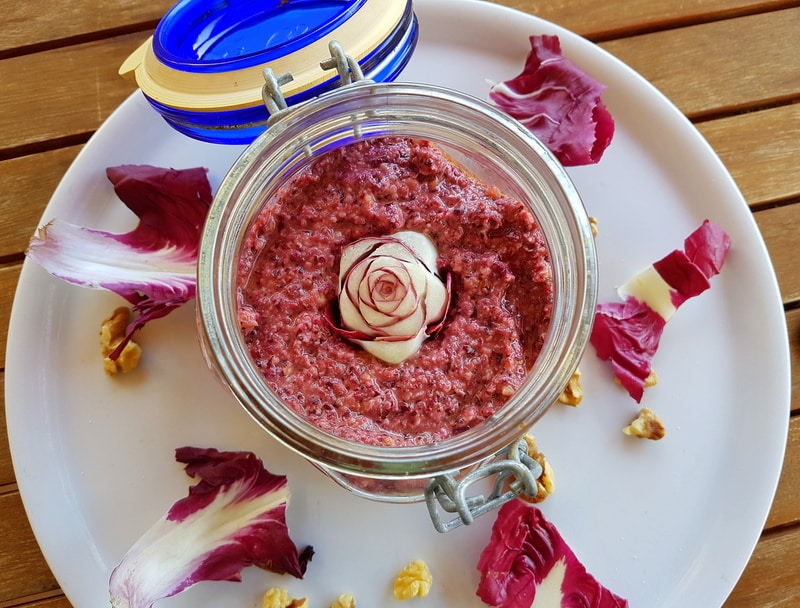 Radicchio in Italy.
Radicchio, on the other hand, is a leafy chicory also known as Italian chicory which has been cultivated here in Italy since the 15th century. It's particularly popular in the Italian regions of Veneto (where I live), Trentino and Friuli Venezia Giulia.
In Italy, there are different types of radicchio. The most common are 'radicchio di Chioggia' which is round and looks like a purple cabbage and 'radicchio di Treviso' which looks like Belgian endive.
I particularly like the 'Tardivo' radicchio, which resembles flowers, especially for grilling. Italians use a lot of radicchio in salads, but it is also cooked in risotto and served with pasta.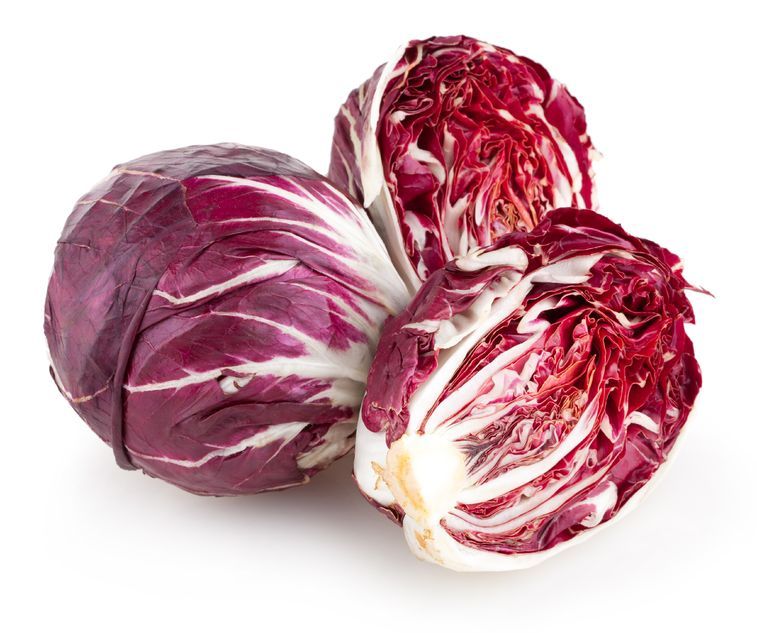 Radicchio is full of vitamins and minerals.
Like beetroot, radicchio has many health benefits. These are too numerous to mention here without sounding like a health food blog! Most importantly, it is full of vitamins, minerals, electrolytes and phyto-nutrients, which means it is good for the eyes!
I adore the colour and sweetness of beetroot and the sharp pungent flavour of radicchio. So, I decided to try them together to make pesto. I have also made pesto with only radicchio which is also very good.
This beetroot and radicchio pesto was quite different to the only radicchio one. The sweetness of the beetroot offsets the sourness of the radicchio. The beetroot also gives it a beautiful colour! Apart from the flavour and beauty of this pesto, it is also, as you can imagine, very healthy!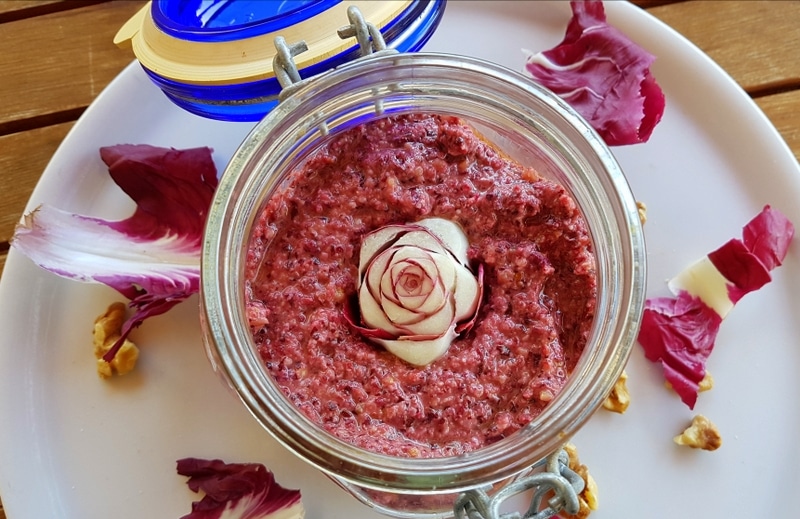 So, next time you are thinking of making homemade pesto why not give this version a try? It is simple to make and like other types of pesto can be eaten with pasta, on bread or pizza or even as a dip.
If you make this beetroot and radicchio recipe, I'd love to hear how it turns out and if you liked it. So, please leave a comment here on the blog or on The Pasta Project Facebook page.
Buon Appetito!
WANT TO SAVE THIS RECIPE FOR LATER?
You can bookmark this page, print this recipe or pin it for later.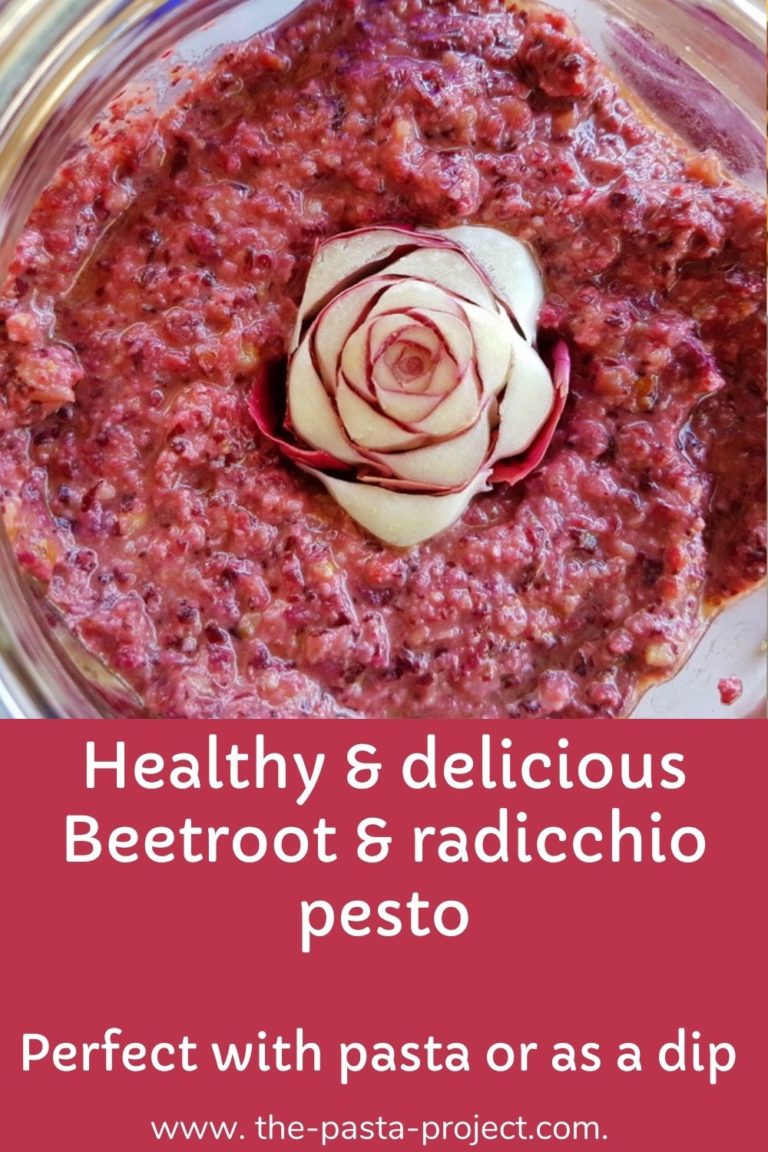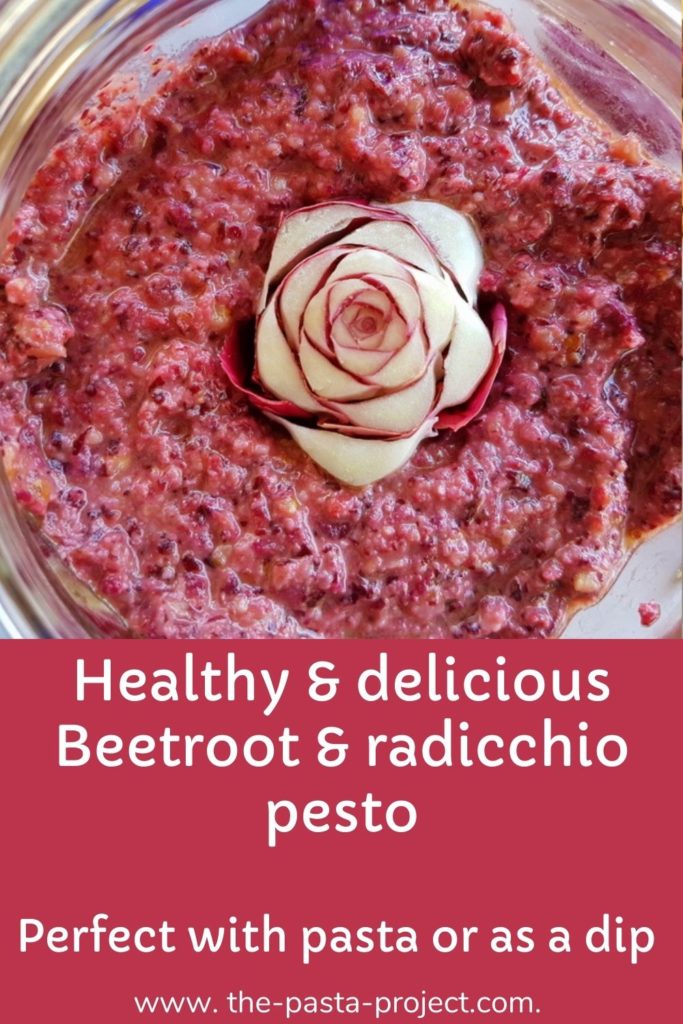 Want to know more about my life in Italy? Go to the homepage and subscribe to my newsletter. New subscribers get a free recipe e-book series too! https://www.the-pasta-project.com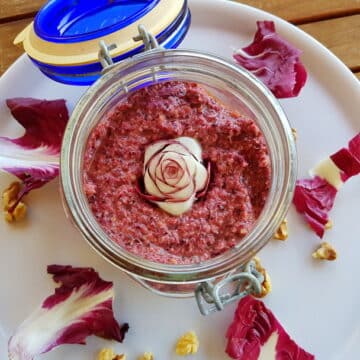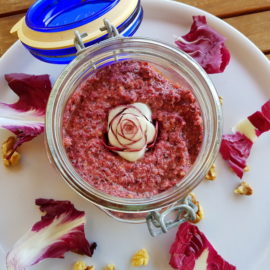 Beetroot and radicchio pesto
A sweet and sour pesto recipe that tastes divine and looks beautiful too! Use it on pasta or serve as a dip.
Ingredients
200

g

beetroot

(70z) boiled and grated

200

g

red radicchio

(7oz) I used 'di chioggia'

3

tbsp

walnuts

chopped

1

garlic clove

peeled and chopped

2-3

tbsp

Parmigiano Reggiano

grated (vegetarians will need to use a vegetarian parmesan)

1/2

cup

extra virgin olive oil

salt

to taste
Instructions
Wash the radicchio and cut it into strips taking care to remove the most bitter white parts.

Soak the leaves in cold water for 30 minutes, drain and pat dry.

Put the chopped garlic, grated beetroot, radicchio, chopped walnuts and a pinch of salt into a blender or food processor.

Pulse until the contents are quite small then add the parmigiano and olive oil.

Pulse everything together a couple more times.

If the pesto is too thick, dilute it with a little water or more olive oil.

Serve with pasta, as a dip or on bruschetta
Notes
If serving with pasta you can cook the pasta whilst making the pesto and use some of the pasta cooking water for extra liquid in the pesto sauce if required.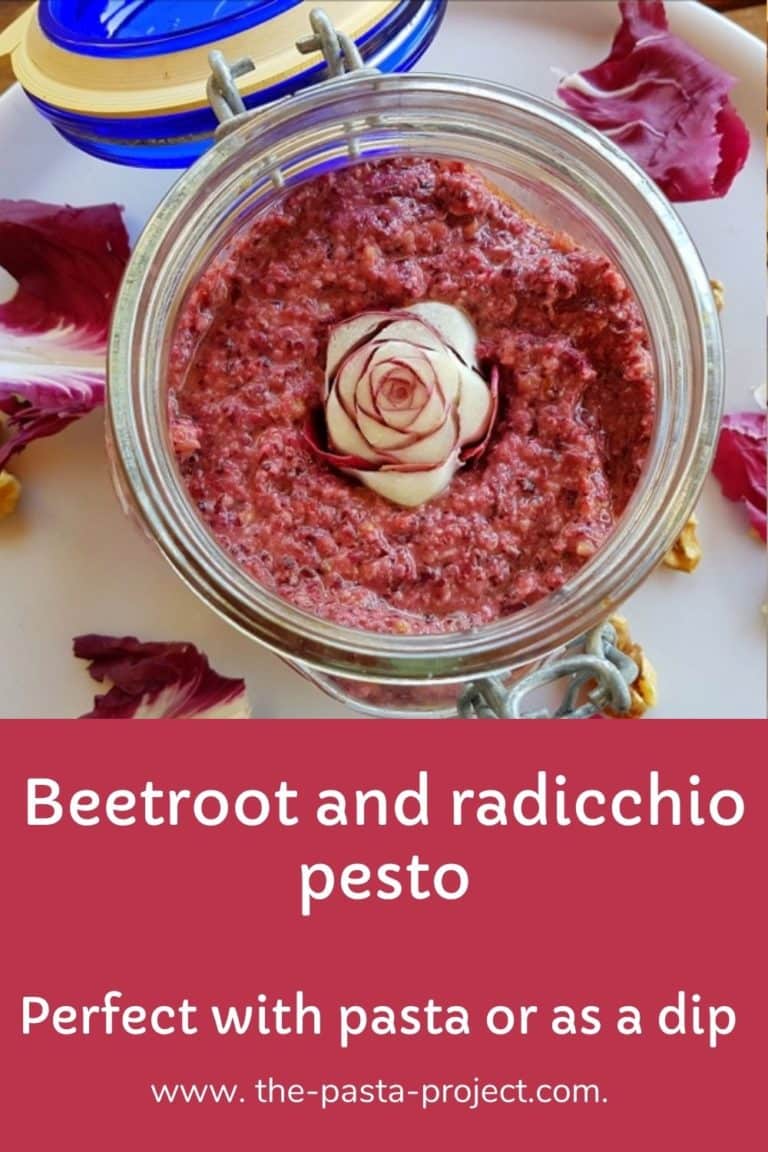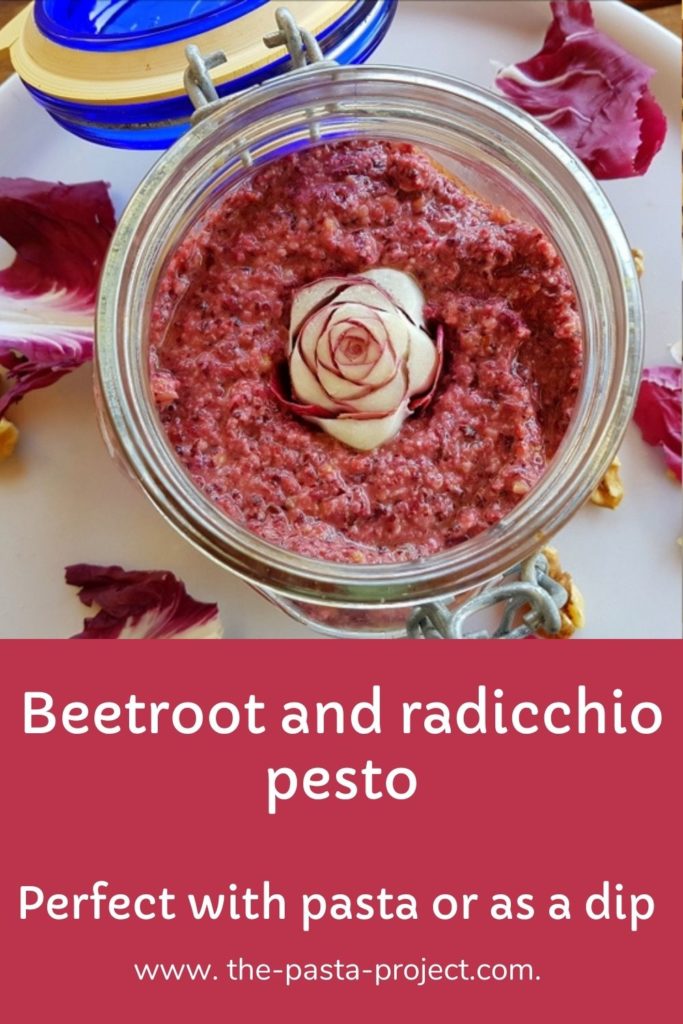 If you are interested in learning how to make homemade pasta and different types of gnocchi, check out my shop page for some great video online courses from my friends in Rome! Nothing beats learning to make pasta from Italians! Plus while you're there why not order a copy of my newly published autumn/winter pasta recipes cookbook!