Radicchio pesto; a delicious alternative to traditional pesto!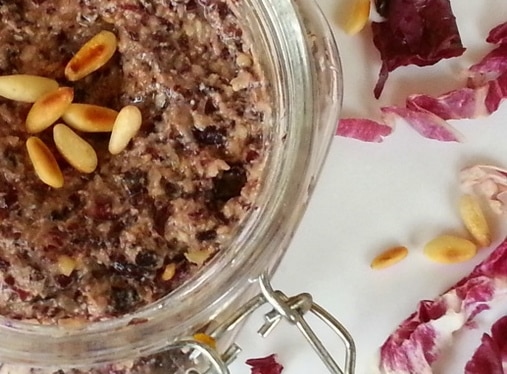 Because radicchio has quite a strong taste and can be sour I served this pesto with Busiate pasta made from tumminia, an ancient Sicilian grain. The sweetness of the pasta nicely off set the slightly sour sauce to make this busiate with radicchio pesto perfect! (go straight to recipe)
As you may have realized from my other posts, I am totally in love with pesto! Did you know that the word 'pesto' comes from the Italian 'pestare' meaning to pound or crush? And really and truly that's the only 'cooking' required to make this sauce. Just take your ingredients and pound or crush them (although nowadays we stick them in a blender or food processor and pulse!).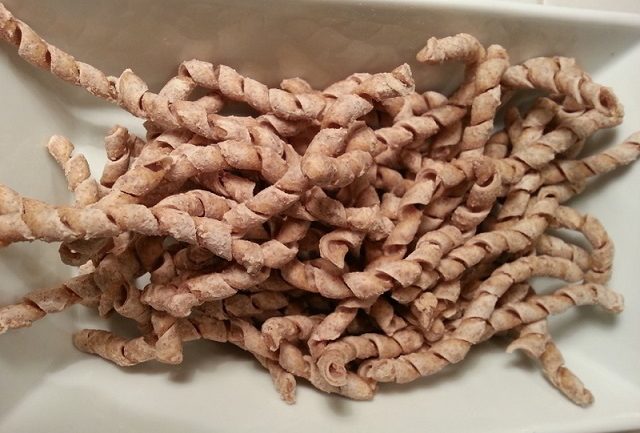 If you look up pesto in a dictionary you will read that it is a pasta sauce made from crushed basil leaves, pine nuts, garlic, parmesan and olive oil. And it is, well at least pesto alla Genovese is made with those ingredients and alla Genovese is THE 'original' pesto! However there are not only many other kinds of pesto sauces in Italy and abroad but in theory you can easily invent your own with a number of different ingredients.
Basic ingredients are usually leaf herbs or vegetables such as spinach, basil, parsley, kale; anything that can be eaten raw; garlic, grated parmesan, virgin olive oil and nuts like walnuts or pinenuts. In Sicily they make pistachio pesto which is super yummy!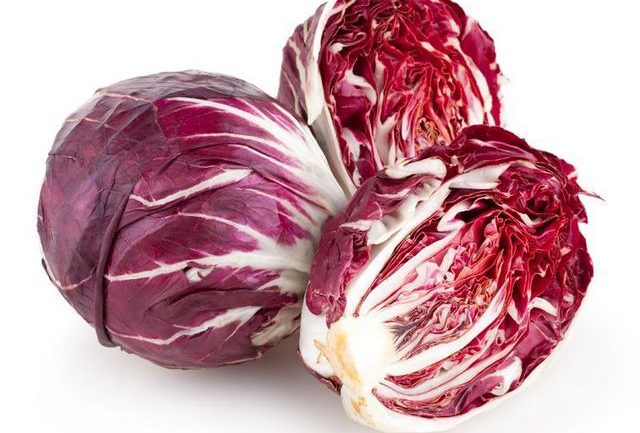 For this recipe I decided to use radicchio or Italian chicory. Radicchio can be a bit sour so I soaked the leaves in water for an hour before making the sauce. Then I used them with the same ingredients as pesto alla Genovese minus the basil, of course. The result was a delicious radicchio pesto!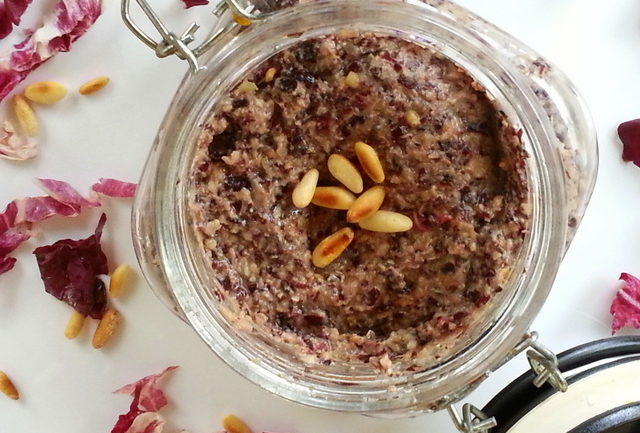 Busiate tumminia were the perfect pasta to serve with this sauce.
Because radicchio also has quite a strong taste, I served this pesto with Busiate pasta made from tumminia. As explained in my last post, tumminia is an ancient Sicilian grain which was grown in Sicily from the time of the ancient Greeks until the 1950s when production was largely abandoned in favour of other grains because tumminia has to be grown organically and has a lower yield. However, it is regaining popularity because of its health benefits for people with dietary problems. Tumminia is low in gluten and high in fibre and proteins. It also gives the pasta a slightly sweet flavour, thanks to the sweetness of the grain itself. The sweetness of the pasta nicely off set the slightly sour taste of the radicchio pesto so the pairing was perfect!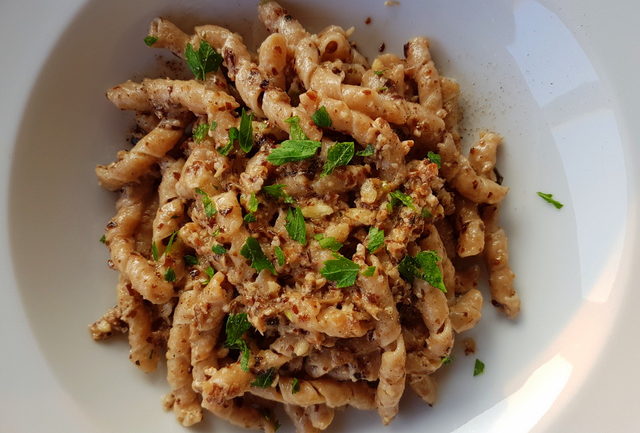 If you manage to find or order busiate tumminia online, I would definitely recommend this combination. However, this sauce can be served with any whole wheat pasta or normal pasta. Whichever way you eat it, I'm sure you'll agree with me that it's a tasty alternative to traditional pesto recipes!
Buon Appetito!
(see the recipe on page 2)