Wild Garlic Fettuccine Pasta with Speck and Radicchio (Italian chicory)
This wild garlic fettuccine pasta with speck and radicchio is a wonderful combination of Northern Italian flavours.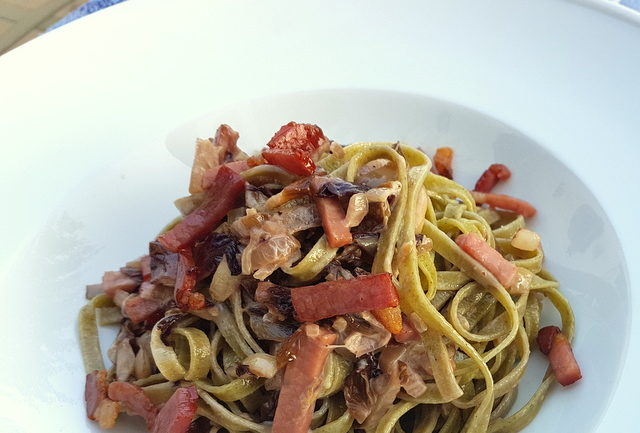 Fettuccine al aglio orsino con speck e radicchio
The fettuccine pasta I used for this recipe comes from the Northern Italian region of Trentino-Alto Adige and is made with wild garlic. The speck is also from the Alto Adige (South Tyrol in English) and radicchio, or Italian chicory, is a staple vegetable widely used in recipes and salads here. These ingredients combined together with cream and a sprinkling of walnuts make this is a delicious Northern Italian recipe.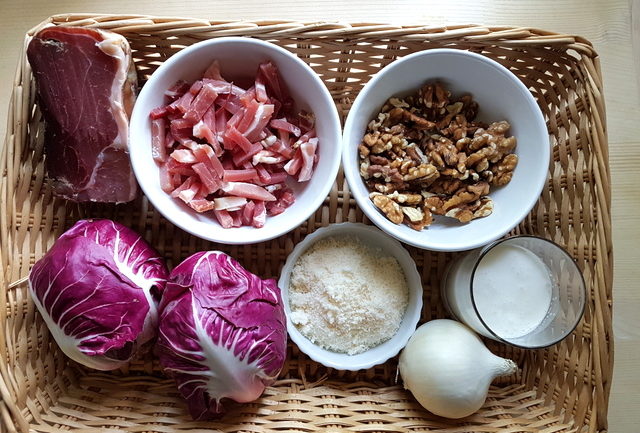 Radicchio in Italy
Radicchio is a leafy chicory also known as Italian chicory. It has been cultivated in Italy since the 15th century, especially in the region I live in, Veneto, as well as Friuli Venezia Giulia and Trentino. There are different types of radicchio. The most common are the round 'radicchio di Chioggia', which looks like a purple cabbage, and 'radicchio di Treviso', which resembles Belgian endive. Italians use radicchio a lot in salads. But, it is also cooked in risotto and served with pasta like in this pasta with speck and radicchio recipe.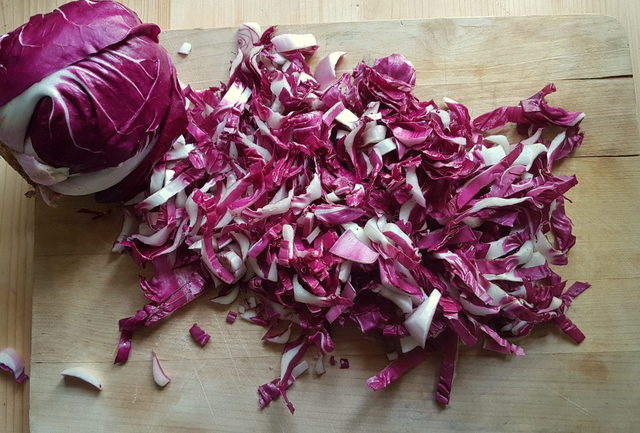 Not everyone likes radicchio because it can taste a little bitter. Although, if you soak the leaves in water for 20 minutes before cooking, this reduces the bitterness. Cooked radicchio is noticeably less bitter than raw. It is also full of vitamins, minerals, electrolytes and phyto-nutrients, which means it is good for the eyes!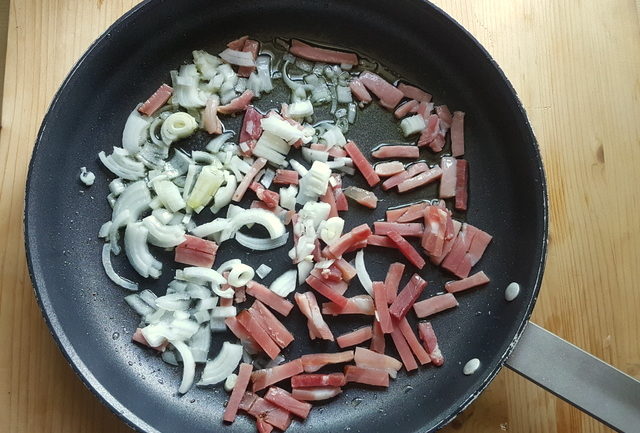 Speck from the South Tyrol
Speck is the most well-known food produced in the Alto-Adige or South Tyrol. It is a distinctly flavored, smoked, cured ham which has a much fuller taste than Italian prosciutto crudo. It's a kind of cross between ham and bacon and is often used in cooking in Northern Italy. However, it's also eaten raw like prosciutto. Outside of Italy, speck can be harder to find and is more expensive than pancetta. But, this recipe can be made with pancetta too.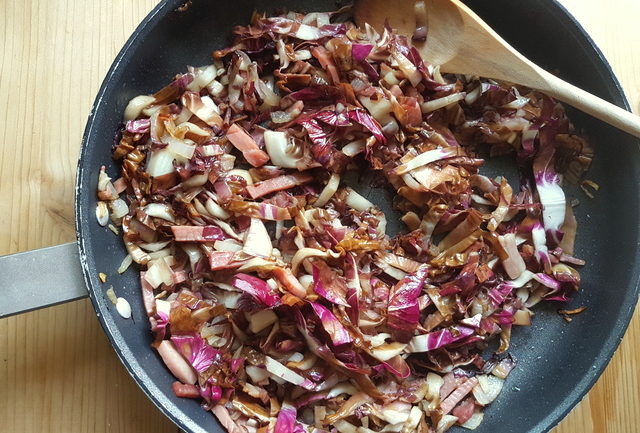 Wild garlic or aglio orsino (bear's garlic)
Wild garlic is one of my favourite foraged foods. A type of wild garlic even grows in the fields around my house, although, unfortunately, not in enough quantity to do much with it. It grows in the spring throughout Italy, especially in meadows, woods and forests which are near water such as springs, rivers, etc. Italians use the bulbs, flowers and leaves in cooking. In fact, the leaves make a wonderful pesto. It's a popular ingredient in the South Tirolean kitchen and, when in season, is used in the filling for schlutzkrapfen or Tirolean mezzelune.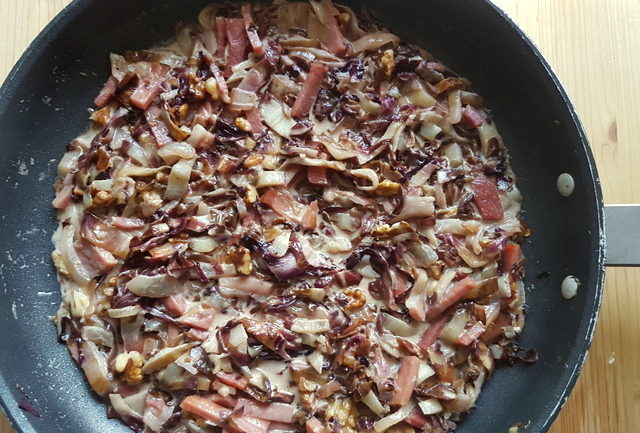 Not just fettuccine pasta with speck and radicchio.
The fettuccine I used for this pasta with speck and radicchio recipe also came from the South Tyrol and was made with wild garlic, hence the green colour and the lovely delicate garlicky taste of the noodles. Obviously wild garlic fettuccine isn't widely available, but this recipe is delicious with normal fettucine, pappardelle or tagliatelle or spinach pasta. You can also make it with short pasta such as penne.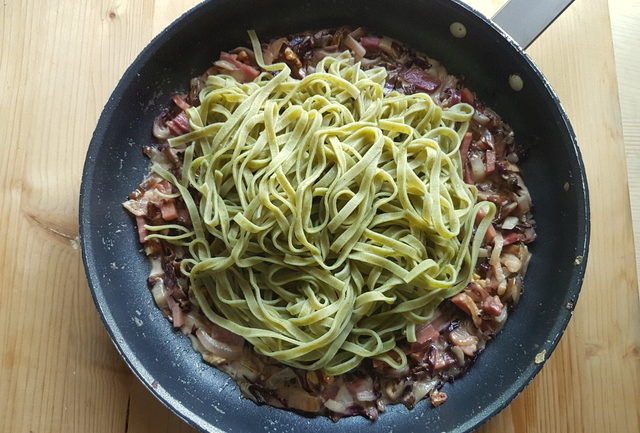 Don't forget to tell me what you think!
If you like Italian chicory, I'm sure you'll love this recipe. Speck and radicchio are a favourite combo here in Veneto and in Trentino-Alto-Adige. There are a number of different Italian pasta with speck and radicchio recipes. Some people add another cheese such as gorgonzola or scamorza. I decided to keep the ingredients to a minimum. Both the speck and the radicchio have lots of flavour and, in my opinion, are delicious together without adding too many other ingredients. I did add some walnut pieces before serving but you can leave them out if you prefer.
If you make this fettuccine pasta with speck and radicchio, I'd love to hear how it turns out and if you liked it. So, please leave a comment here on the blog or on The Pasta Project Facebook page.
Buon appetito!
(See the recipe on page 2. Just scroll down and click 2)