Pappardelle pasta from Tuscany.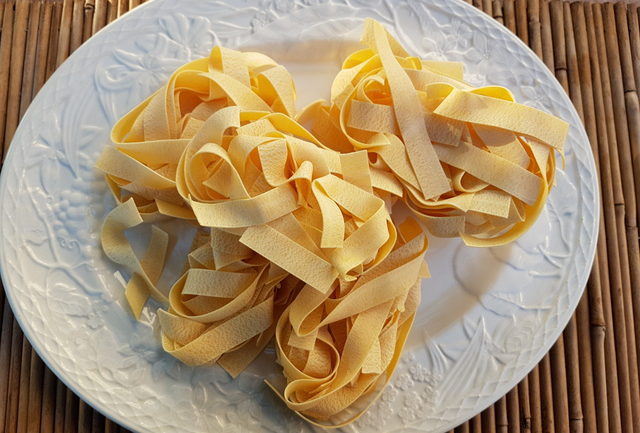 Pappardelle is a regional type of egg pasta that is very like tagliatelle but much wider, about 2-3 cms. This pasta is considered a type of lasagne in the generic sense that it is wide strips of egg pasta. While tagliatelle is traditionally from Emilia-Romagna, the origin of pappardelle is believed to be in central-northern Italy, particularly Tuscany, where it is used in many recipes.
The word pappardelle is actually derived from the Latin verb 'pappare', which means to eat. Apparently, in the Tuscan dialect 'pappare' means to consume a food with joy and almost childish pleasure, or to gobble it up! Food historians say that pappardelle was once prepared in the countryside with only chestnuts or chestnut flour, without eggs.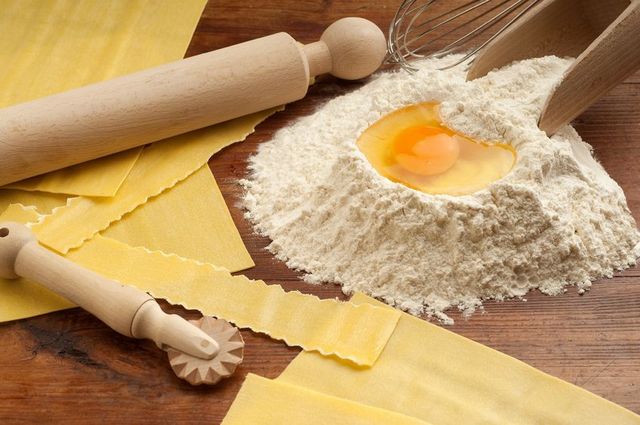 Pappardelle pasta dough is made of flour, eggs and salt. Some people also add a little olive oil. In Tuscany, pappardelle is served with hearty sauces, often made from very seasonal produce and/or game meat, such as wild boar ragu or with a sauce of foraged mushrooms but most traditionally, with wild hare and grated cheese. Tuscans call this type of pasta pappardelle even when it's made with ruffled edges, which in modern Italian culinary terms is curly pappardelle or 'pappardelle ricci'.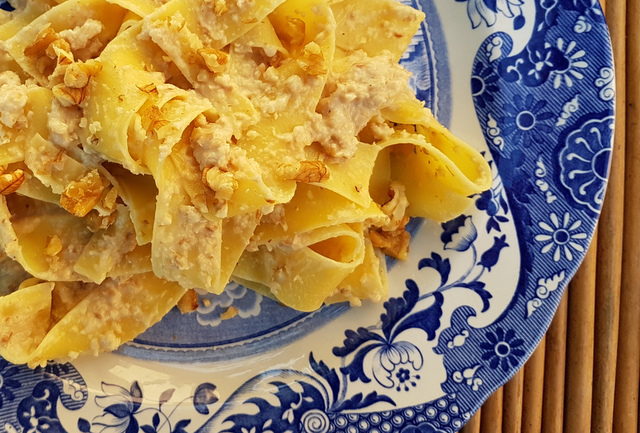 A winter pasta!
Pappardelle is most popular in the winter time, mostly because of the types of sauces it's generally served with. The main hunting season in Italy runs from September to February (yes it's quite long!) although hunting for deer and wild boar is now possible at other times because of the growing number of these animals causing a lot of damage to crops such as grape vines. Traditionally, however, Italians eat wild boar, venison, hare and game birds such as pheasant during the winter months.
Homemade or dried?
There are lots of good pasta makers who produce good quality dried pappardelle pasta, including De Cecco and Rummo. However, making homemade pappardelle isn't so difficult. You can follow my recipe for lasagne and then just cut the sheets into strips of about 2-3cm. The sheets need to be rolled out to 1.5-2 mm to get the right thickness and up to 25cm in length You can also cheat and use ready-made thin lasagne sheets and cut them into strips!! Have a look at this video from Pasta Grannies on making pappardelle and wild boar ragu too.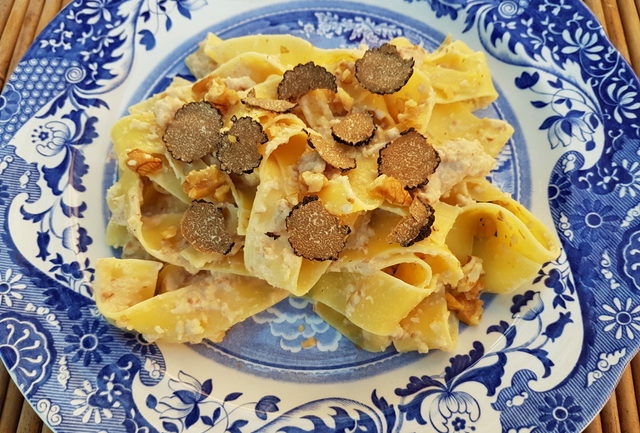 I have just bought some venison (cervo in Italian), which I put in the freezer and am planning to make pappardelle with venison after the New Year. In the meantime, the first pappardelle pasta recipe I have posted is with a walnut sauce typical of Liguria and I have other pappardelle recipes I will be adding before the winter is over! I hope you'll give some of them a try!